Make this stunning chia seed cake and indulge with a cup of afternoon coffee or tea. There is nothing better than enjoying that soft sponge with lemony flavours, with a hint of crunch from the chia seeds. Oh, and that irresistible lemon glaze just produces top results!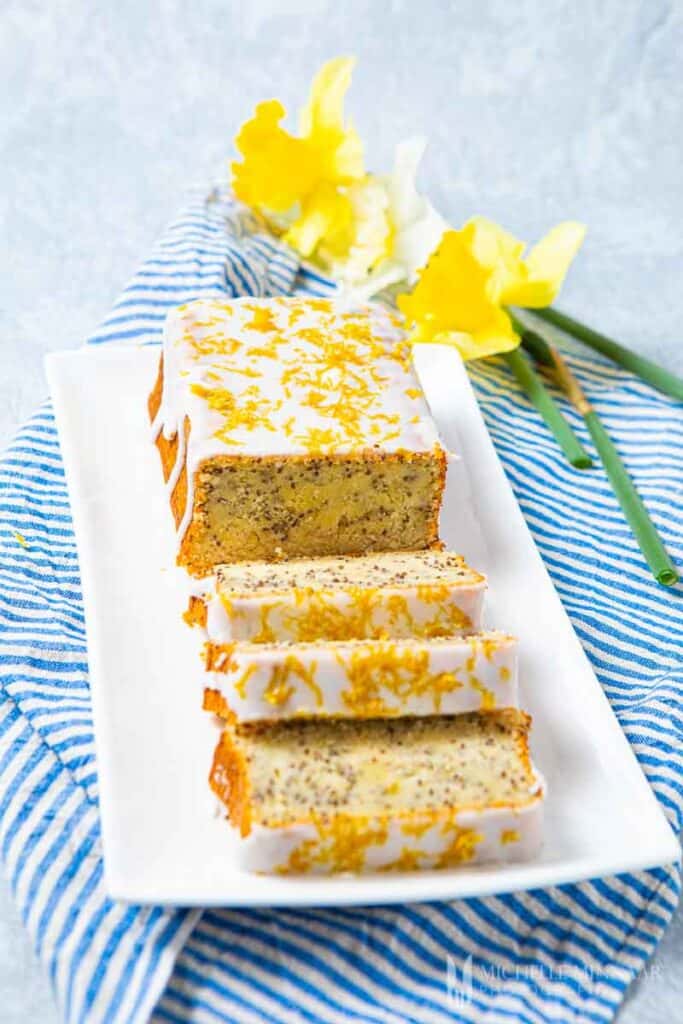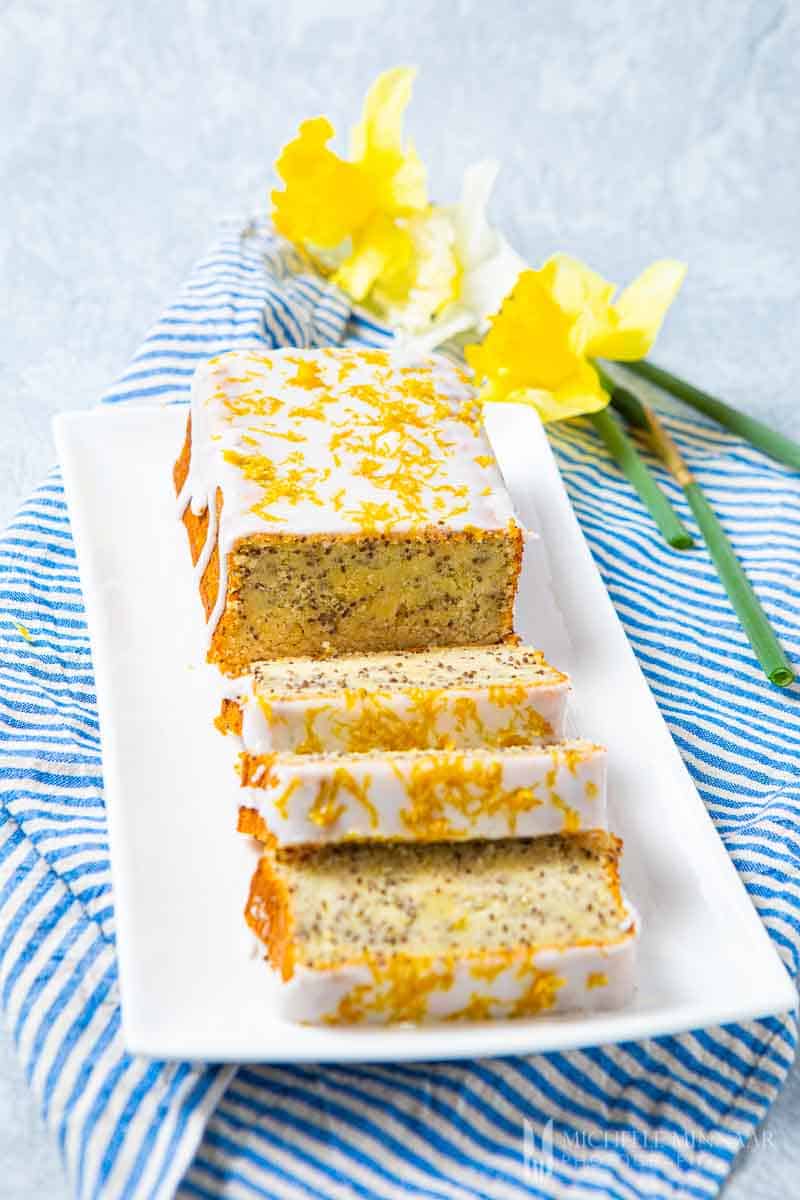 This chia seed cake is undeniably nutritious because of the addition of chia seeds into the cake batter. It can also be used as a healthy snack in-between meals if you omit the lemon glaze on top.
This recipe is actually very similar to a lemon drizzle cake recipe. In fact, if you add chia seeds to a lemon drizzle cake recipe, you come pretty close to an identical result.
The prep time for this recipe is 40 minutes. The cook time is 45 minutes. Hence, the total time it will take you to make this chia seed cake from scratch is 1.5 hours.
If you love cakes and desserts with lemon, you should also try my moist drizzle lemon curd cupcakes or this easy lemon chess pie.
products you need for this recipe
Here is a list of the top products you will need to make this excellent chia seed cake recipe. What's more, you can also use these to make other cakes and desserts. Take a look below:
Is there any other product which is a must for you, when it comes to baked goods and baking cakes? Let me know in the comments section below.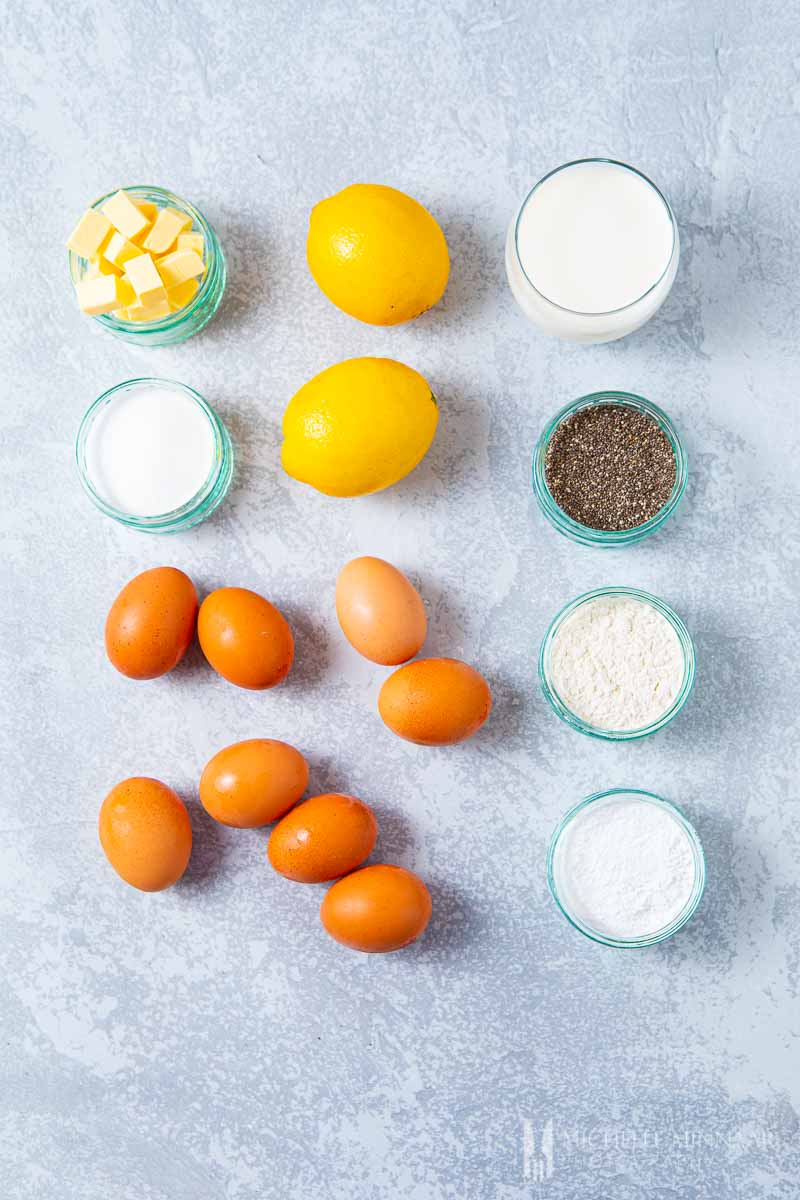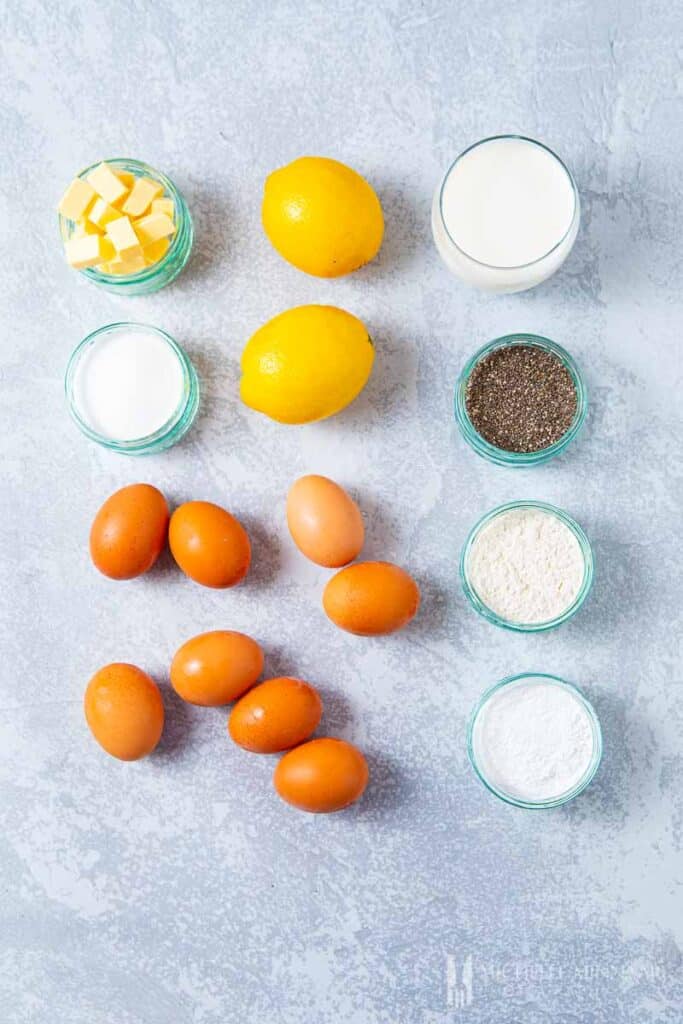 what are chia seeds?
In short, chia seeds are a type of edible seed from the chia plant, which belongs to the mint family, believe it or not.
The chia plant is native to the regions of Central America. Most notably, Mexico, all the way up to the southwestern part of the United States.
Apparently, there is evidence that these seeds were cultivated by the ancient Aztec civilisation. It is argued, that the chia seeds were used as a staple throughout the Mesoamerican period.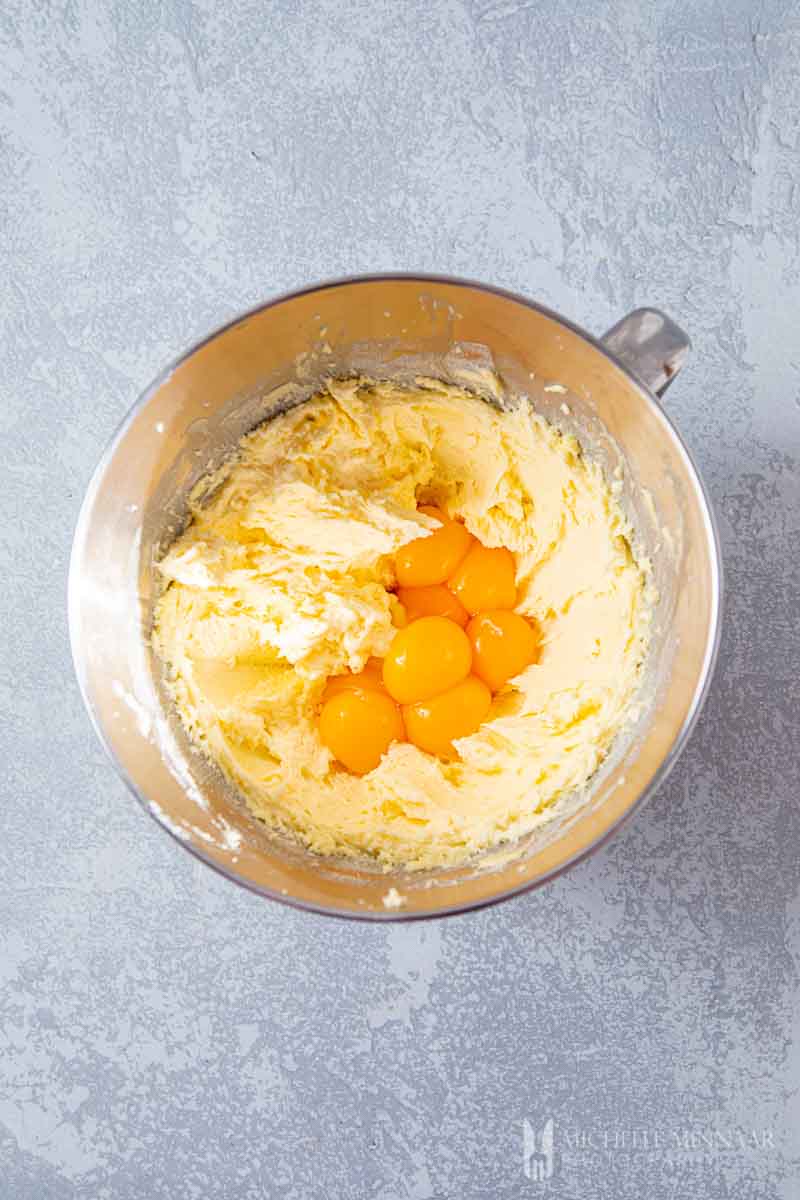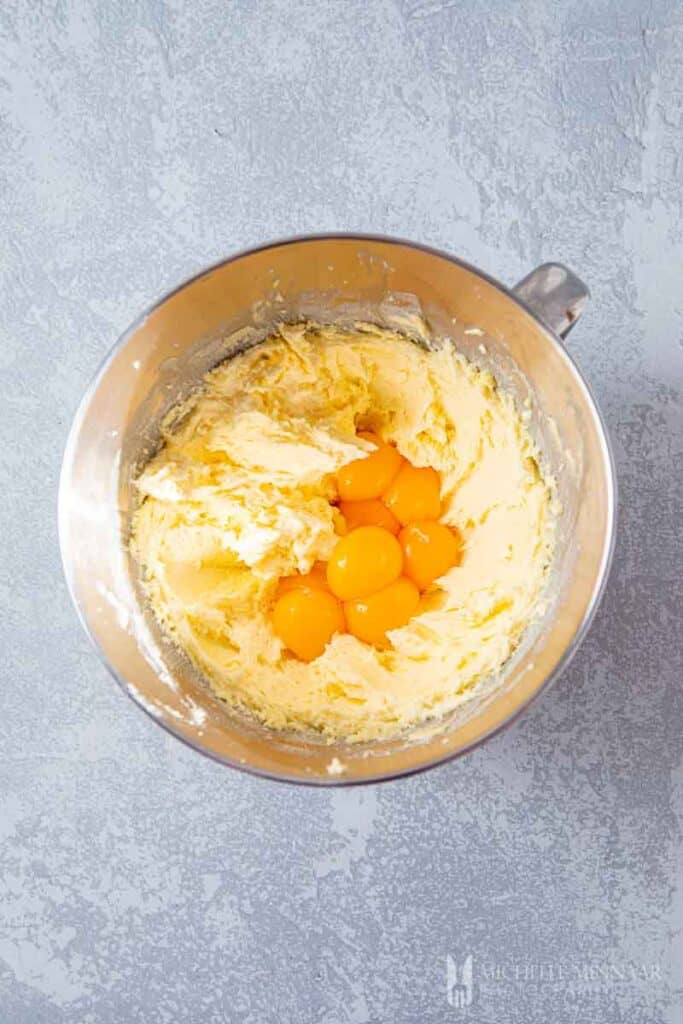 Chia seeds are quite versatile. Here are just a few different methods of how you can enjoy and cook with chia seeds:
Sprinkle them on top of other foods as a topping (in their dried form)
Mix them into a healthy smoothie recipe
Add them into bread (to make chia seed bread), muffins, cakes, cookies and other baked recipes. It's an excellent way to also reduce flour content in recipes.
Add them into yoghurt
Soak them overnight with oat and make overnight oats with chia and blueberries
Soak them in water and consume them directly
Make a pudding with them
Grind them to a fine powder and make a gelatin which can be used to replace up to 25% of egg and oil content in a cake recipe
Toss them into salad for extra nutrition
Use them to make energy bars
You name it, there are multiple ways you can cook with as well as consume chia seeds.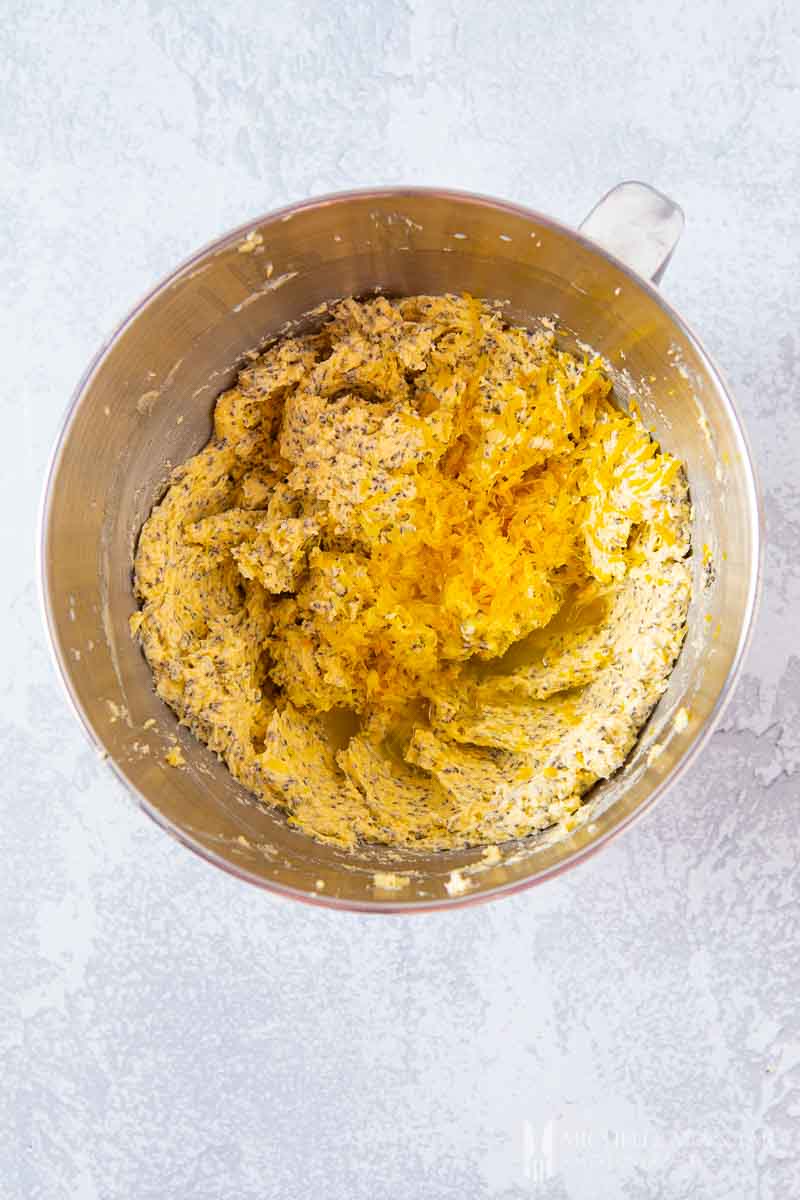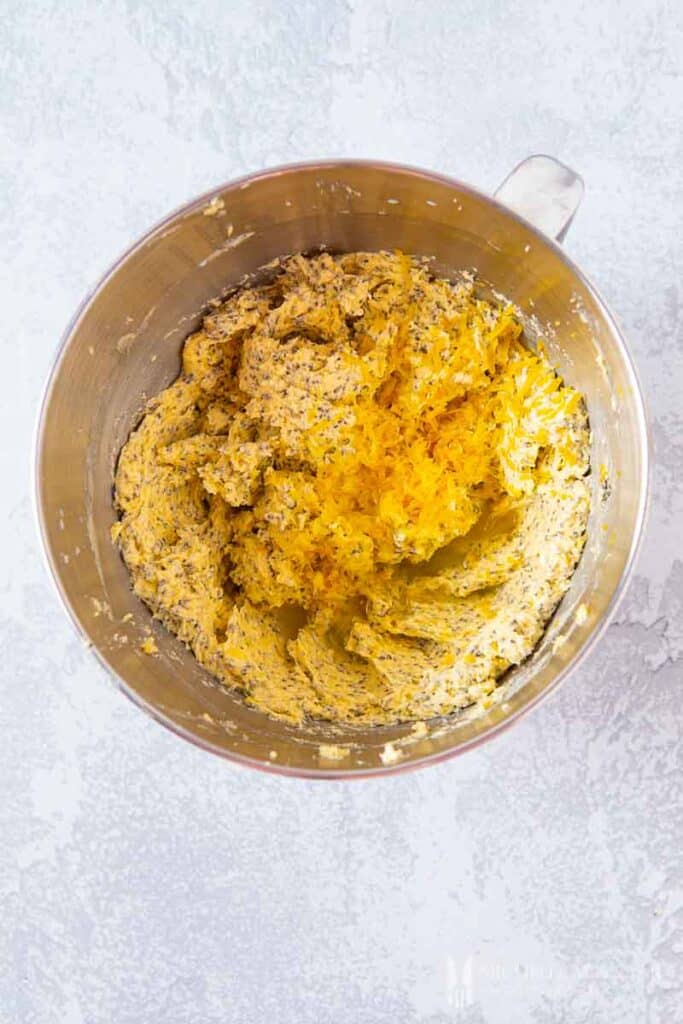 what benefits do chia seeds have?
Even though chia seeds are quite small, they're very nutritious and play an important role in our diets. These seeds are one of the best sources of omega-3 fatty acids, just like walnuts. These good fats are important as regards reducing the risk of heart disease. This is because the omega-3 fatty acids support the good type of cholesterol, which can help prevent heart disease, heart attacks and stroke.
Moreover, chia seeds are also rich in fibre and anti-oxidants, and are a source of Vitamin B, niacin, riboflavin, folate, manganese, magnesium, zinc, thiamin, phosphorous, calcium and iron.
Hence, as you can see, adding chia seeds into your cake is a great idea, since they contain a ton of health benefits.
Can you add chia seeds to cake?
Yes, you can add chia seeds to cake recipes. In fact, you can add them into baked recipes which have a bit of texture. For instance, muffins, bread, cupcakes and energy bars.
Moreover, because of the fact that they don't have any significant flavour, adding them won't affect the overall taste of your cakes.
Believe me, you'll hardly notice that they're there.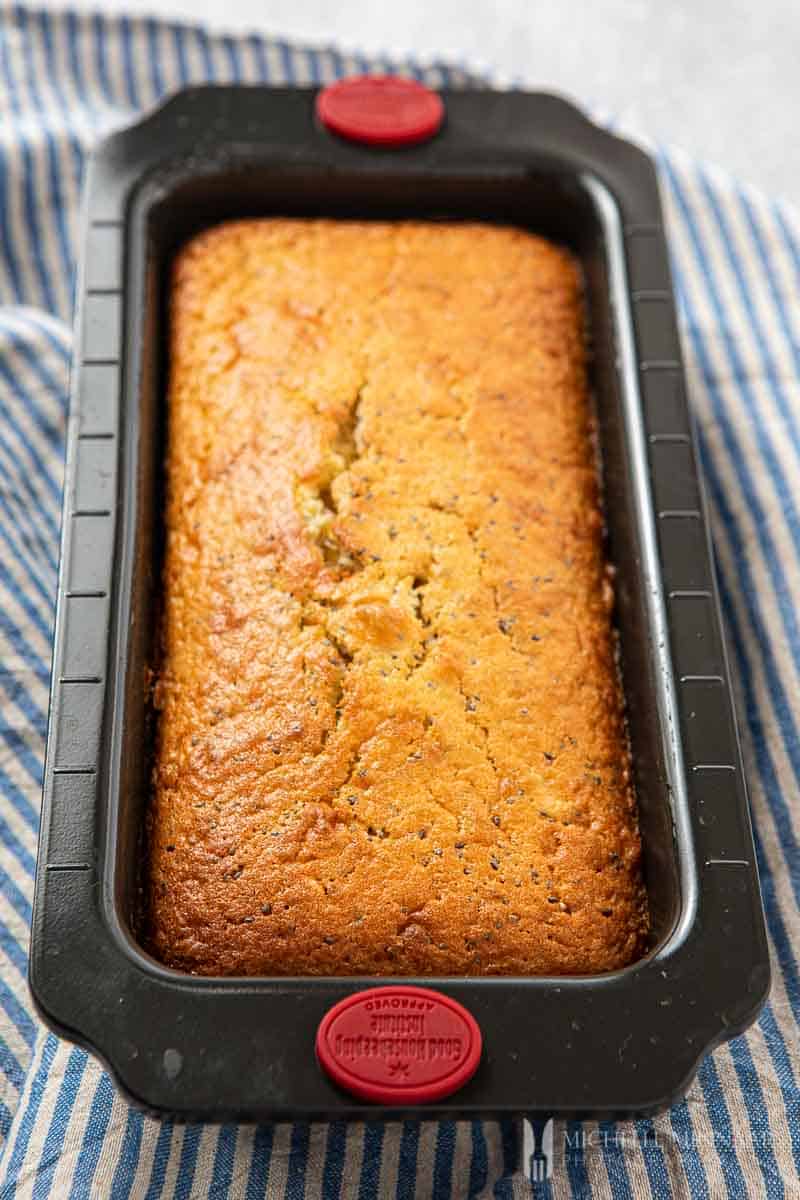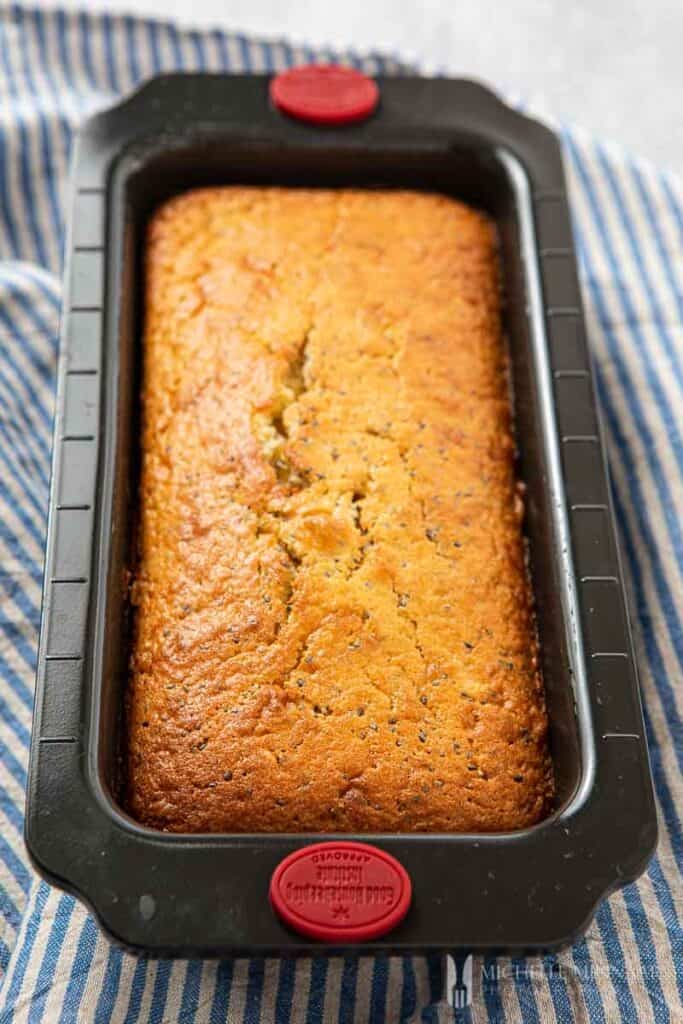 How do you bake with chia seeds?
There are multiple ways you can bake with chia seeds.
Firstly, you can add chia seeds in with the flour and mix all the ingredients together. There is no need to worry about soaking them prior to the cook. When you bake dried chia seeds, they'll plump up and absorb any liquids from the batter as they bake. The liquids the chia seeds will absorb will be from the eggs, the butter and the citrus juice.
So, simply add the dried seeds into the cake batter and wait until the cake comes out clean and beautiful from the oven. The amount of time you'll need to wait until the cake is ready is about 45 minutes.
Secondly, you can also grind the seeds prior to baking the cake and then treat it like flour. When in ground form, it has a very similar texture to flour. So, make sure that they are ground first and, only then, mix the latter with the flour. The end result will be a cake with a delicious fluffy texture.
Some people even use the ground chia seeds as a substitute for flour baking, or for reducing the amount of flour in baking recipes. In addition, chia seeds are gluten free, so they make a fabulous gluten-free substitute to flour.
Is it bad to eat chia seeds dry?
In essence, they absorb enormous amounts of water. Hence, if you ingest them, they will absorb any liquid from inside your system which can even cause digestive problems such as blockage. Moreover, it might be more difficult to swallow them dry. Therefore, it is preferable if you soak them first.
Always make sure that you first soak them for at least 10 minutes in cold water prior to consuming them. Especially, if you plan to only consume them alone.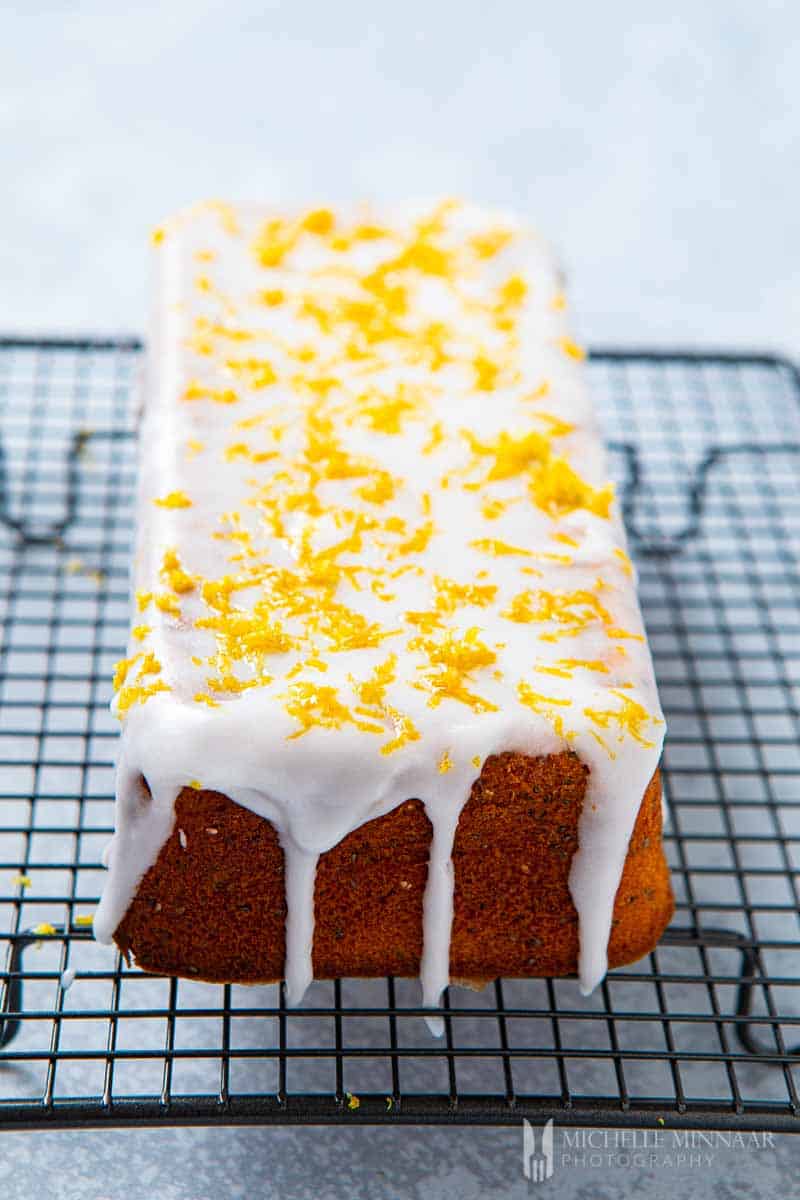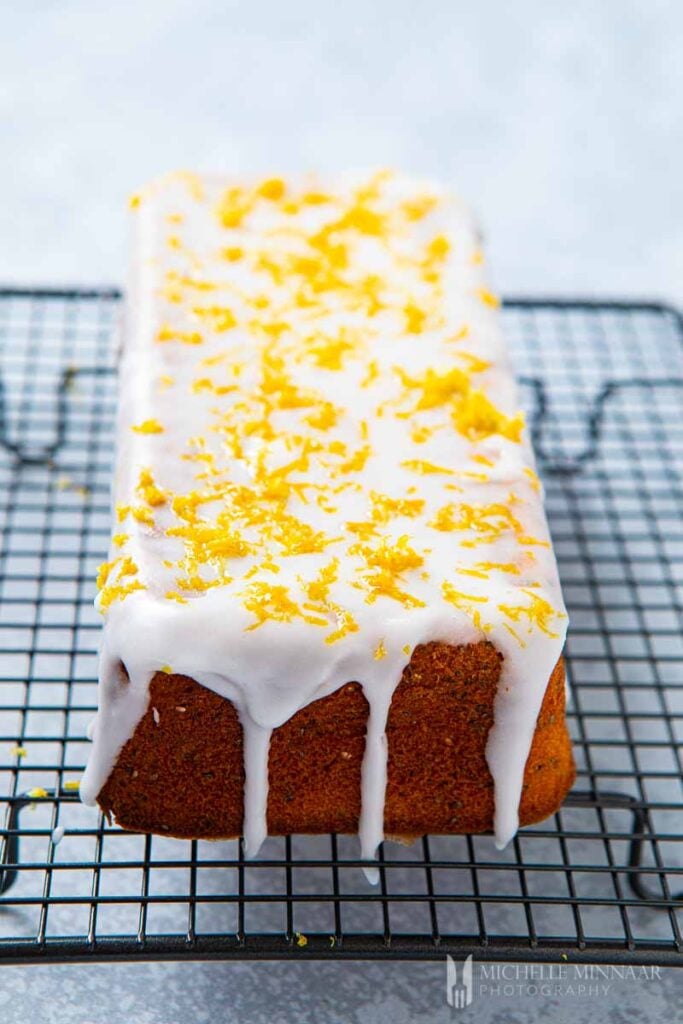 how much can I eat per day?
It is recommended that the daily dosage of seeds per day is approximately 40 grams. This is roughly 3 tablespoons.
In addition, it's recommended that this amount should be divided throughout the day. So, at one time, consume only 20 grams, which is approximately 1.5 tablespoons.
I recommend splitting these amounts between breakfast and lunch, or between breakfast and dinner.
Just think of the fact that this cake recipe includes the daily recommended dosage. Although, I wouldn't go as far as eating the whole cake in one day!
can I use lemon essence instead of lemon juice?
This chia seed cake calls for lemon zest as well and a bit of lemon juice. However, if you want to intensify the flavour of lemon, you can add more lemon juice. Just make sure you don't add too much juice as you might encounter consistency issues.
For this reason, it is better if you use lemon essence. It's stronger and it doesn't call for too much liquid. So, yes you can use lemon essence instead of lemon juice in this cake recipe.
This cake recipe aside, in general you can substitute lemon essence instead of the juice. Whether it be in another cake recipe, muffin recipe, curd, etc. However, you must use caution as the 1:1 ratio does not apply.
Since lemon essence is far stronger and aromatic than the juice itself, you'll need to experiment by testing the flavour, by adding a teaspoon at a time.
should I use baking powder or baking soda for my cake?
No, my chia seed cake doesn't call for baking powder or baking soda. It doesn't need to rise, as it would do with both baking soda and baking powder, therefore they're not required.
However, if you like to experiment by adding baking powder, 1 tsp would not drastically change the consistency of the cake. If you add more baking powder, 1 tablespoon for instance, then you are likely to run into consistency problems.
My recommendation is to stick to the recipe for optimal results.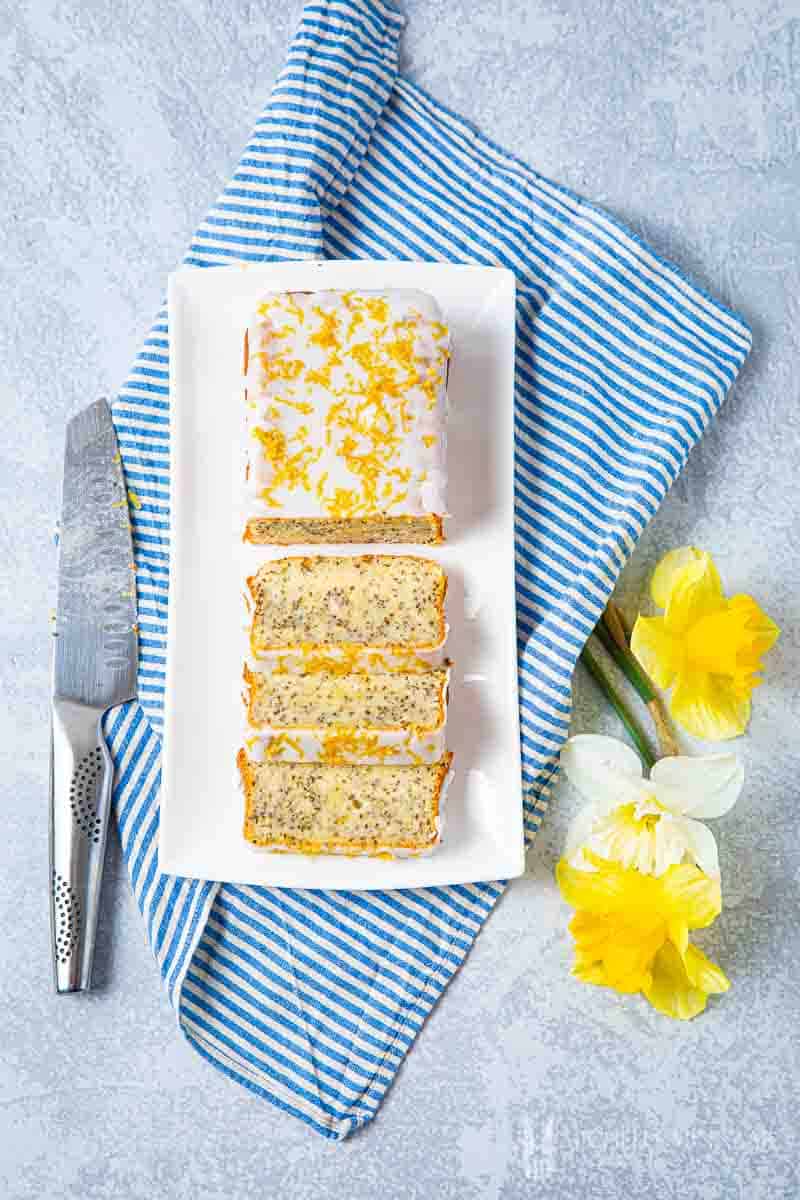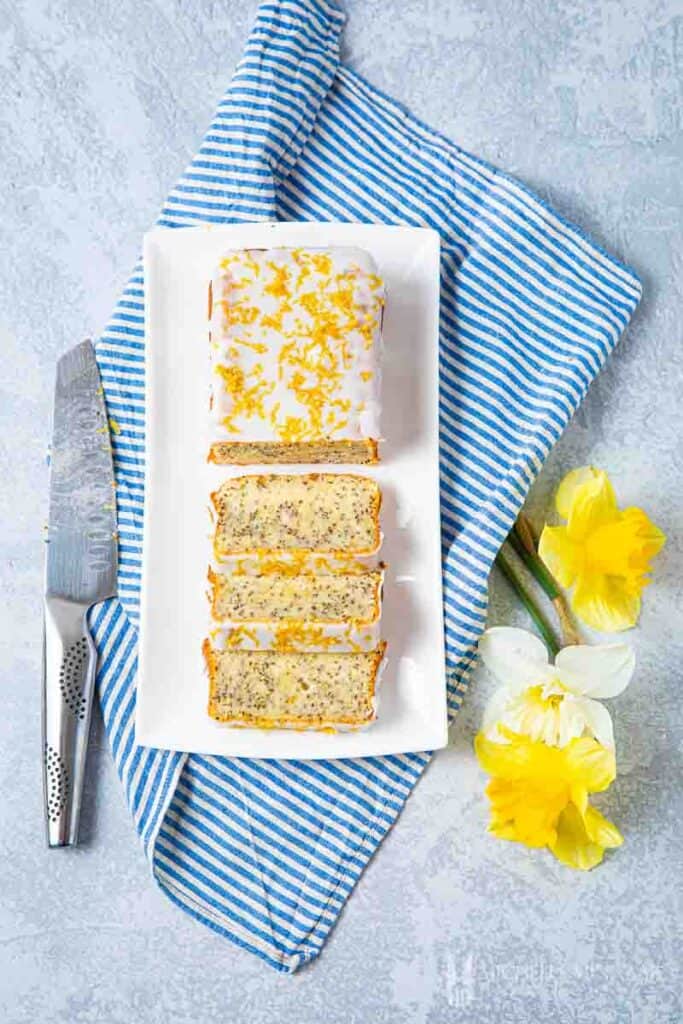 best toppings for chia cake
This is where you can get creative with the chia seed cake. First of all, I opted for grated lemon zest. The citrusy flavour of the lemon complements the cake perfectly.
When selecting lemons, make sure you go for organic ones. Especially, since you'll be using the skin of the lemon. The organic lemons not only taste better, they also have a better colour. In addition, they're much healthier for you because they weren't exposed to any pesticides, herbicides or other chemicals.
The grated lemon goes on top of a delicious lemon glaze, which is made with icing sugar.
other toppings
If you feel like being adventurous, other toppings can work extremely well with this recipe.
orange zest (equally delicious, slightly sweeter)
fresh forest fruit such as raspberries, strawberries, blueberries, blackberries, redcurrant, blackcurrant or strawberries (you can easily use 1 cup)
drizzle a bit of lemon curd, lime curd, kiwi curd, or strawberry curd on top of this cake
fresh mint
cream cheese frosting if you are looking for a creamy result
yoghurt (yoghurt and lemon pair very well together)
chocolate fudge sauce if you crave chocolate
homemade caramel sauce
powdered sugar (add the powder 1 teaspoon at a time. Pass the powder through a sieve for perfect results)
candied lemon or candied orange
As you can see, the choices are endless! It's completely up to you how you decorate your cake. In fact, you don't even need to decorate it. You can opt for serving it without the lemon glaze if you'd like to spare a few calories.
Nevertheless, this is a delicious dessert, to be enjoyed at any time of day!
How would you serve your chia seed cake? How would you decorate it? Let me know in the comments section.
GIVEAWAY
This week one winner will receive one hamper of freeze-dried fruits packs by Healthy Future (strawberries, raspberries, blueberries and bananas), worth £50.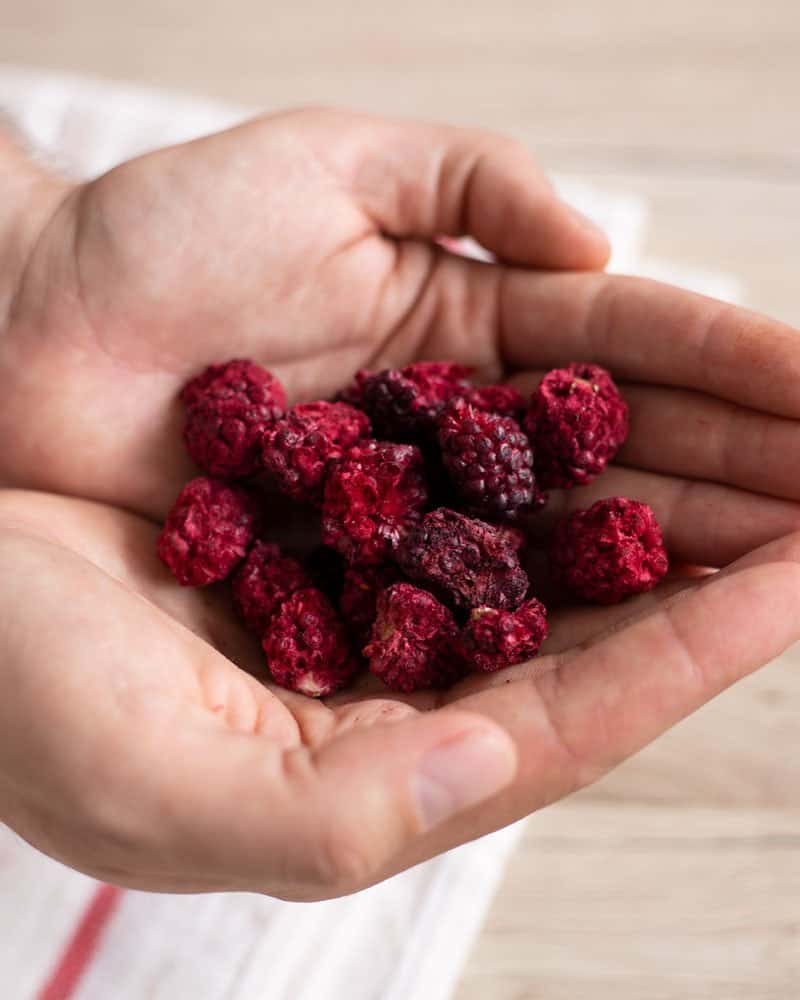 Fruity, veggie and delicious, this is what simply describes our freeze-dried product. Our freeze-dried fruit and vegetables are 100% natural, gluten free, with no added sugar or preservatives, they can be easily added to your daily diet and be part of smoothies, mueslis, porridges, cakes, ice cream, or eaten as a healthy snack and so much more.
The whole process of freezing the product and then taking the rest of the water out helps the fruit and vegetables to keep all the nutritions, making them incredibly light, portable and compact.
They can also be re-hydrated by just adding warm water. No more worrying about going off fruit!
Our product can be stored at room temperature without refrigeration and can retain the same nutritional value, taste, texture and color for a long time when stored in a cool, dry place (unopened).You will fall in love with it!!!
a Rafflecopter giveaway
Entering is easy, just follow the instructions below.
HELP
Here you can find a tutorial on how to enter with Rafflecopter.
If your form is not showing, try refreshing the page.
Complete the form, otherwise your entries will not count.
Make sure the mandatory entries (e.g. leave a blog comment) are completed first.
Don't forget to come back daily for extra entries via Twitter.
If you're viewing this post by email, please come to the actual webpage to enter.
Competition Question: What is your favourite healthy cake?
Print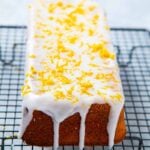 Chia Seed Cake
---
Author:

Michelle Minnaar

Total Time:

1 hour 25 minutes

Yield:

8

slices

1

x

Diet:

Vegetarian
Description
This chia seed cake is drizzled with lemon icing and makes a healthy addition to tea breaks. It's easy to prepare and vegetarian. 
---
Cake
180g

(

¾ cup

) butter, softened

120g

(

⅝ cup

) + 7.5ml (

1½ tbsp

) sugar

4

eggs, separated

60

ml (¼ cup) milk

15

ml (1 tbsp) lemon zest

15

ml (1 tbsp) lemon juice

43g

(

¼ cup

) chia seeds

2.5

ml (½ tsp) salt

120g

(

1 cup

) all-purpose flour, sifted
Lemon Glaze
---
Instructions
Preheat the oven to 180°C / fan 160°C / 350°F / gas mark 4.
Grease a 22cm/2lb loaf tin with butter.
Place the butter and sugar in a stand mixer, and cream until pale and fluffy.
Add one egg yolk at a time, and beat it into the mixture until all are used up.
Set the mixer on a low setting, then add the milk, chia seeds, lemon juice, zest and salt. Set aside.
Place the remaining egg whites and 7.5ml (1½ tbsp) sugar in another bowl and beat until stiff peaks have formed.
Fold in a bit of the flour into the egg yolk mixture, then fold in a bit of the egg white mixture. Keep alternating until everything is well incorporated and a batter is formed.
Pour into the greased loaf tin and cook for 40 minutes or until cooked.
Remove from the oven and leave to cool on a cooling rack.
For the Lemon Glaze: Mix together the icing sugar and lemon juice until you have a smooth icing. You might need to add a few drops of water if the icing is too thick.
Pour the icing over the top of the cake, letting the icing drizzle down the sides.
[Optional] Sprinkle the top with lemon zest.
Serve with your favourite cup of tea or as part of an afternoon tea. Enjoy!
Notes
If you don't own a stand mixer, you can use an electric hand mixer.
You can test if the cake is cooked by inserting a wooden skewer. If it comes out clean, it's ready.
Prep Time:

40 minutes

Cook Time:

45 minutes

Category:

Dessert

Method:

Bake

Cuisine:

American
Keywords: chia seed cake, lemon chia seed cake, chia seed recipe, baking with chia seed, healthy cake recipe, lemon cake recipe