This chocolate concrete cake is an absolute classic! It tastes incredible, is so easy to make and will bring out the pure pleasure effect for grown-ups and kids.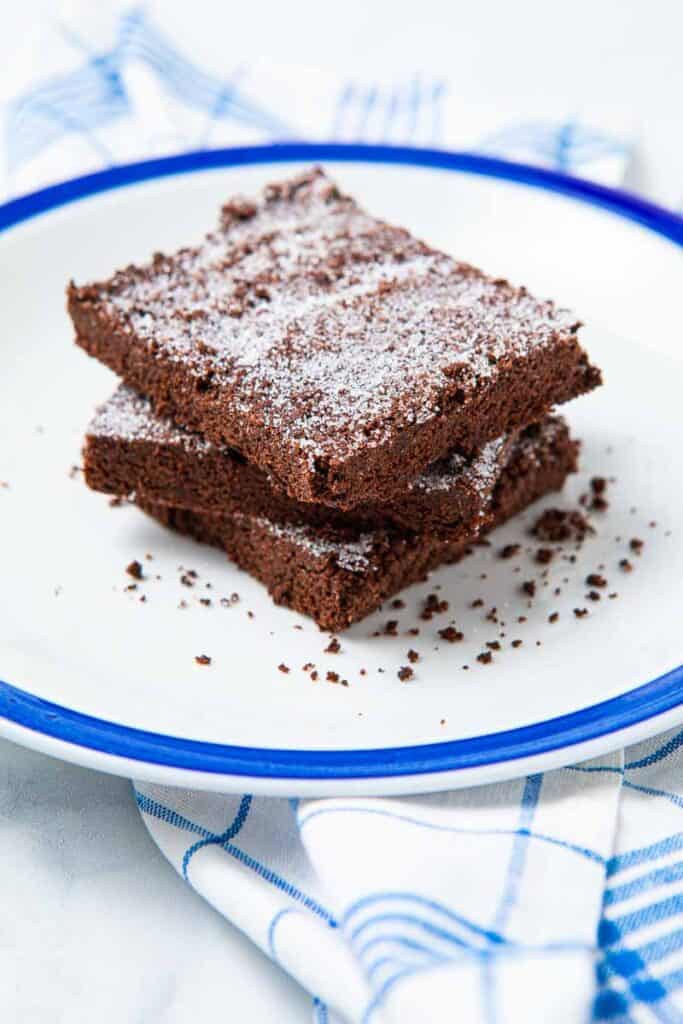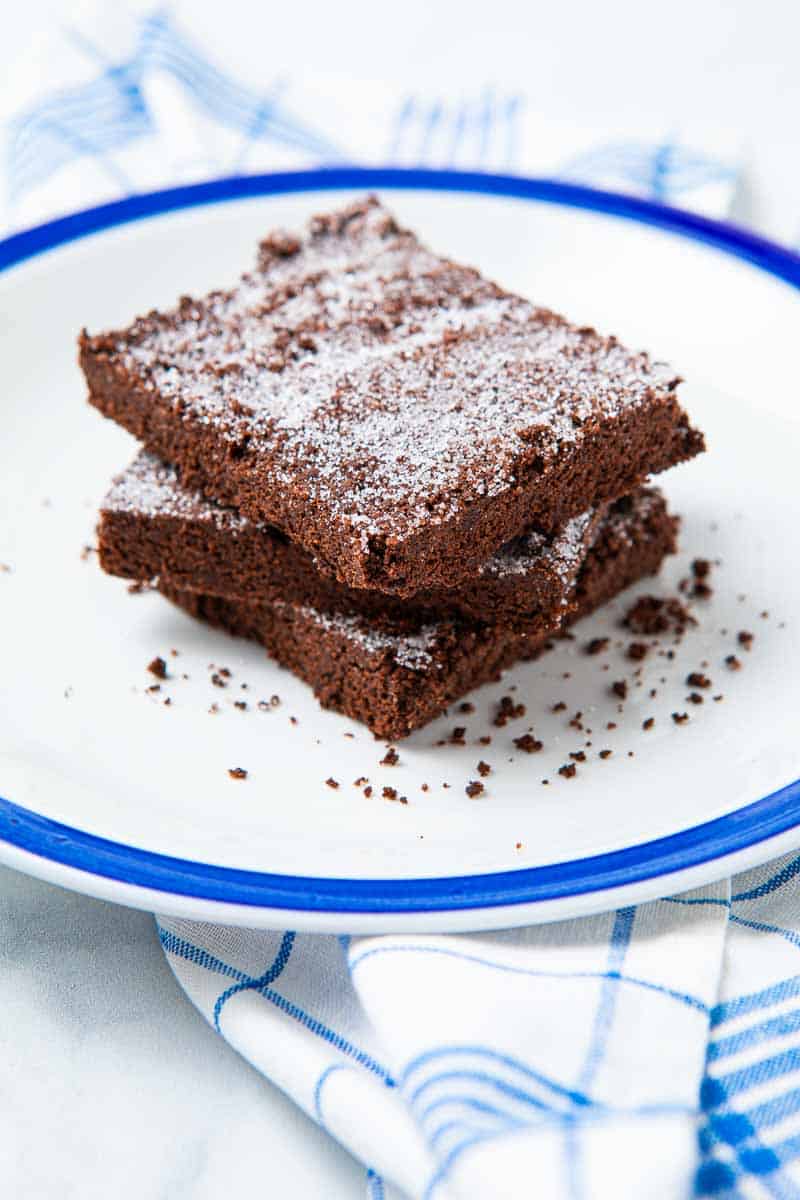 They say nostalgia can be a bad thing. Well, not when it tastes this good. If you devoured this at school lunch times as a kid, this recipe will take you back in a flash. If you never tried it, let your inner-child loose and indulge in the simple bliss of this chocolate crunch recipe.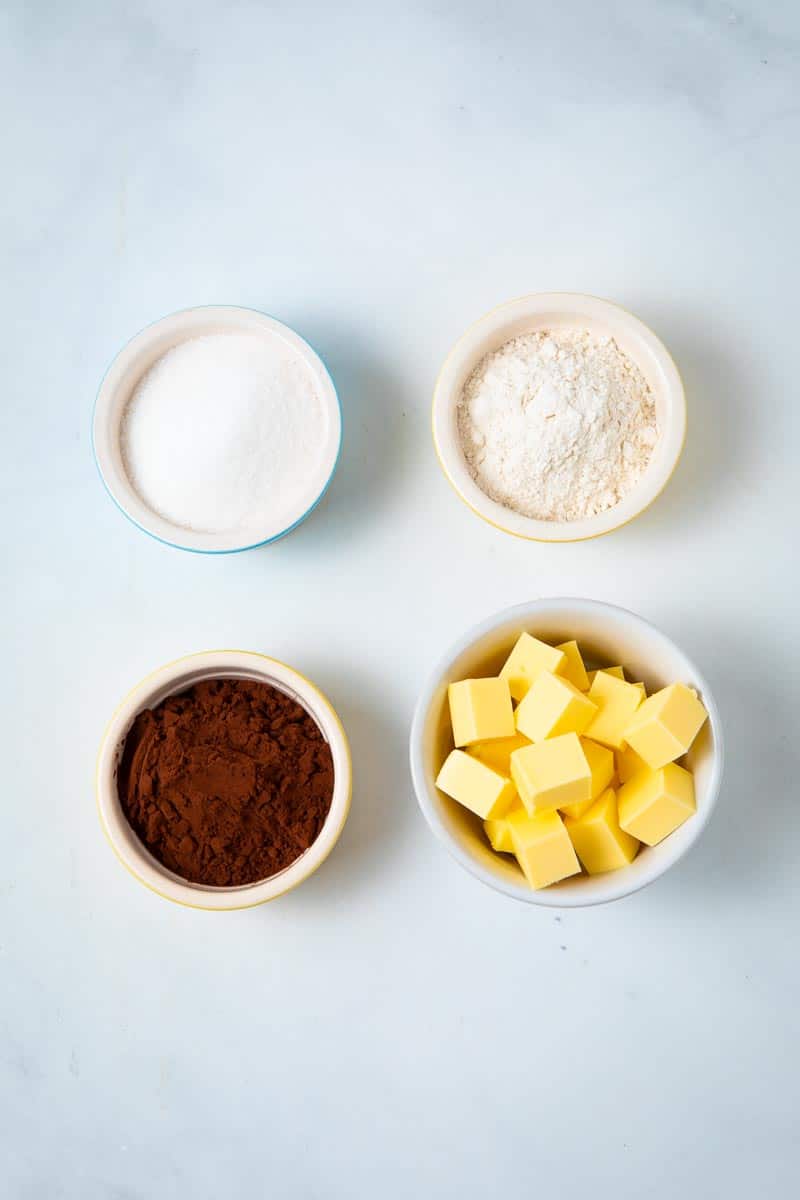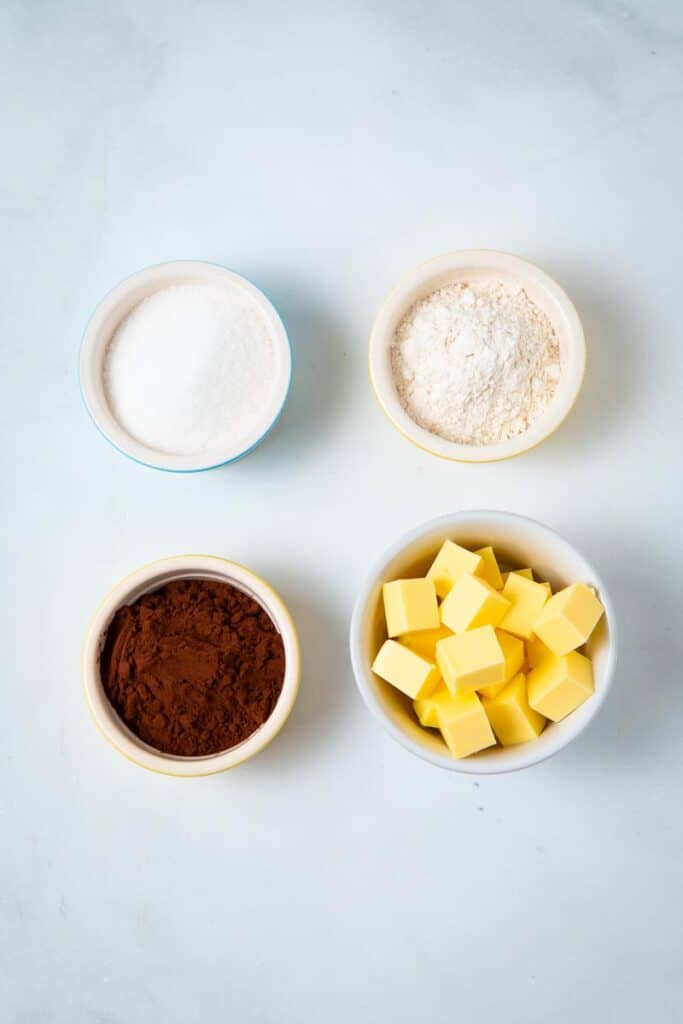 Items you'll need for this recipe
Mixing bowl – get a good mixing bowl to mix up your ingredients for your concrete crunch cake.
Mixing spoon – you'll need a good spoon to get mixing.
Baking tray – once your mixture is ready, you'll need to spread it evenly across a baking tray, ready to be baked in the oven.
Wire cooling rack – when your chocolate crunch is ready, it'll need to cool on a wire rack.
Plain flour – plain flour works best, to get that heavy weight concrete texture to your chocolate crunch cake.
Cocoa powder – get some good quality cocoa powder for this chocolate crunch recipe. You can use hot chocolate if you like – it might taste just like childhood! Still, cocoa powder will taste better.
Granulated sugar – granulated sugar is an essential part of the mix. Also, sprinkling some granulated sugar on top at the end of baking makes all the difference.
Custard powder – if you'd like to go proper old-school, serve your chocolate crunch with custard and a big goofy grin!
Airtight containers – use these handy containers to store any leftovers… that's if you haven't polished off the lot in one sitting!
How to make chocolate concrete
If you've thought back to the glorious desserts of your childhood and wondered how to make chocolate crunch, otherwise known as chocolate concrete, it's so simple. Here goes…
First you need to get the oven hot and ready. Preheat the oven to 180°C, then get to work on your chocolate crunch mixture. The mixture is made up of four simple ingredients – butter, flour, sugar and cocoa. See, this couldn't get any easier!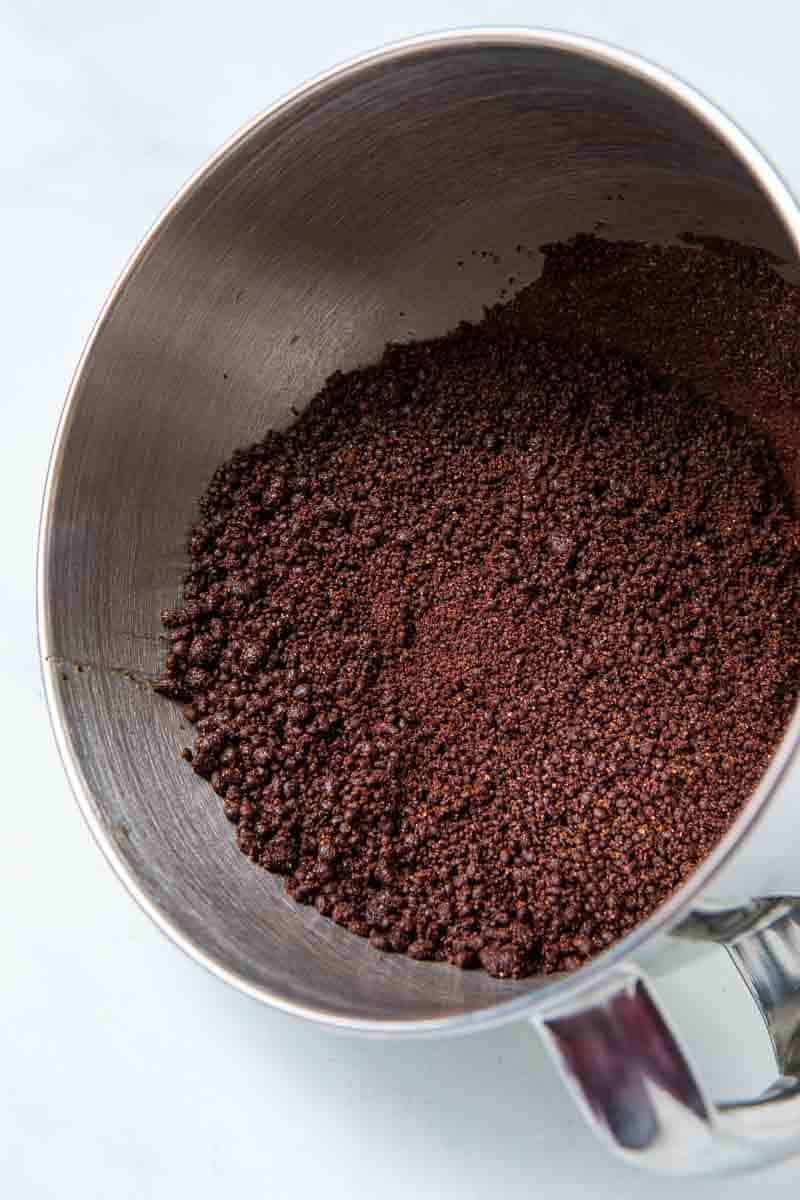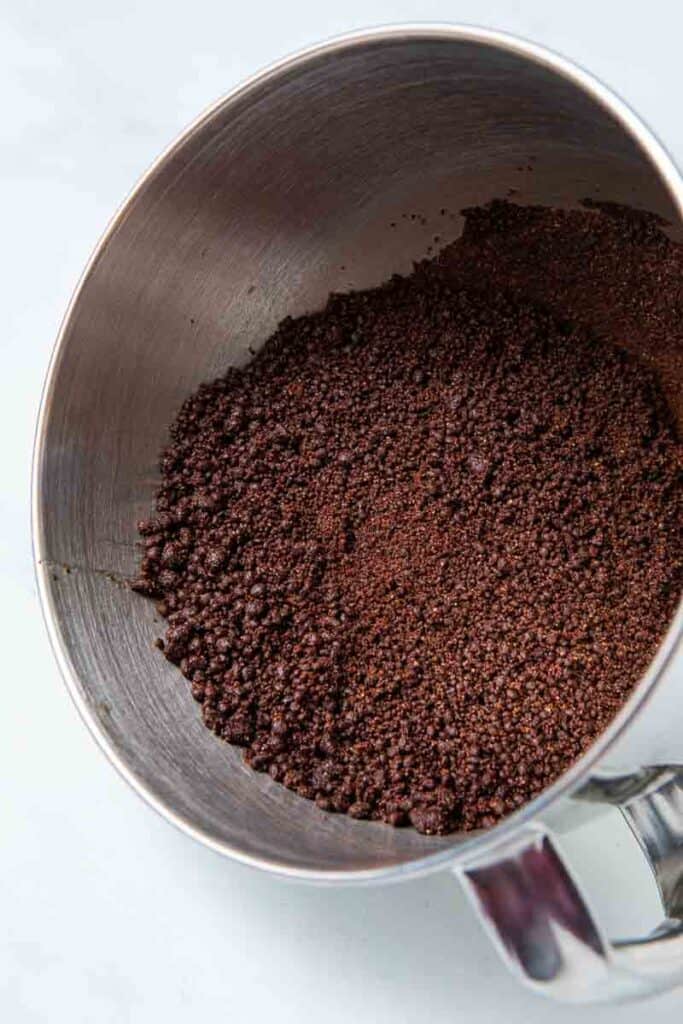 First, you need to mix the flour, sugar and cocoa, until you've got a crumbly chocolatey flour mixture.
Then comes the melted butter. Gently heat the butter until melted, then pour into the mixture. Mix together until you have a stiff mixture.
Grease up a baking tray and pour the mixture in. You want to spread the mixture out nice and even, making sure it's flat. This will give you evenly baked chocolate concrete.
Another key tip is to flatten the mixture. Put your hand inside a sandwich bag and push down on the mixture, keeping it as flat and even as possible. This will condense your chocolate concrete cake and give it that heavy bite and deep chocolatey taste that you're looking for.
All that's left to do is pop it in the oven for 20 minutes. Your house will fill with a divine chocolatey smell, you'll salivate like Pavlov's pooch and the chocoholic kid in you will jump up and down in gleeful anticipation.
Once baked, sprinkle some sugar on top and give in to temptation! If you like, serve with lashings of custard.
How to make chocolate crunch hard
With your hands. You in the back row… stop smirking!
Yes, it's true, you'll need your hands to flatten the mixture and condense everything. This will mean less air in the mixture, giving you a weightier, harder backed chocolate slab. Just like the good old days!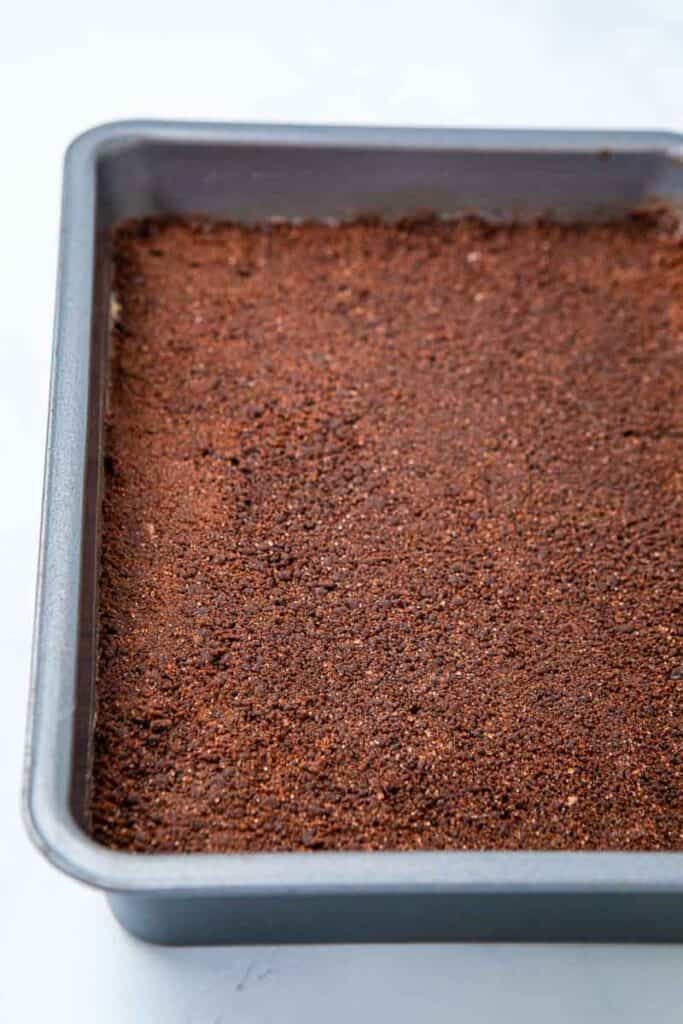 How to make chocolate crunch like school
Ah, the good old days! Well, some of them were good. Especially those deliciously simple puddings. The thing is, it's hard to replicate those old recipes. Nowadays, we want to use the best ingredients and cook everything to perfection.
The truth is, a lot of what gave these old school recipes character is that they didn't always use top notch ingredients. The 70s, 80s and 90s were much more about unrefined tastes. Sometimes though, those tastes have a charm of their own.
If you're making this recipe for a scrumptious blast from the past, you'll want to try to get as close to that old school taste as possible. So, there are a few things you'll want to consider.
Firstly, while instead of cocoa, use hot chocolate powder. It's not got the same out-and-out quality, but it'll give you that nostalgic pudding taste you're looking for.
Next, use standard white flour. Some people might plump for self-raising, gluten free or some other flour alternative like rice flour. Plain is best here. It'll give you that crunch that'll take you back to your school days.
As I said in the previous section, pressing down on the mixture before you bake it is really important. You don't want it to be too light. The point is to have a brick consistency with a crunchy bite. That's part of the charm of this old school classic dessert.
Finally, a sprinkling of the sweet stuff on top while it's still warm gives it that final touch.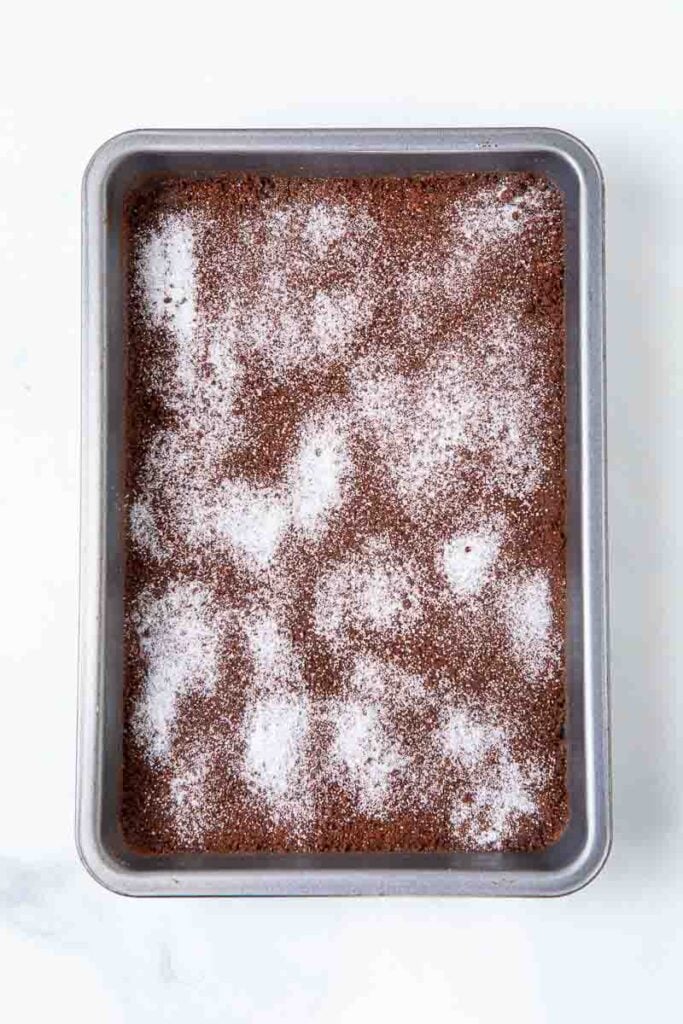 Where does chocolate crunch come from?
This cruncy, chocolatey delight comes straight out of the school canteens of the 70s, 80s and 90s.
While they may not have the sophistication of the French kitchens of culinary masters, the dinner ladies of yesteryear knew a thing or two when it came to putting a smile on a kid's face. This recipe will definitely bring a smile to big grown up kids and little kids alike.
Can you put chocolate crunch in the fridge to set?
When your chocolate crunch is out of the oven, leave it to cool on a wire rack for 5-10 minutes. Once it's cool enough, you can cut them into blocks and share the joy!
You can also leave them to chill them in the fridge after they've initially cooled. Put them in the fridge for 2-3 hours for a nice cool crunch.
Can you freeze chocolate crunch?
If you want to save some of this chocolate crunch for a later date, you can always freeze it. It'll keep its flavour for 2-3 months when frozen.
When you fancy another blissful blast from the past, just defrost overnight and devour the next day!
How to store chocolate crunch
You can store chocolate crunch in an airtight container. It'll keep for around 5 days if you store it at room temperature, or a few days longer if you store it in the fridge.
Trust me though, it'll be gone way before then!
Where to buy chocolate crunch
You won't be able to buy this old school classic in the supermarket. That's what makes it so special.
You might be able to find a local bakery that makes it. It's so much more satisfying to whip up your own though. Cheaper too!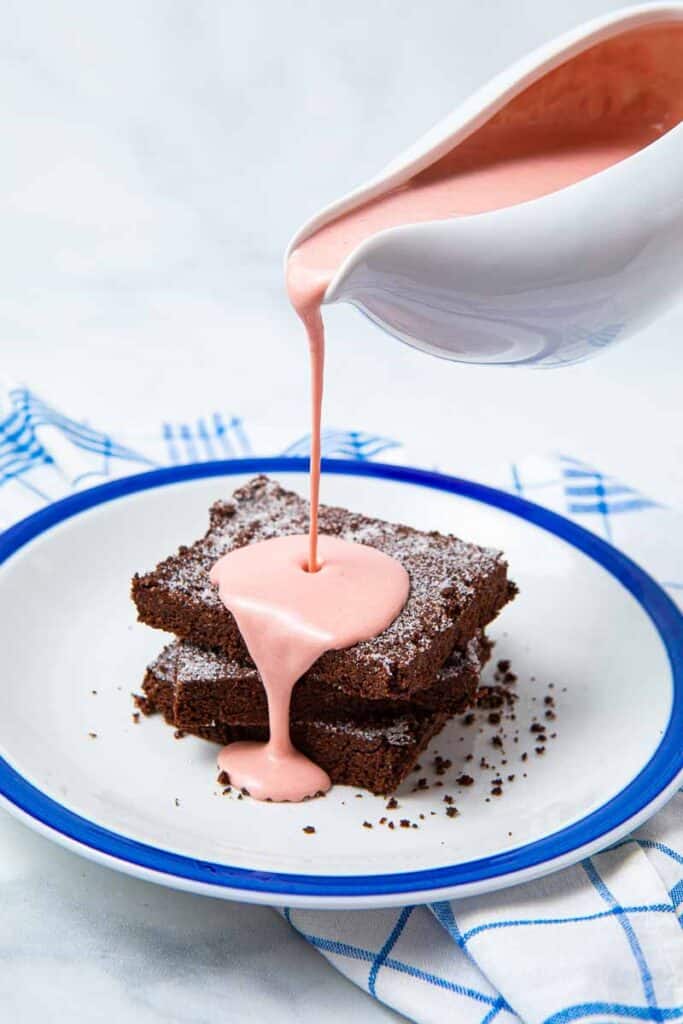 What to serve with this recipe
If you want the perfect partner for this nostalgic delight, whip up a pot of pink custard! It's so easy to bake and will make your delicious trip down memory lane complete.
More old school desserts
If you had fun making (and eating) this old school dessert recipe, check out these other delicious classics, each of which brings its own unique, irresistible charm.
What's your favourite old school classic dessert recipe? Let me know in the comments below!
Competition Question: Which retro dessert do you love the most?
Print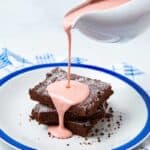 Chocolate Concrete
---
Author:

Michelle Minnaar

Total Time:

40 minutes

Yield:

20

squares

1

x

Diet:

Vegetarian
Description
Chocolate concrete cake, also known as chocolate crunch, is a retro school dinner loved by all who went to school during the 1980s. Best served with pink custard.
---
600g

(

4¾ cups

) flour

600g

(

3 cups

) sugar

160g

(

2 cups

) cocoa powder

300g

(

1⅓ cup

) butter, melted
---
Instructions
Preheat the oven to 180°C / fan 160°C / 356°F / gas mark 4.
Butter a 30x22cm (12 x 8.5in) tin and set aside.
Place the flour, sugar and cocoa powder in a large mixing bowl and give it a good stir.
Drizzle the melted butter into the flour mixture.
Mix everything together until the mixture is crumbly and sand-like.
Tip the bowl's contents into the buttered tin.
Using your hands or a spatula, press hard onto the chocolate mixture. Flatten the surface as much as
possible and ensure that the mixture is as dense as possible.
Bake in the oven for 30-35 minutes, or until crisp.
Remove the tin from the oven and sprinkle with extra sugar.
You can serve it either hot or cold, on its own or with pink custard. Enjoy!
Notes
If you're vegan, you don't have to miss out. Simply substitute the butter with a vegan butter.
I've intentionally made this concrete cake thicker than the original. The thinner versions just break so much easier.
Prep Time:

5 minutes

Cook Time:

35 minutes

Category:

Dessert

Method:

Bake

Cuisine:

British
Keywords: chocolate concrete, concrete cake, retro school dinner dessert, 80s dessert recipe, chocolate crunch