Who doesn't love the good old lemon drizzle cake with their tea? I have always enjoyed a tiny slice with my cup of Earl Grey. Now you can also enjoy making, and most importantly, eating drizzled lemon curd cupcakes. The perfect balance between sweetness and zest is moreish and you will have to make a large batch when guests are coming over.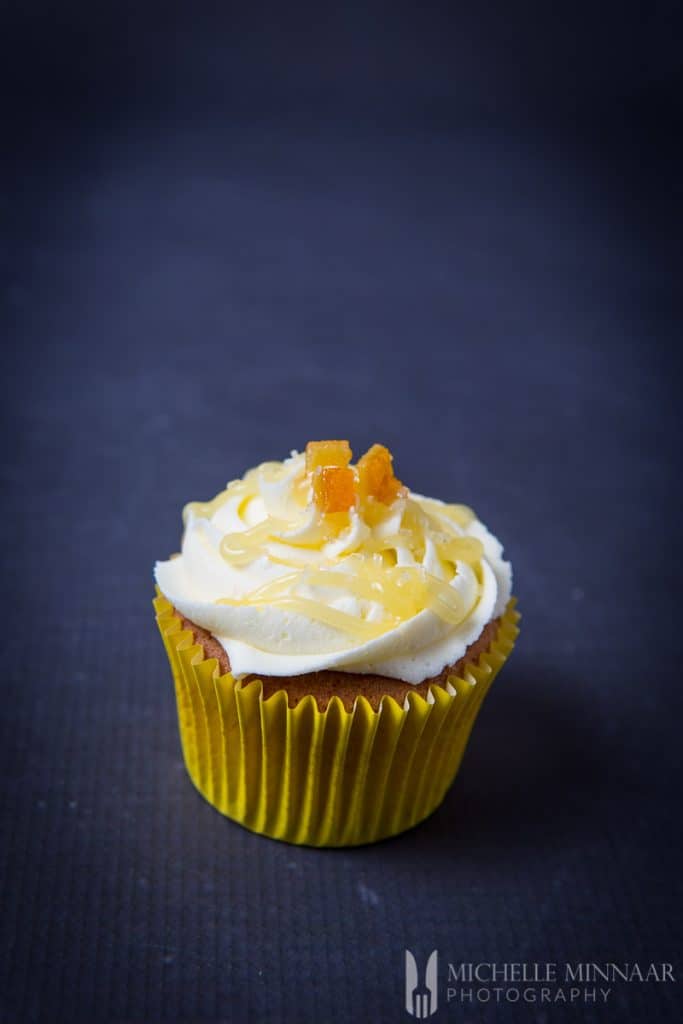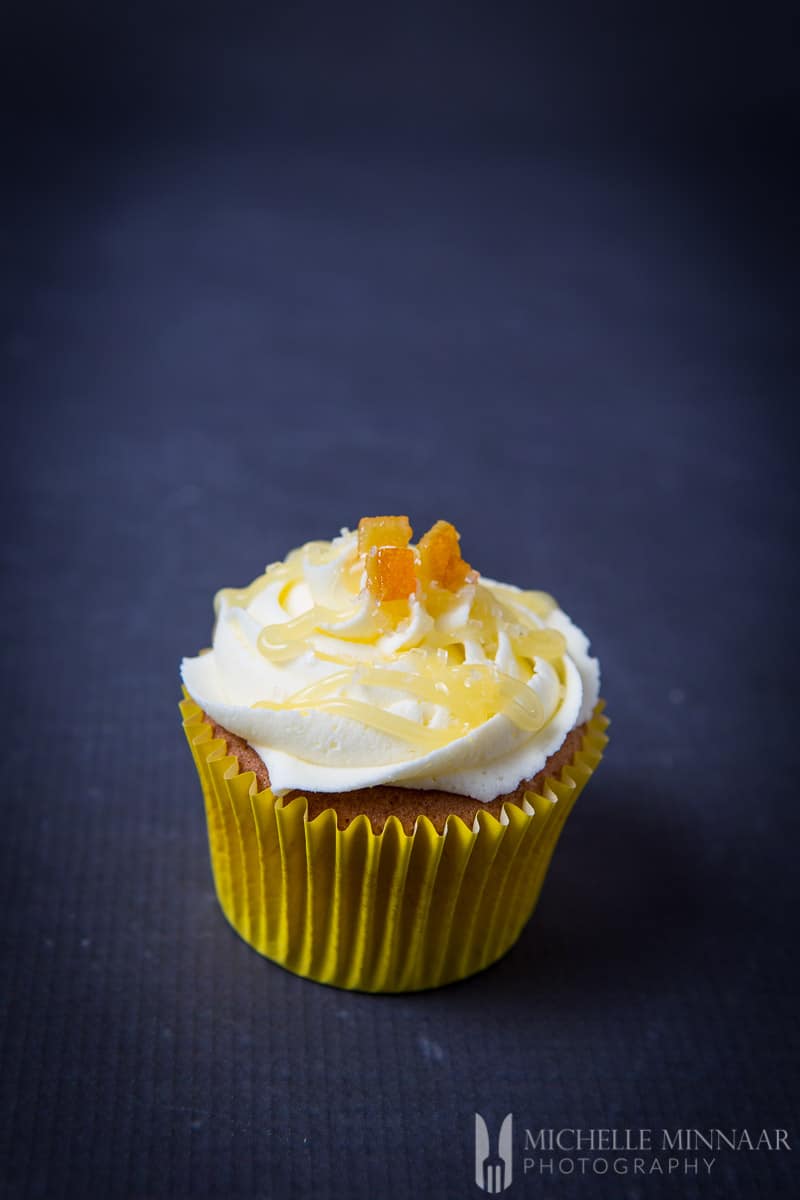 It was amazing to witness Sue Field's craftsmanship when she prepared her drizzled lemon curd cupcakes. The amount of work she puts into her creations at Finesse Cakes is astonishing. When I look at her cake and cupcake portfolio, I start salivating immediately. I bet all her cakes and cupcakes are amazing in terms of flavour too. Just have a look right HERE.
Sue Field is the cake maker and decorator for Finesse Cakes, operating from her home-based in Hockley, Essex, England. She got into cake decorating back in 1999 while she was designing and decorating her own wedding cake. She was always fond of model making, even as a young child. Prior to decorating her own wedding cake, she took a couple of cake decorating courses. There, she learned the details of flower making and piping work. Since then, she hasn't stopped. In 2009, she launched Finesse Cakes and is consistently awarded a 5 Star Food Hygiene Rating from Rochford District Council.
Sue's journey towards Finesse Cakes is definitely an inspiration for those who wish to pursue their dreams. It just comes to show that you can achieve anything when you put your mind and passion into it. If you look at one of the cakes or cupcakes at Finesse Cakes, you'll clearly see Sue's passion for cake decorating. To learn more about Sue, her journey and Finesse Cakes, please visit her about me page. For her latest creation, check out Finesse Cakes on Twitter.
History
I am not really certain when cupcakes were invented, but I am sure glad someone created them! Lemon curd was known as lemon cheese in the early English times. As early as in the early 19th century, Lady Charlotte Campbell Bury mentioned the term lemon curd. She was famous for her book of recipes within which she had mentioned lemon curd.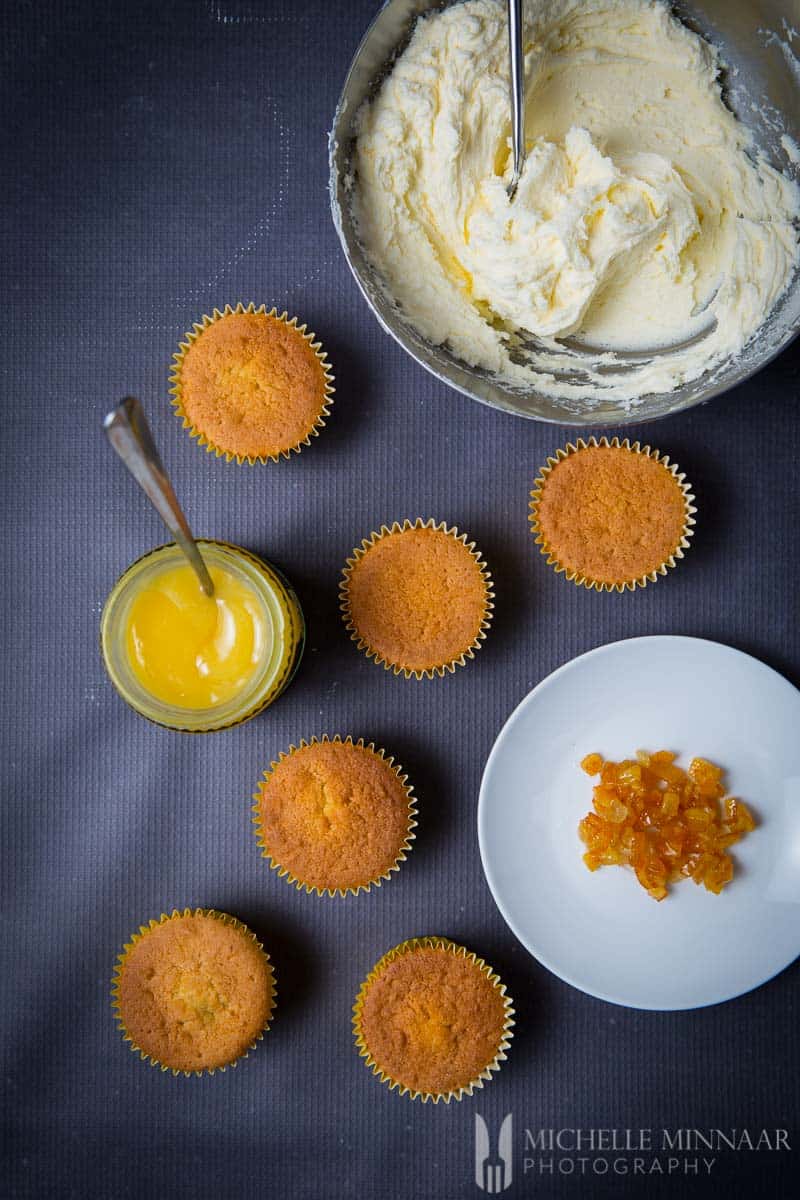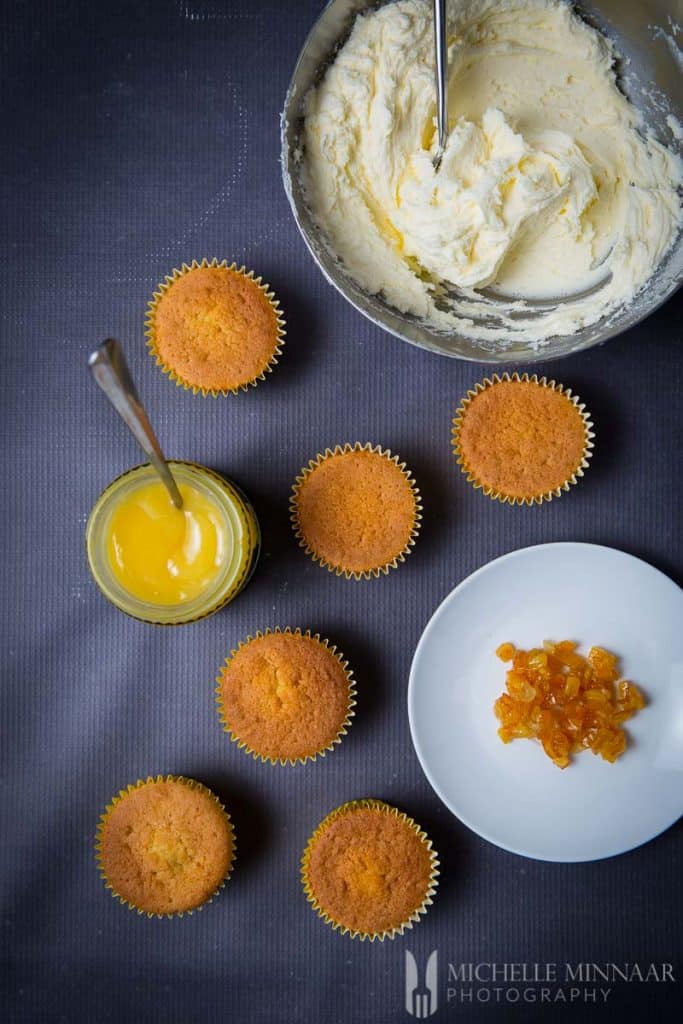 Lemon curd
I bought a jar of lemon curd from the supermarket for this recipe. If you want to make the filling completely from scratch, here is the recipe. If using homemade lemon curd, don't forget to let it cool down first!
What is a curd anyway? You can make a curd from any fruit. Many have thought of it as a fruit jam mixture. The difference between a curd and jam is the addition of eggs and butter. Thus, the result is a creamier texture. If you purchase your lemon curd in the supermarket, make sure you look at the date of expiration as you open the jar. Usually, the curd doesn't last very long once you open it.
It's not difficult to make you own lemon curd. In fact, you can make curd roughly from any type of fruit you want! You'll need eggs, butter, sugar and fruit of your choice. That's all! Here's a kiwi version.The most difficult part of making a curd is not expose the mixture to too much heat, otherwise you'll end up with a sugary omelet. Trust me, you don't want that to happen.
First you warm up and mix the juice of the fruit with sugar and butter, add in the mixed eggs and stir for your life! Finally, when you reach a thick consistency, take the curd off from the heat and keep mixing. The eggs might still be cooking and you might get an undesired result!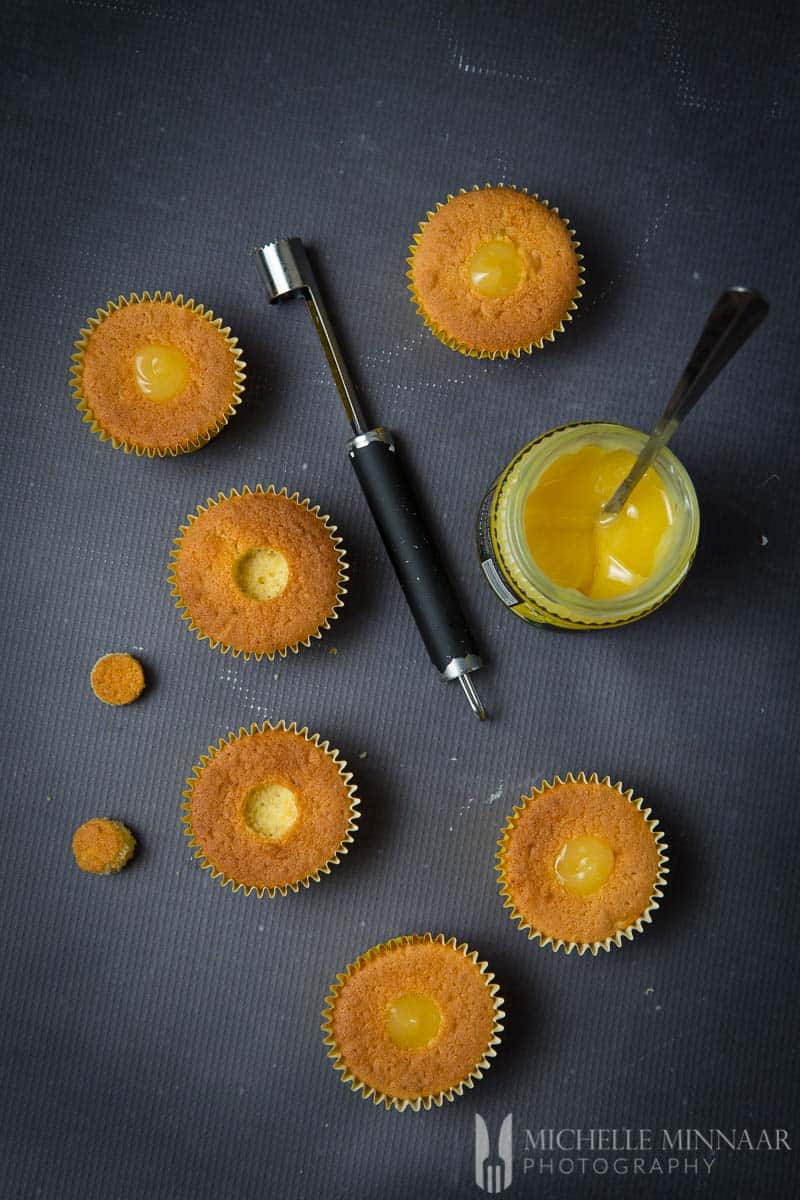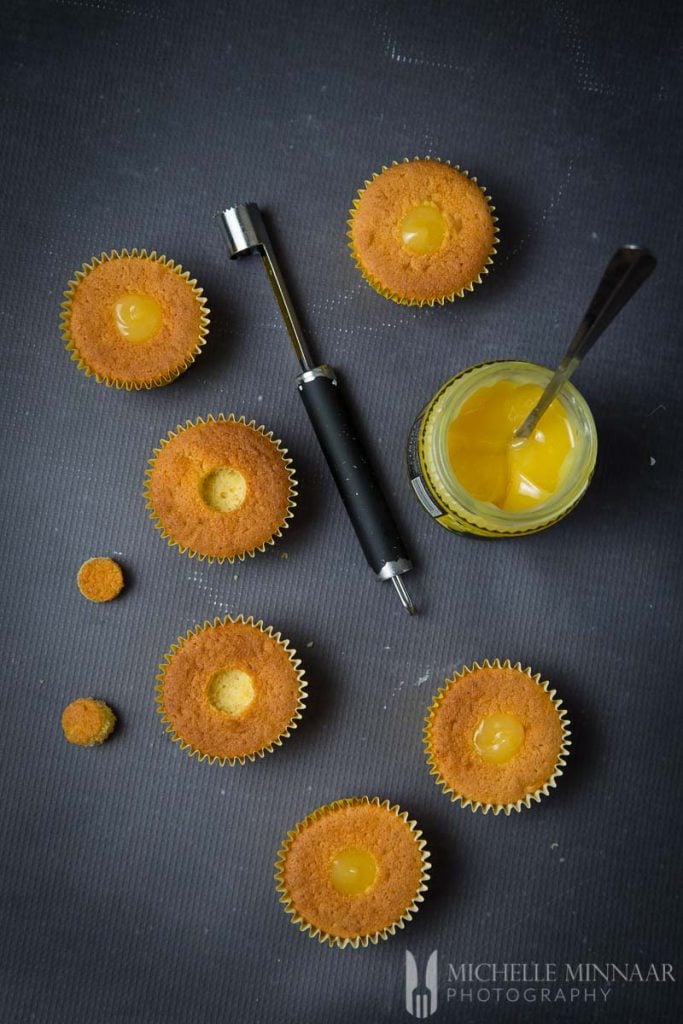 Substitutes for lemon curd
You don't have to stick to lemon curd cupcakes and there are other zesty fillings your can tinker with. Moreover, if you prefer a different type of citrus, you can easily substitute the lemons for these ingredients:
Orange: the number one choice for some people because of the sweetness.
Lime: second popular choice for curds, it's more exotic and tangy.
Pomelo: less bitter than the grapefruit.
Grapefruit: the most bitter out of all citrus fruits.
Clementine: very aromatic, sweet and tangy.
I usually prefer to use the lime for that zesty and tangy aftertaste. Moreover, it's more special in terms of acidity, which creates a lovely balance with the sweet batter. Before you continue reading, I'll share some practical information about the zest. If you want your drizzled lemon curd cupcakes to have more flavour, add more zest or juice the lemons. Add the juice directly into the batter.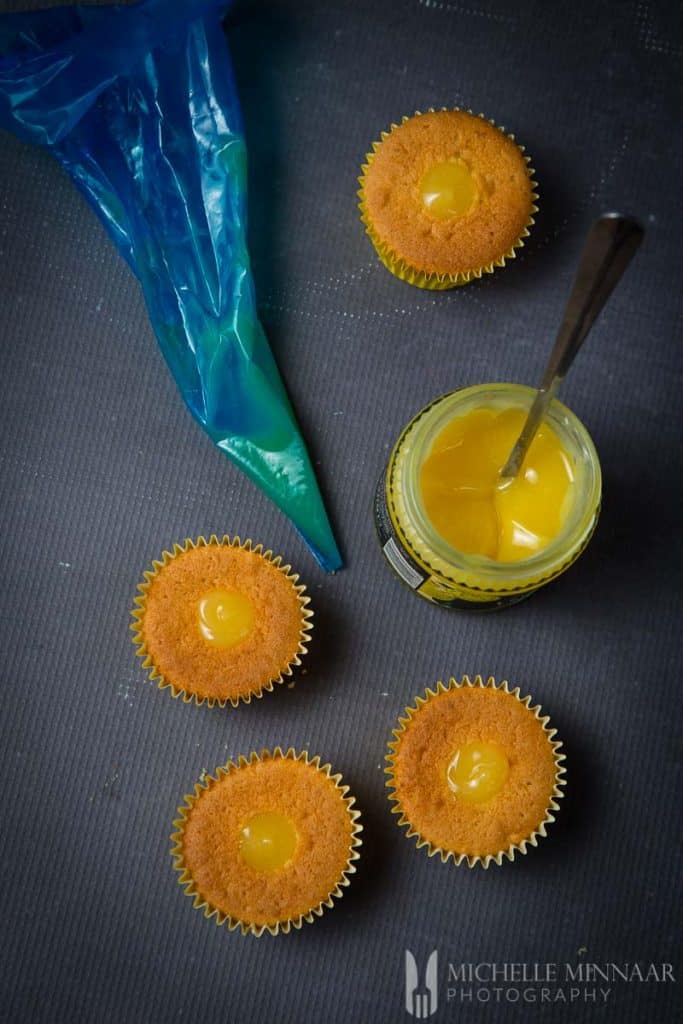 Daredevil cupcakes
Do you like to experiment? It's a generally known fact that Britons have the best tea in the world. I've seen Green Rea cupcakes and they were delicious. Since Earl Grey tea goes so well with the lemon curd cupcakes, why not incorporate the tea into the cupcake batter? I haven't tried this technique yet, but for those of you who have, please share your experiences in the comments below.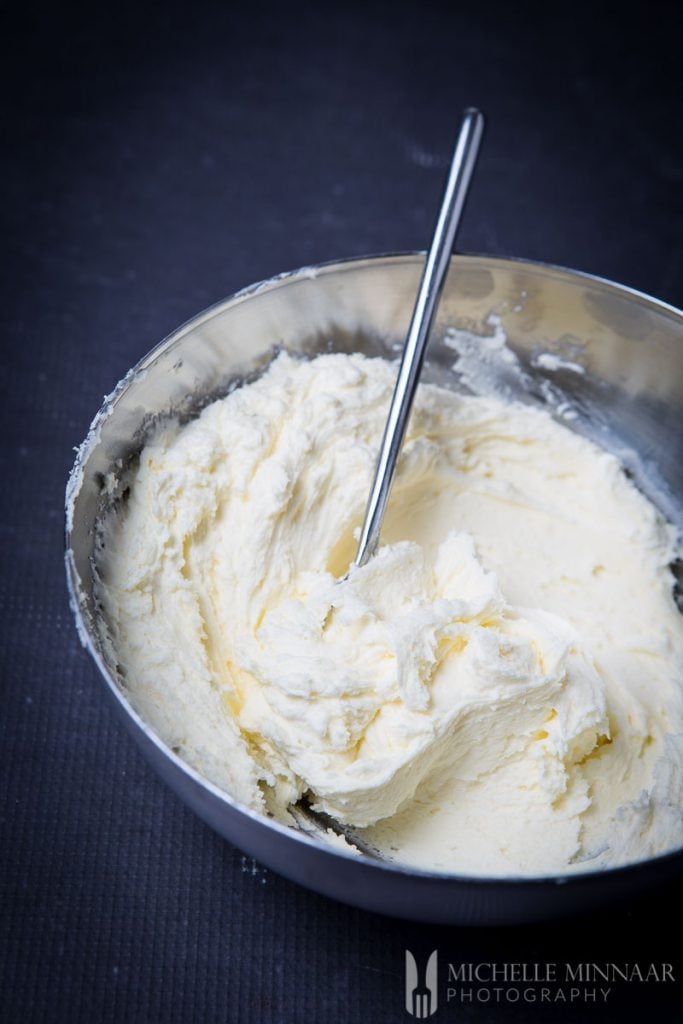 Batter
As you are about to make your batter, here's another handy trick. To make your batter fluffier and lighter, add each egg separately into the mix. This will prevent the flour from curdling. Make sure you mix everything at a lower speed. Otherwise you might overwork the batter and your lemon curd cupcakes will not be as soft. The best way for you to achieve even and equal batches of cupcakes is by using an ice cream scooper. I've used this technique in my raspberry and white chocolate cupcake recipe. You can access it here.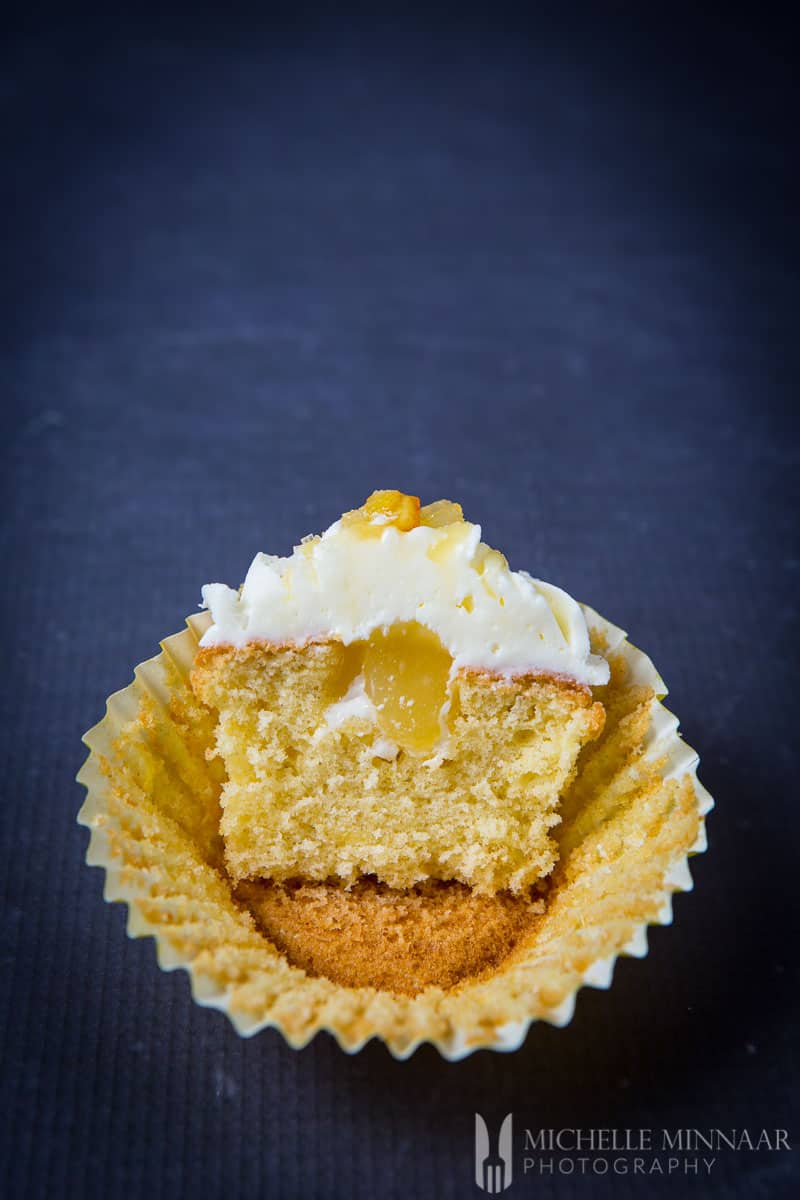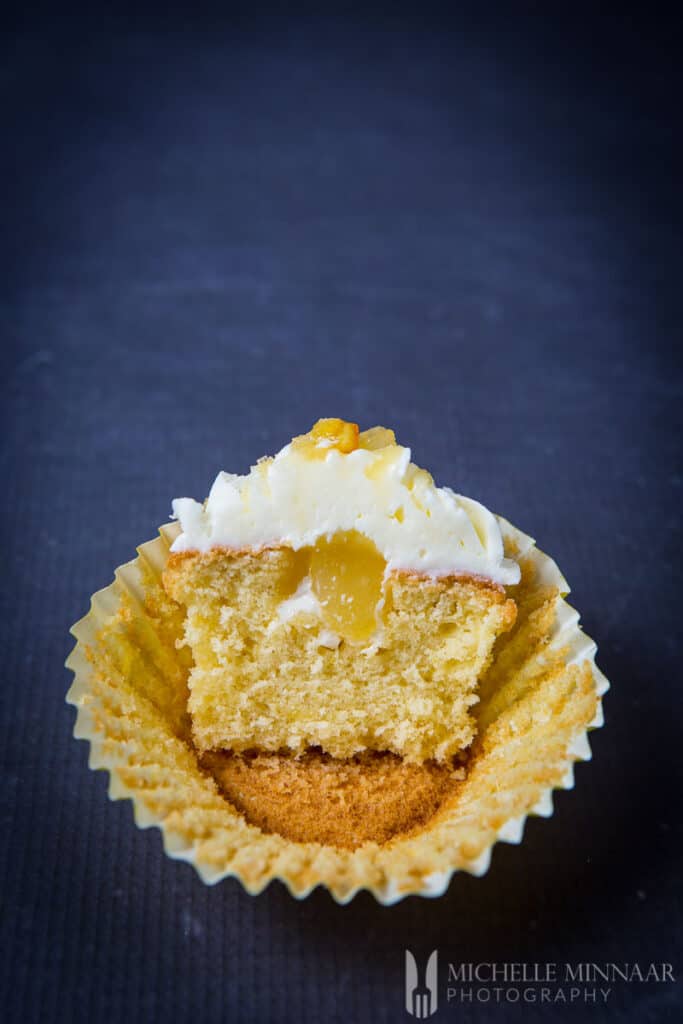 Oven
Many people don't realize this fact, but not all ovens are the same! Make sure that you check the heat inside the oven so you don't undercook or overcook you lemon curd cupcakes. That would really be a pity. Cook the cupcakes as needed and watch them rise slowly.
Icing
The smell os freshly baked goods is very tempting. Let the cupcakes cool before you attempt to add the icing. Once your the cakes cool down, make small wells on the topmost part of the cupcake using an apple corer. Now, you can fill in the cupcakes with lemon curd. Yum! To top it off, pipe swirls of butter icing on top and decorate as you please. I've achieved a lovely icing effect with three different colours in my previous cupcake recipe, click here to find out more.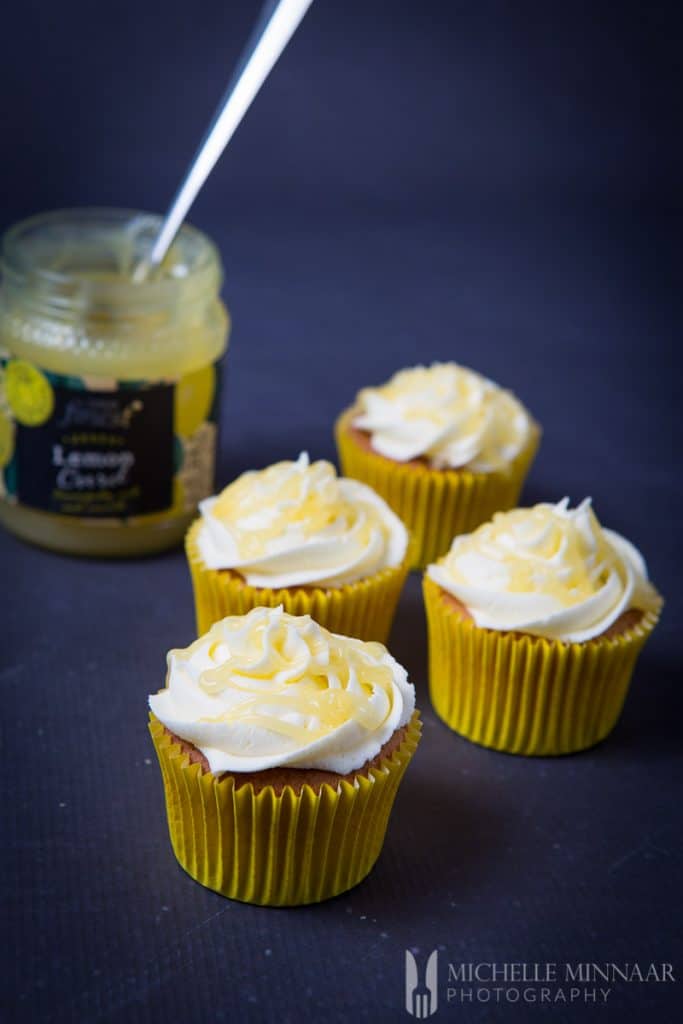 Toppings
Finally, as a last touch, you can add multiple toppings such as sprinkles, shaved chocolate, more lemon zest, etc. The list can go on and on. My favourite addition to the drizzled lemon curd cupcakes is the candied lemon peel. Use the peel of the other citrus fruit if you made a curd out of it.
If you feel like making another delicious lemon dessert, try this lemon chess pie.
For more yummy cupcake recipes, click right here:
https://www.greedygourmet.com/recipes-by-dish/chocolate-orange-cupcakes/
https://www.greedygourmet.com/recipes-by-dish/salted-caramel-cupcakes/
https://www.greedygourmet.com/recipes-by-cooking-times/30-to-60-minutes/raspberry-and-white-chocolate-cupcakes/
https://www.greedygourmet.com/recipes-by-cooking-times/30-to-60-minutes/carrot-cupcakes-with-vanilla-buttercream
Print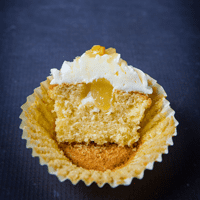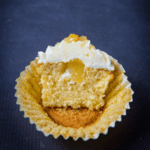 Drizzled Lemon Curd Cupcakes
---
130

g

(4 1/2oz) self-raising flour

130

g

(4 1/2oz) caster sugar

130

g

(4 1/2oz) butter or margarine

2.5

ml

(1/2 tsp) baking powder

2

large eggs

1

-

2

fresh lemons

125

g

(4 1/2oz) unsalted butter

250

g

(9oz) icing sugar
Lemon curd
Candied peel (optional)
---
Instructions
Preheat oven to 175°C/350°F/gas mark 4 and place appropriate number of muffin cases in a muffin tray.
Measure out butter and sugar into same bowl and cream together until well mixed and turns lighter in colour.
Measure out flour into a separate bowl and add the baking powder. Gently stir together.
Add 1 egg to the creamed butter and sugar along with a tablespoon of the flour and mix well. Repeat this part of the process 1 egg at a time to give a lighter mix.
Grate the outside of the lemon with a zester and squeeze approximately 10ml (2 tsp) of juice from the lemon.
Gently fold in the remaining flour, zest and lemon juice.
Scoop mixture into cupcake cases, about half full. An ice cream scoop is very handy for doing this.
Place the mixture in the oven for approximately 15-20 minutes. Check after 15 minutes to see if cooked. Cakes will be cooked when they are springy and return to shape when lightly pressed on top.
Leave cakes to cool on a wire rack.
For the butter icing soften the butter.
Carefully add icing sugar to avoid clouds of icing dust.
Mix until fully incorporated and butter icing becomes whiter. You can do this by hand but a mixer makes it much easier – just keep the mixer on a slow speed.
Optional, add a little lemon essence or fresh squeezed lemon juice to the mixture to give it an extra "zing".
Make little wells in the top of each cupcake using an apple corer and fill with lemon curd.
Using a large star nozzle, pipe swirls of butter icing onto the cakes.
Decorate with drizzles of lemon curd, sugar crystal sprinkles and some candied peel.
Notes
The temperature varies in each oven so you may need to make your oven slightly hotter or cooler when preheating.
When make smaller batches of cupcakes, it's better to mix smaller mixes by hand, but for larger quantities a food mixer is easier to use.
If you'd like to soften butter, it works well to microwave it in 10 second bursts, checking each time to see if butter is softening.
Add more zest if you want a really lemony flavour.
Wondering what to have for dinner? Why not try this Marinated pork fillet with thyme recipe?
Prep Time:

60 minutes

Cook Time:

20 minutes
Nutrition
Serving Size:

1 serving

Calories:

276

Sugar:

34.1 g

Sodium:

90 mg

Fat:

10.4 g

Saturated Fat:

6.2 g

Carbohydrates:

45.2 g

Protein:

2.5 g

Cholesterol:

58 mg
save the recipe to your pinterest board