When it comes to delicious old fashioned English desserts, they don't come much better than this gooseberry crumble recipe.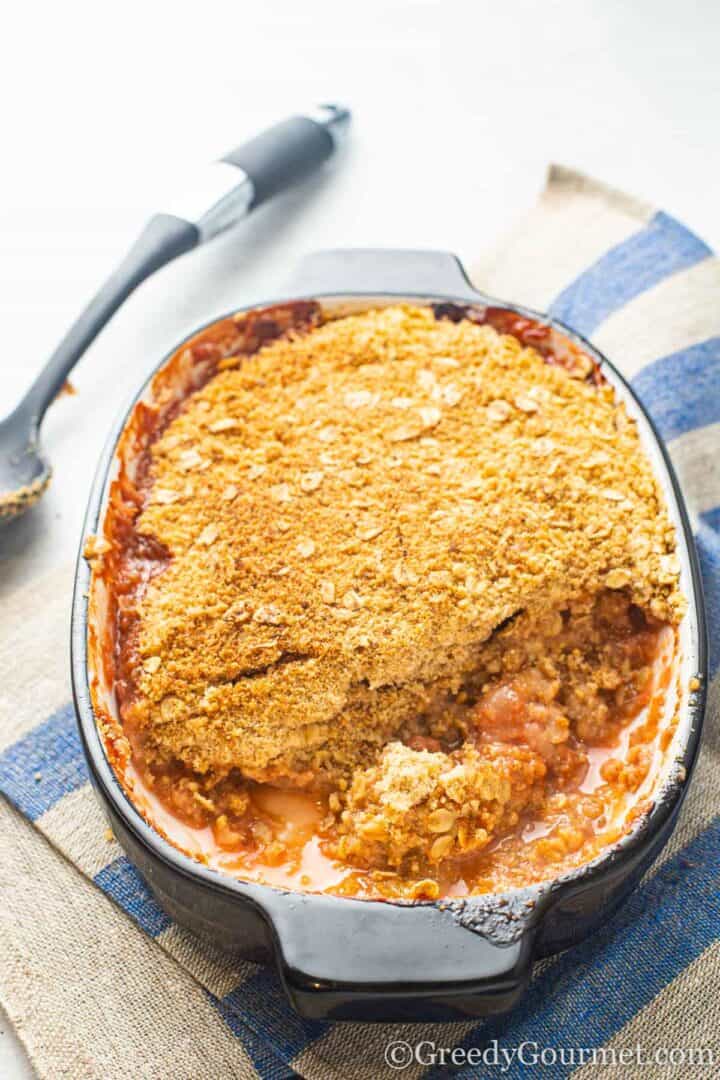 Fresh gooseberries and a buttery crumble mix make for a mouthwatering combo. Add a scoop of your favourite ice cream on top and you've got something very special indeed.
Equipment needed to make this recipe
There are a few important kitchen items you'll need before you start making this gooseberry crumble recipe.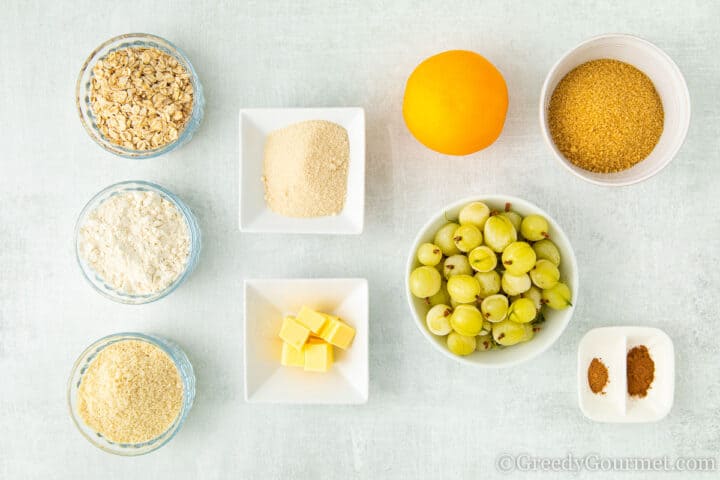 Why you'll love this recipe
Gooseberries are a sensational summer fruit that make a refreshing change from the usual bunch
Crumbles are the perfect comfort desserts for those with a sweet tooth
You can forage for your own gooseberries. Not only will you save money, but it's so satisfying making a recipe using ingredients that you foraged yourself
It's really easy to make
It goes so well with ice cream!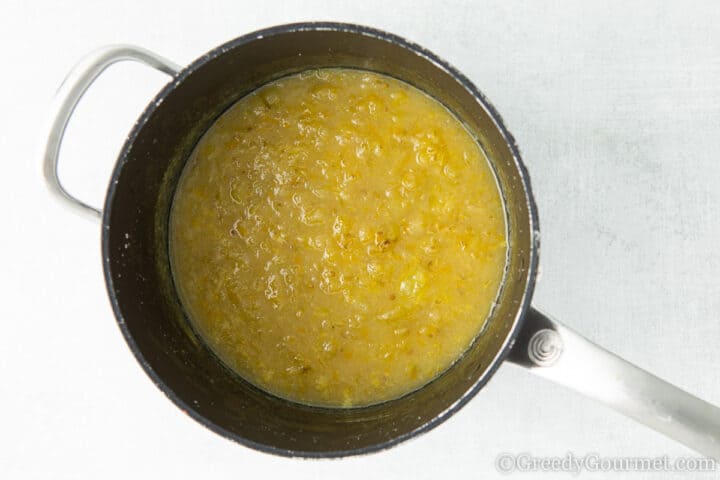 What exactly are gooseberries?
Gooseberries are little green berries, about the size of a large grape, that turn reddish purple when ripe. They have a slightly fuzzy outer skin, which sometimes has stripes on it. Although they sweeten as they ripen, raw gooseberries can taste very tart, which is why they're often cooked in pies and crumbles.
Gooseberries grow mainly in Northern Europe, especially the UK. They aren't as well-known in the States, probably due to the fact that they were banned for most of the 21st century. This is because, if not properly controlled, a gooseberry bush can cause disease in pine trees. 
The ban was lifted in the '60s and the growth of gooseberries in the States is now controlled. In the UK, they are enjoying a resurgence, as more and more people get into foraging for their own ingredients and baking traditional recipes.
How do you pronounce 'gooseberry'?
It's pronounced 'guuzberry.' As in 'good', with a 'z' replacing the 'd'.
When is gooseberry season?
Gooseberry season is between May and September, with the best gooseberries growing in the middle of Summer, between late June and early August.
Can I forage for gooseberries?
Absolutely! If you're able to forage for gooseberries, you should.
Gooseberries thrive in cooler climates, which is why they are perfect for growing in the UK. Focus your foraging on hedgerows and woodland areas, as well as along streams and riverbanks. 
Another top tip is to follow a foraging guide. You'll soon have more than enough gooseberries for this recipe. You can even double the ingredients and make two crumbles! Or even make a different gooseberry recipe, such as this gooseberry fool.
How do you store gooseberries?
Gooseberries should be stored in the fridge in an airtight container. Don't wash them beforehand – like strawberries, the extra moisture only serves to speed up the spoiling process. So, wash them just before you use them for this recipe.
How long do gooseberries last in the fridge?
If you store them properly, they'll last up to a week in the fridge.
Can you freeze them?
Yes you can! Freezing gooseberries is a great way to extend their lifespan. Simply store them in an airtight container and place them in the freezer. Don't forget to label the date of freezing. You can freeze them for up to a year.
How do you store gooseberry crumble?
The best way to store gooseberry crumble leftovers is in the fridge. Allow it to cool completely and then place it in an airtight container. 
How long will it last in the fridge? 
Gooseberry crumble leftovers will keep for 2-3 days when stored in an airtight container.
Can I freeze this recipe?
Absolutely! Freezing gooseberry crumble leftovers means you can enjoy it up to six months later. Just store your cooled leftovers in an airtight freezer-proof container.
How do I thaw gooseberry crumble?
It's best to let it defrost in the fridge overnight.
Can this recipe be scaled? 
Yes. Make the crumble in a bigger baking dish and double the ingredients.
Can this recipe be made in advance?
Yes it can. Just follow the above recipe instructions up to step 7. Then cover the dish with foil and store in the fridge for up to 48 hours. 
Let the gooseberry crumble come to room temperature before placing in the preheated oven.
Is gooseberry crumble vegan?
No it's not. The crumble topping contains butter. However, if you want to make a vegan version you can. See 'variations to this recipe' above.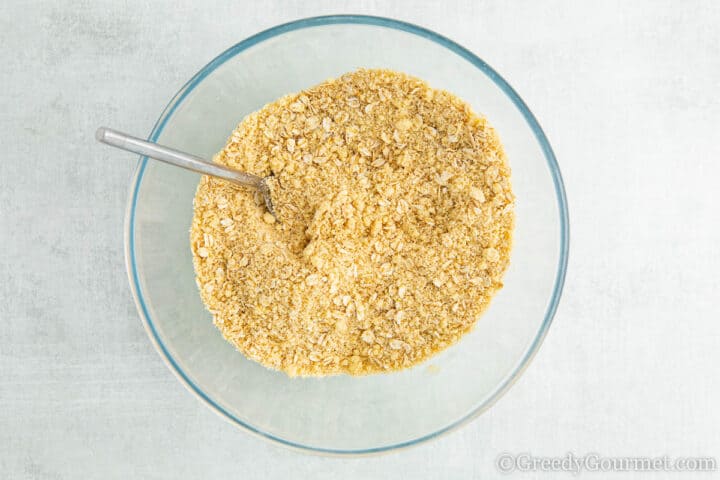 Popular substitutions for this recipe
Here are a few ideas when it comes to swapping ingredients:
You can substitute the orange for lemon juice and zest if you are looking for something a little less sweet
You can darker demerara sugar for a more golden brown finish
You can use caster sugar in place of granulated sugar
Variations to this recipe
Cooking for someone with a special diet? Don't worry, there are easy ways to adapt this recipe:
If you are cooking for someone with a nut allergy, switch out the ground almonds for extra rolled oats
To make this gooseberry crumble vegan, simply leave out the goose (just kidding). Swap the butter for a vegan butter and add a pinch of salt
For a gluten free gooseberry crumble, replace the plain flour with a gluten free alternative. Something like arrowroot powder or cassava flour will do the trick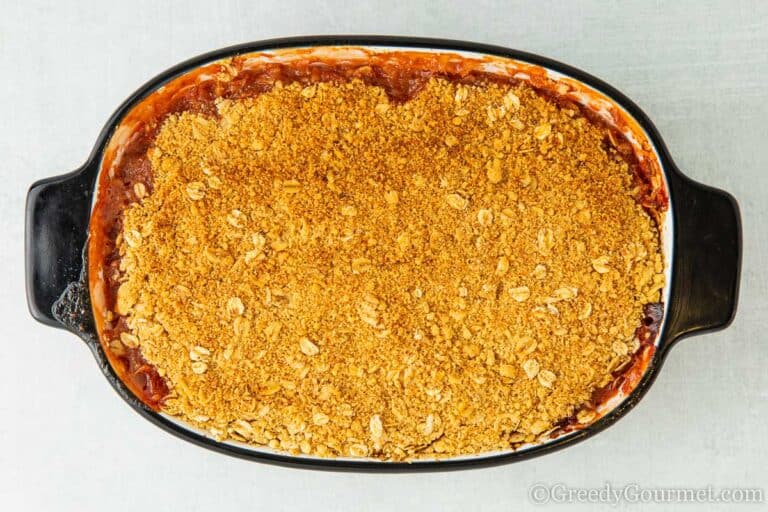 What to serve with gooseberry crumble
Desserts
Gooseberry crumble tastes divine on its own. However, if you want to make it even more irresistible, you can of course add some other ingredients to give it that extra indulgent quality.
A dollop or two of clotted cream is a great addition to gooseberry crumble. The tart gooseberries taste great with luscious cream.
Of course, you could also serve this gooseberry crumble with your favourite ice cream. You could even make homemade ice cream for a special occasion. Try my pineapple ice cream or a similar citrus fruit ice cream, which would pair well with the gooseberry.
You could pair this gooseberry crumble with a big helping of lemon curd.
Wine
Try a dry, crisp white wine; something like a New Zealand Sauvignon Blanc, a Burgundy Chardonnay or a Petit Chablis. If you prefer red, go for an Argentinian Malbec – the sweetness makes a good contrast to the tart gooseberries.
If wine isn't your thing, why not whip up an elderberry gin? Perfect for a summer evening!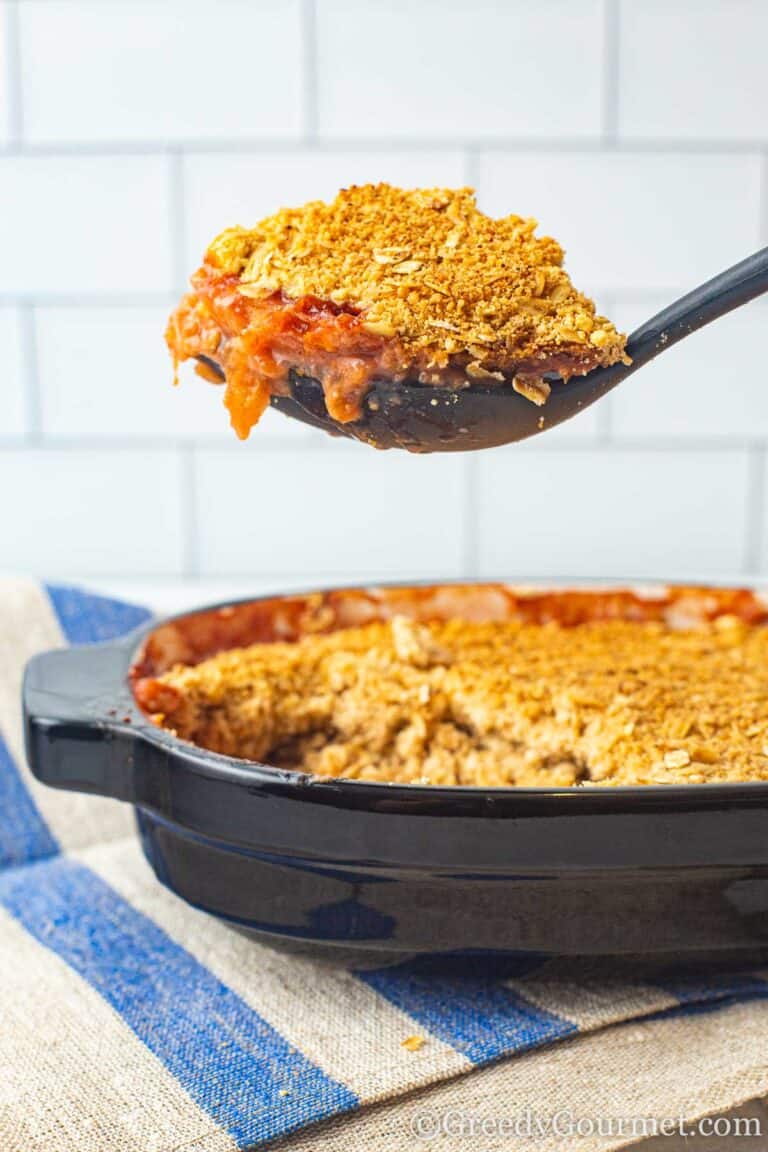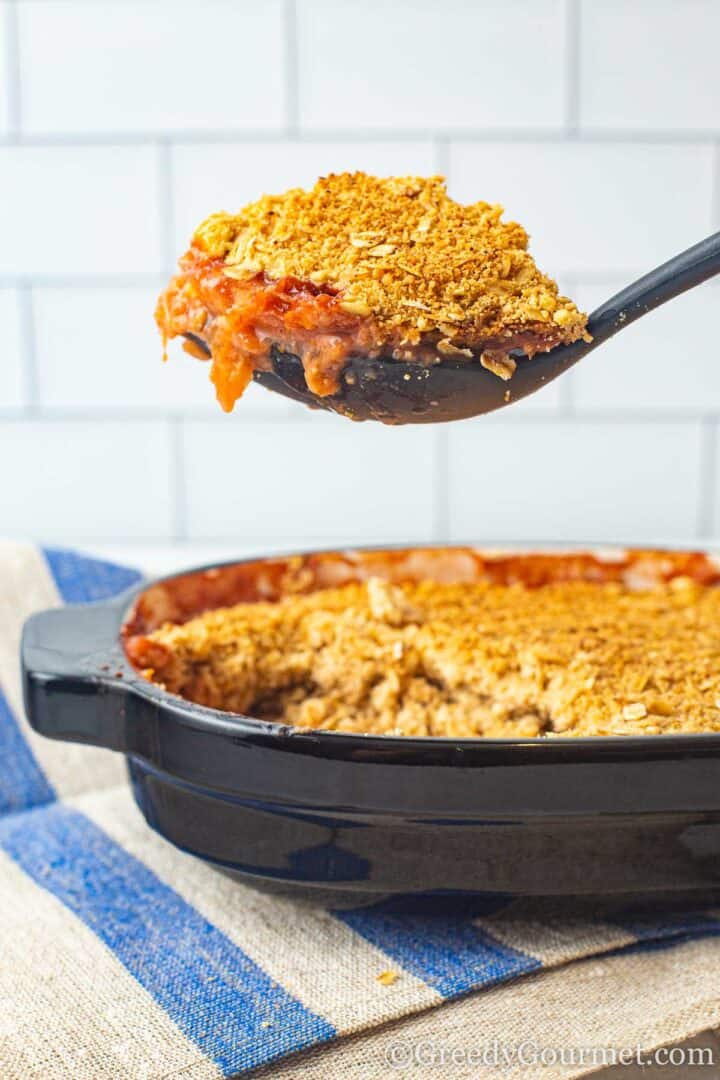 Other dessert recipes you'll love
Once you've mastered this gooseberry crumble, try one of these delicious desserts: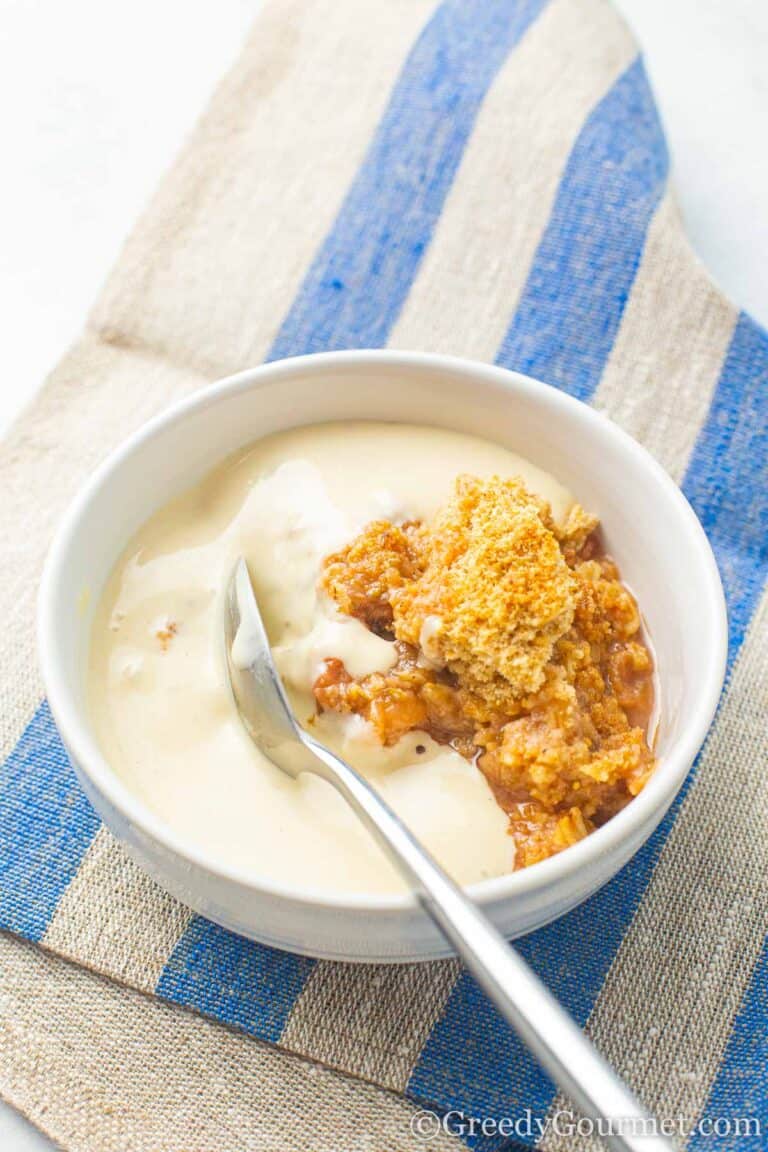 Print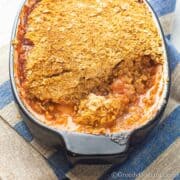 Gooseberry Crumble
---
Author:

Michelle Minnaar

Total Time:

1 hour 5 minutes

Yield:

8

servings

1

x

Diet:

Vegetarian
Description
Gooseberry Crumble is a classic British dessert, best served with custard or ice cream. 
---
Gooseberry Filling
1

kg

(7 cups) gooseberries, top, tailed and washed

70

g

(1/3 cup) granulated sugar

2

oranges, zest and juice

30

g

(2 tbsp) unsalted butter
Crumble topping
200

g

(1 1/4 cups) plain flour

115

g

(1/2 cup) unsalted butter, cubed

65

g

(2/3 cup) ground almonds

100

g

(1/2 cup) light brown sugar

90

g

(1 cup) rolled oats

1.5

g

(1/2 tsp) cinnamon

1

g

(1/4 tsp) nutmeg
---
Instructions
Preheat the oven to 190°C/fan 170°C/374°F/gas mark 5.
For the Gooseberry Filling: Place all the gooseberry filling ingredients in a large saucepan over a medium heat and to the boil. 
Reduce the heat until a simmering point is achieved. Continue to cook for 5 to 10 minutes, or until the gooseberries give way under the pressure of the back of the spoon. You might need to add a splash of water if the filling becomes too dry. 
Squash all of the gooseberries, with a potato masher or the back of the spoon, and set aside to cool.
For the Crumble Topping: Place all of the ingredients for the crumble into a large bowl.
Rub the ingredients between the tips of your fingers until the mixture resembles a crumble-like texture.
Pour the gooseberries in a large baking dish, then top with the crumble mixture. 
Transfer the dish to the oven and bake for around 35-40 minutes, or until the top is crisp and golden brown. 
Remove from the oven and allow to cool for 5-10 minutes.
Serve with your choice of extras, whether it be ice cream, custard or cream - it's up to you! Enjoy!
Notes
If you are cooking for someone with a nut allergy, switch out the ground almonds for extra rolled oats.
You can substitute the orange for lemon if you are looking for something a little less sweet.
You can use frozen gooseberries if fresh ones aren't available.
Prep Time:

20 minutes

Cook Time:

45 minutes

Category:

Dessert

Method:

Bake

Cuisine:

British
Keywords: Crumble, Gooseberry Recipe, Gooseberry Crumble, Crumble With Oats, Autumn recipes, Gooseberry desserts, Gooseberries