Who can resist the temptation of delicious little peanut butter coconut balls? If you are a peanut butter fan, you'll love this peanut butter based dessert. It's one of those desserts which you can easily serve even at the gym. Yes, believe it or not! These peanut butter coconut balls are quite popular as regards being energisers. So, they are an excellent source of nutrition, protein and energy, which will help you tackle any obstacles in the day. Moreover, they are a delicious and healthy snack in between meals or after a heavy workout. You should treat these little peanut butter coconut balls as the ultimate healthy dessert. Especially if you are on your way towards slimming down.
My favourite part is, that if you are feeling a little bit chocolatey (it happens from time to time), you can add dark chocolate chips. Keep reading to find out how you can make these soft peanut butter coconut balls. I have tons of tips on how you can make these little balls of energy your own.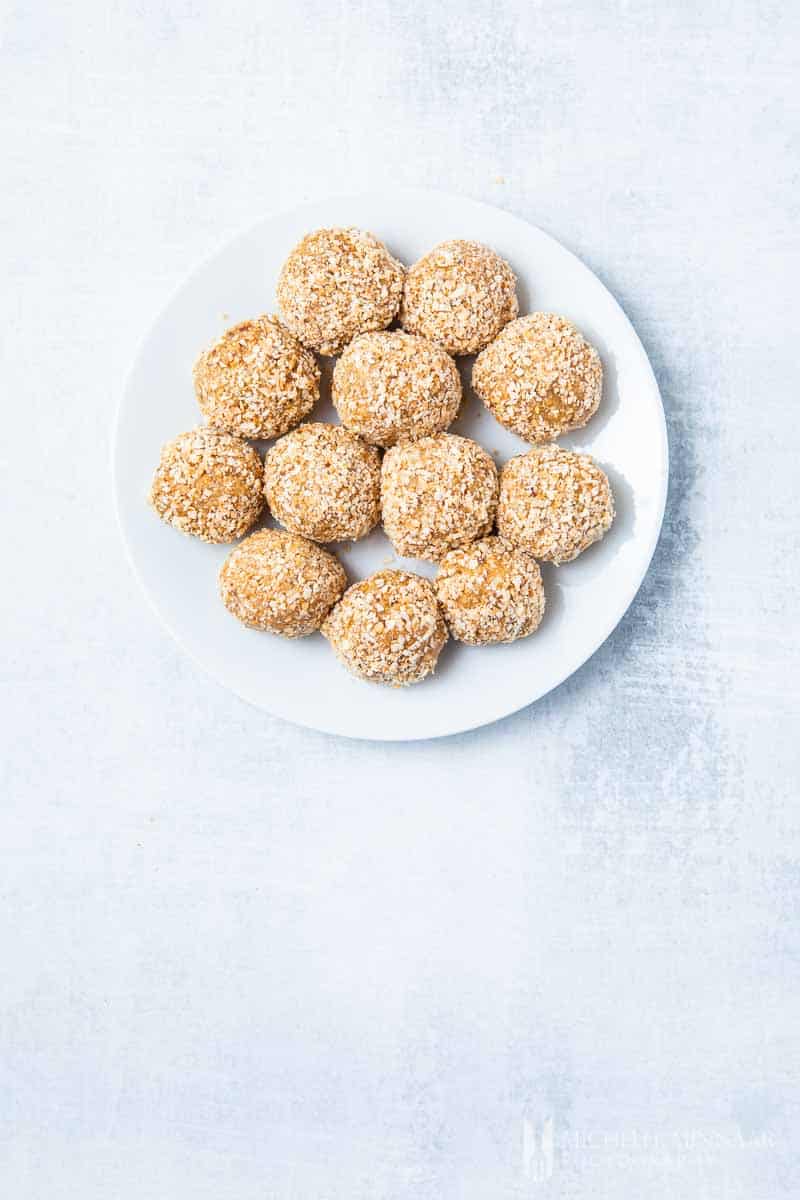 no-bake peanut butter coconut balls with dates
Would you believe me if I told you that these peanut butter coconut balls only take 30 minutes to prepare in total? This snack-cum-dessert is exactly what you need to start the day and last the day. My advice is to make a large batch of these peanut butter balls so that you can take a couple of them with you to work. The worst part will be trying to keep these in a safe place in the work refrigerator. Make sure to label your food, because I have a feeling that these are very likely to disappear.
peanut butter coconut energy balls
These peanut butter coconut balls are real energy boosters because of the nutritional value coming from the oats, peanut butter and coconut. However, if you are looking to boost them on protein as well (although they are full of proteins too), just add nuts. These can include:
walnuts
macadamia (my favourite, but not the cheapest)
almonds (skinless only)
In addition, coconut is always a part of some healthy and energising dessert because of those healthy fats. So, there are plenty of energising desserts you can make with coconut. First, it is often used as a topping or addition for making vegan desserts (because of coconut cream), or it is used to sweeten things up. That's why coconut is such an essential ingredient when it comes to completing this recipe. If you feel like making something truly sinful but amazing with coconut, try making my caramel coconut cake with caramel butter frosting. Divine, sinful but totally worth it!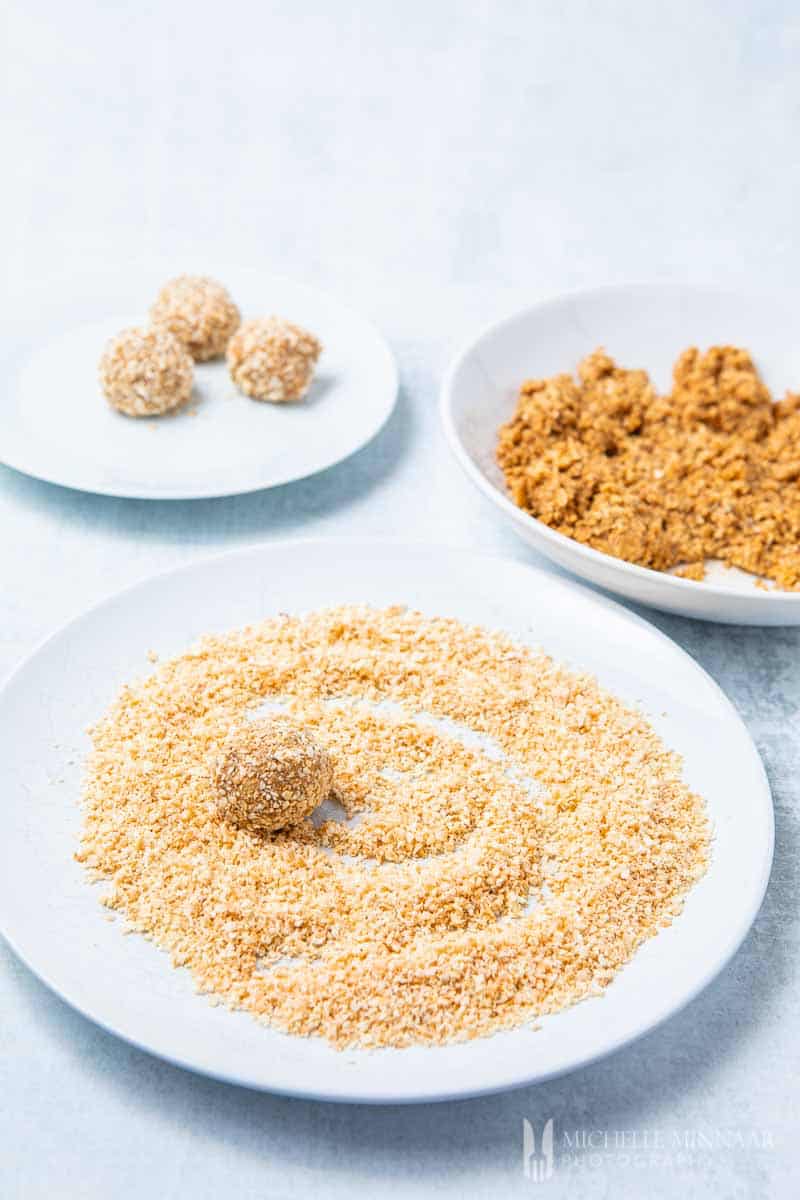 peanut butter coconut oatmeal balls
Here is the beauty of this recipe. You can alter these peanut butter coconut balls by adding different types of oatmeal.
Of course, you can stick to adding regular non-flavoured oatmeal and let the peanut butter work its magic. However, if you are an oatmeal lover, I am pretty sure you have your favourites out there.
Here are some of mine that could work with this recipe:
almond oatmeal (for a sweet and nutty flavour)
almond honey raisin oatmeal (again, so delicious)
honey oatmeal with coconut flakes (can't go wrong with this one)
forest berry oatmeal (I am not sure how this will go with peanut butter, but it's worth a try)
You can also use oatmeal flour instead of normal oats. Use a 1:1 ratio. Similarly, almond flour will also do the trick.
variations
There are multiple variations you can make with this peanut butter coconut ball recipe. Here are just a few:
peanut butter coconut balls with dates
This is what I've opted for in this recipe. I just love using dates because they are very good for you. They are sweet but they are not harmful to the body. In fact, if you are diabetic, you'll know that they are very useful in controlling blood sugar.
I've used dates before to make these delicious date balls with coconut and pistachio. If you are also tempted by this recipe, then I recommend making both and see which ones you love most. As I always say, it's never a bad idea to have a bit of variety.
If you've got leftover dates, you can also turn them into a savoury snack. Try these bacon wrapped dates stuffed with cream cheese.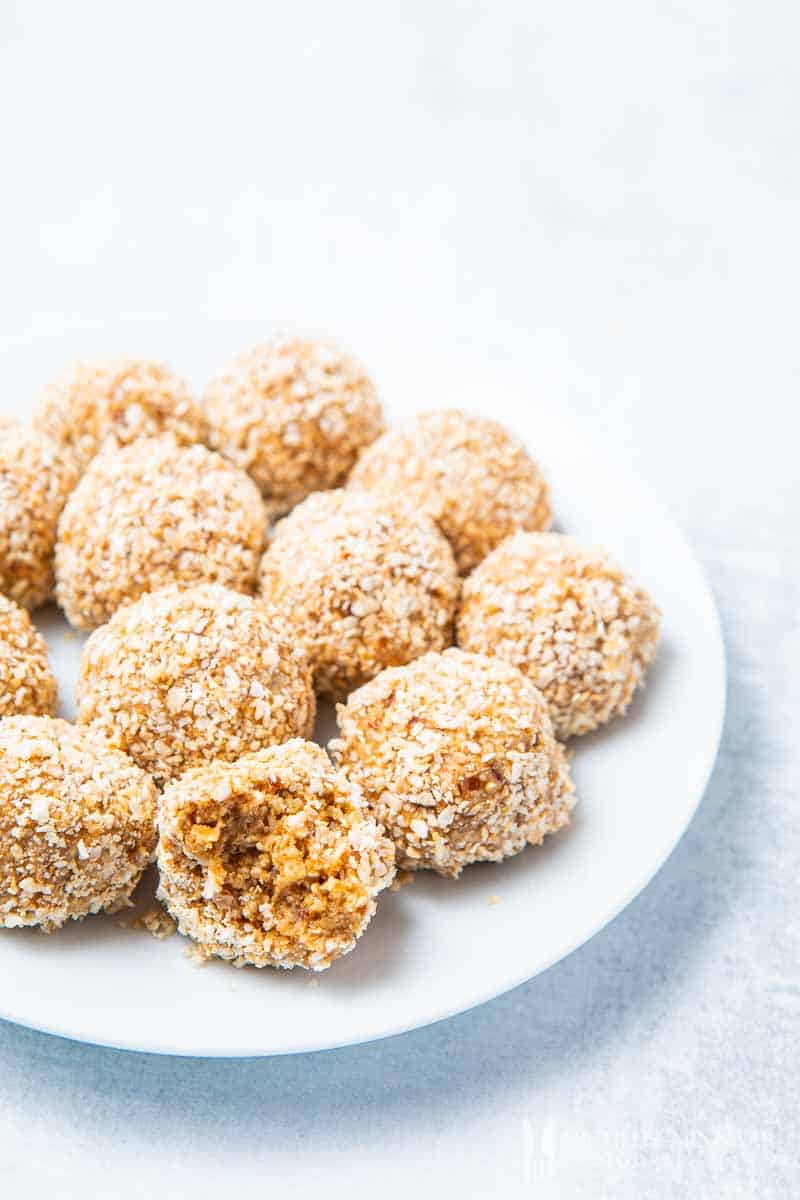 peanut butter balls with maple syrup
Now, if you are not so keen on using dates, then you can also consider adding maple syrup. It will definitely sweeten things up. Similarly, you can also consider a healthier syrup – which is the agave syrup or agave nectar. These two options are excellent in terms of adding just the right amount of sweetness.
Experiment with a tablespoon or two and see what your preferred level of sweetness is.
peanut butter chocolate chip balls
This is the optional part. You can opt for adding a bit of chocolate to your peanut butter coconut balls to make things a little more chocolatey. Just toss a handful of chocolate chips (I like dark chocolate best), and stir them into the mixture.
An added bonus is that there are vegan chocolate chips, so there is no reason for you not to make this recipe vegan!
Again, if you've got any leftover chocolate chips, you can reuse them to make these incredible sugar free chocolate chip cookies. If you still prefer to add chocolate, you don't have to add chocolate chips. You can opt for melting a bit of chocolate and adding it to the mixture. Or you can also add cocoa powder, which is actually my preferred method. It's less sweet. Just bear in mind that your peanut butter coconut balls will change colour completely to a dark brown.
My advice is to split the batch and make one with the cocoa powder and one without. Again, a little bit of variety. Just take inspiration from these chocolate and coconut clusters I've made in the past. They are exceptional.
Print
Peanut Butter Coconut Balls
---
Description
Peanut butter coconut balls can be eaten for breakfast, dessert or simply as a snack. This protein ball recipe will give you energy with every single bite.
---
250

ml (1 cup) oats

180

ml (¾ cup) unsweetened, shredded coconut

125

ml (½ cup) smooth peanut butter

60

ml (¼ cup) pitted Medjool dates, chopped

45

ml (3 tbsp) coconut oil

5

ml (1 tsp) vanilla essence
extra unsweetened, shredded coconut, for rolling
---
Instructions
Place all the ingredients in a food processor and blend until all ingredients are incorporated evenly.
Divide the mixture evenly and roll the portions into even-sized 5cm (2in) balls.
Roll the balls in extra shredded coconut to give them an attractive coating making them easier to handle.
Store for up to 2 weeks in an airtight container in the fridge.
Notes
Use the highest quality peanut butter you possibly. Natural peanut butter works best because of its runny consistency.
In this recipe, I've omitted maple syrup. If you do want to make this snack sweeter, use no more than 45ml (3 tbsp). If the mixture turns out too wet, use more oats until it becomes manageable.
If the mixture is too dry, add more peanut butter or syrup.
If you can't get hold of coconut oil, check out these coconut oil substitutes.
Prep Time:

30 minutes

Cook Time:

0 minutes

Category:

Breakfast

Method:

No Cook

Cuisine:

American
Keywords: peanut butter coconut balls, no bake energy bites, protein ball recipe
save the recipe to your pinterest board