Creamy, indulgent and silky smooth, when it comes to sweet treats, rum and raisin ice cream is as good as it gets.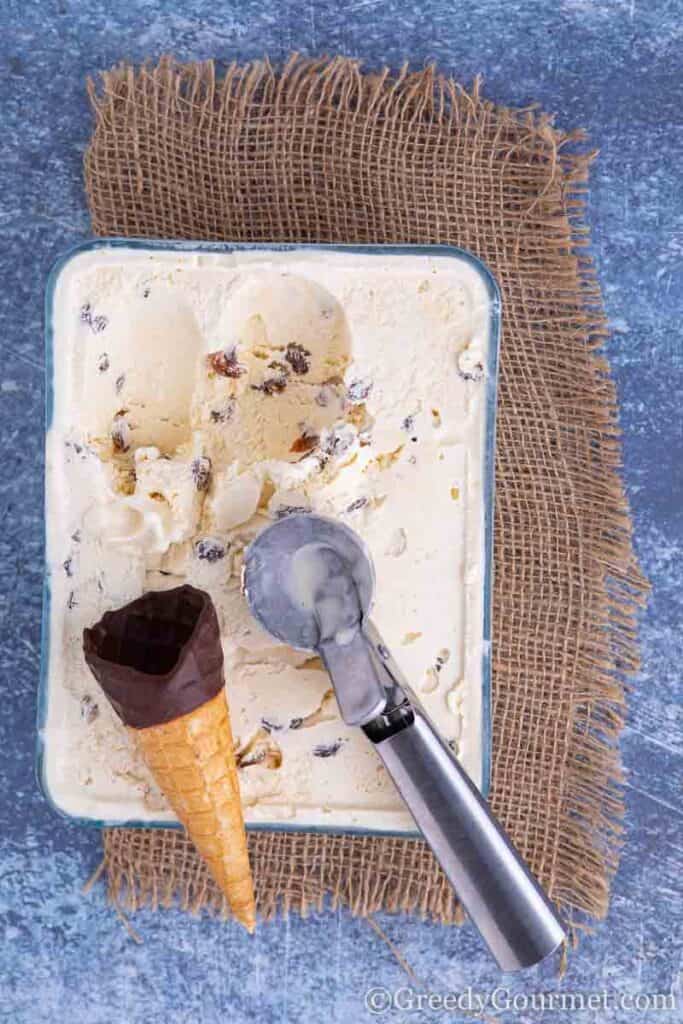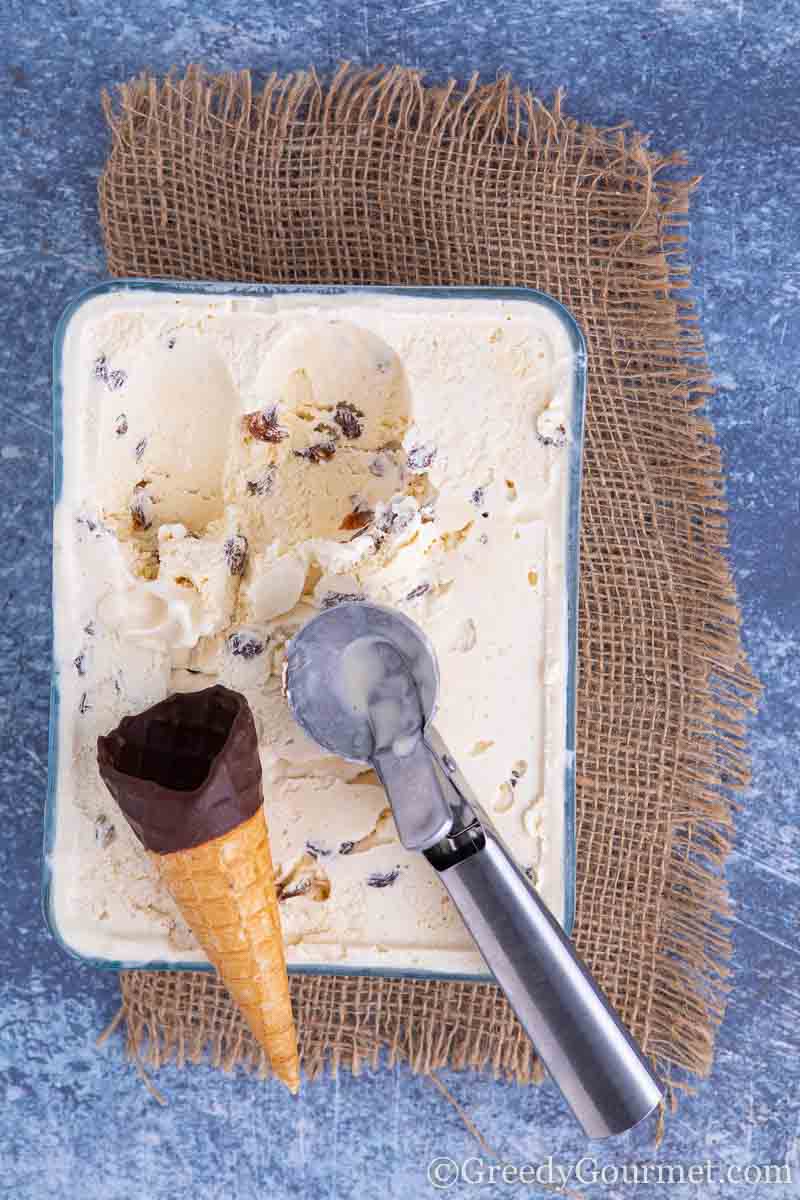 A few simple ingredients, a nifty ice cream maker and a sweet tooth is all you're going to need. So, set your taste buds to bliss mode and get ready for a homemade sweet sensation!
Products you need for this recipe
There are a few items you'll need to make this rum and raisin ice cream recipe:
Mixing bowl – you'll need a mixing bowl to make the first stage of the mixture
Saucepan – this is where you'll mix up the egg/sugar/milk mixture
Ice cream maker – this ingenious machine will make all the difference
Thermometer – you'll need to know when the custard mixture has reached its ideal temperature
Whisk – you'll need a quality whisk to mix the sugar and egg yolks in this recipe
Vanilla paste – that unique deep vanilla flavour is an essential element to this ice cream recipe
Raisins – when soaked in roam, the raisins will be absolutely irresistible. They really make this flavour of ice cream extra special
Rum – don't skimp when it comes to rum. Avoid the cheaper stuff and get yourself a good quality dark rum for this recipe
Granulated sugar – a quality kind is important to get this ice cream recipe as good as it can be
Ice cream tubs – when your mixture is ready to be frozen and turned into ice cream, you're going to need some 1 litre tubs to store it in
Ramekins – if you can't wait to try the ice cream, you could always put it in the freezer in ramekins. It'll speed up the freezing process.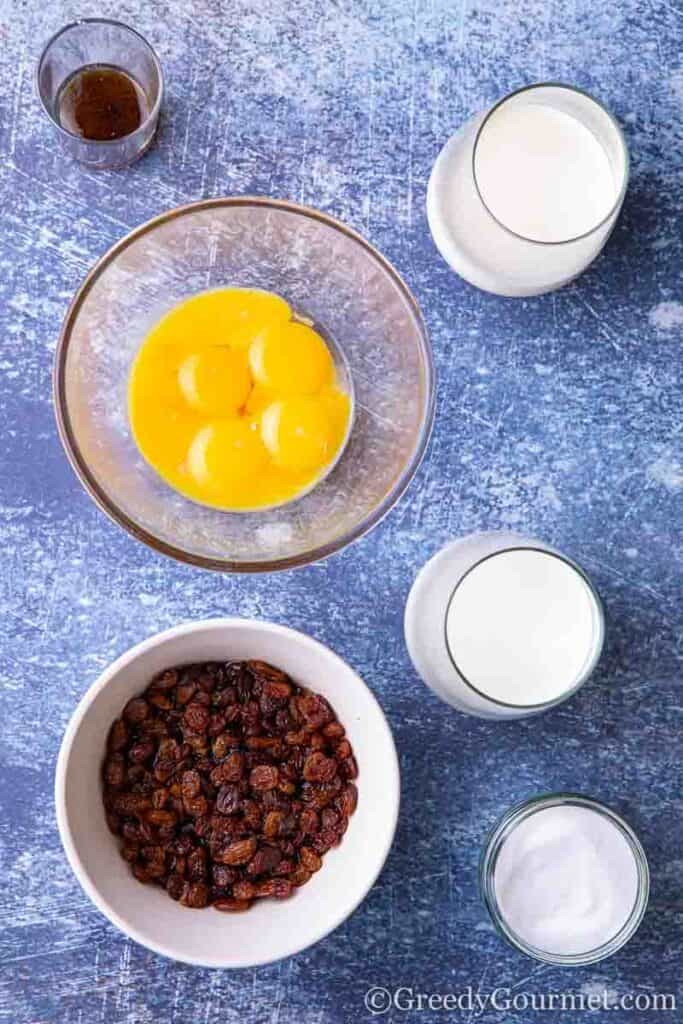 Rum and raisin ice cream recipe
This rum raisin ice cream recipe is truly delicious. Unlike other flavours of ice cream, you get a mixture of tastes and textures.
The velvety creaminess of the ice cream is to die for. The ice cream maker works wonders and helps to create an extra creamy texture that will blow you away.
The star ingredient
The ingredient that really makes this one stand out is the raisins.
Soaking the raisins make them plump, juicy and delicious. It's a star-making touch that makes each mouthful of this delicious dessert a little taste of heaven.
The base of the recipe
The base of the ice cream consists of just 5 ingredients – cream, milk, sugar, eggs and vanilla paste - essentially all the ingredients of a vanilla custard. They say simplicity is bliss and that's definitely the case with this recipe.
The sugar and egg yolks are first whisked together. Then, hot milk is tempered into the mix and the liquid is returned to the pan, along with the vanilla, and heated through to form a custard.
Adding the rum
Once the custard mixture reaches 80°C (180°F) it's ready for the next process. Let it sit for about 5 minutes – this will help the eggs pasteurise. Next, pour the custard into your ice cream maker and let it work its magic.
After about 30 minutes, it's time to add the soaked raisins and a dash of dark rum. Continue mixing until it's ready.
The freezing stage
Transfer the mixture to ice cream tubs or ramekins and put them in the freezer straight away. It'll be ready in about 3 hours, but leave it in the freezer overnight to get the full effect.
You'll now have the most delicious ice cream!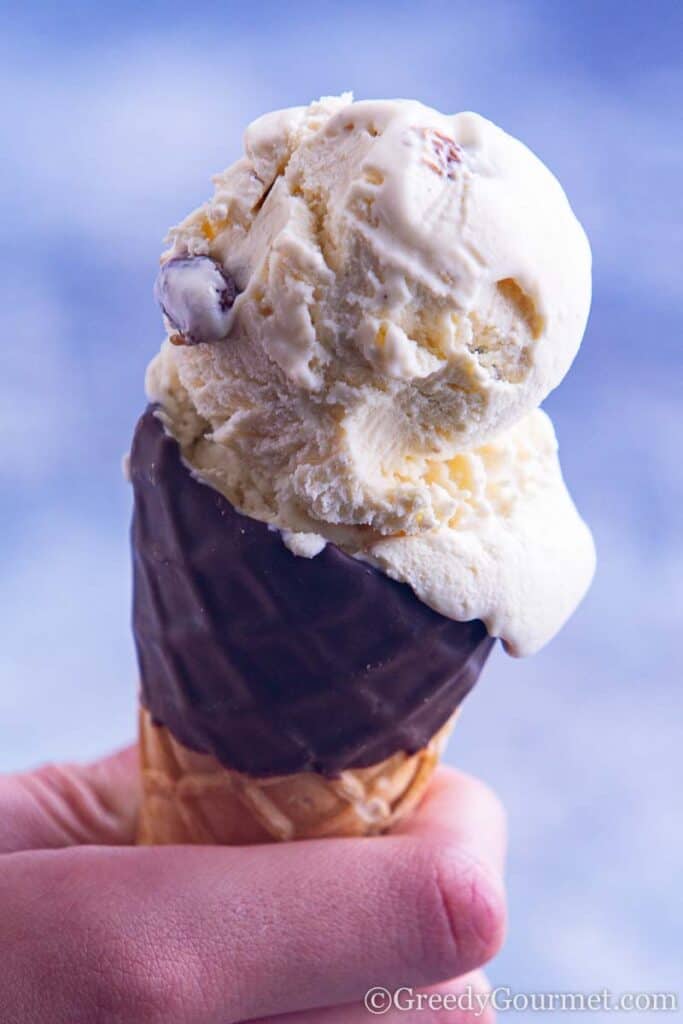 Is rum and raisin good?
Good isn't the word. If you've never tried rum and raisin, prepare your taste buds for sensory overload!
There are so many other flavours of ice cream, from plain old vanilla to fruity favourites like strawberry, raspberry and fruits of the forest. Then there are the nutty varieties like pistachio, walnut and hazelnut.
When it comes to sophistication and that 'wow' factor, few flavours can compete with rum and raisins. It's a real grown up ice cream, with just a wicked combination of creamy, silky smooth texture and melt in the mouth taste, along with that little boozy sweet explosion of the raisins thrown into the mix.
Try it once and it'll most probably shoot to the top of your list of favourite ice creams.
If you've already tried this incredible flavour of ice cream, you'll know how special it is. Still, making your own is a whole new kettle of fish. There's something about homemade ice cream recipes, especially homemade rum raisin ice cream, that is all the more satisfying.
Is there alcohol in rum and raisin ice cream?
Unlike most other flavours of ice cream, rum and raisin contains alcohol. It's only a small amount though, so not enough to get you tipsy!
Is there real rum in rum and raisin ice cream?
The rum in rum raisin ice cream is indeed real rum. It's only used to soak the raisins and a tiny amount is added to the mix. So, it's not enough to get you drunk or even make you notice any effect. The only effect will be on your taste buds!
Where did rum and raisin ice cream originate?
Where else but Italy? The Italians are the original masters of the gourmet gelato, so it's no surprise to discover that they are the ingenious inventors behind rum raisin ice cream.
I say Italians, but perhaps the answer to who invented rum and raisin ice cream should be Sicilians. Because it was in fact the islanders from the south of Italy, who have an incredible culture of cuisine in their own right, who came up with the idea for rum and raisin.
The Sicilians first named this ice cream the 'Málaga' after the extra sweet raisins that come from Málaga in the south of Spain. Instead of soaked raisins in rum, the raisins were soaked in marsala wine.
The taste of marsala wine is actually quite similar to the sweet rounded flavour of rum. Which explains how rum and raisin became more popular.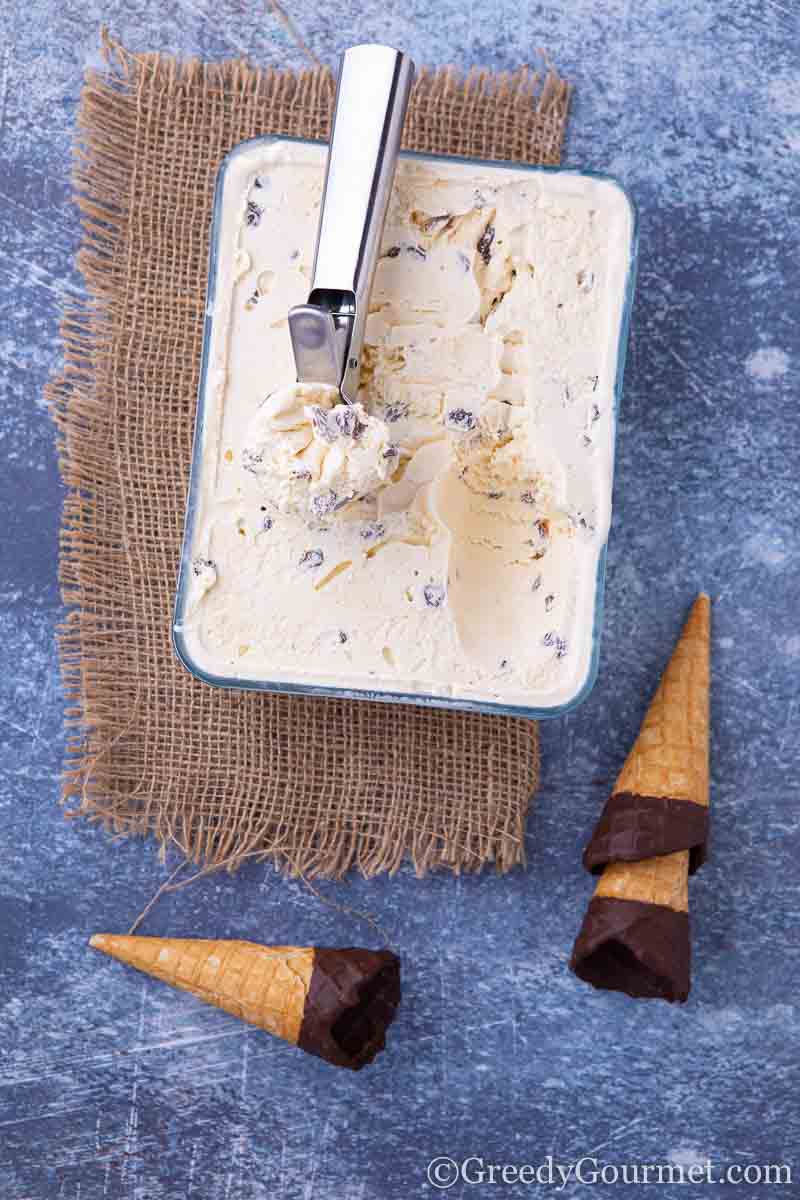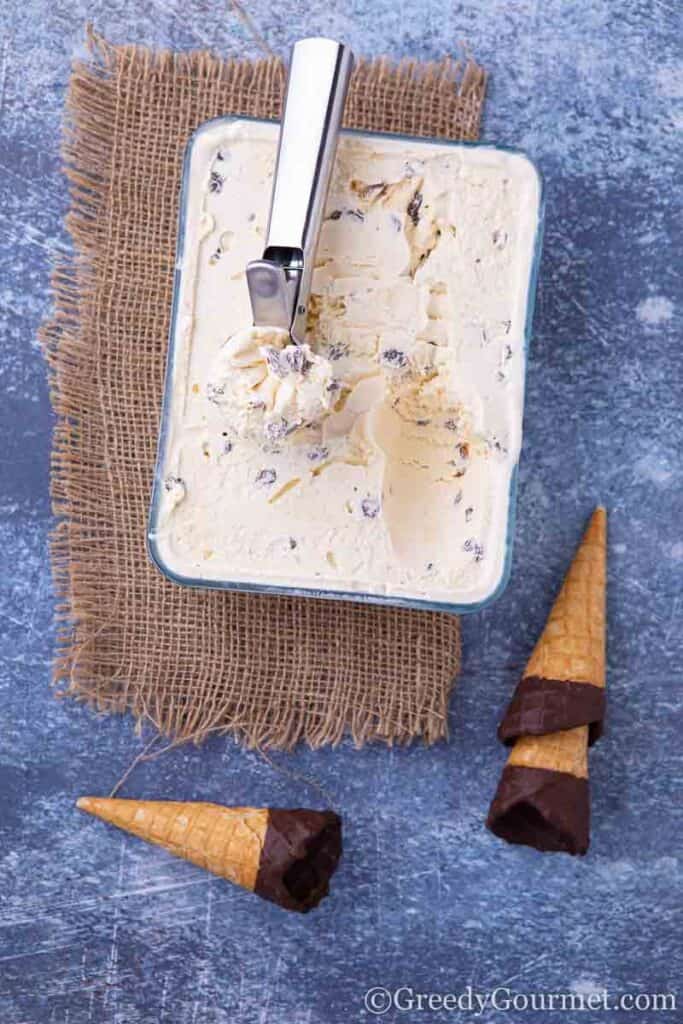 More amazing ice cream recipes
If you've got a sweet tooth and a hankering for homemade ice cream, check out this list of ice cream recipes. Which one will become your new favourite?
Pineapple ice cream – a fresh, zesty flavour that's incredibly refreshing. Best served on a hot summer day but, in all honesty, it'll
Bubble gum ice cream – this exotic, vibrant ice cream recipe is one for kids and adults alike. It tastes like pure summer!
Peppermint ice cream – a minty classic recipe that's easy to make and tastes like a dream. If you're a fan of peppermint ice cream, you've got to try the homemade variety!
Tin roof ice cream – vanilla, chocolate and peanuts combine for a match made in heaven!
Hokey pokey ice cream – this wonderful honeycomb ice cream is massively popular in New Zealand. If you've never heard of it, I urge you to try this recipe!
Ferrero rocher ice cream – pure and utter indulgence! Tasting is believing with this recipe
Peanut butter and jelly ice cream – what could be better than a peanut butter and jelly sandwich? Here's the answer
No churn peanut butter Oreo ice cream – decadence has never been so simple. This recipe is for those who want maximum pleasure with minimal effort!
Print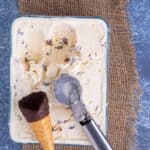 Rum and Raisin Ice Cream
---
Author:

Michelle Minnaar

Total Time:

1 hour 40 minutes

Yield:

8

portions

1

x

Diet:

Vegetarian
Description
Rum and Raisin Ice Cream is deceptively easy to prepare. Soak the raisins in rum the night before and add them halfway through the churning process of the vanilla custard. It's as simple as that! 
---
145

g

(1 cup) raisins

125

ml

(1/2 cup) rum

500

ml

(2 cups) double cream

500

ml

(2 cups) whole milk

200

g

(1 cup) granulated sugar

6

large egg yolks

5

ml

(2 tsp) vanilla paste
---
Instructions
Place the raisins in a container with the rum, ensuring all the raisins are covered. Let them soak for 8 hours or overnight.
Combine the cream, vanilla and milk in a saucepan. Bring to the boil then remove from the heat.
In a large bowl, whisk together the sugar and egg yolks, until the mixture has gone pale in colour and doubled in size.
Temper hot milk into the sugar yolk mixture, by slowly adding hot milk about 60ml (1/4 cup) at a time, whisking to distribute heat. Once all the milk has been added, transfer mixture back into the saucepan.
Stir in the vanilla extract.
Place the saucepan over medium-low heat. Stir until mixture reaches nappé consistency, or 80°C (180°F) on a kitchen thermometer. Let mixture sit at this temperature for 5 minutes to pasteurise the eggs.
Remove from heat and pour the custard into a large mixing bowl. Place the bowl into icy water and stir until the custard has cooled.
Pour the custard into an ice cream maker and churn according to your unit's instructions.
After 30 minutes of mixing, add just the rum soaked raisins, plus 15ml (1 tbsp) of the rum to the ice cream. Continue churning until done.
Transfer the ice cream to a sealable container and freeze for at least 3 hours or overnight.
Notes
Wondering what to do with the leftover rum? Add it to Coke, much like Amaretto and Coke, and drink!
Prep Time:

10 minutes

Cook Time:

1 hour 30 minutes

Category:

Ice Cream

Method:

Churn

Cuisine:

British
Keywords: rum and raisin ice cream, how to make rum and raisin ice cream, alcoholic ice cream recipe, rum dessert recipe