Amaretto and coke is an age-old alcoholic beverage recipe. Typically, it is served as a long drink (sometimes with the addition of soda) and with some blocks of ice.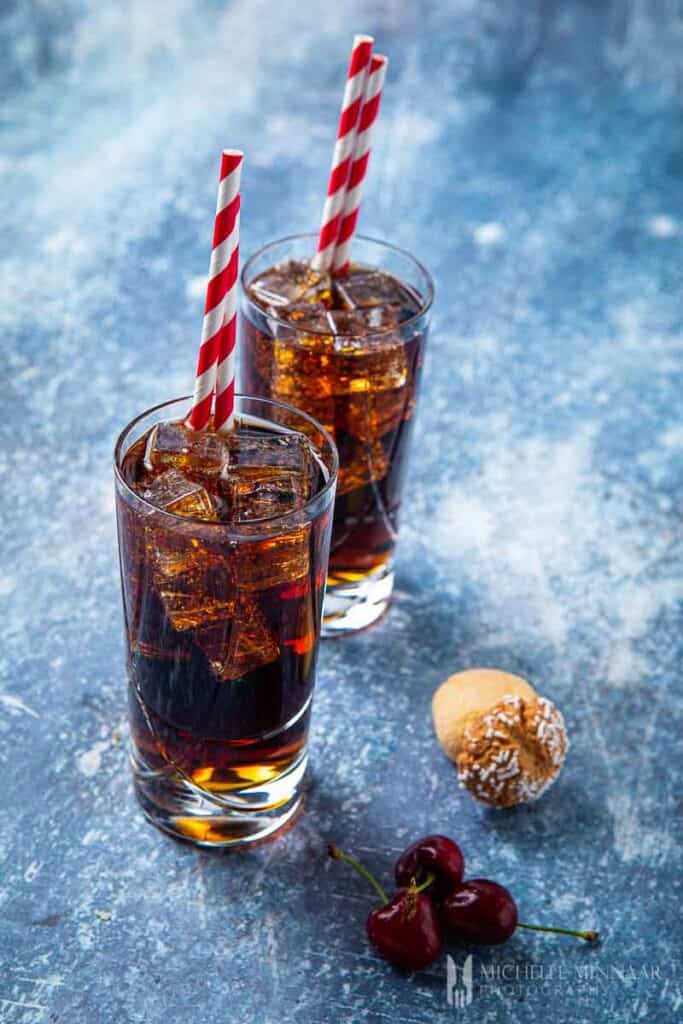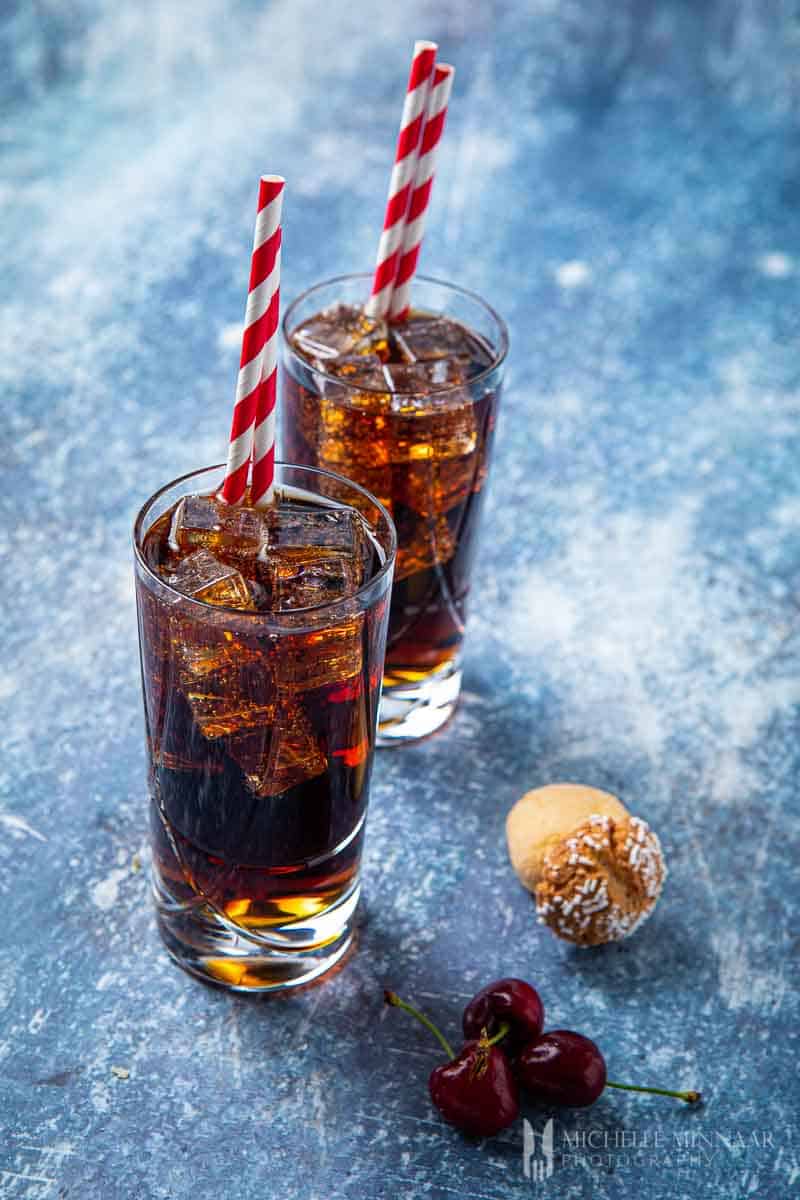 You can easily find it in bars and on the menu of many restaurants. However, there is no reason why you shouldn't make this delicious boozy beverage at home. So, don't be afraid to put your feet up.
If there was ever an excuse for purchasing a bottle of Amaretto Disaronno, then this Amaretto and coke cocktail is it.
Just think about the fact that you can also use the liqueur in baking recipes such as this cherry brandy torte or in these date balls with coconut and pistachio. The Amaretto is a lovely way to infuse all the flavours together.
In terms of taste, the Amaretto and coke cocktail is sweet with a slightly nutty flavour, coming from the 'almond-like' flavour profile of the Amaretto liqueur.
The best part of this amaretto and coke recipe, is the fact that it is a relatively low-alcohol drink with the Disaronno alcohol percentage being around 21-28%. You can easily dilute the cocktail with more coke. The addition of the ice cubes also dilutes the alcohol even further.
If that's not your thing, you can put your own spin on the cocktail and booze the drink up with more alcohol. The choice is entirely yours.
products you need for this recipe
Here's a list of the top products you need to know about when it comes to making this Amaretto and coke recipe:
Amaretto and coke cocktail recipe
In case you haven't noticed, I love mastering alcoholic cocktail recipes. This Amaretto and coke cocktail is no different. The Amaretto and coke cocktail recipe calls for two essential ingredients.
First, you'll need to procure a bottle of Amaretto. In essence, Amaretto is a sweet Italian liqueur made out of these three elements: apricot kernels, almonds, or peach stones. More specifically apricot kernel oil is used in the world's favourite Italian liqueur.
All of these give the Amaretto liqueur its popular almond-like flavour. Amaretto originated in Saronno, Italy.
If you would like to inspire yourself with more cocktail ideas, check these out:
What's the best way to drink Amaretto?
There are a couple of ways you can enjoy Amaretto, apart from this Amaretto and coke recipe.
It can be enjoyed alone (with or without the addition of ice cubes)
Drink it with soda (that being said you can also add soda into the Amaretto and coke)
Mix it with ginger beer. Take this ginger beer and gin cocktail as inspiration
Make Amaretto sour if you fancy a sourer and drier alcoholic beverage
Flavour it with herbs or a citrus
Do you have any other preferred way to enjoy Amaretto apart from this Amaretto and coke recipe? Let me know!
Does Disaronno go out of date?
Unopened your Disaronno can last for years due to Disaronno's percentage of alcohol. Once you open the bottle try to drink it in 6 months or the taste quality can start to deteriorate.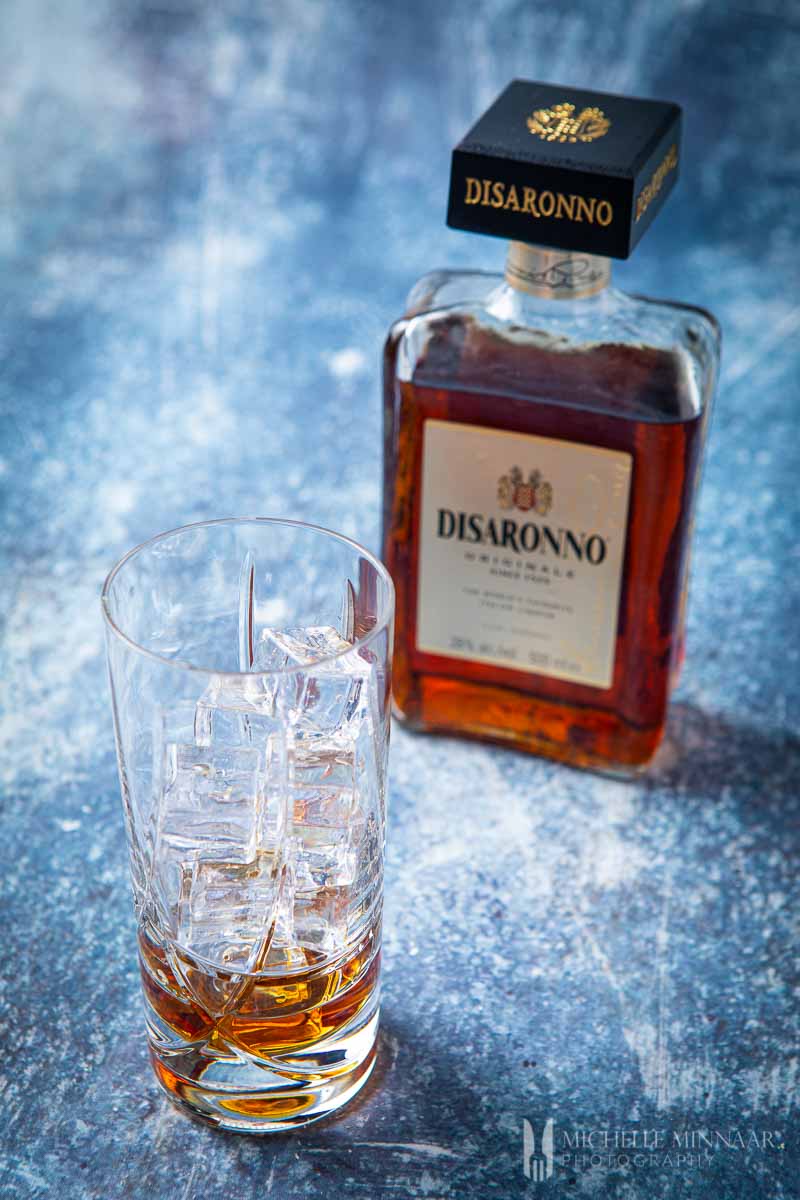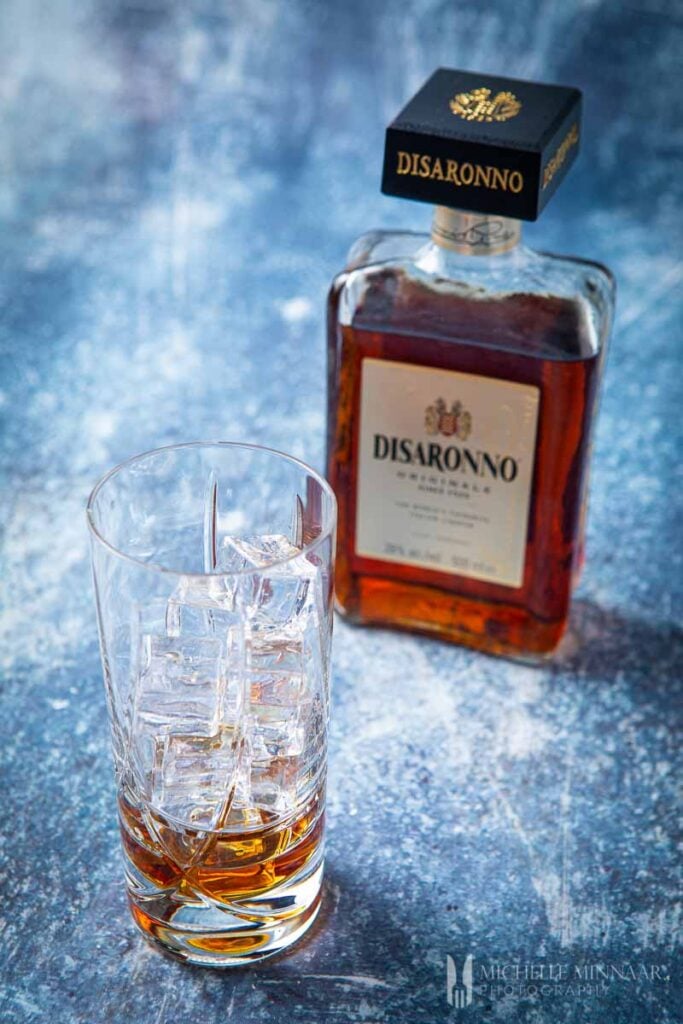 How to cook with Amaretto?
If you haven't used up all of the Amaretto in the Amaretto and coke cocktail, you can use the liqueur to make both savoury and sweet recipes. For instance:
In essence, you can add Amaretto liqueur into any type of baked recipes such as a pie, tart, crumble, you name it. You can also add it into meaty recipes, flavour patés, or to lighten up a creamy savoury sauce.
If you love cooking with alcohol, here are some other types of recipes which you might enjoy:
Amaretto and coke calories
Amaretto and coke is not a light drink, although it's not heavy as regards the alcohol content. Both Amaretto liqueur and coke contain lots of sugar, so it is not the best in terms of calories. If you drink a couple of these during dinner, it might even fill you up.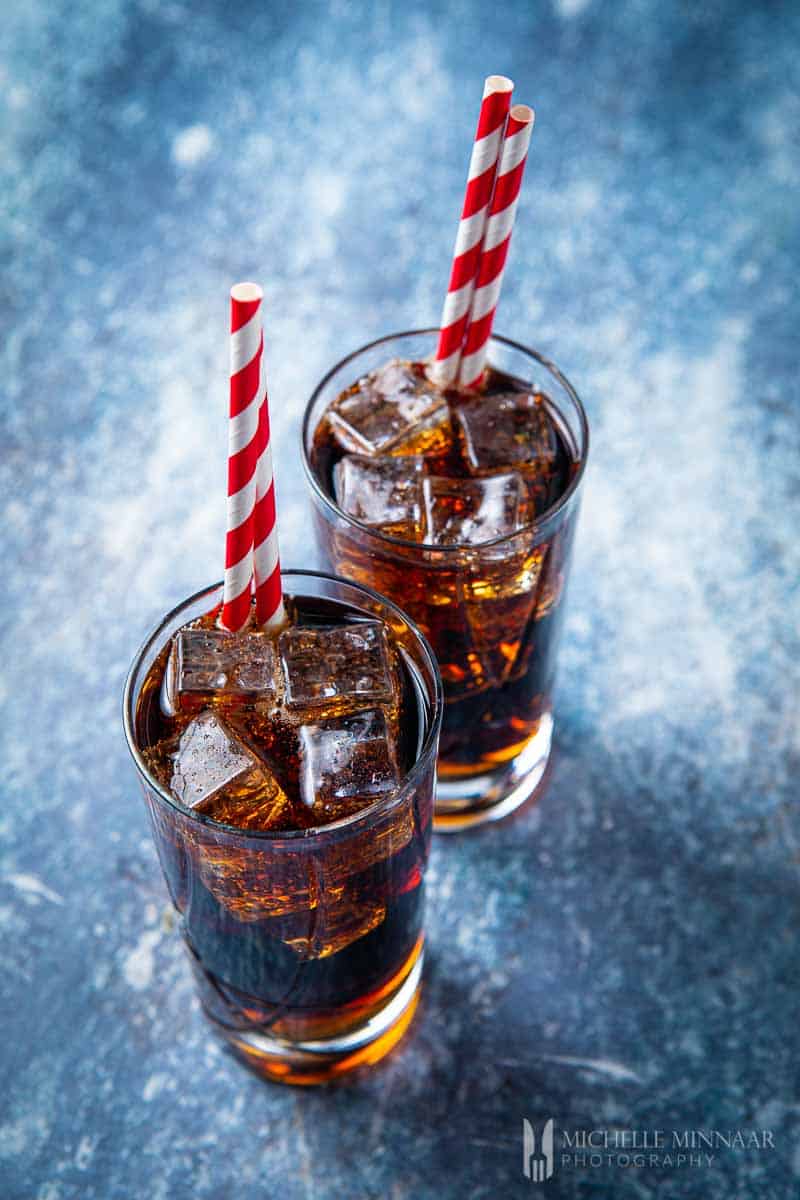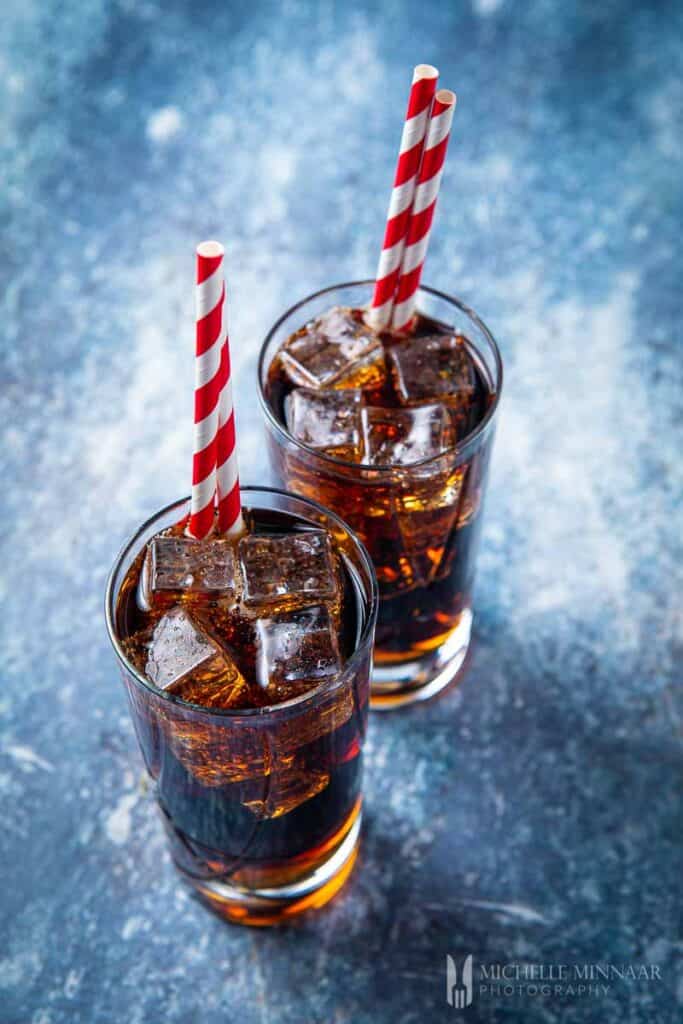 Rum Amaretto coke
If you would like to booze up this Amaretto and coke cocktail, then just add a splash of rum. Amaretto and rum complement each other quite well. Moreover, the addition of rum will come in handy when the ice cubes start to dilute your drink.
Amaretto and Dr Pepper
If you would like to experiment with more flavours other than coke, then try this Amaretto and coke cocktail with Dr Pepper. Dr Pepper is a soft carbonated drink which originated in USA all the way back in 1885.
It is slightly sweeter than coke, and has a sharper, spicier flavour. In comparison, coke still contains more sugar. On the other hand, Dr Pepper contains caffeine. Both are excellent alternatives for this cocktail recipe.
If you like shots, check out Alien Brain Hemorrhage.
How would you enjoy this fantastic Amaretto and coke beverage? Alone or with a party of people? Let me know in the comments section below.
Print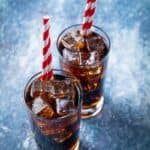 Amaretto and Coke
---
Description
This Amaretto and coke cocktail recipetastes just like the one you can order in fancy bars or gourmet restaurants. 
---
Ice

50

ml (2fl oz) Amaretto

200

ml (8fl oz) Coke, or equivalent
---
Instructions
Fill a highball glass with ice.

Pour in the Amaretto, then Coke.

Serve immediately.
Notes
In this case, we used a 1:4 ratio and the liqueur flavours the Coke beautifully. If you like your drink stronger, double up on the Amaretto and create a ratio of 1:2. You might get sloshed quickly!
Prep Time:

5 minutes

Cook Time:

0 minutes

Category:

Drinks

Method:

No Cook

Cuisine:

British
Keywords: amaretto and coke, amaretto cocktail recipe, coke cocktail