This Chinese mixed vegetable stir-fry combines the classic Chinese flavours with fresh, crunchy vegetables. It is the perfect side dish for any oriental meal, but can also be a standalone vegan dish. I recently served this as a side for Mongolian lamb, and it was amazing. The beauty of this recipe is its versatility. Use any of your favourite vegetables.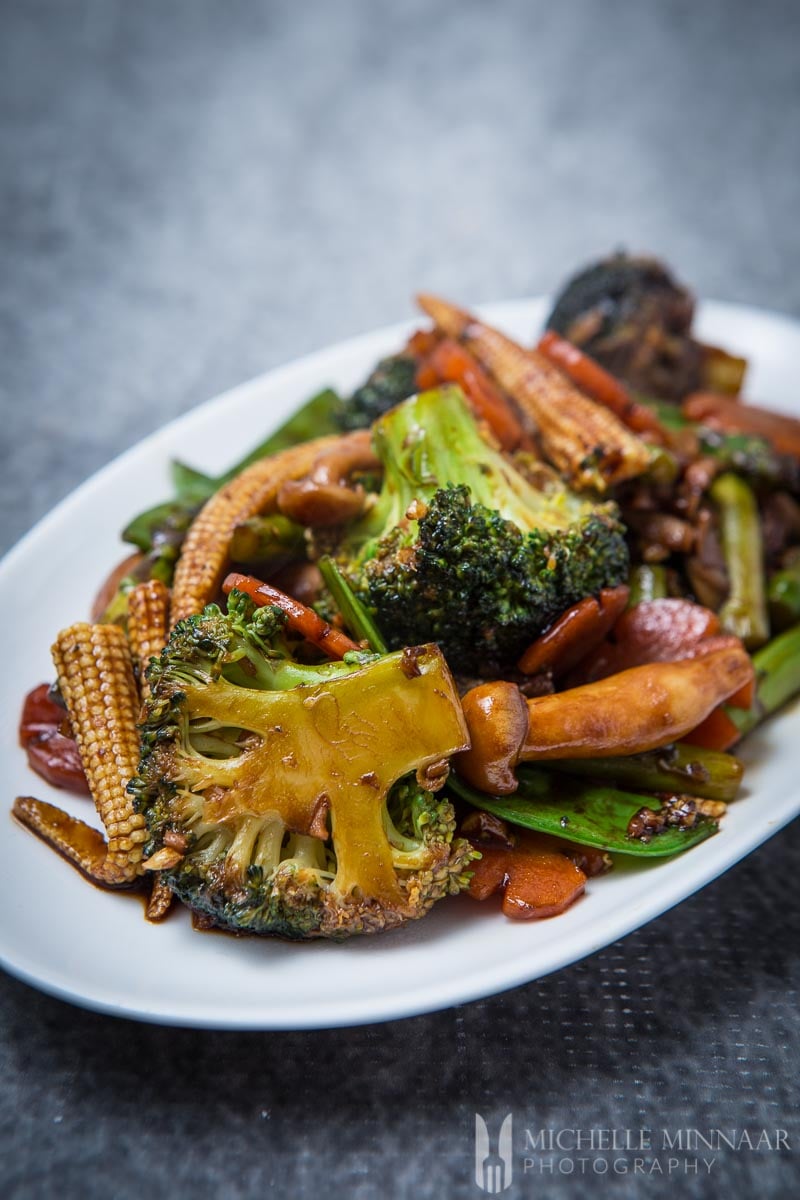 different methods of making stir fry
It may be a simple recipe but there is more to it than just throwing everything into a saucepan. In order to make a good stir fry there are two different methods which you can use. The first method is to put the vegetable in raw, starting with the ones that take the longest to cook. Proceed to cook at medium heat while stirring constantly. This is where the name stir-fry comes from.
The other way to do it is to parboil the vegetables, drain them and finishing them off at high heat in the wok. Which method you use is completely up to you. I have tried both and I must say I am having a hard time telling which is best. If anything, the sauce seems to stick a bit better using the slow method, and it saves me the trouble of parboiling the vegetables first. The most important thing is to not overcook the vegetables, so that they maintain a good crunchy bite.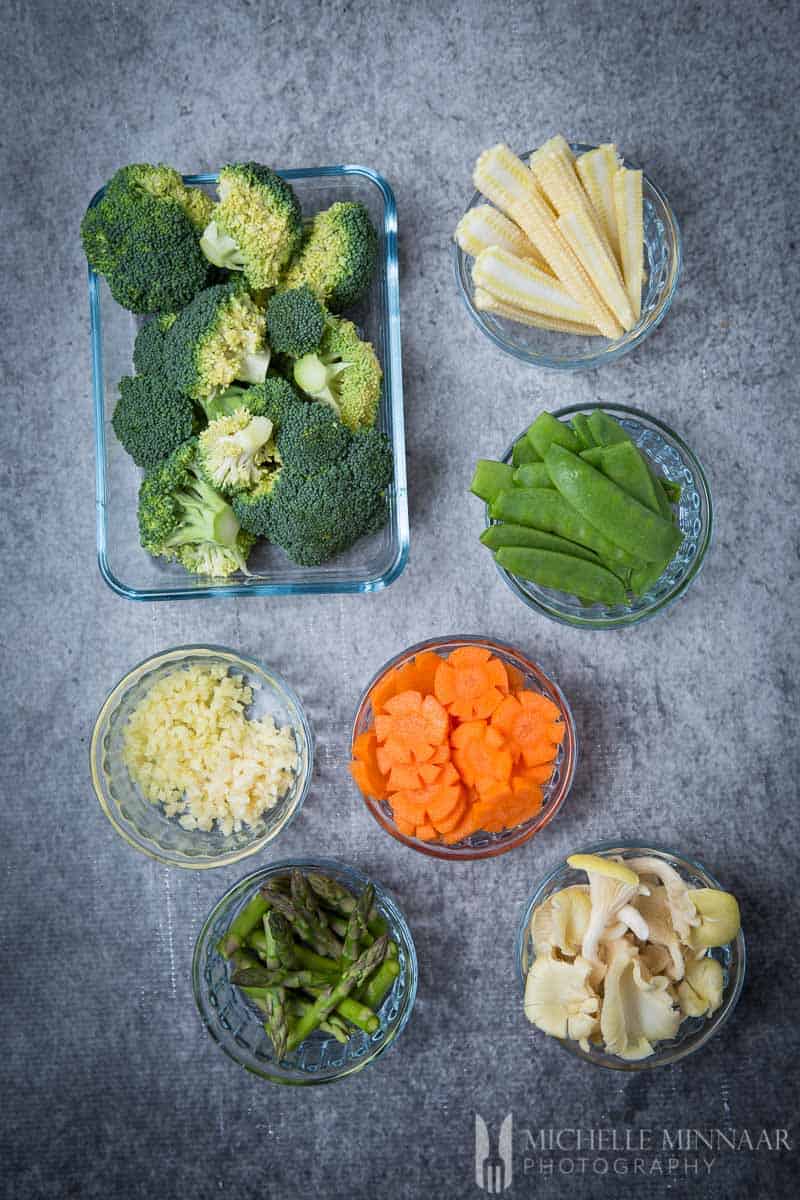 which vegetables to use
For my Chinese mixed vegetable stir fry I used broccoli, carrots, mushrooms, baby sweetcorn, sugar snap peas and asparagus. I find the combination of sweet and bitter tasting vegetables ideal for a Chinese stir fry. Nonetheless you can make a number of variations to the vegetable mix. Simply pick what you like and substitute what you don't. Bell peppers are always good in a stir fry but have you thought about using kale or bok choy?
If you are keen to emphasise the Chinese element in the Chinese mixed vegetable stir fry, you can add water chestnuts or bamboo shoots. Not only do they taste great, they also add a crispy element to the stir fry. Another variation you can try is to replace the ordinary white mushrooms with Asian sorts such as shiitake. The latter's earthy flavour adds depth to the entire dish.
If you are a crunchy type of person, nuts are a welcome addition to the Chinese mixed vegetable stir fry too – especially cashews or peanuts. Another tip is to add bean sprouts at the end of cook time. These taste best if they a still fresh and not fully cooked through. If you feel like you are missing protein in the dish you can solve it by adding tofu. Don't forget to drizzle a bit of lime juice, because it's a lovely finishing touch!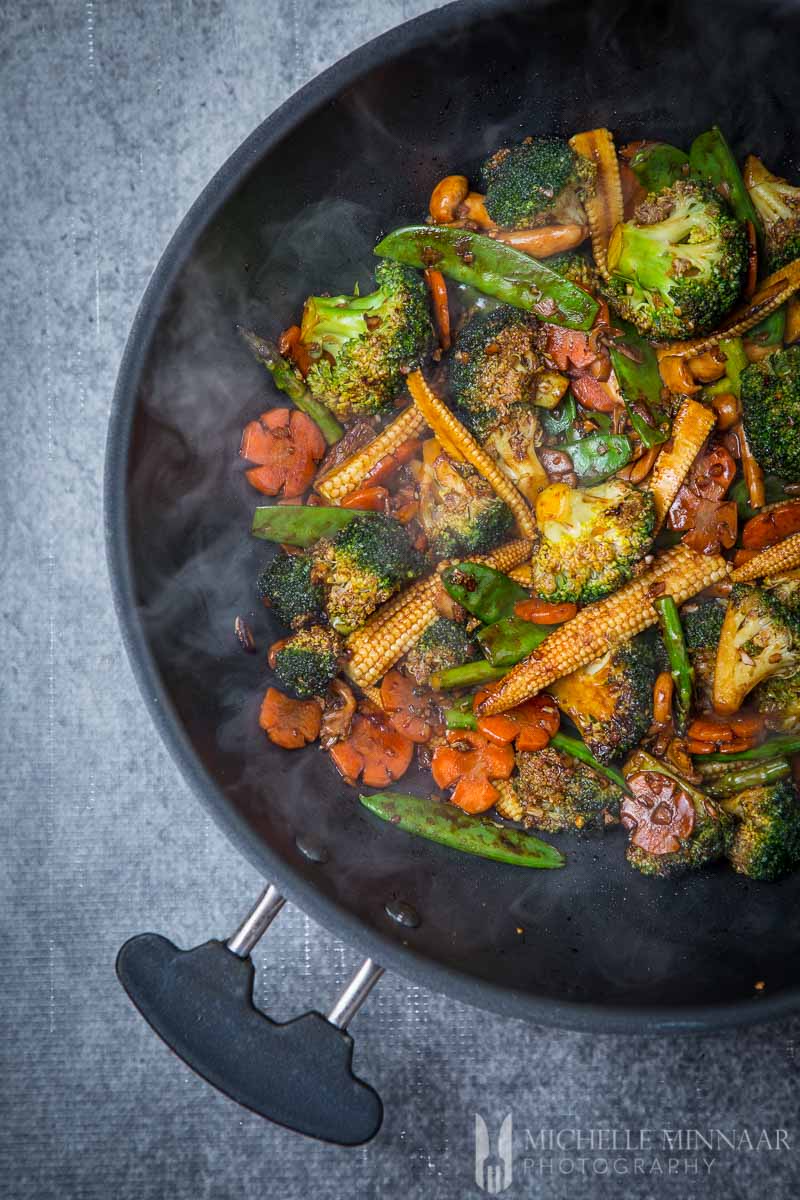 tweak your stir fry with sauces
Substituting vegetables is not the only way you can tweak the Chinese mixed vegetable stir fry. For instance, you can add honey and bring more sweetness to the dish. You can also do a great deal to the flavour using Chinese sauces. For example, you can use fish sauce or oyster sauce, which have intense fragrant, salty flavours that add enormous depth to the stir fry. Theses  are traditionally used in Thai cuisine.
Another alternative would be hoisin sauce, which is a thick fragrant Chinese sauce based on soy. These days you can easily find it in supermarkets but if all else fails you can go to a Chinese store to pick up a bottle or two….or three. If you think you've got too many vegetables, you can also make this broccoli, red pepper and asparagus with hoisin sauce and couscous for the next meal.
Fancy more spice? Add sweet chili sauce, Chinese chili oil or even chopped, fresh chillies. Or try sambal oelek, a type of chilli paste from Indonesia.
Also, consider making a stir fry with oyster sauce. Just take a look at my chicken in oyster sauce stir fry recipe or this shrimp in oyster sauce. It's delicious. If you're unsure on what to make, you really can't go wrong with a classic Hong-Kong style sweet and sour chicken!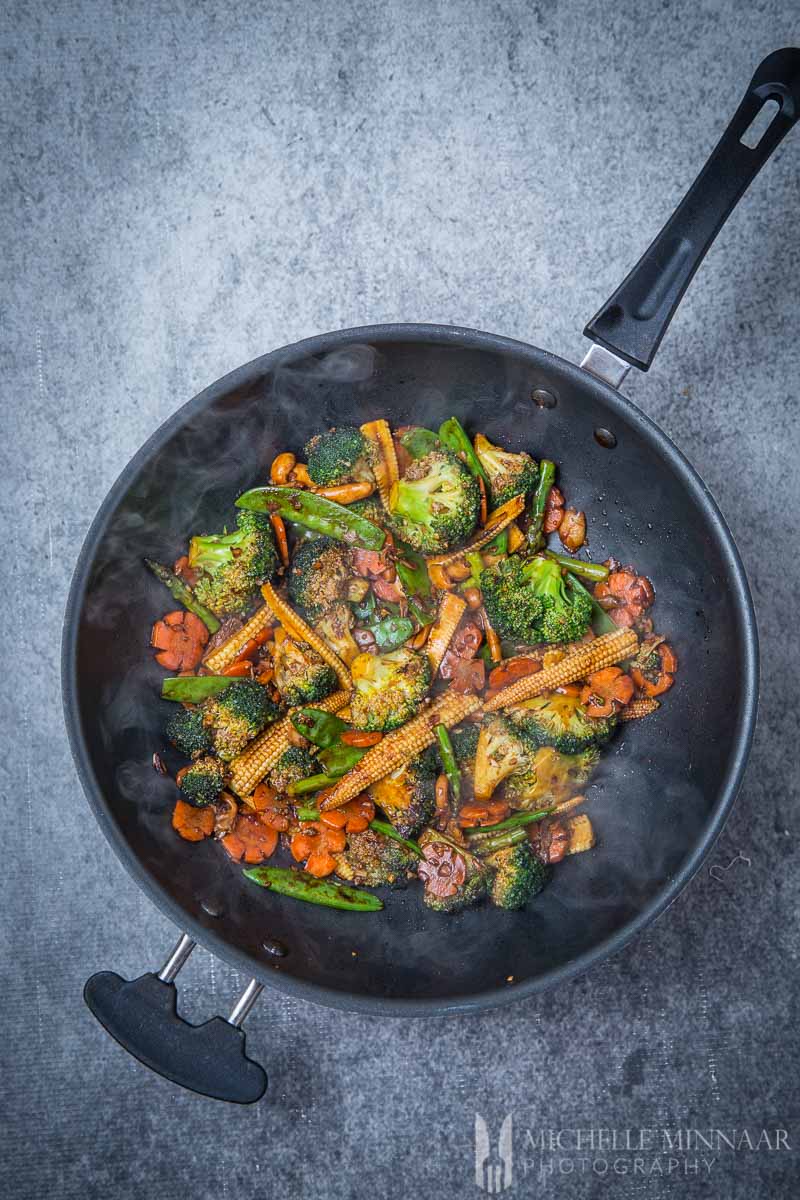 non-vegan version
Meat eaters can add their preferred type of meat into the pan with the vegetables. Lean meats are perfect for this purpose, especially chicken and turkey, but beef or pork work as well. In order to get the best result you have to slice the meat very thinly, so that it takes only a short time to cook. Seafood works brilliantly too, such as shrimps, crab meat or even sliced octopus!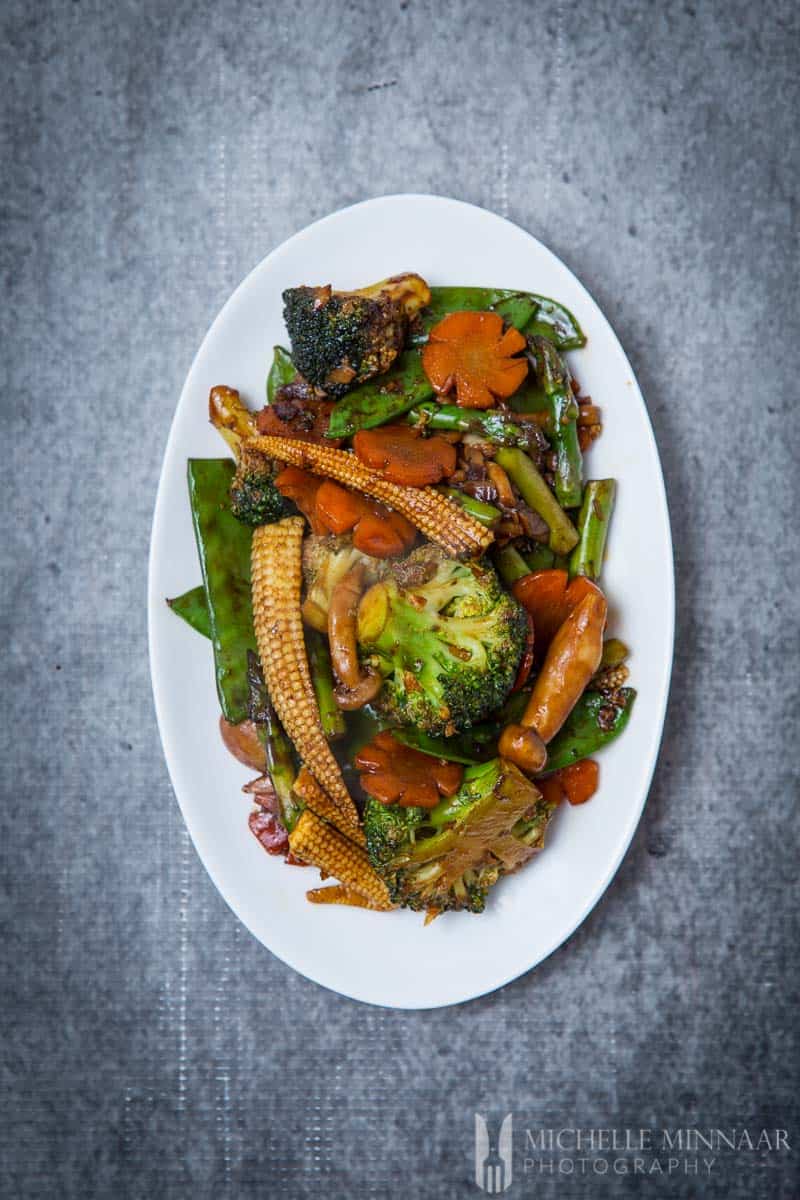 what to serve with Chinese mixed vegetable stir fry
Add a bit of steamed white rice on the side and you're done. Alternatively, you can serve the stir fry with boiled or fried noodles.
As mentioned earlier, the Chinese mixed vegetable stir fry is also an excellent side for any meat or fish cooked in an oriental way. You can adjust the vegetables, seasoning and accompaniments to your preference. With this as a side, you don't need to worry about the young ones not eating their vegetables tonight!
topping
As always, I like to finish the dish off with a little bit of green on the top. In order to keep in line with the Chinese theme, I recommend using herbs such as coriander . If you don't like it, you could use watercress or Thai basil instead. That last one can be tricky to get hold of but if you're lucky your nearest Chinese grocery store will stock it. To add even more freshness to the dish you can also sprinkle with finely chopped spring onion. The subtle onion taste complements the sweet and umami flavours of the stir fry very well. Or this pickled daikon recipe. Toasted sesame seeds are a bonus!
What is your favourite Chinese side dish?
Print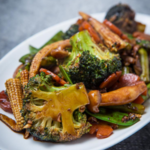 Chinese Mixed Vegetable Stir Fry
---
30

ml (2 tbsp) oil

1

head broccoli, cut into florets

4

garlic cloves, peeled and crushed

5

cm (2in) ginger, peeled and grated

2

carrots, peeled and sliced

90g

(

3 oz

) mushrooms, washed and chopped

90g

(

3 oz

) baby sweetcorn, washed and trimmed

90g

(

3 oz

) mangetout or sugar snap peas, washed and trimmed

90g

(

3 oz

) asparagus, washed and cut into bite size pieces

30

ml (2 tbsp) soy sauce

5

ml (1 tsp) cornflour
Salt and pepper, to taste
---
Instructions
Heat the 15ml (1 tbsp) oil in a large wok and fry the broccoli for 1 minute.
Add a splash of water and cover with a lid to cook for 3 minutes.
Add the remainder of the oil to the wok and fry the garlic and ginger with broccoli for 1 minute.
Tip in the rest of the vegetables and fry for about 5 minutes or cooked until desired consistency. Use a splash of water if the vegetables get a bit dry and you want them to cook a bit more.
Prepare a slurry in a cup by combining the soy sauce and cornflour then drizzle over the vegetables and stir to coat evenly.
Season to taste, and serve immediate with steamed white rice or as a side dish to a Chinese meal.
Notes
Substitute the vegetables with your favourites, such as peppers, kale, bamboo shoots and water chestnuts.
This recipe is very basic and you can tweak it to your preference such as adding honey, hoisin, oyster or sweet chilli sauce to it.
Cashew nuts are a great addition to this dish.
Alternatively, you can parboil the veggies first before finishing them off in the wok.
Prep Time:

15 minutes

Cook Time:

10 minutes

Category:

Side Dish

Cuisine:

Chinese
Nutrition
Serving Size:

1 serving

Calories:

82

Sugar:

2.6 g

Sodium:

325 mg

Fat:

4.9 g

Carbohydrates:

8 g

Fiber:

2.2 g

Protein:

2.7 g
save the recipe to your pinterest board