You probably all know what this is. It isn't exactly a new invention but, in any case, guacamole is one of my absolute favourite vegan dips – ever! It can be enjoyed in so many ways and that's one of the main reasons I love about it.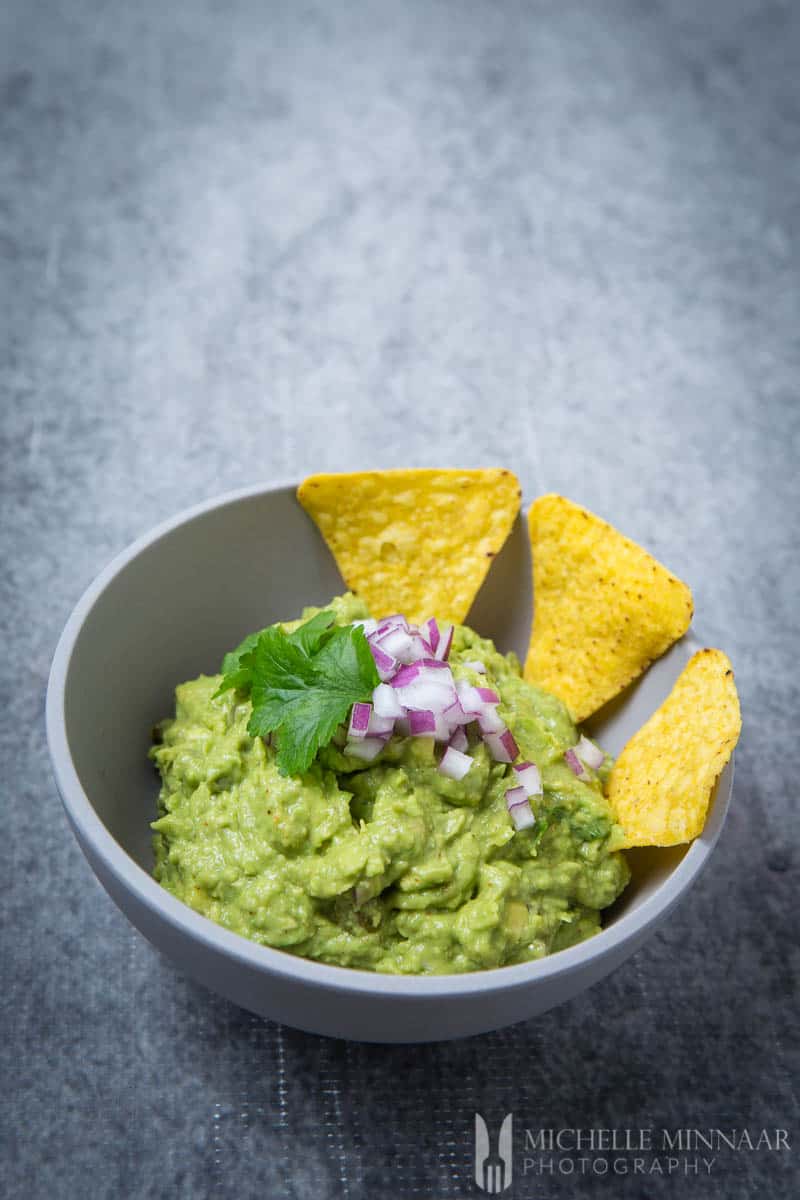 You can use it as a spread for sandwiches, or as a dip for tortilla chips and vegetable sticks. In essence, it is an absolute must if you prepare authentic Mexican food such as burritos or, the more common bar snack, nachos. It even works with cold meats.
Simply slice up some leftover chicken from yesterday, add some tomatoes or other vegetables and serve with guacamole as a light lunch. If you have found some untraditional use of guacamole I would love to hear about it. So please leave a comment.
the origin of guacamole
Now even though guacamole only became very popular in Europe within the last 10 years, it has a long history. It is believed that the recipe in its original form can be dated back to the 1500s.
That's right, more than 500 years ago the Aztecs were enjoying guacamole too in what is now known as Mexico. The Aztecs probably liked the avocados because of their high content of natural fat, protein and vitamins, and guacamole formed a vital part of their diet.
When the Spanish started conquering South America, guacamole was prized for its taste. The Spanish attempted to bring the dish with them back to Spain, however not having the means of transport and storage of avocados we have today, it turned out unsuccessful.
It wasn't until the mid 20th century that guacamole became popular in the USA and only much later in Europe. Today though, there is hardly a pub in the country that doesn't sport something with guacamole on the menu.
fresh guacamole vs. pre-made
Just about every supermarket or corner store sells some kind of pre-made guacamole in a jar to serve with crisps. However, nothing compares to the real thing.
Not only do you get a much better flavour from using fresh ingredients, you also avoid the preservatives and artificial stabilisers that the food industry uses. Also, you can adjust the flavour to your liking, not having to contemplate what the description "medium hot" on the jar actually means.
If you like a bit more of a kick, then add more chili. If not, leave it out. The same goes for garlic, onions and all the rest. I believe I have created the optimum recipe to my liking, but yours might be different. So don't be afraid to play with the settings here.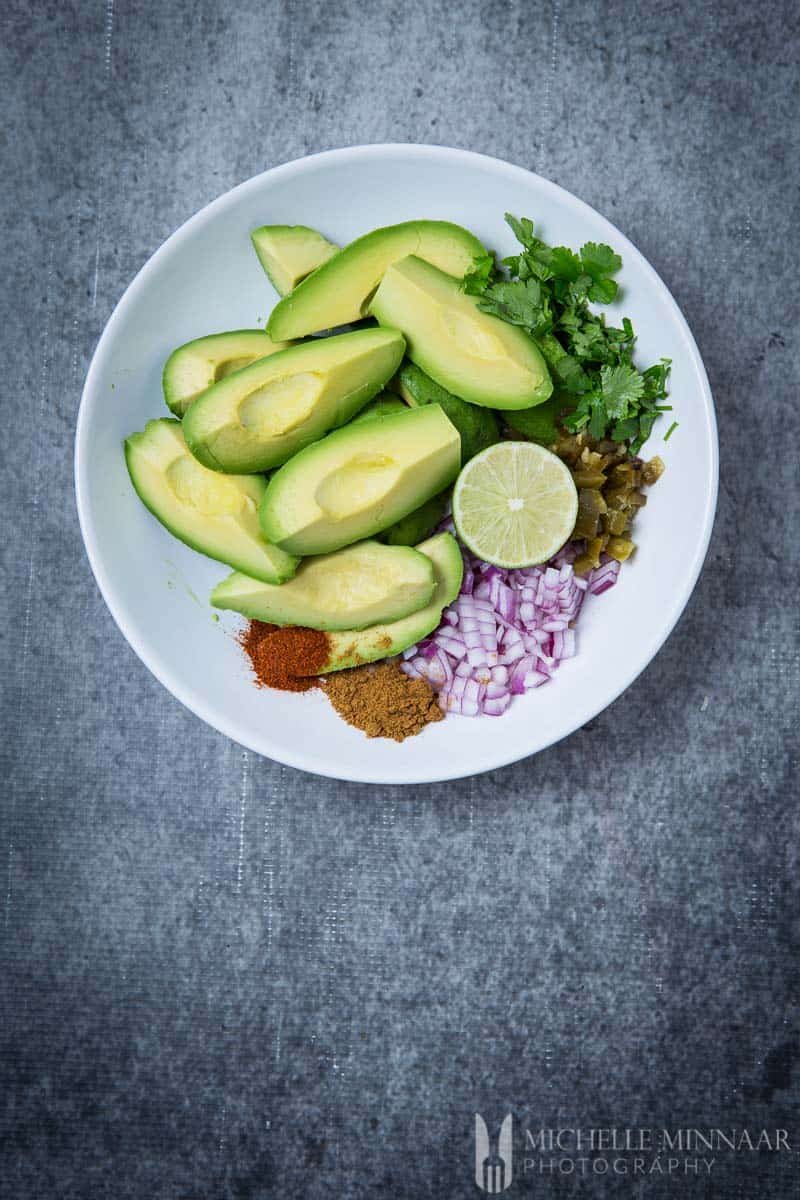 jalapenos
One of the key ingredients apart from avocado are the jalapenos. Jalapeno is a type of chili pepper grown mostly in Mexico and other Central American states. They can vary quite a lot in heat depending on cultivation.
It can be tricky to find one with just the right amount of spice, so if you are unsure, add the jalapenos little by little. Or if you are brave, take a test bite before adding them to the guacamole.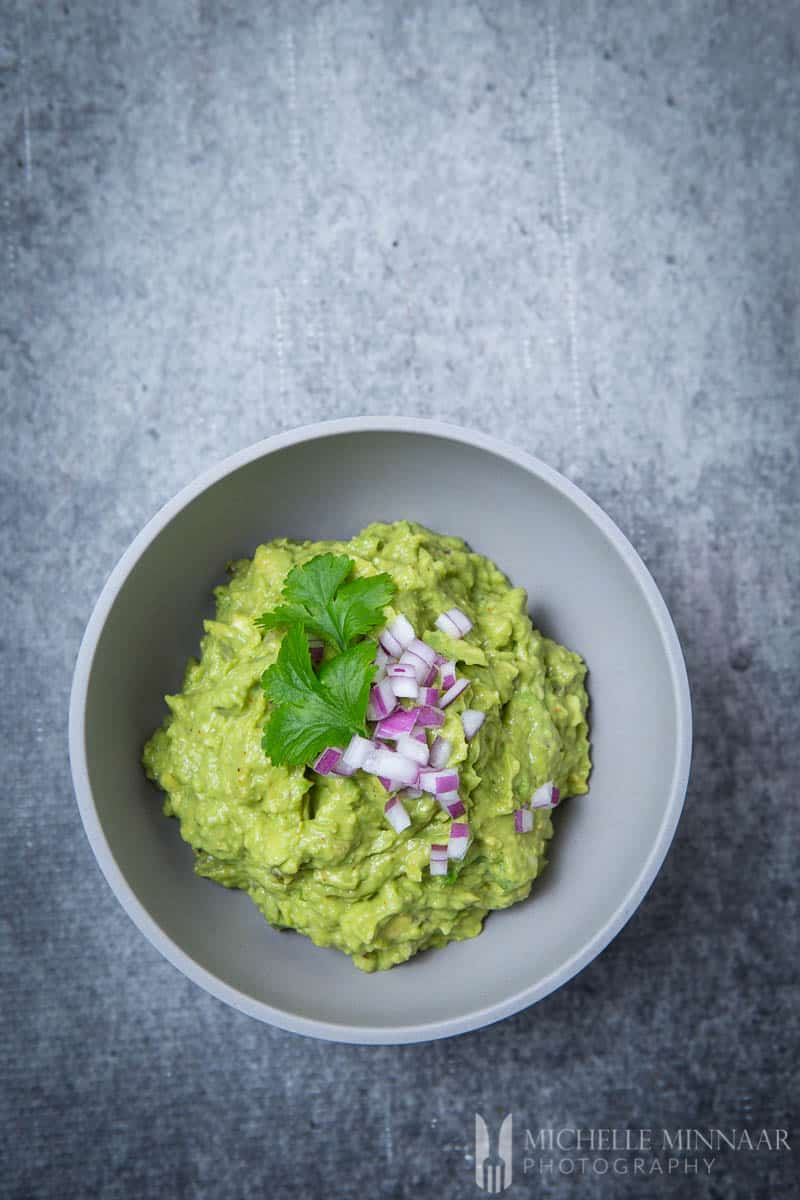 variations
There are a number of things you can do to put a twist on the classic guacamole. For instance, you can mix in chopped pineapple or mango and make a surprisingly fresh and fruity guacamole, which makes it sound similar to my mango salsa.
The sweet, yet acidic, flavours of the tropical fruit work well with the rich avocado and the jalapenos.
If you fancy something nearer to our homeland, try it with little cubes of green apple. One of the new popular super foods that you have probably been reading more and more about is the pomegranate.
So why not combine this wonderful fruit with avocado and have a pomegranate guacamole? Just add guacamole to my pomegranate salsa.
Again, if you have thought of, or tried something amazing, please share it with the rest of us!
For a more savoury option, I 've also experimented with making dips out of avocado. Indeed, I've made a wonderful avocado dip using avocado and cream cheese. Finished with some lemon juice, it works very well with nachos too.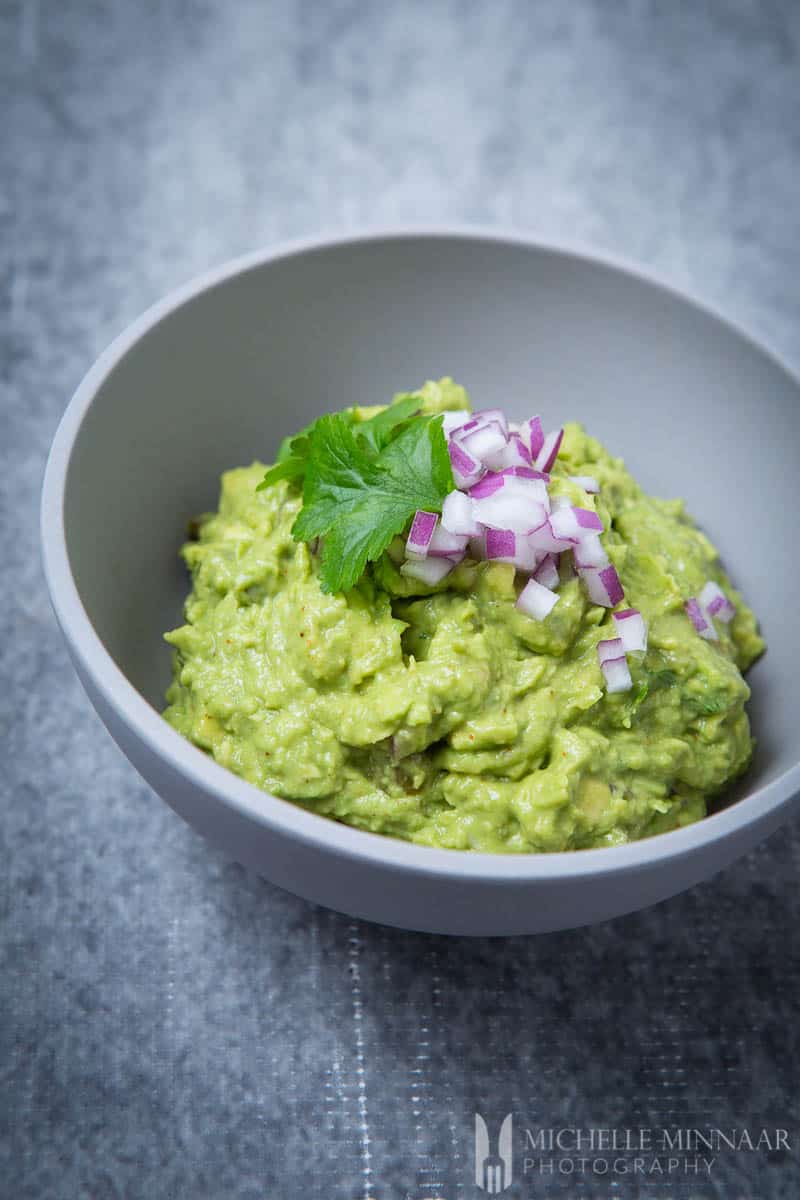 consistency
Ultimately, the consistency of the guacamole is a matter of preference. Personally, I don't like to blend my guacamole in a blender.
It simply turns into a goo, resembling something like a green filler paste. I recommend to mash up the avocado with a fork or a spoon and stir in the other ingredients.
The aim here should be to have some nice chunks of avocado and a bit of texture in the guacamole. Be careful to chop the other ingredients quite finely though. The end result should be more delicate than rustic.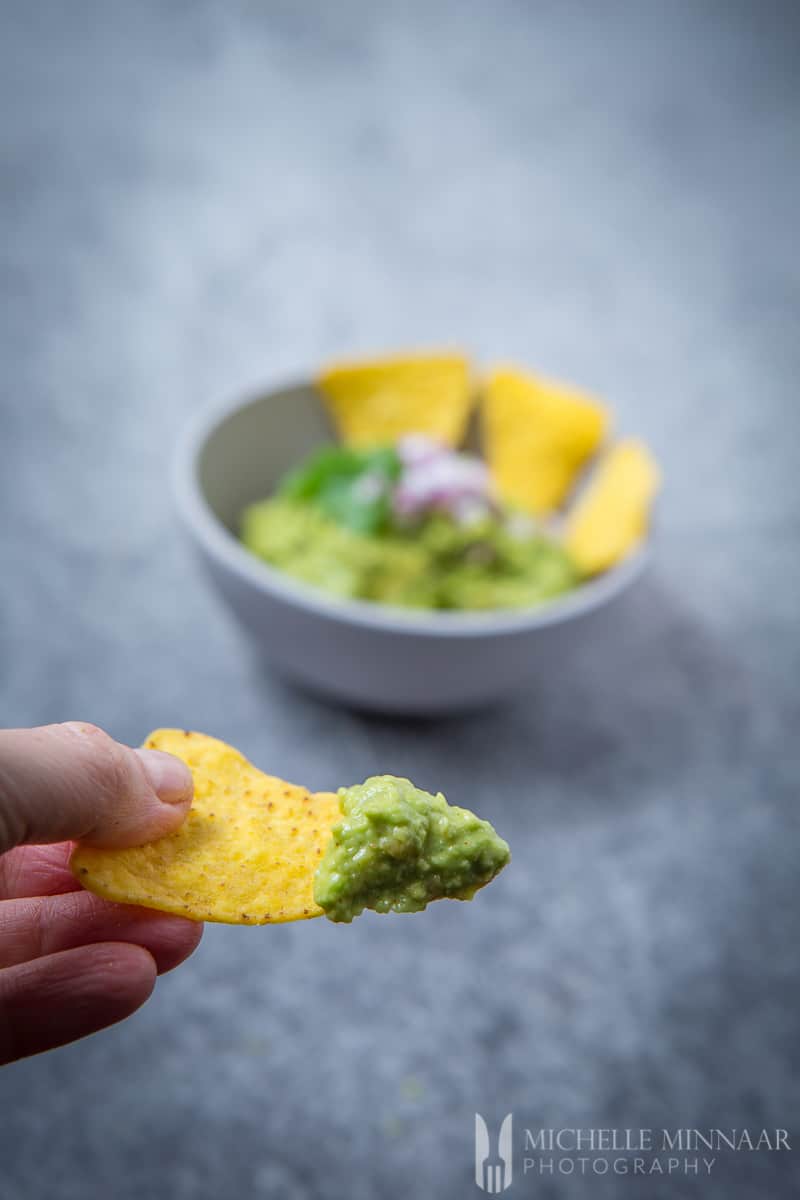 serving
If you are having a party, there is simply nothing better than some bowls with vegetable sticks to dip in guacamole. Carrots, cucumber and celery are the best for this purpose.
You can also use the guacamole to make your own plate if nachos. This one will be way better than any you have ever had in a pub. Take some tortilla chips and bake them briefly in the oven with grated cheese on top so that the cheese melts. Serve with guacamole and salsa.
Another great way to use the guacamole is to use it as a spread. Either in a sandwich with the filling of your choice, or in a Mexican wrap.
For inspiration, you can take a look at what I previously did with my refried beans. Simply, substitute the refried beans with guacamole.
If you're into offbeat dip recipes, you should check out htipiti, melitzanosalata, white bean dip and tzatziki.
Here's a fun fact. Did you know that the day in the year on which the most guacamole is eaten is on Super Bowl Sunday?
Even if you missed out on this year's game there is no reason not to indulge in some fresh guacamole yourself.
Print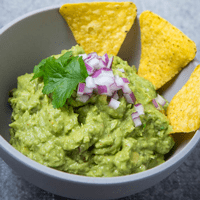 Guacamole
---
4

medium avocados, peeled and pitted

½

red onion, peeled and finely chopped

1

jalapeno, finely chopped

1

lime, juiced
Coriander, washed and finely chopped

5

ml (1 tsp) ground cumin

2.5

ml (½ tsp) chilli powder
---
Instructions
In a large bowl, mash the avocado to desired consistency.
Stir in the rest of the ingredients and serve immediately.
Notes
Serve as a side dish as part of a Mexican feast, or with tortilla chips as a starter or snack.  
Prep Time:

15 minutes

Category:

Starter

Cuisine:

Mexican
Nutrition
Serving Size:

1 serving

Calories:

322

Sugar:

1.8 g

Sodium:

11 mg

Fat:

29.5 g

Saturated Fat:

6.2 g

Carbohydrates:

16.7 g

Fiber:

11.2 g

Protein:

3.3 g
save the recipe to your pinterest board