When I created this recipe, I let myself be inspired by Middle Eastern and North African flavours. The harissa paste is widely used throughout the region especially in places like Morocco and Tunisia. This time, I paired it with prawns, which is a little untraditional, but nevertheless exemplary. If you like spicy food with an Levantine twist, this is a recipe for you. This dish is perfect if you are on a diet, but don't feel like eating only salads. It is low in carb, high in protein, and the chili even speeds up your metabolism. Plus, I used one of the coolest kitchen devices to help me make the harissa prawns even healthier. Want to find out what this clever kitchen device is? Keep reading!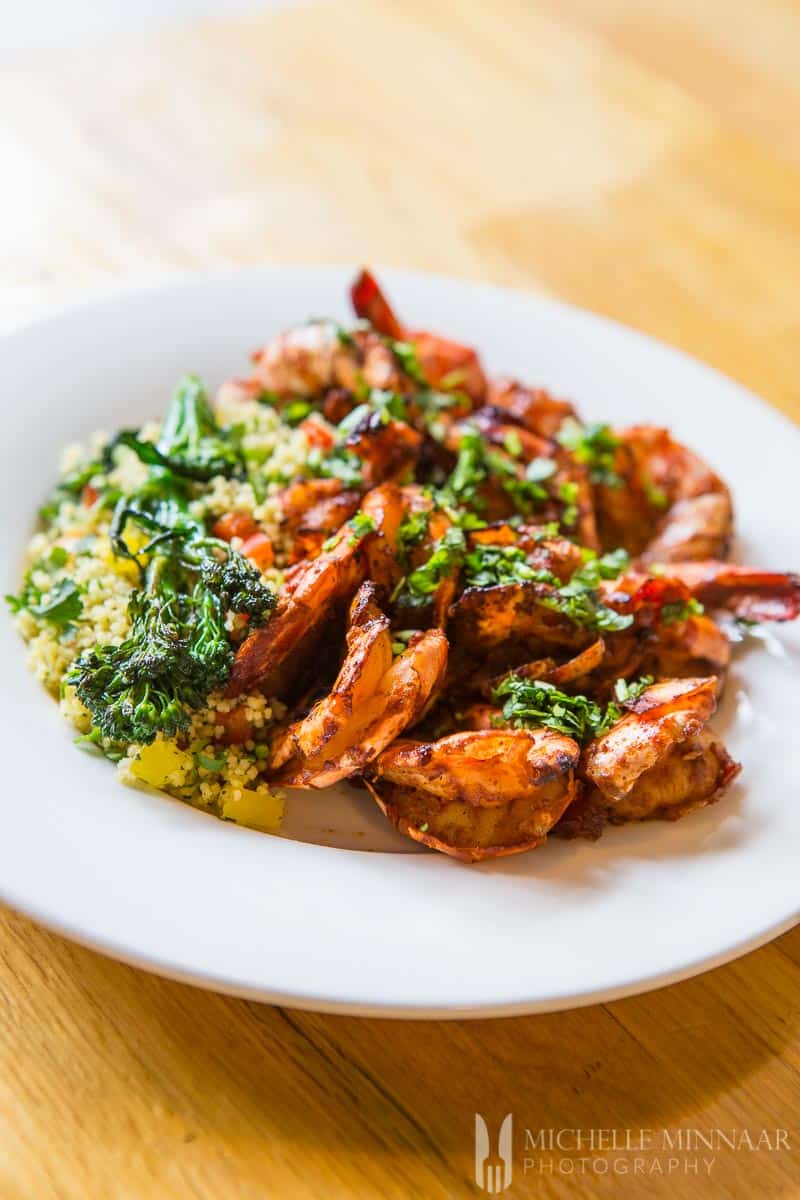 Tefal Actifry
I cooked this dish using the Tefal Actifry device. I have used it before, and perhaps you already know it as a healthy alternative to the traditional deep fryer. You probably wouldn't have thought of cooking prawns with it. The Tefal Actifry is actually a very versatile piece of equipment, and not just a new sort of chips fryer. Although, you get absolutely amazing potato chips with it, and even with very low fat.
There is so much more you can do with this machine. You can make stews, curries and fried chicken just to name a few. You can find out more about the Tefal Actifry, and check out some of Tefal's very own recipes right here.
Obviously, the main advantage of the Actifry is its low fat way of cooking. You only need one table spoon of vegetable oil to make a batch of potato chips with a fat content of only 3%. Now compare that to the conventional deep fryer that eats up three laters of oil! Besides, the advantages don't stop here. With the Actifry, you can also avoid the usual, undesirable oil smells in the houses that a normal deep fryer would give off. It's very easy to clean and there is practically no leftover cooking oil.
The best thing though is the Actifry's versatility. You can use it for almost anything and in no time at all. Using the Tefal Actifry, you can cook up a delicious chicken curry in little more than half an hour! You can also use it try frying off vegetables such as spring onions or bell peppers to serve as sides for meat. I've even used it to fry cauliflower, check it out.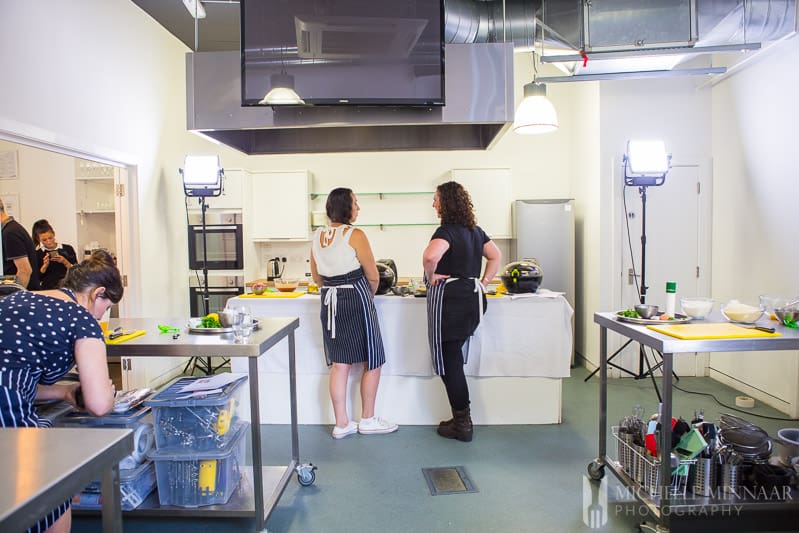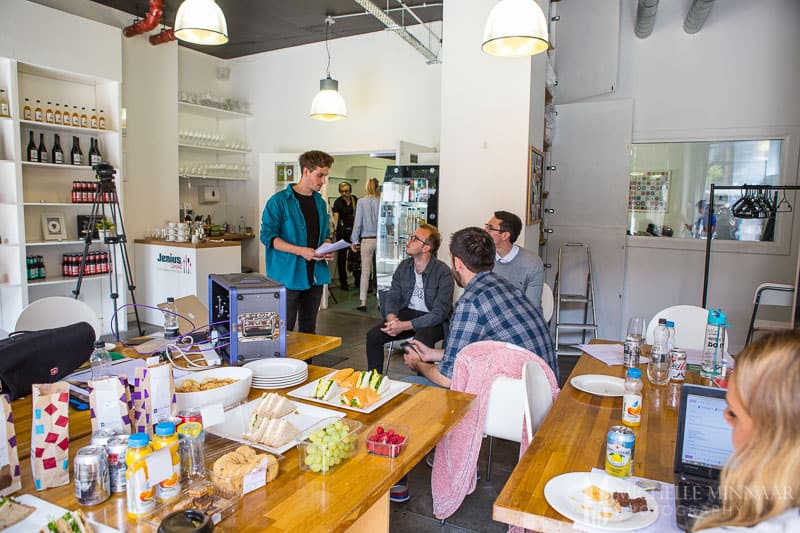 what is harissa
The main component other than the prawns in this recipe is the harissa paste. The paste comes from the Maghreb region of North Africa, meaning Morocco, Tunisia and Algeria. It consists mainly of roasted red peppers in combination with chili peppers and various spices such as saffron, garlic, cumin and coriander seeds. The mixture is then diluted with olive oil to make it spreadable. It is common to use it as a rub for meat or vegetables prior to cooking. You can also add it afterwards as last-minute spicing. The benefit here is that you control the level of spice in the harissa prawns. Many locals of the region use harissa to give extra flavour to soups or stews.
Even if you have a bit of grilled chicken, apply some harissa before eating and you will certainly have spiced things up. You can find harissa in most well stocked supermarkets or in Middle Eastern deli shops. As it is a little bit complicated to make yourself, I recommend you buying a jar instead. If you don't use it all, don't worry. It will keep in the fridge for weeks.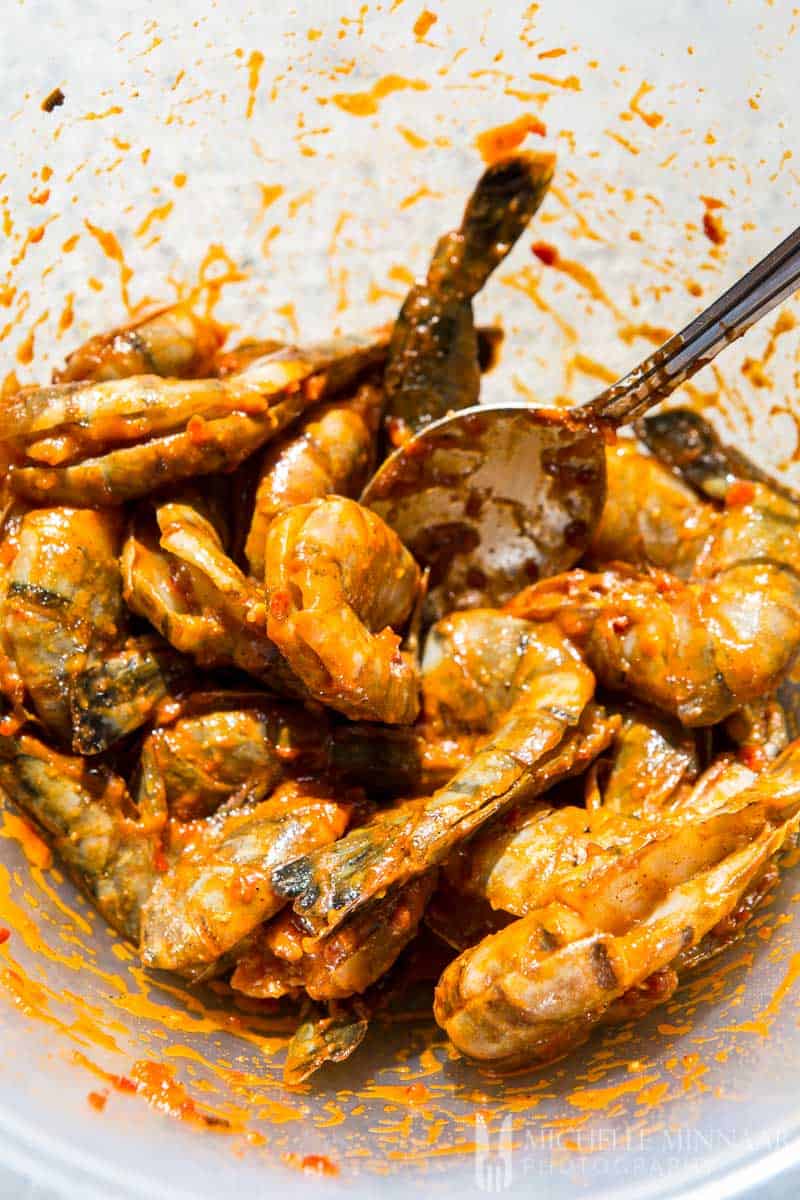 sauce variations
The harissa sauce is really lovely with prawns. However, there are many other variations you could go for such as the classic pan fried butter and garlic prawns. Just pour over some lemon juice and cover with fresh parsley to complete the dish.
You could also try using soy sauce as a marinade. I love the saltiness it brings to the prawns, especially if the prawns still have shells on. If you pan fry them, the soy sauce will blend perfectly while it caramelises with the shells. The soy sauce also works extremely well, if you combine prawns with ginger. To find out more, click right here for ginger prawns. You can also try using teriyaki or hoisin sauce for an Asian twist.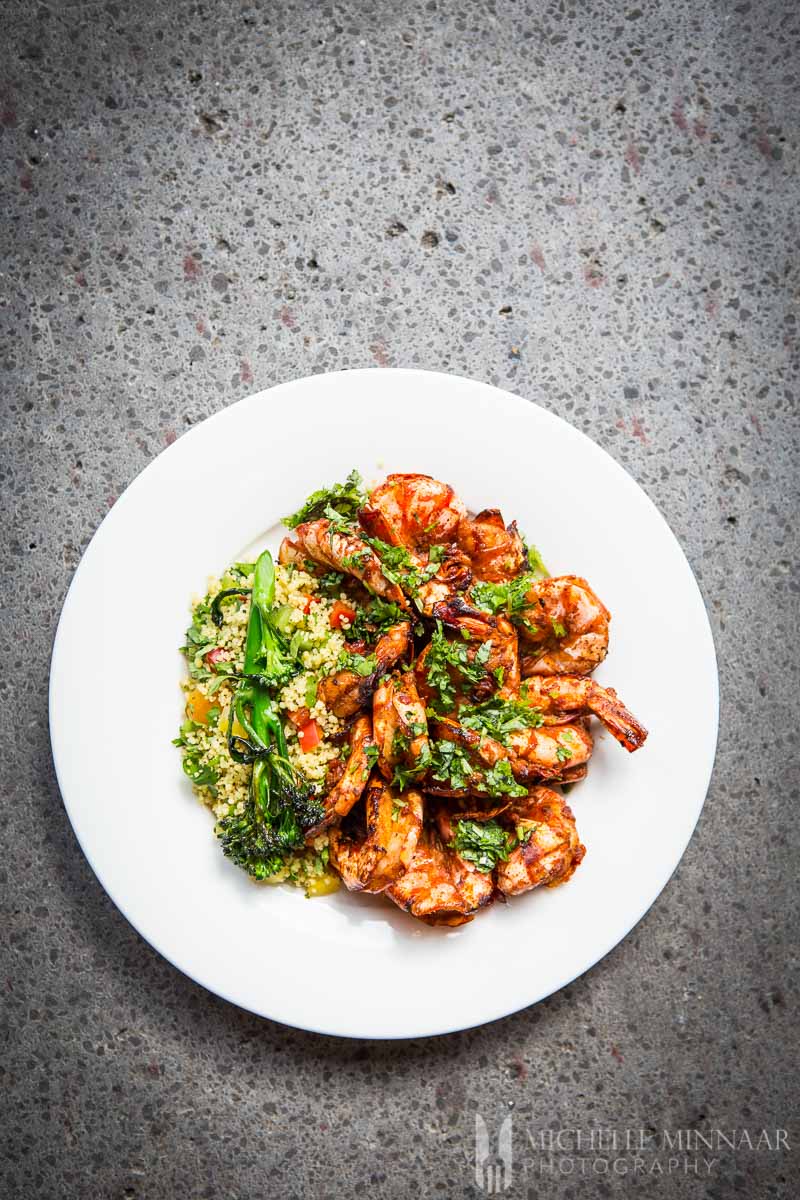 serving
In order to keep in line with the North African flavours of the harissa prawns, I would serve it with couscous. Couscous is made from crushed durum wheat and is a very popular staple, not only in North Africa, but also in France. Cook the couscous and mix a few vegetables in there. Some finely cut peppers and onions and small bouquets of broccoli complements the prawns beautifully. Not only does it taste good but the vibrant colours also look fantastic on the plate.
If you are allergic to gluten or just not that in to couscous, you can serve the harissa prawns with a salad instead. I recommend using rocket salad in order to give the spicy prawns some resistance. Combine with some fresh tomatoes to counteract the spices. As always, be generous with the fresh herbs. Topping the dishes with plenty of chopped parsley is common practice is the Maghreb region. It will lift the harissa prawns and make them even lighter than they already are.
Lastly, don't forget to serve Moroccan mint tea. It's great for digestion and tastes great too!
Print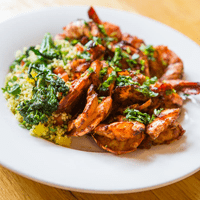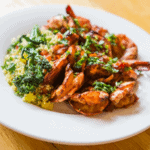 Harissa Prawns
---
Author:

Michelle Minnaar

Prep Time:

75 minutes

Cook Time:

10 minutes

Total Time:

1 hours 25 minutes

Yield:

2

1

x
Description
Harissa Prawns are easy to prepare. Clean the shrimp then marinate in harissa paste for 1 hour before pan-frying, grilling or cooking them in Tefal Actifry.
---
45

ml (3 tbsp) harissa paste

15

ml (1 tbsp) vegetable oil

5

ml (1 tsp) sea salt

20

shell-on prawns, cleaned
Fresh coriander to garnish
---
Instructions
Prepare the marinade in a big bowl by mixing the oil, paste and salt together.
Stir in the prawns and mix thoroughly, ensuring all areas of the shellfish are covered.
Marinate for 1 hour in the fridge. [optional]
Cook in the ActiFry for 10 minutes.
Serve with couscous and/or salad.
Nutrition
Serving Size:

1 serving

Calories:

536

Sugar:

12 g

Sodium:

2560 mg

Fat:

11.2 g

Saturated Fat:

3.4 g

Carbohydrates:

85 g

Fiber:

4.1 g

Protein:

23.1 g
save the recipe to your pinterest board