Sweet and sour sauce is one of the most sought after items in Chinese cuisine, whether it's serviced with chicken, pork or prawns.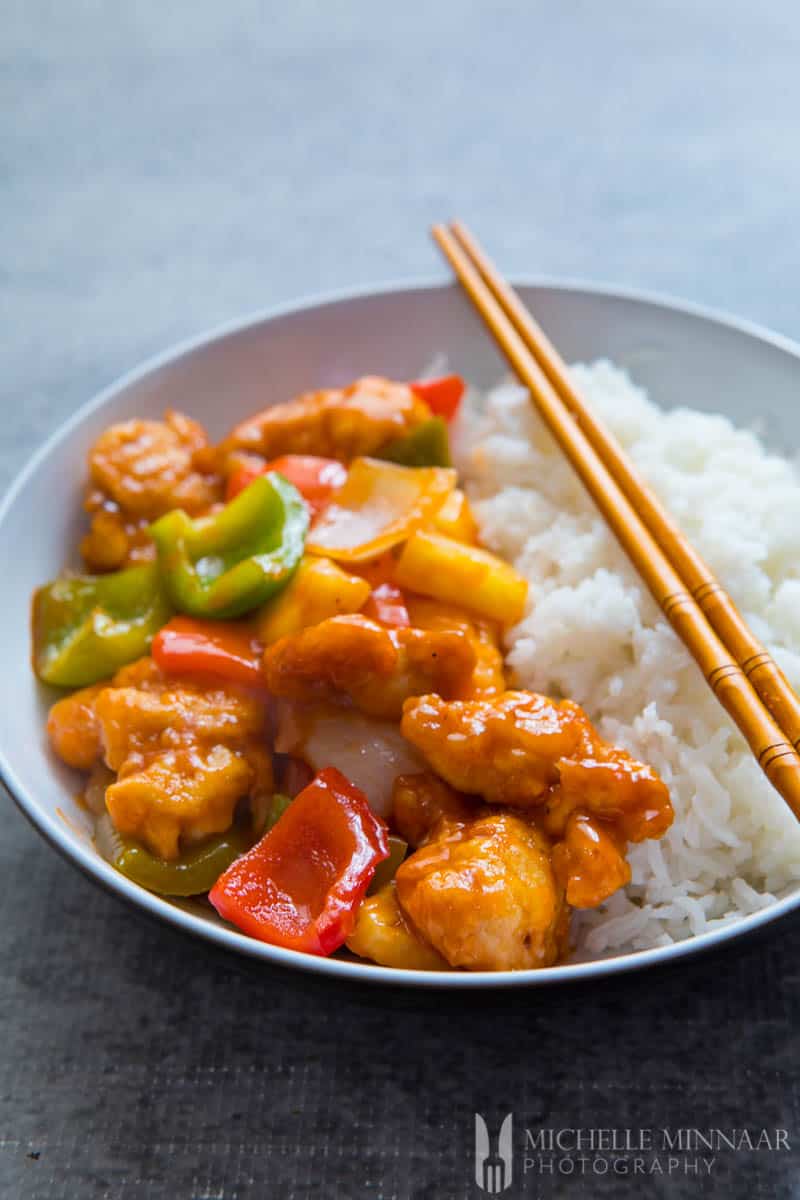 This dish is a great way to celebrate Chinese New Year, along with Chinese mixed vegetable stir fry. Despite being a popular chicken cantonese style takeaway, you can make it at home yourself just as good and cheaper, hence calling it a 'fakeaway'.
Not only is it satisfying and empowering to cook it yourself at home, it's healthier and cheaper too. My sweet and sour cantonese style recipe is so simple and quick to make that you'll never opt for the take away again. Fakeaway forever!
Chinese New Year with a special something
The traditional Chinese calendar is called a lunisolar calendar, based on astronomical phenomena. It contains 12 zodiac animals and this year we have just entered the year of the dog.
Chinese New Year is not only celebrated in China but in Chinese communities throughout the world. In honor of the Chinese New Year a Manchester restaurant made an extraordinary dish, called the world's most expensive stir fry.
Containing 500g (1lb) of infamous wagyu beef as well as lobster tails, it is certainly not your average stir fry. It also includes Shimeji mushrooms, a gold label whiskey sauce and black truffle oil infused rice make up the dish. Sounds like perfect chinese buffet stirling to me!
The cost of the ingredients based on a serving for two people comes in at a whopping £437.25. The stir fry was cooked, filmed and served up to attending press and bloggers on Monday afternoon at Sweet Mandarin restaurant. If you a curious to find out more about that, you can check out this video.
If, on the other hand, you are looking for are slightly more cost efficient meal that you can make at home, the Hong Kong-style/cantonese style sweet and sour chicken is worth a whirl.
what is Hong Kong-style sweet and sour chicken?
What is the difference between the standard sweet and sour chicken and its Hong Kong-style counterpart? The preparation of the chicken. In the latter, the chicken is battered, then fried and served with the sweet and sour sauce.
It's almost like little chicken nuggets dressed in sweet and sour sauce. The standard version is deep-fried chicken balls that comprise a little bit of chicken covered with an enormous amount of batter, with the sweet and sour sauce served on the side for dipping.
In my books, the Hong Kong-style version is slightly healthier. Of course, you can omit the batter all together and fry the plain chicken along with the vegetables before adding the sauce.
what difference does the batter make?
Perhaps you are thinking that it would be easier not to batter and fry the chicken first. It would be easier and healthier, but you would be missing out.
Those golden crispy chicken nuggets covered in sweet and sour sauce are simply to die for. Believe it or not, but that first crispy layer of the batter on the chicken really does make a difference.
The best flour for this purpose is corn flour. However, if you can't get hold of it, you can use very fine bread crumbs instead. You can smash up the bread crumbs in a mortar if the ones you have are a bit too grainy.
A tip for frying the chicken is to do it in small batches. This way you don't lower the temperature of the oil as much, and you get a better result in the frying, making the nuggets not as oily.
variations
The best way to bring variation to the sweet and sour chicken is with the kinds of vegetables you use. I've gone for a classic mix for my sweet and sour chicken, namely onion, pineapple and red and green bell pepper.
Not only do these vegetables taste good in the sweet and sour sauce they also add fantastic colours to the dish. We eat with our eyes as well so the colour scheme makes the dish even more appetising.
I find that the pineapple is very important to obtain that right balance for the sweet and sour chicken. If you can't stand pineapple, then leave the pineapple out.
You can add or substitute other vegetables as well. Green beans or broccoli are always great in Asian dishes, and if you have kids who complain about broccoli they will love it with sweet and sour sauce slathered on it. Other suggestions are sugar snap peas or mushrooms.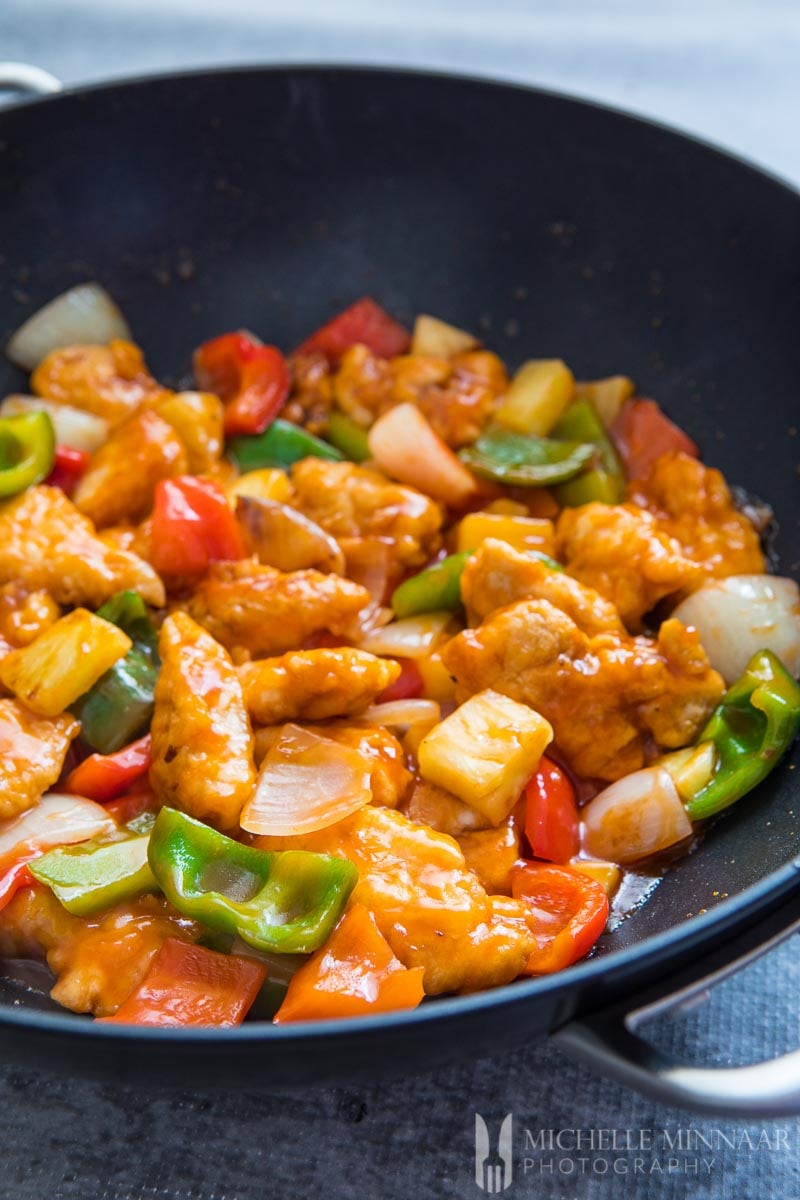 You can make your sweet and sour chicken even more Chinese by adding bamboo shoots or slices of water chestnuts. Both possess excellent crunchy textures that add freshness to the dish.
In terms of spicing, sweet and sour chicken is not meant to be hot. However, you can add a little chili if you find the recipe too tame. Alternatively, add sweet chili sauce as a topping.
meat substitutes
Another way of changing up the dish is to take out the chicken itself. Technically, no longer sweet and sour chicken but still every bit as amazing.
Apart from chicken, turkey or pork work the best with the sweet and sour sauce. I'd say pork is the most popular choice as it works well with other Chinese recipes, such as the Chinese BBQ pork stir-fry.
The flavour is also great for seafood, especially prawns. Prawns are actually great when prepared Hong Kong-style. Should you want to make a vegan version, you can substitute the protein with tofu. In that case, no need for the batter.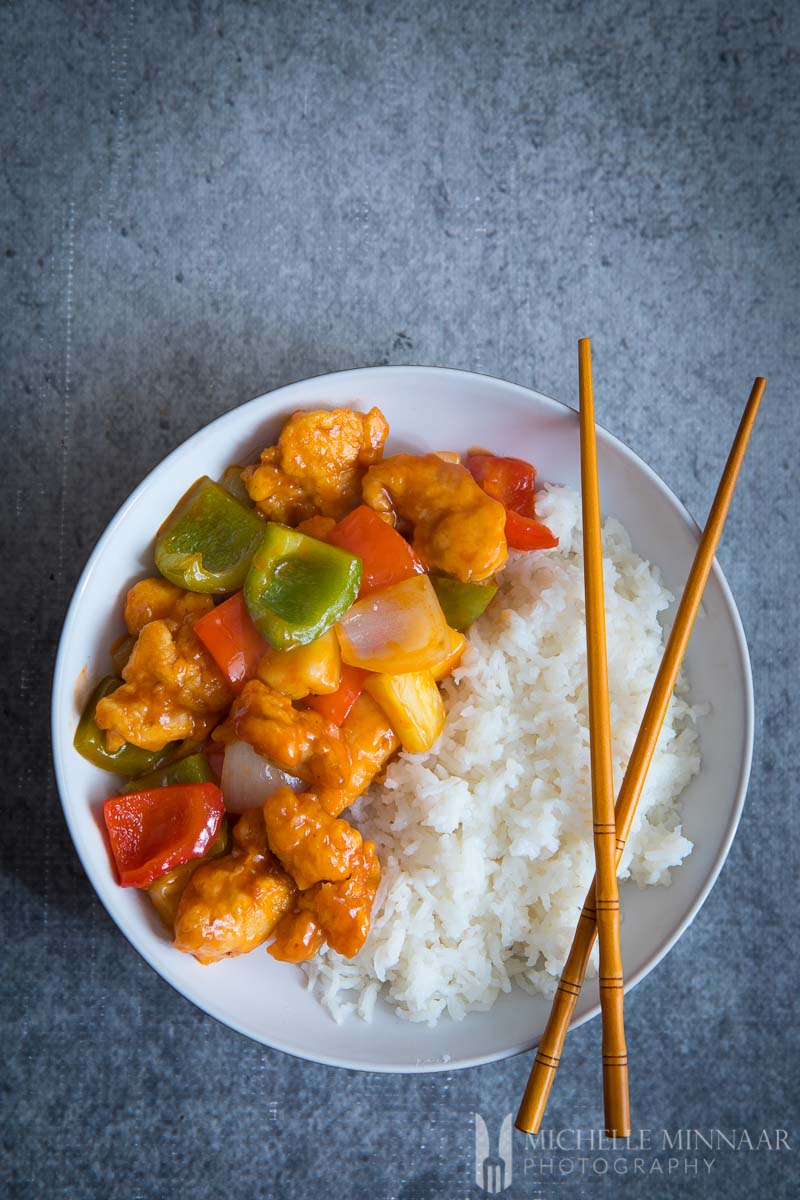 serve with rice
Personally I prefer to serve my Hong Kong-style sweet and sour chicken with steamed rice. Typically this would also be the way you would get it in a Hong Kong street kitchen.
A steaming hot bowl of white rice with a generous scoop of fried chicken and crunchy vegetables in a perfectly balanced sweet and sour sauce. Alternatively, you can serve it with wild rice, fried rice or even noodles.
It's not strictly traditional but you can add to the dish by topping off with some peanuts when serving.
How about creating a 'fakeaway' starter as well? Try my simple yet flavourful Chinese chicken and sweetcorn soup.
Not feeling sweet and sour? Try my Salt & Chilli Chicken recipe instead!
storage
If you made more than you could eat the sweet and sour chicken will easily keep in the fridge for a couple of days, although the batter on the chicken will turn soft very quickly.
Print
Hong Kong-Style Sweet and Sour Chicken
---
Description
If you love Chinese food, then this is Hong Kong-style sweet and sour chicken is definitely the recipe for you. Master this dish with the use of a wok pan!
---
60

ml (4 tbsp) tomato sauce

45

ml (3 tbsp) white vinegar

60

ml (4 tbsp) sugar

150

ml (¼ pt) chicken stock

10

ml (2 tsp) corn flour

600g

(1½lbs) chicken breasts, sliced into strips

2

eggs, whisked

90g

(

3oz

) cornflour
Salt and pepper, for seasoning
Oil, for frying

30

ml (2 tbsp) vegetable oil

½

pineapple, peeled, stalk removed and cut into bite-sized pieces

1

large onion, peeled and cut into bite-sized pieces

1

red pepper, washed, peeled and cut into bite-sized pieces

1

green pepper, washed, peeled and cut into bite-sized pieces
---
Instructions
First make the sweet and sour sauce by combining the tomato sauce, vinegar, sugar, chicken stock and corn flour in a small saucepan over a low heat. When all the ingredients have come together to form a smooth sauce, remove from the heat and set aside.
Heat the oil in the wok on a high heat.
Dip the chicken pieces in the egg then dredge in the cornflour.
Fry the battered chicken pieces for 4-5 minutes or until crisp and light brown. Remove the meat from the wok and drain. You might need to do this in batches.
Heat 30ml (2 tbsp) vegetable oil in a clean wok, then fry the pineapple, onion and peppers for 3 minutes.
Add the chicken and sauce, stir and let the mixture bubble until it's thickened.
Serve immediately with steamed rice.
Notes
You can use prawns or pork instead of chicken in this recipe.
Prep Time:

15 minutes

Cook Time:

30 minutes

Category:

Main

Cuisine:

Chinese
Nutrition
Serving Size:

1 serving

Calories:

587

Sugar:

19.1 g

Sodium:

367 mg

Fat:

24.8 g

Saturated Fat:

5.7 g

Carbohydrates:

41.5 g

Fiber:

4 g

Protein:

49.2 g

Cholesterol:

215 mg
save the recipe to your pinterest board

P.S. This is a sponsored post.