One can say that oven-baked barbecue chicken will always be the perfect finger food. Have you ever heard of finger food? I'm sure you have!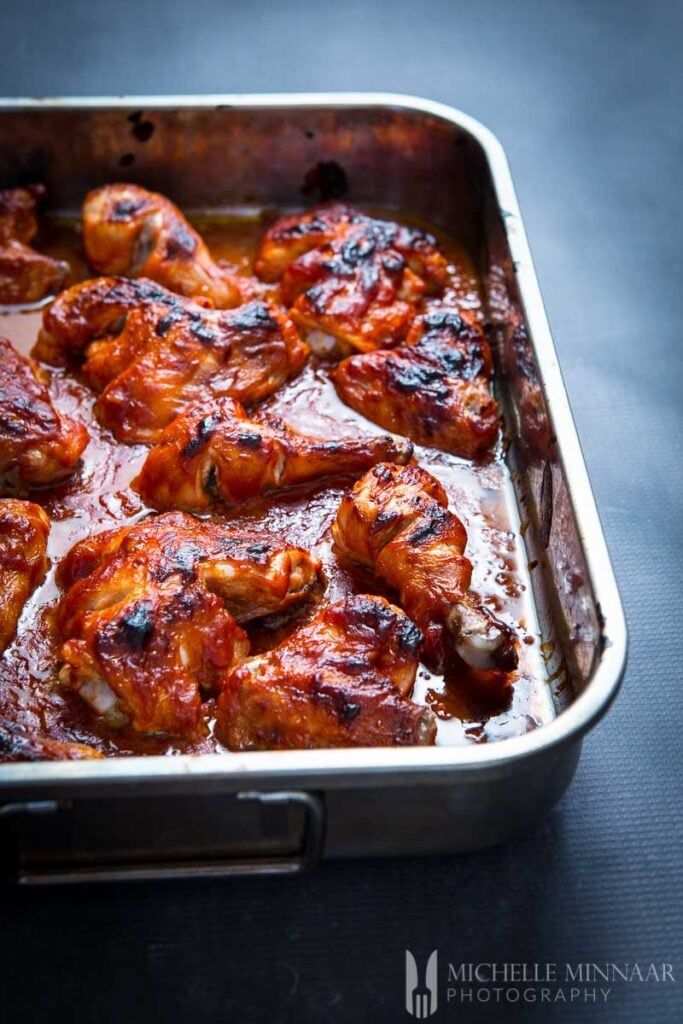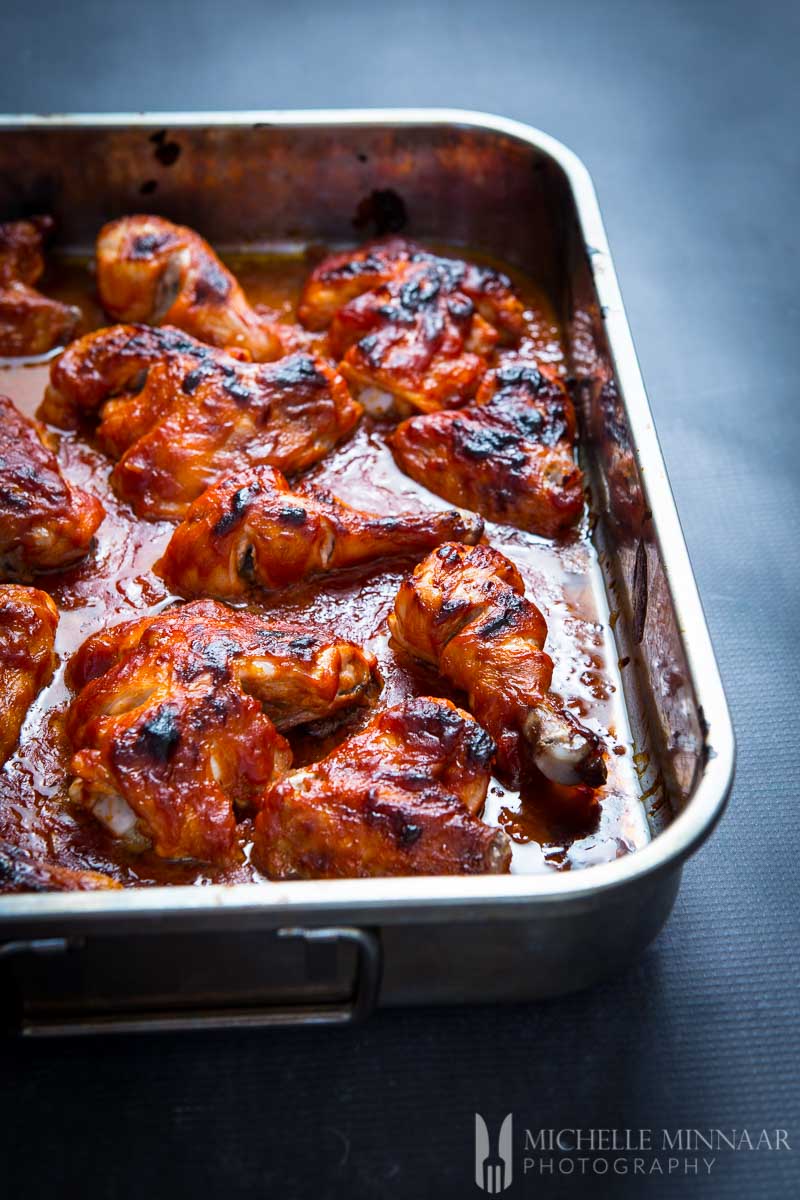 Finger foods are those types of yum yums, which you just can't stop licking off your fingers. If you are a foodie and you've got a man at home, oven-baked barbecue chicken is exactly for you.
Even though the climate doesn't allow us to sit outside and enjoy a lovely barbecue in the garden, we can still indulge on the delicious barbecue flavour from the oven-baked barbecue chicken.
Get a head start on the barbecue season and set the trend in your neighbourhood. You'll soon find neighbours bringing pints over to your house.
What is BBQ
BBQ, short for barbecue, is a cooking technique that usually involves slowly cooking an ingredient over open fire. Today's definition of a barbecue involves a couple of friends and pints of beer.
You can consider using a fixed grill or a portable grill. Either way it gets the job done. The main thing you'll get out of the barbecuing technique is the presence of the delicious smoky flavour that just lasts throughout each bite.
In fact, in some cultures, barbecues are used to preserve meat, as a result of the smoke. Nowadays, people usually associate barbecues with marinating their chosen ingredients.
That's technically incorrect because marinating is a totally separate cooking technique.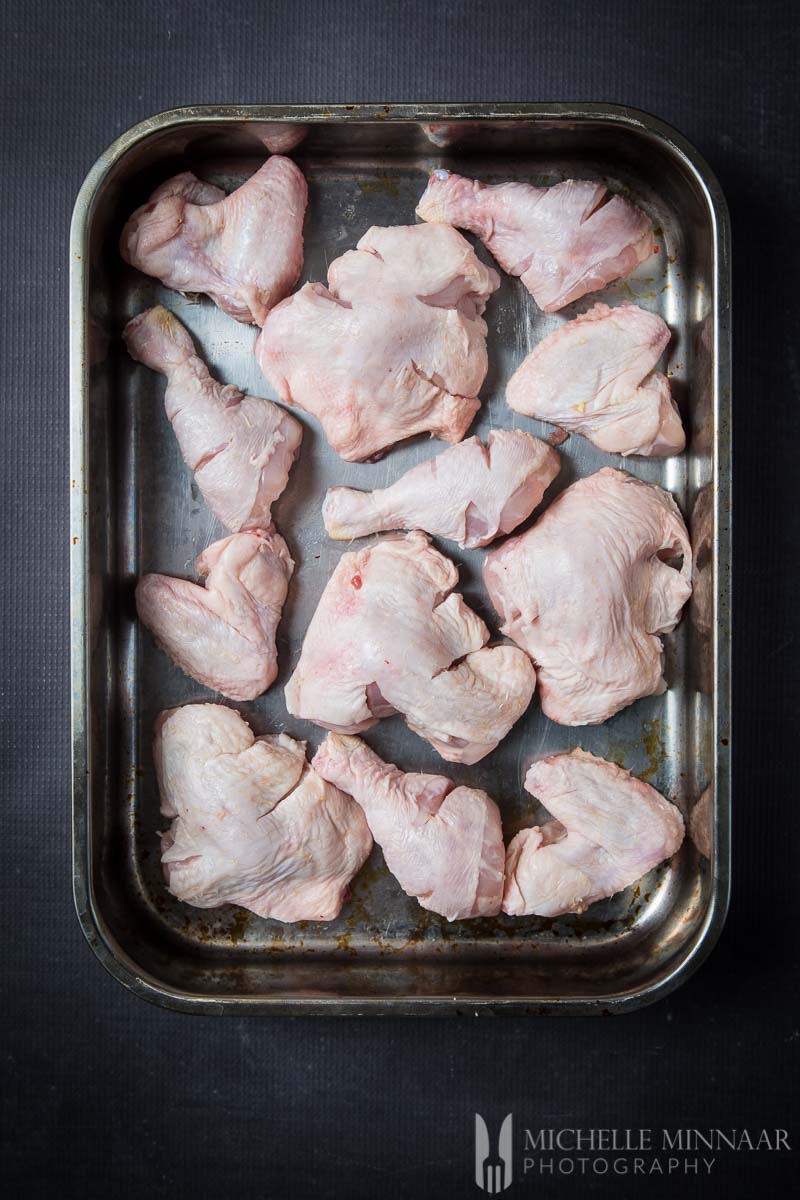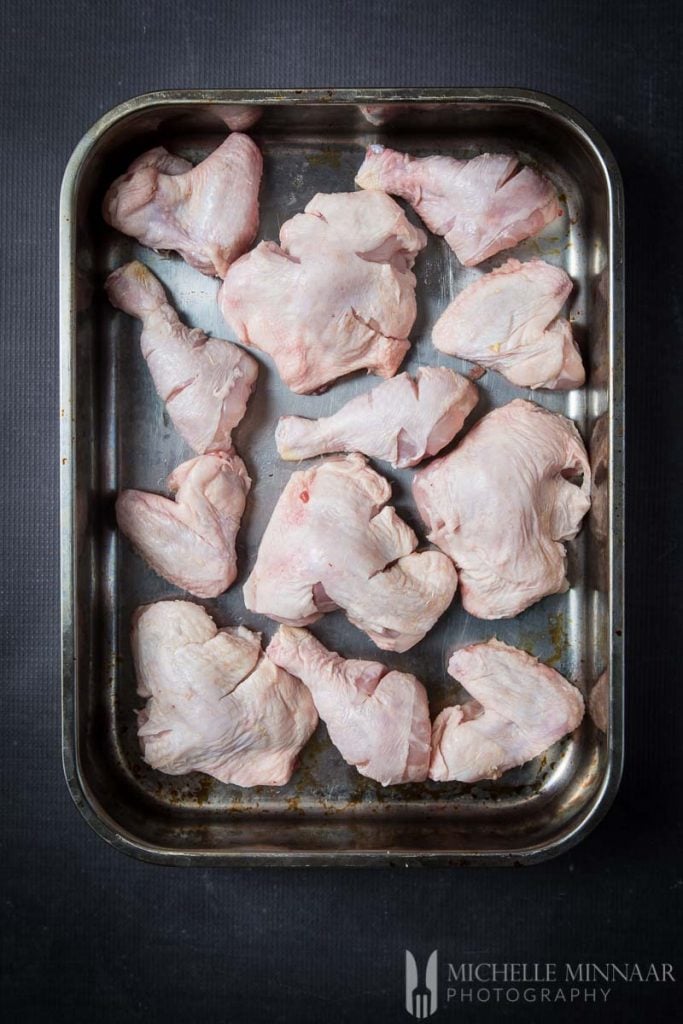 Where did it come from?
So, when and where did barbecuing first show up? There are debates whether one should credit barbecues to cowboys in the West (USA) or to the Caribbean.
It's a very tough discussion, as you can argue that surely the early Greeks "barbecued" their meat too. What do you think - when and where did it start?
Every single time I shut my eyes and think of oven-baked barbecue chicken, I think of TV ads from the US. I know that it's not just a fourth of July type of thing, we Britons can proudly call ourselves experts in barbecues.
There is an American stigma to barbecues. Do you agree? Nevertheless, this recipe calls for an oven, not an actual barbecue. If you've got a barbecue – fantastic! Put it to work!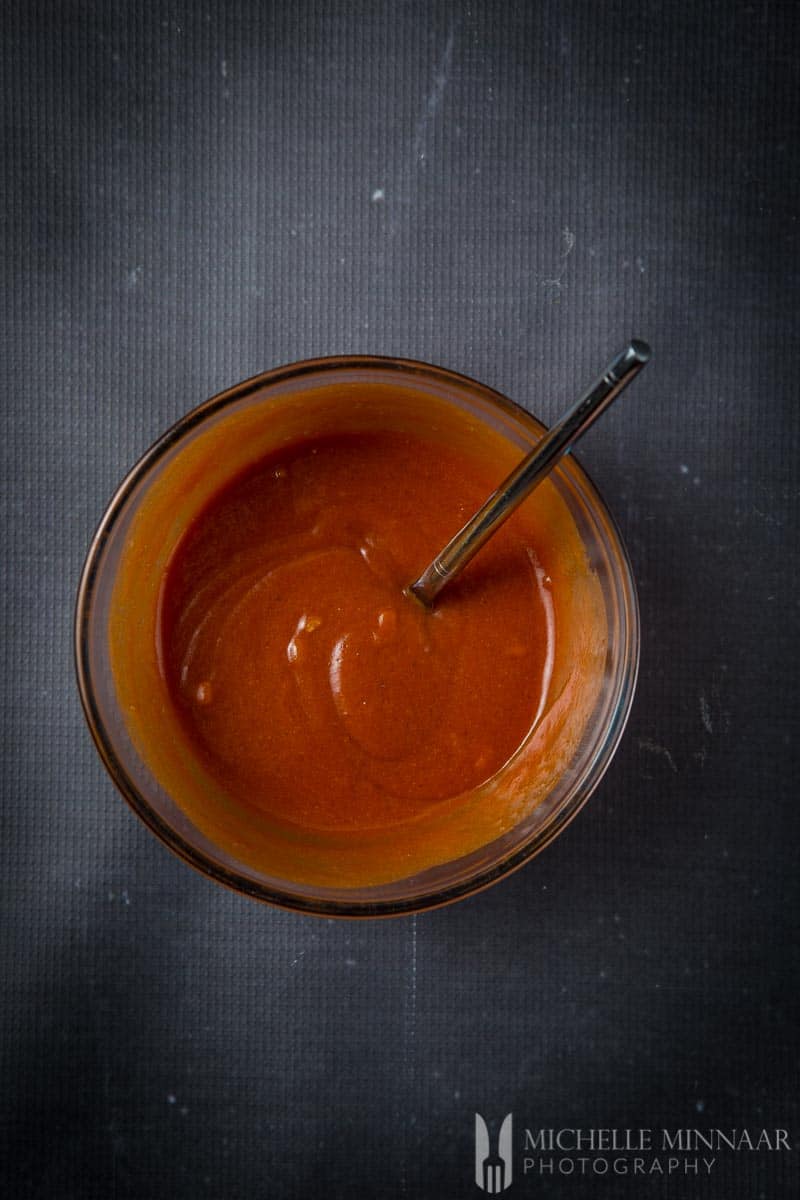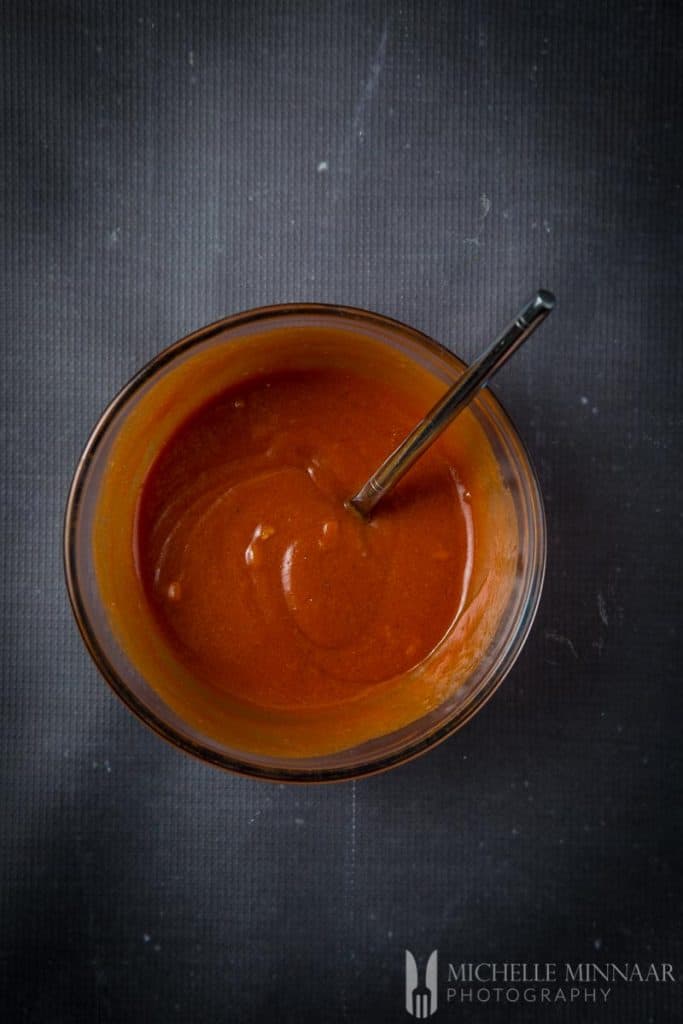 Using the chicken
Yes! You can use an entire chicken for the oven-baked barbecue chicken recipe. Either use a pack with pre-cut pieces from the supermarket, or you can butcher an entire chicken yourself.
If you want to save money, buy the entire chicken or two. Cut the chicken into sections and keep the carcass for chicken soup. Throw in a couple of veggies, season well and you've got yourself two amazing dishes!
Clever and economical at the same time. If you don't have chicken sitting in the fridge, no worries. You can substitute easily with:
Nonetheless, beef still remains my favourite substitute for the oven-baked barbecue chicken. It doesn't really matter what you use as long the sauce is tasty.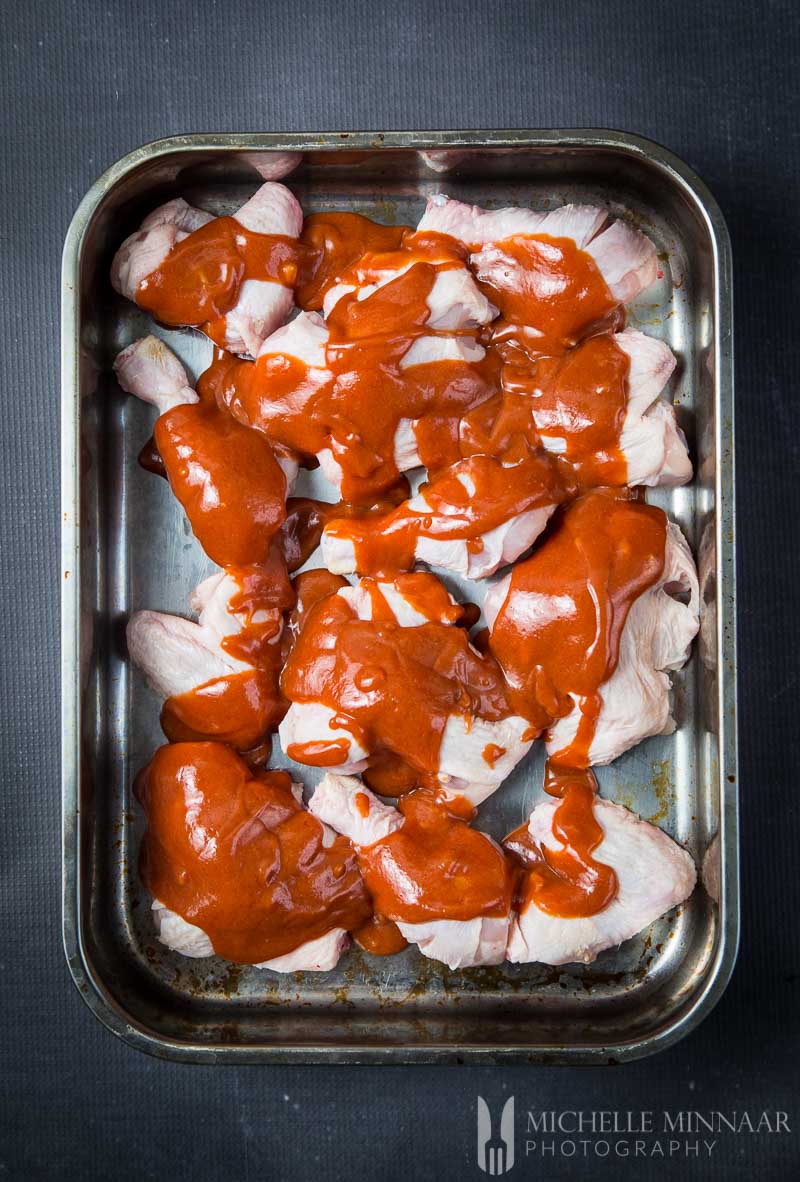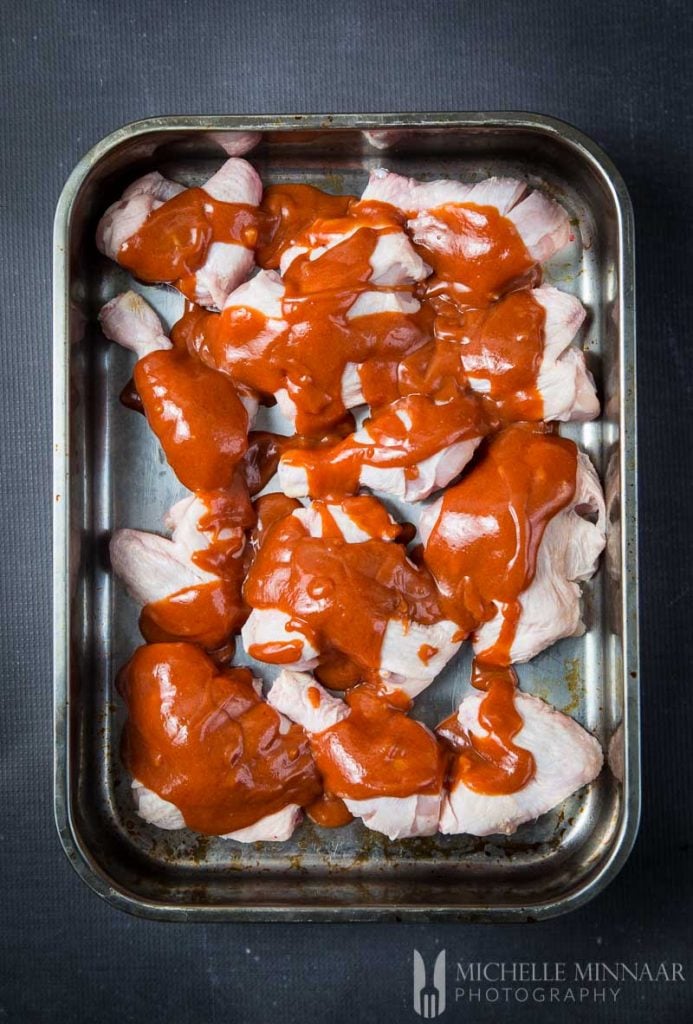 Vegetable lover
Do you prefer eating vegetables to meat? That's absolutely fine. In fact, this recipe can be vegetarian-friendly very easily. Just use vegetables instead of meat.
First, it contains less calories per serving. Second, it will cook faster, unless you get a huge piece of corn. Then it takes roughly the same amount of time.
Third, you can eat totally guilt free! The vegetables you can consider using are:
Corn – my favourite. Who doesn't love smoky flavours on corn?
Bell peppers– always works great with this sauce, especially if you burn them a little.
Carrots – make sure you make the sauce thicker so it sticks to the carrots.
Eggplant – burn the eggplant on the outside.
Tomatoes
Asparagus
Zucchini
Mushrooms
You can use so many different varieties of vegetables. I like to choose "finger veggies" for barbecue inspired recipe. Thus, corn is my favourite substitute for the oven-baked barbecue chicken.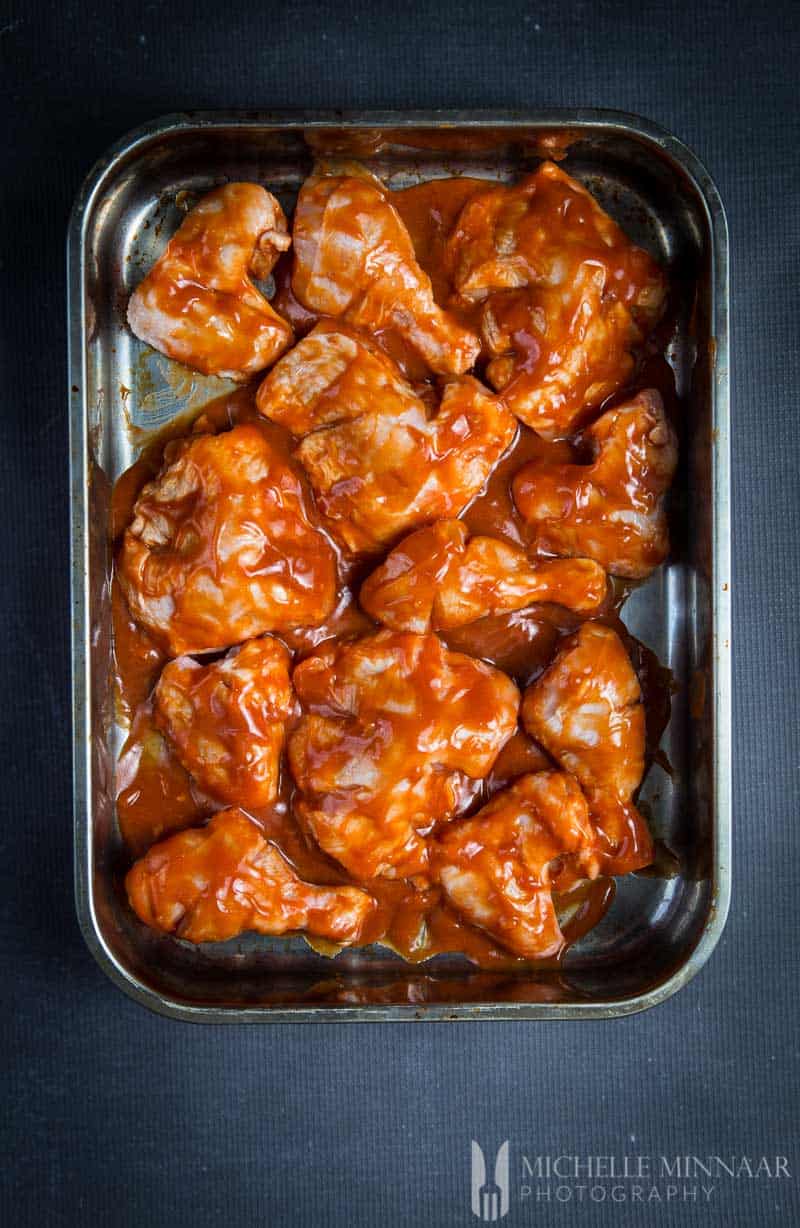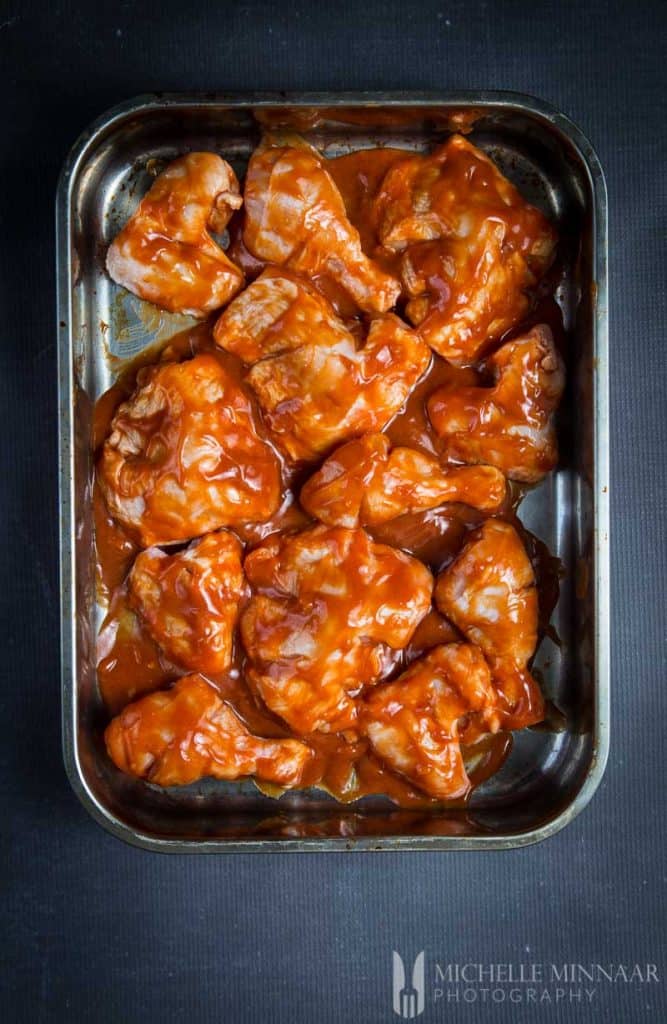 The sauce
Simply mix all the ingredients together. The trick is in the ketchup. The higher quality ketchup you use, the more delicious your sauce on the oven-baked barbecue chicken will be!
I like to use bio or organic ketchup, it's less sweet and tastes more of tomatoes. You can try including an alcohol base to the sauce.
I've come across a lot of suggestions of putting whiskey and honey in the barbecue sauce. Would you do it?
I've also heard of putting beer into the sauce, for that nice bitterness. Apparently, it works well. If you want to try something completely new, why don't you go for making paprika-honey-oregano marinade?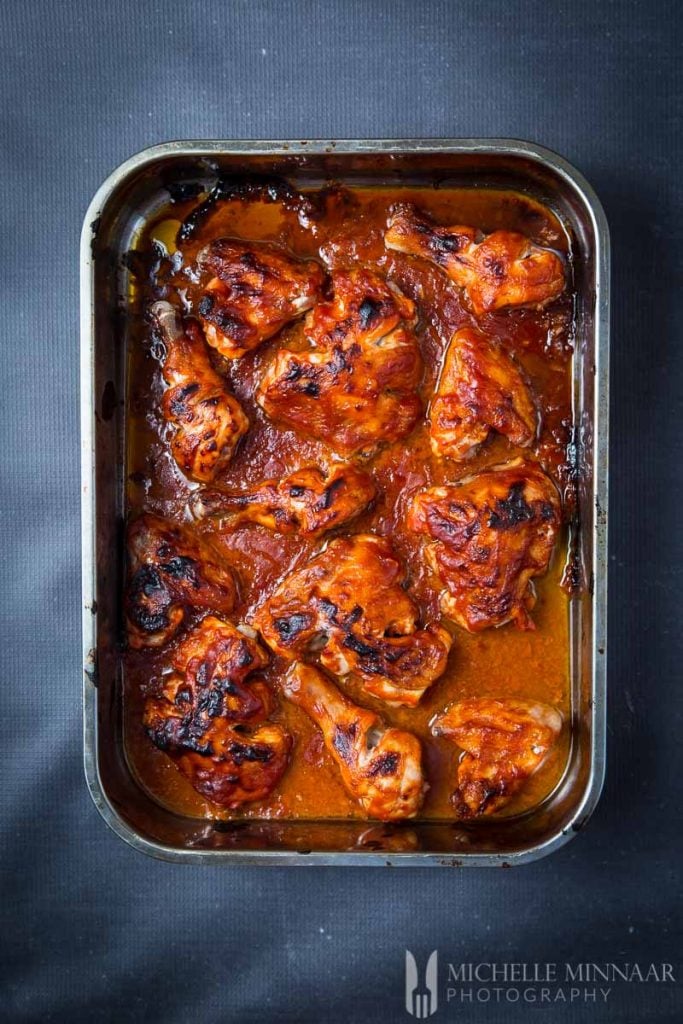 marinate the chicken
Once you finish making the sauce you can marinate your chicken in it. The longer you marinate, the better the chicken will taste.
Not sure about you but, I myself am pretty impatient to marinate. I don't plan ahead too much, and I struggle to marinate for long.
What I usually do is to marinate my ingredients in the fridge overnight. It pays in the end! If you own a grill, just dip the chicken into the sauce and let it cook!
Or, in this case, let it smoke. Don't be afraid to marinate the chicken longer. You can even do two days.
Alternatively, you can brine the chicken the day before for extra succulence.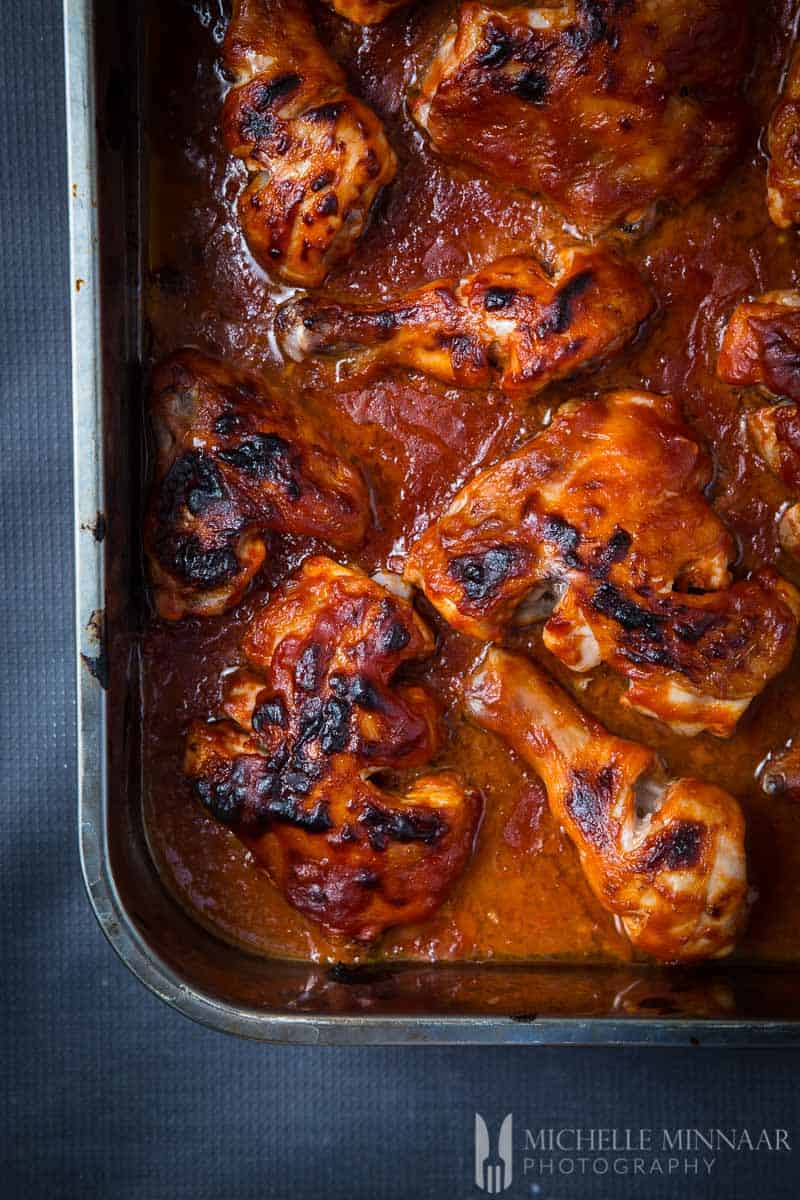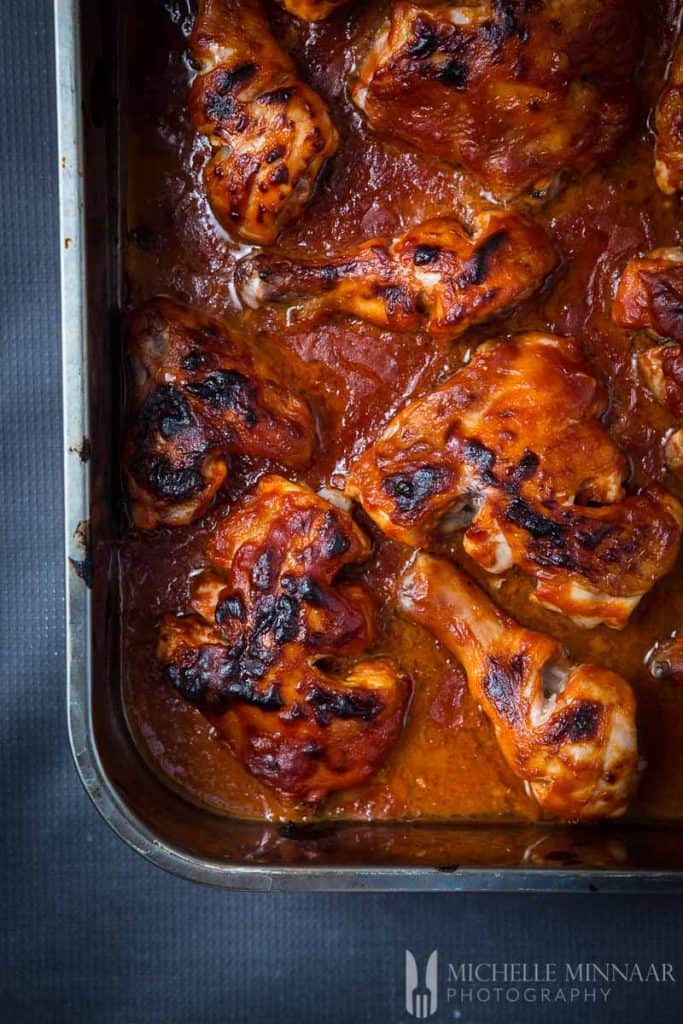 Serve with
You can just serve the oven-baked barbecue chicken as it is. It's finger-licking good, so why add anything to it? It'll just distract you from the delicious chicken.
However, this is only under the assumption that you made enough for yourself. If you have guests or need to share, its best to serve the oven-baked barbecue chicken with a side.
You can consider a cherry tomato salad or a beautiful smashed cucumber salad. Eating meat can be quite heavy. Eating a light side will freshen you straight up for another piece of oven-baked barbecue chicken.
If you want to go all in, then go for the obvious fries! As you can see, I've made plenty of sauce which can be poured into a bowl for dipping.
Once you take the chicken out of the oven or off the grill, sprinkle some fresh coriander on top. It will add even more freshness.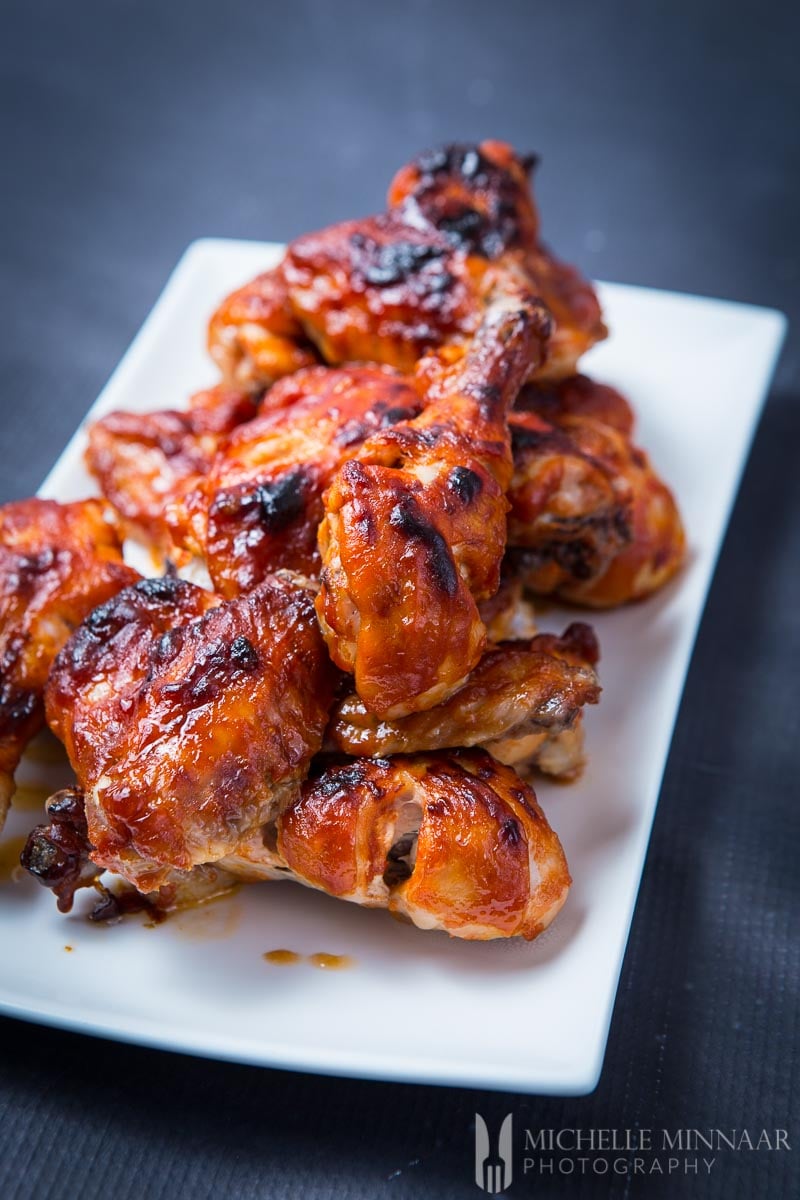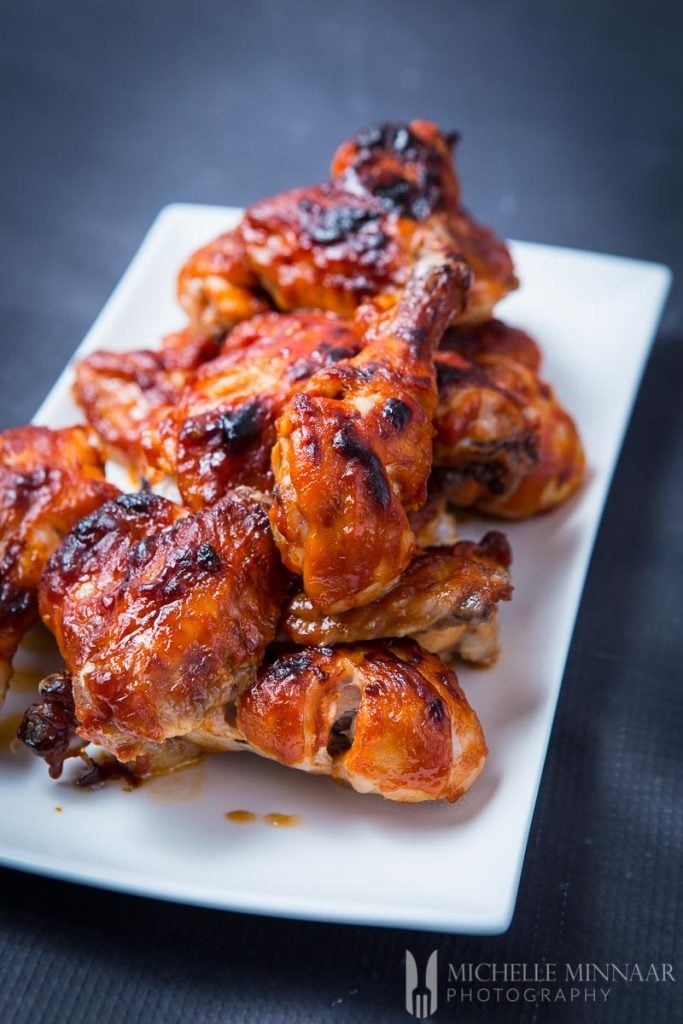 Print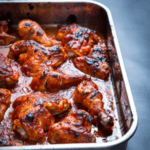 Oven-Baked Barbecue Chicken
---
Author:

Michelle Minnaar

Total Time:

45 minutes

Yield:

4

servings

1

x

Diet:

Low Lactose
4

chicken legs, skinned if you prefer

120

ml

(8 tbsp) tomato ketchup

30

ml

(2 tbsp) brown sugar

15

ml

(1 tbsp) mild mustard

30

ml

(2 tbsp) Worcestershire sauce

1

garlic clove, crushed

15

ml

(1 tbsp) vegetable oil
---
Instructions
Preheat the oven to 220°C (fan 200°C/425°F/gas 7).
Make 2-3 deep cuts in each piece of chicken using a sharp knife. This allows the sauce to penetrate and flavour the chicken well.
In a large bowl, mix the ketchup, sugar, mustard, Worcestershire sauce, garlic and oil. Add the chicken and stir until well coated with the sauce.
Bake in a preheated oven for 40-50 minutes, or until the chicken is cooked through.
Give the remaining pan sauces a stir and drizzle over the chicken.
Notes
Baked potatoes, boiled new potatoes or chips/fries with a crispy green salad.
You can bake the chicken for a longer time; say 180°C (fan 160°C/350°F/gas 4). Just check that it's cooked!
The better quality ketchup you use, the greater the taste.
If you like lots of sauce to dip your chips in, double up on the ingredients.
After scrubbing the roasting tin for what felt like eternity I started using a silicone one and it works a treat.
If you own a barbecue, you can grill the chicken on it and baste it with the sauce above.
You can even marinate the chicken in the sauce before cooking it in the oven. For best results, do it the night before cooking. Don't forget to store it in the fridge before doing so!
If you prefer a cajun twist, simply use my Cajun Seasoning recipe instead of the Barbecue sauce shown in the recipe.
Prep Time:

5 minutes

Cook Time:

40 minutes

Category:

Dinner

Method:

Bake

Cuisine:

American
Keywords: barbecue chicken, how to grill chicken in oven, bbq chicken recipe, barbeque chicken, how long to grill chicken in oven. bbq chicken
save the recipe to your pinterest board