I'm sure you've had the opportunity once or twice in your life to sample some savoury French toast. Maybe more than once?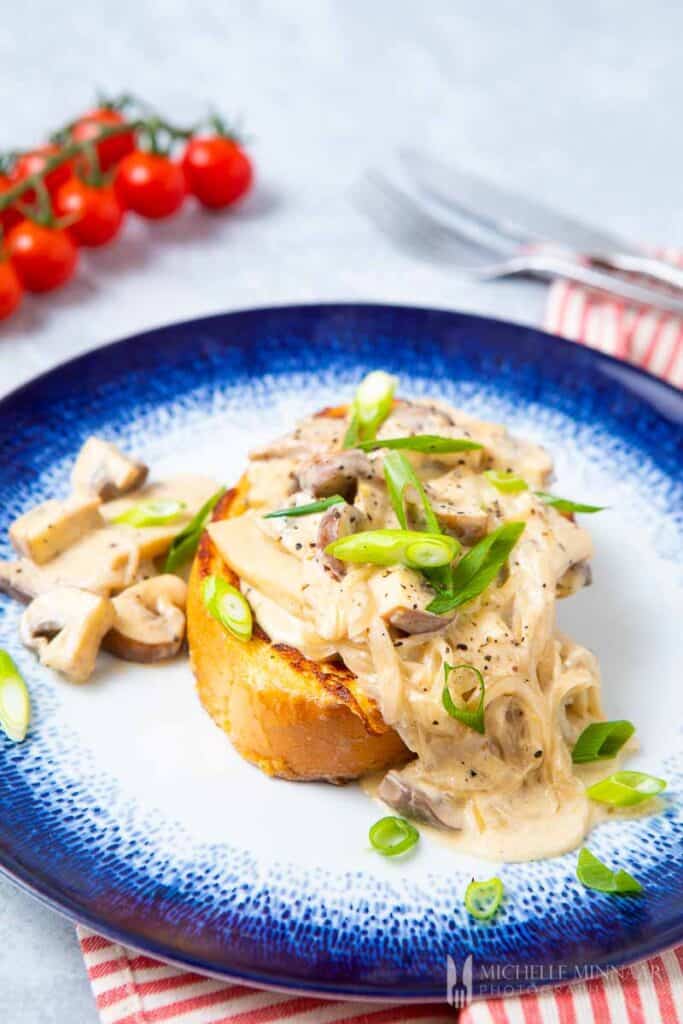 Naturally, when one thinks of French toast, one tends to associate it with whipped cream, strawberries and the like. Of course, my mind also wanders to the sweet side.
However, I must admit that I have tasted many enjoyable savoury French toast recipes in my life. In fact, my earliest recollection of savoury French toast goes all the way back to my childhood.
I believe that every parent should learn how to make an easy savoury French toast recipe. Simply because it is super-easy to make. Plus it's filling. It's a fantastic way to prepare something quick, and kids tend to love this recipe. Try it!
savoury French toast recipe with mushrooms
I love making savoury French toast. Perhaps you know the classic French toast recipe – which is generally sweet. Ordinarily, one would consider French toast as the ultimate brunch recipe or breakfast recipe. However, I consider it also as the ultimate snack. Plus, it's sustainable! 
French toast calls for never ever throwing away stale bread again. Originally, one would soak the stale bread in milk and eggs and fry it in oil or butter. 
There are many versions of French toasts, both sweet and savoury. However, one of my favourites is to make this savoury version with mushrooms, making it slightly more sophisticated.
So, don't throw away any stale or leftover bread! Reuse it and make a delicious French toast. Remember to serve the toasts hot! 
why is it called French toast?
First, let me make it clear – French toast is not French. Simply put, there have been many names associated with French toast. In summary, these include:
eggy bread
Torrija (in Spain) - is made with milk, wine, honey and fried in olive oil
arme ritter or poor knights (German recipe)
German toast
British toast
Bombay toast
pain perdu ('lost bread' in French)
kenir (in Hungarian - enjoyed with ketchup)
Similarly, the reason why it is called French toast, or pain perdu (in French) is because it reflects the state of the bread.  

Regarding the origins of savoury French toast, it dates all of the way back to the 4th century. Back then, people described it as aliter dulcia, which translates to 'another sweet dish'. In essence, history suggests that the first versions of French toast were sweet. It was often served with honey. 
Over the centuries, French toast and savoury French toast recipes made their way throughout Europe. For this reason, the recipe has so many different names.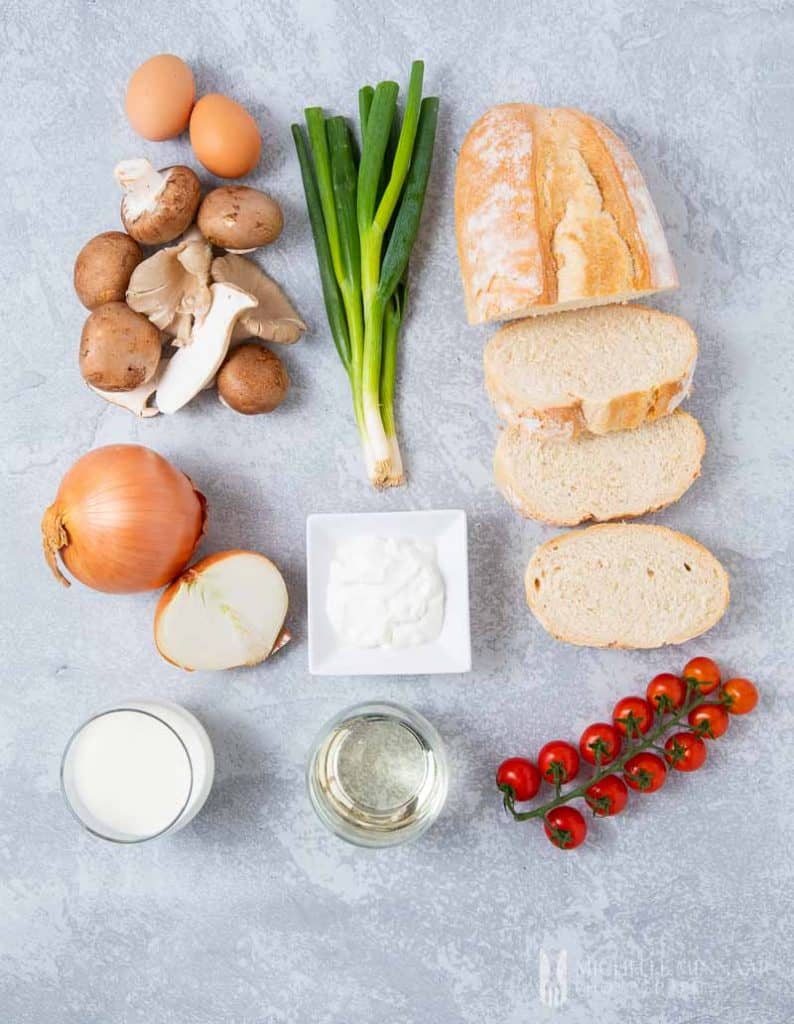 savoury French toast, cheese recipe
First of all, the trick to making this an amazing savoury French toast recipe is... the butter. Fry the toast on a large chunk of butter (you can use salted). However, you can also consider frying it on olive oil or coconut oil. You can also use ghee.
Similarly, you can reuse the above-mentioned oils or butter when you fry off your mushroom. In my opinion, butter and mushrooms are a heavily suited combination. Just add your favourite spices or herbs. Feel free to use fresh rosemary, which will add a lovely complexity to the savoury French toast. Keep on reading to find out which other toppings you can consider. I have a million idea for savoury as well as sweet versions of French toast. 
Next, once you are done with the toppings, consider shredding some cheese. For example, I recommend shredding some parmesan as the perfect finishing touch. It's like eating pasta, I could never eat a pasta dish without the cheese on top. Do you agree?
British French toast – Nigella Lawson
First of all, you know that I love searching for inspiration. That's why I couldn't help myself sneaking a look at Nigella Lawson's version of British French toast. You can find her version of her British French toast here. 
In summary, her version is completely sweet. She calls it 'British French toast'. Not only does she explain how eating toast is perceived in Britain as a morning dish, she also adds some very interesting ingredients into her egg mixture. 
These include:
cinnamon
orange zest - for that lovely citrusy flavour
In addition, she also recommends maple syrup – no surprise there I suppose. Lastly, as a topping, she adds a lovely marmalade.
So, there you have it. Nigella inspired me to also try this sweet version in the future. 
Click right here to learn how to make homemade marmalade.
savoury French toast – Indian
If you feel inspired in an Indian direction, then I recommend adding typical Indian spices into your egg mixture.
Try:
It will result in a curried Indian savoury French toast. Quite the twist isn't it?
savoury French toast toppings
In summary, here's just a few ideas you can experiment with. I am sure you will find your favourite topping.
For the Savoury French toast

For the Sweet French toast
cane syrup
jams or marmalade
powdered sugar
fresh fruit
peanut butter
ice cream (like this one)
vanilla custard
whipped cream
French toast sandwich
In essence, if you would like to double up on the portion size, then you can make a sandwich out of savoury French toast. 

Also, for sandwich filling ideas, take at look at some of my popular sandwich recipes:
Lastly, you can make your French toast sandwich your own. As you can see, you can decide whichever filling fits your taste buds best!
So, which version of savoury French toast will you go for? Or will you change it up completely and go sweet instead? Let me know in the comments section below!
Print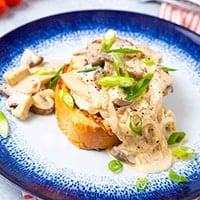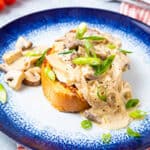 Savoury French Toast
---
Description
Make this amazing savoury french toast for brunch, breakfast, lunch, dinner, whatever! It is so easy and simple, you'll want to make it every day. Enjoy!
---
45

ml

(3 tbsp) vegetable oil

45

ml

(3 tbsp) butter

4

onions, peeled and sliced

300

g

(10oz) mushrooms, cleaned and quartered

150

ml

(5fl oz) white wine

150

ml

(5fl oz) crème fraîche

Salt and pepper, to taste

4

eggs

125

ml

(1/2 cup) milk

15

ml

(1 tbsp) Dijon mustard

4

slices of thick white bread

5

ml

(1 tsp) icing sugar

4

spring onions, washed and chopped

12

cherry tomatoes, washed
---
Instructions
Heat 15ml (1 tbsp) oil and 15ml (1 tbsp) butter in a frying pan.

 

Fry the onions gently for 5 minutes or until softened.
Add mushrooms and cook for 3 minutes until the mushrooms are cooked.
Add the wine, turn up the heat and let the liquid sizzle down to half its quantity.
Stir in the crème fraîche and season to taste.
Lower the heat to minimum in order to keep it warm while you fry the bread.
Whisk the eggs with the milk and mustard in a large bowl. Season generously with salt and pepper.
Soaking the bread slices in the milk mixture.
Heat the remaining butter and oil [30ml (2 tbsp), respectively] in a large frying pan.
When the butter-oil mixture starts to sizzle, arrange the soaked bread slices in the pan and fry them on both sides for about 3 minutes each, or until golden brown.
Remove the French toast from the heat and sprinkle with a light dusting of icing sugar on both sides.
Place each piece of French toast on a plate and divide the mushroom sauce evenly.

 

Sprinkle spring onions on top and serve with cherry tomatoes. Enjoy!
Notes
Golden caster sugar would be ideal but any caster sugar will do.
Prep Time:

15 minutes

Cook Time:

30 minutes

Category:

Dinner

Method:

Pan Fry

Cuisine:

French
save the recipe to your pinterest board