I'm always in search of a hearty yet fresh soup and this borlotti bean soup fits the bill. It's delicious and filling, and feels like a meal you'd eat in Italy.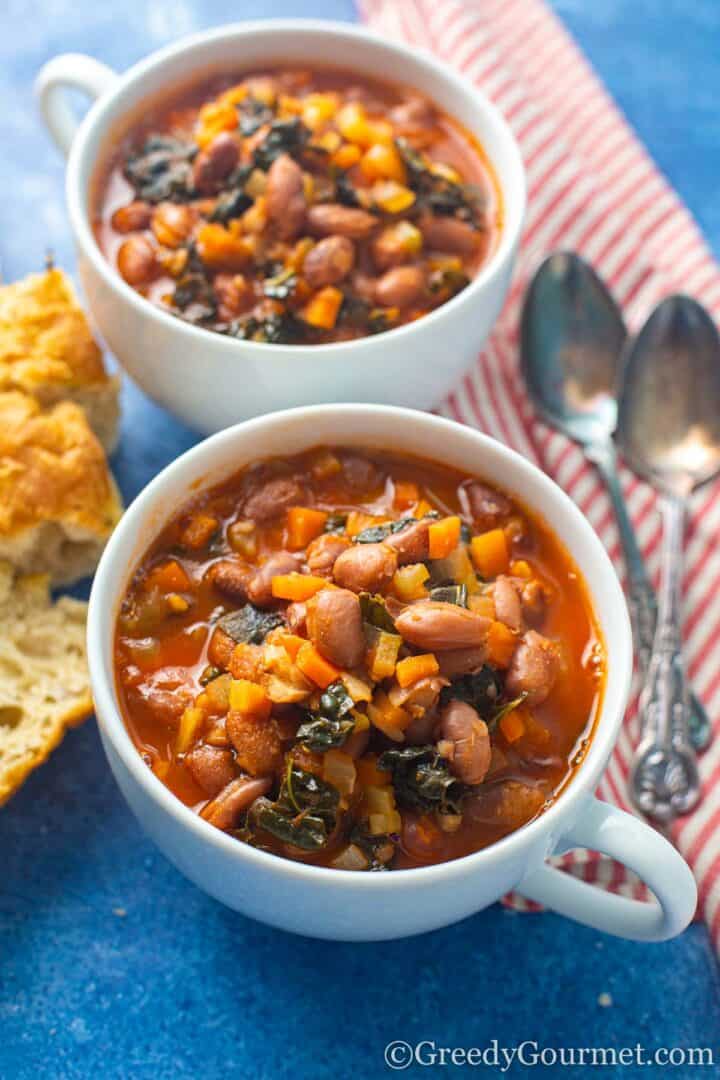 I love this recipe in any season. It's the perfect bean soup for a rainy day in the summer, or the coldest winter night. I promise you're going to love it!
Why You'll Love This Recipe
This soup comes together so quickly and so easily. Soup is hard to mess up, and this is no exception.
With the right ingredients at your disposal, you'll have a delicious borlotti bean soup in under an hour. What can be better than that?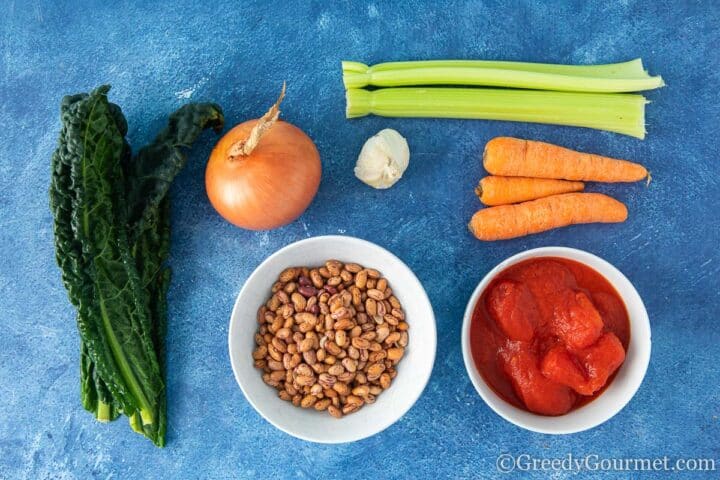 What Are Borlotti Beans?
There are many types of beans that are great for soup, but one of my favorites, and soon to be yours, is the borlotti bean. This tasty bean is a red and white speckled bean that comes in a shell. They're popular in Italy and have about the same amount of calories as kidney beans. 
They are similar to kidney beans and cannellini beans, and they can be eaten in a variety of ways. I of course love them in soup, but they are also very tasty in salads and in place of other beans like chickpeas.
These beans are similar to a cannellini bean. They're rich and creamy, and they are a little nutty in taste. Seriously, your mouth and your stomach will thank you after eating these!
How to Cook Fresh Borlotti Beans
You can have a borlotti bean plant in your garden, but do not eat them raw. If you want to include this food in your bean soup, make sure you properly treat it first.
To soften these beans, remove them from their shell. Once shelled, simmer them until soft. Then you can use them in your favorite recipes.
You can also soak dried beans. Cover them in a pot for at least three hours. This can be done overnight, too. 
You Only Need One Pot
If there's anything better than an easy meal, it's a one-pot meal. I love borlotti bean soup for many reasons, but only having to use one pan makes it one of my absolute favorite meals.
Dig out your favorite large saucepan and get to work! Before you know it, your kitchen will smell like Italy.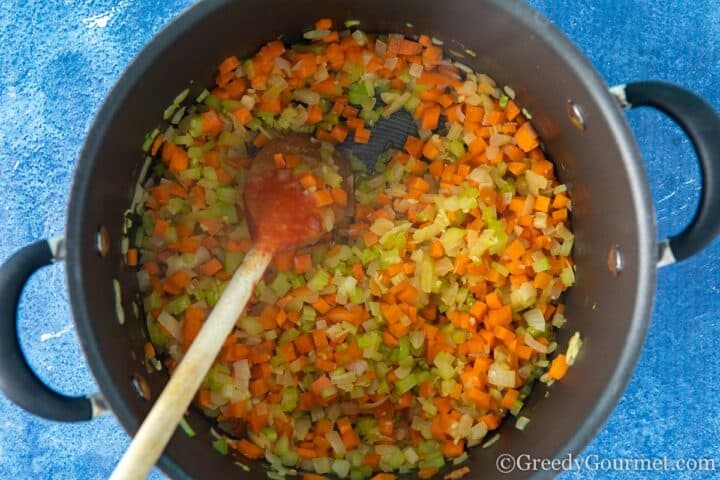 Notes on Ingredients
Borlotti bean soup is only as good as its ingredients. Here are some ingredient tips to make this food taste as delicious as possible:
Beans - For the best borlotti bean soup, use beans from a tin. You can use dried beans, but this makes the cooking process much longer, and you won't notice a difference in taste.
Veggies - use fresh veggies! This will make your bean soup extra delicious. 
Kale - To prepare your kale, massage it in olive oil beforehand. This will help the texture and make it more palatable.
Seasonings - All the ingredients in borlotti bean soup taste great with a variety of seasonings. I like to use freshly ground black pepper, sage leaves, bay leaves, rosemary, and sometimes a pinch of parsley.
Can I Add the Veggies at the Same Time?
Do not add your veggies at the same time. They each have different cooking times, onions being the longest. If you add them at the same time, they won't have the correct texture.
Do I Have to Use Tinned Tomatoes?
I suggest doing so. If you have fresh tomatoes, you need to use it the same way you would use dried beans. It adds to the cooking time and can be kind of a hassle. 
If you do forgo a tin, make sure you use tomato paste. The tomato paste will make the dish a little more creamy.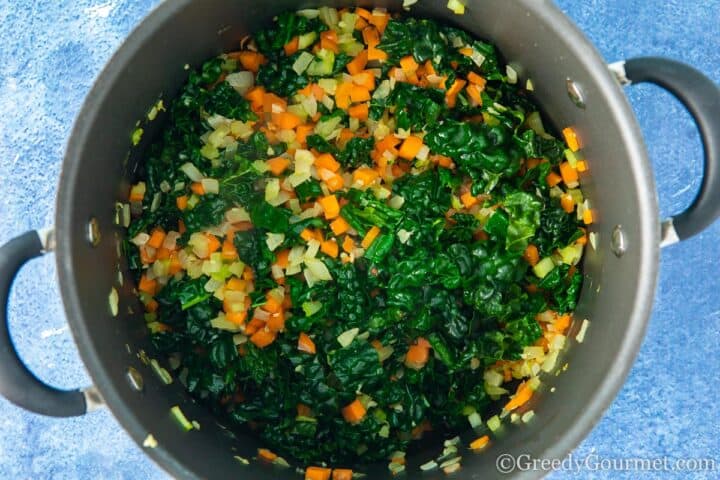 Do I Have to Use Olive Oil?
You can use other oils in your borlotti bean soup, just note that their use will alter the flavor a little bit.
How Should I Store the Soup?
Store your leftover soup in an airtight container in the refrigerator. You can reheat it for up to a week after you make it.
To serve it again, warm in a pan over low heat.
Can I Substitute the Beans?
As mentioned, you can use dried beans instead of ones from a tin. You can also swap a for a similar bean if you don't have borlotti on hand. 
If you do swap beans, make sure you still use your seasonings like pepper, sage leaves, and rosemary.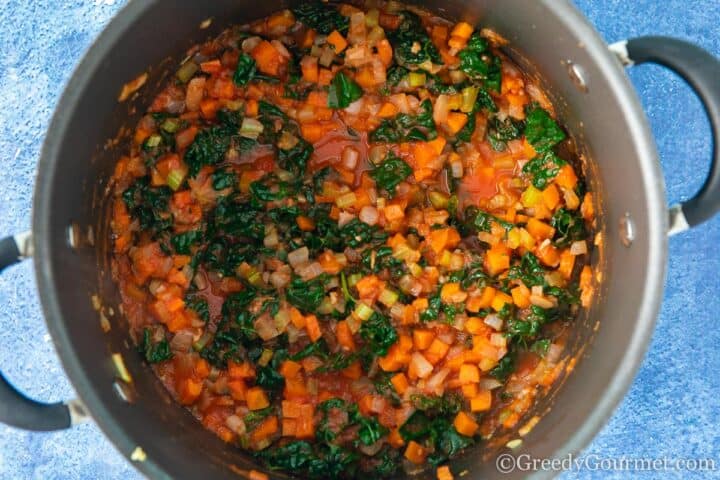 Serving Tips
Soup is so easy to serve! This is one of those recipes that you can pair with any food.
The soup is the perfect appetizer for an entrée. It also goes lovely with a deli sandwich to add a bit of protein.
This tasty soup can also be served on its own. Pour it in a bowl and top with a small amount of parmesan cheese. A bit of parmesan will make it taste just like Italy!
I also love to use this as a dip of sorts. I love to pair it with crackers or crusty bread. They both add the perfect crunch.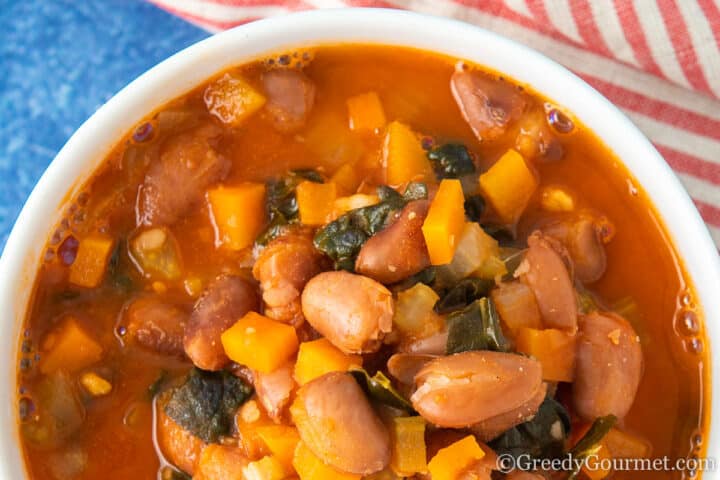 Favorite Side Dishes
There's lots of food I love to eat with a tasty bowl of beans, especially when I'm serving guests. Here are some of my favorites that I know you will love, too: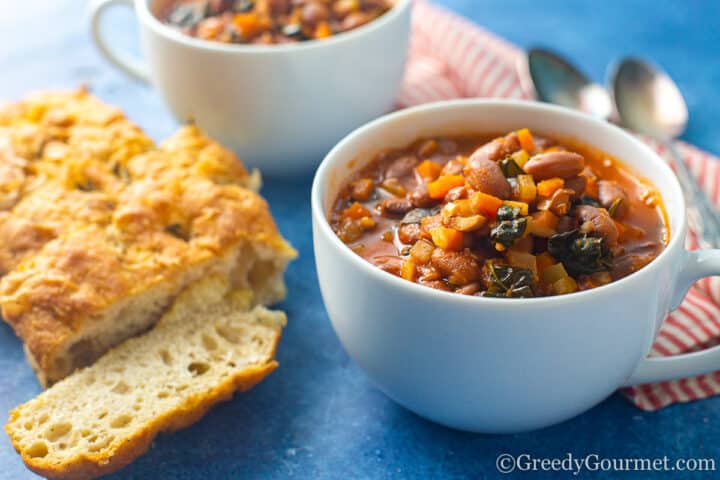 Print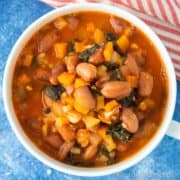 Borlotti Bean Soup
---
Author:

Michelle Minnaar

Total Time:

50 minutes

Yield:

4

Servings

1

x

Diet:

Vegan
Description
This vegan Borlotti bean soup is a delight to eat. Crammed with veggies, it makes for a healthy lunch. 
---
30

ml

(2 tbsp) olive oil

1

onion, finely chopped

1

carrot, finely chopped

2

celery stalks, finely chopped

2

garlic cloves, crushed

100

g

(4oz) kale, cavolo nero or chard, chopped

500

ml

(2 cups) vegetable stock

400

g

(1 tin) chopped tomatoes

500

g

(2 400g tins) cooked borlotti beans
---
Instructions
Heat the oil in a large saucepan and fry the onion over a medium heat for 5 minutes or until softened. 
Add the carrot, celery and garlic and stir fry for another 10 minutes until the vegetables are glossy and softened. 
Stir in the kale and fry for another 3 minutes until the greens are slightly wilted. 
Add the stock and tomatoes, then bring the contents to a boil. Lower the heat so that a steady simmer has been reached. Cook for 10 minutes. 
Tip in the beans and cook for another 5 minutes or until the vegetables are tender. 
Divide the soup evenly and serve immediately with your favourite bread. Enjoy!
Notes
Borlotti beans are the same as cranberry beans, it's just known by different names depending on the country. In this case, it's UK and USA, respectively. 
You can use dried borlotti beans which work out cheaper than their canned counterparts. Simply soak 250g (8½oz) of dried borlotti beans in plenty of water the night before. The next day, drain and rinse the beans thoroughly. Boil the beans in plenty of water then bring down to a simmer. Cook for 45 minutes, if the beans aren't tender yet, cook for longer until they become so. Scum might form during the boiling process, which you can scoop off as the beans cook. Drain the beans, then proceed with the recipe as above. 
This recipe is suitable for vegans but if you're vegetarian, you can add a splash of heavy cream and grated cheese on top. If you're a meat eater, you can push the boat out by substituting the vegetable stock with chicken or pork stock, stirring in chopped cooked ham or chicken after the soup finished cooking.
This soup recipe is suitable for freezing.
If you don't have any celery, check out these celery substitutes!
Prep Time:

15 minutes

Cook Time:

35 minutes

Category:

Soup

Method:

Boil

Cuisine:

British
Keywords: borlotti bean soup, cranberry bean soup, vegan borlotti bean recipe, vegan soup recipe, vegan cranberry bean recipe, bean and kale soup