The perfect antidote to the wintery cold, this wonderfully warming leftover turkey chowder is guaranteed to bring you comfort on a winter's day. With just enough spice to give you that pleasant kick and with plenty of rich flavor, it's the very definition of a people pleaser.
So, put that leftover Thanksgiving turkey to good use with this special smoky leftover turkey corn chowder.
Products you need for this recipe
There are several key products you need for this recipe: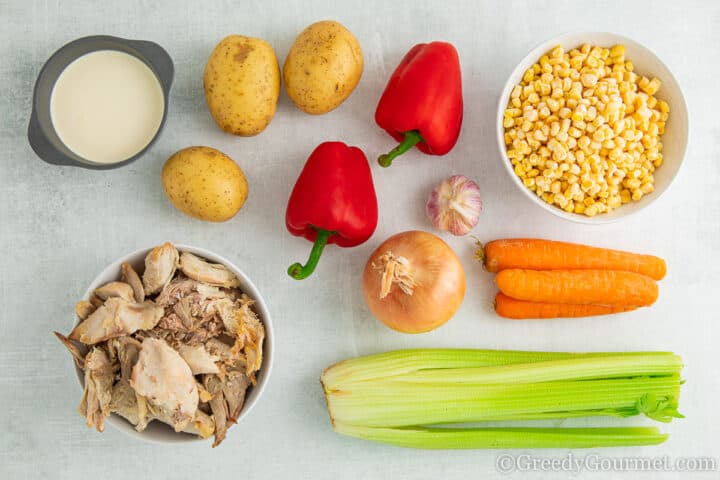 Leftover turkey corn chowder recipe
If you're a Greedy Gourmet regular, you'll most likely have tried my whole smoked turkey recipe. This leftover turkey corn chowder is the perfect example of just how you can use leftovers to make another delicious and nutritious meal in next to no time.
With plenty of turkey left to use up after your feast, the best way to make that cold December weather melt away is with a warming, comforting leftover turkey corn chowder, a staple of soup cuisine.
Best of all, it's a quick recipe – this turkey corn chowder takes roughly 30 minutes to prepare and cook. I like to add a nice kick of chilli to mine, however you can season your hearty chowder to your liking and leave out any spicy elements.
I used the leftover meat from my whole smoked turkey recipe for this turkey chowder. You don't necessarily need to smoke your turkey though, you can also use a traditionally prepared turkey, like my whole roast turkey.
However, I think that the smoky flavours work so well in the turkey chowder. The smoked turkey adds complexity to the dish, making the chowder rich with intense flavours.
The best substitute for turkey is chicken. You could use leftover shredded chicken or something similar. Better yet, use smoked chicken. Smoked chicken will taste pretty much the same as the turkey. You could also use chicken stock or chicken broth.
If you want to watch your waistline over the holidays, then this tip might help. Chicken has a higher calorie count than turkey, however it's more nutritious in terms of protein. I guess it depends on your preference – which one do you prefer?
What corn should I use in chowder?
Essentially, there are four main types of corn you can use for this leftover turkey corn chowder. You might think that all corn tastes the same – but it doesn't. They all have their own unique characteristics and some are even inedible!
Field or dent corn
A widespread type of corn is field corn or dent corn, which is not used for cooking but rather to feed livestock. Even though this corn is visually appealing as it's dented, the taste isn't very nice.
Flint corn
Another type of corn, generally found in Central and South America, flint corn is quite similar to dent corn; however this corn is more colorful. You can even find flint corn which is red or almost purple. 
Its range of colour makes these corns perfect for decorative display. It is edible but not very soft. I wouldn't recommend using this corn for the turkey chowder.
Popcorn
Ah, the quintessential movie snack. Popcorn kernels are known for their soft starchy centres. Once you expose the popcorn to heat, it explodes and gives you that lovely end-result we all know and love. 
Have I got you in the mood to eat popcorn? Why not try my bacon popcorn with honey. It's utterly delicious!
Sweetcorn
The corn we're using for this recipe is sweetcorn. This type of corn has a lot of soft starch and as a result will never pop if you try making popcorn with it. Compared to other types of corn, sweetcorn contains the most amount of sugar.
Should I use fresh or canned corn in chowder?
Always fresh! The fresh kind is so much better than canned. You'll need about two cobs of corn for this recipe to serve four people. 
If absolutely necessary, you can also use canned sweetcorn. However, I am not a fan of these as they might contain additives and excessive amounts of sugar. When cooked in the broth, this soup recipe resembles cream style corn, albeit made with turkey leftovers! 
Many recipes call for the use of cream corn, but fresh sweetcorn works much better.
How do I prevent the sauce from splitting in chowder?
The trick here is to add the double cream in a way where it doesn't split, which would make the soup unappealing. Once you let the soup boil and simmer for a while, take it off the heat and stir occasionally. This will prevent splitting. 
The hotter the turkey chowder is, the more likely it is to split. Once you set the turkey chowder aside for ten minutes, add the cream in small portions and stir. It's a good idea to use double cream that is at room temperature. So, make sure to take it out of the fridge between 20-30 minutes before you start to cook.
What can I add as a finishing touch to chowder?
For final tweaks, I recommend chopping some fresh red chillies or jalapeños, or adding a sprinkle of cayenne pepper. A dusting of nutmeg would also work well with the double cream. 
For some more tanginess, add some fresh herbs like fresh parsley, coriander or watercress.
How do you store this leftover turkey corn chowder?
Once you finish cooking the leftover turkey corn chowder, you can easily store it in the refrigerator for a couple of days. In fact, the turkey chowder tastes amazing the next day as all the different flavours fuse together. 
Can this recipe be adapted to use other types of meat?
The leftover turkey can be substituted for leftover shredded chicken or any roast meats for that matter.
Can you freeze turkey chowder?
You can also freeze this leftover turkey corn chowder without a hitch. If you still have more turkey that you need to use up, keep reading for more clever ideas on how to create divine meals.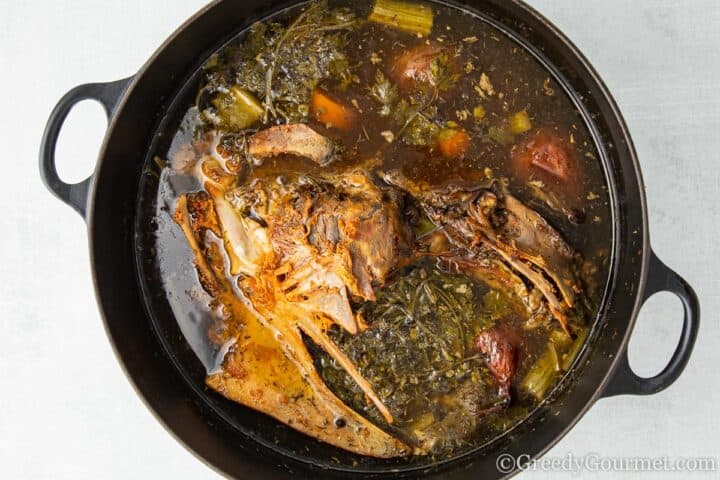 What else can I do with leftover turkey?
I've got several wonderful leftover Thanksgiving turkey recipes, to give you a little post festive feast inspiration: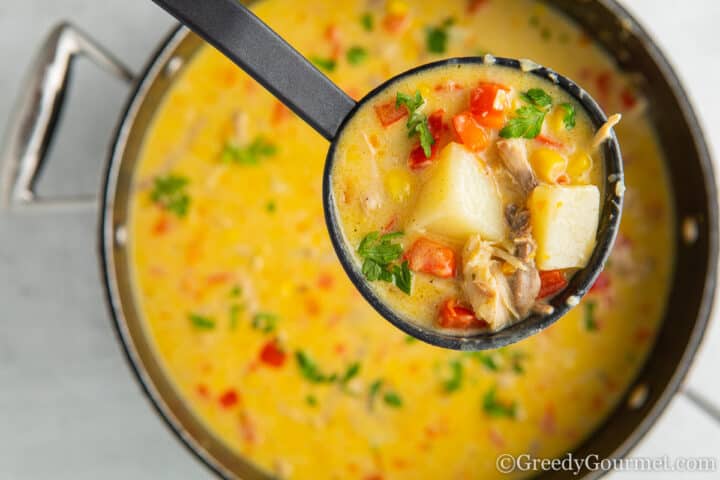 More holiday favorites
Want to cook up some more delicious dishes for the holiday season? Look no further than the following:
Whole roast turkey – the big centerpiece to your feast. Follow my recipe and you'll end up with a juicy, tender turkey every time
Dried cranberry sauce – the all-important sauce for your Thanksgiving meal. This recipe is fuss-free and very easy to follow
Marmite roast potatoes – these potatoes are very special indeed. The star of the recipe is the classic Brit ingredient, which brings an intensely rich flavor, alongside the goose fat. Deliciously crispy on the outside and irresistibly fluffy on the inside
Apple cider turkey brine – brining a turkey takes things to the next level and this brine is very special
Apricot stuffing – a vegetarian stuffing that packs in a lot of flavor. It's extremely fruity and hard to resist. Make an extra big batch and use it to stuff your turkey or serve it on the side. Either way, it's a winner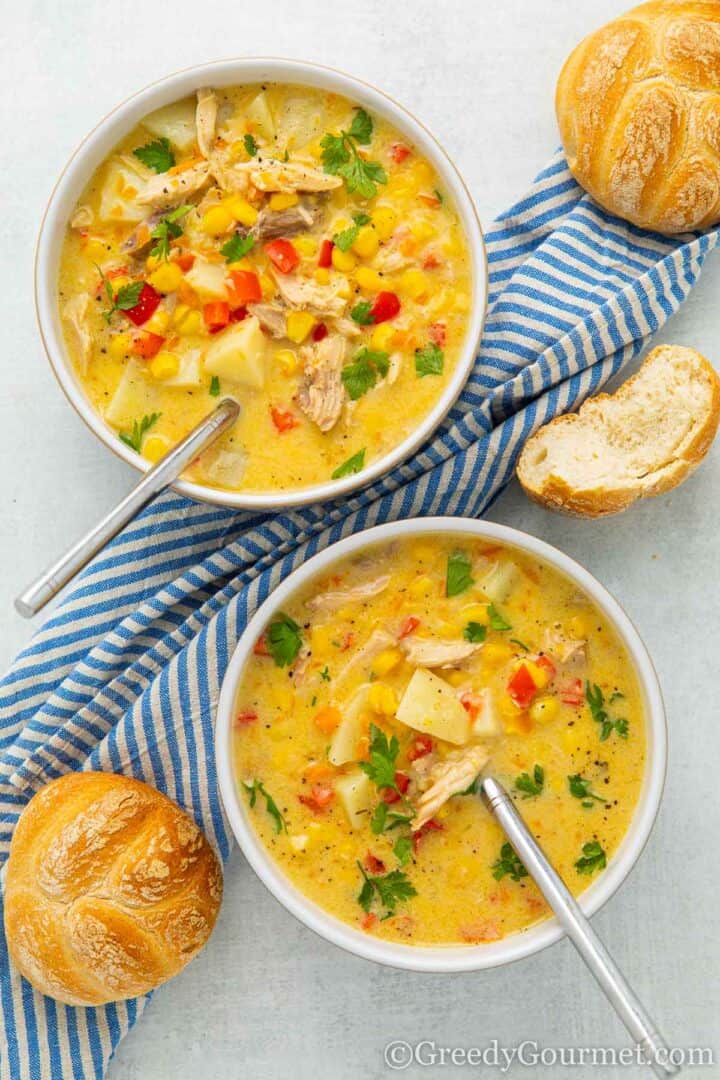 Print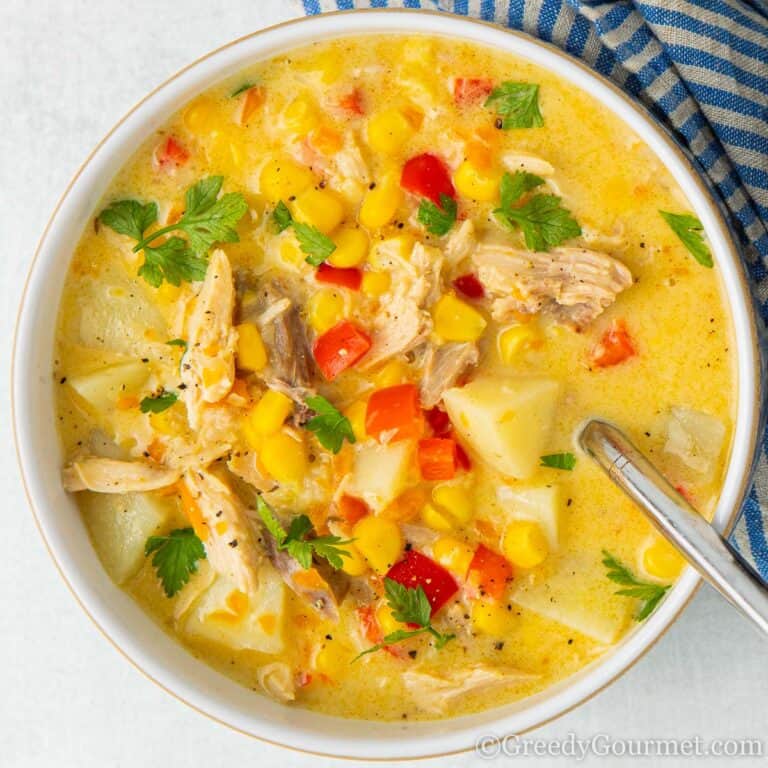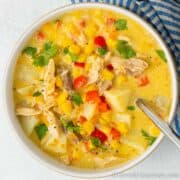 Leftover Turkey Chowder
---
Author:

Michelle Minnaar

Total Time:

30 minutes

Yield:

6

Servings

1

x

Diet:

Gluten Free
Description
Leftover Turkey Chowder take less than 30 minutes to prepare and is freezable. This recipe is a great way to use up leftover turkey or chicken.
---
15

ml

(1 tbsp) butter

5

ml

(1 tsp) oil

1

large onion, finely chopped

2

garlic cloves, peeled and finely chopped

1

celery rib, finely chopped

1

large carrot, peeled and finely chopped

450

g

(1lb) potatoes, peeled and cubed

500

ml

(2 cups) sweet corn kernels, approximately 2 sweet corn cobs

1

red pepper, washed and finely chopped

225

g

(1/2lb) cooked turkey, shredded

1

L (4 cups) vegetable stock

250

ml

(1 cup) heavy/double cream

9

g

(1 tbsp) cornstarch
salt and pepper, to taste
a handful flat leaf parsley, chopped
---
Instructions
Heat the butter and oil in a large saucepan.
Gently fry the onion until softened and translucent.
Add the garlic, celery, carrot, potato, corn and red pepper to the onion and fry for another 5 minutes. 
Tip in the turkey and stock, then bring the mixture to boiling point.
Lower the heat and let it simmer for 10 minutes, or until the potato is fork tender. 
Towards the end of the cooking time, prepare a slurry by placing the cornstarch in a cup with a splash of the cream. Stir until a thick paste has formed. Pour the remaining cream to the soup, then slowly pour the slurry to the soup while stirring vigorously until the soup has somewhat thickened.  
Season to taste and serve immediately.
Notes
For an even thicker soup consistency, double up on the cornstarch used, i.e. 18g (2 tbsp).
The turkey can be substituted for leftover chicken or any roast meats for that matter.
Don't have any celery? Check out these celery substitutes to use instead!
Prep Time:

15 minutes

Cook Time:

15 minutes

Category:

Soup

Method:

Boil

Cuisine:

American
Keywords: leftover turkey chowder, turkey chowder recipe, leftover thanksgiving recipe, leftover christmas recipe, leftover turkey recipe