Remember that awesome whole smoked turkey recipe that I 've made recently? This smoked turkey is a perfect example of just how you can use leftovers to make another delicious and nutritious meal in no time. With a considerable amount of turkey left, the best way to tackle this cold December weather is with a warm turkey chowder. This turkey chowder altogether takes roughly thirty minutes to prepare and cook. I like to add a nice kick of chilli to mine, however you can season your turkey chowder to your liking and leave out any spicy elements.
Once you finish cooking the turkey chowder, you can easily store it in the refrigerator for a couple of days. In fact, the turkey chowder tastes amazing the next day as all the different flavours fuse together. You can also freeze the turkey chowder without a hitch. If you still have more turkey that you need to use up, keep reading for more clever ideas on how to create divine meals.
turkey chowder
I used the leftover meat from whole smoked turkey for this turkey chowder. You don't necessarily need to smoke your turkey for this recipe, you can also use a traditionally prepared turkey. However, I think that the smoky flavours work so well in the turkey chowder. The smoked turkey adds complexity to the dish, making the chowder rich with intense flavours.
The best substitute to the turkey is chicken, or better yet a smoked chicken. Smoked chicken will tastes pretty much the same as the turkey. If you want to watch your waist line over the holidays, then this tip might help. Chicken has a higher calorie count than turkey, however it's more nutritious in terms of protein. I guess it depends on your preference – which fowl would you go for?
You can also us other roasted meats like pheasant. Apparently, pheasants have a very intense umami flavour and people use thm to cook intense broths. You can also opt for seafood and make the famous clam chowder or shrimp chowder.
types of corn
Basically, there are four main types of corn you can use for this turkey chowder. You might be under the impression that all corn tastes the same – but they don't. They all have their own unique characteristics and some are even inedible!
The first type of corn field or dent corn, which is not used for cooking but rather to feed livestock. Even though this corn is visually appealing as its dented, the taste however isn't up to much.
The second type of corn is flint corn, generally found in Central and South America. This corn is somewhat similar to dent corn; however this corn is more colourful. You can even find flint corn which is red or almost purple. Its range of colour makes these corns perfect for decorative display. It is edible but not very soft. I wouldn't recommend using this corn for the turkey chowder.
The third type of corn you should know about is the popular – popcorn. These corn kernels are known for their soft starchy centres. Once you expose the popcorn to heat, it explodes and gives you that lovely end-result we all love to munch on. In fact, if I've inspired you to eat popcorn, you can try my bacon popcorn with honey. It's finger-licking good!
The last and most important type of corn for this turkey chowder is sweet corn. This type of corn has a lot of soft starch and as a result will never pop if you try making popcorn with it. Also, compared to other types of corn, the sweetcorn contains the most amount of sugar.
fresh vs canned
As you know, I am an ambassador for using fresh and healthy ingredients. Therefore, I strongly recommend using fresh corn for this turkey chowder. You'll need about two cobs of corn for this recipe to serve four people. If absolutely necessary, you can also use canned sweetcorn. However, I am not a fan of these as these might contain additives and excess sugar.
stock
I use the same principle for the stock as with sourcing fresh sweetcorn. Why not make delicious vegetable soup for lunch and use the leftover stock for the turkey chowder for dinner? The chowder will be healthier and more flavourful because most stock cubes contain additives, excess salts and sugar. You can also use chicken stock as a substitute, especially if you are planning to use chicken as the main ingredient. I wouldn't recommend using other stocks, only if you pair it with the respective meat.
add the cream
The trick here is the add the double cream in a way where it doesn't split, which would make the soup unappealing. Once you let the soup boil and simmer for a while, take it off the heat and stir occasionally. This will prevent splitting. The hotter the turkey chowder is, the more likely it is to split. Once you set the turkey chowder aside for ten minutes, add the cream in small portions and stir. It's a good idea to use double cream which is at room temperature. So, make sure to take it out of the fridge when you start the cook.
For final tweaks, I recommend chopping some fresh red chillies or jalapeños, or sprinkle a bit of cayenne pepper. A dusting of nutmeg would also work well with the double cream. For some more tanginess, add some fresh herbs like parsley, coriander or watercress.
What is your favourite leftover turkey recipe?
Print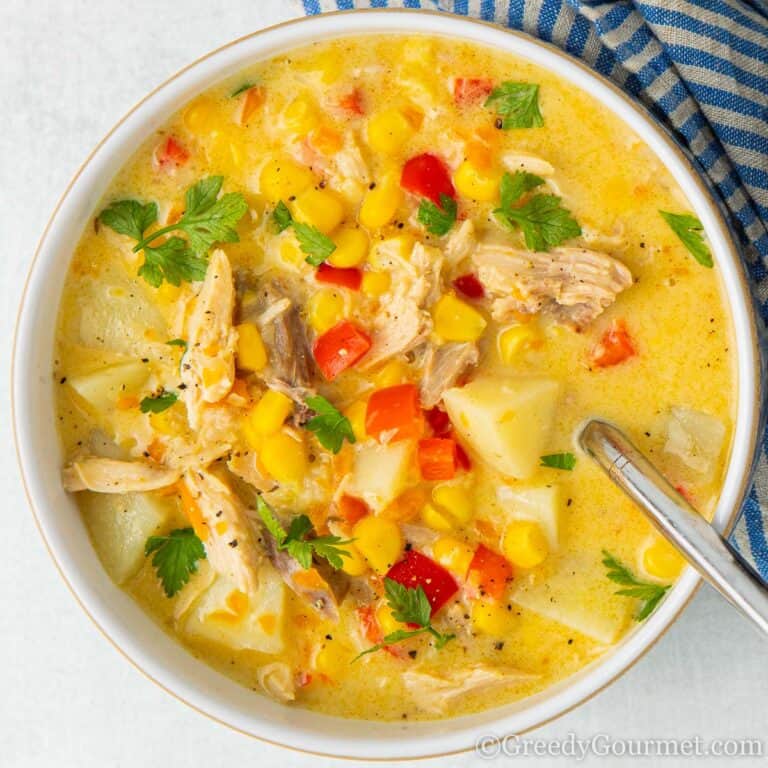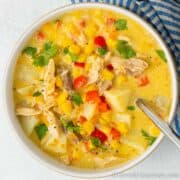 Turkey Chowder with Sweetcorn
---
15

ml (1 tbsp) butter

15

ml (1 tbsp) oil

1

onion, finely chopped

2

garlic cloves, peeled and finely chopped

1

red pepper, washed and finely chopped

500

ml (2 cups) sweet corn kernels, approximately 2 sweet corn cobs

200g

(

7 oz

) cooked turkey

750

ml (3 cups) vegetable stock

100

ml (3fl oz) double cream

15

ml (1 tbsp) cornflour
Salt and pepper, to taste
---
Instructions
Fry the onion and garlic in a large saucepan in the butter and oil until softened.
Add the red pepper, corn, turkey and stock and heat the mixture to boiling point.
Lower the heat and make a slurry with the cream and flour then gradually add it to the soup, stirring vigorously until the soup has somewhat thickened.
Season to taste and serve immediately.
Notes
The turkey can be substituted for leftover chicken or any roast meats for that matter.
Prep Time:

15 minutes

Cook Time:

15 minutes

Category:

Starter

Cuisine:

American
Nutrition
Serving Size:

1 serving

Calories:

362

Sugar:

7 g

Sodium:

472 mg

Fat:

19.6 g

Saturated Fat:

9.2 g

Carbohydrates:

31.3 g

Fiber:

3.9 g

Protein:

19.6 g

Cholesterol:

80 mg
save the recipe to your pinterest board