Ask yourself. When was the last time you enjoyed an incredible chop suey recipe? If you took more than 5 seconds to think about this, then you need to try this vegan chop suey recipe now! It's the ultimate healthy version of a traditional chop suey recipe.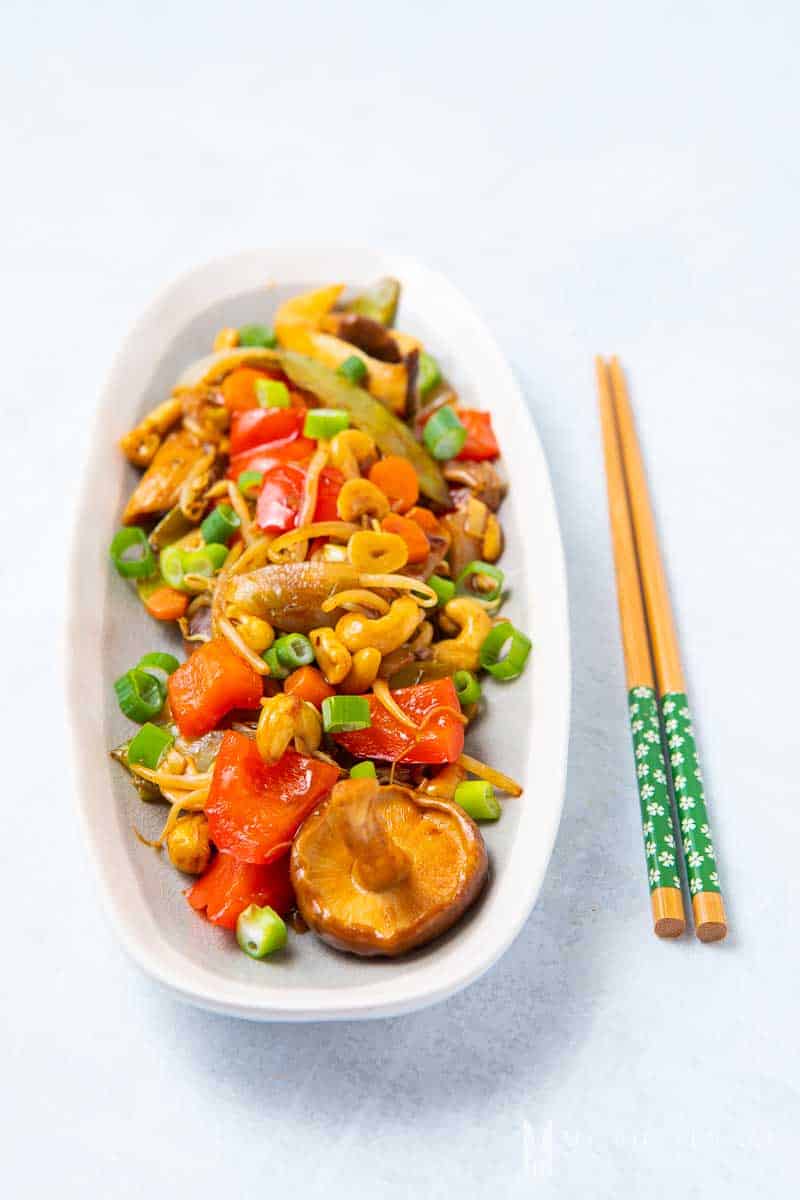 However, this vegan chop suey is completely friendly in terms of calories and uses honest and humble ingredients. I have a feeling that once you try this delicious vegan chop suey, you'll wish you found this recipe years ago. What's even better, you can toss in your favourite vegetables and put your own spin on it. Serve it sizzling hot straight out of the wok if you have one. Remember, to nail this recipe, it's all about the seasoning!
Chinese vegan chop suey
This vegan chop suey is very reminiscent of my recent Chinese mixed vegetable stir fry recipe. This is due to the fact that the recipe is sort of a stir fry. It is a recipe consisting of Chinese flavours that has become the heart of many cuisines around the world. Most of all – the American cuisine!
This vegan chop suey is a relatively inexpensive dish as it calls for using vegetables only. This you can easily do, especially if you've got leftovers in your fridge that need to get used up. Enjoy making this family-friendly meal in under 30 minutes. It's one of those clever, quick recipes that every household should master.
vegetarian American chop suey
First of all, chop suey is actually an American-Chinese dish. It's a very similar case to the British-Indian korma curry phenomenon. It is widely believed that the first chop suey dish was served in the US. The original version of the chop suey calls for meat (mostly chicken) and eggs, which are then cooked with vegetables and thickened by a starch sauce. However, there are multiple versions of it out there including:
Even though the US has claimed that the chop suey was actually invented there, there are historians that argue otherwise. For example, they argue that the earliest appearances of this dish can be actually found in Guangdong province in the county of Taishan. Apparently, the dish already existed in the 1890s under the name of tsap seui. It was the immigrants who left this province and travelled to America that introduced this dish in the US. Of course, no one really knows the true origin of this dish.

chop suey chow mein recipe
Now, to make this a chow mein recipe, all you need to do is add egg noodles. Of course, then it won't be a vegan chop suey any more. For inspiration on adding noodles, take a look at my beef chow mein.
You can also opt for rice noodles.
tofu and vegetable chop suey
Of course, you can play with other vegan variations. You can interchange your vegetables as you see fit. Mostly, I like to use leftover vegetables in my vegan chop suey, however for more protein and nutrition you can consider tofu!

Tofu is an excellent vegan addition. Plus you can add different flavoured tofu to your vegan chop suey. For example, you can opt for smoked tofu or nut tofu which are also excellent!
Just check out my incredible tofu in black bean sauce and salt and pepper tofu which are also packed with Chinese flavours.
vegetable chop suey – calories
First of all, if you are still worried about this vegan chop suey having too many calories, then stop right now. This vegan chop suey is based on vegetables and there is no way that you can ever worry about weight or calories!
In either case, if you are still looking for tips on how to cut down then I've got a few. Even though this vegan chop suey recipe is very healthy and nutritious, you can still take the following steps to make it even healthier:
1: omit the brown sugar (you can opt for a sweetener instead)
2: use green vegetables (try not to include vegetables with a high glycaemic index)
3: limit the use of cashews (even though they are healthy, they have a considerable amount of calories)
4: eat the chop suey as is (do not serve it with rice)
I hope these steps can guide you towards recreating your perfect vegan chop suey recipe.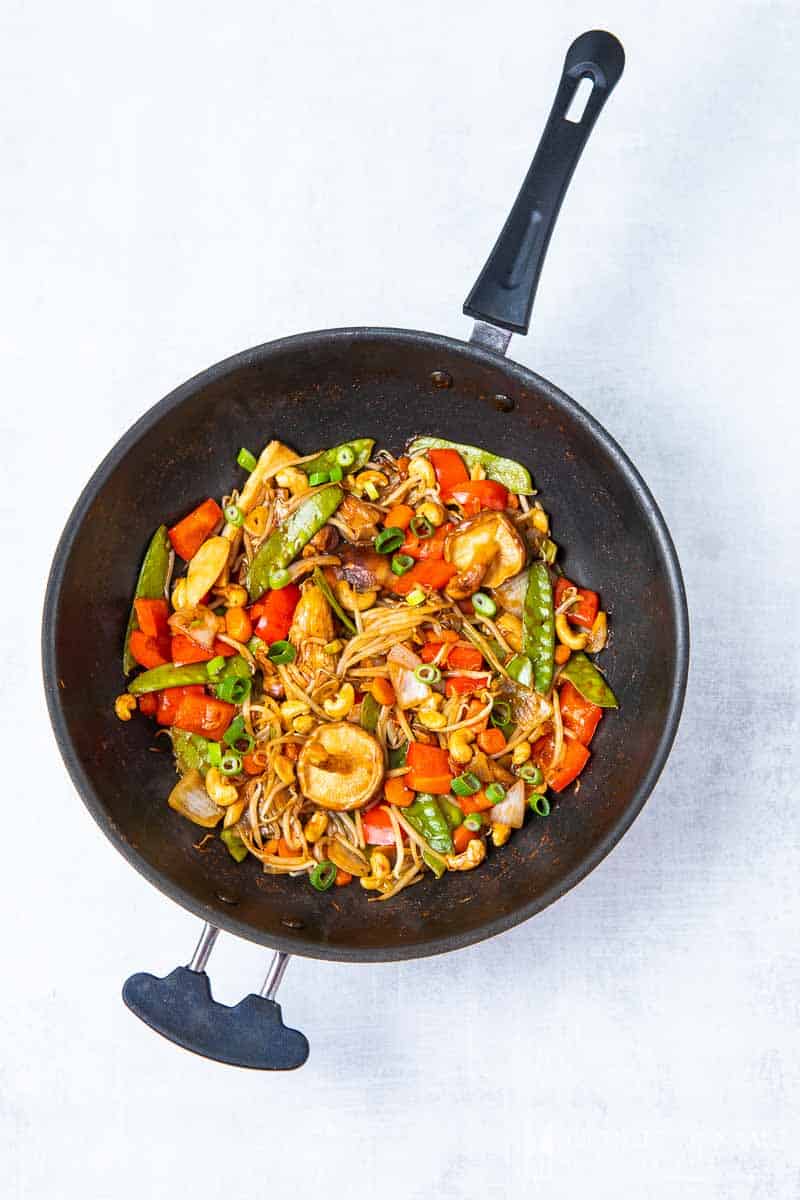 chop suey salad
In fact, now that I've mentioned a leaner serving by not pairing it with rice, you can always make it a salad. Just toss the vegetables from the vegan chop suey into a bowl of leafy greens, baby spinach, rocket salad or roman lettuce. You name it.
Whichever salad you prefer best, just cut it up and toss the chop suey vegetables along. Stir and you've got yourself a fantastic Asian vegan vegetable salad. Top with some fresh red chilli peppers, fresh coriander leaves and lime juice – and you have one heck of a salad!
My recommendation is to make a large batch of the vegetable chop suey. In either case, this recipe stores very well. You can even freeze and reheat (although the vegetables will lose their crunch). Nevertheless, if you store it in the fridge for one or two days, you can reuse the leftovers in a fabulous salad as mentioned above. I expect the cooking time for this salad to be roughly 10 minutes, if not even less! Ha-ha.
serving
Firstly, start off your homemade Chinese feast by serving these Salt and Pepper Spring Rolls.
Now, traditionally speaking, you should serve chop suey on a bed of white rice. You can use basmati or jasmine rice, or even plain rice if you wish. Again, you can also consider serving it with rice noodles and make a vegan chop suey chop mein recipe out if it.

On the other hand, if you are keeping an eye out for some tasty Asian side, then you have to try these salt and chili chips. This is a very simple way to add a side to fill up a hungry family. In addition, it's super-easy to make and also uses humble ingredients. I mean, what could be more humble that the potato?
I hope you enjoy making this vegan chop suey recipe. If you have any tips or tricks on making the perfect vegetable chop suey, let me know in the comments below.
Print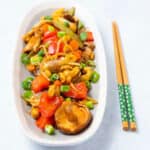 Vegan Chop Suey
---
Description
This vegan chop suey dish is the essence of healthy Chinese American cuisine. Read about the different variations (vegan & non-vegan) and make it your own.
---
90

ml

(6 tbsp) vegetable stock

30

ml

(2 tbsp) soy sauce

15

ml

(1 tbsp) cornflour

30

ml

(2 tbsp) rice wine vinegar

15

ml

(1 tbsp) brown sugar

15

ml

(1 tbsp) vegetable oil

1

large onion, peeled and chopped

2

garlic cloves, peeled and crushed

2.5

cm (1in) fresh ginger root, peeled and julienned

1

carrot, peeled and sliced

1

red pepper, washed and chopped

150

g

(5oz) mixed mushrooms, cleaned and sliced

100

g

(3oz) mangetout, washed

180

g

(6 oz) beansprouts

8

spring onions, cleaned and chopped

60

g

(2oz) cashews

5

ml

(1 tsp) sesame oil
---
Instructions
First prepare the stir fry sauce by combining stock, soy sauce, cornflour, vinegar and brown sugar in a bowl. Set aside.
Heat the oil in a large wok and fry the onion for 1 minute.
Add garlic, ginger and carrot to the wok and fry for 1 minute.
Add the pepper, mushrooms, mangetout, beansprouts and spring onions to the wok and continue to stir fry at a high heat for 1 minute.
Give the sauce in the bowl a stir and pour it over the vegetables, and let the content bubble away while you stir.
Continue cooking until the mushrooms are just cooked which should take about 2 minutes, then add cashews and sesame oil.
Cook for 1 minute and remove from the heat.
Serve immediately on rice. Enjoy!
Notes
Feel free to use your favourite stir fry vegetables because the ingredients list, bar the sauce, is easily interchangeable. Just keep in mind that different vegetables have different cooking times. In the recipe you'll see I used the ingredients in the order of cooking times, i.e. a carrot needs more cooking than a bean sprout. Of course, it's up to you to decide just how much crunch the vegetables should have!
Prep Time:

20 minutes

Cook Time:

10 minutes

Category:

Main Course

Cuisine:

Chinese
save the recipe to your pinterest board