A stunning Thai-inspired dish that's best served in a deep bowl. By the way, these are not your ordinary pad Thai noodles. This recipe doesn't involve any meat, any eggs or any other animal-derived products. You guessed it – this is a completely vegan pad Thai. Serve this vegan pad Thai as a quick lunch, easy dinner or just a snack when you feel like indulging in Thai cuisine. You can also choose to serve it as a starter along with some Thai spring rolls. Just be careful not to overdo it in portion size, because you might have to deal with a delicious Thai main course in a few minutes. Garnish with your favourite vegetables and herbs such as Thai basil and coriander.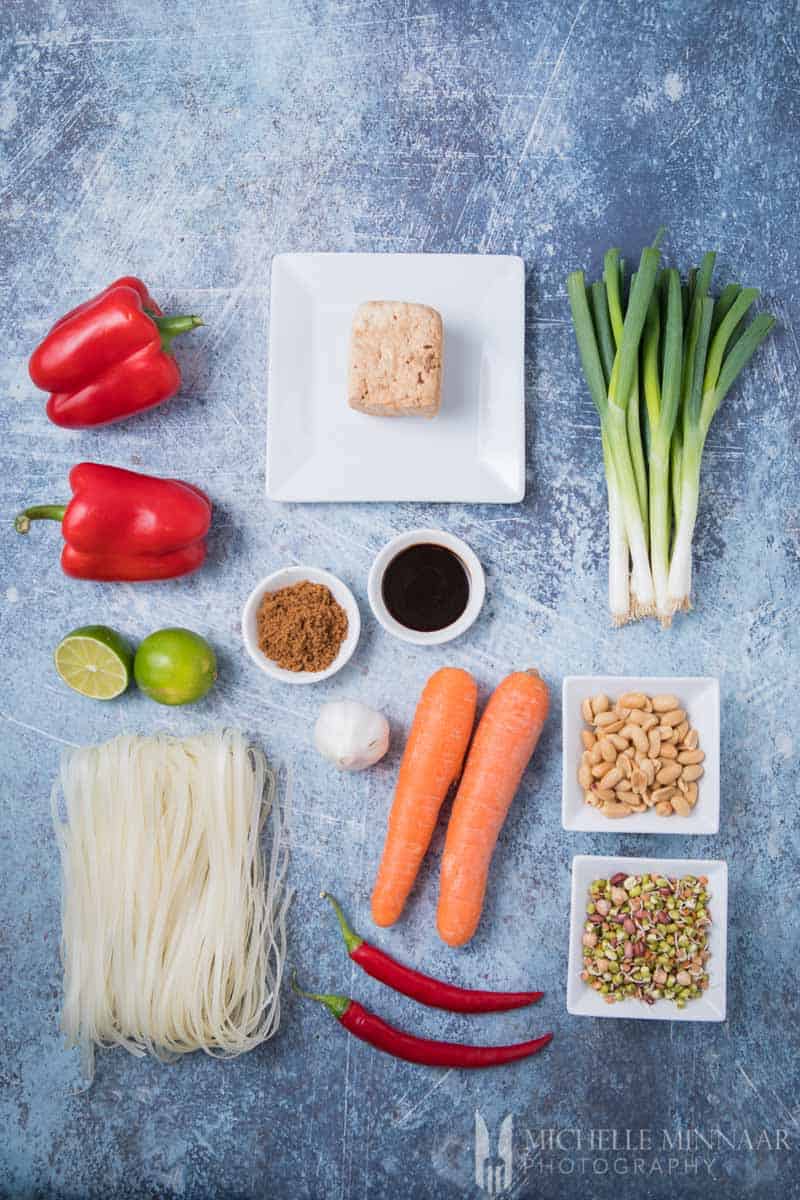 the best vegan pad Thai recipe
Everyone who cooks Thai knows that the fresh produce used to make it involves a lot of chopping. Therefore, when you make this vegan pad Thai from scratch, you'll need to be very careful with your fingers and, ultimately, your knife work should be at a good level. Expect to have multiple knives lying around – well, this is where 'THE EGG" comes in to save your life.
Recently, Cuisinepro partnered with House to launch THE EGG, which was released to all House stores for sale on November 10th 2018. You can also find the egg online here. THE EGG is the newest knife block, which in my opinion is one of the most stylish and sophisticated kitchen accessories ever. Needless to say, that it's really nice to keep your knives safe and organised in your kitchen. With a slick and contemporary design, it really is a statement piece and a perfect Christmas gift I dare say! Once you lift THE EGG, you'll find six essential Cuisinepro knives which are made out of the finest quality Japanese steel. These knives have a lifetime guarantee – enough said! The steel blade construction has been inspired by centuries of manufacturing techniques, which create that amazing sharp cutting edge, superior in strength and durability.
THE EGG comes in a luxe black velvet storage pack, making the perfect gift any time of the year! For more information, check out House's homepage, the leading houseware and kitchen specialists, for more information and have a browse through all their amazing products.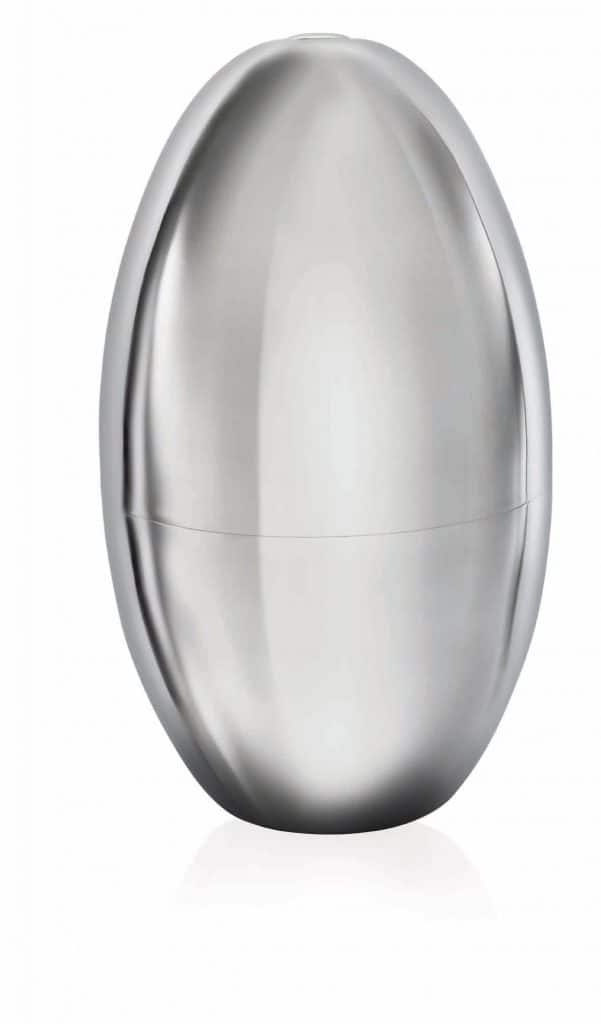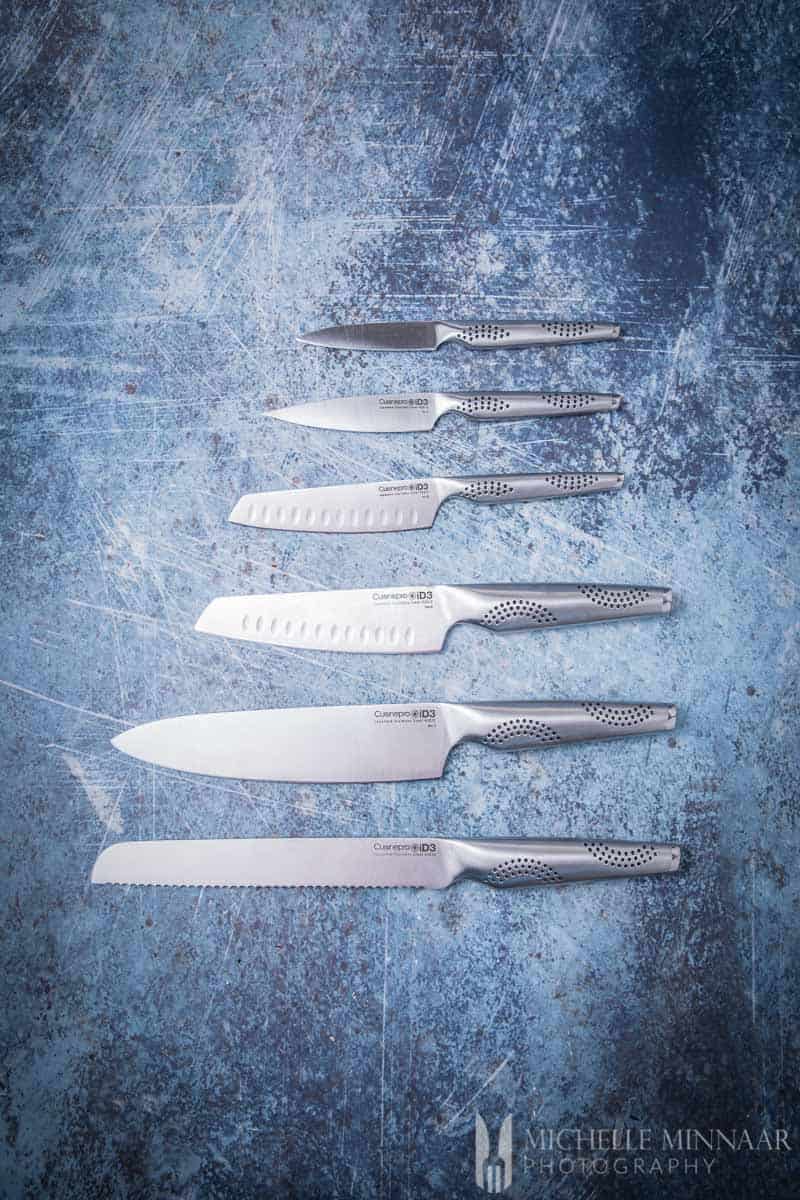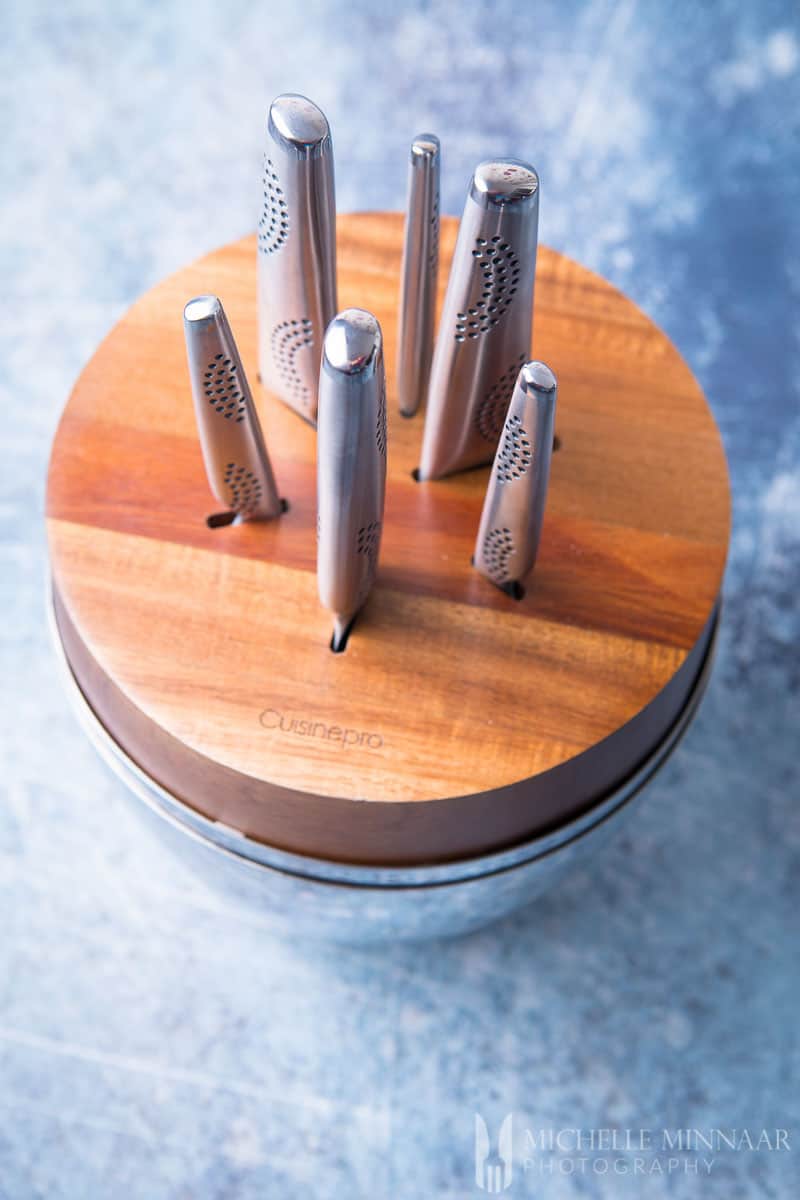 make a low-calorie vegan pad Thai
Noodles have a considerable calorie count. That's why this vegan pad Thai can be so filling. If you wish to cut down on your calorie intake, then you can also make a very low calorie version of this vegan pad Thai recipe. Although, I must admit, making this vegan Thai recipe is already a great step towards eating a very healthy meal. In my opinion, it's actually one of the best 'everyday' meals you can prepare during the week. However, to take this vegan dish even further, ditch the noodles and substitute with courgetti.
Make garlic and chilli courgetti with a spiralizer. I guarantee you that making these is a piece of cake. Comparatively, the courgetti takes less preparation time than the noodles. What a surprise!
Also, if you fancy more vegan Asian food, try my vegan chop suey recipe. It's incredible.
If you have no clue what a spiralizer is, not to worry. A spiralizer is a special cutting tool which enables you to prepare multiple types of vegetables in the form of noodles. You can get various versions of spiralizers to do the job right.
I've used a spiralizer to make other healthy Thai meals such as these creamy curried courgette noodles. They make an excellent side dish and also a tasty main course. Hence, ditch the noodles and make vegan Thai pad courgetti instead.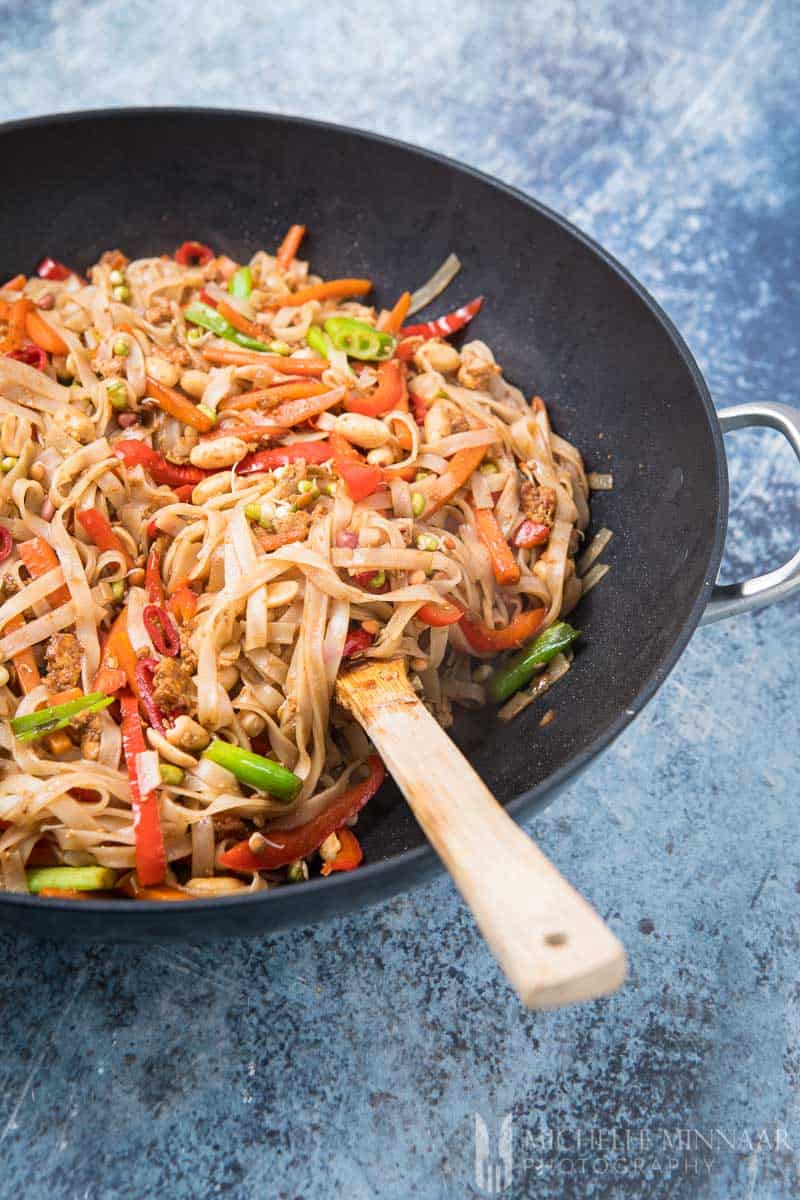 eggless vegan pad Thai noodles recipe
For those of you who are early converters to veganism, you'll know that an original pad Thai recipe calls for an egg. Instead of the egg, I used tofu to replicate that firm texture the egg provides. You can use any kind of tofu. My favourite is smoked tofu like the one I used in my tofu in black bean sauce recipe.
However, to give it that true 'eggy' look, I highly recommend you add a dash of turmeric. The turmeric will colour the tofu yellow and make it seem like the vegan pad Thai actually has eggs inside. Why don't you try a little experiment? Make this eggless vegan pad Thai with the addition of turmeric to the tofu and see whether or not people realise that it's actually an eggless recipe. I guarantee you that they won't realise it on first sight. Try it and have some fun!
Today, other egg-free substitutes include using egg-free vegan omelette mixes. These also work wonders and will do the trick in making eggless vegan pad Thai recipes.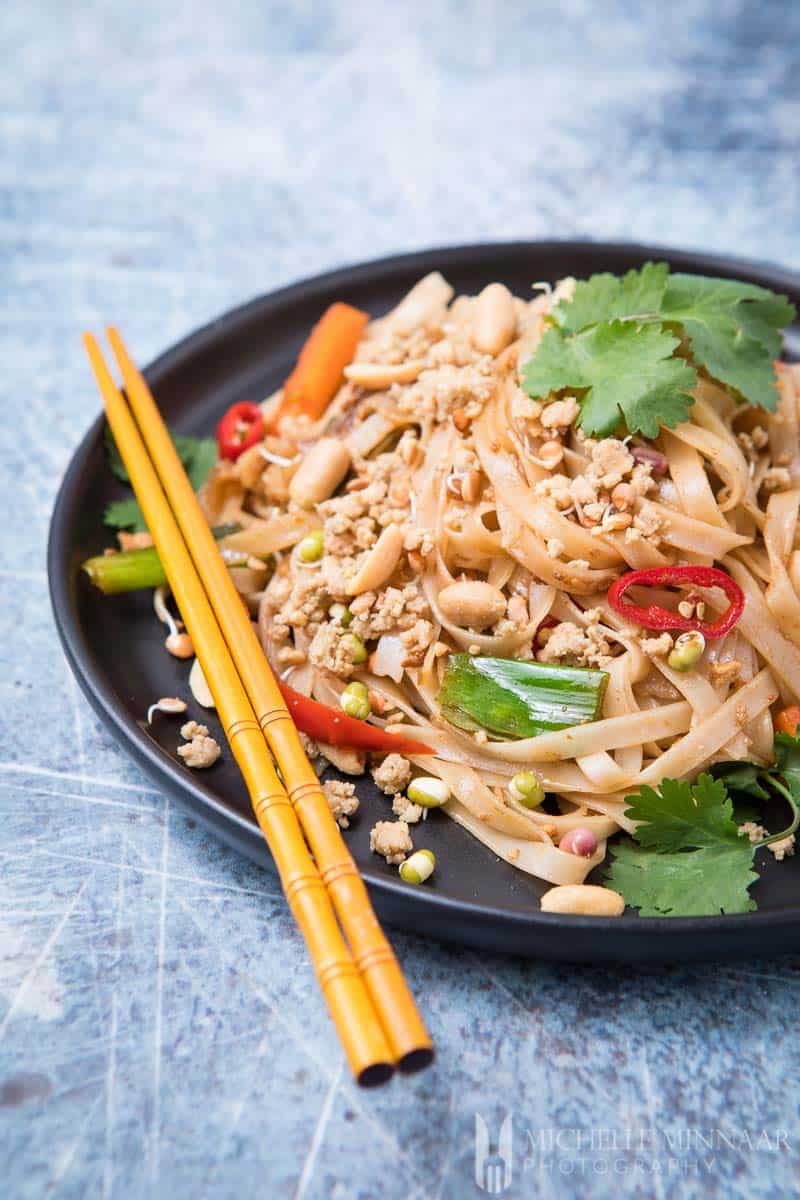 no fish sauce vegan pad Thai recipe
Naturally, since this is a vegan recipe, you can't use fish sauce or oyster sauce, despite the fact that the original pad Thai recipe calls for heavy use of fish sauce. In fact, I once had pad Thai noodles and I must admit that the original version had way too much fish sauce for my liking.
I know that fish sauce or oyster sauce can get overwhelming for others too. So, making this vegan Pad Thai version is just for you, especially if you are not a fan of these sauces. The vegan version calls for soy sauce, tamarind sauce and lime juice – a perfectly delicious combination.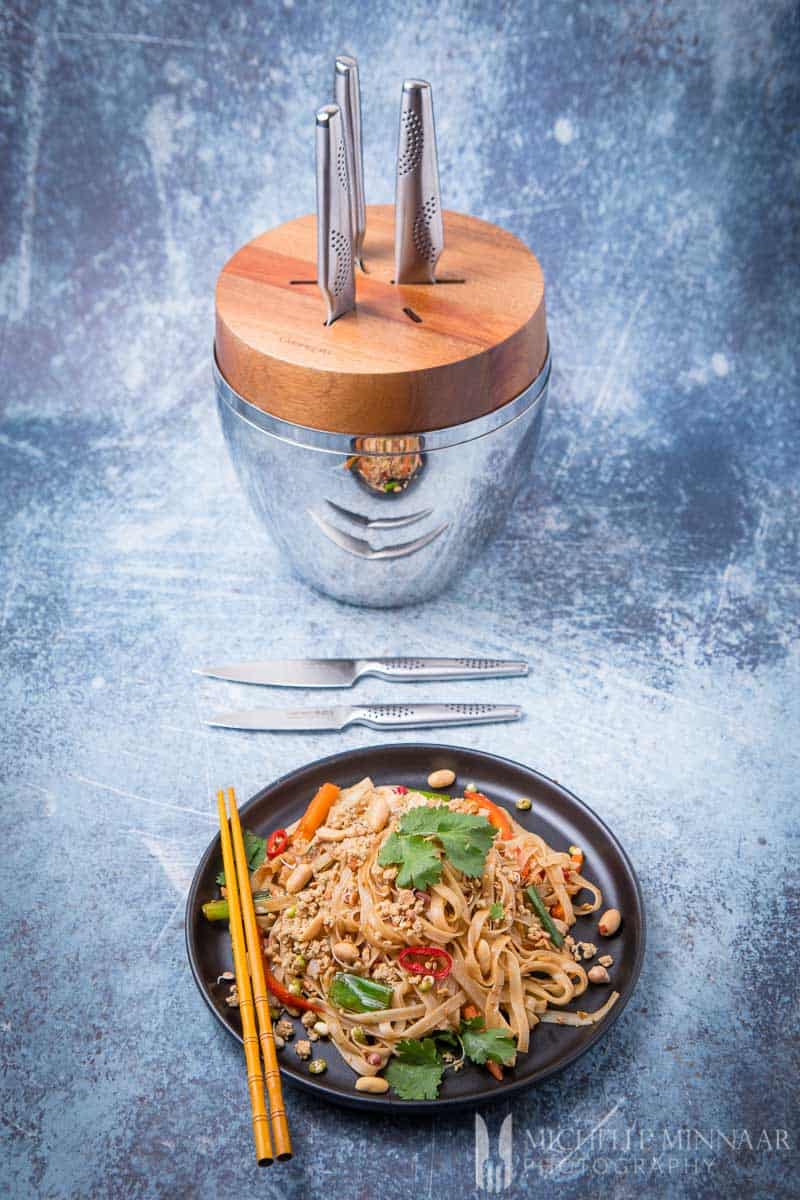 vegan pad Thai original recipe toppings
First and foremost, no pad Thai recipe would be complete without crushed peanuts. You have to include peanuts! If you have a peanut allergy, then you should substitute with another crunchy element like bean sprouts.
Other traditional pad Thai recipes include the heavy use of coriander and Thai basil. The more herbs and peanuts, the better. Moreover, it is quite the custom to serve the pad Thai with a side of Asian cucumber salad. This consists of finely diced cucumbers, chilli and a sweet chilli dressing topped with peanuts. So delicious! Don't forget to serve your pad Thai with a cold Thai beer!
Which recipe/dish makes you wish you had a proper knife set?
Print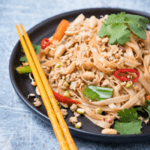 Vegan Pad Thai
---
Description
Replicate a traditional pad Thai recipe and make this eggless, no fish sauce vegan pad Thai instead. It's very easy to make and has amazing Thai flavours.
---
450g

(1lb) flat rice noodles

30

ml (2 tbsp) oil

2

carrots, peeled and julienned

1

red pepper, washed and julienned

4

garlic cloves, peeled and crushed

2

red chillies, washed and finely sliced

8

spring onions, washed and chopped - white and green parts separated

200g

(7oz) smoked tofu, crumbled

60

ml (4 tbsp) tamarind paste

90

ml (6 tbsp) brown sugar

60

ml (4 tbsp) soy sauce

30

ml (2 tbsp) rice vinegar

30

ml (2 tbsp) lime juice

250

ml (1 cup) mung bean sprouts

125

ml (1/2 cup) roasted peanuts
---
Instructions
Place the flat rice noodles in a deep dish then pour boiling water over them until they are completely submerged. It should take approximately 10 minutes for the noodles to cook through, so check every 2 minutes. You don't want them to overcook! Once they are tender, drain immediately and set aside.

Heat the oil in a large wok.

Fry the carrot, red pepper, white spring onion, garlic and chillies on a high heat for 3 minutes.

Add the tofu and fry for 2 minutes.

In a cup, mix the tamarind sugar, soy, rice vinegar and lime juice.

Add the cooked rice noodles to the wok then pour in the sauce. Stir for 2 minutes until the sauce is well incorporated.

Add the sprouts, peanuts and green spring onions, then stir fry for another minute then serve immediately with wedges of lime.
Notes
The tofu is used to replicate the egg in a traditional pad thai and helps to add bulk and protein to the dish. You can use regular tofu as well. Some people even add turmeric to it to make it look like scrambled egg!

If you're feeling saucy, double up on the tamarind, brown sugar, soy, rice vinegar and lime juice. Be careful not to make it too soggy though!
Prep Time:

30 minutes

Cook Time:

10 minutes

Category:

Main Course

Cuisine:

Thai
Nutrition
Serving Size:

1 serving

Calories:

408

Sugar:

11.3 g

Sodium:

578 mg

Fat:

11.4 g

Saturated Fat:

1.2 g

Carbohydrates:

65.4 g

Fiber:

3.3 g

Protein:

11.5 g
save the recipe to your pinterest board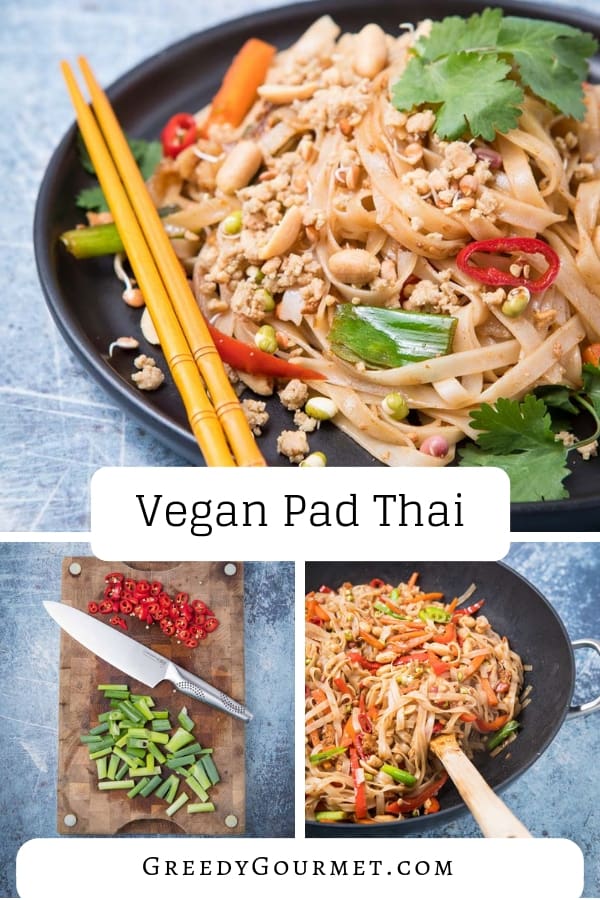 P.S. This is a sponsored post.