Yes, it's that time of the year when everyone will start talking turkey. Whether it's for a lovely Thanksgiving dinner or a joyous Christmas meal, turkey remains a firm favourite.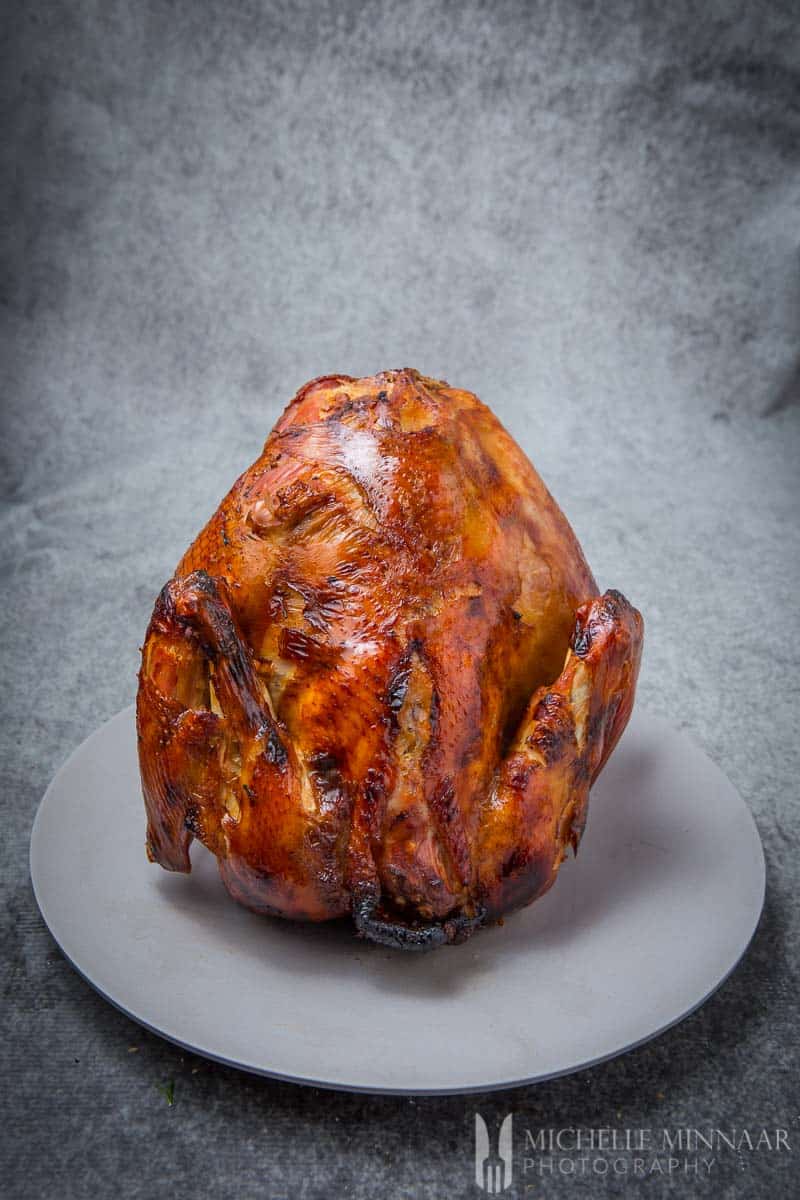 Have you considered smoking a whole turkey though? Not only does it look stunning, but it will probably be a surprise for everyone. I am sure that none of your guests had ever seen or tasted a whole smoked turkey.
With a really handy smoker, you too can create an alternative Christmas meal with a twist. The best part is, that even if you don't eat up the whole turkey, you have plenty of leftovers. You can create leftover turkey sandwiches, casseroles and much more. However if you don't want to smoke a whole turkey that's fine too, check out this smoked turkey legs recipe for a smaller cut.
whole smoked turkey with Char-Broil
Is it even possible to smoke a whole turkey? The answer is yes - with the correct smoker at home you can! Let the gadget do all the work for you. All you'll need to do is to brine it first and then place it in the smoker until it's ready. You can purchase a smoker from Char-Boil to spice up your upcoming holidays.
Luckily, Char-Broil offers so many products that can fit any need you might have in terms of smoking. They have a whole line of BBQ smokers, electric smokers, Oklahoma Joe's® Smoker and Oilless Fryers.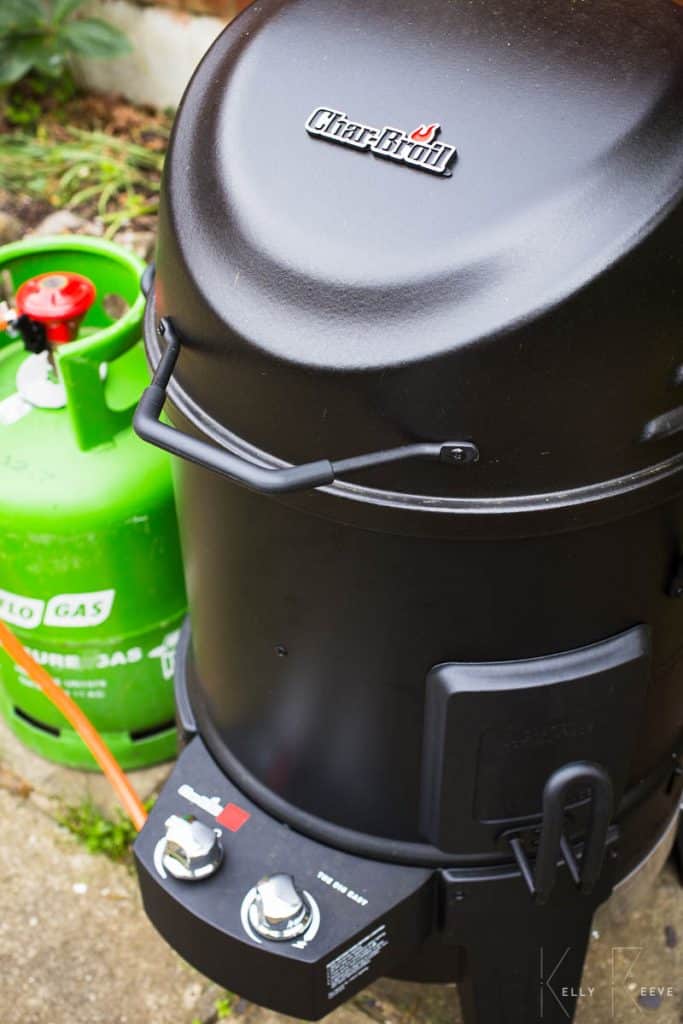 The Big Easy® Smoker Roaster/Fryer & Grill
Of course, the one I used for this whole smoked turkey recipe was The Big Easy® Smoker Roaster/Fryer & Grill. It lets you smoke, roast, fry and grill all at once. It's very impressive that one device can have so many functions and features.
With the TRU-Infrared technology, my whole smoked turkey was evenly cooked and juicy all the way. Did I mention that this whole process was oilless? The Big Easy® series are oil-less fryers and it makes the process really convenient and easy.
All you have to do is put some wood chips in the side panel, push the button and let it smoke. Once it's done, you just need to remove the grease tray. Gone are the days when cleaning grease off the kitchen counters and ovens took forever.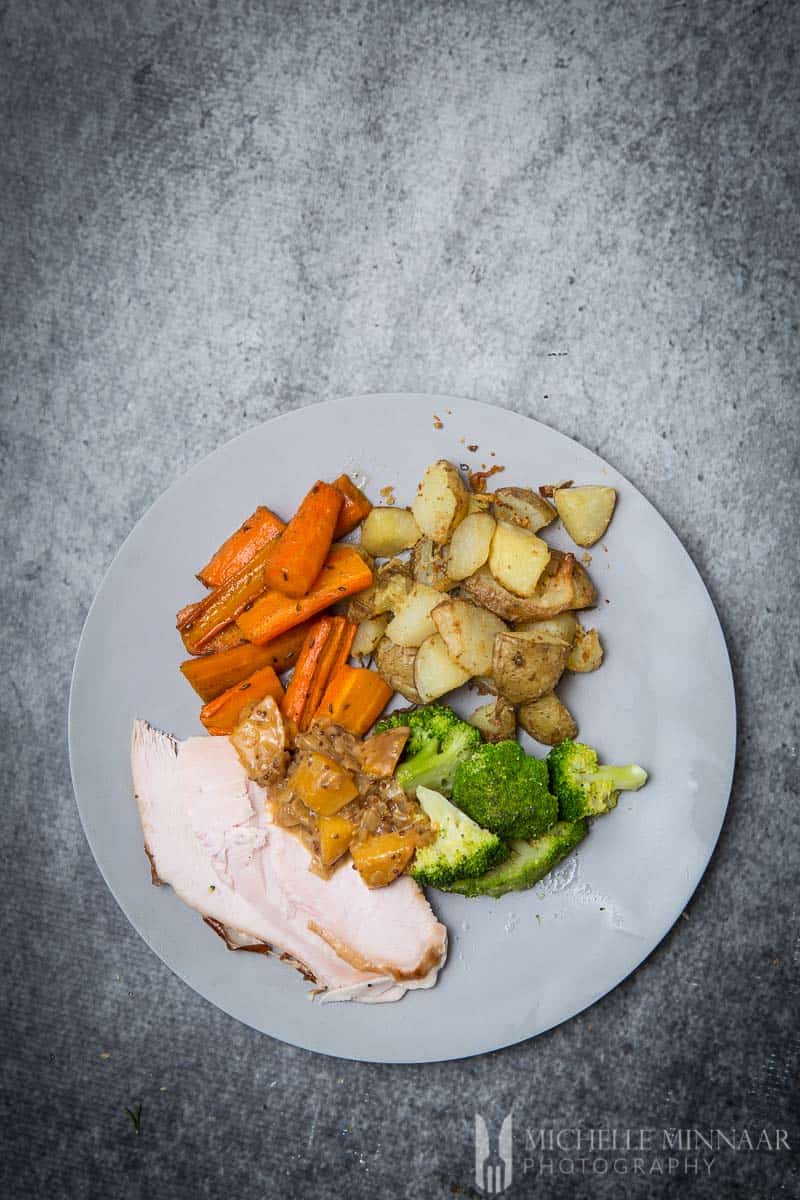 Lastly, the best part is that The Big Easy® Smoker Roaster/Fryer & Grill is very versatile when it comes to meat. You don't necessarily have to make a whole smoked turkey. Chicken, quail, beef, lamb or even fish are also some excellent candidates for smoking.
You can put any cuts of meat up to 25 pounds in a roasting basket and easily get it out. Also, along with the different cuts of meat, you can also use vegetables.
I would recommend smoking a corn cob and serving it with some butter. This device is definitely a huge asset for the upcoming holidays.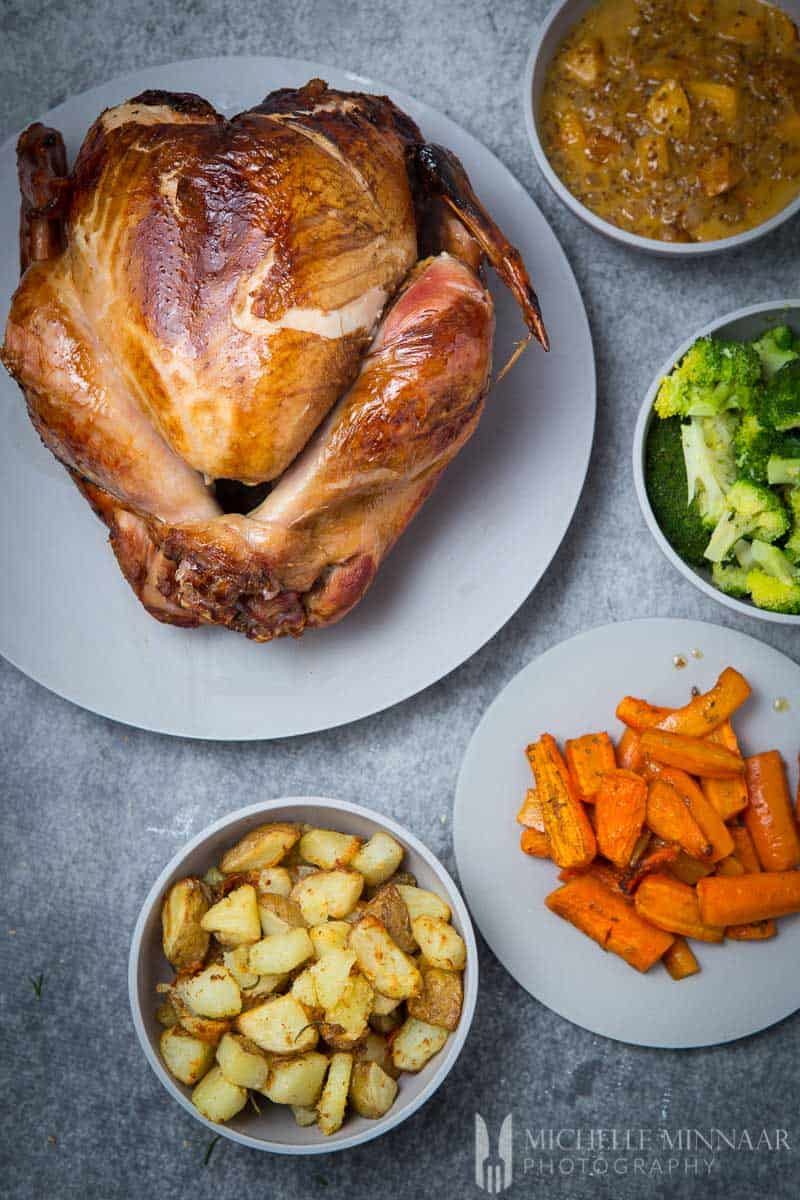 preparation
Have any of you ever had any experience of smoking an entire bird? If, by some coincidence, you do then you'll probably know that brining can be slightly complicated. Especially, if you lack the proper equipment to brine the whole thing in.
Now remember, the turkey is a rather large bird - it's usually double the size of a chicken. So here comes the next question - where will you brine the turkey once you've bought one?
Unfortunately for me, I only figured this out once I started with the process. It was then I realised I had no way of brining this whole thing properly. Some people brine their whole turkey in the kitchen sink.
This, of course, is only possible when the kitchen sink is deep enough. Also, you won't be able to use the kitchen sink for a while once it has the huge bird in it.
In order to make things a lot tidier and more convenient, I bought a cooler box. Good thinking, right? The cooler box will let you move the whole turkey around, so it doesn't necessarily have to clutter up your kitchen.
Fill it up with the brine and keep it chilled for 24 hours. Plus, it's cheap and you can reuse the cooler for storage in the summer.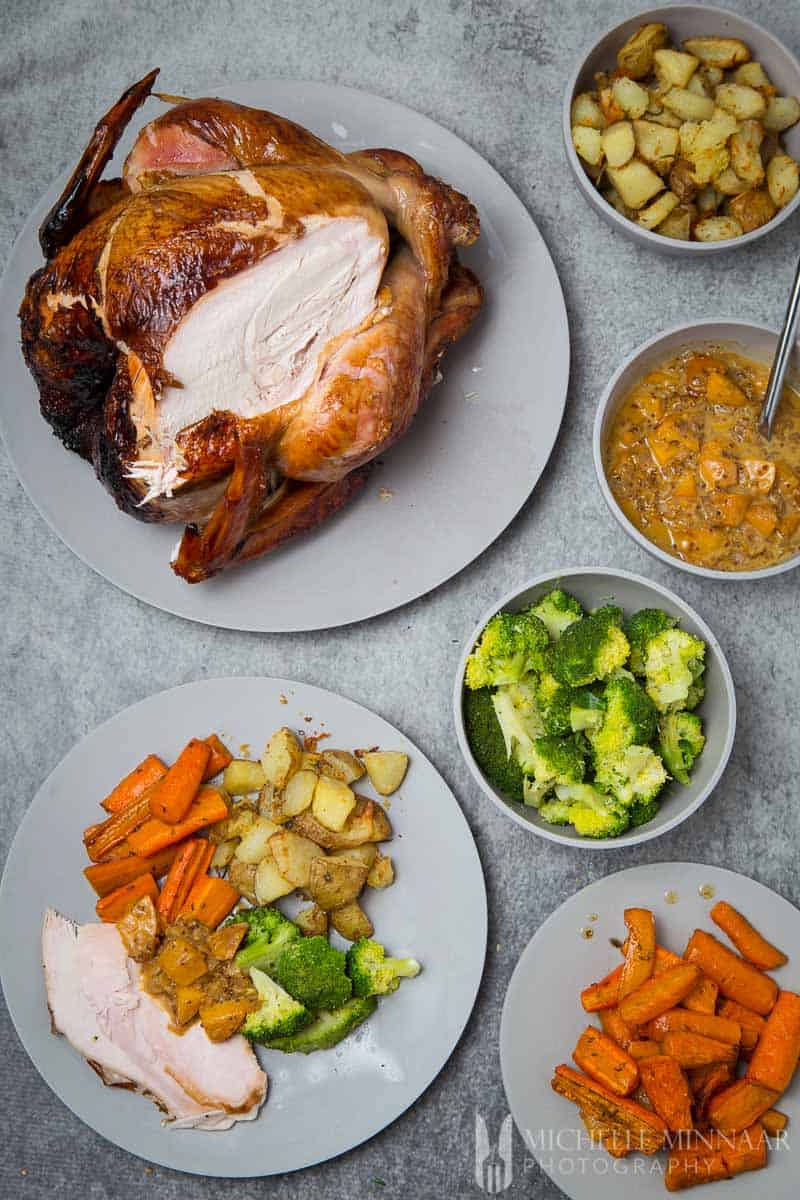 how to smoke
With the smoker in place, it will do the job for you. All you'll need to do is to decide what type of woodchips you would like to use. Whether it be a fruitier type of wood for milder smoky flavours or a heavy woodchip for rich intense flavours. You can find out more about the effect different types of woodchips in my hot smoked salmon recipe.
I used apple woodchips for a mild and subtle smoky flavour in the background. Altogether, the whole smoked turkey was in the smoker for 4.5 hours. Remember to turn your turkey around for even cooking.
When the skins starts to turn a golden brown colour, cover it with some aluminum foil. This will prevent the turkey skin from burning and will give it a nice crunch.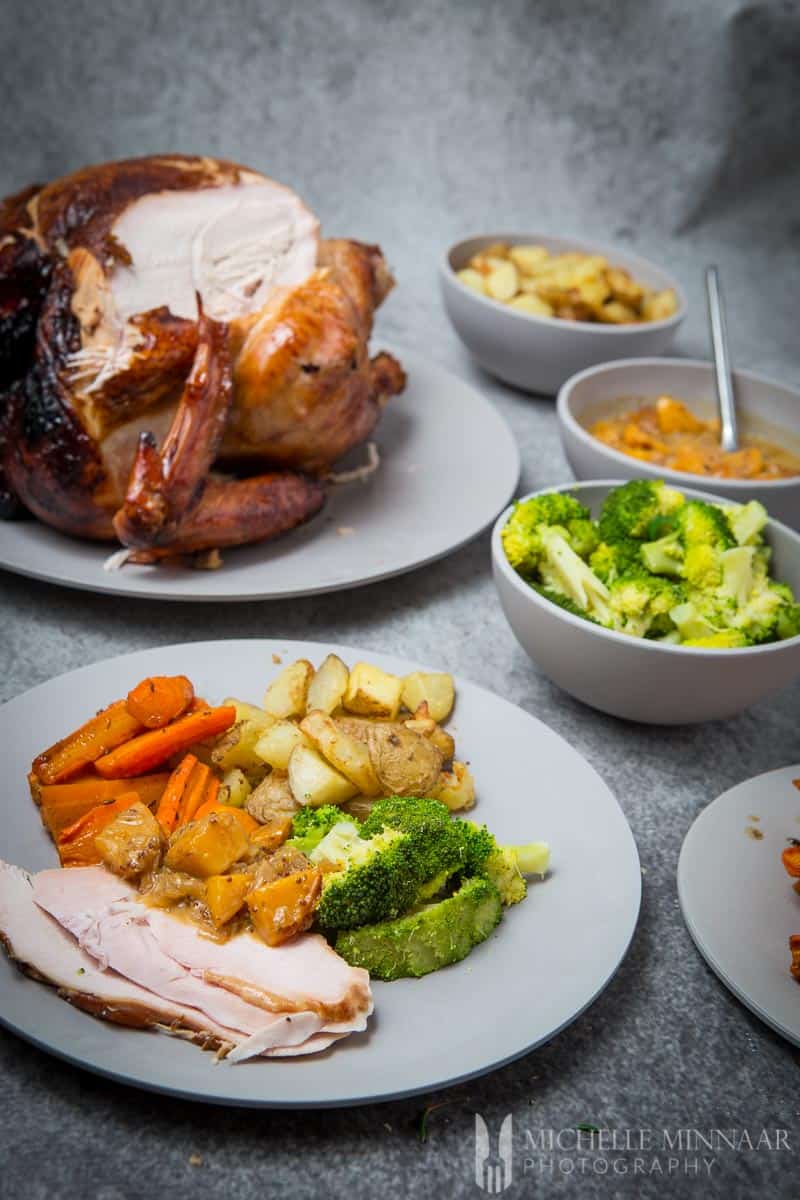 sides
This dish is very easy to complement with side dishes. I roasted some carrots and potatoes. Roasting sweet potatoes with some thyme is also a classic. Also, to add some greens to the entire meal, why not include green beans or broccoli?
Instead of cranberry or lingonberry jelly, I made a peach and mustard sauce to go with the meat. You'll have to wait for the recipe though! As expected, the smoked turkey went down a storm and was one very memorable meal with lovely friends. If you're looking for a fruity twist to this dish, why not try this beautiful Blueberry Chutney?
Other similar recipes you might enjoy are some ribs and smoked chicken. How do you prepare the perfect turkey?
Print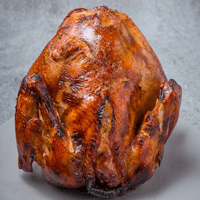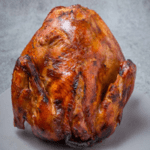 Whole Smoked Turkey
---
Total Time:

5 hours 30 minutes

Yield:

1

0

1

x
Description
A whole smoked turkey is something everyone should try at least once. Whether it be during a weekend or during some celebrations. You'll need a smoker and nice big turkey. Pair with roasted vegetables such as potatoes, broccoli or carrots. It'll be hard to go back to the plain roasted stuff after you had one bite...
---
4.5

kg

(10lbs) turkey
Salt and pepper
Hickory wood chips
---
Instructions
If you bought a frozen turkey, you need to thaw it first. It would take approximately 66 hours in the fridge and 22 hours in a cool room to thaw.
For best results, the turkey needs brining. I used a cooler box to store the turkey in and then prepared enough brine to cover the turkey, which took a while! Here's the basic recipe.
Keep the turkey chilled in the brine in the cooler box with ice packs. After 24 hours the turkey is ready for the smoker.
Preheat the Char-Broil Big Easy Smoker on the High setting and fill the smoking box with wood chips.
Wait for 10 minutes until the chips begin to smoke, then change the heat setting to Low.
Place the turkey breast side up in the basket. Place the basket inside the smoker.
Close lid and cook until the turkey's internal temperature is 74°C (165°F). This takes about 4 hours and 30 minutes.
For best results, check on the turkey every 30 minutes and preferably turn it around for even cooking. If the skin is browned and crisp before it's properly cooked, cover the bird with foil to prevent the skin from burning.
Remove the turkey from the smoker and let it rest for about 15 minutes before carving.
Notes
Because of the temperature discrepancy between the top and bottom area inside the smoker, you need to turn the turkey upside down every now and then. That way, both ends will get evenly cooked.
Refrain from saucing the turkey while it's in the smoker. Wait until it's cooked and finish with a luscious sauce under the grill or on the barbecue. A lot less mess and no burning!
Prep Time:

60 minutes

Cook Time:

270 minutes

Category:

main course

Cuisine:

American
Nutrition
Serving Size:

1 serving

Calories:

765

Sodium:

315 mg

Fat:

22.5 g

Saturated Fat:

7.4 g

Protein:

131.8 g

Cholesterol:

341 mg
save the recipe to your pinterest board

P.S. This is a sponsored post.