Blue cheese sauce is commonly used as a side dish to a delicious steak recipe. Otherwise, you can also use it as a filling for a fabulous steak sandwich, or on top of roasted vegetables.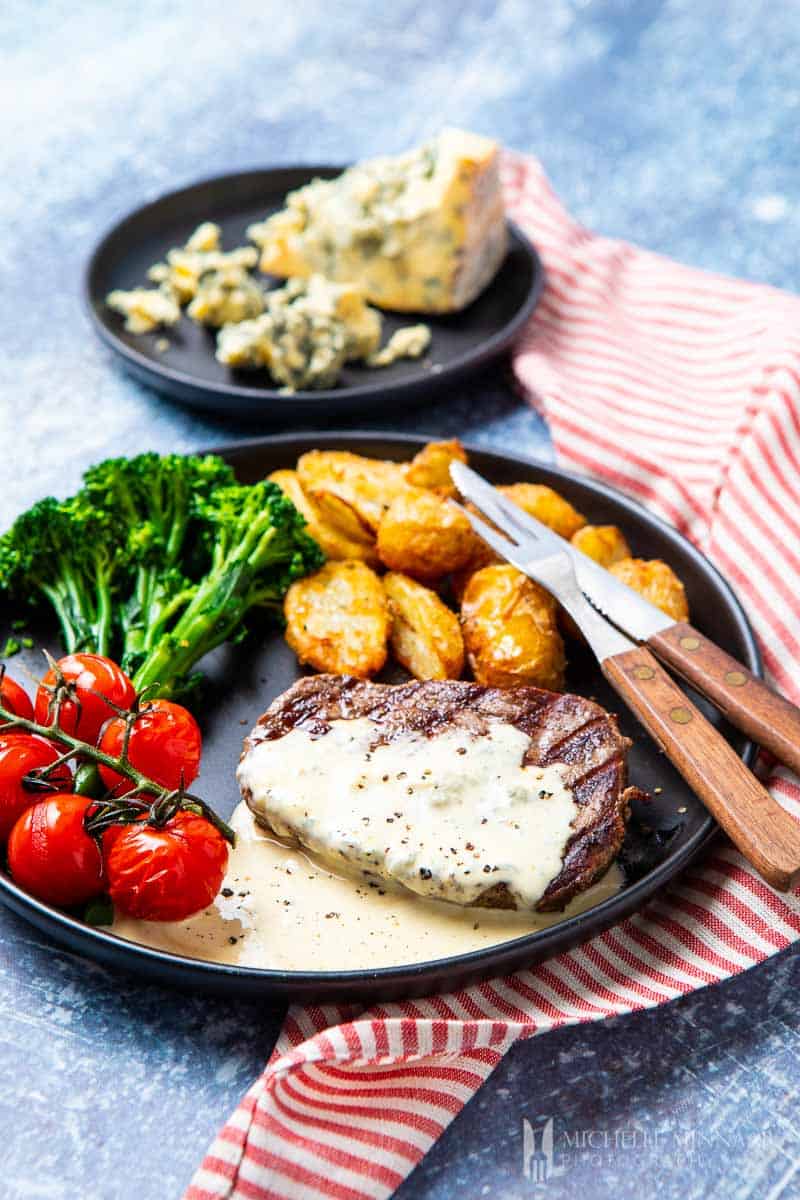 Either way, blue cheese sauce is really easy to make and can be prepared within 5 minutes! Remember to serve the blue cheese sauce hot straight out of the pan.
Once you've prepared this luscious sauce, you'll find yourself returning to it again and again. And again.
A blue cheese sauce for steak recipe
Nothing beats a thick and creamy blue cheese sauce. Especially, when you make it with a premium blue cheese and pair your steak recipe with a delicious red wine. Blue cheese sauces are much richer in comparison to other steak sauces such as peppercorn sauce or a berry-based sauce. For me, blue cheese sauce is the ultimate go-to sauce when I am enjoying a meaty recipe. The best part about making this recipe is that you can make this sauce with literally any type of blue cheese you find in the supermarket. Before we explore all sorts of blue cheese, let's explore blue cheese in general and why it tastes and holds the way it does.
What is blue cheese?
Generally speaking, blue cheese is a type of classification of cheeses which contain mold. These cultures of the mold are also called penicillium. Usually the mold on the cheese is either veined or spotted and it carries a very distinct smell. So, if you've ever seen cheese with some blue mold or blue veins on the counter, they haven't gone bad. In fact, this means that the blue cheese has been treated in a way where it was injected with spores prior to the curding process.
If you've never tried blue cheese before, you should. You can enjoy blue cheese by itself, or as a spread or in a dressing or in creamy sauces. Although, the taste profile of blue cheese is generally quite sharp and most of the times salty. Ordinarily, one combines blue cheese with a sweeter element like honey to balances out the rich and distinct flavours. When this is done, blue cheese is perfect!
How is blue cheese made?
The production of most blue cheeses involves eight steps. Check them out:
Acidification of the milk to change lactose into lactic acid. This is done by adding a thick starter culture, which will make the mild turn from liquid to solid.
Coagulation to further solidify the milk. Here, rennet (a mix of rennin from the lining of the cow's stomach) is added into the milk.
Curdling process beings. The thicker curds are cut to release the liquid as well as whey. The smaller you cut the curds, the thicker and more solid the blue cheese will become.
Salting process. You add salt to flavour the cheese as well as to preserve it so it doesn't spoil.
Mold is added into the curds as this stage to give the blue cheese its blue veins.
Forming process. You form the cheese into your desired shape. In addition, weights are used to press out any remaining liquid.
Needling process. This means the wheel of the cheese is pierced with a needle to allow air to enter through the small holes. This encourages the formation of the blue veins.
Ripening process. The cheese ages in a temperature and humidity-controlled room where it can mature well.
And this is how blue cheese is made!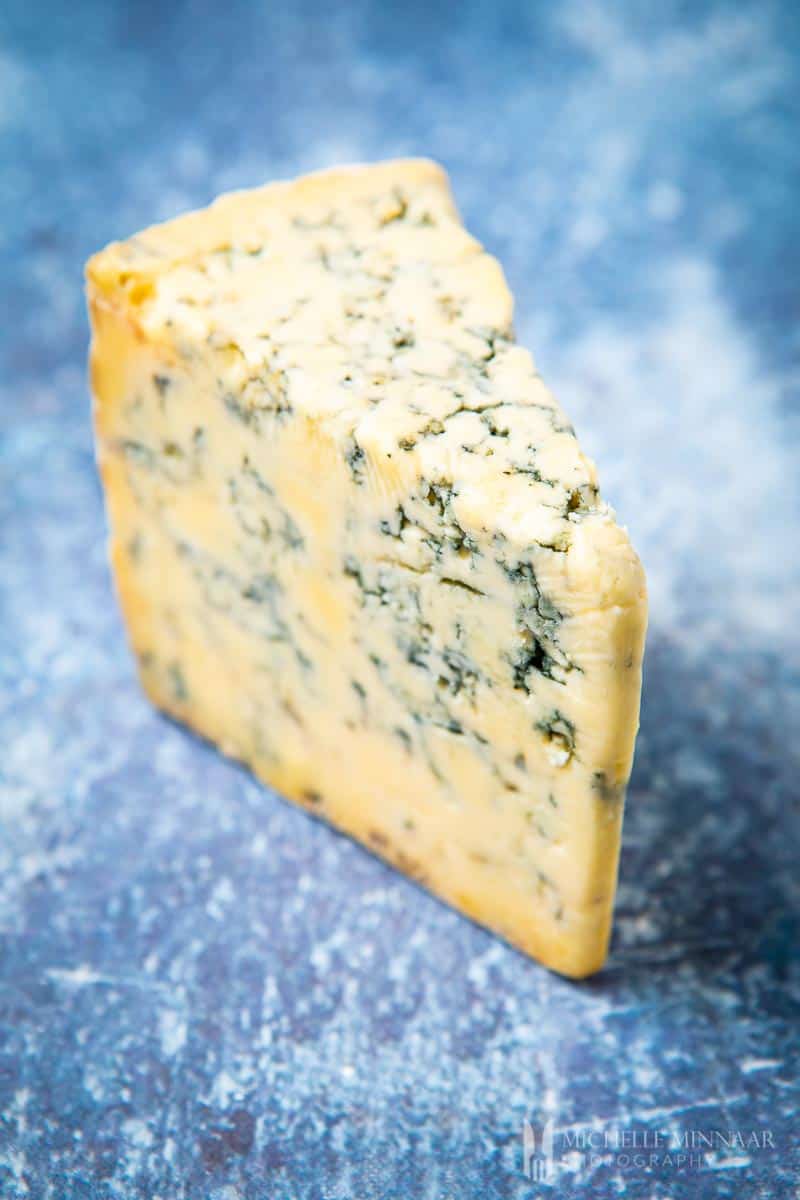 History of blue cheese
Apparently, the discovery of blue cheese was a total accident. According to legend, the earliest type of blue cheese which was invented was the Roquefort cheese.
A boy left his meal unfinished in a cave. When he retoured to that same cave, he found moldy structures on his leftover cheese.
Nevertheless, Gorgonzola also plays a key role in blue cheese history. In fact, Gorgonzola is one of the oldest cheeses which has been around since the 9th century.
Some historians suggest, that gorgonzola was the cheese enjoyed throughout the Roman empire. However, it didn't have blue veins until the 11th century.
Other types of cheese such as Stilton were discovered later in the 18th century. In addition, some cheeses like this Danablu as well as the Cambozola was only introduced in the 20th century.
European blue cheeses
Did you know that some blue cheeses in Europe have a protected designation of origin status, otherwise known as PDO? This means that the blue cheese can only be produced and made in a particular region with certain standards and quality measures. Some of these cheeses include:
What Type of Blue Cheese?
Once you enter the world of cheese, much like wine, you'll be swept away in the wide range of flavours and rich history this facet of the food industry has to offer. What makes blue cheese blue is a blue-green mould Penicilliom Roqueforti.
The flavour of the cheese depends heavily on the animal's diet, whether its milk has been pasteurised, the kind of starter and cultures used and the length of time and conditions under which it's stored. Did you know that Roquefort is stored in caves and Stilton in cellars?
Gorgonzola Piccante is the best option for sauces because of its perfect balance of sweetness and heat. Another great alternative is Bleu de Causses for a slightly saltier sharpness that lends itself magnificently to sauces.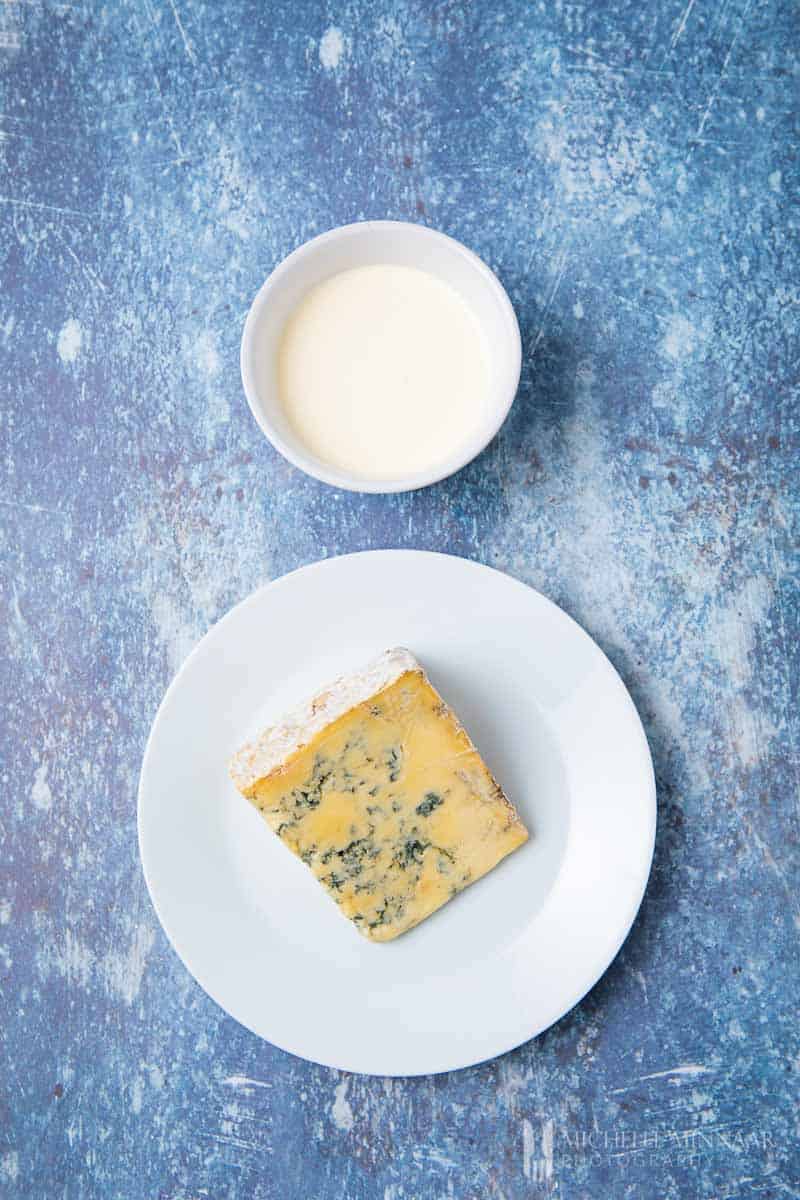 Safety Note
Because of its nature it's difficult to tell when blue cheese has gone bad. If the white parts have turned yellow and the blue parts green, has fuzzy mould on it or smells of ammonia, throw it away immediately.
It might grow legs and crawl in your bed while you're sleeping. Okay, not really.
Blue Cheese & Special Diets
Chances are that if you're planning on enjoying some blue cheese sauce you're not on a calorie restricted diet. You can make it slightly less calorific by using single cream or crème fraiche instead of double/heavy cream.
Special diet-wise the sauce is naturally vegetarian and gluten free. Soft and mould ripened cheeses are best avoided by pregnant ladies.
Psst, when my boy was 6 months old and started weaning I gave him some broccoli and stilton puree. He loved it!
Keto blue cheese sauce
If you are wanting to make a low-carb blue cheese sauce, it's actually not that difficult. Generally speaking, blue cheese sauce is rich and creamy, and shouldn't be on the menu for keto diets.
However, you can tweak this blue cheese sauce recipe to make it keto-friendly. Instead of the double cream, add sour cream, mayonnaise and garlic powder.
Mix together and voila – instead of the thick blue cheese sauce you have a light blue cheese sauce dressing.
Pairing Wine with Blue Cheese
When food and wine matching, we usually follow the rule of balancing and complimenting flavours and textures, however blue cheese is one of the exceptions.
The classic pairing of Port and Stilton works due to the fact that we have polar opposites at play; sweet, luscious wine and salty, piquant cheese.
For this recipe Port would be too overpowering but a Cabernet Sauvignon-heavy Bordeaux wine will be perfect. Château Les Ormes Saint-Julien 2008 is a wine packed full of black fruit and spice.
The tannins are grippy making it an ideal match to steak, especially when cooked medium-rare. The richness on the palate and slightly sweet black cherry, blackberry and blackcurrant fruit softens the piquancy of the cheese and everything feels smooth and creamy in the mouth.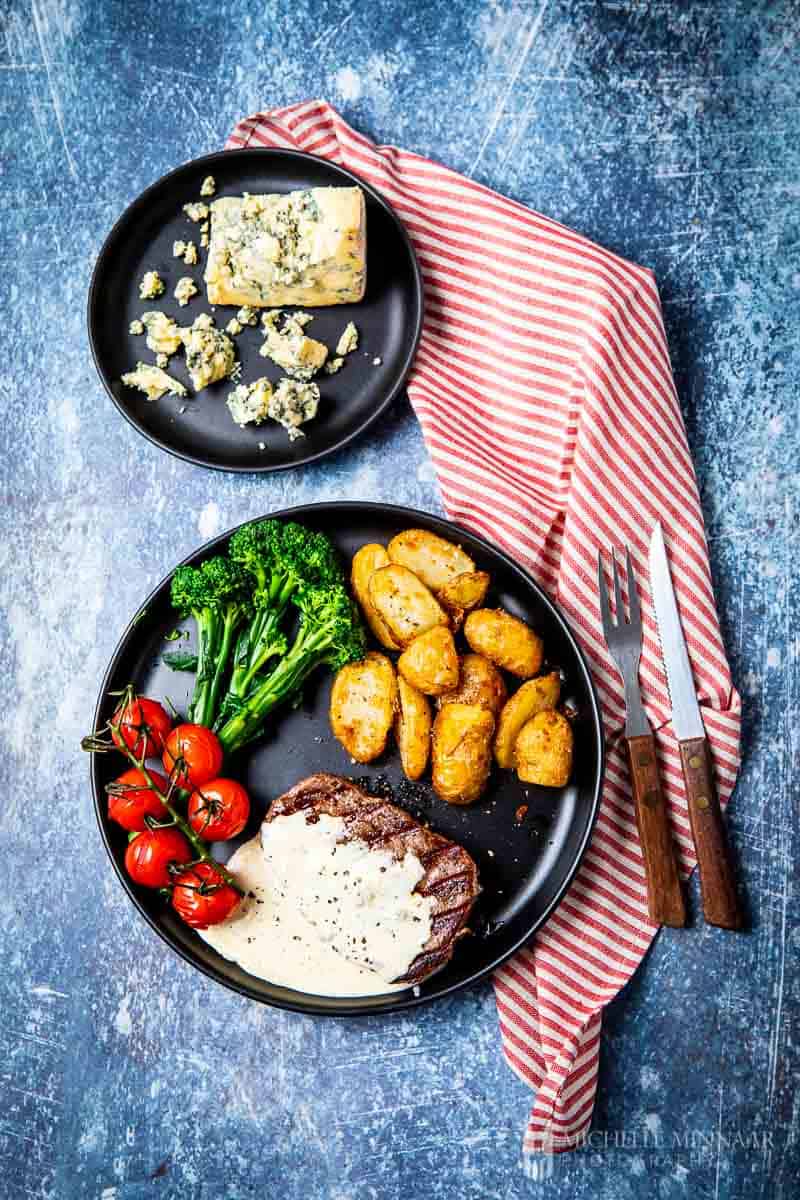 Blue Cheese Sauce Recipe Variation
If you'd like to lend some more depth to your sauce such as a bit of alcohol, first melt a bit of butter and fry some sliced onions or finely chopped shallots until softened.
Turn up the heat. Add a splash of brandy, vodka or Jack Daniels Whiskey and let it sizzle for a minute then add the cream and shortly afterwards the cream and you're done!
How to store blue cheese
Blue cheese stores generally well in the fridge. However to avoid the distinct smell of blue cheese in particular spreading around in your fridge, you are going to have to get a cheese container. These have helped me so much when it comes to not stinking up my fridge and my place. Check these out:
What Can You Serve Blue Cheese With?
Beef
Any cut of steak, such as prime rib, fillet/tenderloin and rib-eye steak, works beautifully. Veal, hamburgers or meatballs will work great with blue cheese.
There a classic dish created by the French, called Steak au Roquefort and Spain had its own version using Queso de Cabrales.
Chicken
Any cut of chicken will benefit and Buffalo Chicken Wings is an amazing option. Adding some pear to a dish will make it fun and unusual.
Pork
Pork chops or fillet/tenderloin. Don't forget the pears!
Vegetables
Blue cheese sauce will spruce up any green vegetable that has been boiled, steamed or roasted. Broccoli, cabbage, kale and asparagus come to mind. Cauliflower is a possibility.
Butternut squash and pumpkin work well with Gorgonzola too. A bowl of blue cheese sauce with potato chips/fries make an indulgent comfort food meal.
Mushrooms can be added to the sauce as you're cooking it. If you're rolling in it, truffle and blue cheese is a match in heaven.
Pasta
Pasta mutes the flavour of blue cheese a bit and who could possibly resist that every inch of slithery pasta (pumpkin or spinach ravioli, gnocchi) is covered by this decadent sauce?
Seafood
Because blue cheese has such a big flavour it's better to steer clear of it when it comes to seafood but there are recipes out there that uses blue cheese sauce with tuna, escargot, mussels, salmon and halibut.
How to serve blue cheese
Blue cheese alone should be served on a cheese platter. If you haven't got the essentials for serving cheese, then you desperately need to get these now! Otherwise, eating and serving cheese will not be as enjoyable, and might I add tasteful. Here are the essentials you need: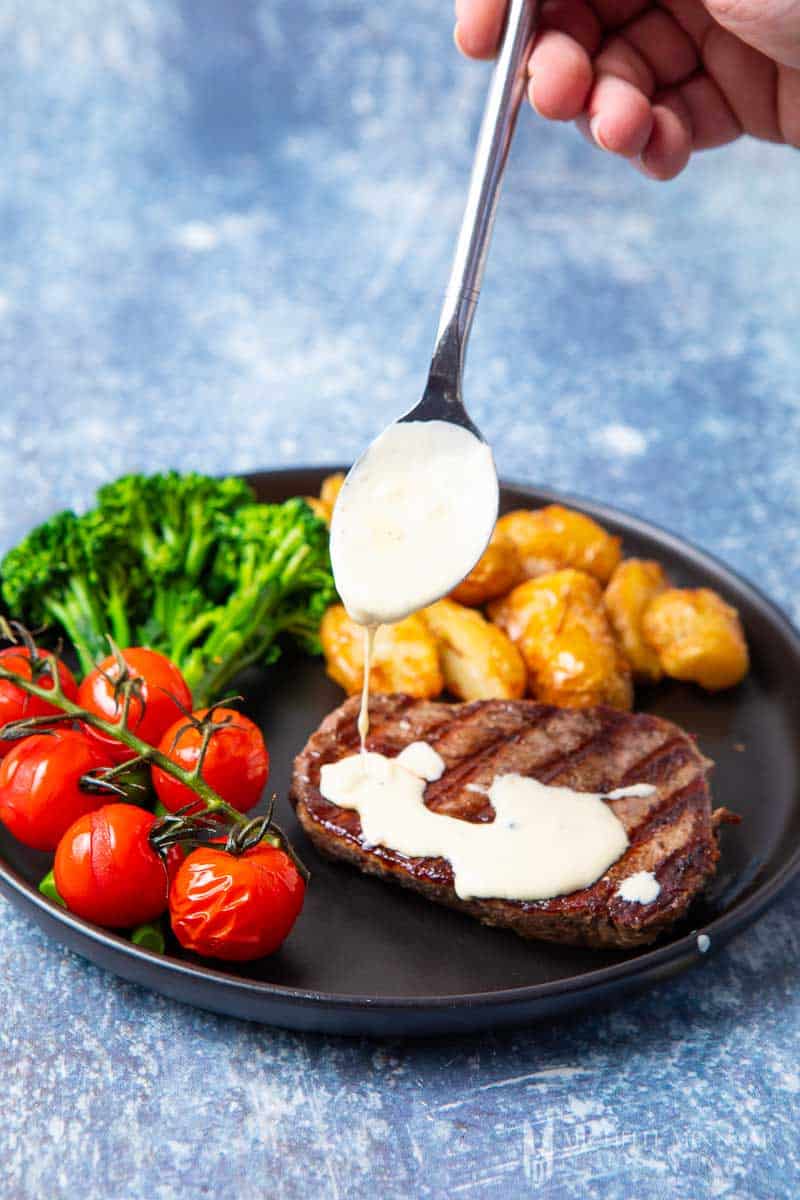 Herbs that Match with Blue Cheese
Preferably add some crushed garlic with one of the following: rosemary, thyme, oregano, sage, chives and Italian (flat-leaf) parsley. The last two herbs are best added at the end of cooking.
Other Blue Cheese Recipes You Might Enjoy
Creamy Mushroom & Sherry Sauce is another delicious sauce that can be served with steak.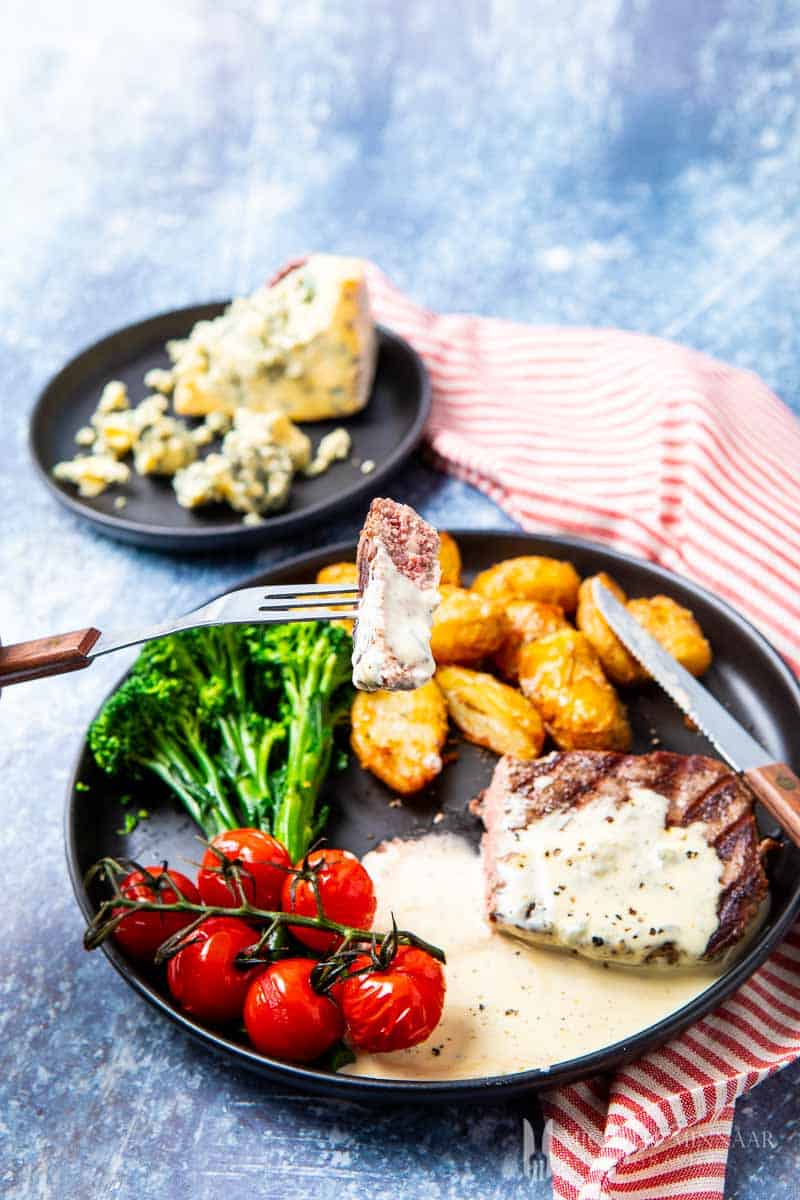 Print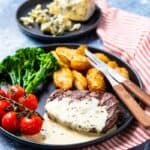 Blue Cheese Sauce
---
Description
Learn how to make blue cheese sauce in two easy steps. You can use dolcelatte, roquefort or stilton cheese, making it ideal for steak, burgers and pasta.
---
150

ml (5 fl oz) double [heavy] cream

30g

(

1 oz

) blue cheese
---
Instructions
Heat the cream gently in a pan.
Crumble the blue cheese into the cream and let it melt slowly while stirring.
When the sauce is smooth, serve immediately.
Notes
Serve with steak, pork, vegetables, chicken or pasta.
The following types of blue cheese will work well in this recipe: stilton, roquefort, cambozola, cashel blue, danish blue cheese, dolcelatte and gorgonzola.
Prep Time:

1 minutes

Cook Time:

3 minutes

Category:

Sauce

Method:

Pan Fry

Cuisine:

French
Keywords: blue cheese sauce recipe, how to make blue cheese sauce, steak sauce, dolcelatte sauce, roquefort sauce, stilton sauce
save the recipe to your Pinterest board