Honey roast parsnips is a fantastic recipe that will tantalise your taste buds. The recipe calls for honey which gives the parsnips a delicious flavour. The parsnips are roasted to perfection and make a great side dish for any meal.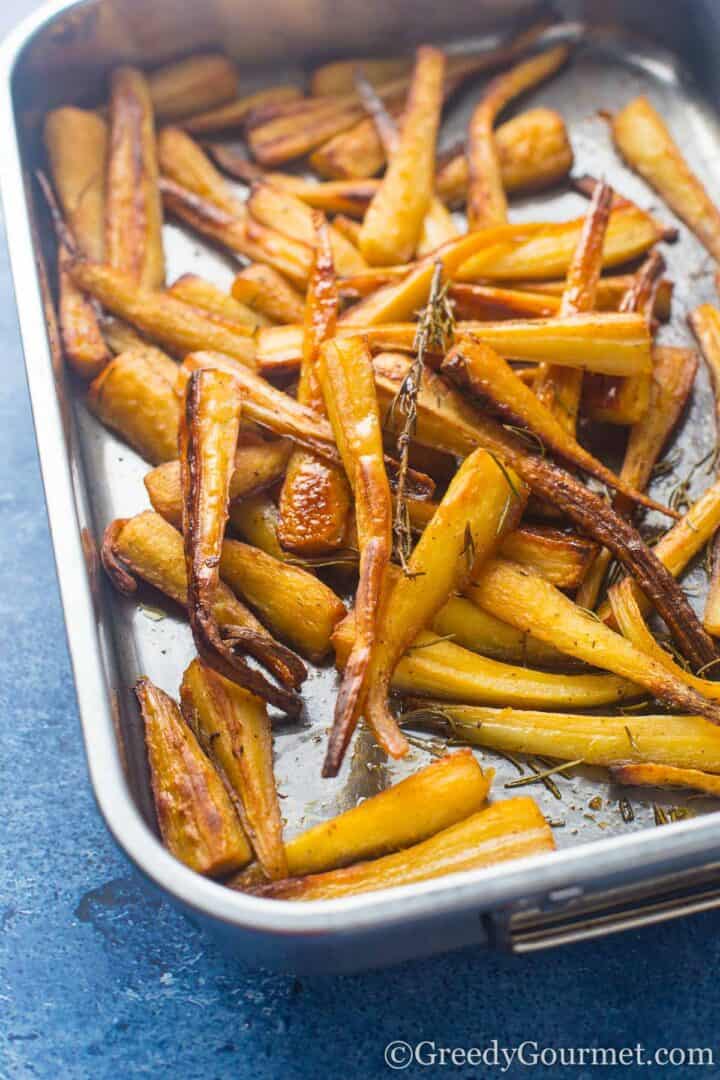 If you're looking for a delicious and easy side dish, look no further than roasted parsnips.
These roasted parsnips are dipped in honey and herbs for a sweet and savoury flavour that everyone will love. Plus, this recipe is simple enough for even the novice cook to follow.
This was inspired by my other recipe on this site, and It's a great match for this amazing dish recipe or any roast dinner.
Roast parsnips are a great side dish for any occasion. I love them on Thanksgiving, Valentine's Day and will also look perfect on your christmas dinner table.
Why you'll love this recipe
This recipe is so easy to follow, and the result? A delicious side dish that everyone will enjoy. The parsnips are roasted until they're tender-crisp before being coated in a sweet honey glaze for an added boost of flavour. This makes this quick & simple preparation perfect as part of your weekend meal plan.
If you're looking for something different to serve as your next meal, give it a go - I promise that everyone will love roast parsnips, and I'm sure it will become your family's favourite way to enjoy them (especially those who don't usually eat veggies).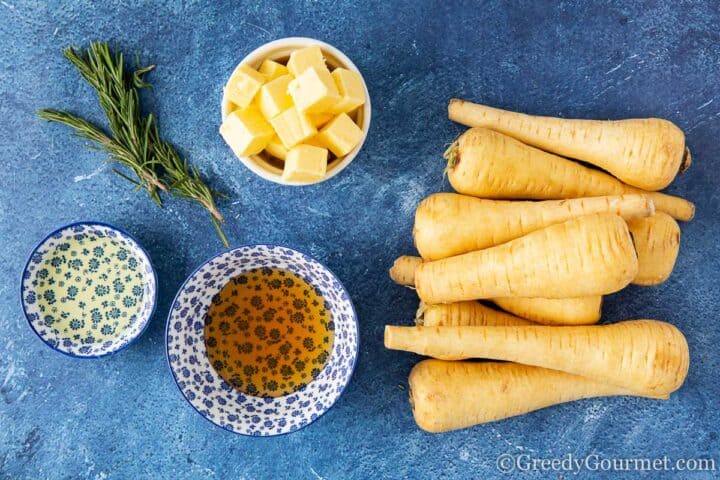 Equipment needed to make this recipe
The pans that you will need can be found at most department stores. I recommend using a large pan to coat the parsnips in a honey glaze then roasting them.
Be sure to use a good quality spatula as well, as you will need it to flip the parsnips halfway through roasting.
How to make this recipe
Parboil the parsnips in salted water.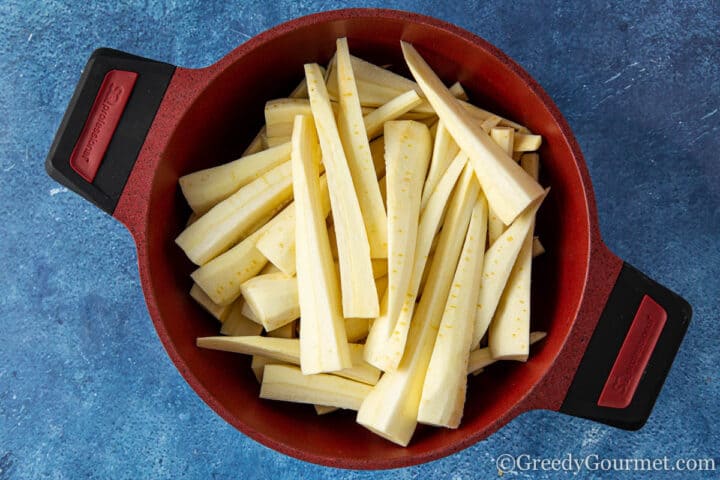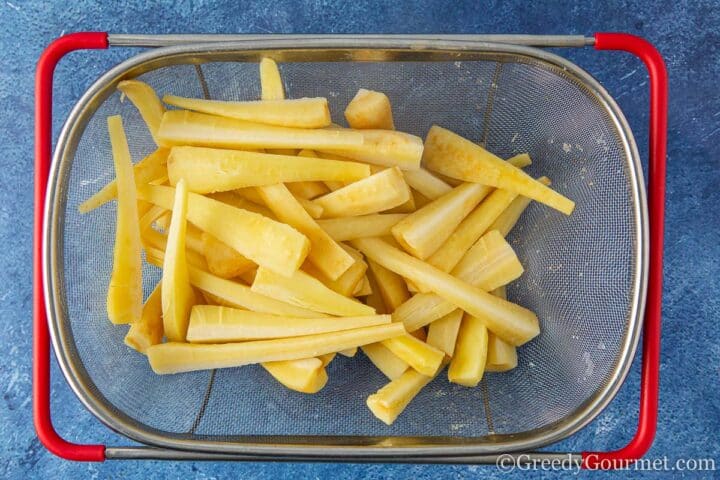 Cover the parsnips with melted butter and oil. Add some rosemary.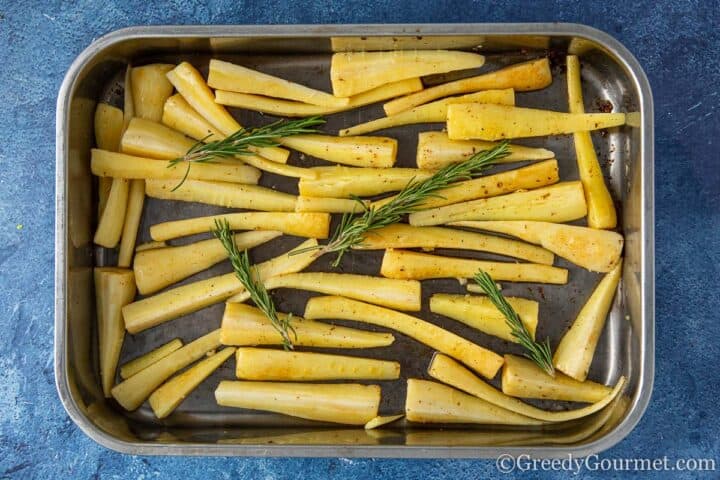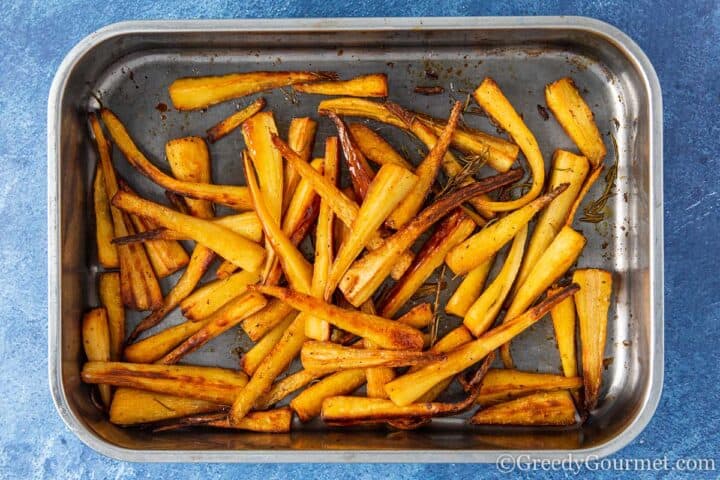 Towards the end of cooking, add a drizzle of honey. Cook until crispy and golden.
Top Tip
If you don't have an oven, you can try using a stovetop. Just cook them over medium-high heat for about 10 minutes, stirring occasionally.
What to serve with your honey roast parsnips
Honey roast parsnips are a great side dish to any meal. I love to serve them with roasted chicken or grilled steak. They would also go well with fish or pork chops.
If you're looking for a vegetarian option, these would be deliciously served with quinoa or rice.
Sides
Maybe you want another side dish, I got you. Round out your menu with these dishes. that will complement your main course perfectly.
Desserts
Desserts are always the perfect way to end any meal, and these recipes are no exception.
Cocktails
What is better than a delicious meal? A cocktail, of course! Here are some tasty options that will go perfectly with your dish.
Popular substitutions for this recipe
This recipe is so versatile! It can be used as a base for many different dishes, but it's also easy to change up the ingredients depending on your needs.
You can substitute parsnips with other root vegetables such as carrots, beets, turnips or even combine carrots and parsnips.
If you want tweak the sweetness and sugar in the dish, simply swap out some of these suggested items with something else like maple syrup, brown sugar, or agave nectar instead of honey.
If you're looking for an even healthier option, you can swap out the honey for a sugar-free alternative or use less olive oil. Either way, your dish will still be delicious.
Variations to this recipe
If you want to take your cooking skills up another level, here are some fun ideas to change up this dish:
Use a different type of honey, such as clover, orange blossom, or lavender.
Substitute the olive oil for another type of oil such as avocado or coconut.
Add some spice by adding a teaspoon of cayenne pepper, or a pinch of chilli flakes.
Experiment with different herbs such as fresh thyme or sage.
Try roasting the parsnips with some chopped bacon or pancetta for extra flavour.
This is one of those recipes that you can change up depending on your mood or what ingredients are available.
Top Tip
Make sure that the parsnips are coated in the honey glaze. This will help them to cook evenly and give them a delicious flavour.
How do I find the best parsnips?
If you're looking for the best parsnips, look for ones that are firm and have a uniform shape. Avoid parsnips that are limp or have any blemishes.
How do I store leftovers?
Leftover roast parsnips can be stored in an airtight container in the fridge and freeze them for up to 3 days. prepared parsnips are a handy ingredient to have on hand - they can be used in so many ways.
How do I reheat leftovers?
Leftover roasted parsnips can be reheated in the oven at 400 degrees Fahrenheit for about 10 minutes.
Can I make this recipe ahead of time?
Yes, this recipe can be made ahead of time. Simply roast the parsnips and store them in an airtight container in the fridge until you're ready to serve. Heat them in the oven before serving.
Print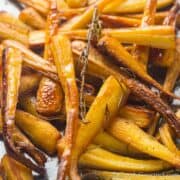 Honey Roast Parsnips
---
Author:

Michelle Minnaar

Total Time:

1 hour

Yield:

6

servings

1

x

Diet:

Vegetarian
Description
Honey Roasted Parsnips are simply parboiled and then cooked with butter, oil, rosemary and honey in stages to create a tasty dish. Best served as a side dish to roast meats.
---
1

kg

(2.2lbs) parsnips, peeled and quartered

56

g

(4 tbsp) butter

30

ml

(2 tbsp) vegetable oil

2

rosemary sprigs [optional]
salt and pepper, to taste

45

ml

(3 tbsp) honey
---
Instructions
Preheat the oven to 200°C / fan 180°C / 400°F / gas mark 6.
Place the parsnips in a pot of salted water. 
Bring to a boil then lower the heat to a simmering point and cook for 5 minutes. 
Drain the parsnips in a colander and let them steam dry for a few minutes. 
Place the butter and vegetable in a large roasting tin and place it in the oven for 5 minutes or until the butter is melted.
Toss the parsnips, along with the rosemary, in the butter and oil and arrange them in a single layer. Season well. 
Place in the oven and roast for 20 minutes. 
Remove from the oven, drizzle with honey, toss again and roast for another 20 minutes or until the parsnips are soft, golden and have crispy edges.
Serve immediately. Enjoy!
Notes
Rosemary is quite pungent, hence not many sprigs being used. You're welcome to use thyme sprigs instead. About 5 sprigs will do but feel free to experiment.
Prep Time:

15 minutes

Cook Time:

45 minutes

Category:

Side Dish

Method:

Roast

Cuisine:

British
Keywords: honey roast parsnips, roasted parsnips, parsnip recipe, parsnip side dish, christmas side dish, christmas parsnips, roast dinner side dish