Classic mashed potatoes elevated with the addition of delicious roasted garlic. One taste of this flavourful side dish will have you wanting more!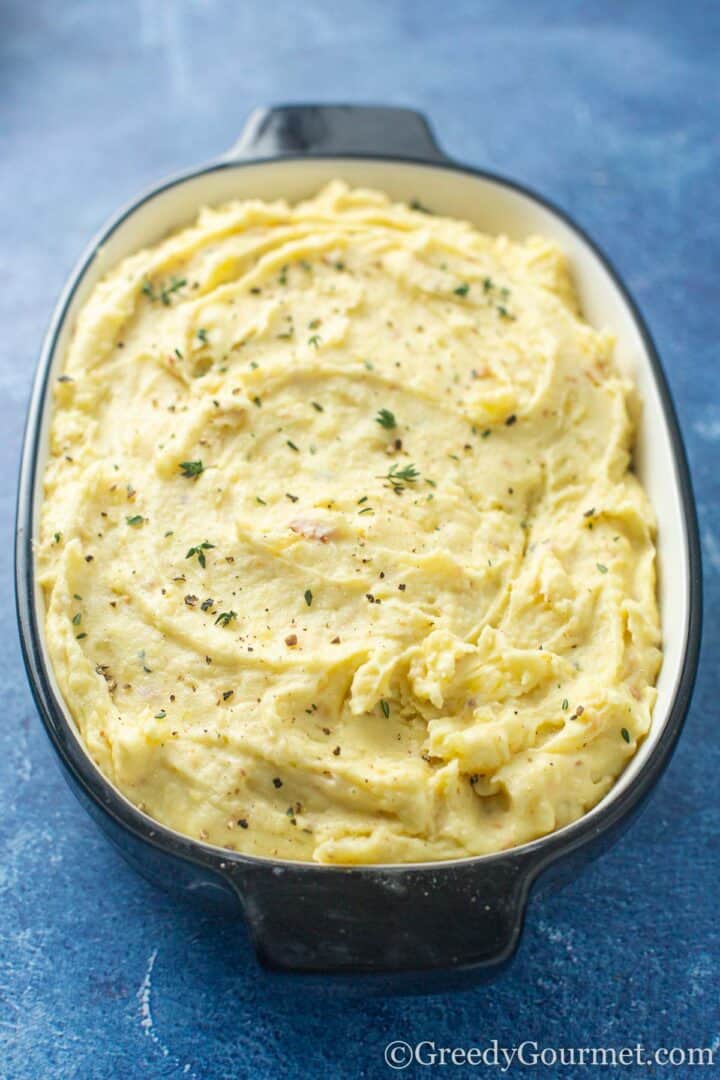 After making my sweet potato mash recipe, I thought I could make a mashed potato recipe that was just as creamy and rich.
By cooking the potatoes in double cream and milk, these mashed potatoes are simply exquisite. With the addition of roasted garlic, these mashed potatoes are out of this world!
Give these roasted garlic mashed potatoes a try and you'll never go back to plain mashed potatoes again!
Why You'll Love This Recipe
Creamy and flavourful
Easy to find ingredients and cooking tools
Pairs well with almost any main dish
Great for the holiday season
Can be made ahead of time
Special Equipment Needed To Make This Recipe
There is no need for fancy equipment in this recipe. So, anyone can make it without difficulty.
Potato masher - this tool helps mash the potatoes into a smooth consistency. If you don't have a potato masher, then you can use a fork, but the mashed potatoes may not be as smooth.
Feel free to use a potato ricer instead as well. A potato ricer will produce extra creamy garlic mashed potatoes.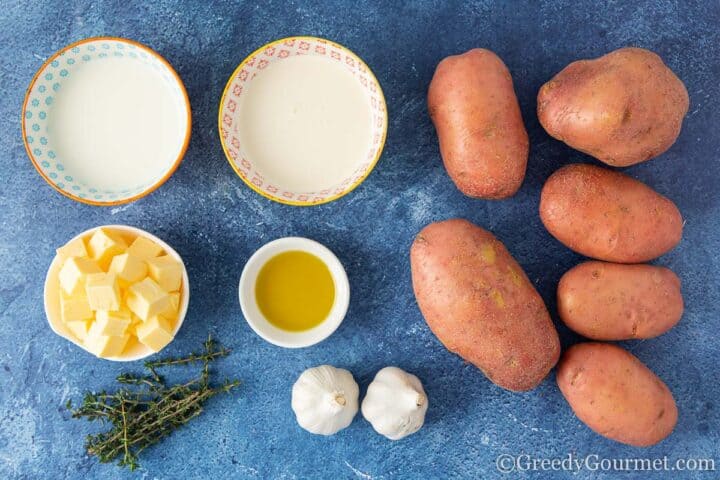 How to make this recipe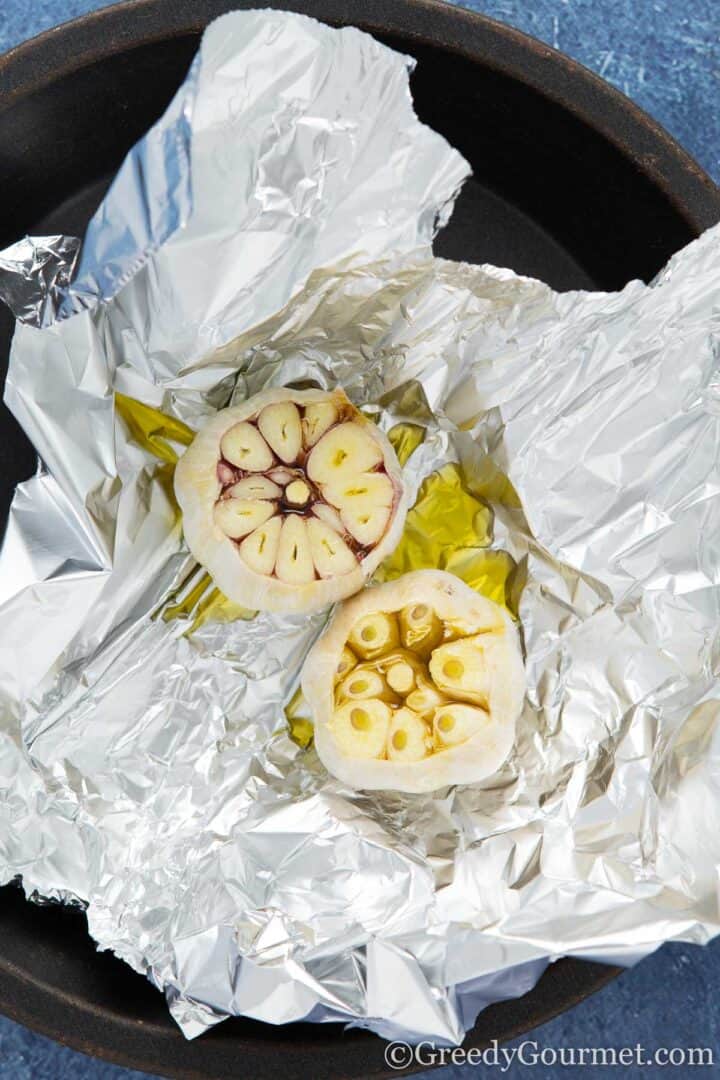 Top two garlic bulbs and drizzle with oil. Wrap in foil and bake for 40 minutes.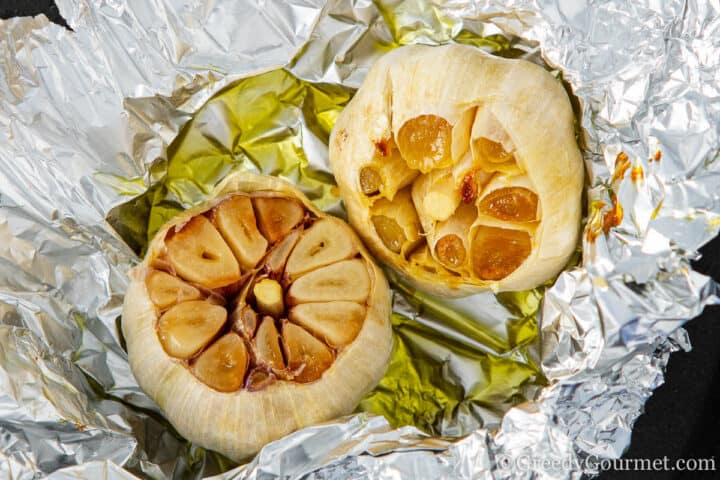 Squeeze the squishy garlic flesh out of the skins and set aside.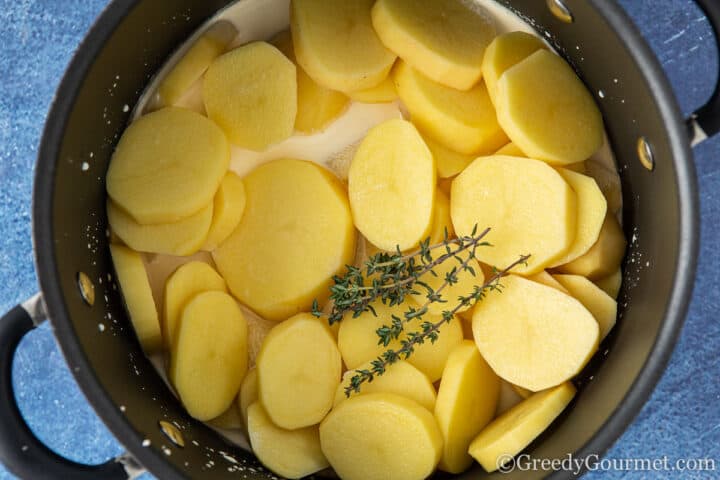 Boil the potatoes with milk, cream, thyme and salt.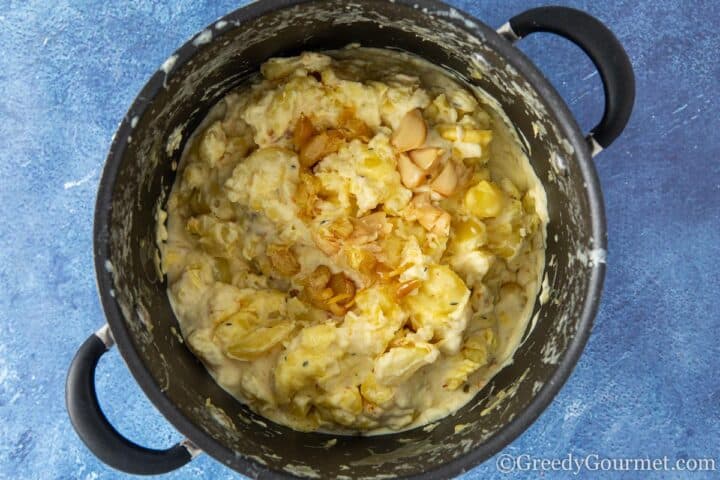 Once cooked, add the garlic and mash everything with butter and serve.
Variations To This Recipe
Low fat: cook the potatoes in salted water or stock. The garlic mashed potatoes may be less rich, but they'll still be delicious.
Deluxe: add in chopped chives, fresh herbs, or caramelized onions for a boost of flavor. For a bit of meat, add in some chopped up bacon!
Tangy: mix in some cubes of cream cheese, or sour cream, to add a slight tang to the roasted garlic mashed potatoes. Soften the cream cheese before adding it in.
Spicy: sprinkle in crushed red peppers and paprika to the roasted garlic mashed potatoes for a bit of heat.
Extra garlic: do you really love garlic? Add in more roasted garlic cloves! Just note you will have to increase the amount of olive oil and may need another garlic head in this recipe.
Popular Substitutions For This Recipe
Vegan: replace the dairy products with vegan alternatives. Choose whichever brand or plant-based milk you like, but it's best to use unflavored and unsweetened.
Milk: if you want to make the potatoes low-fat, or with less dairy, then cook the potatoes in water or chicken stock.
Garlic: Feel free to use less roasted garlic cloves in the recipe for a weaker garlic flavor. Skip adding a roasted garlic head if you don't like garlic.
Potatoes: Yukon gold potatoes are the best to use in this recipe, but you can use russet potatoes as well. Switch them out for sweet potatoes for a healthier version. Before you boil potatoes, you can use peeled potatoes or leave the skin on.
Double/Heavy cream: if you cannot find double cream, heavy cream or half and half work just as well. But use heavy cream that is not highly pasteurized.
Top Tip
Cut the potatoes into large pieces before boiling. Cutting them too small lets in more liquid, so the garlic mashed potatoes won't be as flavourful.
What to Serve with Your Roasted Garlic Mashed Potatoes
Main dishes
Roasted garlic mashed potatoes can pair with almost anything, so they are great for holiday dinners or a potluck!
Here are some lovely main dishes that pair well with these perfect mashed potatoes.
Side dishes
You can't just have one side for your holiday meal! Here are some other easy side dishes that are perfect for any special occasion.
Apple Cranberry Sauce: we all love how much butter is in the potatoes, but a whole head of garlic can be overwhelming. Break up the richness with this tart cranberry sauce.
Turkey Giblet Gravy: the only way to make these creamy mashed potatoes better is with a drizzle of gravy! This simple stove top recipe makes the perfect garnish at any dinner table.
Maple Glazed Carrots: these sweet carrots are the perfect comfort food, but are actually quite healthy. It's a great way to feel less guilty during the holidays!
Desserts
Gooseberry Fool: have a bite of a refreshing gooseberry fool to cleanse the palette.
Orange Tart: take a break from the rich, roast garlic flavors of the mashed potatoes with a tangy and sweet orange tart.
Eggnog Creme Brulee: keep the holiday spirit going with a christmas-inspired eggnog creme brulee.
Cocktails
Elderberry Gin: A refreshing drink that helps balance the buttery roasted garlic mashed potatoes.
Christmas Gin Cocktail: this christmas cocktail is a delicious blend of tart and sweet flavors.
Rumchata Eggnog: a creamy cocktail that has a little bit of kick from cinnamon. It truly tastes like Christmas in a cup!
Top Tip
For the best garlic mashed potatoes, make sure your potatoes are hot during the whole process. Don't let them get cold before you mash potatoes. You won't get the same creamy texture if you let them get cold.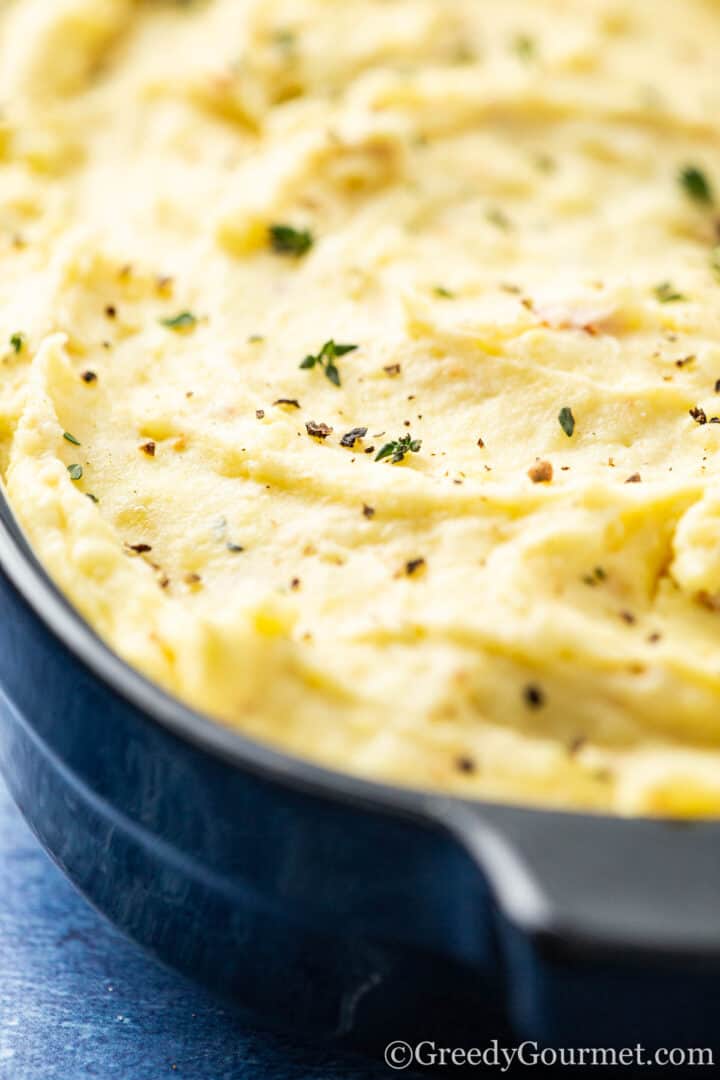 FAQ's
How do I store leftovers?
Let the mashed potatoes cool, then wrap the container in cling film. They will last in the fridge for 3 days. However, check the mashed potatoes before eating them. 
Since there is a lot of dairy in the recipe, make sure no mold has started to grow on the potatoes. Give them a smell as well. The expiration date can vary.
Can I Freeze This Recipe?
Yes, but keep in mind that if the potatoes are frozen for too long, the quality will go down. 
To freeze the garlic mashed potatoes, let the dish cool completely. Then place them inside a Ziploc bag, and try to get all the air out. Keep them in the freezer for a month at most.
How do I Thaw & Reheat This Dish?
To properly reheat mashed potatoes, do not use the microwave. If reheating frozen, allow the mashed potatoes to thaw overnight in the fridge first. 
Add the mashed potatoes into a pot or pan over medium heat. Pour in a bit of milk or butter to get some moisture back into the roasted garlic mashed potatoes. Stir constantly until hot and ready to eat.
Can this recipe be scaled?
Absolutely! This recipe can be double or tripled without issue. It's a great side dish to make for even the biggest family dinners!
Other Delicious Potato Recipes You'll Love
Marmite Roast Potatoes: classic roasted potatoes that explode with flavor from marmite. Switch it up by roasting garlic too, for some garlic flavor.
Rosemary Roast Potatoes: with the addition of olive oil and rosemary, these crispy potatoes have beautiful herbal notes.
Boulangere Potatoes: a simple potato recipe from France that will turn any meal into a memorable one.
Food Safety
Don't leave the food out at room temperature for too long as there are many dairy products used in the recipe.
Check the products expiration dates before adding them into the potatoes. Expired dairy will cause you and the family to get sick!
If storing leftover potatoes, check the mashed potatoes before heating them up. They may grow mold if left in the fridge too long.
Don't forget to come back and let me know how your recipe turned out!
Print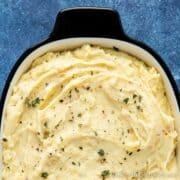 Roasted Garlic Mashed Potatoes
---
Author:

Michelle Minnaar

Total Time:

1 hour 20 minutes

Yield:

6

servings

1

x

Diet:

Vegetarian
Description
This Roasted Garlic Mashed Potatoes recipe comprise potatoes cooked with double cream, milk and roasted garlic to create this tasty dish. Best served with any kind of roast meat and greens on the side.
---
Roasted Garlic
1

garlic bulb

15

ml (1 tbsp) olive oil
Mashed Potatoes
1

kg (2.2lbs) potatoes, peeled and sliced

250

ml (1 cup) double cream

250

ml (1 cup) milk

2

thyme sprigs

6g

(

1 tsp

) salt

56g

(

4 tbsp

) butter
salt and pepper, to taste
---
Instructions
Roasted Garlic: Preheat the oven to 175°C / fan 155°C / 350°F / gas mark 3.
Slice the top of the garlic bulb off to expose the cloves. 
Place the garlic on a sheet of foil and drizzle with olive oil, then wrap it up and place it in the oven. 
Roast for 40 minutes or until the garlic is very soft and golden. Remove from the oven and set aside to cool.
Mashed Potatoes: Meanwhile, place the potatoes, cream, milk, thyme and salt in a large pot.
Bring to the boil and then lower the heat to reach a low simmering point. Cook for 10 minutes or until the potatoes are tender.
Remove the thyme sprigs then mash the potatoes. 
Squeeze the roasted garlic's innards onto the mashed potatoes. Don't let any skins fall in! 
Add the butter and give the potatoes another round of mashing, season to taste and serve immediately as part of a Thanksgiving or Christmas dinner. Enjoy!
Notes
Having a larger crowd over? You can easily double or triple this recipe!
This is quite a luxurious recipe. For a healthier version, boil the potatoes in water instead. Mash the potatoes with splashes of milk until the desired consistency is achieved. Don't forget to add the roasted garlic!
If you're vegan, you can easily substitute the recipe with vegan alternatives.
Prep Time:

20 minutes

Cook Time:

1 hour

Category:

Side Dish

Method:

Boil

Cuisine:

American
Keywords: roasted garlic mashed potatoes, best garlic mashed potatoes recipe, thanksgiving potato side dish, creamy mashed potato recipe