A terrifically tasty recipe that will please vegans, vegetarians and meat-lovers alike, buffalo cauliflower wings are crispy on the outside, tender on the outside and are about to make your day!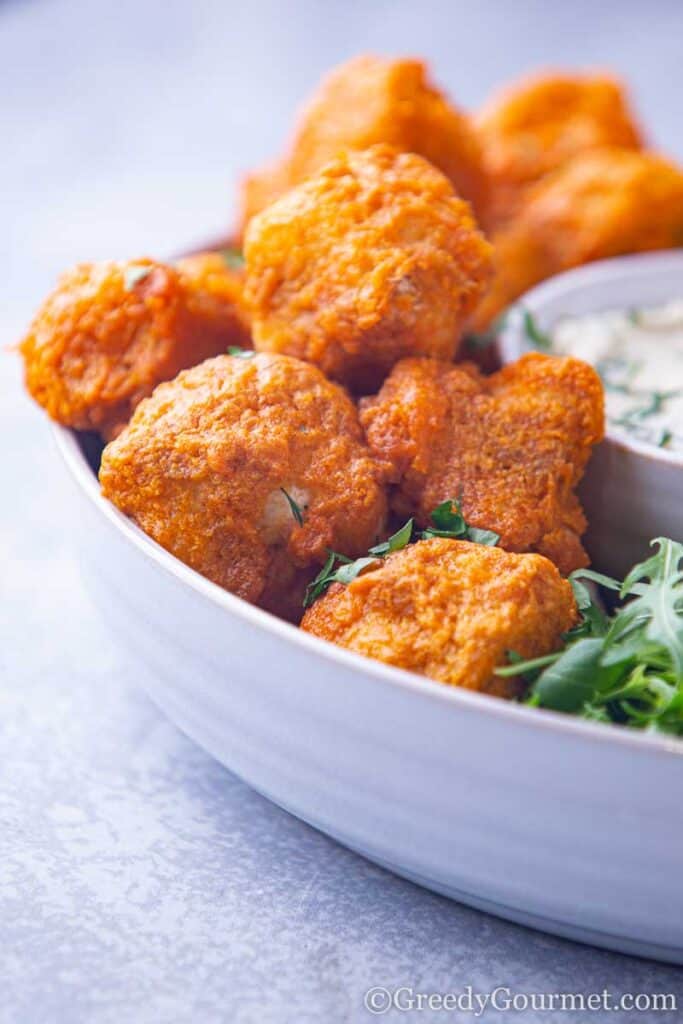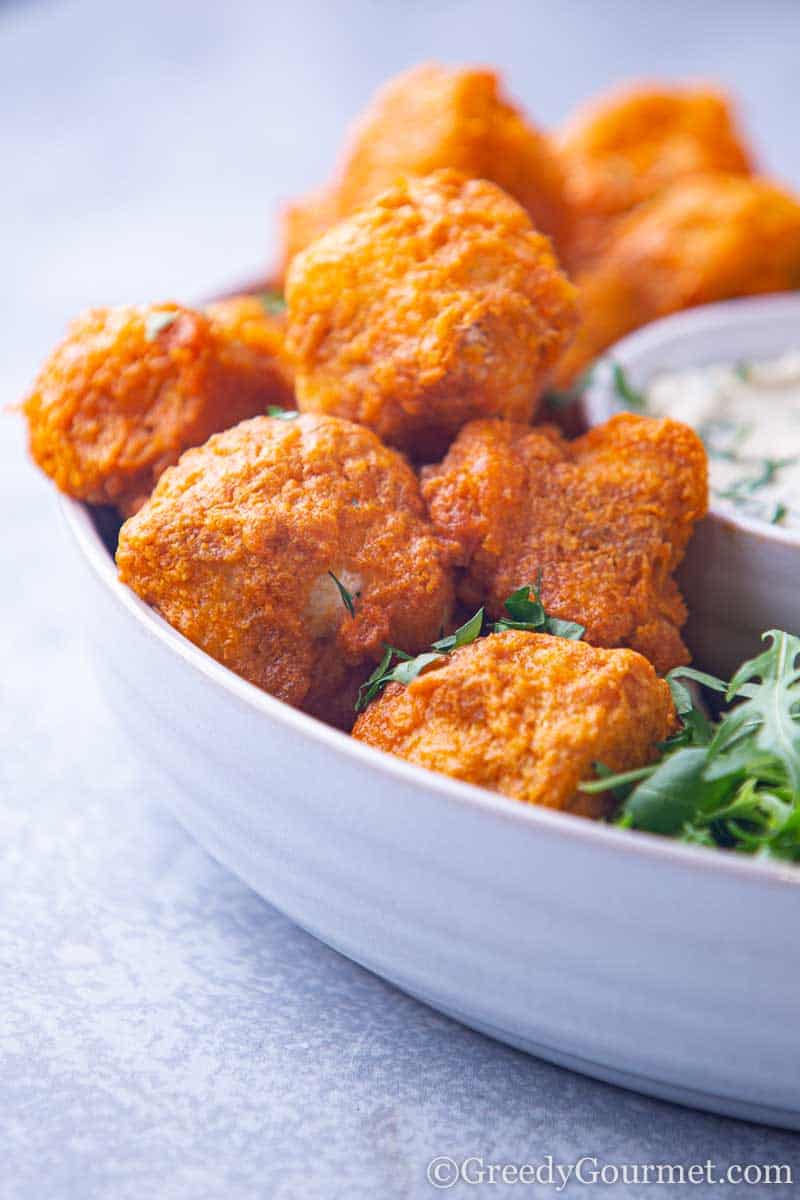 The perfect meat-free substitute for buffalo chicken wings, these little beauties show that indulgent food can be vegan-friendly. So, feast your eyes and these delectable buffalo cauliflower wings and let's get baking!
Products you need for this recipe
Here are some essential kitchen items and ingredients that you will need for this baked buffalo cauliflower wings recipe:
Baking tray – get yourself a baking tray to bake your cauliflower buffalo wings
Parchment paper – you'll also need a baking sheet on which to bake your buffalo wings
Mixing bowls – you'll need some mixing bowls to make your batter
Whisk – always have a whisk on hand in your kitchen
Frank's Red Hot Sauce – this hot sauce is explosive! It's the perfect thing to add to buffalo wings and these cauliflower buffalo wings are no exception
Plain flour – the base for your batter is plain flour
Garlic powder – an easy way to add an extra depth of taste to your batter
Onion powder – a very important ingredient, it's always good to have a stash of onion powder in your kitchen cupboards
Paprika – sweet or smoky, paprika brings that earthy flavour that really makes your taste buds tingle
Panko breadcrumbs – panko is next level… cook with these fantastic breadcrumbs for a light crunchy texture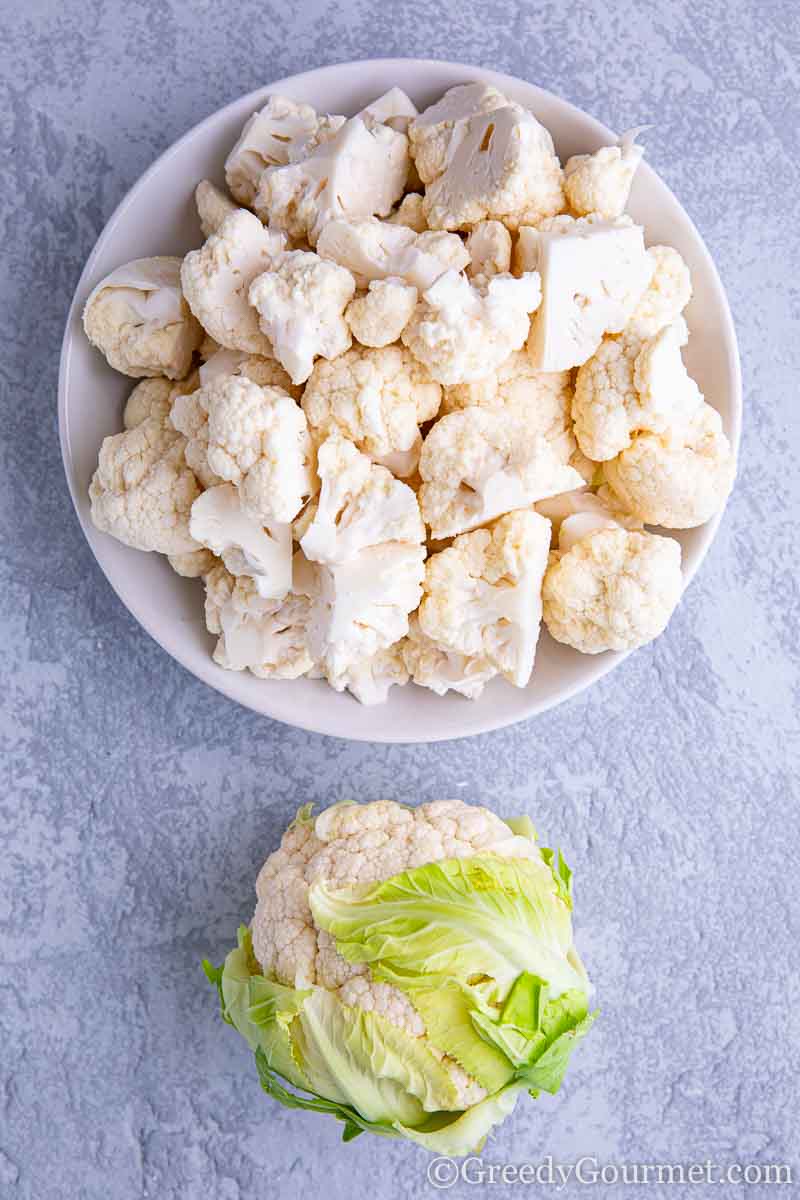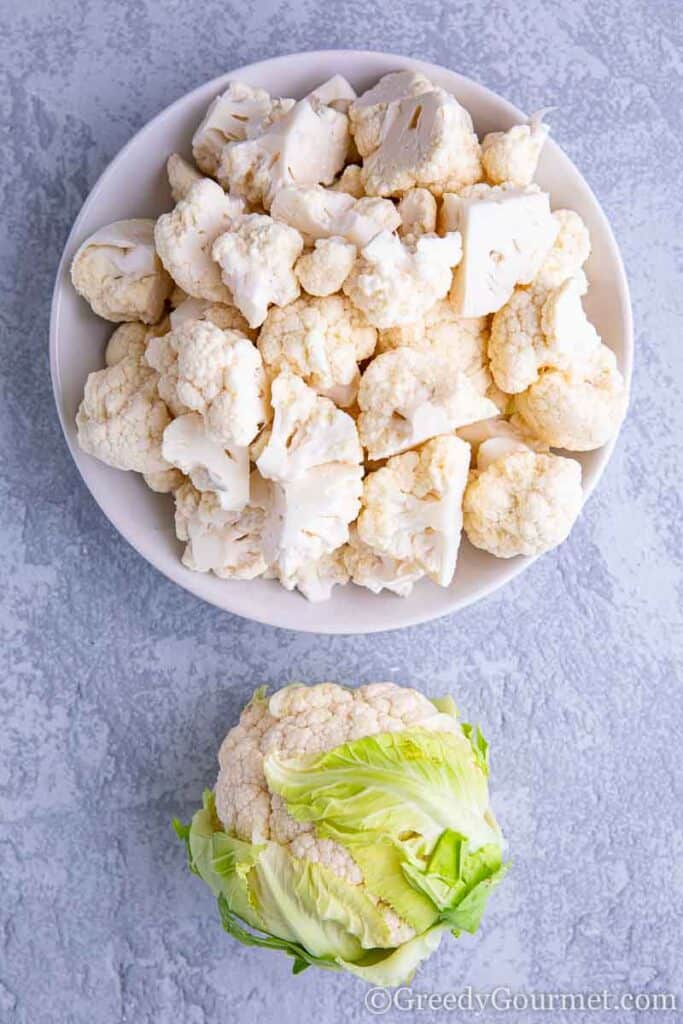 Buffalo cauliflower wings recipe
A quick, simple recipe that will please the whole family, buffalo cauliflower wings are simply sensational.
There's really nothing to it! Cauliflower covered in batter and coated in a lightly spiced breadcrumb mixture, then baked in the oven for 20 minutes.
Then comes more flavor! The cauliflower is tossed in a buttery hot sauce, returning to the oven for a final crisp-up. The result will make your tastebuds dance with delight.
We can even ramp things up a little bit with a secret little sauce I prepared earlier…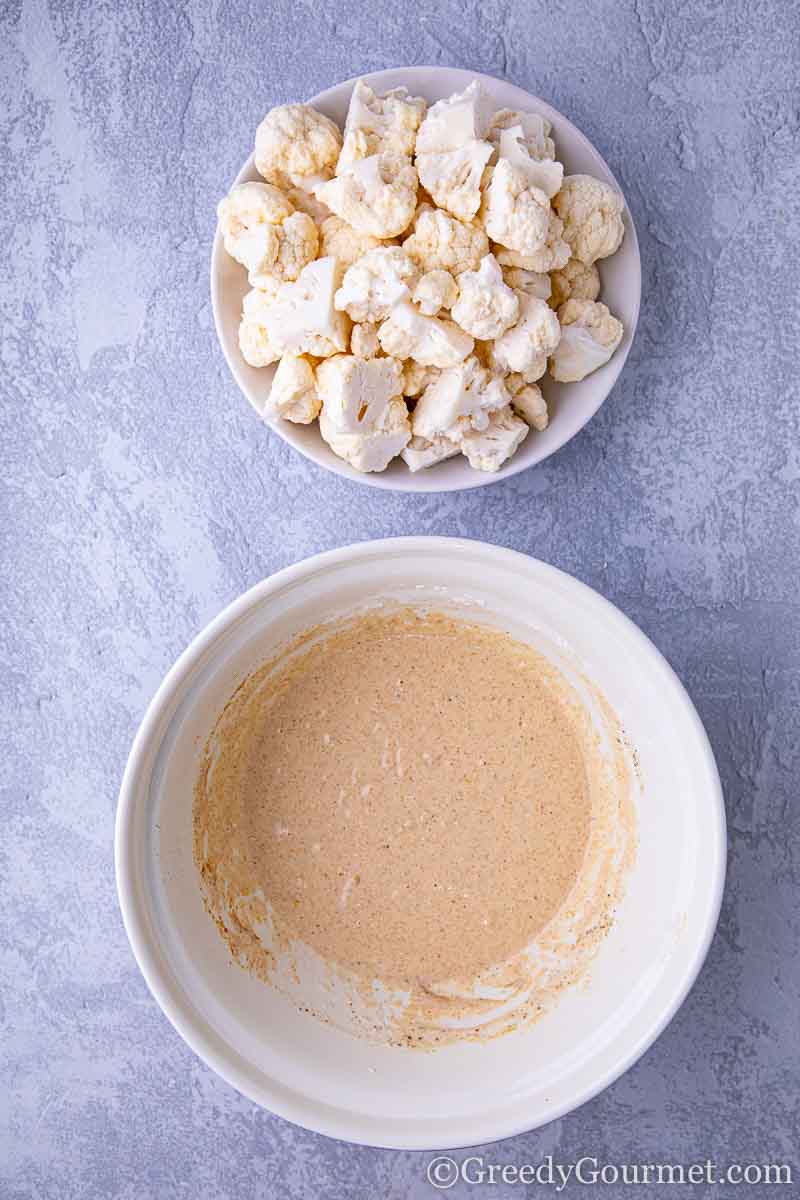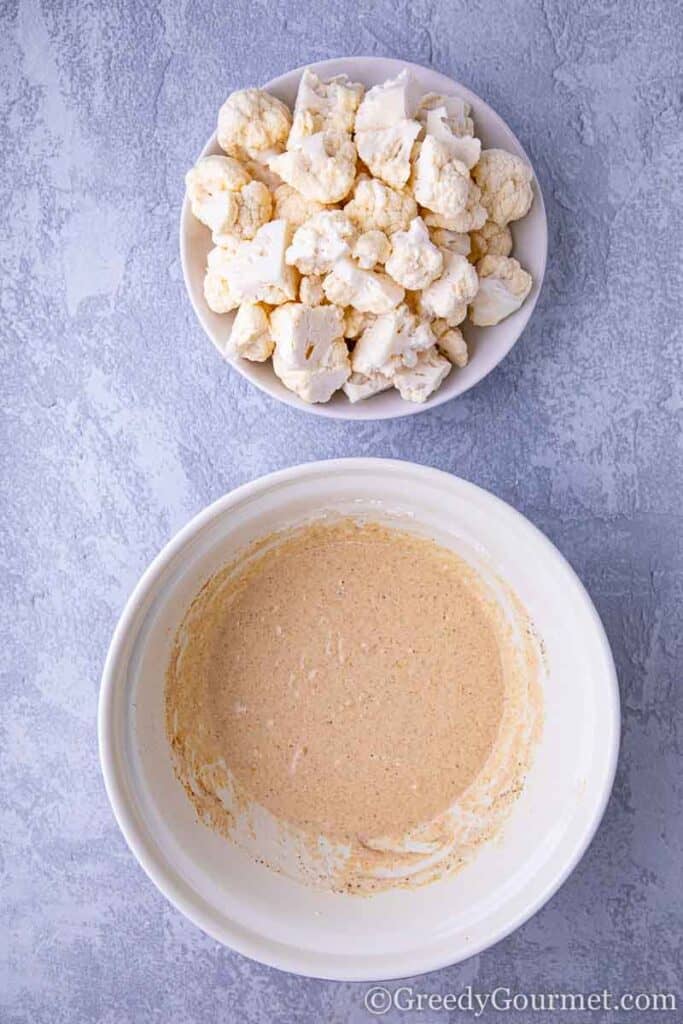 What sauce to serve with buffalo cauliflower wings
Ask any finger-lickin' meat fiend what they like best about eating buffalo chicken wings and they'll invariably say the buffalo sauce, or "ranch" sauce.
Well, if you're a vegan foodie, you won't be missing out.
The very best sauce to serve with these irresistible buffalo cauliflower wings can't be bought from a store. Oh, no… there's only one place to get the perfect vegan buffalo sauce.
Right here. Here's a recipe I prepared earlier – my Vegan ranch sauce – which is tailor-made to tantalize your taste buds in tandem with this buffalo cauliflower wings recipe.
Buffalo sauce, vegan style, doesn't get better than the homemade kind.
So, whether you're vegan, keto, paleo, gluten-free or cutting the carbs, these two recipes are a knockout combo that will become a regular part of your kitchen repertoire.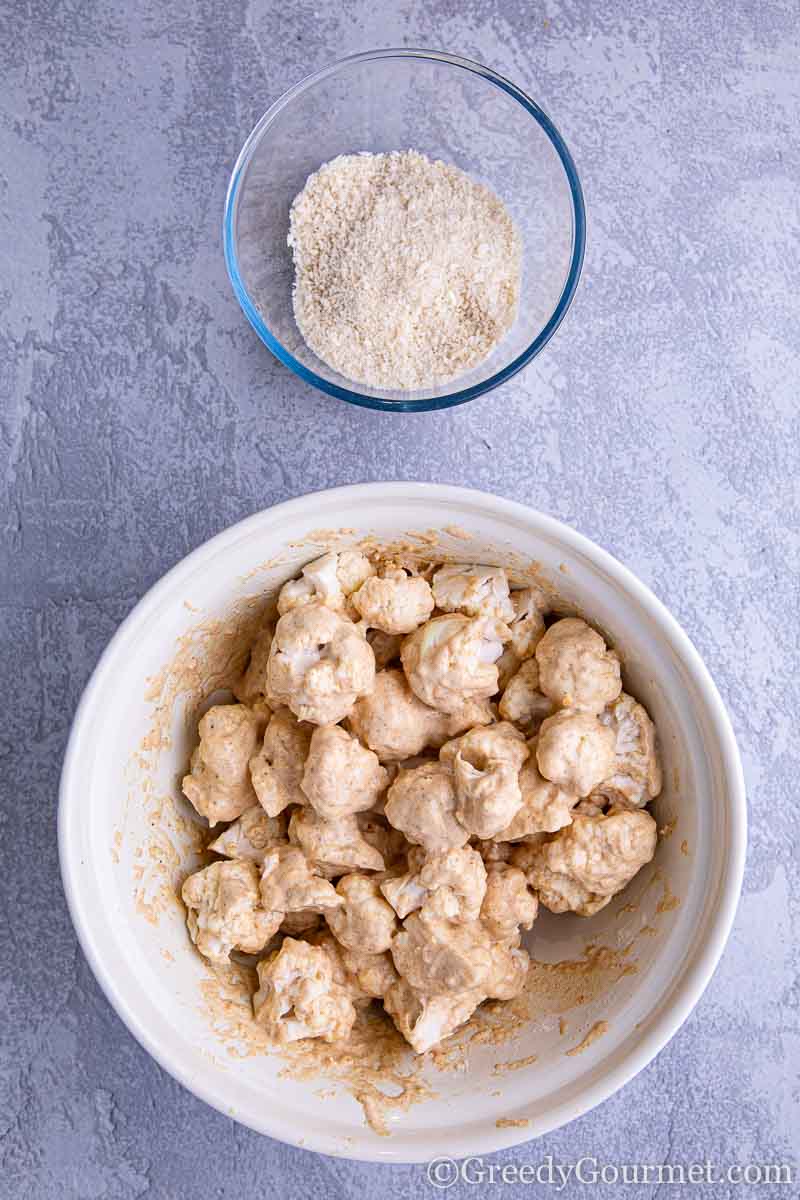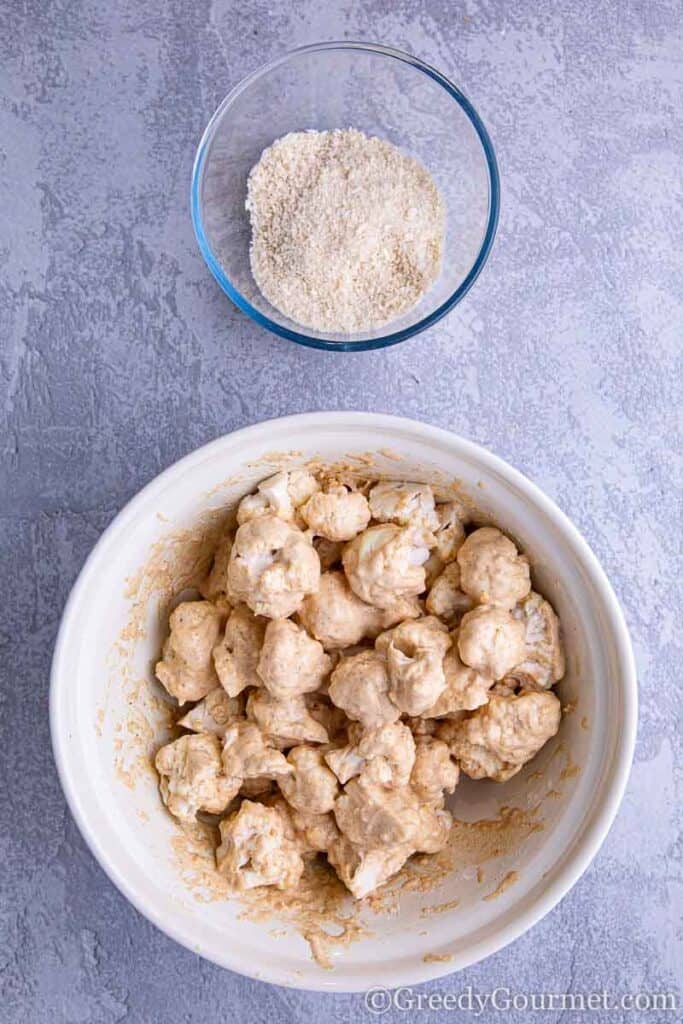 Can you fry buffalo cauliflower wings?
The best and healthiest way to make buffalo cauliflower wings is to bake them in the oven. They'll still be deliciously crispy, with the added benefit of being good for you.
If you're feeling a little more indulgent, you can deep fry them. You could even cook them in an air fryer. Using an air fryer is a lot healthier than deep frying, saving up to 70% on calories and cutting down on fat.
How do you season the batter in this recipe?
For me, a little bit of garlic powder, a pinch of onion powder and some beautifully smoky sweet paprika are perfect when it comes to seasoning your vegan buffalo wings batter. 
The beauty of this recipe though, is in its flexibility. It's the same with a lot of cooking really – there's usually room to experiment. So, feel free to work away and discover your favourite combination of flavors.
Here's a few tips for inspiration. Add a teaspoon of any of the following to your batter:
Celery salt – swap out the salt for celery salt for a wonderful savory flavor
Ground ginger – a great flavor to combine with cauliflower
Cayenne pepper – bring an extra earthy heat to your buffalo wing
Turmeric – ah, the magical spice. Amazing healing properties and it tastes great too… especially with the flavors in this recipe
How do you reheat buffalo cauliflower wings?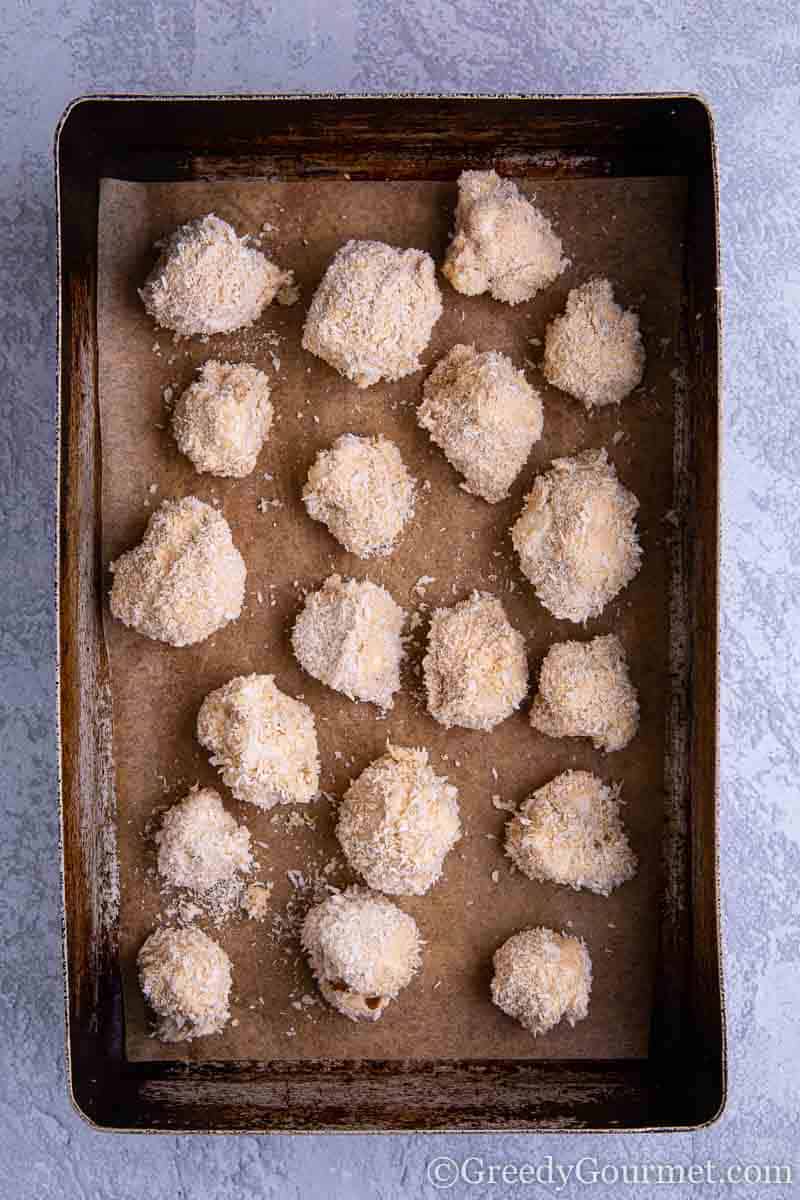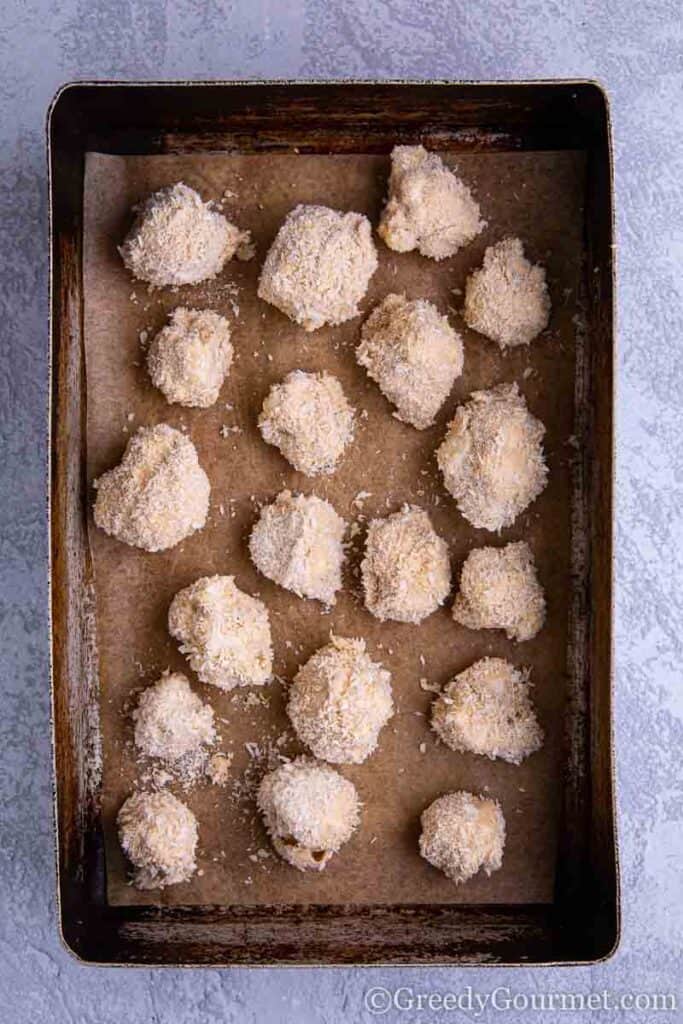 Although they'll be best when devoured in one sitting, baked cauliflower wings can easily be reheated, in the unlikely event that you haven't munched the lot in one go.
To reheat buffalo cauliflower wings, place in a preheated oven at 200ºC/400ºF. After 8-10 minutes, flip them over and cook for another 8-10 minutes.
With leftover reheated buffalo cauliflower wings, it'll be hard to get that characteristic crispiness that makes them so delicious. So, reheat if you have to; but they're definitely best enjoyed the first time round.
Are buffalo cauliflower wings vegan?
Yes, buffalo cauliflower wings are completely vegan. The cauliflower, in place of chicken, makes them meat-free, while plant-based milk stands in for dairy milk in the batter, making them completely vegan.
Why are they called buffalo wings?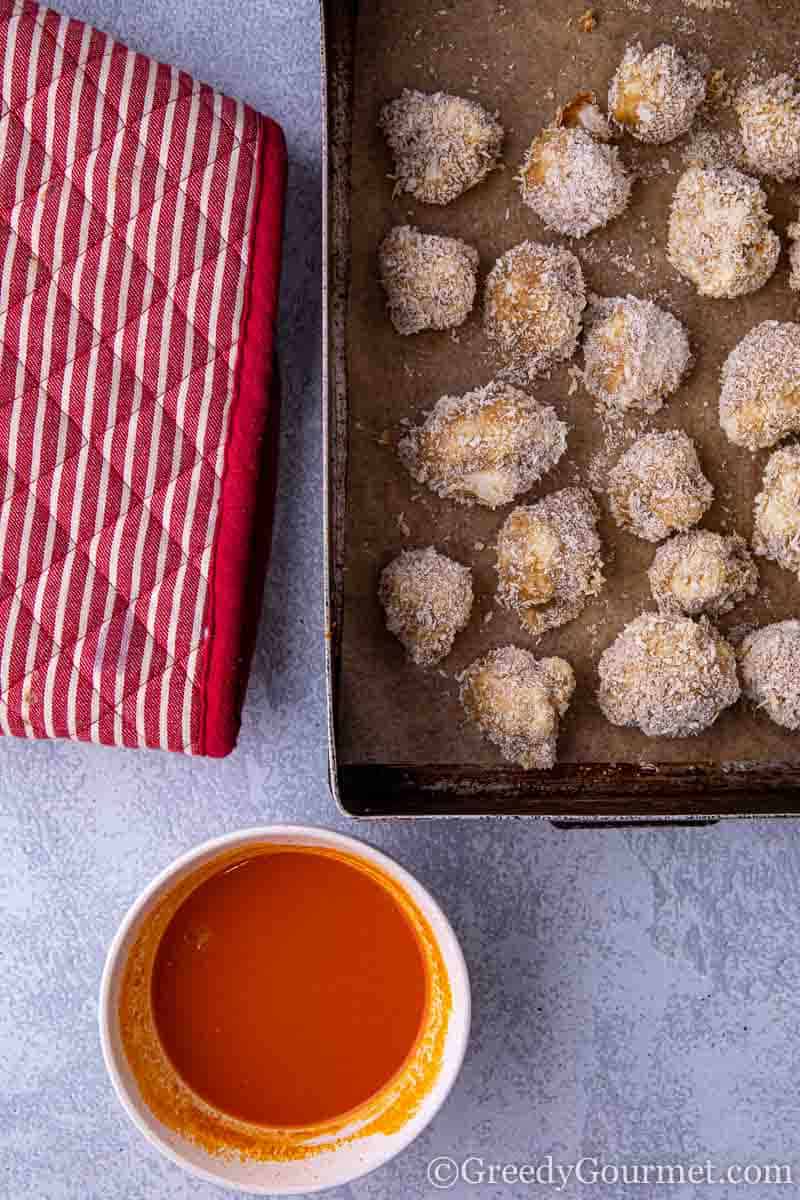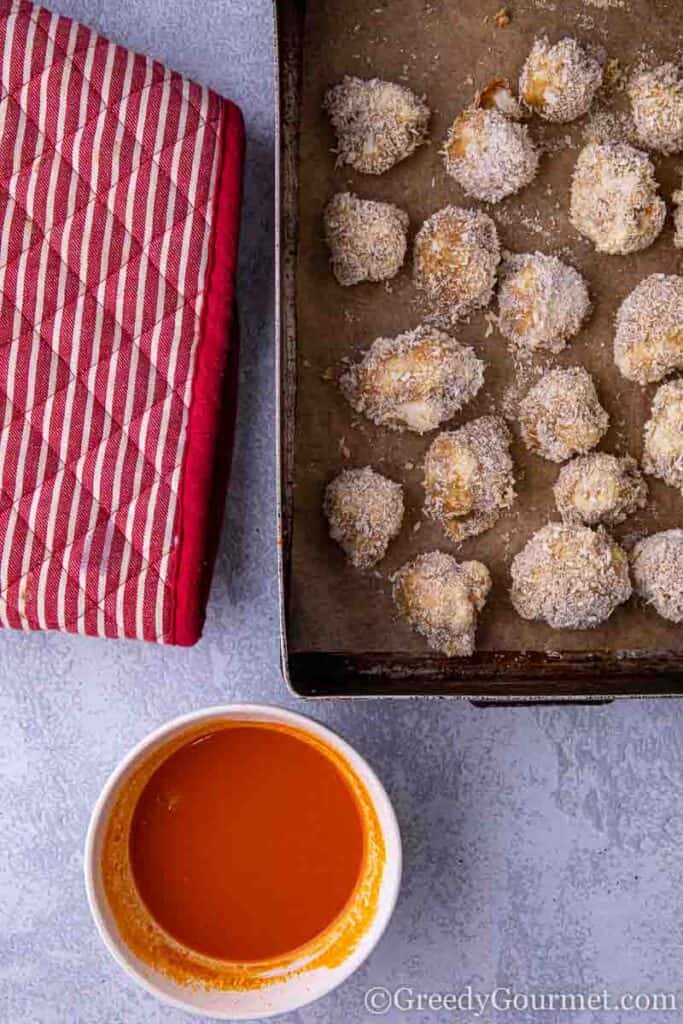 Have you ever wondered why they're called 'buffalo' wings? Maybe it's common knowledge in the States, but I never gave it much thought. Somewhere in the back of my mind I assumed it was because of some sort of resemblance to buffalo.
Please don't laugh!
Okay, so it turns out I was very wrong. The reason they're called buffalo wings is because they were invented in Buffalo, New York. 
The story goes that they were invented in 1964 at the Anchor Bar in Buffalo by Teressa Bellissimo.
What plant-based milk is best to use in this recipe?
For me, the best plant-based milk to use is almond milk. While you can buy almond milk from most supermarkets and health food stores, homemade is the way to go. Check out my easy cashew milk recipe. Try it once and you'll never look back!
Is cauliflower good for you?
A very healthy vegetable, cauliflower is low in calories and high in vitamins and minerals. 
Among the vitamins it contains is vitamin C – in fact, cauliflower is one of the best foods for vitamin C intake. Just one serving contains about 77% of your recommended daily intake of vitamin C.
Cauliflower also contains antioxidants such as carotenoid and flavonoids, which can help to reduce the risks of cancer and heart disease.
It's also a good source of choline. Choline is an essential nutrient that protects the body from liver and heart disease, as well as neurological disorders like dementia and Alzheimer's. Not many foods contain Choline and cauliflower is one of the best.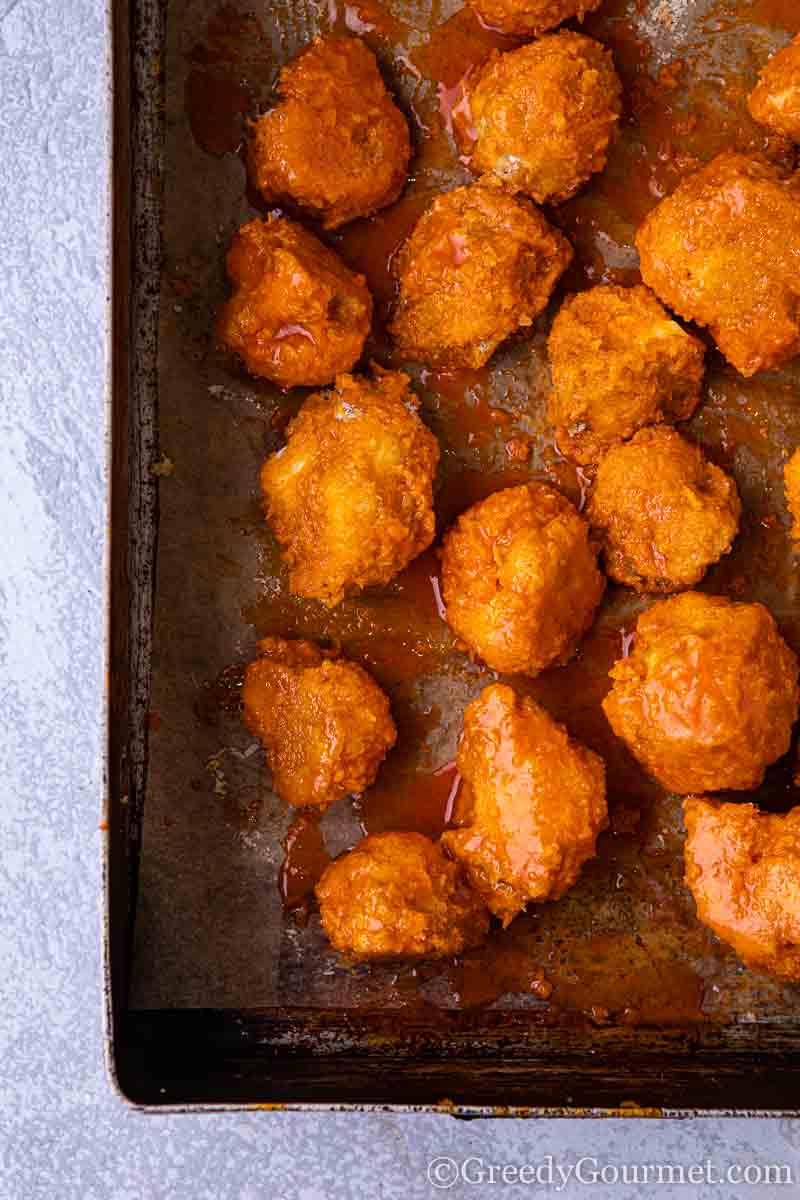 What to serve with buffalo cauliflower wings
These baked buffalo cauliflower wings would taste amazing on their own as a crispy, delicious vegan appetizer. Add crudites – sliced celery and carrots and you're good to go!
Of course, you could also make them into the main event and serve them alongside some tasty, healthy food that complements the flavors.
Collard greens are an ideal food to serve alongside buffalo cauliflower wings. You could also sauté some spinach, kale or chard with some garlic and a touch of lemon juice.
Here are some other suggestions:
Rocket salad with avocado, blue cheese and pecans – a great salad packed full of flavor. Leave out the blue cheese if you want to make it a vegan salad
4 bean salad – a supremely healthy vegan salad, this would make a great pairing with your buffalo cauliflower wings
Pumpkin and beetroot salad – another salad that's full of flavor and packed with goodness, this is one delicious vegan salad! The earthy subtly sweet flavors of the beetroot and the nuttiness of the pumpkin go together so well. Add the baked buffalo cauliflower wings and you've got a match made in heaven!
Need more inspiration? Check out my 41 vegan side dish recipes and find your ideal side dish to pair with your vegan buffalo wings.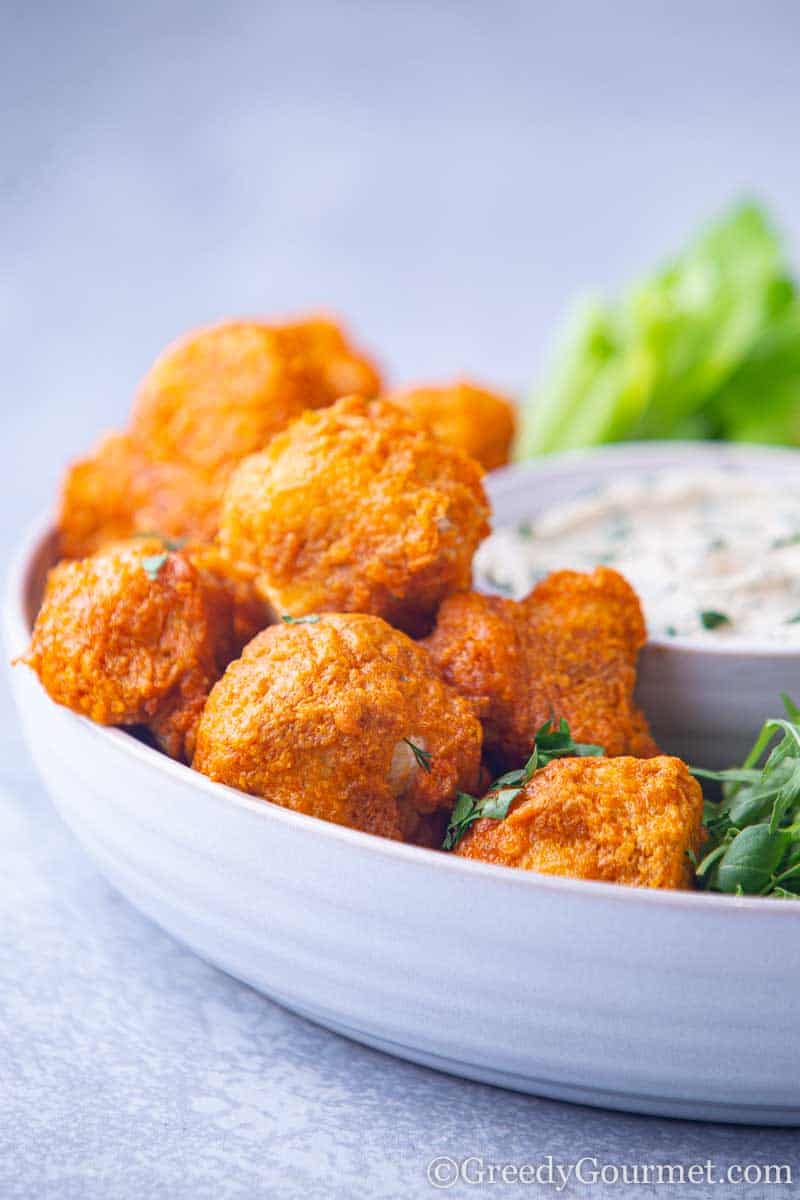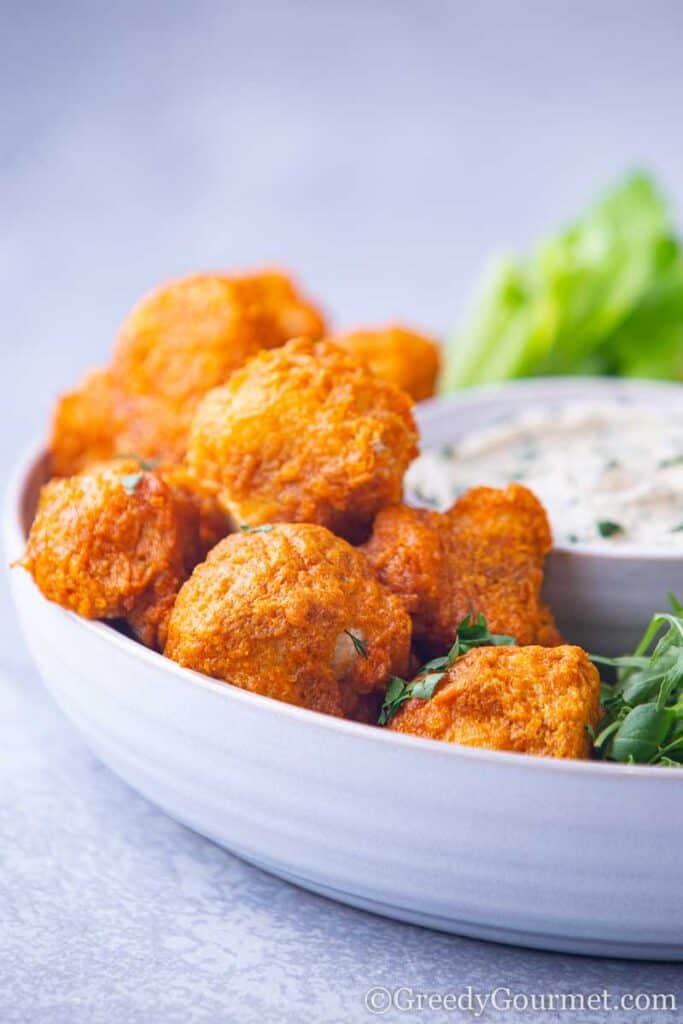 More delicious cauliflower recipes
Crazy about cauliflower? Well, it just so happens that I've got a number of amazing Greedy Gourmet cauliflower recipes. So, have a look and pick your favorites!
More vegan treats
If you're on the lookout for some easy to make, delicious healthy vegan food, you've come to the right place!
From delicious snacks and hearty main meals to irresistible desserts and sumptuous smoothies, the Greedy Gourmet has them all. See below and get inspired!
Vegan moussaka – rich, hearty and delicious, this is vegan comfort food at its finest!
Miso eggplant – a delicious, healthy Japanese classic, if you're a fan of deep savory flavors this is the one for you
Super green smoothie – start the day with this sumptuous smoothie and you'll feel like a million dollars!
Print
Buffalo Cauliflower Wings
---
Author:

Michelle Minnaar

Total Time:

50 minutes

Yield:

4

servings, 3 prawns each

1

x

Diet:

Vegan
Description
Buffalo Cauliflower Wings is the perfect vegan appetizer when you're hosting a Super Bowl party. Serve with vegan ranch dressing. Enjoy!
---
---
Instructions
Preheat the oven to 180°C / fan 160°C / 350°F / gas mark 4. Line 2 baking sheets with parchment paper.
Wash the cauliflower then break it into florets, cutting them into bite-sized chunks if needed. You can do the same with the stem.
Using a large bowl, add the flour, milk, garlic powder, onion powder, paprika and salt. Whisk until a smooth batter is formed.
Place the panko breadcrumbs in another bowl.
Tip the cauliflower florets into the batter and toss until all surfaces are covered.
One-by-one, take a floret and coat it completely in the panko.
Place the florets on the baking trays in a single layer and bake for 20 minutes.
Melt the butter and stir in the hot sauce.
After 20 minutes, retrieve the cauliflower from the oven. Pour the hot sauce over the cauliflower and move the pieces around to coat evenly.
Bake for a further 20 minutes, or until the thickest part of a piece of cauliflower is fork tender and the outside golden and crispy.
Serve immediately with Vegan Ranch Sauce. Enjoy!
Notes
Almond milk was used in this recipe but you can use any type of plant milk you desire.
If you can't get hold of Frank's Red Hot Sauce, you can use another brand of buffalo hot sauce.
If the batter is too thick, add more milk or water to loosen it up. However if you find you have too much almond milk leftover, check out my guide on Freezing Almond Milk.
Prep Time:

10 minutes

Cook Time:

40 minutes

Category:

Starter

Method:

Bake

Cuisine:

American
Keywords: buffalo cauliflower wings, cauliflower buffalo wings, vegan buffalo wings, baked cauliflower buffalo wings, vegan wings recipe, how to make buffalo cauliflower wings