How to cook Dal Makhani at home.
Surely I'm not the only one who gets haunted by fantastic restaurant dishes. Those dishes that leave an impression for a long time and make you wish you knew how to prepare yourself.
One of those dishes was Dal Makhani, which I enjoyed at Dishoom. Unfortunately, I don't live in London so can't frequent the establishment as much as I would have liked to. It was time to do some research.A recipe was found and it raised an eyebrow. No, that was an understatement.
It actually raised both my eyebrows. Scanning through the ingredients and recipe instructions it spelt out that a heck of a lot of work was involved.
Now I don't know about you, but to eat something in one sitting that takes hours to cook depresses me to no end, which makes me wonder why bother. Really determined to make it, I came up with a solution: batch cooking. (A new category menu item has now been officially created for this kind of cooking. Many more recipes to come!)
An old-fashioned idea that is simply brilliant. So many people buy ready-made meals these days. Food that can easily be replicated at home if you cooked in bulk and froze the rest in batches. They could save a heap of money in the process too and miss out on the chemical nasties food manufacturers place in the fare.
Although it appears to be widespread in USA, few people seem to do it in the UK. One problem might be the lack of space in houses, i.e. people can't have an extra freezer. Fortunately, I don't have this problem. Another thing you need is a humungous pot to simmer food in. Oh, and loads of foil containers for storage.
From beginning to end the recipe took me four days to prepare – I only cook in the evenings. I made four times the recipe stated below, boiled some brown rice and partitioned them even among forty foil containers. For all my labour I squeezed out probably around 45 portions.
Traditionally, Dal Makhani is meant to be enjoyed as a side dish of an Indian meal but being a Westerner and not being fussy about things like that I turned it into a main meal. Perfect to shove in the oven while I'm getting as much work done as possible during the day.
For more inspiration to cook vegetarian Indian meals, check out these amazing books:
---
Dal Makhani (leave out the second "a" when pronouncing it) come from the Punjab region in northern India. It has many other names such as Dal Bukhara, Kaali Dal, Maa Di Daal or Maa Ki Dhal. (Once you start browsing through Indian recipes you'll notice everyone's got a different spelling for lentils!)
Adjusting for Special Diets
The original recipe, found in India: The Ultimate Book on Indian Cuisine - Food and Cooking, below is what you'll find in restaurants and hotels. It's laced with copious butter and cream. This is the best version you can possibly get and your toes will curl up in pure satisfaction as you devour spoon after spoonful. Keep it for a special occasion.
However, none of us can afford to eat such rich food on a daily basis and if you're looking into healthier versions, the recipe is open to tweaking. Thanks to the urad dal, which can be bought in Indian shops, the dish contains plenty of protein.
For those on low fat diets, the bad news is that you're not going to get away without using any fat. The good news is you can use lower fat alternatives such as milk (any kind) instead of cream and oil instead of ghee or butter. The butter at the end of the cooking can be omitted – it might help to mash the beans a bit so that the lentils' richness come through and be sure to cook the contents for a long time.
The recipe is gluten free and is suitable for vegetarians.
Substitutions
If you can't get hold of urad dal, other types of whole lentils will work too. (That said, I haven't needed to try this out yet BUT pulses are pulses.) Some will actually call this dish Mah ki Dal because there are no red kidney beans in it.
Different Cooking Methods
Some cooking time can be saved by using a pressure cooker to cook the lentils. Afterwards all ingredients can be plunged into a slow cooker and cook slowly overnight.
Accompaniments
To garnish the dish you can top each bowl with a dollop of plain yogurt and some cilantro. Dal Makhani is best enjoyed with freshly baked tandoori naan or roti bread. Rice would work too. It is amazing how sweet sliced red onions are when eaten with this. A wedge or two of lime won't hurt either.
Storage Instructions
If you wondered whether you can freeze Dal Makhani, the answer is yes, up to 6 months. It will last about 3 days in the fridge.
Wine Pairing
Curry can be a tricky food to match wine to, in part because there are so many styles, heats and base flavours. My advice would be to match the wine to the dominant flavours rather than the spiciness or the main element of the dish. For this recipe the tomato is not the main element but it is going to be the flavour that comes through so the wine will match to that. Also for curry it is always a good idea to have a wine with a hint of sweetness as it tempers the heat of the spices.
---
As I said, this recipe requires quite a bit of work so it's best you make a big batch and freeze them in portions. Here is how I did it.
Day 1
Wash the urad dal (whole black lentils) thoroughly and soak overnight.
---
Day 2
Get hold of some fresh ginger root.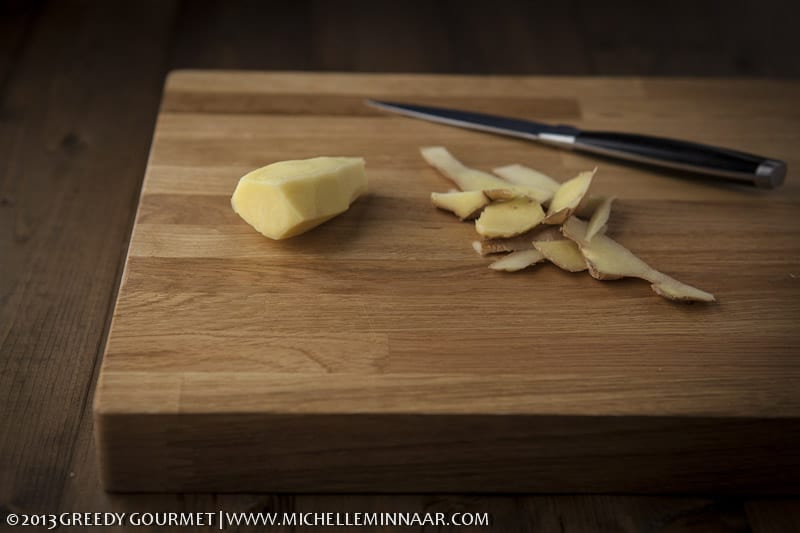 Peel the ginger...
... and chop it finely.
Sieve the soaked lentils, rinse them well again and place them in the pot.
Store half of your ginger in the fridge and add the remaining chopped ginger to the dhal and add the water. When it starts boiling, stir to make sure nothing sticks to the bottom of the pan. After boiling it for 10 minutes. reduce the heat to very low and simmer the contents for 1 hour, stirring them once in a while. At the end of the cooking time, the lentils should have absorbed all the water and be soft.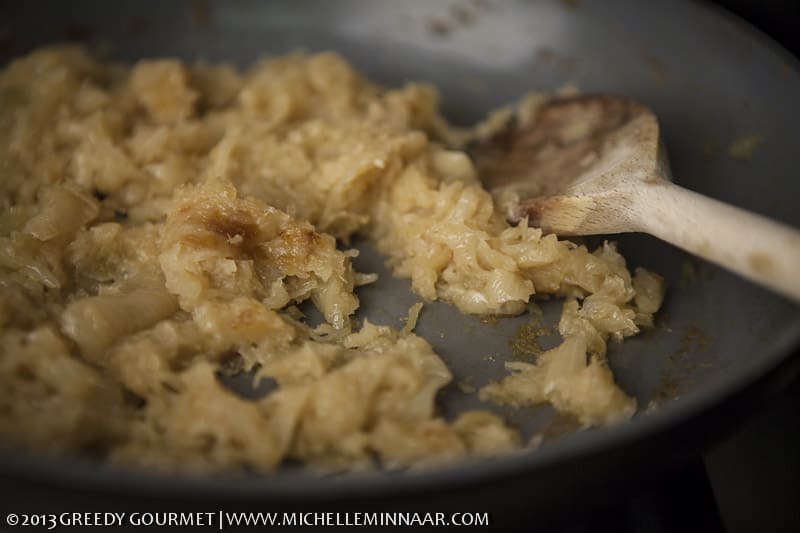 To make best use of your time, prepare the brown onion paste. First caramelise your onions, using this recipe.
After that turn the caramelised onions into a paste, see here.
When everything has cooked and cooled down. Place the food in the fridge for the following big day.
---
Day 3
Peel all the garlic cloves and...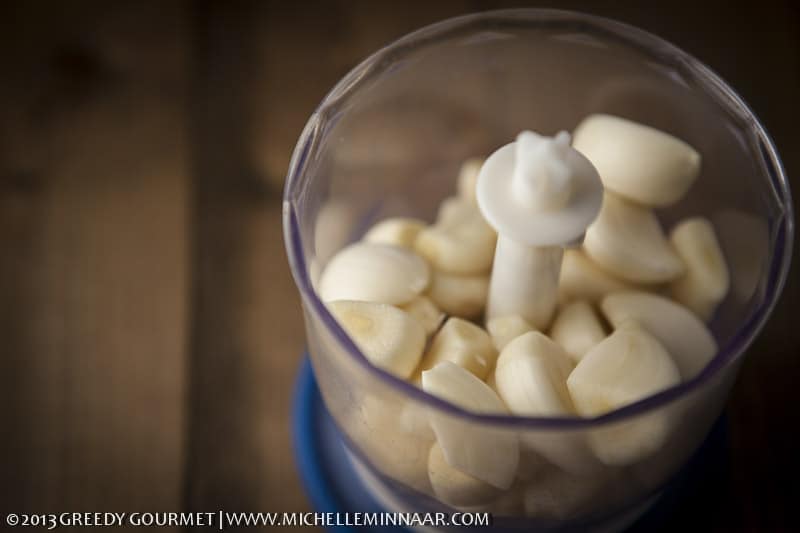 ...place them in the food processor.
Blend them until they turn into pulp.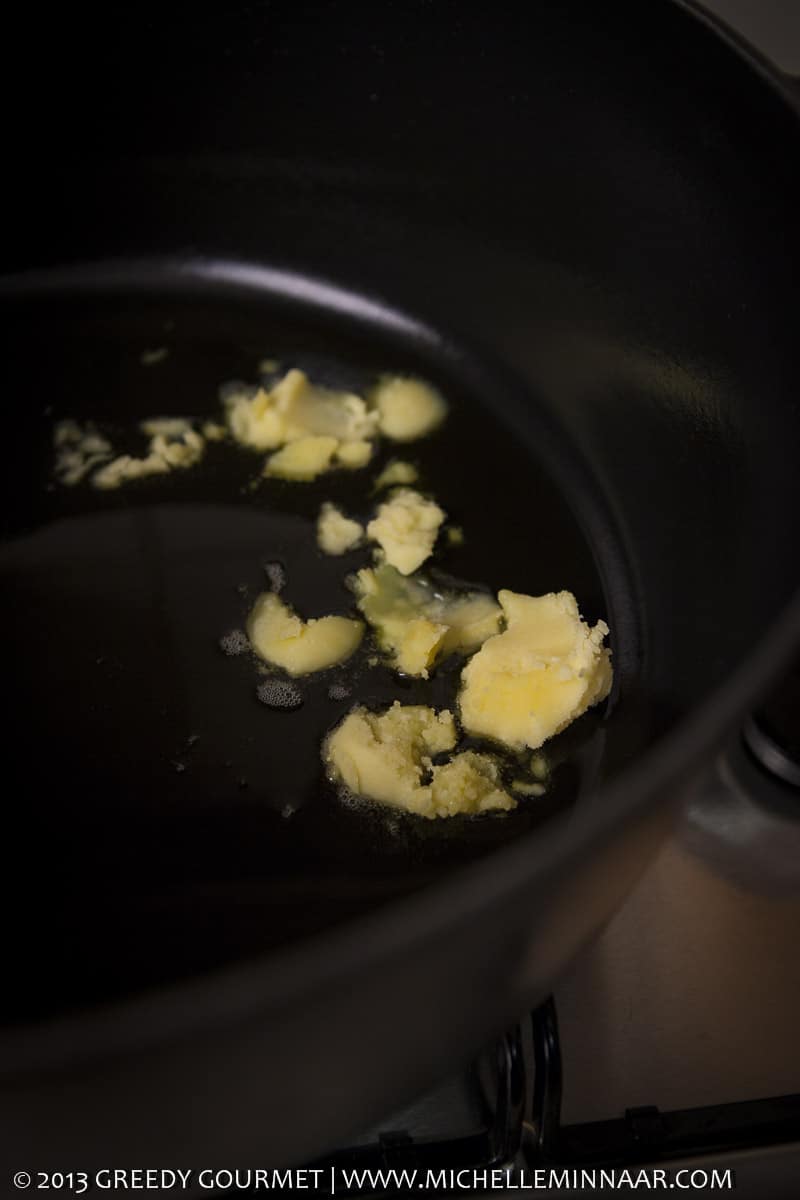 Heat the ghee in an ovenproof casserole dish.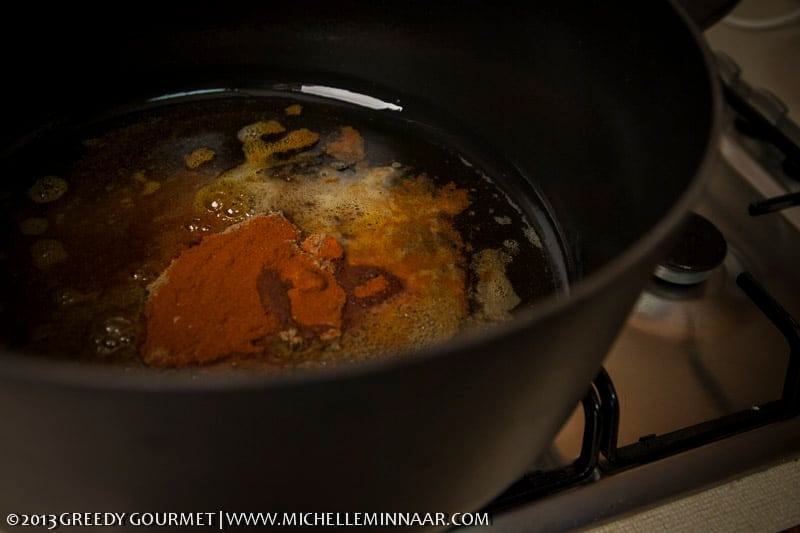 Add the masala - paprika, coriander seeds, cumin seeds and chili powder...
... and stir-fry for about 1 minute.
Add the garlic pulp to the mixture.
Stir the pot vigorously until everything has mixed evenly.
Next add the oh-so-sweet brown onion paste.
You know the drill. Stir everything while it's frying!
Plonk in the remaining ginger from the previous day.
By now you would have noticed the sauce is getting thicker and thicker. Don't be afraid to add a cup or two of water to the pot because we're aiming for a sloppy consistency.
Most importantly, don't forget the lentils1
As usual, stir stir stir. Can you feel your arm muscles growing yet?
No dish is complete without tomato. This time it's tomato puree.
And some more tomato. I used passata but you can use chopped tomatoes too.
Use your other arm to keep your body building efforts balanced.
We need more spices! In goes the garam masala.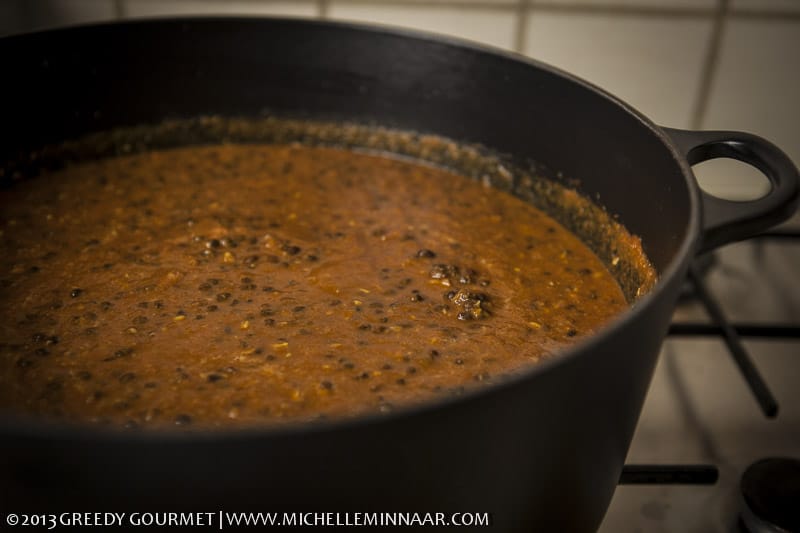 The sauce should have a pouring consistency. If it's not, add more water until you've reached the desired state.
Phew! We're over halfway. Most of the hard work is done. Place the casserole in a preheated oven, 180°C/350°F/gas mark 4, and cooked for at least 3 hours. Check the consistency of the mixture every 40 minutes or so - adding water to maintain the pouring consistency. Since I'm doing all my cooking at night, after the allotted cooking time I simply switch off the oven and let it cook through the night very, very slowly. This is how I cook my oxtail as well.
---
Day 4
Heat the pot slowly on the stove top.
When the gravy is up to heat pour in the cream.
The sauce will instantly get lighter. Melt the sticks of butter.
You will notice that suddenly the sauce is of much richer flavour and the butter has taken off the hard edge of the spices.
Add the salt and you're done! Give it a final 20 minutes of cooking in the oven and enjoy.
Not quite in my case though. After all the trouble I cocked up in the very last step by adding 8 TABLESPOONS of salt instead of 8 TEASPOONS. Even experienced cooks have their bad days and on the day I had one of mine. Earlier that day I baked muffins with the children and couldn't figure out why the muffin batter came out as bread dough. Later I realised instead of adding 150ML of flour I added 150G of the stuff which is plenty more than needed. Of course, the muffins came out a disaster. After banging my head on the kitchen door so many times that I lost count, I had to start doing problem solving. People have told me that if stews were over-salted, you can simply add whole peeled potatoes to the pot and the starchy veg will soak up the salt. Let me tell you, it worked! The potatoes tasted amazing too. 🙂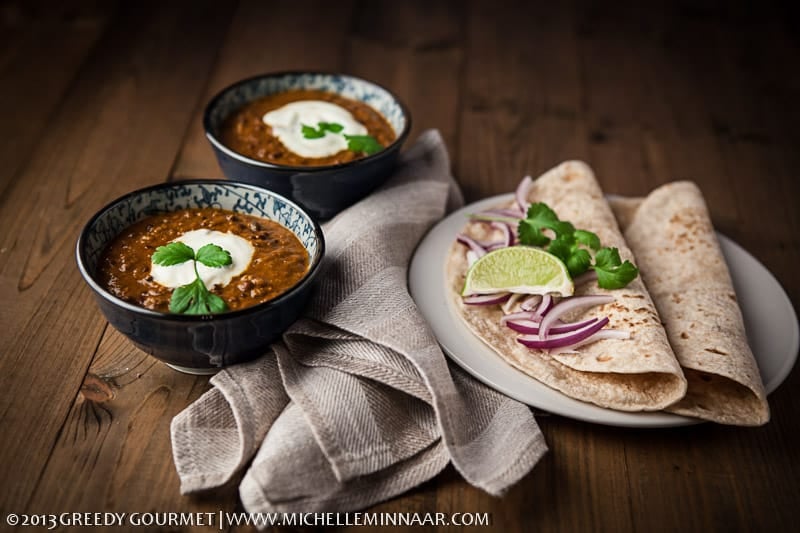 Print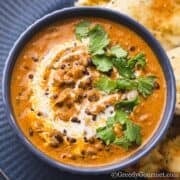 Dal Makhani
---
Description
Learn how to make dal makhani at home and what to serve with it. I first came across this Indian recipe when I visited Dishoom in London and ordered it as a side dish.
---
225g

(

8 oz

) whole black lentils (urad dal)

1.25

l (2¼ pints) water

40g

(

1½ oz

) fresh root ginger, finely chopped

30

ml (2 tbsp) ghee

12

garlic cloves, pureed

200g

(

7 oz

) brown onion paste

10

ml (2 tsp) paprika

5

ml (1 tsp) coriander seeds, roasted and ground

5

ml (1 tsp) cumin seeds, roasted and ground

2.5

ml (½ tsp) chili powder

5

ml (1 tsp) tomato puree

200g

(

7 oz

) tinned tomatoes, pureed

45

ml (3 tbsp) garam masala

150

ml (5 fl oz) single cream

150g

(

5

fl oz) unsalted butter

10

ml (2 tsp) rock salt
---
Instructions
Soak the lentils in plenty of water for at least 12 hours. Drain and rinse well.
To cook the lentils, bring the measured water to the boil in a 2.5 litre (4½ pint) saucepan. Add the lentils and half the ginger. When it returns to the boil, stir to ensure nothing is sticking to the bottom of the pan.
Boil for 10 minutes, then reduce the heat to very low and simmer for a further 1 hour or so, stirring from time to time.By this time, the lentils should have absorbed all the water and be soft not al dente.
Heat the ghee in a 2.5 litre (4½ pint) ovenproof casserole dish. Add the masala and stir-fry for 1 minute or so. Add the garlic, onion paste and the remaining ginger and stir-fry for a further 2 minutes. Mix in the lentils.
Add the tomato puree, tinned tomatoes and garam masala to the lentils. Cook for a further 15 minutes, adding a cupcful or two of water as needed so as to retain a pouring consistency.
Put the casserole in a preheated oven, 180°C/350°F/gas mark 4, and cook for at least 3 hours. Check the consistency of the mixture every 40 minutes or so – adding water to maintain the pouring consistency.
On your fourth check, add the cream, butter and salt and give it a final 20 or so minutes cooking in the oven with the oven switched off.
Notes
If you like you can deglaze the onions by adding a dash of balsamic vinegar to give the onions a tang.
Prep Time:

30 minutes

Cook Time:

5 hours 30 minutes

Category:

Side Dish

Method:

Boil

Cuisine:

Indian
Nutrition
Serving Size:

114.5g

Calories:

224

Sugar:

2.7 g

Sodium:

291 mg

Fat:

15.4 g

Saturated Fat:

8.1 g

Carbohydrates:

21.3 g

Fiber:

5.8 g

Protein:

7.7 g

Cholesterol:

27 mg
Keywords: dal makhani, dishoom black dal recipe, what to serve with dal makhani, black dal recipe