I scream! You scream! Everybody's gonna scream when they take one tiny taste of my deliciously rich and silky homemade eggnog ice cream. Yes… it really is that good.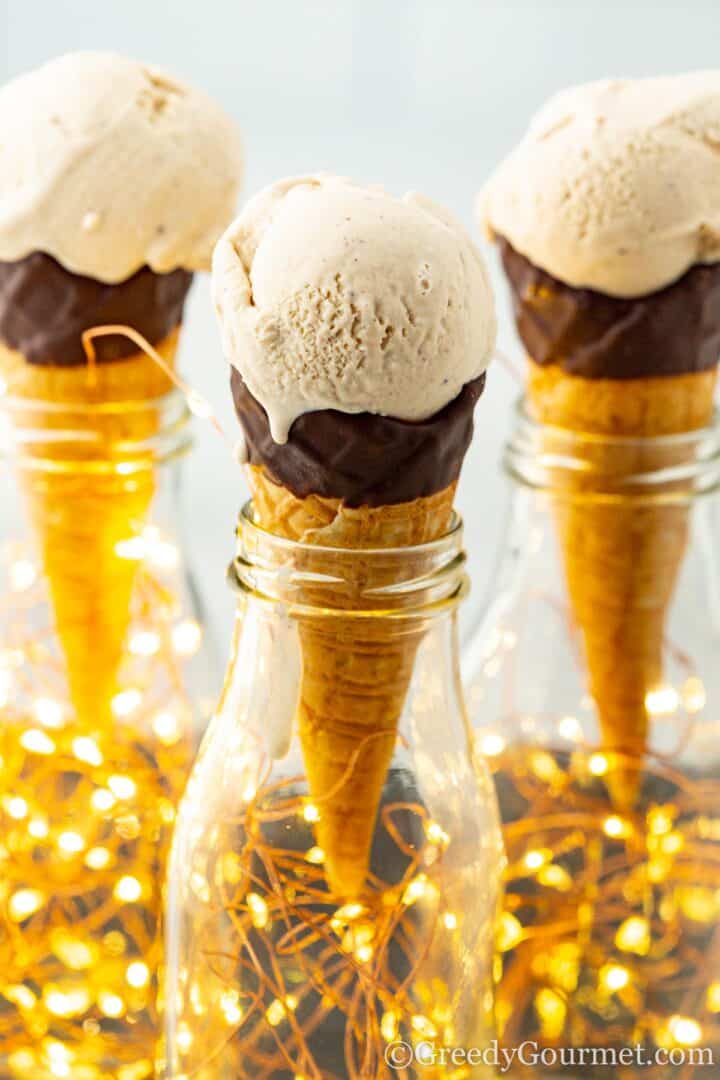 Products you need for this recipe
Before you get down to business, there are a few essential items that you'll need to make this eggnog ice cream recipe:
Saucepan – get yourself a good quality saucepan to cook up your homemade eggnog ice cream ingredients
Mixing bowl – whisk your egg yolks and sugar together in a mixing bowl
Electric whisk – use an electric whisk and save your hands and wrists the trouble
Ice cream maker – the best way to get incredibly smooth ice cream is to use one of these babies!
Sealable freezer container – these containers are great for homemade eggnog ice cream
Wooden spoon – a trusty wooden spoon is essential!
Nutmeg grater – freshly grated nutmeg is such a wonderful thing and takes your eggnog ice cream up a notch!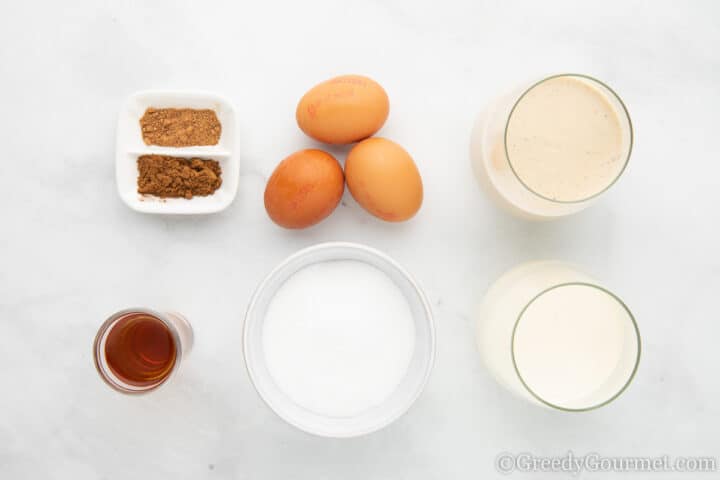 Eggnog ice cream recipe
You'll never eat store bought ice cream again! Believe me, once you've invested in an ice cream maker and you've tried just one of my recipes, you'll realize just how easy it is to make your own ice cream.
This delicious eggnog ice cream recipe is made using my homemade eggnog, as well as just a handful of other ingredients.
There's nothing quite like eggnog to get you in the festive holiday spirit! Once you've made a big batch, you'll want to get the most out of it. There are so many amazing eggnog recipes (see the bottom of the page).
When it comes to fun, carefree, indulgent eggnog recipes, eggnog ice cream is hard to beat!
Aside from the homemade eggnog, this eggnog ice cream recipe consists of heavy cream, vanilla paste, ground nutmeg, cinnamon, egg yolks, caster sugar and a dash of rum or bourbon for that feelgood festive kick.
That's it! Eight ingredients in total and it's a cinch to make this recipe.
Turning eggnog into ice cream
For this eggnog ice cream recipe, I'm using ready prepared eggnog in place of the whole milk that would normally be used for an ice cream recipe.
The eggnog and the cream are thickened by gently cooking them in with the egg yolks. After constantly stirring and slowly heating everything together, the mixture is churned in the ice cream maker for a perfectly smooth glossy finish.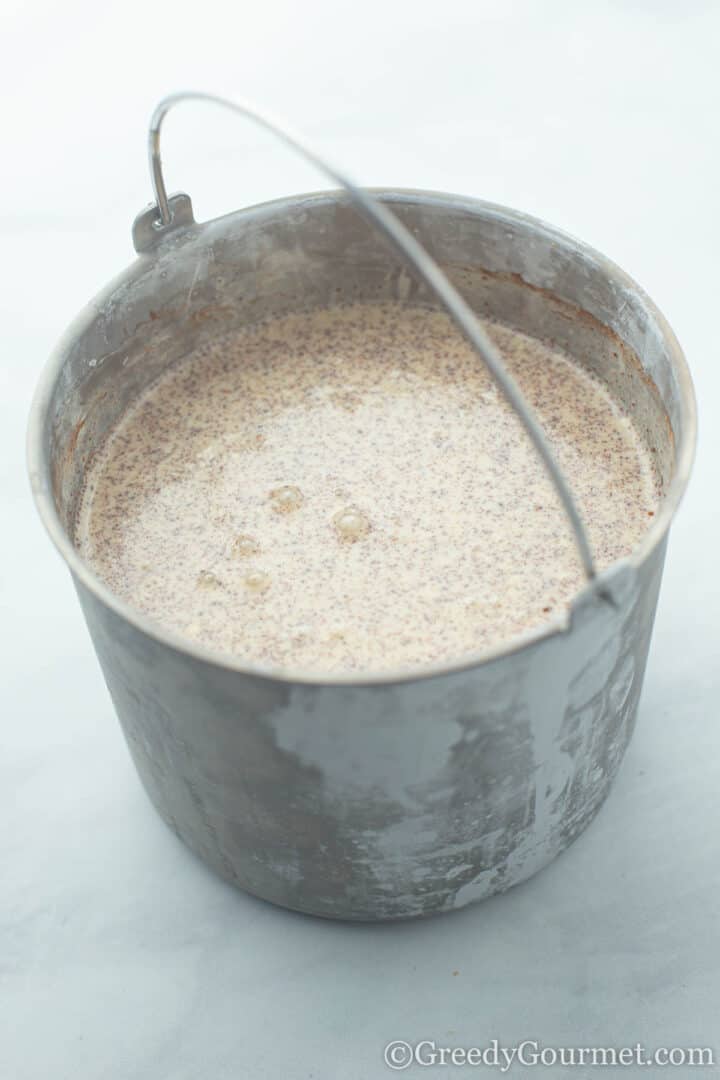 How do you make ice cream without an ice cream maker?
There's no getting around it. The best way to get an amazing silky smooth texture is to use an ice cream maker. Check the 'Products you need for this recipe' section above for my recommendation on which one to get.
If you really can't get hold of an ice cream maker, you can use the freeze and stir method for this recipe. Spoon your eggnog ice cream into a loaf pan or an airtight freezer safe container and freeze for 30-45 minutes.
When it's partially frozen, take it out of the freezer and stir it with a strong spatula or wooden spoon. Return it to the freezer for another 30-45 minutes, then remove it and stir again.
Repeat this process for a couple of hours until ice cream is completely frozen.
Is eggnog an American thing?
Nope. In fact, eggnog predates America by a few hundred years!
Around the 13th century, medieval monks in Europe sipped on a drink called posset – a heady blend of warm punch with eggs and figs. Yeesh! Still, those medieval winters must have been harsh, so who's judging?
Over the centuries, sherry would be added into the mix. The creamy boozy drink was often enjoyed at celebrations, particularly by the upper classes, as sherry, eggs and milk were pretty scarce at the time.
It's thought that the word 'eggnog' may actually have been coined by Americans. Colonists were known to refer to thick drinks as grogs – egg and grog could easily have become eggnog, especially given the slurred speech after one too many.
Still, the Brits claim the invention of the word – Collins Dictionary states that 'nog' is an old English word for strong beer. Once it did reach the shores of the US, old English sherry was soon replaced with the readily available and far cheaper rum from the Caribbean. 
Today, it's a toss up between whisky, bourbon or rum – depending on what part of the world you're in.
How thick should this ice cream be?
Just before you take your ice cream mixture off the heat, ready to cool down, it should reach a lovely velvety consistency. 
In the ice cream making trade, this is known as 'nappe consistency.'
Nappe is a consistency of a liquid or a sauce just thick enough to coat the back of a spoon. It should be able to hold the shape of your finger mark after running it over the spoon.
How should I store this recipe?
Ice cream eggnog style should always be stored in an airtight container in the freezer at a temperature of between -10°C (14°F) and -20°C (-4°F). 
How long does homemade ice cream last?
Eggnog ice cream will last between 10 and 40 weeks, depending on the temperature of your freezer.
I don't recommend storing it below -20°C (-4°F though, as ice crystals will begin to form in the eggnog ice cream after a couple of weeks.
How should I serve eggnog ice cream?
Where can I buy eggnog ice cream?
You can get store bought eggnog ice cream from supermarkets and stores around the holiday season. Store bought ice cream is fine if you haven't got the time to make your own, but once you've tried a homemade recipe, you'll never go back!
Should I use rum or bourbon?
Either is fine! Don't go too cheap – if you wouldn't drink it, don't use it for your homemade eggnog ice cream. At the same time, choose one that isn't going to break the bank.
If you go for rum, use a dark variety. 
Can you make non-alcoholic eggnog ice cream?
Yes! Just leave out the alcohol.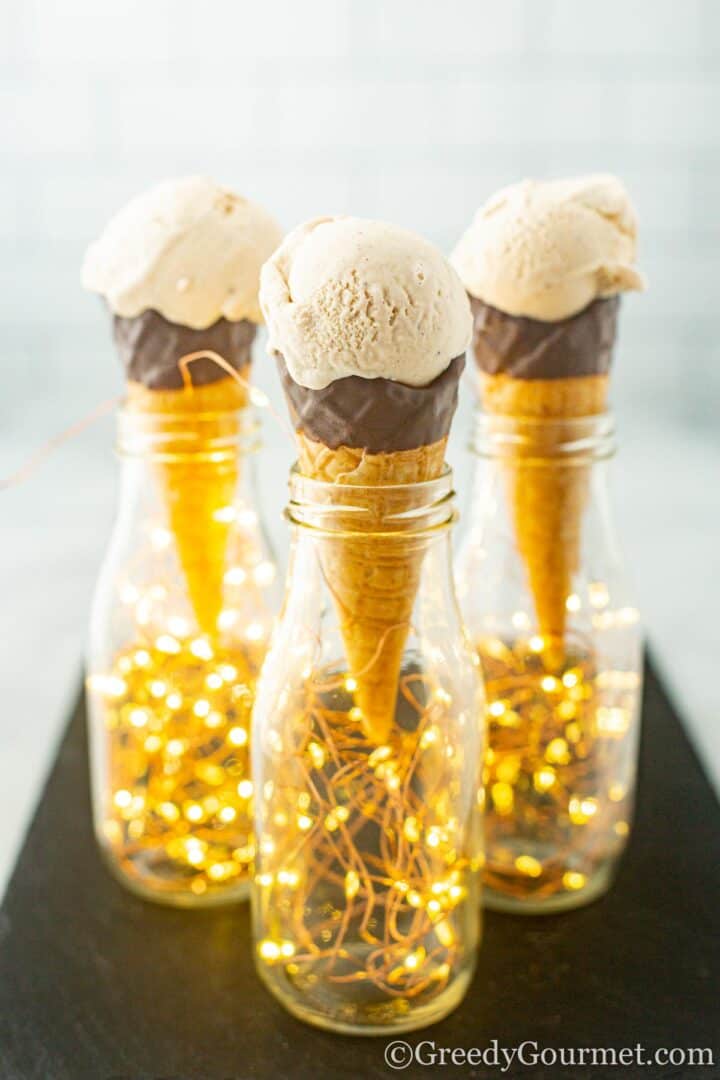 More homemade ice cream recipes
Satisfy that sweet tooth and get down to making some more homemade ice cream. It's what the whole world needs right now. Need some inspiration? You're welcome.
More ways with eggnog
Can't get enough eggnog? Here are some more festive treats:
Eggnog cheesecake
Eggnog cookies
Print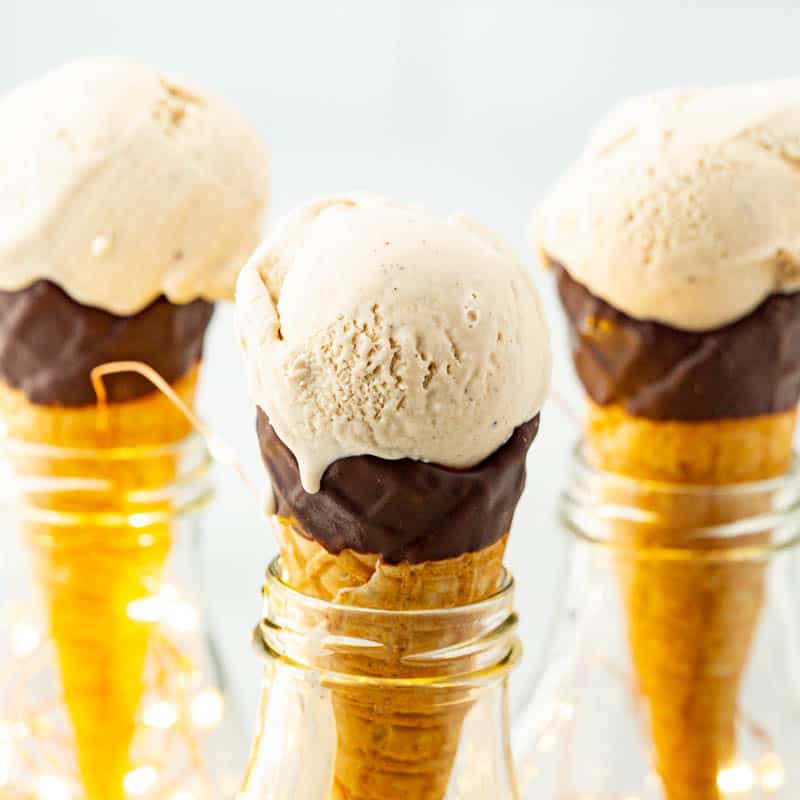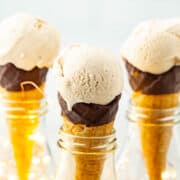 Eggnog Ice Cream
---
Author:

Michelle Minnaar

Total Time:

1 hour 15 minutes

Yield:

8

servings

1

x

Diet:

Gluten Free
Description
Learn how to turn eggnog, a fun Christmas time drink, into eggnog ice cream. With a rich flavour this ice cream is a fun treat.
---
500

ml

(2 cups) eggnog

250

ml

(1 cup) heavy (double) cream

5

g

(1 tsp) vanilla paste

1

g

(1/2 tsp) nutmeg

1

g

(1/2 tsp) cinnamon

3

egg yolks

112

g

(1/2 cup) caster sugar

60

ml

(4 tbsp) rum or bourbon
---
Instructions
Pour the eggnog, heavy (double) cream, vanilla paste, nutmeg and cinnamon into a pan over medium-low heat. Cook and stir occasionally until the mixture simmers, about 5-10 minutes.
Meanwhile, place the egg yolks and sugar into a mixing bowl. Whisk until a pale yellow colour and ribbons start to form.
Remove the eggnog mixture from the heat and slowly combine it with the egg yolk and sugar mix. I suggest ¼ cup at a time, as if you go any faster this may cause the eggs to scramble.
Once fully combined, pour back into the pot and place onto the stove over a low flame. It is very important to stir continuously as you don't want it to curdle at this point.
Continue to heat until the mixture has thicken and reached a nappe consistency (Nappe is a consistency of a liquid or a sauce thick enough to coat your favorite stirring spoon and hold the shape of your finger mark after running it over the spoon)
Pour the mixture, once it's achieved the desired nappe texture, into a bowl and place over ice or cold water and continue to stir until the mixture has cooled down.
Stir through the rum and pour into your ice cream machine and set for an hour. After an hour transfer to a sealable container and place in the freezer for at least 2 hours preferably overnight.
Notes
If you don't have any bourbon in the kitchen, don't fret! You can always use one of these bourbon substitutes.
Prep Time:

15 minutes

Cook Time:

60 minutes

Category:

Dessert

Method:

Freeze

Cuisine:

American
Keywords: eggnog ice cream, egg nog ice cream, what does eggnog taste like, eggnog ice cream recipe, homemade eggnog ice cream