At last summer arrived at the British shores. The sky is a brilliant blue with no cloud in sight and the sun is warm and bright. Whiffs of grilling meat have started filling the air. What are you planning to cook on your barbecue today?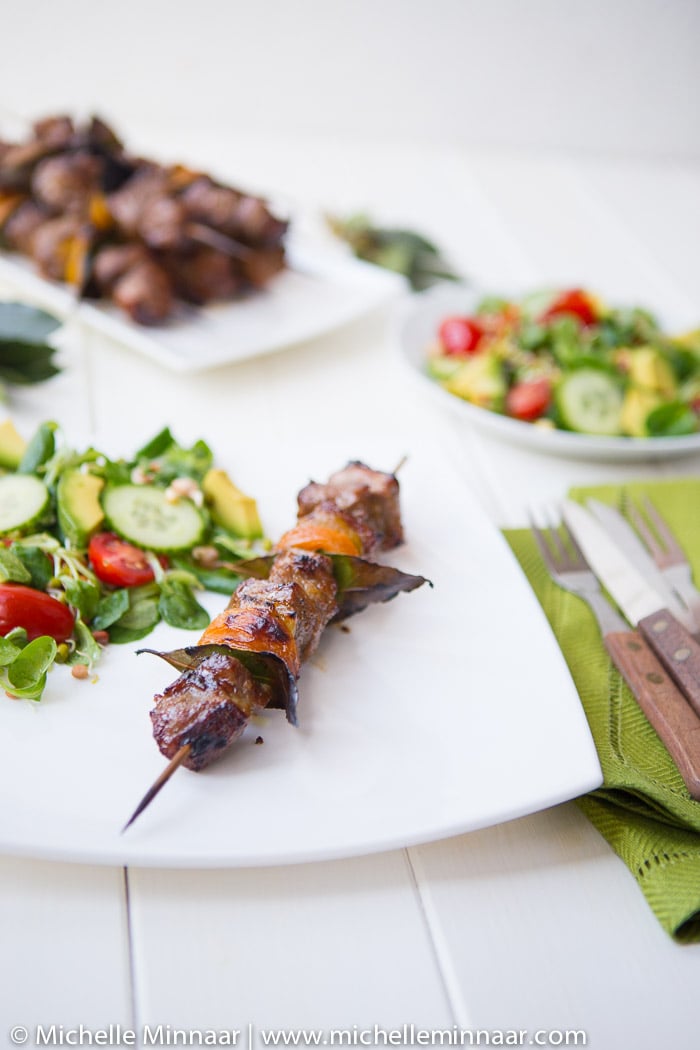 There are a lot of strange food, from a western perspective, to be had in this world. With the burgeoning population of over 7 billion worldwide and the demand for meat ever increasing in developing countries, sooner or later we are going to hit a brick wall. Meat markets already struggle to keep up with the growing demand and at some point we'll have to seriously consider turning to insects for our fill of protein.
What caught my eye were the Witchetty Grub from Australia. It distinctly reminded me of the Mopane Worm hailing from South Africa. Come on, have a closer look. Just buy some onions to go with them and you're set.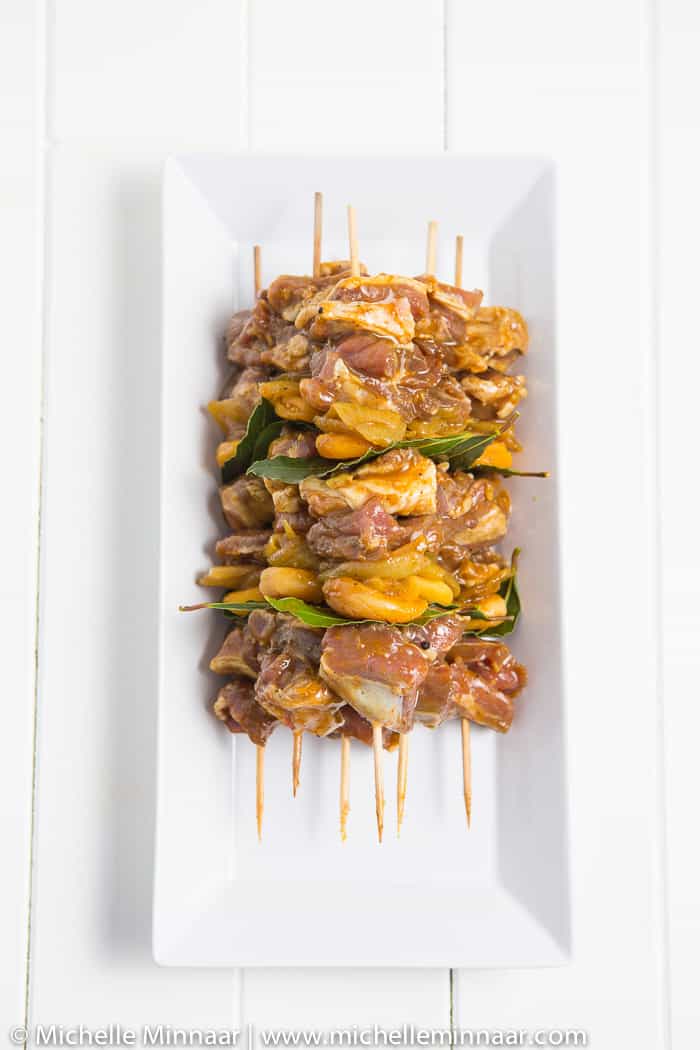 By now, in my 30's, the desire to try this delicacy hasn't overcome me and I think I'll turn vegan before letting one reach my mouth. I've been told mopani worms taste like chicken. Alrighty then!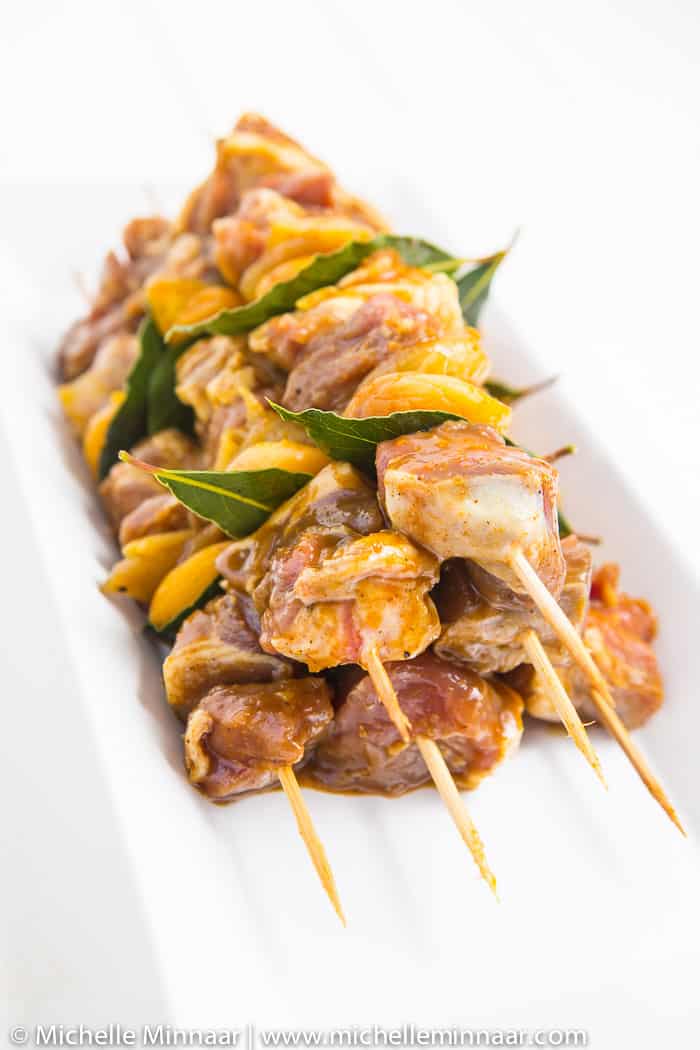 I hope I haven't scared you off trying South African food though, because the melting pot of nationalities have so much to offer. Just check out these meat skewers, called "sosaties", that you will find at every single "braai" (barbecue) in South Africa. Sosaties can be made from chicken, lamb, beef, pork and turkey with a range of different marinades to suit each taste. In this case, the sauce comes from the Cape Malay region and the use of apricot jam is a dead giveaway that it's a South African recipe.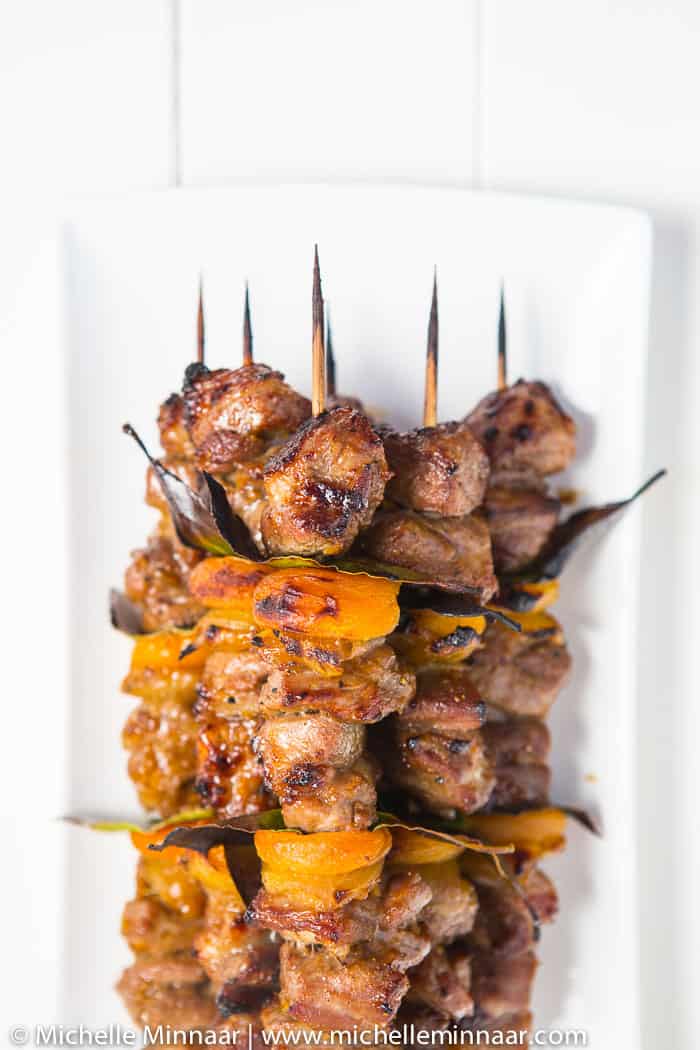 In traditional recipes it calls for lamb leg steak and mutton fat. The latter is used to keep the meat from drying out but by using only lamb shoulder matters are simplified because the meat is naturally more layered and marbled with fat than in leg. In this case I threaded onions, dried apricots and bay on the skewers, but there is nothing stopping you from adding your own colourful spin on things, e.g. different coloured peppers, mushrooms and other vegetables.
There are plenty of marinade and it's possible for you to use even more meat. If you do end up with some marinade, don't forget to baste the meat as it's cooking. I returned my marinade to the hob and boiled it for another 5 minutes to cook any raw juices and bits of meat that may have remained and used it as a dipping sauce!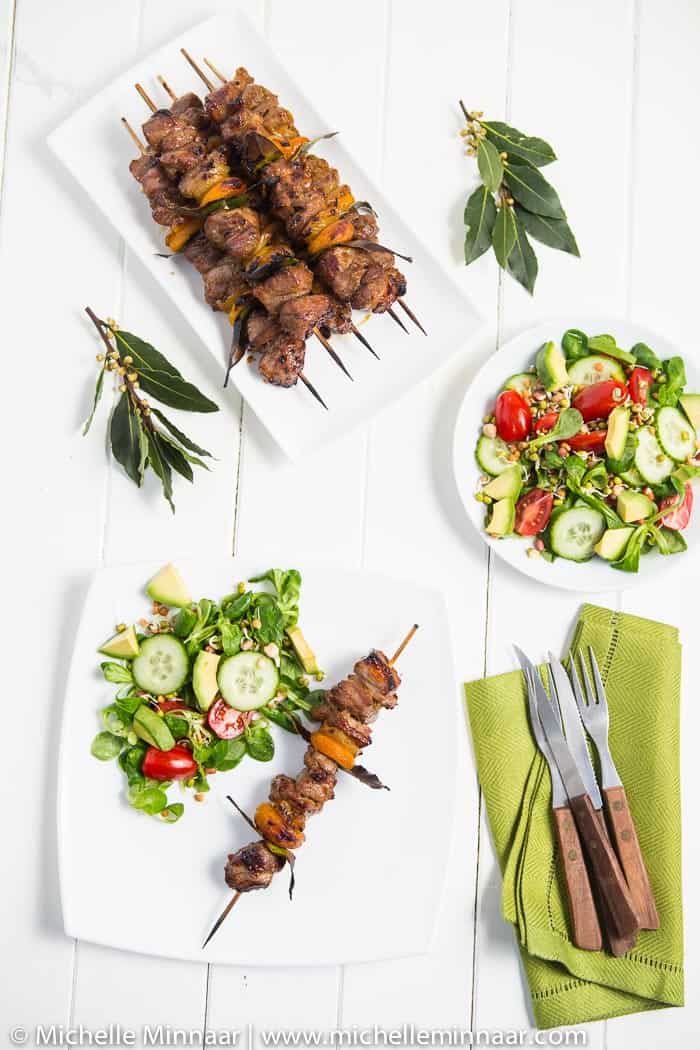 Curious about South African Cuisine? Check out these cookbooks!
Have you ever tried South African cuisine? What is your favourite dish?
Print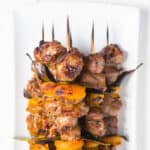 Lamb & Apricot Sosaties
---
Description
 Author: Michelle Minnaar
Give your barbecue a Cape Malay twist.
---
45

ml (3 tbsp) olive oil

3

onions, peeled and quartered

3

garlic cloves, peeled and crushed

5

cm (2in) fresh ginger, peeled and chopped finely

45

ml (3 tbsp) curry powder

15

ml (1 tbsp) salt

10

ml (2 tsp) pepper

45

ml (3 tsbp) white wine vinegar

150

ml (5oz) apricot jam

45

ml (3 tbsp) brown sugar

2

bay leaves

30

ml (2 tbsp) cornflour

1

deboned lamb shoulder, weighing approximately 1kg (2.5lbs), cut into 2.5cm (1in) cubes

20

dried apricots
---
Instructions
Heat the oil and gently fry the onions and garlic until softened.
Add the ginger, curry, salt, pepper, vinegar, jam, sugar and bay to the pan and mix thoroughly.
Make slurry with the cornflour and stir into the marinade.
Bring to the boil and boil for 5 minutes, or until slightly thickened.
Transfer the marinade to a large dish and let it cool down.
Add the lamb cubes and marinate them for at least 4 hours but preferably overnight in the fridge.
Soak the apricots in hot water to cover until plump.
If you are using wooden skewers, soak them in water too to prevent them from burning.
Remove the meat from the marinade and thread it onto the skewers alternating between meat, apricots and onion.
Braai (Barbecue) the sosaties over moderate coals, or grill in the oven, turning frequently, for 25 minutes, or until cooked.
Notes
You can use lamb leg instead of shoulder. Play around with different curry powders to find your favourite and if you can't get hold of any bay leaves, feel free to experiment with any of these bay leaf substitutes.
Category:

BBQ

Method:

Grill

Cuisine:

South African
Nutrition
Serving Size:

209.1g

Calories:

311

Sugar:

22 g

Sodium:

724 mg

Fat:

12.9 g

Saturated Fat:

4.3 g

Carbohydrates:

28.7 g

Fiber:

2.6 g

Protein:

21.3 g