A super simple recipe for those who love cheesecake and coffee. Rich, creamy, and deliciously indulgent, a no bake espresso cheesecake is the perfect people-pleasing dessert. Just try stopping at one slice!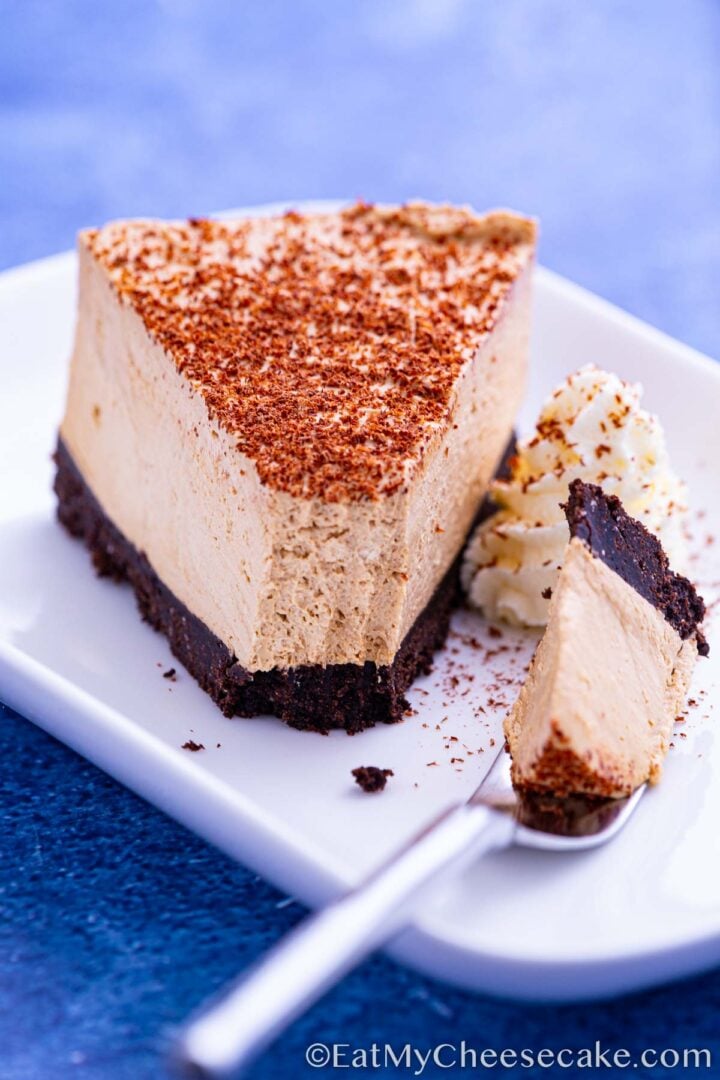 Products you need for this recipe
There are a few essential items you'll need to nab for this terrifically tasty cheesecake recipe:
How to make this no bake espresso cheesecake
This luscious cheesecake has a crushed Oreo biscuit base, a layer of espresso ganache cream cheese filling and is finished off with a mixture of icing sugar, double cream, espresso powder, and cocoa powder, with optional chocolate shavings.
You'll want to marry this cheesecake if you love coffee and chocolate! It's that good.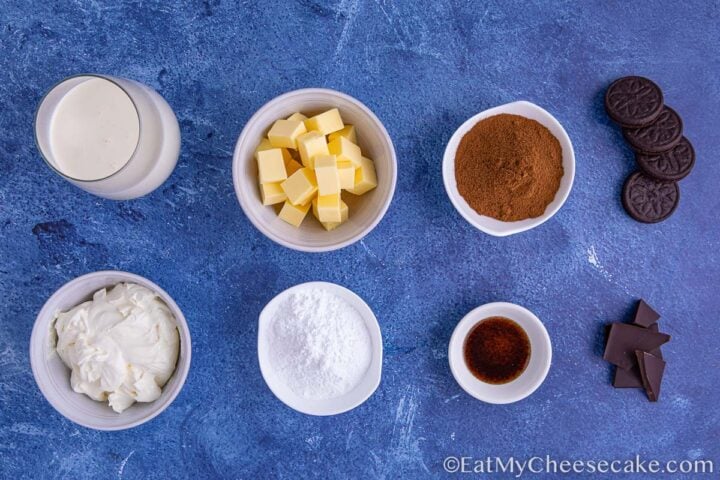 What is the difference between a baked and no bake Cheesecake?
A baked cheesecake is a lot denser with a smoother texture. It uses eggs and is baked in the oven – obviously! 
A no-bake is quicker and easier to make and although it's not as luxurious as a baked cheesecake, it's still creamy and has a lighter texture.
Some people prefer bake, others prefer no bake. Why not try my baked espresso cheesecake recipe and decide which is best?
What's the best biscuit base for an espresso cheesecake?
I've gone for an indulgent Oreo cookie biscuit base for this no-bake espresso cheesecake. It takes a simple cheesecake to a new level of decadence. 
Changing the base from a standard digestive or graham cracker crust makes such a difference.
The chocolate flavor of the Oreos works so well with the coffee-infused cream cheese mixture. Coffee and chocolate rule… who knew? Everybody… but still.
Remember that we're only using the chocolate biscuit part of the Oreo here. So, it would be best to break off the biscuit sections reading to make them into fine crumbs for your no bake espresso cheesecake biscuit base.
Do I have to use plain Oreos for the cheesecake base?
You can use different flavored Oreos if you like, but remember, the filling is the thing that changes, not the actual biscuit. 
We only use the biscuit for this recipe, so getting a different flavor doesn't make sense. Unless you have plans for the filling, of course...
What can I do with the leftover Oreo filling?
After you've separated the Oreo biscuits, you'll be left with the white creme filling. Don't let it go to waste!
My top tip is to add it to the espresso cream cheese filling. You could even use it to make your cream cheese frosting. Perfect for cupcakes!
If you don't want to separate the biscuit from the filling, throw the whole Oreo into the mix. It creates a less stable biscuit base, in my opinion. Still, if time is short, throw the entire biscuit in.
Can I use a different chocolate biscuit for the base?
What is espresso powder?
It is an intensely flavored, concentrated coffee. It's made by darkly roasting coffee beans and dehydrating them to form crystals. This makes it dissolve quickly in liquid.
While you can use powdered espresso to make coffee, it's made for baking. It brings a great coffee flavor to cakes, biscuits, cookies, and cheesecakes. When added to a cream cheese filling, it produces an espresso ganache to die for!
How do you use espresso powder?
All you need to do is add at least a teaspoon of espresso powder to your baking ingredients. 
This recipe calls for two tablespoons to bring a good balance of coffee flavor. I find this amount works well with the chocolate.
Can you use instant coffee instead of espresso powder?
Yes, you can. Add double the amount of instant coffee to the cream cheese mixture as the amount of powdered espresso is called for.
It won't taste nearly as good, though. So, my advice is to stick with the espresso. It's worth it!
Is this no bake espresso cheesecake recipe gluten free?
The only thing that's not gluten-free is the crust. However, you can get gluten-free Oreos, making this a gluten-free no-bake espresso cheesecake!
How do you store a no bake espresso cheesecake?
Your best bet is to place it in a suitable airtight container and keep it in the fridge. You could also wrap it in plastic wrap, although it won't stay as pretty with this method.
When stored in an airtight container in the fridge, this no bake espresso chocolate cheesecake will keep fresh for up to five days.
Can you freeze this cheesecake?
Yes, you absolutely can freeze this cheesecake. For example, this is an excellent idea if you plan on making it in advance.
I recommend freezing it without decorations on top. This allows you to add some last-minute flair before serving it up.
Freeze your cheesecake in a freezer-safe container or airtight freezer-safe bag. If properly stored, a frozen cheesecake will be kept for up to three months. 
To thaw your frozen cheesecake, place it in the fridge to thaw overnight.
How do you decorate a no bake espresso chocolate cheesecake?
Ah, the art of decoration. For me, it's the fun part. If you follow the steps of this recipe, you're guaranteed to end up with a delicious-tasting cheesecake. 
Still, we want it to look the part and taste the part. So, get creative when adding the finishing touches to your no-bake cheesecake.
Mixing cocoa powder, espresso powder, and double cream makes for a fantastic topping, especially when piped through a piping bag.
A final dusting of cocoa powder gives it an elegant finish.
You could also use chocolate flakes, sliced almonds, or a dusting of coconut powder for a frosted finish.
 
If you want more decadence, add a drizzle of vanilla syrup on top!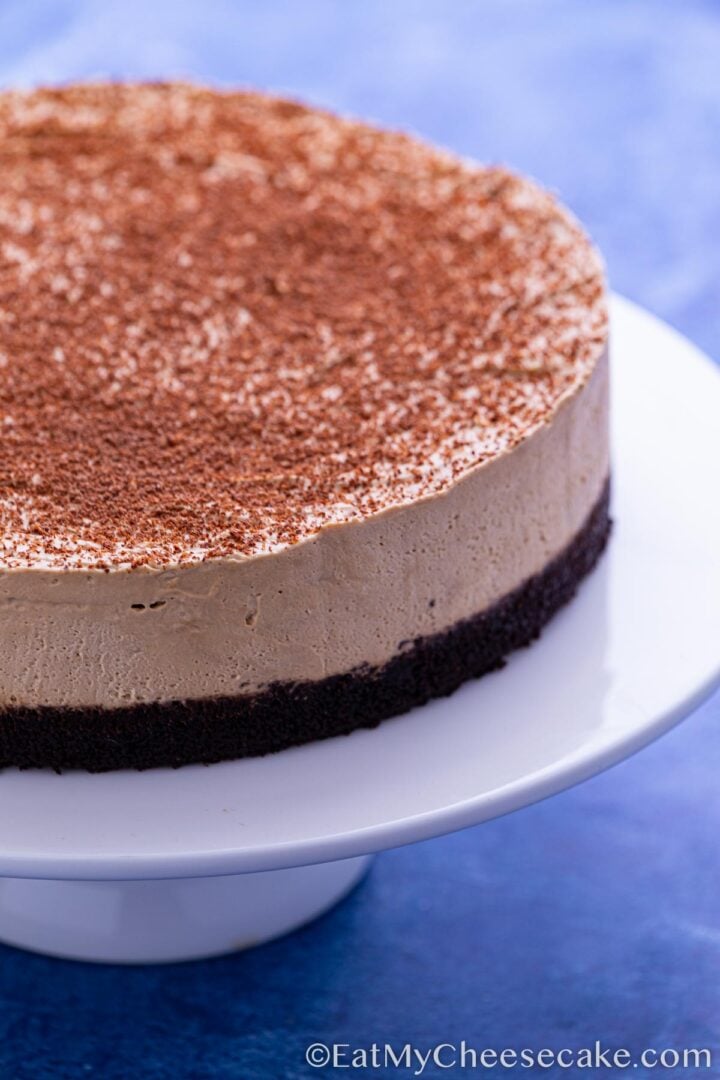 Top tips for the perfect no bake espresso cheesecake
The chocolate cookie crust needs melted butter, Oreos, and powdered espresso. Remove the creme filling from the Oreos for a firmer, more stable base. If you're pressed for time, blend the whole Oreo and the melted butter.
For best results, use a 9 inch springform pan. This will help you to remove your cheesecake with ease… it's the only pan I use when making cheesecakes!
Be sure to press the Oreo biscuit crumb mixture down properly. As it's not baked, it must be dense to stay together when you slice the cheesecake. Use the bottom of a large glass
Don't use cold cream cheese. Softened cream cheese works better when making a no bake espresso chocolate cheesecake. Leave it outside the fridge for around two hours before whipping up your cream cheese mixture.
Don't skimp on the chill time! Six hours at least is needed here. Preferably overnight.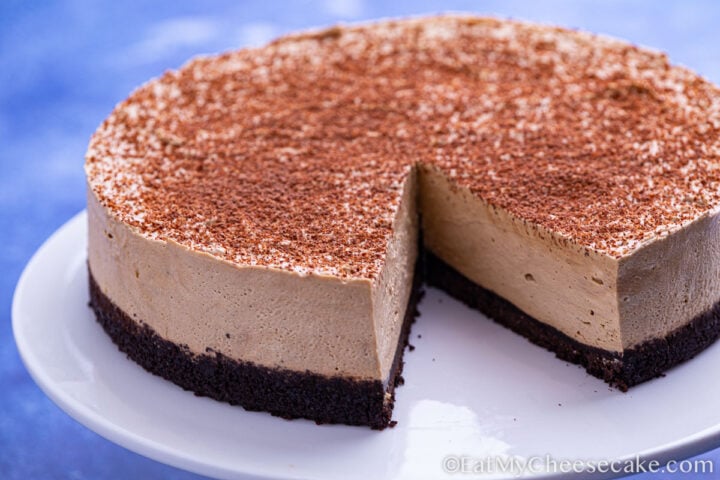 Desserts for chocolate lovers
More heavenly cheesecakes
Has this cheesecake got you in the mood to make another masterpiece? Whether it's a baked or no baked cheesecake, I've got the recipe for you!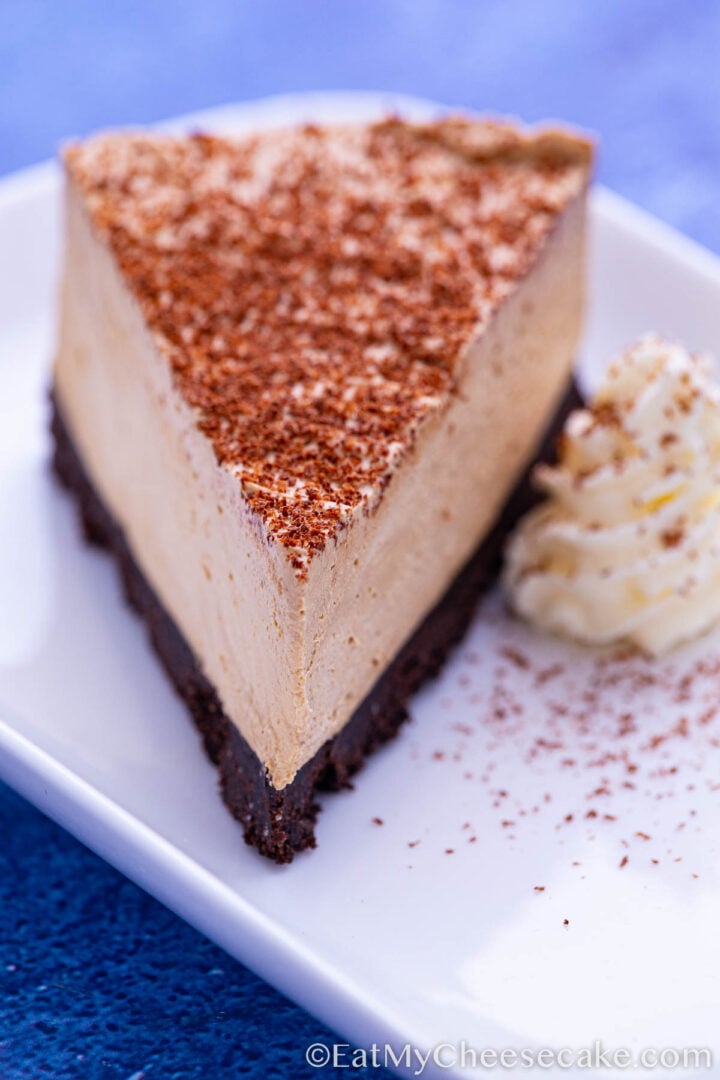 Print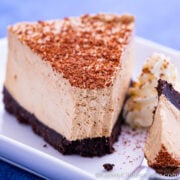 No Bake Espresso Cheesecake
---
Author:

Michelle Minnaar

Total Time:

30 minutes

Yield:

12

portions

1

x

Diet:

Vegetarian
Description
This No Bake Espresso Cheesecake is an easy no bake recipe using instant espresso and a chocolate shavings topping.
---
Biscuit Base
300

g

Oreo cookies, just the biscuit

150

g

unsalted butter, melted

6

g

instant espresso powder
Espresso Cheesecake Filling
650

g

cream cheese

5

ml

vanilla paste

75

g

icing sugar

12

g

instant espresso powder

420

ml

heavy (double) cream
Decoration
125

ml

double cream

2

g

instant coffee powder

15

g

icing sugar

15

g

cocoa powder
---
Instructions
For the Biscuit Base: Place the Oreo cookies in your food processor, blitz them into a crumb, and add the instant espresso powder. While the food processor is still running, add the melted butter and allow it to combine, which should only take about 15 seconds, then turn off.
Prepare your 23cm (9 inch) springform pan by putting a layer of greaseproof paper over the base and then clasping the springform ring around the outside, as I find this easier when removing the cheesecake at the end.
Pour your crumb into the pan and flatten evenly - I use the bottom of a large glass.
Place in the fridge for around 10 minutes to chill.
Espresso cheesecake filling: In a bowl, beat the cream cheese and vanilla paste - I use a KitchenAid stand mixer on level 2 or 3 as I find this so much easier, until smooth.
Add the icing sugar and instant espresso powder a bit at a time and continue to mix.
In a separate bowl, whisk the heavy (double) cream until you achieve soft peaks, and then fold the cream cheese mix and heavy (double) cream until the cream is fully incorporated.
Remove the tin from the fridge and cover the whole base with the cheesecake filling, then gently drop the tin onto the kitchen counter 5 to 10 times to let any bubbles out.
Place the cheesecake in the fridge for at least 6 hours, preferably overnight.
Remove the cheesecake from the tin. Tip: I use a kitchen blowtorch to loosen the sides. Alternatively, I use a cloth dipped in hot water to complete the job.
To Decorate: Place the heavy (double) cream, instant espresso powder, and the icing sugar into a mixing bowl and whisk until you achieve soft peaks.
Fill a piping bag with this mixture, decorate as you see fit, then dust with the cocoa powder. Enjoy
Notes
You can swap the biscuit base for anything you wish, i.e., oat cookies, digestives, etc.
Prep Time:

30 minutes

Category:

Dessert

Method:

Chill

Cuisine:

British
Keywords: espresso cheesecake, espresso cheesecake recipe, espresso dessert, espresso recipe, no bake espresso cheesecake