After making this simple turkey gravy recipe, you'll never use gravy granules again!
There's no doubt about it – the best turkey gravy is the homemade kind! It's so much better than the shop bought stuff. Plus, it's so simple to make. So, make this easy turkey gravy for your Sunday lunch, Thanksgiving or Christmas dinner... you won't regret it!
Why You'll Love This Recipe
It's an easy turkey gravy recipe that takes no time at all
There's a lot of flexibility – you can customize it to your taste
It's the perfect recipe for a Sunday lunch or festive feast
There are only a few ingredients – just turkey drippings, butter and flour... that's it!
Equipment Needed To Make This Recipe
There are a few essential items you'll need to make this simple turkey gravy:
Medium saucepan – the crucial piece of equipment when it comes to making this gravy
Sieve – you'll need a sieve to make your gravy silky smooth
Gravy boat – a delicious gravy should be served up in style!
How To Make Simple Turkey Gravy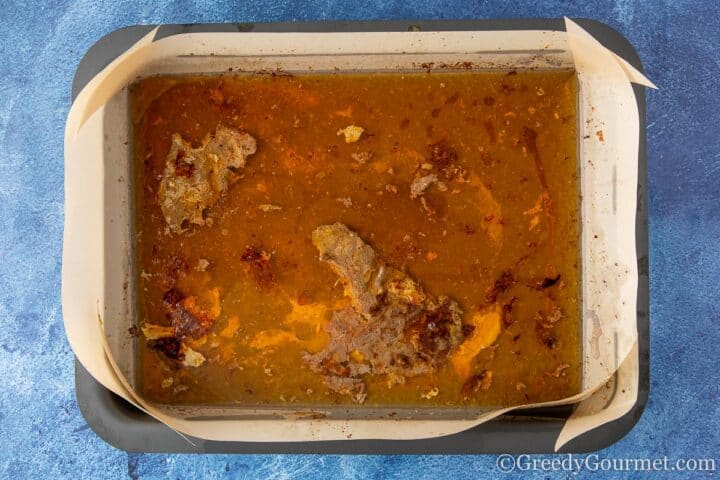 Reserve the turkey drippings.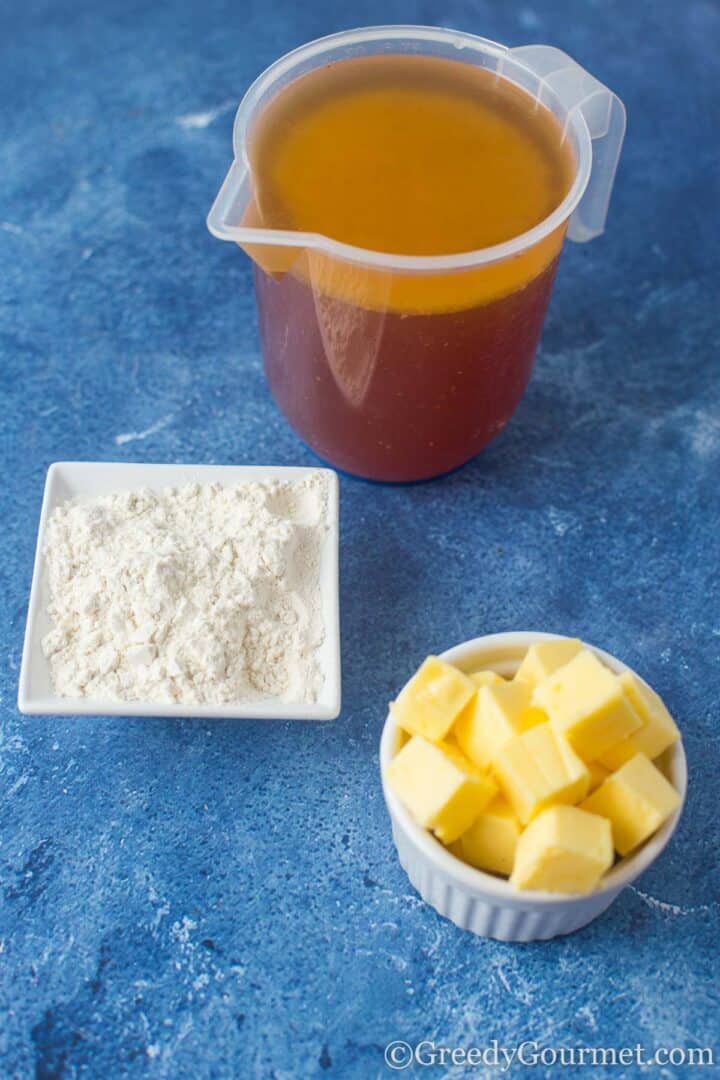 Turkey drippings, flour, butter.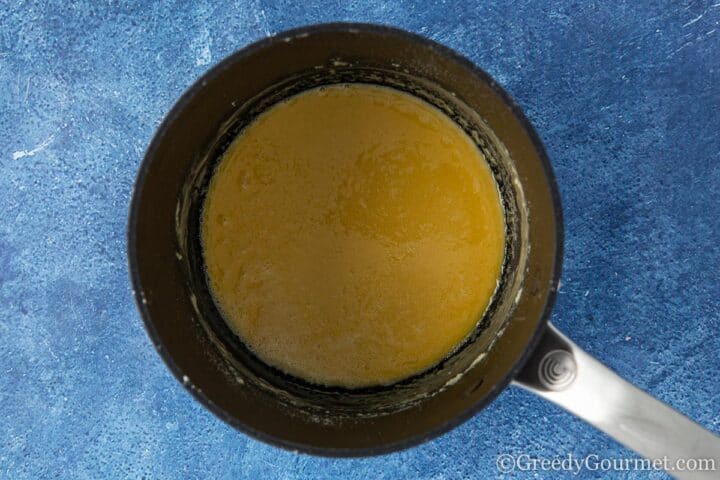 Melt the butter in a saucepan then systematically stir in the flour to form a roux.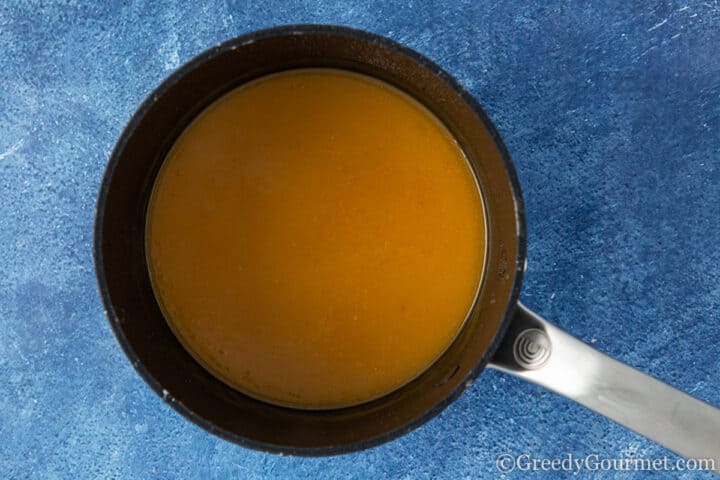 Slowly add the dripping until a smooth gravy forms. Serve with turkey. Enjoy!
Top Tip
Be patient when adding liquid to the roux. Adding a splash of liquid at a time while constantly stirring is the trick when it comes to getting a wonderfully smooth consistency.
What to Serve with This Recipe
Mains
This gravy is tailor made for a big roast, as well as individual cuts of meat. Here are some suggestions:
Greens
Lightly steamed greens are perfect with this gravy. Think cabbage, kale, spinach or chard. You could also try these roasted green beans.
Wine pairing
Pinot noir is the ultimate turkey wine pairing. It's an incredible versatile wine that holds up to the richness of roast turkey, while complementing any additional flavors.
White wines like Chardonnay and Riesling are also great with turkey and turkey gravy.
Variations To This Recipe
Add herbs
Bring a different flavor dimension to this turkey gravy recipe by adding fresh herbs. I recommend thyme, parsley, rosemary, oregano or tarragon.
Extra richness
There are so many ways you can take this easy turkey gravy recipe to the next level. Depending on how you have cooked your turkey and what kind of flavors you have used in the roasting pan, you might need to add a flavor maker or two to make it an even more delicious gravy.
Here are a few ideas if you want to bring some extra richness when making gravy:
Worcestershire sauce, or a Worcester sauce substitute
A spoonful of Marmite
Chicken stock or chicken broth into the mix
Miso paste
Mustard
Chopped bacon or pancetta
Add wine to the pan at the same time as the first splash of pan drippings
Make it gluten free
Replace the plain flour in this recipe with gluten free flour to make it gluten free. I recommend using white rice flour or arrowroot powder.
Popular substitutions
This easy gravy recipe is very adaptable. You can adapt it to any kind of roast recipe where there are pan drippings. For instance, it would work well with a roast chicken recipe, roast beef recipe or a roast pork recipe.
Top Tip
Use a whisk when mixing the flour and butter – you'll end up with a smoother consistency.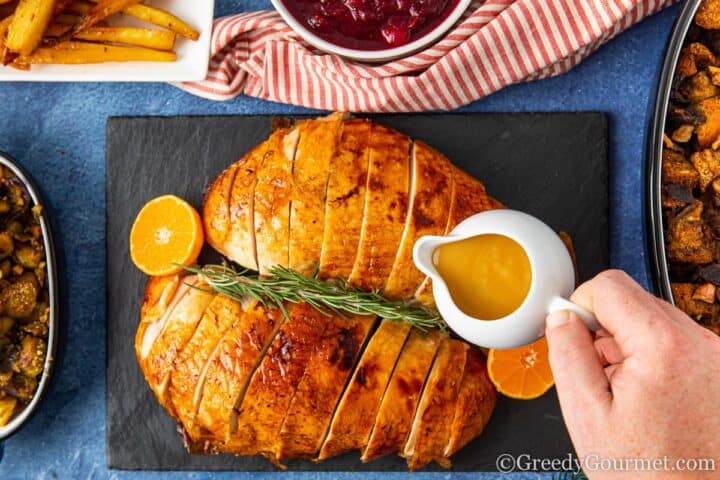 How do I thicken turkey gravy?
If you follow the recipe below, with all the correct ratios and measurements, you will end up with perfectly luscious, silky-smooth gravy.
However, if you do find that your gravy is on the watery side, there are a couple of things you can do to thicken it.
First of all, make sure you've given the gravy enough time to reduce. Five minutes should do the trick, but if it hasn't quite reached the desired consistency, give it a few minutes while you gradually whisk the gravy. It should thicken this way.
If it still isn't thick enough, you can thicken your turkey gravy with cornstarch. Mix one tablespoon of cornstarch with one tablespoon of water in a cup until a paste is formed. Pour this paste into your gravy and stir constantly until thickened. For the gluten free option, you can instead use arrowroot powder or an arrowroot substitute.
How do I store leftovers?
This easy turkey gravy is also easy to store. Keep it in a suitable airtight storage container and store it in the fridge. It will stay fresh for three to four days.
How do you know if gravy has gone off?
After four days in the fridge, the gravy might start to get a little slimy and will start to take on a pungent smell. In this case, it's time to throw it away I'm afraid.
However, there's another option if you need to store this turkey gravy recipe for longer than four days...
Can you freeze turkey gravy?
Yes! Turkey gravy freezes really well, which makes it ideal for making a big batch. Allow the gravy to cool completely, before spooning it into airtight containers of freezer bags.
If you want to freeze it in smaller portions, you could even freeze gravy in ice cube trays then, when frozen, placing the ice cube tray in a freezer bag.
That way, you can use them one cube at a time, bringing flavor to soups, stews and casseroles by dropping a gravy ice cube straight into the pot!
Don't forget to always label your containers and bags with the date of freezing. You can freeze gravy for up to four months.
How do you defrost frozen turkey gravy?
In the fridge. It takes several hours, so it's best to thaw gravy overnight.
How do you reheat leftovers?
The best way to reheat your turkey gravy leftovers is in a saucepan on the hob. Place it on a medium heat and gently reheat, stirring constantly until piping hot.
Can this recipe be scaled?
Yes, it can easily be scaled. The best turkey gravy is the kind that is scalable, in case you need to make an extra-large batch for a Thanksgiving or Christmas turkey dinner. This recipe is perfectly scalable – just double or triple the amounts below to make a larger amount.
Can I make turkey gravy ahead of time?
Definitely. Another great thing about this recipe is the fact that it can be made ahead of time. Which, let's face it, is big factor when it comes to the busy holiday season.
A really good idea is to use the turkey drippings from your Thanksgiving dinner to make this easy turkey gravy recipe. Then, you can freeze it, defrost it just before Christmas Day, and easily reheat it to be served with your Christmas roast.
This gives you one less thing to think about when it comes to making all the amazing dishes you'll no doubt be making over the holiday season!
Other Turkey Recipes You'll Love
Here are some more excellent turkey recipes, perfect for the holiday season and all year round:
Don't forget to come back and let me know how your recipe turned out!
Print
Simple Turkey Gravy
---
Author:

Michelle Minnaar

Total Time:

20 minutes

Yield:

16

servings

1

x

Diet:

Kosher
Description
Have you cooked a turkey for thanksgiving and don't want to waste all the drippings? Don't worry you can use them in this Simple Turkey Gravy recipe.
---
750

ml

(3 cups) pan drippings

113

g

(1/2 cup) butter

60

g

(1/2 cup) flour
---
Instructions
Strain all the pan drippings into a large jug first, then measure off 750ml (3 cups) for the recipe.
Melt the butter in a medium saucepan, then systematically stir in the flour until a smooth paste forms. 
Add a splash of the dripping to the roux and stir until smooth. Add another splash, stir enthusiastically, ensuring that the mixture is smooth before adding more liquid. Repeat the process until all the drippings are fully incorporated.
Bring the gravy to a boil, then bring it to a slow simmer point, while stirring constantly. After about 5 minutes, the gravy should have thickened. 
Season to taste and serve warm. Enjoy!
Notes
In my case, I roasted a 9kg (20lbs) turkey, which yielded around 1 liter (4 cups) of pan juices, with 250ml (1 cup) being fat and 750ml (3 cups) being stock. I.e. Different sized and quality turkeys will yield different quantities of pan juices, so it's best to collect it all first from the pan and work out the appropriate ratios for the recipe from there.
You can make this gravy ahead of the feast. Gently heat it through in a saucepan and stir frequently. 
You can add fresh herbs to the gravy, such as thyme or parsley.
Prep Time:

5 minutes

Cook Time:

15 minutes

Category:

Side Dish

Method:

Boil

Cuisine:

American
Keywords: simple turkey gravy, easy turkey gravy recipe, easy turkey gravy recipe from drippings, basic turkey gravy, how to make turkey gravy from turkey juice, easy christmas gravy, easy thanksgiving gravy, thanksgiving turkey gravy