When it comes to soup, nothing is more satisfying than making an easy recipe, which is why I love this navy bean soup so much. I guarantee you'll love it, too!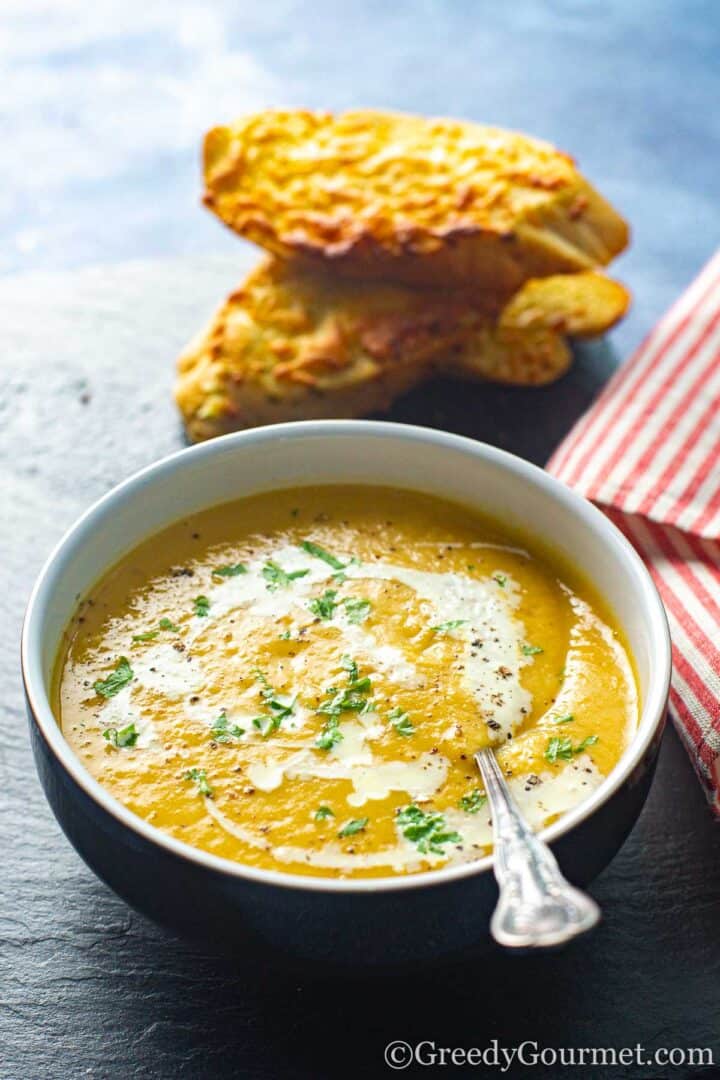 There are lots of soup recipes available, but you'll keep making this one because it's the best bean soup.
Equipment Needed
Here some of the equipment you'll need to make this navy bean soup:
Soup pot - Get a large pot to cook your bean soup. There are a lot of ingredients in this soup recipe and you want everything to be able to fit.
Blender - You'll use a blender to thicken up the soup. It makes for a delicious texture. But no worries if you don't have a blender. You can use an immersion blender, or even a potato masher to do the trick. Keep in mind if you use the latter you will have to mash quite a bit.
Why You'll Love It
There's lots to love about this navy bean soup recipe.
I love that it's quick to throw together. If you are in a hurry in the morning and just want to get something thrown together to have for supper later that night, this is the perfect recipe.
Anyone with a family will come back to this recipe time and time again because the preparation is so simple.
I also love this recipe because of the tasty ingredients. They are so dang delicious, and make for a delicious smell.
It's a one pot meal. While everything is cooking in your soup pot, you'll smell those delicious aromas wafting throughout your house and you'll be so darn satisfied.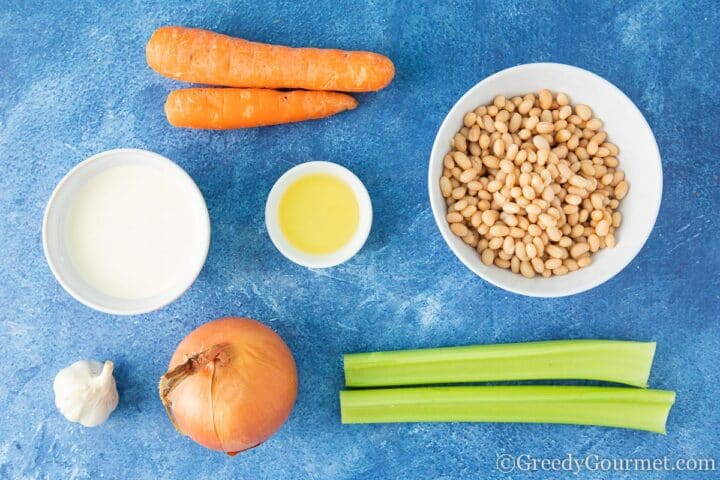 What Are Navy Beans?
Navy beans are a white, creamy beans that have a shape similar to a pill. They have a mild flavour, but one that is oh so delicious.
For this recipe, you are going to use cooked beans Instead of dry beans, and there are a couple of ways you can achieve the correct consistency. You can soak the beans overnight, or you can just use canned beans. 
It doesn't matter how you get them to the right texture before adding them to your soup, but no matter if you use canned navy beans or soaked beans, make sure you have drained beans before putting them in the pot.
If you do not have navy beans at home, you can use great Northern beans or cannellini beans in their place. I am partial to the navy bean, but really anything will work.
Can I Cook Navy Bean Soup in a Slow Cooker Instead?
You can absolutely adapt this recipe to be used in a crock pot. Put in all of the ingredients together, using dried beans instead of cooked beans, and cook either on a high heat for four hours or low heat for eight hours. 
It'll take a little bit longer, but it'll taste so good and be so simple. If you're comfortable, start it before going to bed and let it cook the beans overnight. 
You can also make this recipe in an instant pot if you do not have a slow cooker. You can use the crockpot feature, or follow similar instructions to the recipe below.
You can even cook this recipe in a dutch oven if you'd like.
Can I Add Anything?
You can of course add other ingredients if you prefer. To turn this into ham soup, I suggest adding smoked ham meat for a hearty, delicious twist. You will love the taste of ham navy bean soup on a cold winter night.
You can also add some more seasonings if you like. It currently calls for salt, pepper, and chives. But any medley of your liking well and elevate the recipe just a bit. 
Spices like parsley, fresh thyme, fresh rosemary, smoked paprika, crushed red pepper, a bay leaf, and garlic powder all make for a delicious, hearty soup. 
You can also add some other vegetables, like diced tomatoes or more beans. Adding black eyed peas or black beans will give it the taste of other bean soups and make it perfect for cold winter nights.
Can I Make it Thicker?
If you want a thicker soup, there are a couple ways you can do it. You can add a slurry if you would like, one made out of water and cornstarch or water and flour.
You can also add in some tomato paste. Tomato paste will thicken the soup, but it'll also of course give it a tomato taste, so only use that if you like a tomato taste.
Adding more beans will thicken the soup, as will letting it simmer. If you decide to do that, be sure to watch it, stirring occasionally as the soup thickens so it does not stick to the bottom of the pan.
Can I Make it Thinner?
If you want thinner navy bean soup, add more liquids. You can easily add more water or more broth to thin it up a little bit. Keep in mind that broth may be a better option because it will keep the taste, but you can use water, too. 
If you are alright with a little bit of a taste change, you can also add Worcestershire sauce. It'll give it a bit of a bite, but it'll be delightful.
You can also adjust the thickness of the navy bean soup as you blend it. If you want thick soup, do not blend for as long, but keep blending until it's smooth if you want thin bean soup.
You can also add a couple cups of water to thin it out.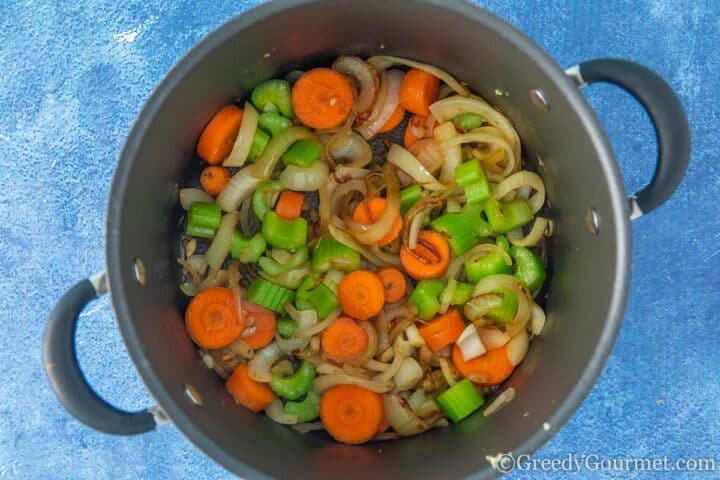 What To Serve With This Soup
This is a delicious soup on its own, but you can serve it with whatever you'd like. If you're looking to add a little more protein but don't want to put any meat in the soup, you can serve it with some leftover ham.
You can also eat it with crusty bread or tasty salad. Here are some of my favorite sides to pair it with:
Storage Advice
After you have devoured it, if you have any left, you'll want to save it. You can easily freeze it or just keep it in the fridge overnight.

The soup makes for wonderful leftovers, and you may even find that after it has soaked overnight, it's taken on a better texture, and that the spices have brought out an even more wonderful flavor.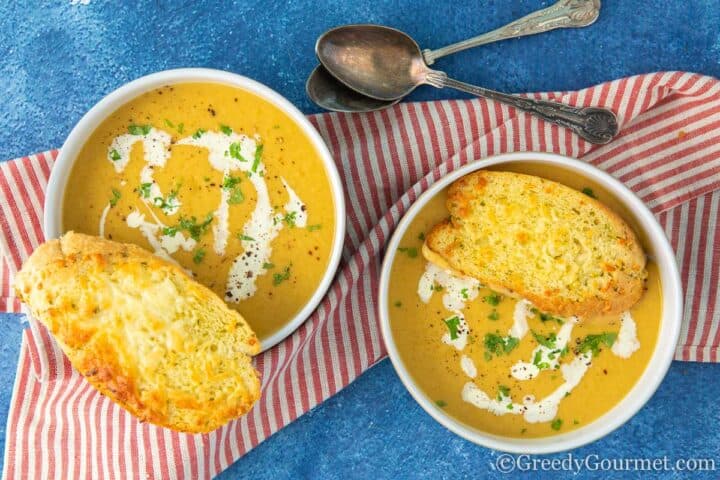 Important Ingredients
Here are some of the other ingredients you'll need:
Oil - I use olive oil, but you can use any oil you'd like. Just note that the flavor may change a bit depending on the oil you use.
Vegetables - For this navy bean soup, I make a little mirepoix. It adds to the taste, and gives the soup more nutrients.
Stock - Because this is a vegan recipe, I use vegetable stock. Feel free to use whatever stock you'd like for your dietary preferences. You can also substitute for broth. Low sodium chicken broth and low sodium chicken stock are good substitutes if you eat meat. If you're short on stock, use some cups of water.
Ham Hock vs. Ham Bone
If you are not vegan, you may want to try cooking this recipe with leftover ham bone or hock.
You can use any hock you have. A smoked ham hock is wonderful, but just a regular one will taste good, too.
If you are out of smoked ham hocks, no worries. Ham bone is perfect. If you have a hock, you can put it right in the soup with the other ingredients.
If you are just using a ham bone, you'll make stock ahead of time. You can then use the ham bone stock in place of your other stock.
You can also use it in other soups in place of chicken broth. You'll need 6 to 8 cups of water to make your ham stock.
Print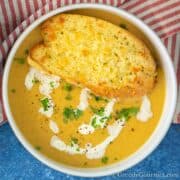 Creamy Navy Bean Soup Recipe
---
Author:

Michelle Minnaar

Total Time:

35 minutes

Yield:

4

servings

1

x

Diet:

Vegan
Description
Magically turn dried navy beans into this vegan Navy Bean Soup. Learn how to cook navy beans - it really isn't difficult!
---
15

ml (1 tbsp) olive oil

1

onion, chopped

1

celery stalk, chopped

1

carrot, chopped

500g

(

17oz

) cooked navy beans

500

ml (2 cups) vegetable stock
salt and pepper, to taste
chives, for garnishing
---
Instructions
Heat the oil in a large pot over a medium heat. 
Add the onion and fry for 5 minutes, or until the onions have softened and become translucent. 
Add the carlot, celery and carrot. Stir fry for another 10 minutes, until the vegetables have softened. 
Tip in the beans and stock and bring to a boil, then lower to a steady simmering point. 
Cook for 10 minutes or until the vegetables are tender. 
Process the soup with a hand blender or transfer to a food processor and blend until desired consistency is achieved. 
Season to taste, then serve immediately with a dash of vegan cream, a sprinkling of snipped chives and your favorite bread. Enjoy!  
Notes
Navy beans are the same as haricot beans, it's just known by different names depending on the country. In this case, it's USA and UK, respectively. 
You can use dried navy beans which work out cheaper than their canned counterparts. Simply soak 250g (8½oz) of dried navy beans in plenty of water the night before. The next day, drain and rinse the beans thoroughly. Boil the beans in plenty of water then bring down to a simmer. Cook for 45 minutes, if the beans aren't tender yet, cook for longer until they become so. Scum might form during the boiling process, which you can scoop off as the beans cook. Drain the beans, then proceed with the recipe as above. 
This recipe is suitable for vegans but if you're vegetarian, you can add a splash of heavy cream and grated cheese on top. If you're a meat eater, you can push the boat out by substituting the vegetable stock with chicken or pork stock, stirring in chopped cooked ham or bacon after blitzing the soup, and topping the soup with shavings of parmesan cheese!
Prep Time:

10 minutes

Cook Time:

25 minutes

Category:

Soup

Method:

Boil

Cuisine:

American
Keywords: navy bean soup, haricot bean soup, vegan navy bean recipe, vegan soup recipe, vegan haricot bean recipe, navy beans vs haricot beans