A delicious treat for the day after, this leftover turkey soup makes the most of all that wonderful food leftover from Thanksgiving or Christmas.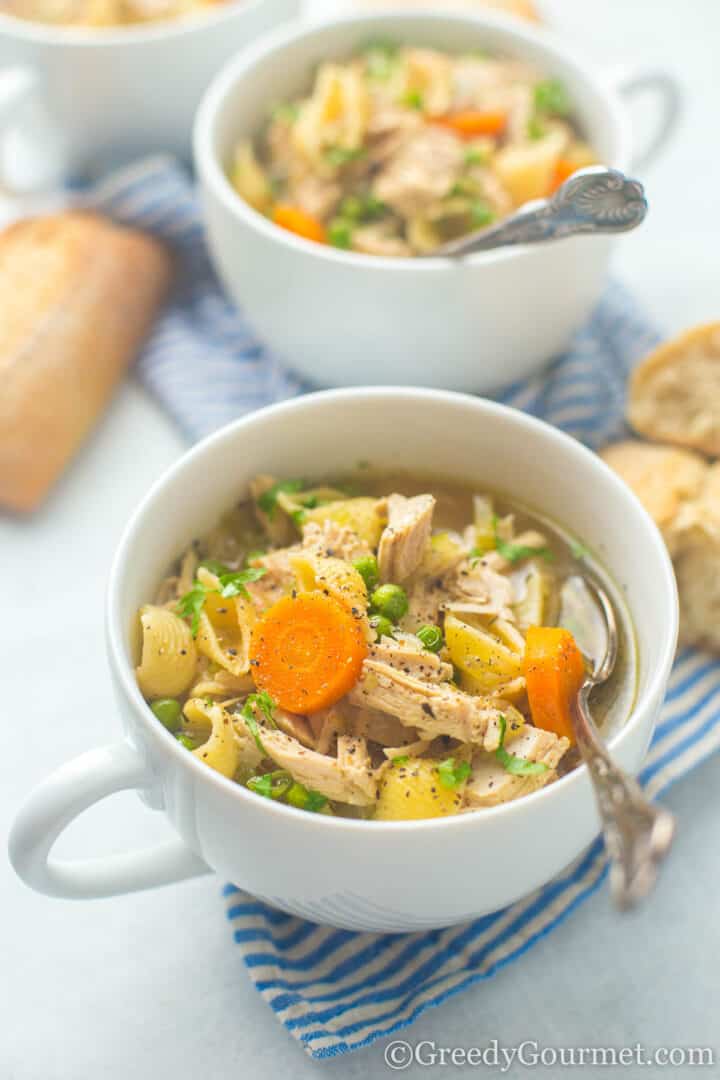 So, keep that cooked turkey meat and turkey stock and whip it up into something to tantalize those taste buds!
Products you need for this recipe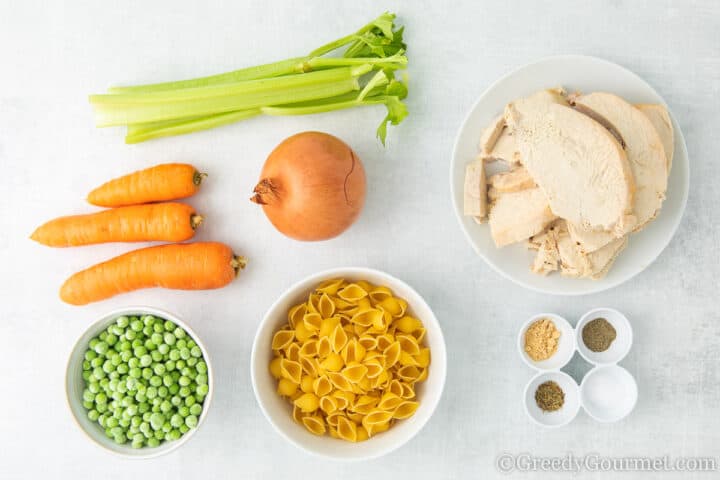 Why You Will Adore This Recipe
When it comes to comforting winter food after the holidays, nothing beats an old fashioned turkey soup. Well, this recipe takes those delicious turkey leftovers to deliver the best leftover turkey soup you've ever tasted!
All that leftover turkey meat and homemade turkey broth work best when used to make turkey soup. Trust me… just one spoonful of this delicious soup and you'll be making this leftover turkey soup recipe every single year!
Best of all, making turkey soup is so easy! You need the classic vegetable trivet trio – carrots, celery and onions – then that wonderful homemade broth made from the turkey carcass (chicken broth will do), a bit of salt and pepper, the leftover turkey meat, bring to a boil then turn down to a simmer.
Then, in goes your pasta of choice. Within a few minutes, you'll have the most wonderful soup to soothe your soul and set off your taste buds. Chicken soup has got nothing on this one!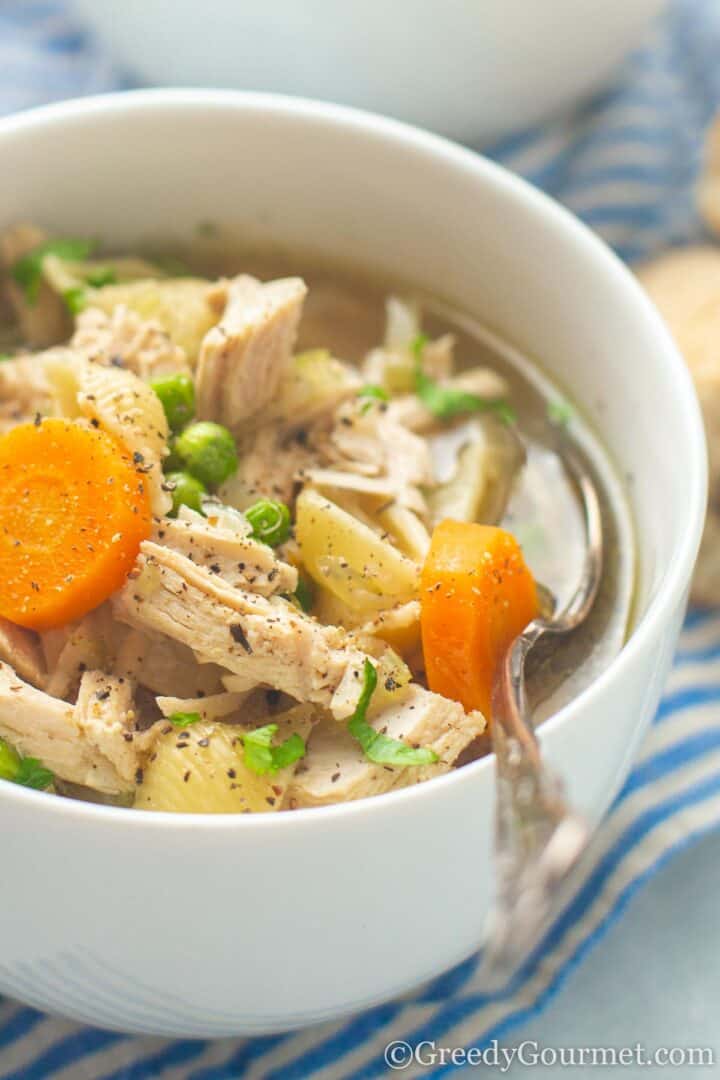 What kind of pasta should I use for this soup?
This turkey soup made with leftover turkey meat tastes great without adding anything. Yet, I prefer my soups with a bit more substance, so my turkey soup recipe calls for the addition of pasta.
When it comes to adding pasta to your turkey soup, there are a few options:
Conchiglie
Normally called 'pasta shells' or 'seashells' because of their shape, they are normally rigid on the outside and smooth on the inside, which gives them an interesting contrast in textures.
They come in three sizes – small (conchigliette), medium (conchiglie) and large (conchiglioni) and are great to use in soups as they hold up well when boiled, keeping their shape and texture.
Gnocchi
These potato-based pasta balls would be excellent in turkey soup, soaking up all the juices to make an even better turkey soup recipe. If you do go with gnocchi, keep in mind that they cook very quickly, so add towards the end of the recipe.
Fusilli / Rotini
Known as fusilli in the UK and rotini in the States, these tasty little tubes are also a good option to serve in soup. They soak up the flavors and, while they don't hold their shape quite as well as conchiglie, they do bring a nice texture when added to soups.
Tortellini
Little pasta twists, tortellini are traditionally stuffed with ingredients. Although they are not normally served up in soups, find the right type of tortellini and these little beauts would make turkey soup even more wonderful.
Go for a spinach and ricotta tortellini for the best match for this turkey soup recipe.
Orzo
If you like the idea of a rice soup, this type of pasta might be the one for you. Orzo is a form of short cut pasta that is traditionally made from semolina flour, but can also be made from wheat grain. Go for this option if you want to soup on the lighter side. 
Noodles
Of course, if turkey noodle soup is more your thing, you can replace the pasta with noodles. I recommend going for egg noodles, although udon noodles or ramen noodles would be great as well. 
What turkey cuts are best for leftover turkey soup?
When it comes to leftover turkey, don't be picky about the meat. Use all of it!
Of course, the dark meat of the turkey normally brings more flavor than the breast meat, but this leftover turkey soup recipe is about using up all of the meat that's leftover from Thanksgiving or Christmas.
So, throw it all in there and enjoy! 
How do you thicken leftover turkey soup?
If you follow this recipe to a T, it should end up with the perfect consistency. Not too thick and not too thin – just right!
However, of course cooking is subjective, so maybe you'll find that you would prefer it to be a little bit thicker. In which case, there are a couple of things you can do to change the consistency of this leftover turkey soup recipe.
First, try adding a tablespoon of flour to the carrot, celery and onions just before you add the stock. Then, cook the flour in for a minute on a medium heat. When you add the stock, the liquid will be slightly thicker and the final consistency will be thicker.
Another option is to add cornflour at the end of the recipe. This involves a paste in a separate bowl, using a teaspoon or two of cornflour and an equal amount of water. Then, stir and when you have your paste ready, stir it into the soup. Repeat as necessary.
Finally, adding a touch of cream is a great way to thicken your soup without compromising on flavor.
Can I use oil instead of butter?
Absolutely! If you prefer cooking your carrots, onions and celery in olive oil, you can easily substitute it for the butter.
What other flavors can I add?
One of the great things about this leftover turkey soup recipe is that it's so easy to tweak to your personal preferences. For a little inspiration when it comes to finding your perfect flavor profile, here are a few ingredients you could add to your soup.
Herbs  
The king of herbs when it comes to pairing with poultry is thyme. You could also use tarragon, marjoram, oregano, sage or rosemary. Go for poultry seasoning, which is a mix of most of these herbs, for a great all-round blend.
You could also add a bay leaf (don't forget to remove it before serving up the soup).
Spices
Be subtle with the spices. Just a pinch here and there and you can make this soup really sing. Try some paprika or cayenne pepper for some smoky charm. Also, a little cumin and turmeric can give it an interesting angle. Try grinding some fenugreek for a wonderful aroma.
Other ingredients
If you're looking for a big hit of umami flavor, go for a teaspoon of Marmite or a splash of Worcestershire Sauce.
Another great option is a teaspoon of mustard. It will add some earthy heat to your soup and mustard just goes so well with turkey and any kind of meat.
Can you use chicken for this recipe?
Yes, you can. This easy turkey soup can be adapted to be an easy chicken soup, with cooked chicken and chicken broth or chicken stock to replace the turkey ingredients.
How do you store leftover turkey soup?
You can store this soup in the fridge for up to 3 days. Store it in an airtight container.
Can you freeze it?
Yes you can. The only thing I would say is to leave out the pasta if you think you're going to freeze it. Then, when you're ready to serve it up later, you can cook the pasta.
This leftover turkey soup will stay fresh in the freezer for up to 3 months. To freeze it, place it in an airtight, freezable container and place in the freezer. Don't forget to label the container with the content and the date of freezing.
You can also free your leftover Thanksgiving turkey soup in smaller batches. That way, you can defrost only what you need each time.
How do you defrost this soup?
I recommend defrosting your frozen turkey soup in the fridge overnight.
How do you reheat it?
Reheat it in a saucepan on a medium heat on the hob, stirring continuously until piping hot.
What should I serve with leftover turkey soup?
If you want to keep it simple, serve your soup with some delicious crusty bread and creamy butter. You could also make simple sandwiches to serve alongside it.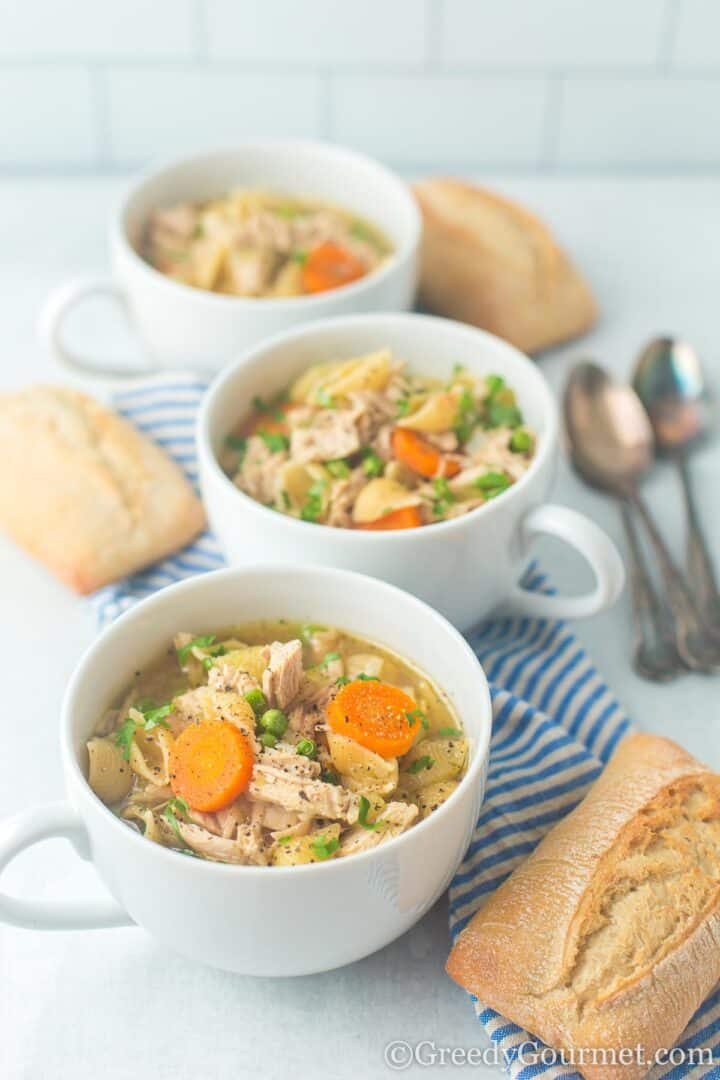 More leftover turkey and stuffing recipes
Don't waste those wonderful leftovers! With a little bit of ingenuity, you can give new life to your leftovers and bring even more delicious holiday cuisine to the table!
Here's a selection of my favorite leftover turkey and stuffing recipes for the holiday season:
More holiday season recipes
Need some inspiration for Thanksgiving or Christmas? Look no further!
Print
Leftover Turkey Soup
---
Author:

Michelle Minnaar

Total Time:

45 minutes

Yield:

6

Servings

1

x

Diet:

Low Lactose
Description
Don't waste any of your Thanksgiving or Christmas turkey meat. Learn how to make this tasty Leftover Turkey Soup.
---
28

g

(2 tbsp) butter

3

medium carrots, peeled and cut into small cubes

3

celery stalks, washed and cut into small cubes

1

onions

1.5

L (6 cups) turkey stock

125

g

(1 cup) small pasta shapes, such as conchiglie or elbow noodles

134

g

(1 cup) frozen peas

450

g

(2 3/4 cups) cooked turkey, diced

6

g

(1 tsp) salt

0.25

g

(1/4 tsp) dried thyme

0.5

g

(1/4 tsp) ground black pepper

0.5

g

(1/4 tsp) garlic powder
---
Instructions
Melt the butter over a medium heat in a large saucepan.
Add the carrots, celery and onions, then stir fry for 5 minutes, or until the onions are soft and translucent.
Add the stock and bring a boil. Lower the heat to a steady simmer and cook for 10 minutes.
Add the remaining ingredients and bring to the boil. Let it simmer for about 10 minutes or until the pasta is cooked.
Season to taste and serve immediately with your favourite crusty bread and butter. Enjoy!
Notes
Leftover chicken works just as well for this recipe.
You can store this soup in the fridge for up to 3 days.
This recipe is freezable if you omit the pasta during the cooking process. You can add cooked pasta when reheating the soup.
Don't have any celery? Check out these celery substitutes to use instead!
Prep Time:

15 minutes

Cook Time:

30 minutes

Category:

Main Course

Method:

Boil

Cuisine:

American
Keywords: leftover turkey soup, leftover turkey recipe, turkey pasta soup, recipe using turkey broth, thanksgiving leftover turkey recipe, christmas leftover turkey recipe, turkey soup recipe