These amazing Mexican lamb tacos are off-the-charts tasty! Tender, smoky and spicy slow-cooked lamb that melts in your mouth, served up in a warm tortilla and finished with your favorite toppings.
Deeelish!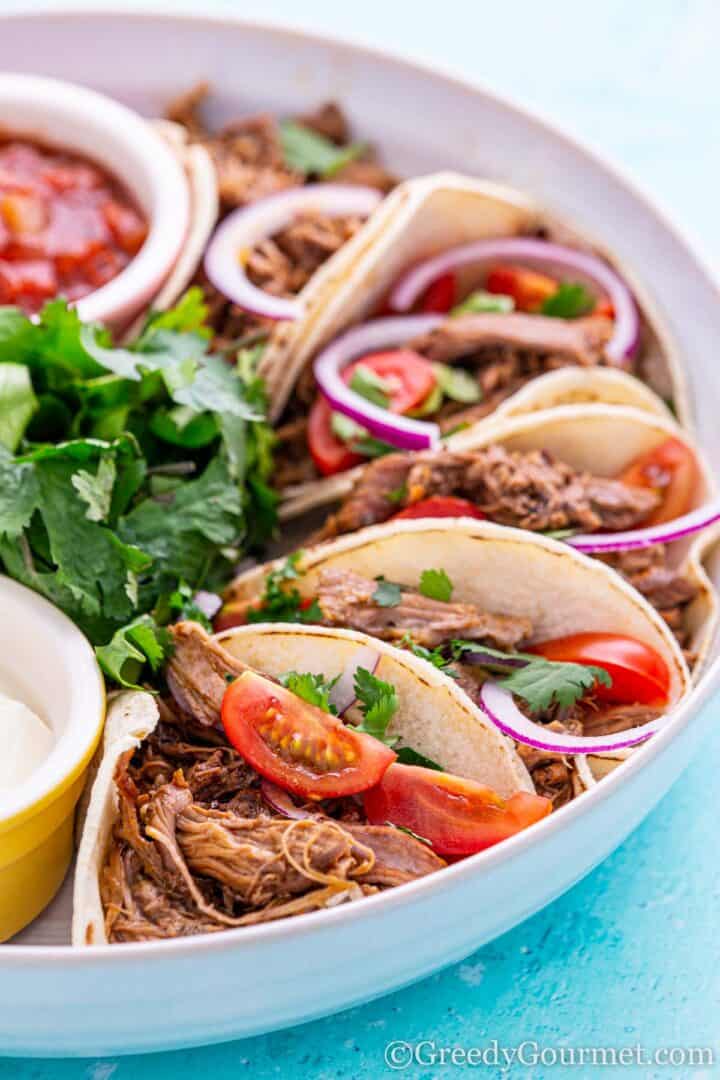 Products you need for this recipe
Here are a few key items you'll need for this lamb tacos recipe: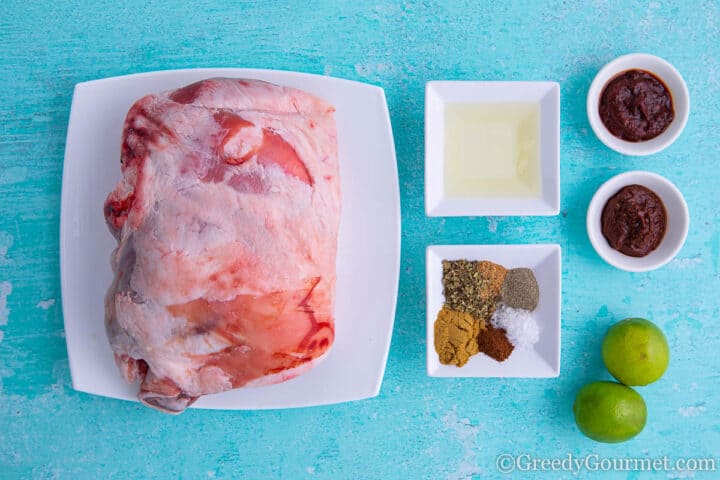 How to make Mexican lamb tacos
This Mexican lamb taco recipe really showcases the brilliant versatility of lamb. Tacos don't come much better than this!
These tacos pack some serious flavor! Just imagine shredded lamb, slow cooked in Adobo Sauce, chipotle paste, garlic, cumin, coriander, oregano, cloves and lamb stock for six hours.
Melt-in-you-mouth tenderness with a flavor that's out of this world!
Despite the long cooking time, this recipe is really simple. Anyone can make it. That's the beauty of it. It's all about the mix of incredible ingredients. For me, it sums up Mexican cooking to a tee.
It's all as simple as searing the lamb in a pan, adding the spices and sauce, bringing to the boil, throwing on the lid and letting all the flavors do their thing.
Then, it's down to shredding the meat, heating up and assembling the tacos, then enjoying the incredible taste. Pure heaven!
These tacos are even keto-friendly!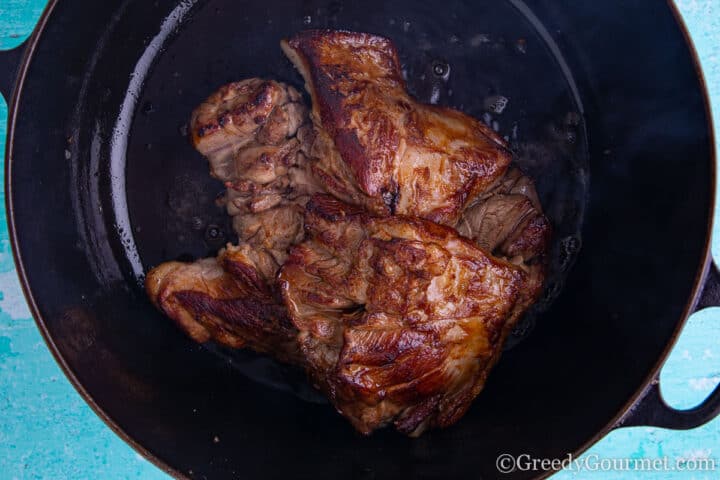 How to shred lamb
The simple way to shred lamb is to use two forks. Take one in each hand and, with their backs facing each other, pull them outwards in opposite directions, breaking up the meat into shreds.
If you come across any pieces of fat or gristle, throw them away. Unless you have a dog, in which case, make their day!
You could also use a stand mixer to shred meat. It's easy and takes no time at all, although you might be put off by the extra washing up.
Finally, you can also invest in a pair of meat shredding claws. They get the job done with minimal effort and, for bonus points, you get to pretend you're Wolverine. Great if you like that sort of thing 😉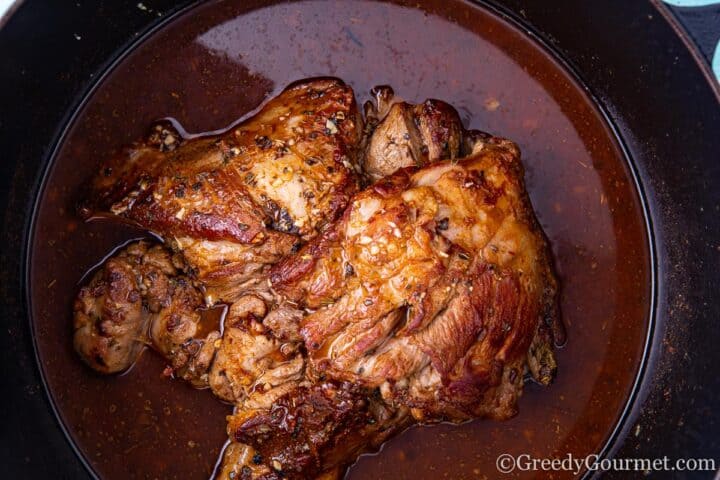 What is Adobo Sauce?
Adobo sauce is a Mexican sauce of Spanish origin. It normally includes paprika, oregano, salt, garlic, and vinegar, as well as several types of peppers and other spices. It's typically used as a rub for meat or fish.
The term adobo comes from the Spanish word "adobar" which means to marinate.
Which is best: corn tortillas or flour tortillas?
Corn tortillas are the healthier option – they are higher in fiber, contain whole grains and are lower in fat and calories.
For those with gluten intolerance or celiac disease, 100% corn tortillas are also completely safe to eat. 
They are also the traditional option – most authentic Mexican tacos are made with corn tortillas. 
The benefit of flour tortillas is that they are stronger and can hold more ingredients. So, if you really want to build monster tacos, they might be your best bet.
Can I use chile powder in place of chipotle paste?
Yes you can. Chile powder or "chili" powder (it's known as chile in Mexico) makes a decent substitute for chipotle paste. Even better is chili pepper paste or ancho paste.
Paprika paste is another great alternative to chipotle paste. It does a great job of bringing that warm smoky flavor to lamb tacos.
Can I make these tacos without lamb?
For me, you should make this recipe with lamb. When slow cooked, shredded and added to the tortillas, it's absolutely divine!
If you're not a fan of lamb, I recommend a slow cooked beef brisket or rump, or a pork shoulder.
What toppings that work well with tacos?
The beauty of tacos is that you can customize them to suit your tastes. There are so many different toppings available. Choose to pimp up your lamb tacos with any of the following:
– Sliced avocado
– Thinly sliced red onion
– Thinly sliced radishes
– Shredded cabbage
– Shredded lettuce
– Fresh cilantro/coriander
– Lime wedges
– Crumbled cotija cheese or a cotija cheese substitute
– Sliced jalapenos 
– Cherry tomatoes 
– Sour cream 
– Greek yogurt
– Salsa 
– Guacamole and lime wedges
How to warm your tortillas
You've got a few options to warm your wonderful tortillas:
Use a cast iron pan or skillet
Place the tortillas in a dry pan or skillet over a medium heat and cook them for about 30 seconds on each side
Directly on the stovetop burner
Char them directly over the gas flame for a few seconds using tongs. They'll look extra badass and will have a nice smoky flavor. Just be careful not to burn them!
In a slow cooker 
Wrap your tortillas in foil or a damp dish cloth and put them in your slow cooker. They'll keep nice and warm until you're ready to serve them.
In a toaster
Fold them in half and pop them in the toaster. Aim for around half the time you would normally toast bread.
In the microwave
Place them on a microwaveable plate and cover with a damp kitchen towel. Then microwave for 30 seconds at a time until heated through.
Tips for making the best lamb tacos
You can use other cuts of lamb, but a whole lamb shoulder with bone and all is definitely your best bet. Let it roast in the slow cooker until the meat falls off the bone
Toppings that bring sweet, briny, and salty flavors will really complement the rich flavor of the lamb
Make sure you spoon any excess sauce from the slow cooker over your shredded lamb. It will taste amazing!
Don't overfill the tacos. If you do, everything will fall out after the first bite!
Don't be tempted to use ground lamb. It just doesn't come close to slow cooked lamb shoulder
Leave a border of around 1cm around the outside of your lamb tacos. Otherwise the contents will spill out. Any more than 1cm and your lamb tacos won't have enough flavor
Don't do away with cilantro stems. This is where that real zesty flavor lies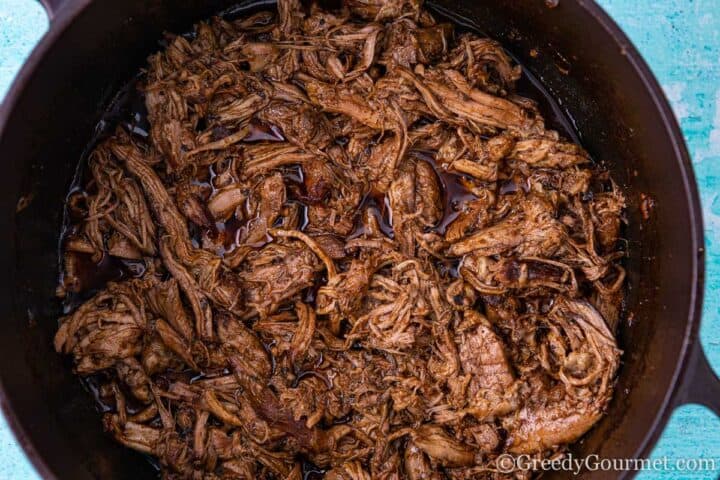 More Mexican favorites
If these lamb tacos have given you a taste for more Mexican dishes, here's a little inspiration for you: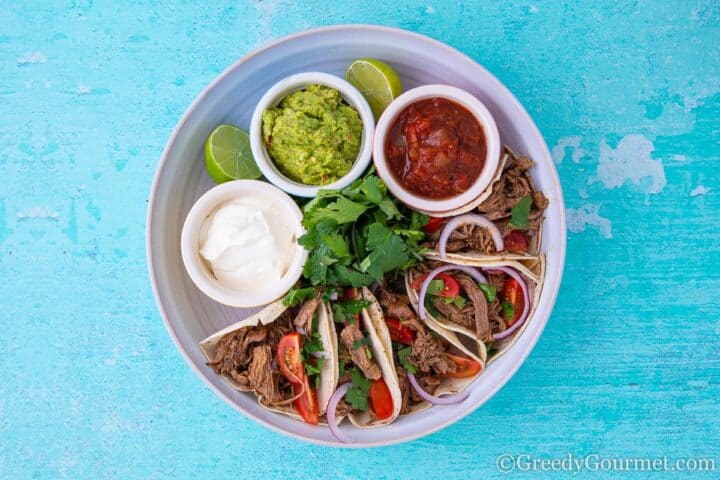 More luscious lamb recipes
Lamb tacos are just the tip of the iceberg. Here are a few more delicious lamb recipes for you to sink your teeth into:
Print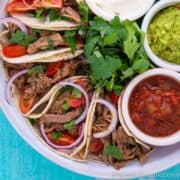 Lamb Tacos
---
Author:

Michelle Minnaar

Total Time:

6 hours 20 minutes

Yield:

1

0

1

x

Diet:

Gluten Free
Description
Learn how to make mouth watering Mexican lamb tacos. Lamb shoulder slow cooked in adobo and chipotle sauce, filling a tortilla wrap. Finish off with your favourite toppings such as sour cream and guacamole.
---
Mexican Shredded Lamb
30

ml (2 tbsp) vegetable oil

2

kg (4lbs) shoulder of lamb

15

ml (1 tbsp) adobo sauce

15

ml (1 tbsp) chipotle paste

4

cloves garlic, peeled and crushed

6g

(

1 tbsp

) ground cumin

6g

(

1 tbsp

) ground coriander

6g

(

1 tbsp

) dried oregano

1g

(

½ tsp

) ground cloves

500

ml (2 cups) lamb stock

2

limes, juiced
To Serve
20

small tortilla wraps or

10

large tortilla wraps
Cilantro
Fried onions
Cherry tomatoes
Jalapenos
Sour cream
Lime wedges
Salsa
Guacamole
---
Instructions
Preheat the oven to 150°C / fan 130°C / 300°F / gas mark 2. 
Heat the oil in a large cast iron pot and sear the lamb on all sides until golden brown. 
For the Shredded Lamb: Add Adobo Sauce, chipotle paste, garlic, cumin, coriander, oregano, cloves and lamb stock. 
Bring to a boil, cover with lid and place in the oven for 6 hours. 
Remove from the oven and remove the lid. 
Shred the meat with two forks. If the meat doesn't give easily, place the lidded pot back in the oven for another 30 minutes, then shred.
In a separate dry frying pan, heat up your taco shells/tortilla wraps.
Assembling the Lamb Tacos: Place a line of shredded lamb down the tortilla and top with your favourite ingredients. Ideas are listed above. Enjoy!
Notes
You can buy the lamb shoulder deboned or bone-in, it doesn't matter. After it's been cooked the meat will simply slide off the bone. 
If you can't get hold of lamb stock, you can use chicken or vegetable stock.
If the sauce is still on the loose side after shredding the meat, place the pot over medium heat and stir continuously until desired consistency is achieved. 
Prep Time:

20 minutes

Cook Time:

6 hours

Category:

Main Course

Method:

Roast

Cuisine:

Mexican
Keywords: lamb tacos, mexican tacos, mexican lamb recipe, lamb taco recipe, mexican lamb tacos, lamb family dinner, tacos recipe