Let's turn up the heat! If you've ever wondered how to make adobo sauce, this is the recipe for you.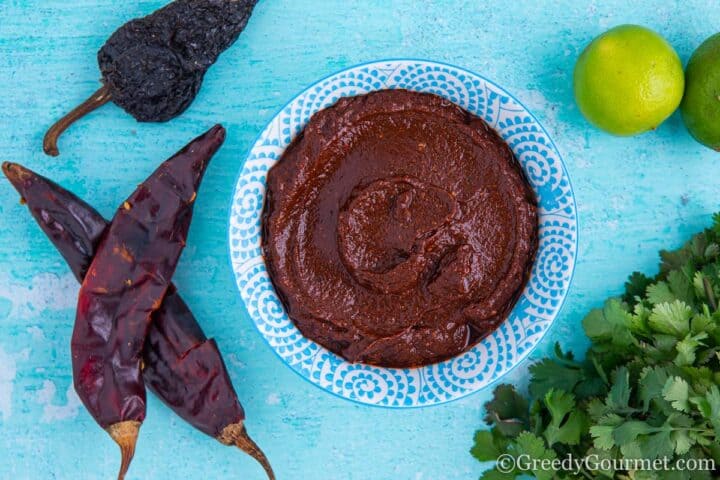 Made from dried ancho and guajillo chillies, vinegar, garlic, herbs and a selection of spices, this sumptuous sauce works as a marinade for meat or as an incredible flavor bomb in your favorite Mexican dish.
Earthy, spicy and big on flavor, this adobo sauce recipe is authentic Mexican food at its finest!
Products you need for this recipe
To make this adobo sauce recipe, you'll need a list of a few key ingredients and kitchen items: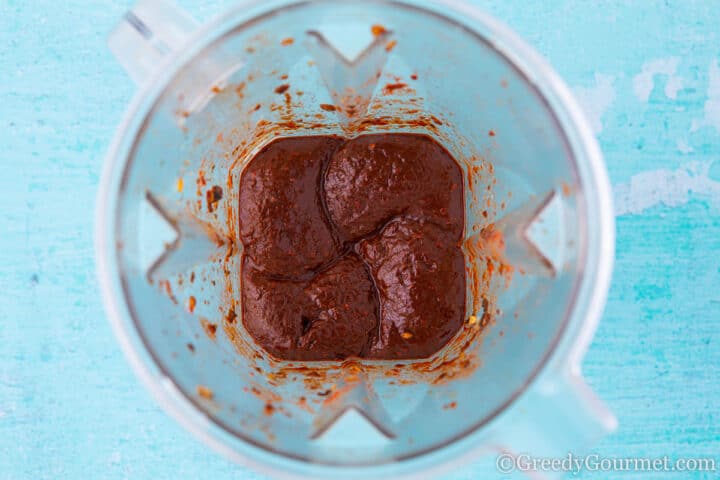 Adobo sauce recipe
This adobo sauce recipe is ridiculously simple. It's pretty much a mix and blend kind of deal.
Authentic tongue-tingling sauces don't come better than this. Big rich flavors combine for a rich, reddish brown, earthy sauce with a luscious consistency that makes you think of BBQ sauce.
It's incredibly versatile too. Adobo sauce is one of those special sauces that can take so many dishes to another level. This recipe shows you just how easy it is, with not much more needed than a few simple pantry items.
Trust me… once you've made this Mexican sauce made from dried chillies and spices, you'll be well and truly hooked!
Also, this recipe is keto friendly… perfect for those on a low carb diet!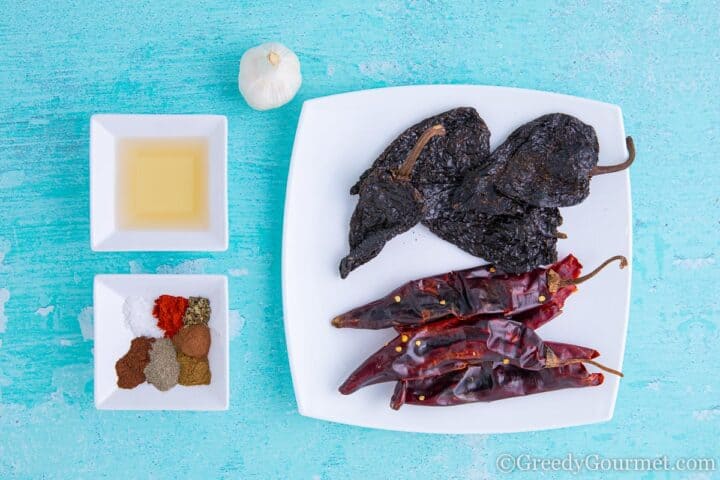 What is adobo sauce?
You might know adobo sauce as the earthy, thick red sauce that comes with canned chipotle peppers. Forget that canned heat… the REAL adobo sauce is a homemade sensation, with a taste that's lightyears away from any store bought stuff.
Traditionally made from two types of dried chilli pepper – ancho chillies and guajillos chillies – adobo sauce also consists of vinegar, garlic, oregano and a blend of spices. This can include the likes of cumin, cloves, paprika and black pepper. 
The word "adobo" comes from the Spanish word "adobar", which means to marinate. While the original use for adobo sauce was as a deliciously spicy rub for meats like chicken, pork and beef, its uses have extended far beyond that in modern Mexican cuisine.
Is it the same as chipotle sauce?
Adobo sauce is the sauce that comes with canned chipotle peppers. Even though it contains chipotle peppers, the sauce is not actually called chipotle sauce.
Can you just buy adobo sauce?
Yes. You can buy adobo sauce without chipotles online. It's nothing like making it in your kitchen though!
What are ancho chillies?
Ancho chillies are the dried form of the poblano chilli pepper, a pepper that comes from the Puebla state in Mexico. They are very wide peppers – hence the name "ancho," which means "wide" in Spanish. 
They are known for their rich, smoky quality and bring a mild paprika flavor, with a subtle sweetness and a mild to moderate heat. Some people even compare their taste to chocolate or sweet dried fruits like raisins.
Ancho peppers are one of the most popular peppers in traditional Mexican cuisine and Tex Mex cooking.
What are guajillo chillies?
Guajillo chillies (pronounced gwa-HEE-yo) are the dried form of the mirasol pepper and one of the most popular ingredients in Mexican cooking. 
Like ancho chillies, guajillos are mild to moderately hot and bring a smoky flavor. Guajillos have notes of berries, fruity and undertones of green tea. This complexity makes them a fantastic ingredient and explains why they are so popular.
When combined, ancho and guajillo chillies bring a complex smokiness with so many different subtle flavors. They really are the essence of adobo sauce.
What other chillies can you use?
Both ancho and guajillo chilli peppers are fairly mild. For those who like to bring the heat, you can add a hotter chilli into the mix. Add 15g of dried habanero chillies, alongside the ancho and guajillo.
You can also use either dried chile de arbol or dried pasilla peppers for extra intensity, or dried chipotle peppers for an extra smoky flavor.
Can you use chilli powder in this recipe?
You can use ready ground ancho chilli powder and ready ground guajillo chilli powder in place of the dried kind, but for me it's really not the same. 
Besides, dried ancho and guajillo chillies are readily available online, in supermarkets or in Mexican food stores.
What other spices can you use in adobo sauce?
The spices in this recipe do a really good job of complementing the flavor, without stepping on the ancho and guajillo, which is where the real flavor lies.
You can, however, add a little extra dimension to this recipe and make adobo sauce according to your specific tastes.
Some interesting ingredients you can add into the mix include spices like cloves or allspice, panela (Mexican brown sugar) or honey for a touch of sweetness and to counterbalance bitterness, Mexican oregano (more lemon and citrus flavors than Mediterranean oregano), lemon juice and lime juice.
How do you store adobo sauce?
Store adobo sauce in an airtight container in the fridge. It will last for up to six months.
Can you freeze adobo sauce?
If you want to keep adobo sauce for longer than six months, you can easily freeze it. Either use freezer-friendly containers or use sealable ice cube trays. That way, you can use them in smaller portions as and when needed.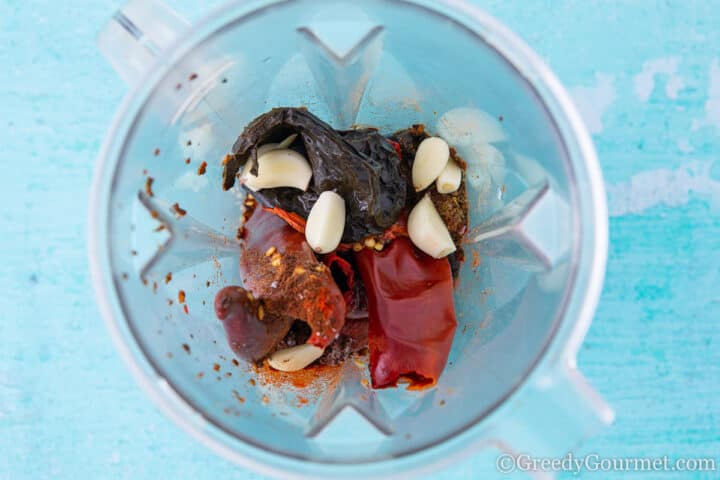 What to make with adobo sauce
My absolute favorite recipe to use adobo sauce with is Mexican lamb tacos. The combination of slow cooked spiced lamb with the earthy, smoky flavor of the adobo sauce is out of this world tasty!
Then there's a Mexican omelette. When you need a brunch to punch through the ordinary into the extraordinary, this is the dish you need… and the adobo sauce EVERYTHING in this recipe.
In fact, there are so many recipes that can be kicked up a notch with a spoonful of adobo. A little really does go a long way.
Make adobo sauce into a marinade for chicken, pork, fish or vegetables and you've immediately added some serious flavor. Or, simply stir some into rice for a totally new take on a standard side.
Feel free to add some adobo sauce to soups, casseroles or broths for added depth. Or maybe mixed with ranch dressing for a killer salad.
Not forgetting, of course, the other Mexican classics. Adobo sauce would add extra charm and sizzle to any burrito or enchilada.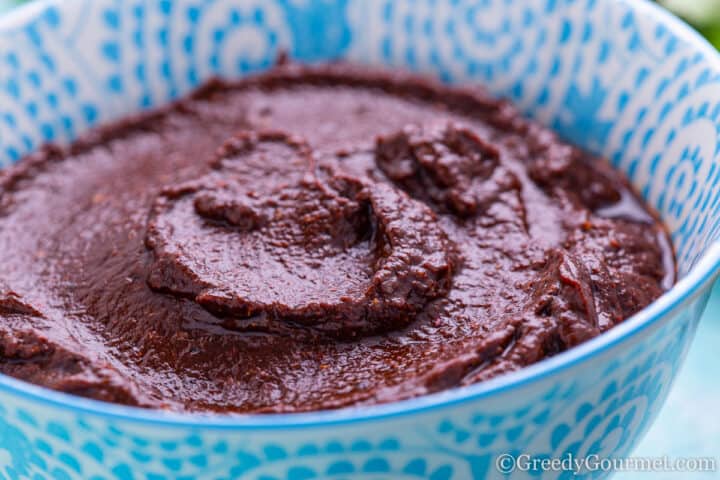 Let's get saucy!
More mouth-watering Mexican recipes
If this adobo sauce recipe has got you in the mood for Mexican cooking, check these out!
Print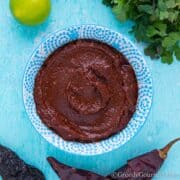 Adobo Sauce
---
Author:

Michelle Minnaar

Total Time:

20 minutes

Yield:

500

ml (2 cups)

1

x

Diet:

Vegan
Description
You can make this simply adobo sauce at home. Soak the ancho and guajillo chillies  first before blending with vinegar and spices.
---
60

g

(2oz) dried ancho chillies

30

g

(1oz) dried guajillo chillies

60

ml

(1/4 cup) apple cider vinegar

5

garlic cloves, peeled

1

g

(1 tsp) salt

2

g

(1 tsp) ground cumin

2

g

(1 tsp) dried oregano

1

g

(1/2 tsp) smoked paprika

1

g

(1/2 tsp) black pepper

1

g

(1/2 tsp) ground cinnamon

1

g

(1/2 tsp) ground cloves
---
Instructions
Soak the Ancho and Guajillo chillies in boiled water for 15 minutes until softened. Reserve 60ml (¼ cup) of the water, then drain the chillies.
Place the rest of the ingredients, along with the chillies and water, into a blender and blitz until smooth. 
Store in an airtight container in the fridge and use as needed within 6 months. Enjoy! 
Notes
For a slightly hotter chili paste, add 15g (½ oz) dried habanero chillies to the mix.
Wondering how to use this Adobo Sauce? Check out this Mexican Omelette and Lamb Tacos. 
Prep Time:

20 minutes

Cook Time:

0 minutes

Category:

Sauce

Method:

No Cook

Cuisine:

Mexican
Keywords: adobo, adobo sauce, adobo recipe, what is adobo, mexican sauce, chipotle peppers in adobo sauce, how to use adobo sauce