If you're bored of eating plain omelettes, why not spice things up a little with a Mexican omelette?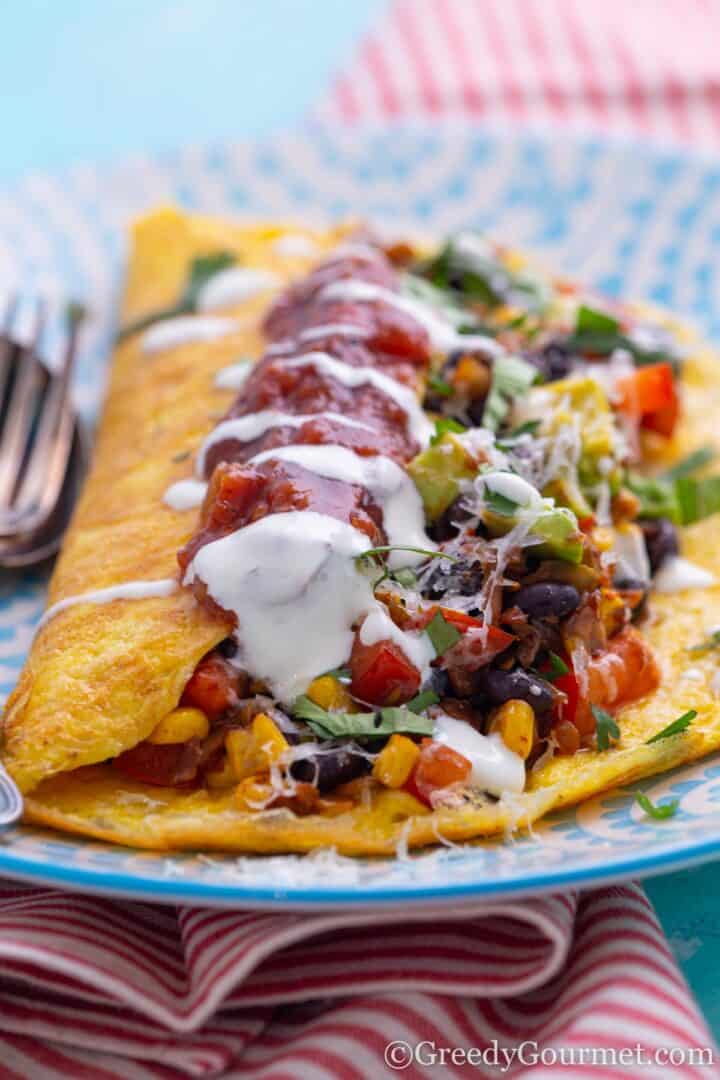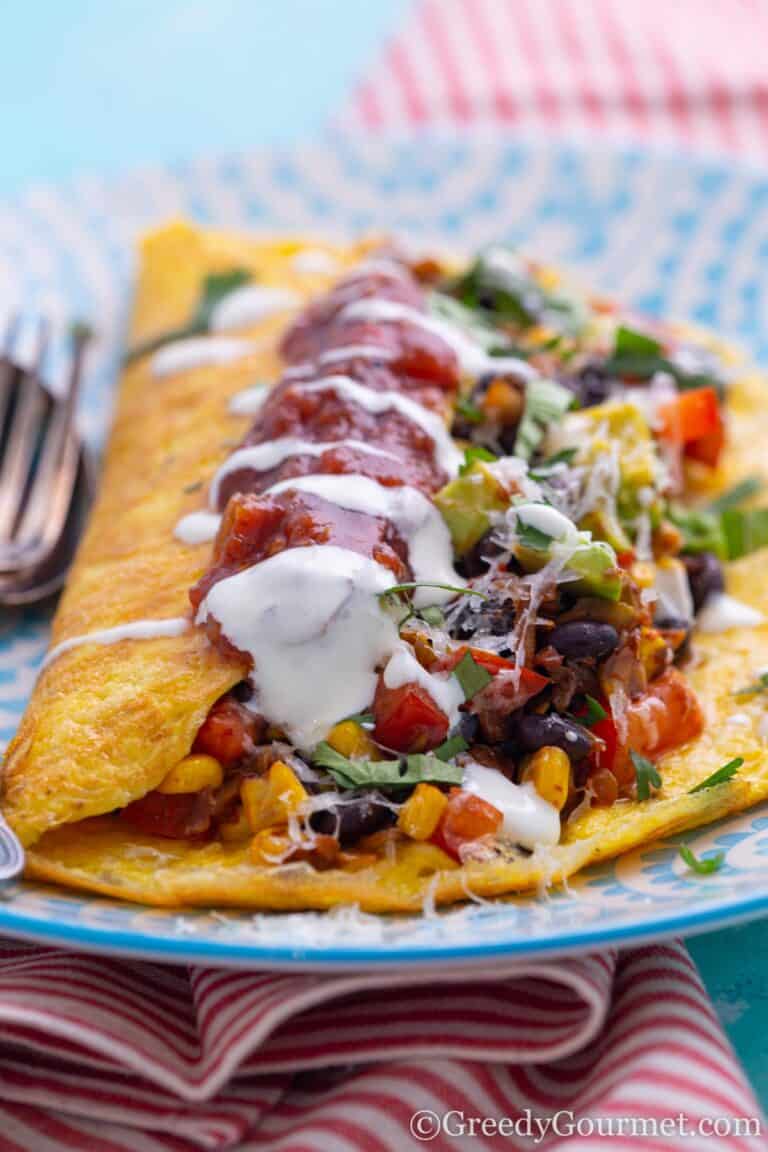 When it comes to kick-starting your day in style, for me, this vegetarian brunch recipe is the pick of the bunch. Big flavors, delicious ingredients and you'll be able to whip it up in a flash!
Products you need for this recipe
There are a few items you'll need for this delicious breakfast/brunch recipe.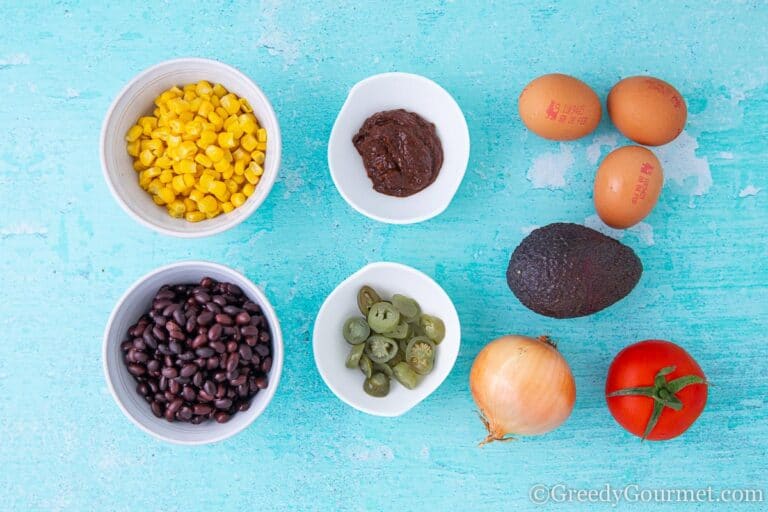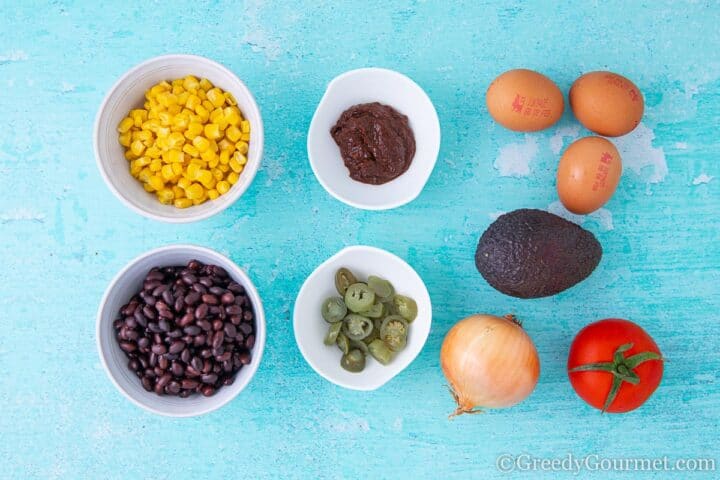 A few tips for making the perfect omelette
Always use butter rather than oil.
Cook on a medium high heat. Too hot and it'll end up rubbery. Too cool and it'll be sloppy without any texture.
Use a quality non-stick frying pan.
Heat the pan for a few minutes before adding the butter. If you throw in the butter at the beginning, it'll burn.
When you pour the egg mixture in, move it around for a few seconds. Then let it cook while you gently fold the outer edges towards the center and tip the pan to allow the liquid to flow to the outside.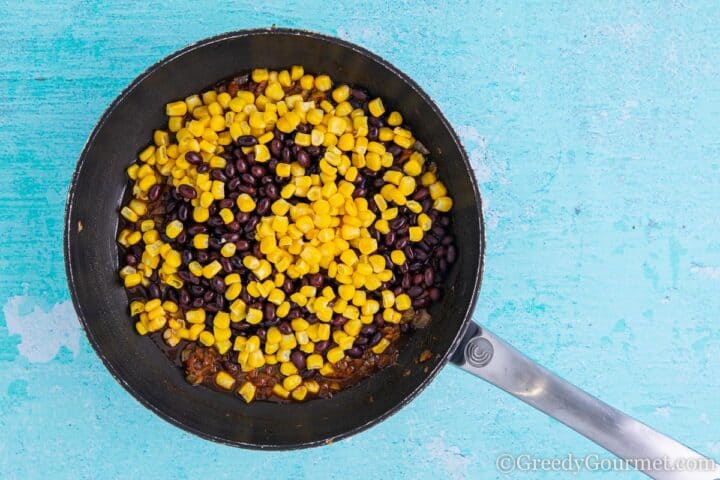 What makes it an omelette?
Sometimes called an "omelet", which is the preferred American spelling, this dish is made with beaten eggs. The egg mixture is poured into a frying pan, normally with melted butter, and cooked until set.
It's fast food at its best and takes barely a minute to cook. Sometimes it's cooked without fillings, just with salt and pepper and maybe some herbs. This is known as a French omelette.
An American "omelet" – or in this case a Mexican one – is usually LOADED with fillings.
What are the best things to put in an omelette?
As it's generally eaten at breakfast or brunch, it's normally quite a light dish. The best ingredients are those that complement eggs. 
Leafy greens such as spinach and kale work well. Herbs are also quite popular – anything from oregano and thyme to rosemary, parsley and cilantro.
For this Mexican omelette, I've gone with onion, jalapeno pepper, black beans, avocado, tomato and sweetcorn (corn for those Stateside). Feel free to add different types of pepper if you want – try bell pepper, pimento pepper or, for a little extra heat, chili pepper.
For the topping, I've sprinkled a handful of cilantro, some sour cream and Manchego cheese. For me, cheese is essential.
If you want to turn this Mexican omelette into a late breakfast or brunch meat feast, feel free to add chorizo. Chorizo is a Spanish sausage that brings amazing flavor to any dish.
Just cook it alongside the onions – while it's cooking, the chorizo will release its wonderful juices, flavoring the other ingredients.
What cheese is best for this Mexican omelette recipe?
For this Mexican omelette recipe, I've gone with Manchego. It's got a soft buttery texture that tastes amazing when shredded with eggs, peppers and beans. 
If you can't get hold of Manchego (is it Spanish or Mexican?), another option is Monterey Jack cheese. Slightly milder and sweeter than Manchego, Monterey Jack cheese is American made and widely available in the States.
In terms of taste, it works really well in this recipe and goes great with eggs. If you can't find Manchego (check out Manchego Cheese substitutes) or Monterey Jack (check out these Monterey Jack substitutes), Cheddar would also be fine.
What is adobo sauce?
Adobo sauce is a rich, reddish brown sauce that's very popular in Mexican cooking. It's often used as a meat marinade, as well as a cooking sauce for chipotle pepper or chorizo.
Adobo sauce is tangy, slightly sweet and incredibly tasty!
Where can you buy adobo sauce?
You'll be able to pick up a bottle of adobo sauce in the international food section of all good supermarkets and stores. You could also try a Mexican food store.
Failing that, you can find it online. Check out the link in the "Products you need for this recipe" section above.
You can make your own adobo sauce too. It's quite easy!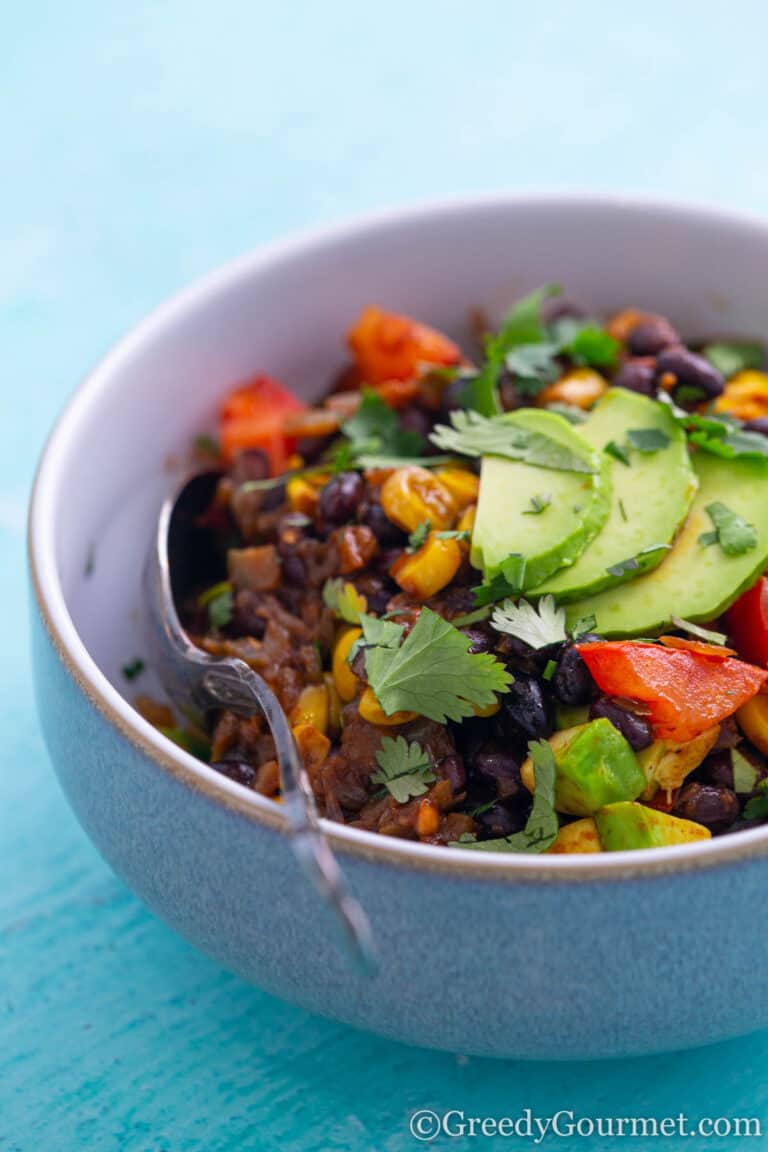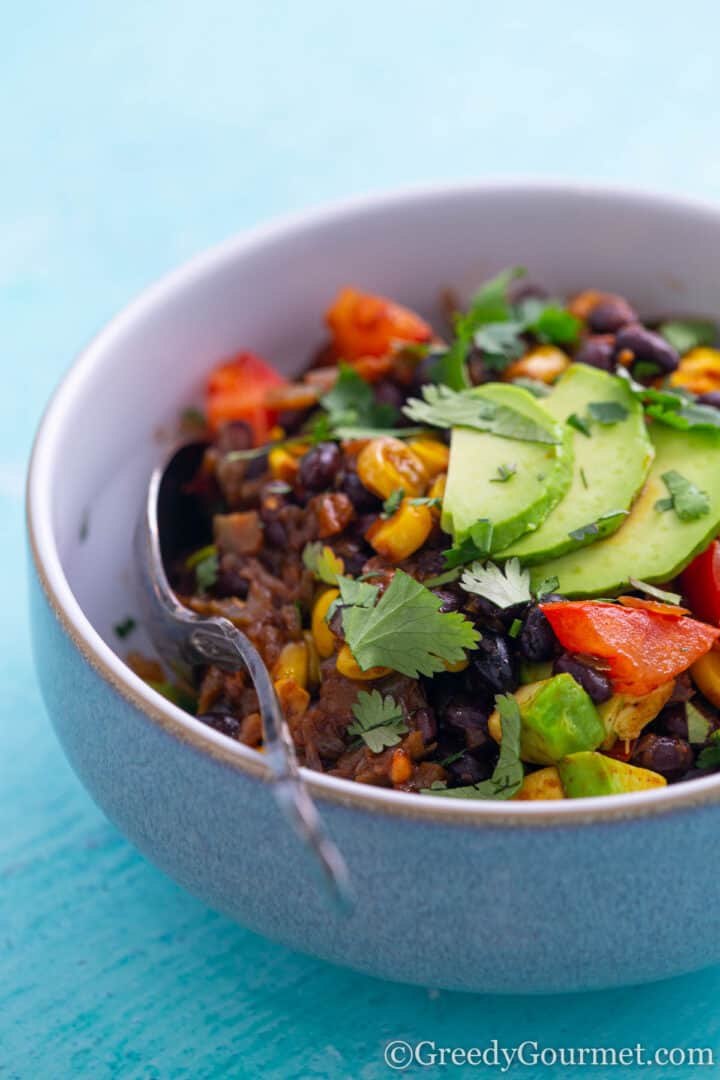 More amazing brunch recipes
Whether it's a weekend feast or a midweek treat, there's nothing quite like big brunch recipes to supercharge your day. Here's a few Greedy Gourmet recipes to get your taste buds going: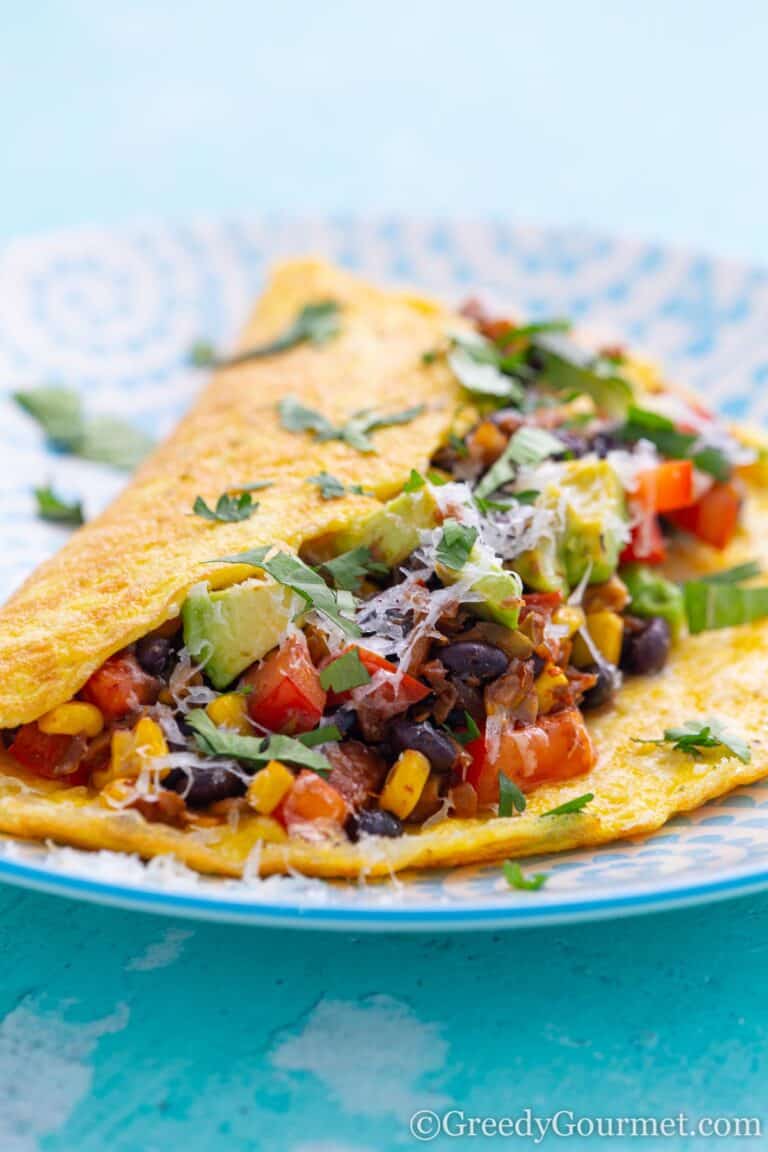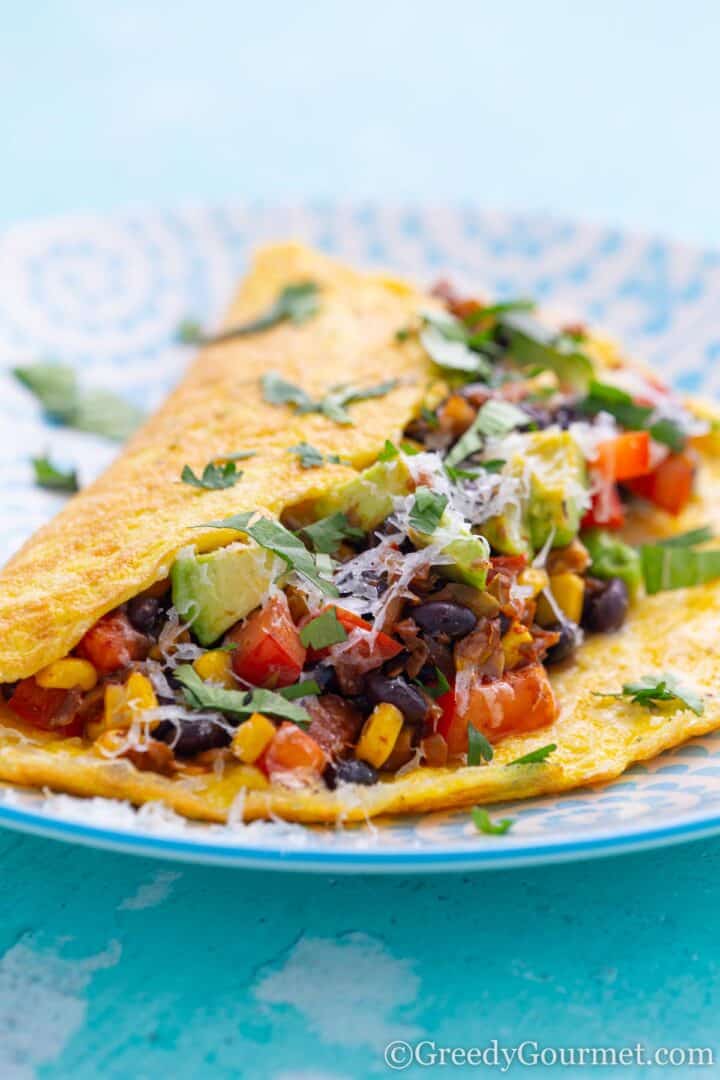 Print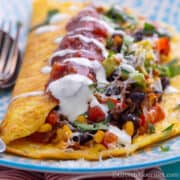 Mexican Omelette
---
Author:

Michelle Minnaar

Total Time:

35 minutes

Yield:

Serves 2

Diet:

Vegetarian
Description
This Mexican Omelette is great for brunch. Crammed with sweetcorn, black beans, tomato and adobo sauce, it makes a complete, balanced and healthy meal. Feel free to play with the ratios of ingredients and make it your own!
---
Mexican Filling
30

ml (2 tbsp) vegetable oil

1

small onion, peeled and finely chopped

1

jalapeno, diced

400g

(

1

tin) black beans, drained

175g

(

1 cup

) sweetcorn

1

tomato, washed and diced

7.5

ml (½ tbsp) Adobo Sauce

1

avocado, peeled and chopped
Omelette
10g

(

2 tsp

) butter

6

eggs
seasoning, to taste
Toppings
60g

(

¼ cup

) Manchego cheese, grated

15

ml (1 tbsp) sour cream
handful cilantro, washed and chopped
salsa, to taste
---
Instructions
For the Mexican Filling
Heat the oil in a large frying pan over a medium heat.
Add the onion and jalapeno and gently fry for 5 minutes or until softened.
Add the black beans, sweetcorn, tomato and Adobo Sauce to the onion and heat the mixture through. 
Add the avocado and lightly mix in, remove immediately from the heat and set aside.
For the Omelette
Heat the omelette pan to a medium heat and melt the butter. 
Crack 3 eggs in a bowl and whisk until smooth and season well. 
Pour the egg mixture into the heated pan and cook for a couple of minutes until the egg is set. 
Sprinkle half of the cheese over the surface of the omelette, then spoon half of the filling onto one half of the omelette. 
Fold the omelette over and plate. 
Repeat the process with the second omelette. 
Garnish to your heart's content with extra cheese [optional], sour cream, cilantro and salsa. Enjoy! 
Notes
If you can't get hold of Adobo Sauce, you can make your own here. If you can't be bothered, you can substitute it with 7.5ml (½ tbsp) smoked paprika.
Although fresh sweetcorn is best, feel free to use thawed, frozen sweetcorn.
You might end up with leftover filling. Psst, it tasted pretty good on its own as well; something you can snack on later!
If you can't get hold of avocado, try one of these avocado substitutes.
Prep Time:

10 minutes

Cook Time:

15 minutes

Category:

Breakfast

Method:

Pan Fry

Cuisine:

Mexican
Keywords: mexican omelette, Mexican omlet, omlet recipe, mexican omelette recipe, mexican style omelette, vegetarian omelette, vegetarian egg recipe, omelette brunch recipe