This is a luscious and rich eggnog cream that can be added to many of your favorite desserts. It's a delightful twist on traditional eggnog that will surely turn heads at the holiday dinner table in December (or any month)!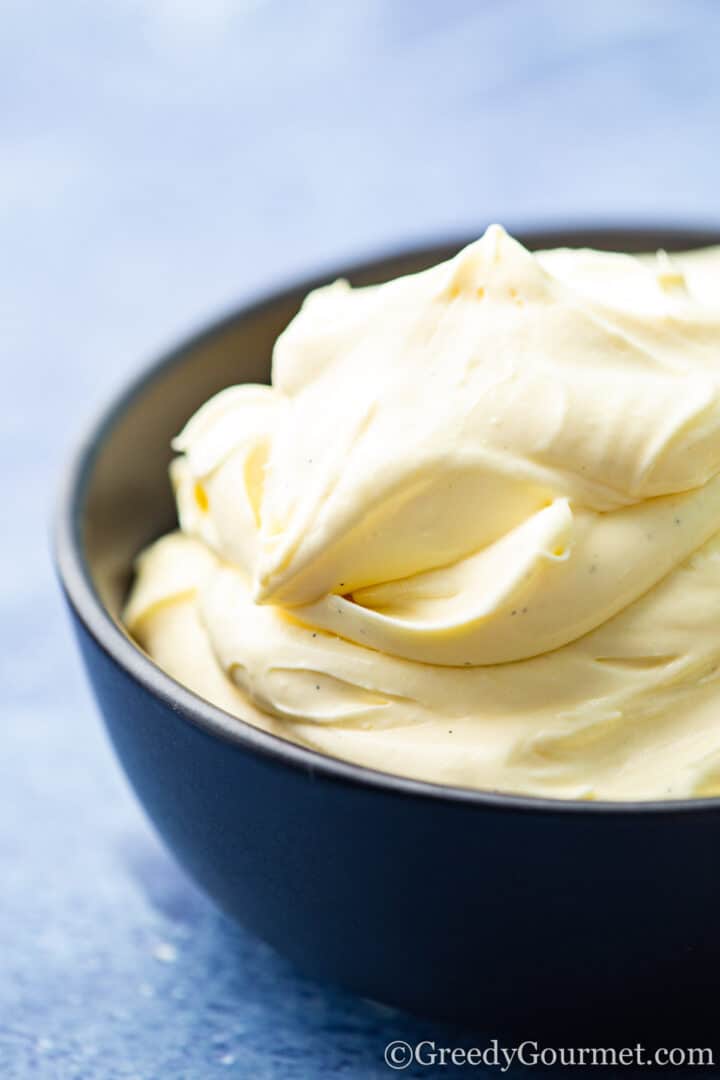 After making eggnog ice cream, I thought, "why not an eggnog whipped cream?" Once I tasted it, I knew I couldn't go back to simple whipped cream. With a few simple ingredients and steps, you can easily make this dessert topper.
In addition to eggnog, the cream is made with heavy cream, powdered sugar, vanilla extract, and ground nutmeg. You are welcome to switch up the recipe to fit your tastes!
Why You'll Love This Whipped Cream Recipe
It is creamy and rich, but not overwhelming
Filled with warm flavors and spices
Accessible ingredients and easy to make
Versatile recipe that can changed to your liking
Special Equipment Needed to Make This Recipe
Fortunately, this recipe doesn't require too much special equipment. But, there are some essential tools you will need to make this eggnog whipped cream recipe.
Electric Hand Mixer – Using an electric whisk will make the eggnog whipped cream much fluffier and thicker. It will also cut down the time it takes to whip and beat the recipe, and prevent wrist pain.
If you only have a stand mixer, feel free to use it. Beat the ingredients on medium speed.
Stainless steel bowl – A chilled stainless-steel bowl will keep the cream nice and cold while you are combining the ingredients together.
Copper and plastic bowls cause a chemical reaction in the cream, giving a less than ideal texture. You can also use a chilled glass bowl.
How to Make This Recipe
Step 1 – Prep the eggnog whipped cream's ingredients.
Before mixing the ingredients, make sure the heavy cream, eggnog, and mixing bowl are nice and cold. Chill them in the freezer for up to 20 minutes to get them cold quickly. Make sure what you're using to whip the heavy cream is cold as well.
Step 2 – Mix the eggnog with the other ingredients.
Add all the ingredients into the chilled bowl. Then, use an electric hand mixer to whisk the ingredients with the electric whisk until soft peaks form. It will come into shape, no worries!
You can use a stand mixer, but an electric hand mixer is usually easier to get. Mix it on medium speed. If you want it sweeter, feel free to add in more powdered sugar. Any other additional ingredients like rum should be added here.
Top Tip: Sift the powdered sugar and nutmeg to prevent a lumpy shape in your eggnog whipped cream.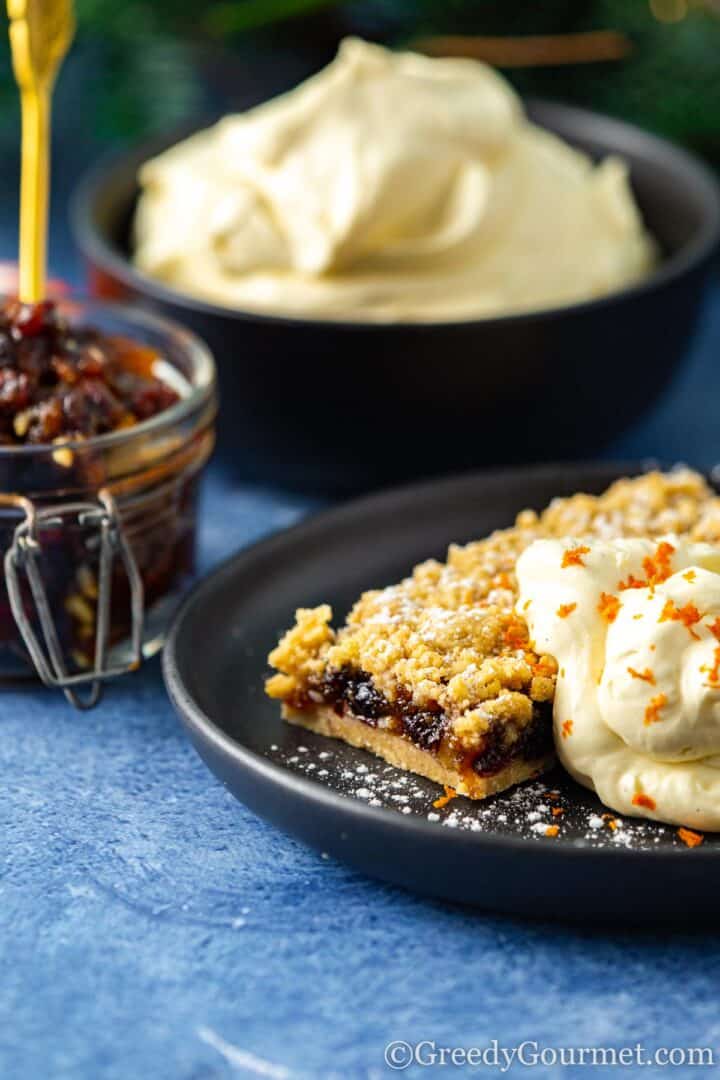 What to Pair with This
Desserts
Eggnog whipped cream is delicious, but is best when combined with something else. Here are some amazing dessert recipes to add whipped cream to.
Eggnog Whipped Cream Puffs
Christmas Pudding
Eggnog Whipped Cream Pie
Cocktails
Eggnog is usually a bit boozy with the addition of rum, but if you want to make it kid-friendly you'll likely skip the addition of rum.
To keep that little hint of booziness, pair this whipped cream with a glass of a dark-colored spirit. Some great options are:
Bourbon
Rum, or Spiced Rum
Chocolate Liqueur
Brandy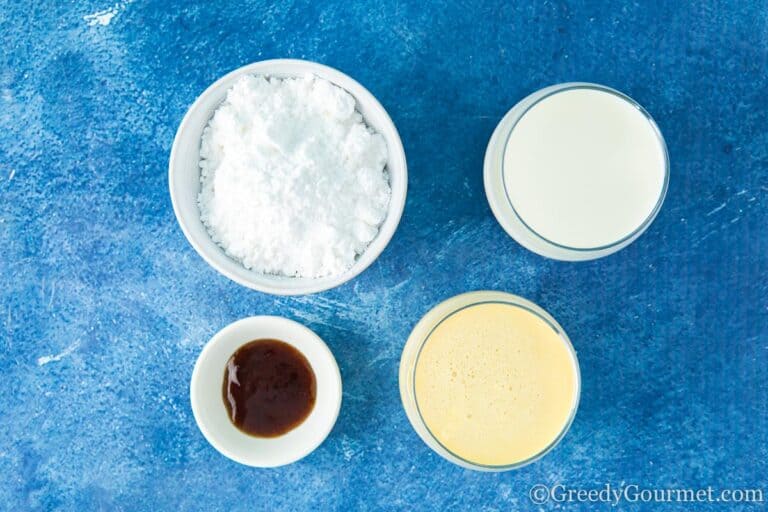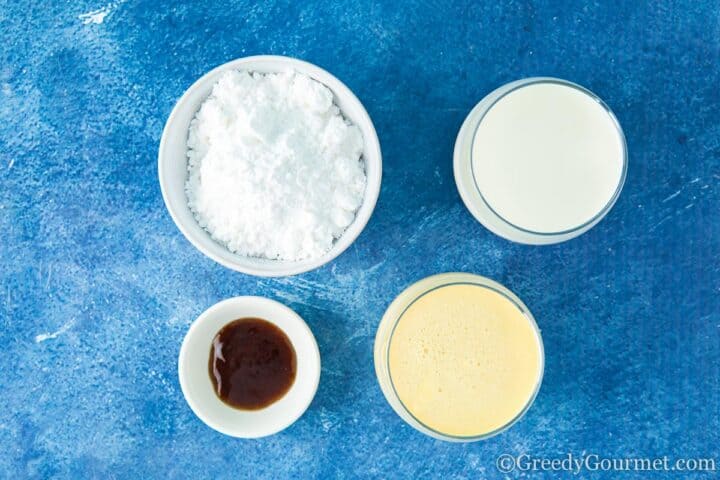 Popular Substitutions for This Recipe
Nutmeg: cinnamon, pumpkin pie spice, or allspice will work for that classic "warm" flavor.
Eggnog: you can either try making eggnog by hand or store-bought eggnog. I made a large batch of homemade eggnog, but you don't have to do this.
Buy (or make) an eggnog that does not contain alcohol, so it's kid-friendly.
Vegan: make or buy your own vegan eggnog. Simply switch out the dairy products for non-dairy ones. Peaks form and thicken with non-dairy products.
Variations to This Recipe
Deluxe: Add a bit of alcohol to the whipped cream to make up its warm flavors. It is best to go with a darker liqueur like bourbon, rye, aged rum, spiced rum, whiskey, or brandy. It's not kid-friendly, but it will definitely be loved by the adults in the room. Make it extra pretty with a sprinkle of powdered sugar.
Extra Spice: add more spices! Keep it simple with just nutmeg, or boost it with cinnamon, allspice, etc.
Coffee-lovers: pour brewed espresso into the base of the eggnog whipped cream for a nice coffee taste.
Top Tip
Keep everything cold and in the fridge! If your ingredients aren't cold when you are mixing, then you may not get the desired texture. You'll know when the consistency of the whipped cream is perfect when smooth peaks form.
Your whisk and bowl should be chilled as well to help keep the eggnog whipped cream mixture nice and cool.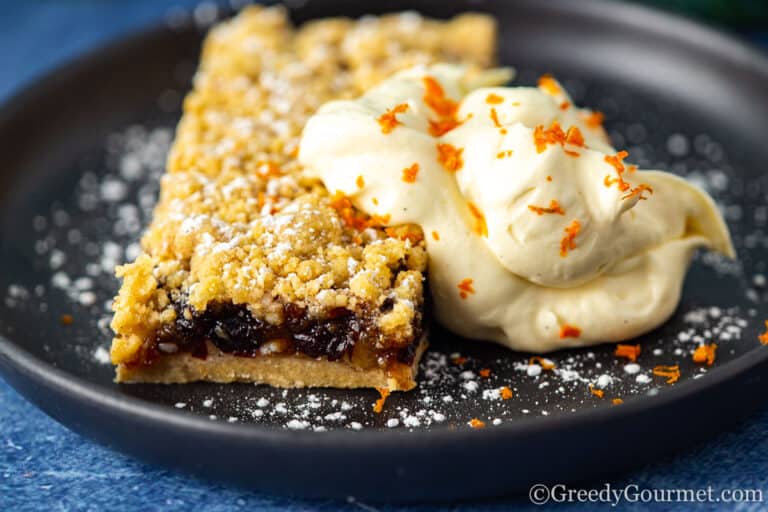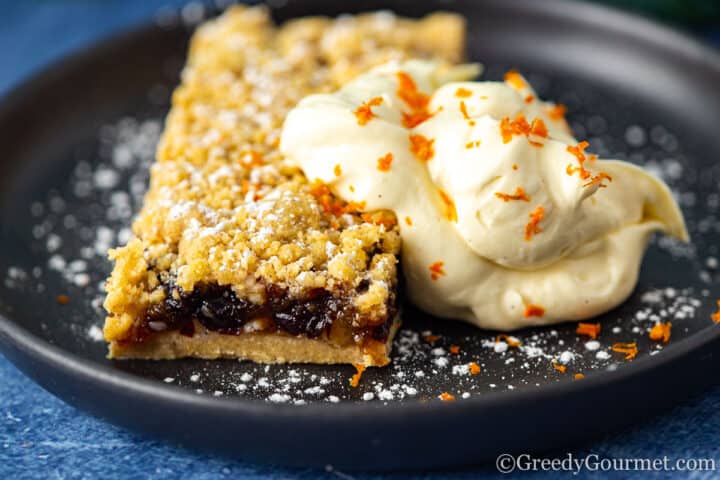 How Do I Store Leftovers?
Place the leftover eggnog whipped cream into an airtight container, and refrigerate. 
When stored properly, the whipped cream can last up to 3 days. I recommend eating it as fresh as possible or finishing it the following day.
Can I Freeze This Recipe?
No, you cannot freeze eggnog whipped cream. Similar to normal whipped cream, freezing eggnog whipped cream will destabilize it. That means the water and fat from the whipped cream will split in the frozen container.
Can This Recipe Be Scaled?
Yes! There are only a few simple ingredients, so it's one of the easier recipes to scale. Just multiply or divide the numbers to fit the serving size you need.
Can This Recipe Be Made in Advance?
Yes, you can make the whipped cream in advance. Just store covered in the fridge.
Can This Recipe Be Made Vegan?
Yes, you can make this whipped cream recipe vegan. Simply buy the dairy-free, vegan versions of the milk products in the recipe. 
You can also make vegan recipes at home, like this vegan heavy cream recipe from Clean Green Simple. 
Luckily, you can easily find vegan versions of all the ingredients in this whipped cream recipe. Thicker plant-based cream like coconut or oat milk-based will be easier to whip and beat.
Other Eggnog Recipes You'll Love
Eggnog Crème Brûlée: A twist on the classic French dessert. The custard is perfectly spiced and absolutely creamy.
Eggnog Ice Cream: Who says ice cream is only for the summer months? It's an indulgent sweet treat filled with spices and creaminess.
Eggnog French Toast: Elevate your typical French Toast with leftover eggnog. It will add a burst of flavor and decadence that you'll love!
Food Safety
Don't leave the ingredients or the whipped cream sitting out at room temperature for too long. Leaving milk products outside of the fridge could make it unsafe for consumption.
Consume the whipped cream soon after making it. Dairy products go bad quickly, and may make you sick.
Check the expiration date on all the milk products, especially the heavy cream. Expired heavy cream and dairy will cause illness.
Don't Forget to Come Back and Let Me Know How Your Recipe Turned Out!
Print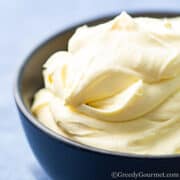 Eggnog Cream Recipe
---
Author:

Michelle Minnaar

Total Time:

5 minutes

Yield:

8

Servings

1

x

Diet:

Vegetarian
Description
Learn how to make a luscious and rich Eggnog Cream that you can add to your favourite Christmas desserts and hot drinks.
---
375

ml (1½ cups) heavy [double] cream 

195g

(

1½ cups

) powdered [icing] sugar 

85

ml (⅓ cup) eggnog

5

ml (1 tsp) vanilla paste

0.3g

(

⅛ tsp

) nutmeg [optional]
---
Instructions
Place all the ingredients in a large mixing bowl and whisk until you achieve soft peaks.
Serve with the dessert of your choice. I served it with a few different things, such as this Mincemeat Tart. You can even top an Eggnog Rumchata with it!
Notes
This Eggnog Cream is versatile, especially handy around the Thanksgiving and Christmas holidays.
Prep Time:

5 minutes

Cook Time:

0 minutes

Category:

Dessert

Method:

Whisk

Cuisine:

American
Keywords: Eggnog recipe, Eggnog Cream, Christmas Cream, Eggnog cream filling, nigella eggnog cream