If you're stuck on what to do with your turkey leftovers, this terrifically tasty leftover turkey lasagna is the perfect recipe for you. With such a wide range of rich flavors that melt in the mouth, it really is the perfect dish to serve the day after your holiday feast.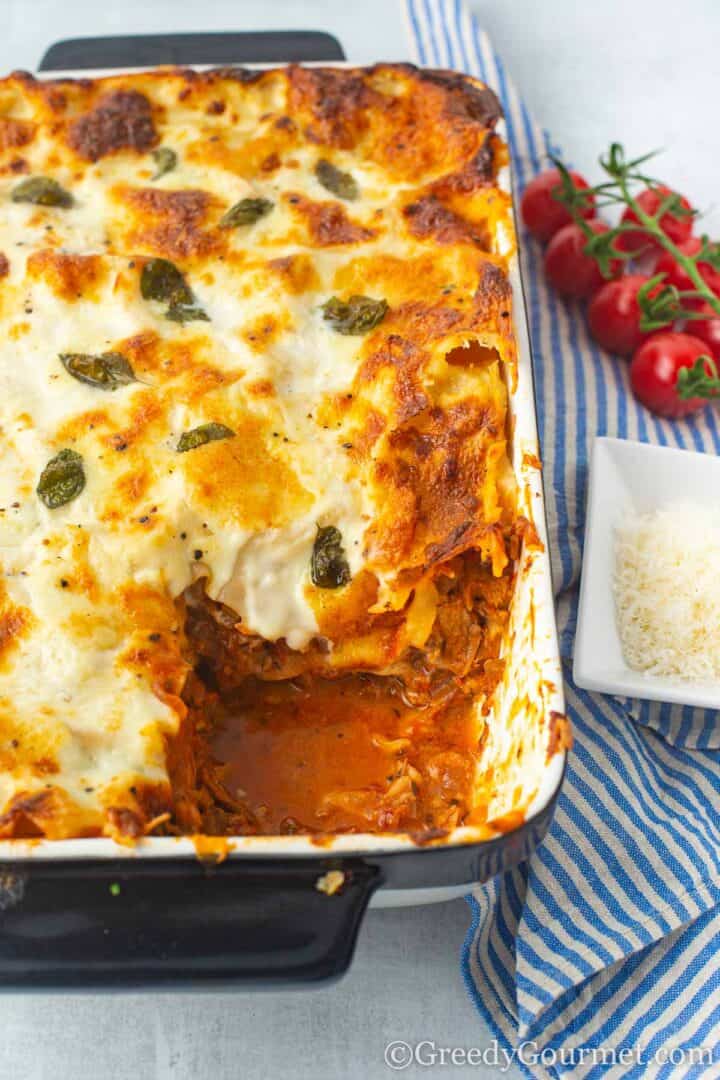 So, are you ready to make the best turkey lasagna you've ever tasted? Let's cook!
Products you need for this recipe
Before you get started on your leftover turkey lasagna, let's take a look at some essential items you'll need.
Saucepan – a strong, sturdy, nonstick saucepan is needed to cook the ragu for your leftover turkey lasagna
Baking dish – you'll bake the ragu, the lasagna sheets and the bechamel sauce in one baking tray or dish
Ladle – I find a ladle is the best way to get a wonderfully creamy bechamel sauce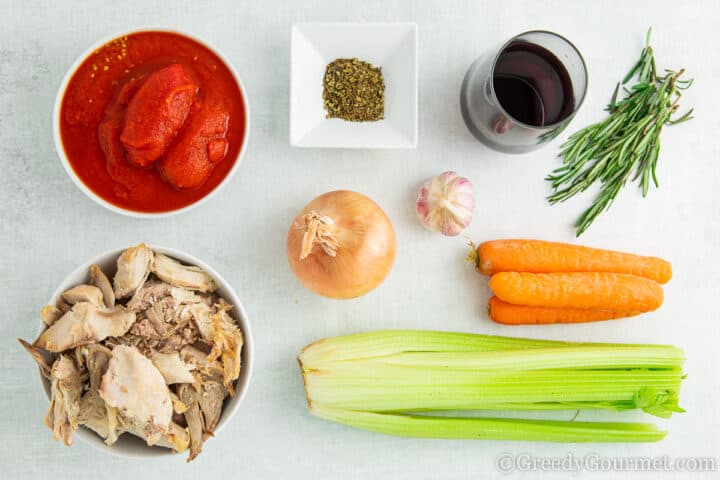 Leftover turkey lasagna recipe
Layers of lasagna, white sauce and turkey ragu, with bubbling cheese to tantalize the taste buds. When it comes to leftover recipes, this might just be the best I've ever made.
It's a big bold decadent dish with savory flavors that are oh so satisfying. Once you make this leftover turkey lasagna for the first time, you'll keep going back every time.
How do you shred turkey?
When it comes to shredding your leftover turkey, you can either use two forks or you can use meat shredder claws. Meat claws are perfect for making shredded pork, but would also work really well for this leftover turkey lasagna recipe. They're also really fun to use!
What's the best cheese to use for lasagna?
Can turkey lasagna be made in advance?
Yes! In fact, it will most likely taste better if you make it beforehand, as the flavors intensify. You can make it up to two days in advance. 
How do you store this turkey lasagna?
Store it in the fridge covered with foil until you're ready to cook it. If you have leftovers of your leftovers, you should also store them in the fridge.
More amazing Christmas and Thanksgiving leftovers recipes
Need some more inspiration for how to use up your leftover turkey? Take a look at these:
Leftover turkey curry – the best leftover dish you'll ever taste! Making the most of your leftover festive feast, this lightly spicy terrifically tasty curry is the perfect dish the day after the party
Leftover turkey chowder – another wonderful leftover dish, this creamy, smoky sensation brings a lot of flavor and makes you feel all warm and cozy!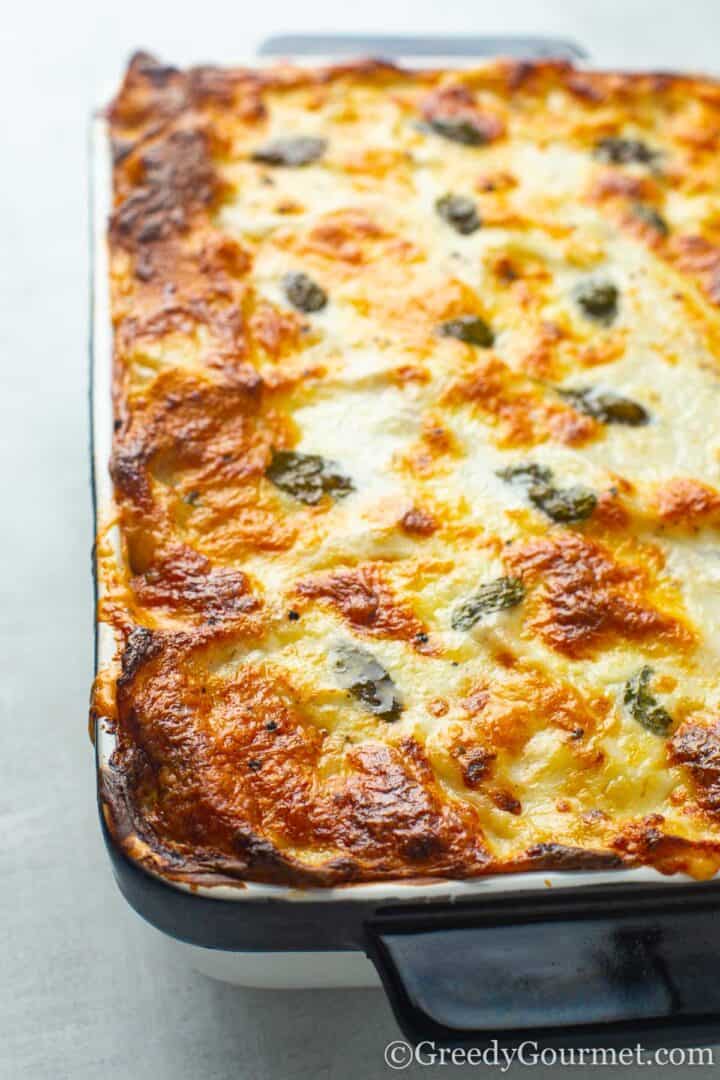 More holiday recipes
Whole roast turkey – your centerpiece for your Thanksgiving or Christmas feast. Your turkey should be as good as you can get it and this recipe delivers, with a juicy, tender turkey every single time
Dried cranberry sauce – an essential side for your Thanksgiving turkey this recipe is very easy to follow and tastes great
Turkey giblet broth – an incredible broth that proves you should never throw away turkey gilets. Packed with flavor and fantastically simple, this is a broth recipe that works to add depth to so many different dishes
Turkey giblet gravy – use your broth to make this incredible gravy. Deep and rich in flavor, it's set to become a firm family favorite
Marmite roast potatoes – an extra special roastie recipe that has that real 'wow' factor. The star of the show is the classic favourite Brit ingredient Marmite, which acts as the ultimate flavor bomb, alongside the goose fat. The result is the most incredible potatoes that are crispy on the outside and fluffy on the inside
Apple cider turkey brine – brining a turkey produces some incredible results and this recipe takes things to the next level. If you fancy stepping things up a gear this Thanksgiving or Chrismtas, you have to try this. It's like nothing you've ever tasted!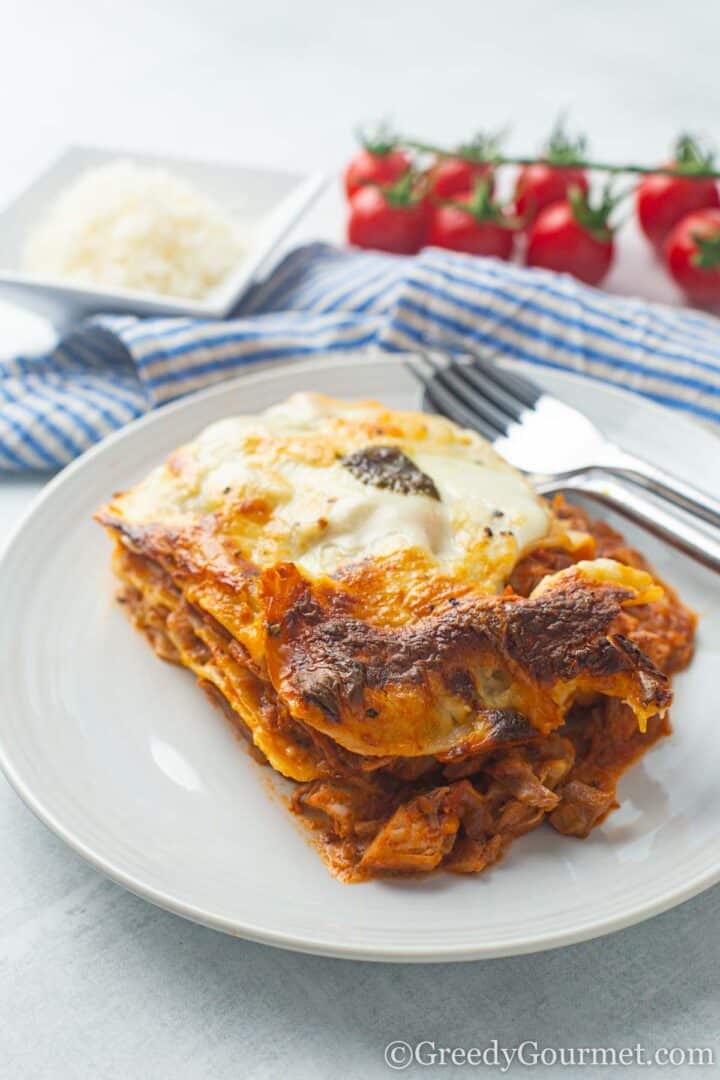 What do you usually do with your leftover turkey?
Print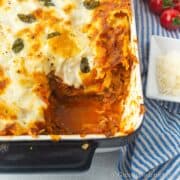 Leftover Turkey Lasagna
---
Author:

Michelle Minnaar

Total Time:

2 hours 15 minutes

Yield:

12

servings

1

x

Diet:

Halal
Description
Not sure what to do with your turkey leftovers? This is the perfect recipe for you. Follow our easy instructions on how to make a tasty Leftover Turkey Lasagna.
---
Turkey Ragu
60

ml (¼ cup) olive oil 

5

onions, grated 

4

garlic cloves, crushed 

4

celery stalks, grated

4

carrots, grated

2

sprigs (1½ tsp) fresh rosemary leaves, finely chopped

3g

(

1 tablespoon

) dried oregano 

4

x 400g (4 x

15oz

) canned plum tomatoes 

500

ml (2 cup) red wine 

1

kg (7 cups) leftover turkey, shredded
Bechamel sauce
1

L (4 cups) milk 

5

peppercorns 

75g

(

⅓ cup

) unsalted butter 

75g

(

½ cup

) plain flour 

100g

(

1 cup

) grated Parmesan cheese
Assembly
Turkey Ragu
Bechamel sauce

15

lasagna sheets

2

x 125g (2 x

4oz

) balls of buffalo mozzarella 

100g

(

1 cup

) grated Parmesan cheese
---
Instructions
For the Turkey Ragu: Heat the olive oil in a large saucepan over a medium heat. 
Add the onions and garlic and fry for 2 minutes.
Turn the heat to medium-low and add the carrot and celery. Cook for 10 to 15 minutes, or until softened. 
Once the vegetables have softened, add the rosemary, oregano, plum tomatoes and red wine.
Bring to the boil. After about 5 minutes, crush up the tomatoes with the back of your spoon and add salt and pepper to taste. 
Reduce the heat and allow to simmer for around 1 hour or until thickened. Remember to stir every now and then. 
Stir the shredded turkey through the ragu sauce and stir until the meat is heated through. If the sauce becomes too thick then loosen with a splash of water.
Preheat the oven to 180°C/fan 160°C/356°F/gas mark 4.
For the Bechamel Sauce: [Optional] Pour the milk into a sauce pan over a low heat and add the peppercorns and the onion and garlic skins and gently heat until you see steam coming off the top. *See Notes
In a different saucepan, melt the butter. Stir in the flour, which will then form a paste. Cook over a medium heat for a couple of minutes. We do this to cook off the flour.
[If you did Step 9] Remove the peppercorns and skins from the milk. 
Beat the milk into the butter flour mixture, a little at a time. I use a ladle as this gives me greater control of how much I'm putting in. 
Once all the milk has been added, bring it to a boil and then turn the heat down to a simmer. Cook for around 5 minutes or until you have a nice smooth, thick sauce. 
Stir in the grated Parmesan cheese and season to taste.
Assembling the Lasagna: Now in a large, deep rectangular baking dish layer the ingredients. 
Start with a layer of lasagna sheets then spoon in a thin layer of the Turkey Ragu.
Layer the lasagna sheets on top of the ragu. Spoon a thin layer of the Bechamel Sauce over the lasagna sheets. Repeat this process until you reach the top of the baking dish. I usually get 4 layers but try and get more if you can.
Your top layer will be lasagna sheets topped with bechamel sauce. 
Tear the mozzarella balls into bite-sized pieces and distribute evenly on top of the Bechamel Sauce. 
Finish off with some grated Parmesan and a drizzle of olive oil. 
Bake in the oven for 40 minutes or until the top is nice and golden brown. Remove from the oven and leave to cool.
I like to make this a couple of days before serving to allow the flavours to intensify, so cover in tin foil and place in the fridge.
If you also choose to do this then on the day of eating preheat the oven back up to 180°C/160°C fan/356°F/Gas mark 4.
Remove from the fridge and place in the oven, with the tin foil still on, and place into the oven for around 40-60 minutes. Using the knife test, place the knife into the middle of the lasagna for around 10 seconds, remove the knife and tap onto your bottom lip. If the knife is hot then the lasagna is ready and you should remove it from the oven and leave to stand for 5 minutes.
Serve up and enjoy!!
Notes
When preparing the vegetables, use the grater function on your food processor as this will save you time, and put each type into a different bowl as this will make the steps easier later.
We used chianti red wine.
For a more aromatic Bechamel Sauce, reserve the onion and garlic skins when you prepare the vegetables for the ragu and add them to the milk for the Bechamel Sauce.
The number of lasagna sheets will vary according to your preference. It depends on how many layers you want your lasagna to have. The more you prefer, the more sheets you will need. This will affect the quantity of filling used as well. Play around!
If you are cooking and eating the lasagna on the same day, you don't need to place the lasagne into the fridge.
If you find that you have lots of left-over celery that you won't use today, check out my guide on freezing celery so it doesn't just go to waste!
Prep Time:

45 minutes

Cook Time:

1 hour 30 minutes

Category:

Main Course

Method:

Bake

Cuisine:

Italian
Keywords: Lasagna recipe, Turkey Lasagna, Leftover Turkey Lasagna, Leftover Turkey Recipe, leftover turkey recipe, thanksgiving turkey lasagna, christmas turkey lasagne