Whether you serve it as a sumptuous side or a mouth-watering main, cauliflower cheese is an absolute classic.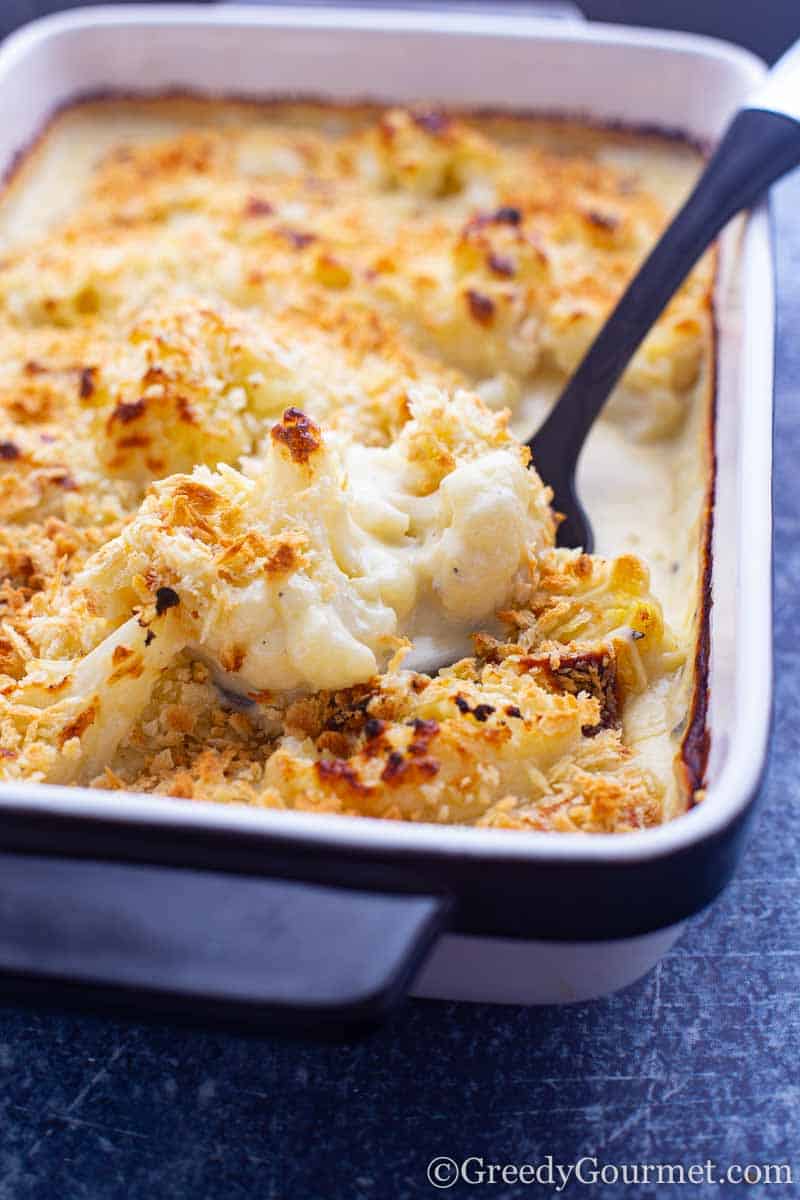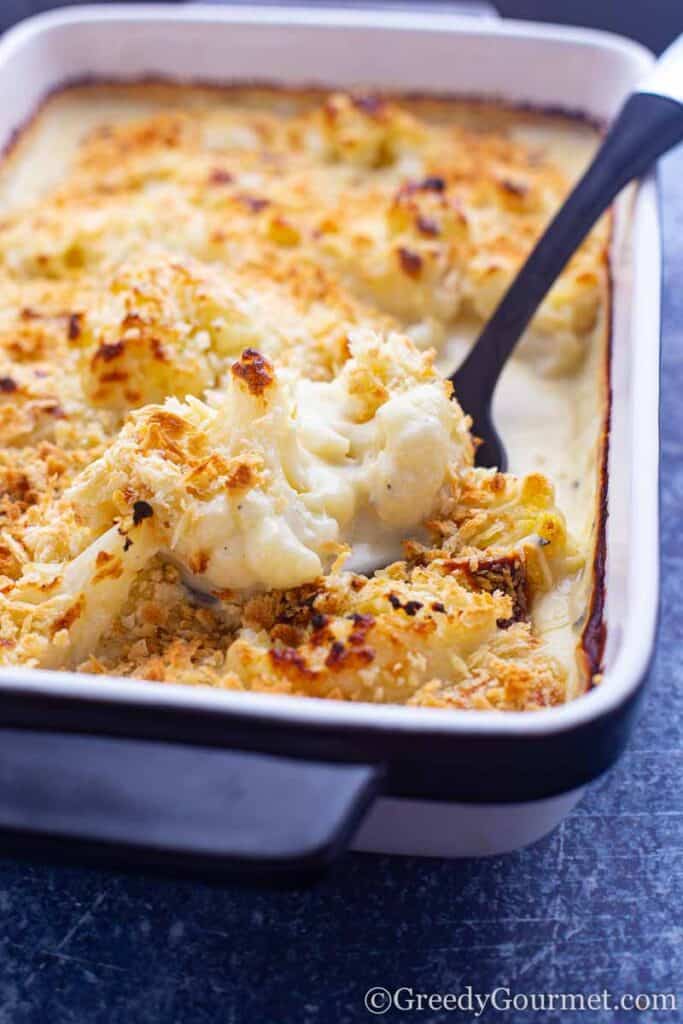 Easy to prepare, hard to get wrong and even harder to resist, when it comes to the simple satisfaction of comfort food, few humble culinary delights reach the dizzying heights of a luscious helping of creamy cauliflower cheese.
Products you need for this recipe
Colander – this recipe calls for a whole head of cauliflower, so you'll need a large colander
Saucepans – you'll need a set of saucepans to parboil the cauliflower and make your cheese sauce
Baking dish – a quality baking dish is essential for this recipe
Wooden spoon – you'll need your trusty wooden spoon to stir up the cheese sauce
Flour – good quality plain flour is needed to make your sauce
Panko crumbs – these Japanese breadcrumbs are perfect for adding a crispy crunch to the top of your cauliflower cheese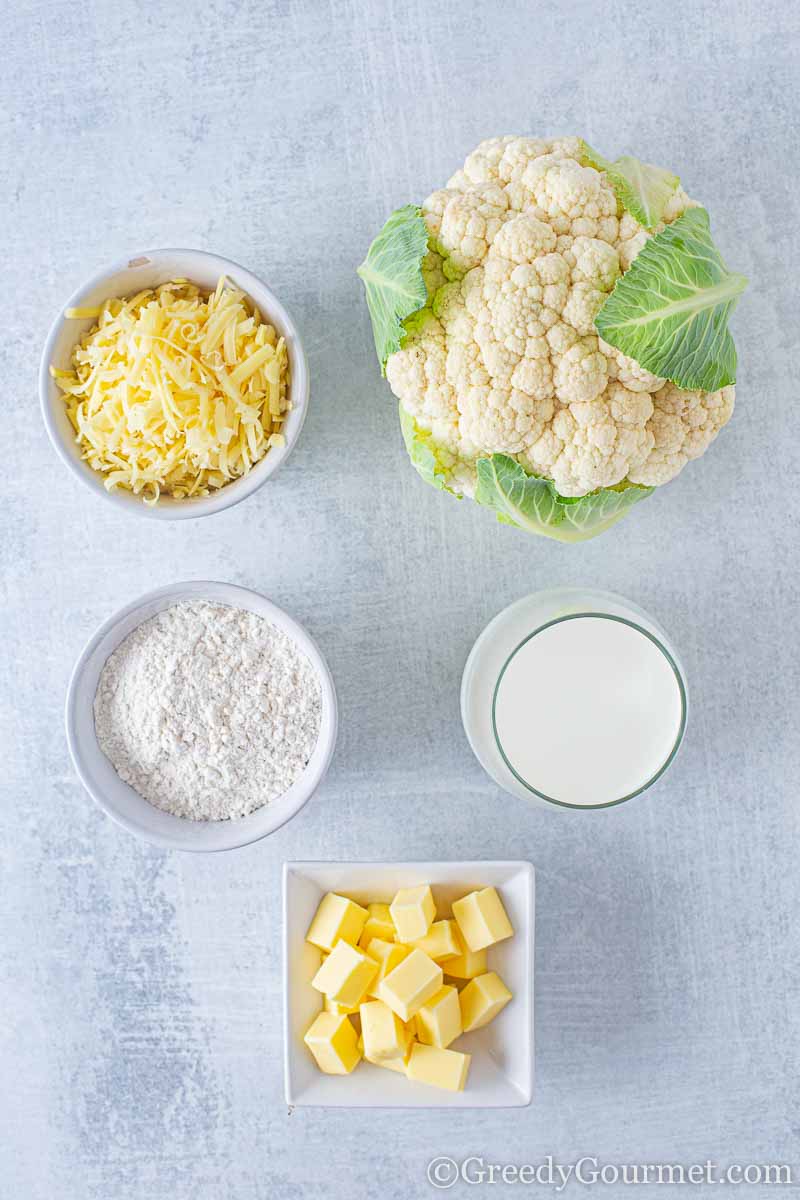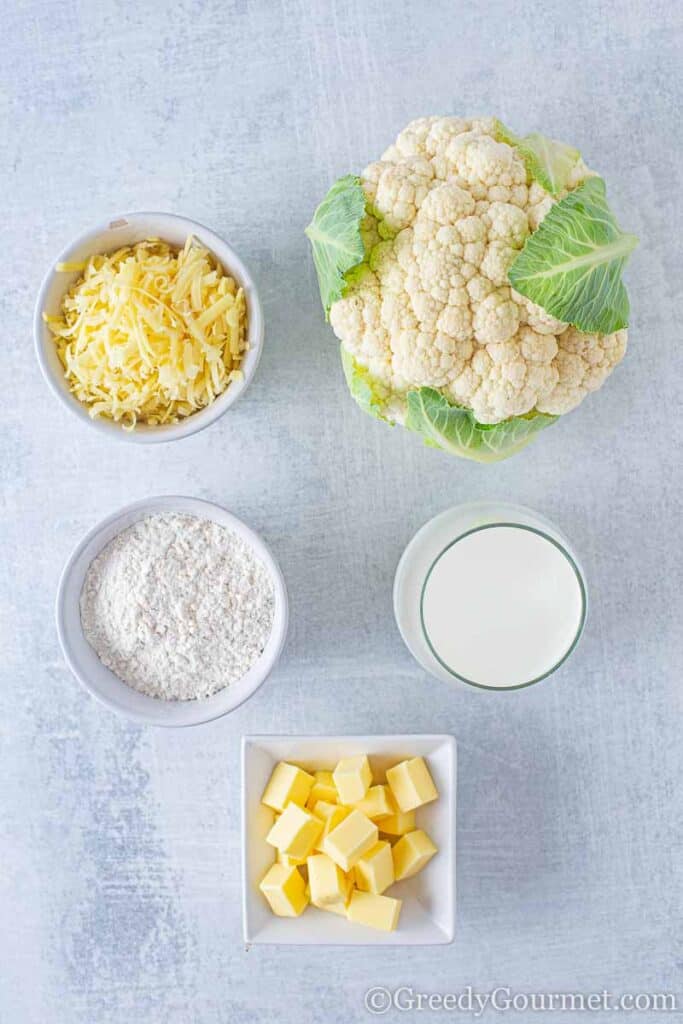 Cauliflower cheese with bacon
If you want to make this recipe extra special, you can cut up bits of bacon and add them to the baking dish. Either scatter them on top for a satisfying crunch, or stir them in with the cheese sauce. You could also use Parma ham.
How do you make cauliflower cheese?
Part of the appeal of this recipe is that it's so straightforward to make. It's pure comfort food at its finest – very simple and incredibly satisfying.
Cauliflower cheese is made in three parts. First, the cauliflower is parboiled. You don't want to boil it for too long, otherwise you'll end up with a mushy mess.
Just enough for it to soften slightly. This way, it'll be ready for the oven and will retain a bit of bite when it's done.
It should take no more than 5 mins. As the cauliflower is steam drying in a colander, you can start on your delicious cheese sauce. 
How do you make a roux?
First you whip up the roux. A roux is a mixture of butter and flour that forms the basis for a sauce.
After you've melted the butter in the pan, you need to add the flour, bit by bit, to form the roux. Keep stirring over a medium heat.
The idea here is to cook the flour gradually so it doesn't stick to the pan, but enough so that you don't end up with a roux with clumps of flour.
Once you've added all the flour to the melted butter and the mixture has turned a golden brown colour, you'll have the perfect roux. Next, you need to add the milk to turn it into a sauce.  
Again, this needs to be gradual. If you add all the milk at once, it won't incorporate into the roux. So, slowly pour the milk in, 100ml at a time. Each time, the milk will soak into the roux, slowly forming a sauce. 
You can make this really easy by heating the milk beforehand. This way, it will blend into the roux even better.
How do you make the cheese sauce?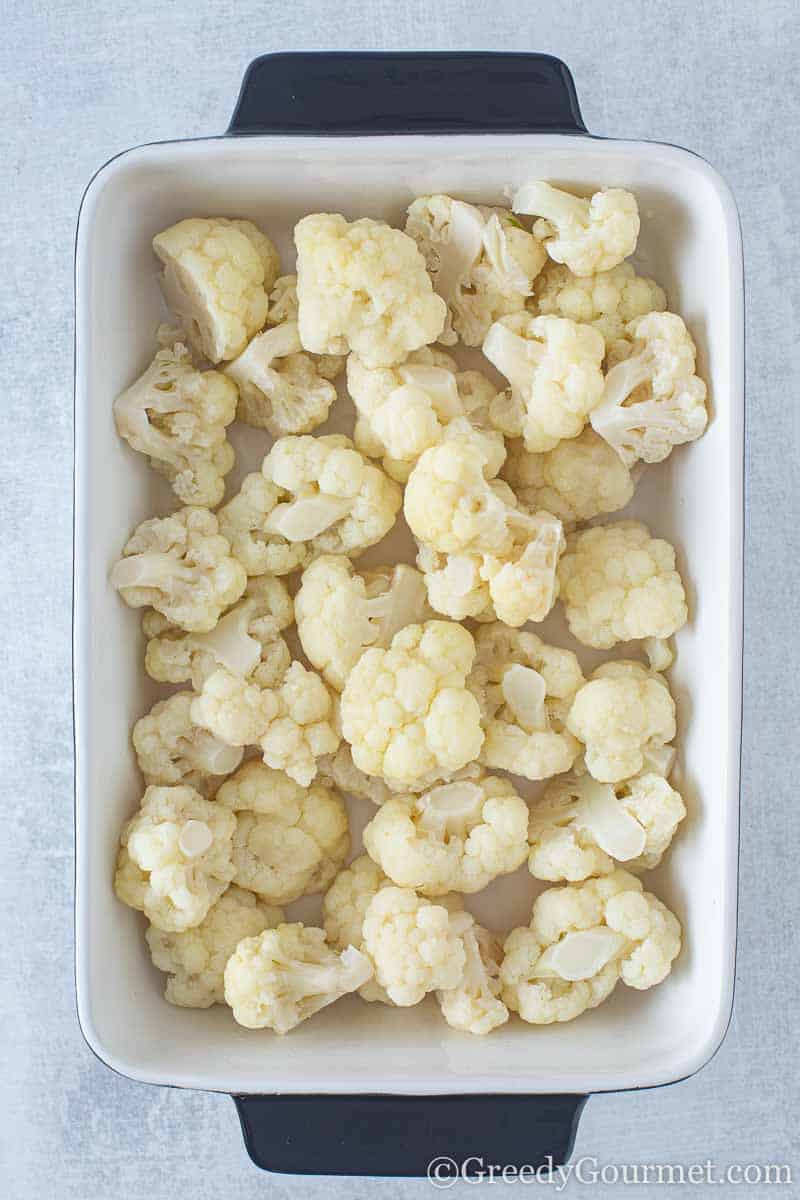 Once you've added all the milk to the roux, you'll have a plain béchamel sauce. Then, add your cheddar cheese, grated, and a pinch of salt and black pepper. If you want a little earthy spiciness, add a pinch of nutmeg too.
Keep stirring until the cheese sauce is nice and creamy. Have a taste. Add more cheese if needed.
Once your cheese sauce is ready, pour over the cauliflower florets. Mix everything in and spread the layer out evenly in the dish.
Add some extra grated cheese on top if you want, along with some black pepper and the all-important panko crumbs. Bake in the oven for 20 minutes until it turns a beautiful golden brown colour. Then tuck in! 
What are panko crumbs?
Panko is a type of breadcrumb used in Japanese cuisine. It's also very popular in other Asian dishes. Recently, its popularity has soared throughout the world.
In terms of flavour, there's not much to write home about. So what's with the massive popularity – what's so great about panko crumbs?
What makes panko crumbs better than normal breadcrumbs?
Well, the key to the success of this humble little crispy Japanese morsel is in its crispiness. Or, to be more specific, in its ability to stay crispy.
Unlike other breadcrumbs, panko doesn't absorb much oil. It has a very light, flaky texture, which helps it to stay crispy as it cooks.
Panko is made from yeast-risen white bread. White panko is made without the crusts and tan panko is made with the crusts. When processed, panko is made into flakes rather than crumbs.
The bread for making traditional panko is baked by electrical current rather than the heat from an oven. This is done to create a soft, airy bread with no crust.
What makes the perfect cauliflower cheese?
Like most great side dishes, cauliflower is very simple and straightforward. Still, there are a few key elements that elevate it to next-level side dish status.
First, the texture of the cauliflower is important. You don't want to end up with mushy cauliflower out of the oven. It's important to have a bit of a bite.
This is why the parboiling stage is important at the beginning. Don't over cook them – 3-5 minutes is plenty of time.
You also want a smooth, creamy rich cheese sauce before baking in the oven. Blending the butter and flour for a good roux is crucial, as is adding the milk gradually. This will help you get a nice consistency. 
Be sure to taste the sauce before you add it to the cauliflower. Any good cheese sauce should make your taste buds explode! If it doesn't, you need more cheese.
This recipe should ideally have a little bit of crisp on top. This comes from the panko, but you also want some of the cheese to be crispy.
To get this, be sure to cook it on a high enough heat for the right amount of time in the oven. See the recipe below for timings.
What are the origins of cauliflower cheese?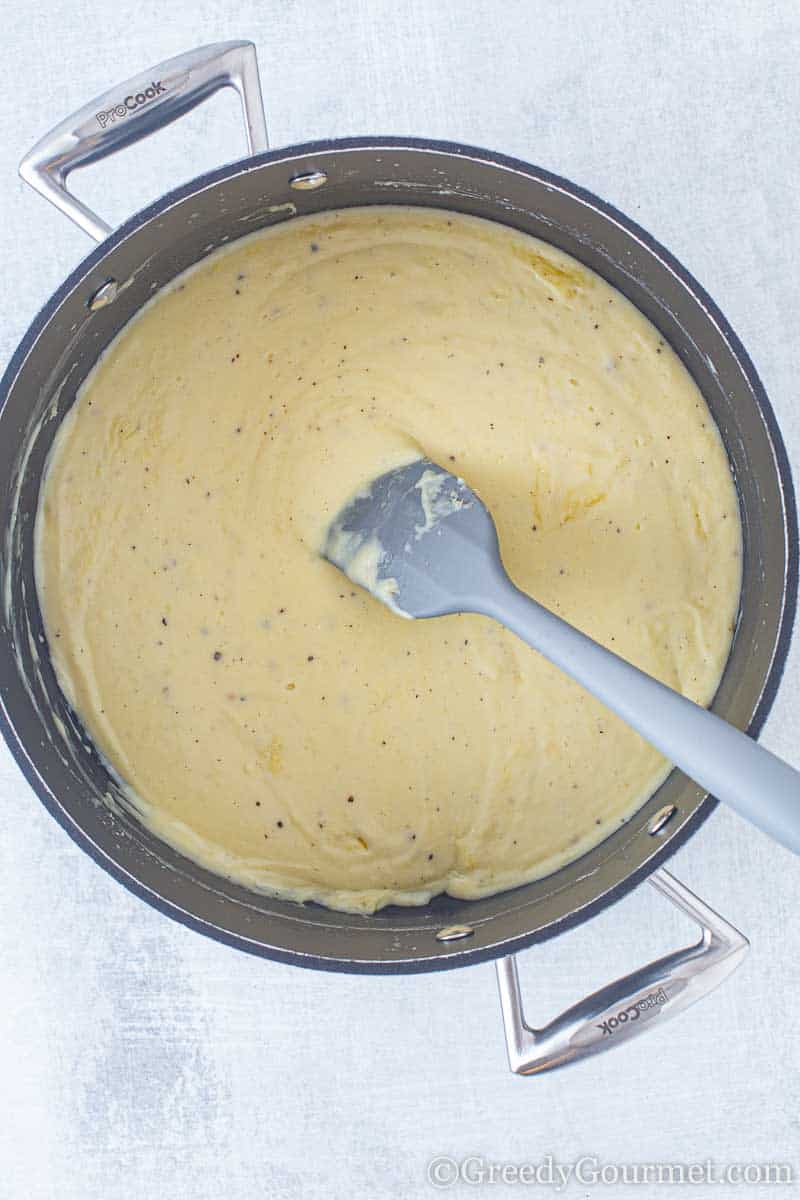 It is said to have been brought to the UK by Cypriots as far back as the 18th century. Anglocypriots from the British colony of Kythrea are said to have introduced a dish consisting of cauliflower served with a bechamel sauce, a typical ingredient in the cuisine of Cyprus at the time.
In the 19th and 20th centuries, cauliflower with cheese sauce became a staple side dish up and down the UK, normally served alongside a heavy, rich roast meat meal for Sunday lunch.
What's the best cheese to use in cauliflower cheese?
When it comes to the best cheese to pair with cauliflower, it's got to be cheddar.
As cauliflower doesn't have a great deal of taste on its own, it's important to add a cheese that packs a punch. This recipe calls for using grated cheddar – it saves a lot of time and hassle for those times when you want a simple, tasty side dish.
If you want to make this recipe extra special, you could splash out on extra special ingredients. A top class cheese is going to turn a tasty cauliflower recipe into something that'll blow your family and friends away.
I recommend going for a creamy extra mature cheddar – something like Black Bomber or something punchy and sharp like Godminster organic vintage cheddar.
You could also try a Lancashire cheese – something like Shorrocks would make a great sauce for this recipe.
Just watch the faces of your diners as they taste that extra special cheese sauce. It's totally worth paying a little extra – especially if you're cooking up this side dish for Christmas.
Why does my cauliflower cheese go watery?
If you grew up in the UK, there's a good chance you've got bad memories of watery cauliflower cheese being served up for school dinners.
What your dinner lady didn't know is that there are two simple rules to follow to avoid this soggy side dish. 
1) Don't overboil the cauliflower
2) Drain the cauliflower properly and allow to fully dry
Follow these simple rules and you're good to go!
Can you eat cauliflower cheese cold?
You can eat cauliflower cheese straight out of the fridge, but heating it is so easy and it tastes a lot better warm. Just pop it on a microwaveable plate, cover and microwave for 2 minutes. 
You can also heat it in the oven. Cover with foil and heat for 10 minutes at 200ºC (400ºF). Then remove the foil and heat for another 10 minutes. 
How long can you keep cauliflower cheese in the fridge?
If you have any leftovers, save them for later. Put them in an airtight container and keep them in the fridge for up to three days.
Can you freeze cauliflower cheese?
If you want to keep your leftovers for more than three days, you can also freeze this recipe. Place it in an airtight freezable container.
It'll keep in the freezer for 4-6 months, although after 4 months it'll start to get a little watery.
How do you cook cauliflower cheese from frozen?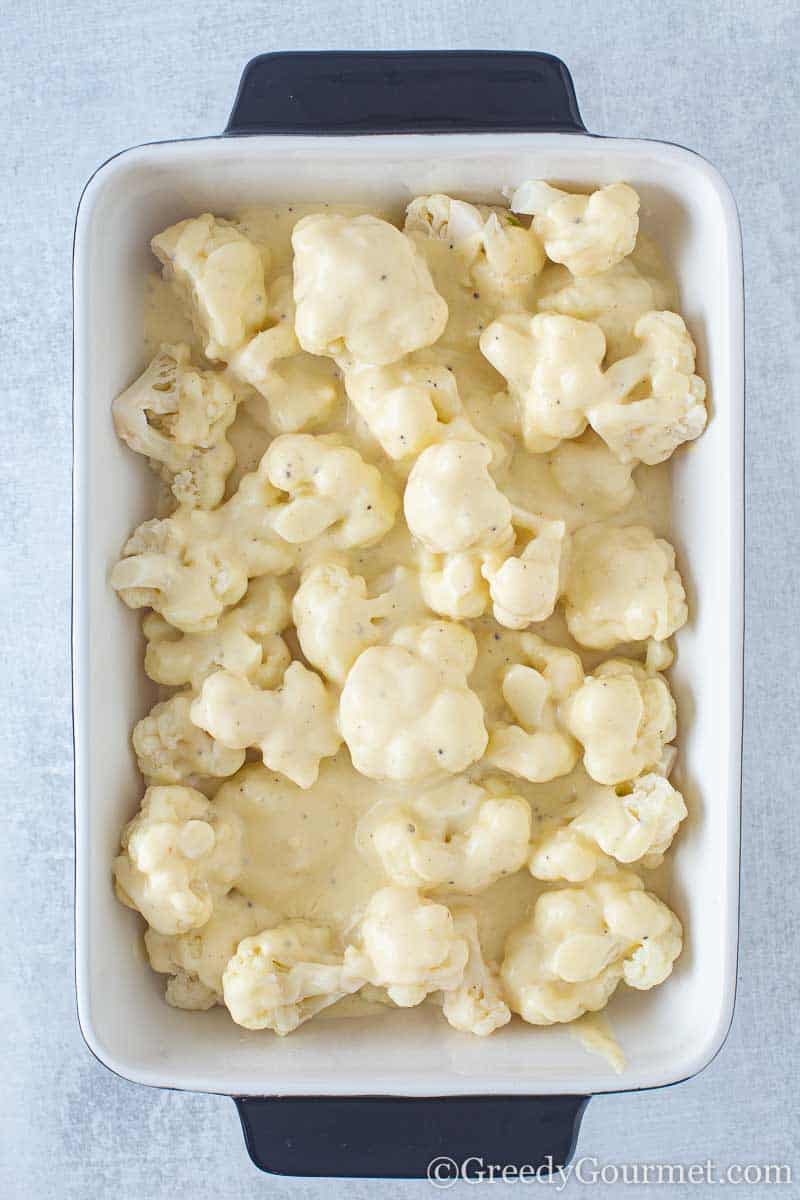 It'll taste better and be less liquidy if you cook it from frozen instead of thawing it. Place it in an oven-proof dish and cook at 200ºC (400ºF) for 20-25 minutes until fully heated.
How do you make vegan cauliflower cheese?
If you're a vegan, the great thing about this recipe is that it's easy to adapt to a vegan recipe. You'll just need the following products:
Unsweetened almond milk – be sure to go for the unsweetened kind. You can also use rice milk if you prefer
Cashew nut butter – this is a great vegan butter. You can also make your own… check out my recipe for an amazing macadamia nut butter!
Applewood smoky vegan cheese – this is one of the best vegan cheeses you can get and, as it melts really well, it would be great for the sauce
Use these vegan ingredients in place of the original ingredients when making your cheddar cheese sauce.  
Is cauliflower cheese healthy?
Cauliflower is a very healthy vegetable with many great health benefits. As well as being high in fibre and full of nutrients, cauliflower contains many antioxidant properties which can help defend against certain diseases.
The sauce in this recipe makes it a little less healthy, but you could always use a low-fat milk to make it healthier. Or, even better, make it a vegan recipe (see above).
Is cauliflower cheese gluten free?
No. But you can replace the plain flour with ground almonds to make it gluten free.
What do you add to cauliflower cheese to make it extra tasty?
As I mentioned before, you can add bacon or Parma ham. Also, a spoonful of mustard would go well. Don't forget to season well with salt and black pepper, and maybe a hint of nutmeg.
What does cauliflower cheese go with?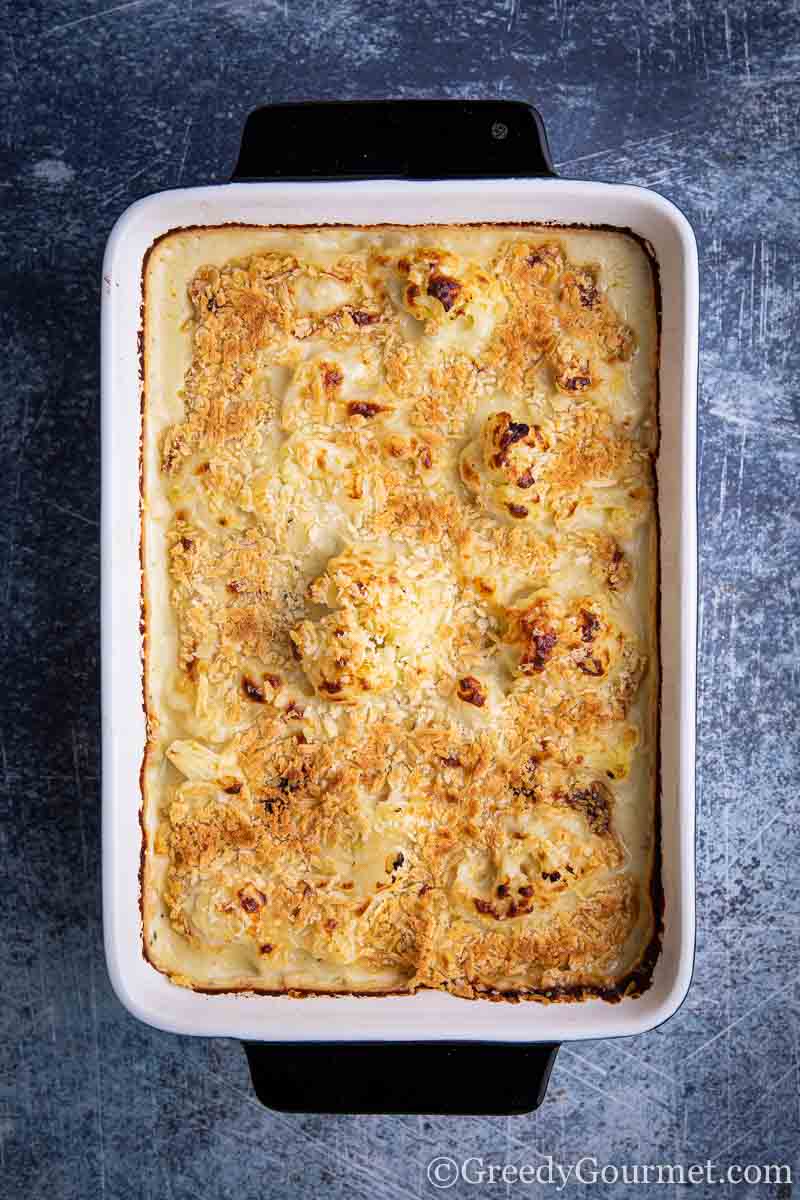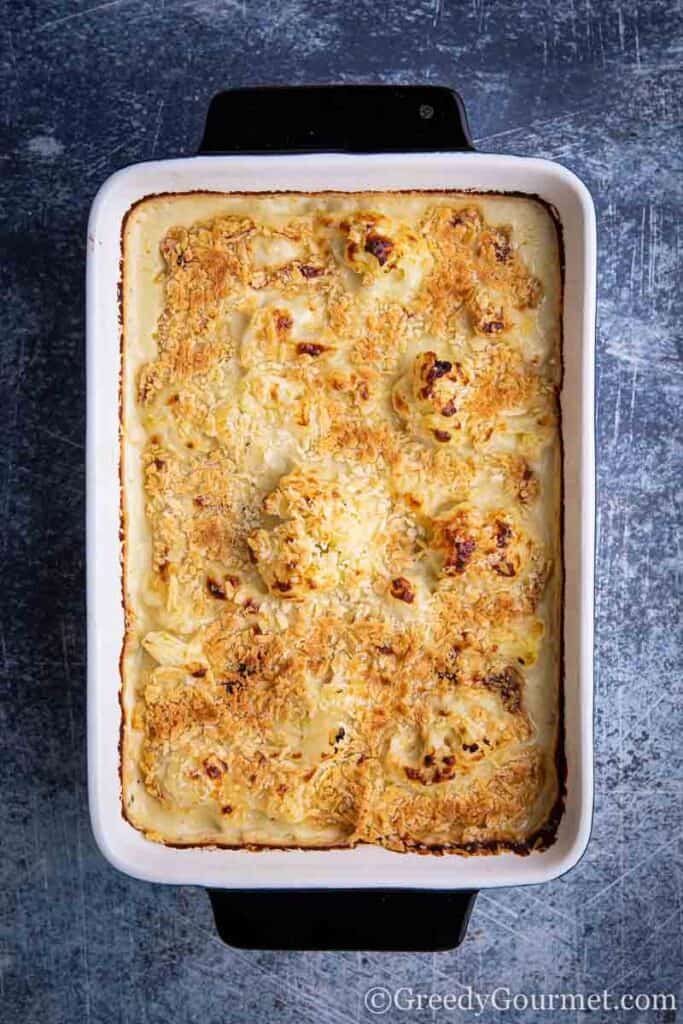 More great side dish recipes
More delicious cauliflower recipes
Print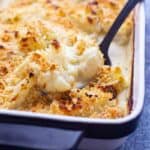 Cauliflower Cheese
---
Author:

Michelle Minnaar

Prep Time:

20 minutes

Cook Time:

25 minutes

Total Time:

45 minutes

Yield:

6

portions

1

x

Diet:

Vegetarian
Description
Cauliflower Cheese is a famous British side dish recipe loved all over the world. Cauliflower is blanched, drenched in a cheesy sauce, then baked until golden and crispy.
---
Scale
Ingredients
1

large cauliflower

50g

(

4 tbsp

) butter

30g

(

4 tbsp

) flour

500

ml (2 cups) milk

100g

(

¾ cup

) Cheddar cheese, grated

18g

(

3 tbsp

) breadcrumbs
---
Instructions
Preheat the oven to 220˚C/fan 200˚C/430˚F/gas 7.
Remove the outer leaves from the cauliflower, if there are any, and wash the head thoroughly.
Separate into florets. You can use the stem as well, cutting it into thick slices.
Blanch the cauliflower. Bring pan full of salted water to a rolling boil. Tip in the cauliflower and bring back up to a boil. This should take 3-5 minutes. Drain then tip the cauliflower in an ovenproof dish. Set aside.
In a medium-sized saucepan melt the butter.
Stir the flour into the butter a tablespoon at a time.
Slowly pour in the milk, a 100ml (⅔ cup) at a time, while stirring vigorously.
Once all milk is incorporated, add the cheese and season to taste.
Pour the cheese sauce over the cauliflower. You can stir the cauliflower, if you prefer.
Sprinkle with panko crumbs and place in the oven for 20 minutes.
Serve immediately the dish of your choice. It goes well with lamb, beef, chicken and turkey. Great for a Christmas dinner too. Enjoy!
---
Notes
If you can get hold of panko, which is a Japanese breadcrumb, you can use it instead of its traditional counterpart.
When adding the panko, you can add chopped Parma ham or prosciutto as well to add a nice, salty twist to the recipe.
Category:

Side Dish

Method:

Bake

Cuisine:

British
Keywords: cauliflower cheese recipe, cheese sauce for cauliflower, how to cook cauliflower cheese, baked cauliflower cheese, cauliflower recipe, cauliflower side dish