Those of you who enjoy growing your own vegetables, will know how giving a courgette plant can be. Courgette pickle is one way to use up a glut!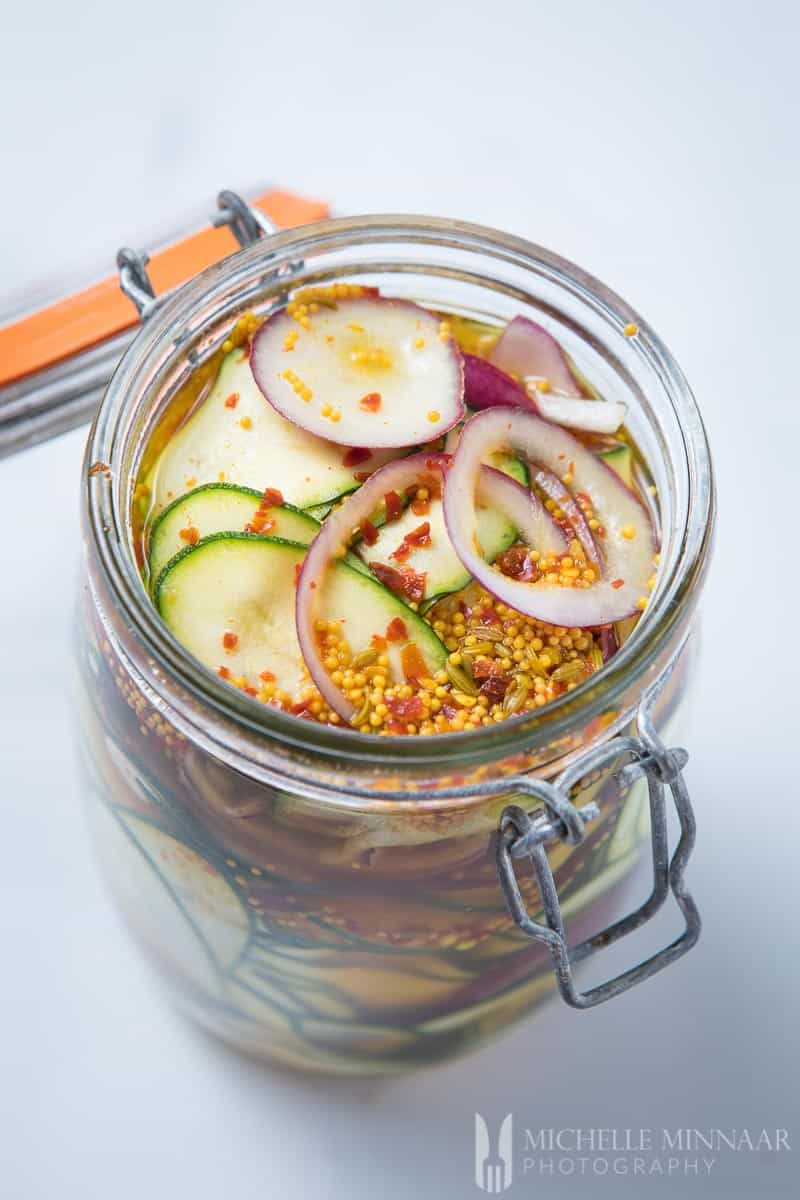 At the beginning of the season you eagerly pick them as soon as possible but towards the end of the season you can't stand the sight of these vegetables and it feels like you have them morning, noon and night as a starter, main course and dessert.
By that time you've completely run out of ideas on how to make use of the glut. This is where this handy courgette pickle recipe comes in.
Once you've taken one bite of this courgette pickle you would never want to any commercial produced product again. The same rule I am afraid applies to all homemade pickled ingredients, chutneys and sauces. Freshness and quality above all!
Preparing courgette pickle is hassle free and certainly delivers when it comes to impressing guests with fresh sides. So, in this recipe post, you'll learn how to pickle your own courgettes and you can apply the same method of pickling some of your other favourite vegetables! Enjoy!
courgette pickle
Courgette pickle, also known as pickled zucchini, are slices of courgettes that are soaked in a salted and seasoned vinegar solution. It is best served fresh as a side dish to heavy meat dishes like the denningvleis or a honey glazed rack of lamb.
You can also pair the courgette pickle with this Indian main course that comprises lamb koftas in a spicy sauce. The whole point of the courgette pickle to is refresh your palate and to balance out your meal in terms of flavour.
I also enjoy eating the courgette pickle because of its various of textures. Everyone enjoys a bit of crunch!
The courgette pickle may be served as starter when you pair it correctly with seafood. For example, serving the courgette pickle with this traditional Thai starter such as Thai fish cakes is a match made in heaven.
Sometimes, the Thai fish cakes soak up more oil than they should during the frying process. Consequently, they can become a bit heavy and desperately require a refreshing element.
Ordinarily, you pair the Thai fish cakes with a sweet chilli sauce. However, in some parts of Thailand it's very common to serve them with pickled cucumbers or pickled courgettes.
Altogether, you can pair courgette pickle to dish from European, Asian and Indian cuisine. The choice is yours because of this dish's versatility.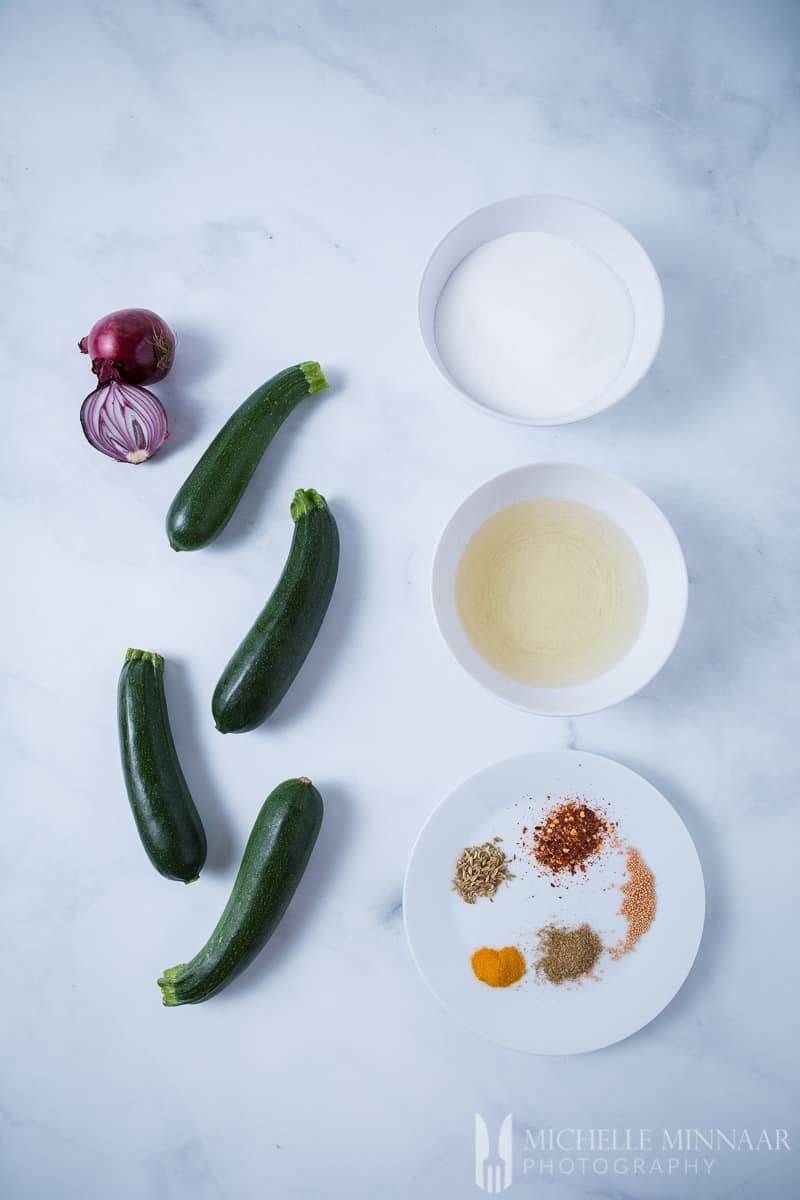 the courgette
The best type of courgette for this recipe is a baby courgette. The older ones grow too big and they aren't as delicious when it comes to having the appropriate texture.
Baby courgettes are smaller versions of the traditional courgette. They look very similar to cucumbers so they are ideal for this recipe.
You can also use yellow zucchini which has the same characterics as a green courgette, except in colour. Although, they are much brighter and vibrant.
You can opt to make a colourful combination of both types of courgette and create a colourful courgette pickle.
In this case you can also experiment by using marrows instead of courgette. Another great way to use up overgrown courgettes quickly is by cooking this handy roast marrow recipe.
courgetti
For extra texture, you can also try making courgetti like I did here in my Asian inspired courgette side dish. Naturally, you'll need a special cutting tool to get the desired noodle-like shape.
If you wish for having these noodle-shaped like pickled courgetti, you'll need a bigger glass jar for storage. The courgetti also takes up quite a lot of space.
So, what do you think - are you up for it or do you prefer following the original recipe? You can also try making this with daikon. Just follow my takuan recipe, which is sort of a pickled and preserved daikon radish.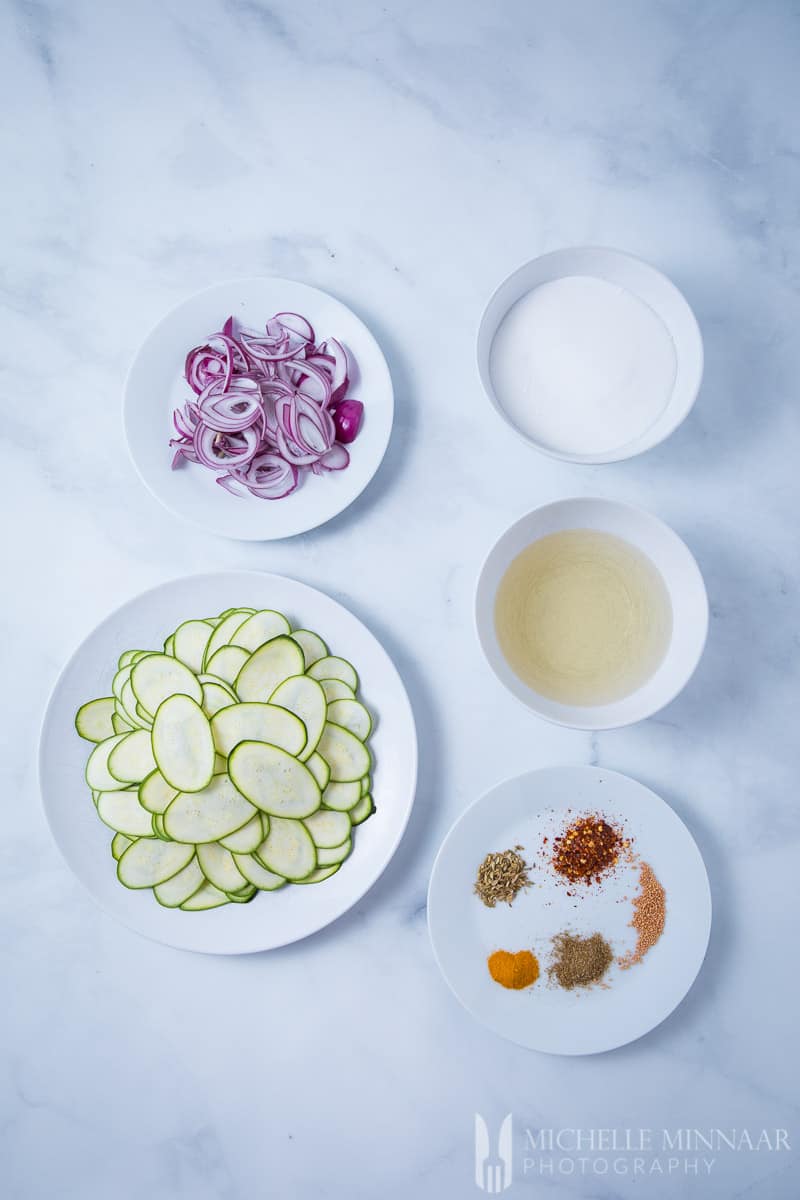 pickling
The pickling process has been around for quite some time! This process is very common all over the world. For example, you might know Korean kimchi, Japanese miso pickles, pickled herring in Scandinavian countries, pickled Indian chutneys, and so much more.
Pickling is a process that not only enhances the flavours of ingredients, it also helps preserve your food!
There are two ways you can pickle your food. The first type of pickling involves using a vinegar solution. The strong acid from the vinegar helps prevent spoilage as only a few bacteria can survive this strong solution.
For example, this pickled cabbage and red onion slaw is made in such a way.
The second type of pickling involves using a salt brine, which encourages fermentation. This helps the production of 'good' bacteria, that in turn make food more resistant to the 'bad' causing bacteria that causes food to rot.
If you want to learn how to brine your food, click here.
onion
I love the addition of the onion in the courgette pickle. It not only adds flavour, however it brings that certain crunch. You can control the amount of onions you add.
Also, you can add any type of onion, whether it be the normal onion, red or white onion. For more impact, I recommend using a couple of shallots instead. They are more fragrant and will make the pickle more harmonious in terms of flavour.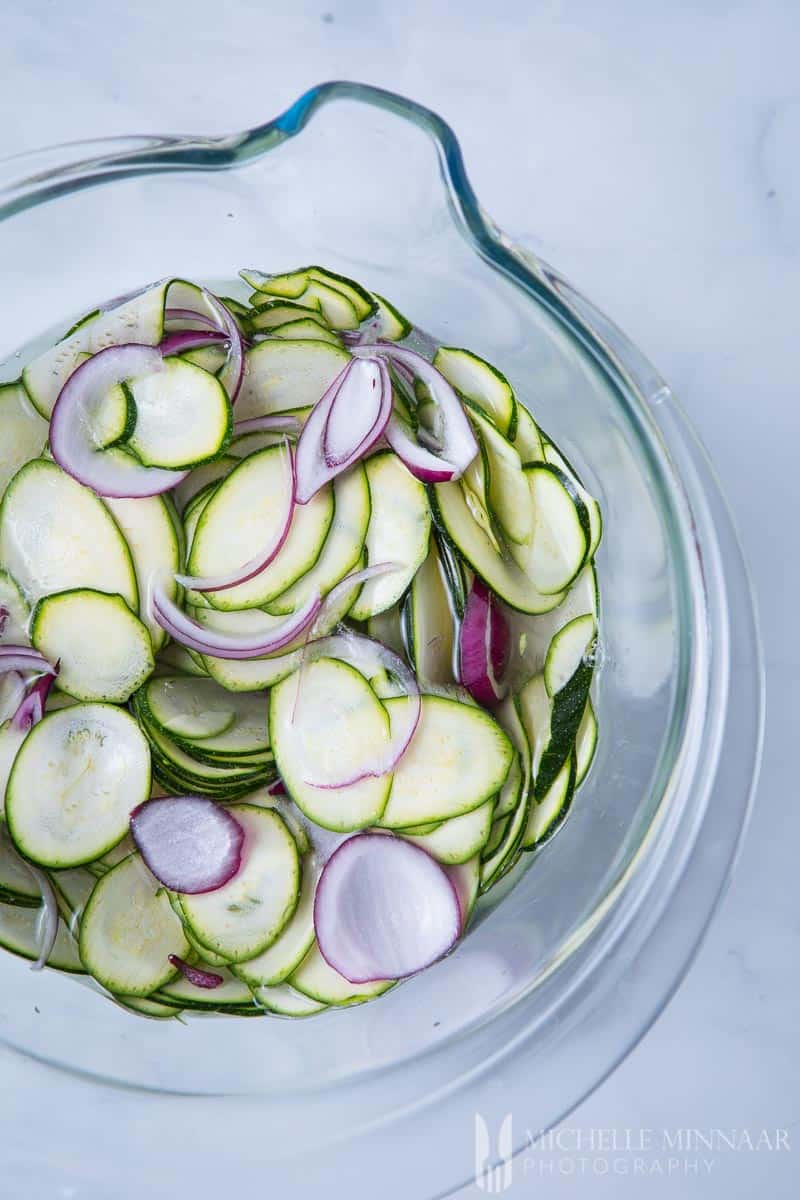 spices and seasoning
You are welcome to add any type of spices to this courgette pickle. As you can see, I've added quite a few. However, you can also add fresh herbs such as fennel or dill.
These too work very well with pickled cucumbers. You can also consider adding fresh green or red chillies and more Asian spices for that amazing oriental twist.
courgette chutney
Why not turn this courgette pickle into a courgette chutney? The main difference between courgette pickle and courgette chutney is that you must cook the courgette chutney first.
That's where the chutney gets its consistency. During the cooking process, courgettes comes together to form a thick consistency.
Usually, vegetable chutneys are seen in Indian cuisine, but are not limited to only that part of the world.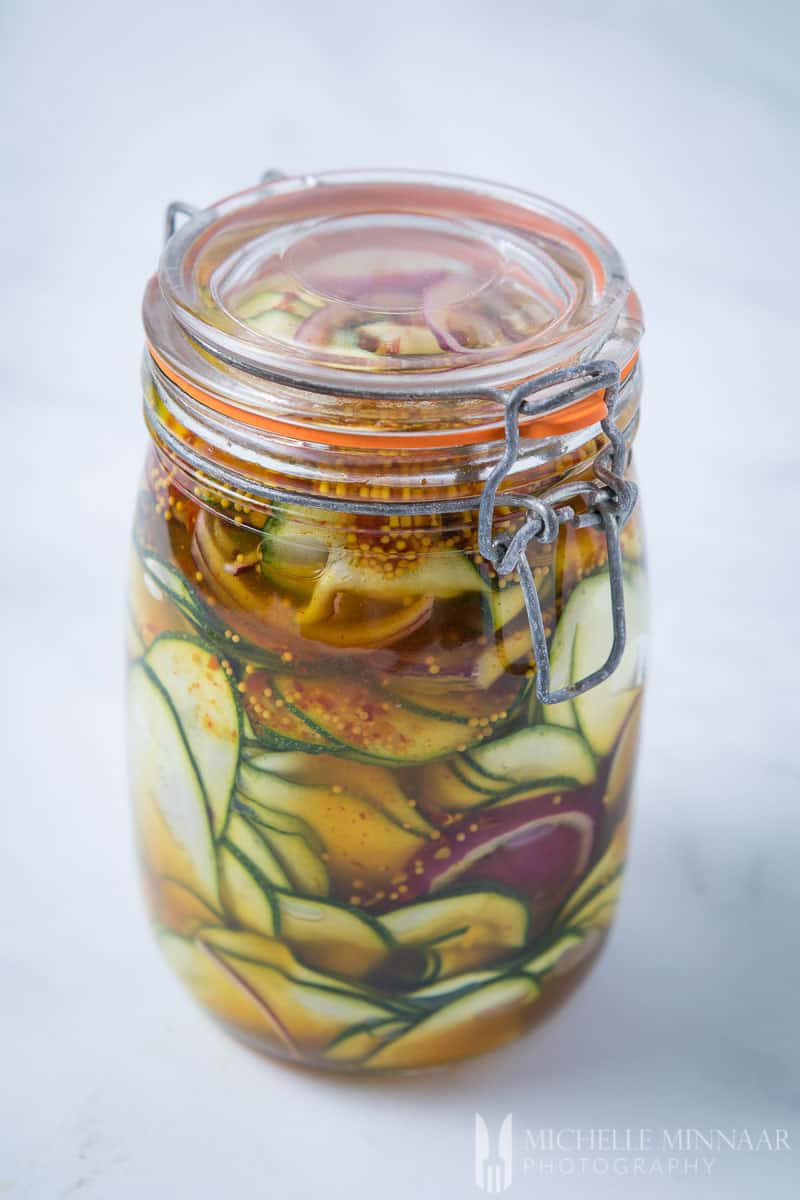 storage
Naturally, the courgette pickle can last for monthsif you keep the jar sealed airtight. You should store it in a cooler place in the kitchen, out of direct sunlight.
Once you open the courgette pickle, you need to store it in a refrigerator. Essentially, the open jar should be consumed as quick as possible, however it can last up to a week if your fridge is cold enough.
Have fun pickling your courgettes!
Print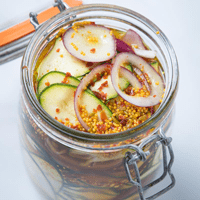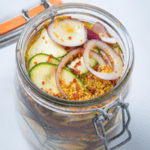 Courgette Pickle
---
Description
Courgette pickle is in essence slices of courggettes that sit in a jar of a spiced vinegar solution. A versatile side dish which stores very well. Enjoy!
---
450g

(1lb) courgette, washed and finely sliced

2

red onions, peeled and sliced

500

ml (2 cups) apple cider vinegar

30

ml (2 tbsp) sea salt

15

ml (1 tbsp) red chilli flakes

5

ml (1 tsp) fennel seeds

10

ml (2 tsp) yellow mustard seed

5

ml (1 tsp) celery salt

5

ml (1 tsp) turmeric

150g

(5oz) caster sugar
---
Instructions
Place the thinly cut courgette slices in salted, ice water and let them soak for 1 hour.

Place the vinegar, salt, fennel, mustard, celery salt, turmeric and sugar in a saucepan and bring it to a boil.

Remove the pickling sauce from the heat and let it cool down.

Drain the courgettes and dot dry with a paper towel.

Place the courgette and onions in a large, about 1

ℓ (4 cups) sterilised jar, then pour in the pickling sauce.

Close the lid and give a shake to mix the ingredients.

Place in the fridge and leave for 3 weeks to mature.
Prep Time:

30 minutes

Cook Time:

10 minutes

Category:

Side Dish

Cuisine:

English
Nutrition
Serving Size:

1 serving

Calories:

44

Sugar:

8.5 g

Sodium:

574 mg

Carbohydrates:

9.8 g
save the recipe to your pinterest board