When the nights turn cold and the summer seems a distant memory, don't despair… it's jam season! Damson jam is an absolute highlight this time of year.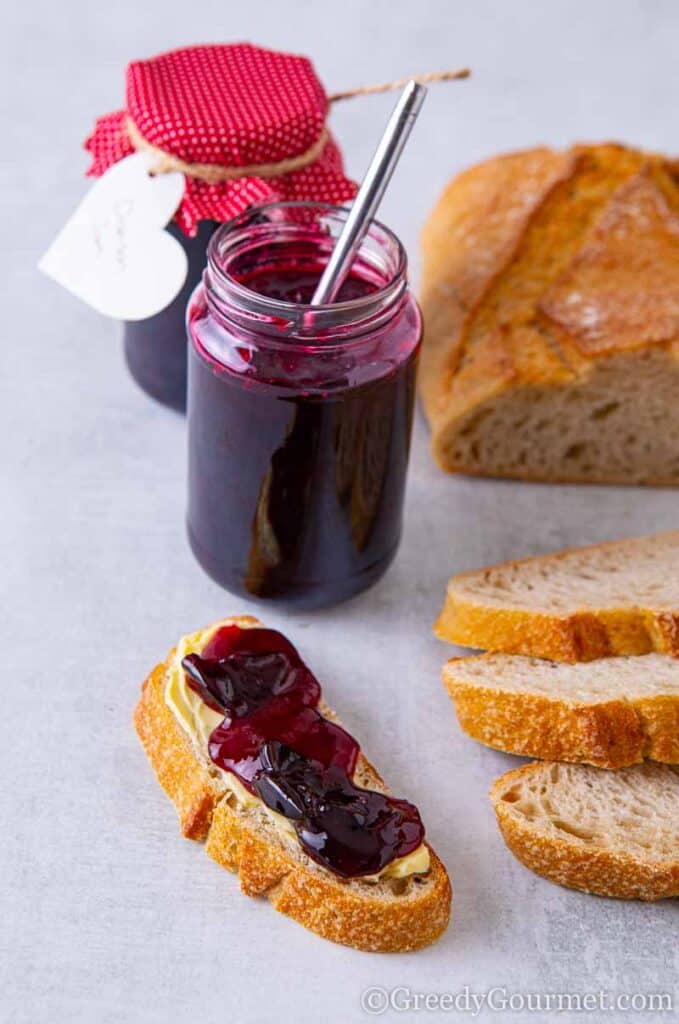 It's very easy to make and the results are spectacular. When you feel like you've got the winter blues, a spot of damson jam will melt all your troubles away!
Products you need for this recipe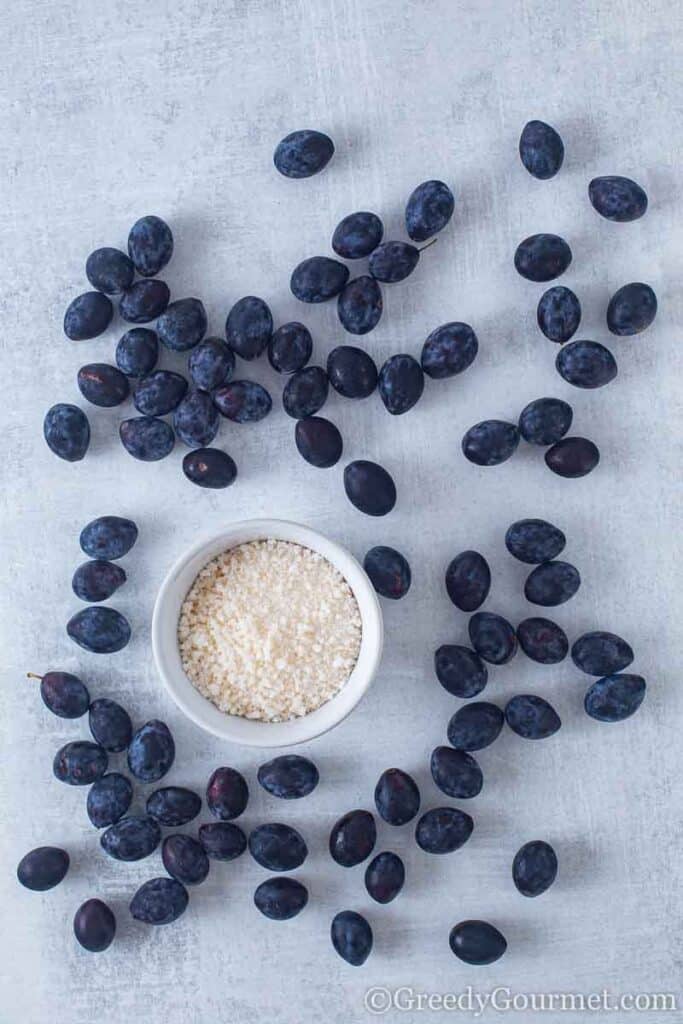 Damson jam recipe
Damson jam is the perfect autumn treat and, best of all, it's so easy to make. Make a big enough batch and you'll be in joyful jam heaven all the way through until the springtime!
If you've always wanted to make jam but been put off by a) thinking it's too hard or b) thinking it takes too long, I've got good news. It's neither!
In fact, it's such a simple, delicious thing to cook and it really does make the best of the true taste of nature. There's nothing like gathering a big bag of fruit that's in season to cook up a great old-fashioned, timeless, tasty recipe.
My method for jam making is easy and takes no time at all. The hardest part is to remove the stones from the damsons.
Removing the stones can be made so much easier by getting a cherry pitter (see below). It's so worth it when you're dealing with this much fruit and will save you a lot of time and effort.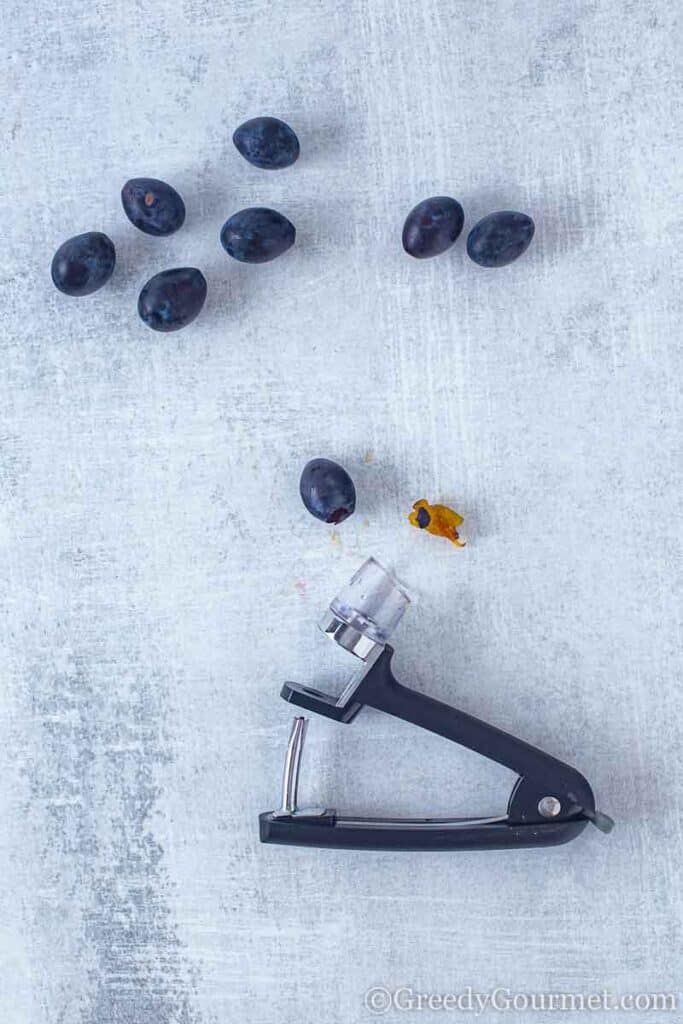 Once you've removed the stones and rinsed the damsons, add them to the pot. Then, add the sugar and water.
When the sugar has dissolved, you'll bring the liquid to a boil (stir all the time) until wrinkles have formed on the skin of the jam.
If skin has formed, your jam is perfect. If not, boil for an extra 2 minutes, enough time for skin to form.
Once your jam is ready, add it to your sterilised jam jars. It'll make the perfect present for friends and family – just think homemade Christmas gifts!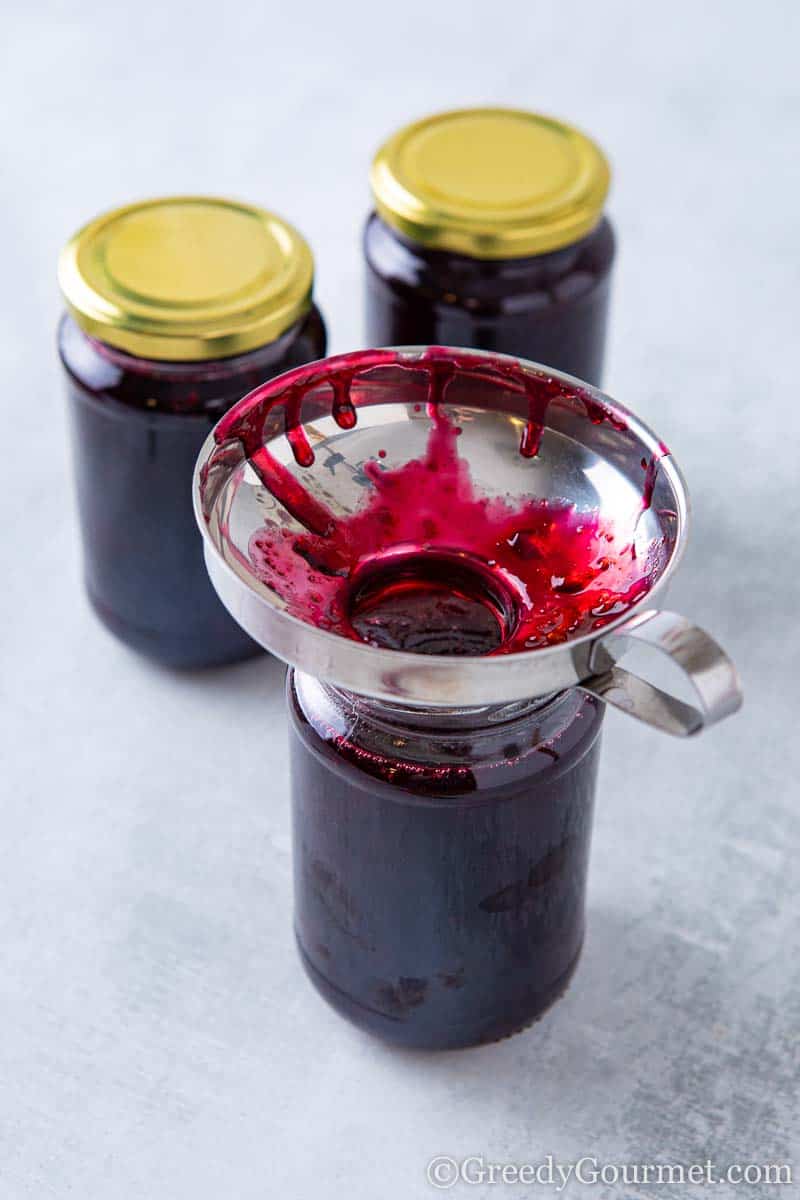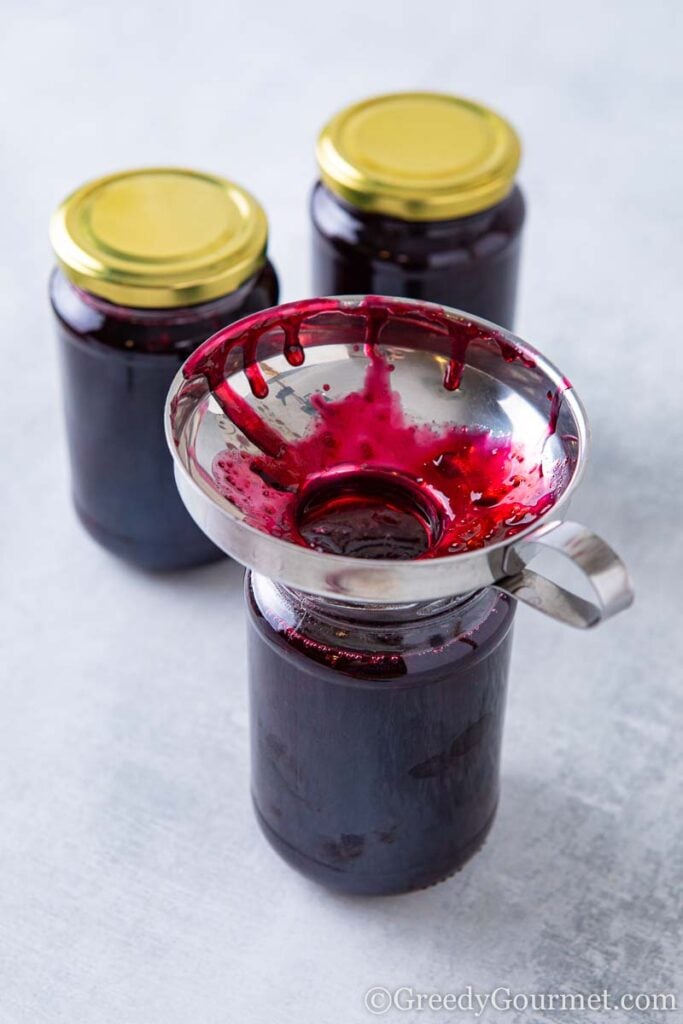 What are damsons?
Damsons are small purple fruits that are similar to plums. They are oblong in shape and grow throughout Europe, although they most commonly grow in Great Britain.
What is the difference between a damson and a plum?
While plums are normally round, damsons tend to be oval in shape. They are also slightly smaller than plums.
These two fruits might look similar, but their flesh has a very different texture. Plums are quite juicy, while the flesh of damsons is a lot drier. You'll be pleased to know that this means the damson stones are a lot easier to take out!
When are damsons in season?
Damsons are usually harvested between late August and October. This makes them perfect for fruity comfort food that brings a touch of summer, like jams and pies.
How do you know when damsons are ripe?
If the damson is firm, it's not ripe. A ripe damson should be a little bit soft. Even when it's soft and ripe, it won't be quite as sweet as a plum. Still, it's all about the flavour it brings when it's cooked.
What does damson jam taste like?
While the taste of damsons can be a little tart and plain, lacking the sweetness and juiciness of a plum, when made into jam they take on a whole new level of loveliness!
They end up with a deep, rich taste and amazing texture that will completely blow you away. Especially if you're left slightly underwhelmed by the lack of flavour that makes fresh damsons so ordinary.
How do you remove the stones when you make damson jam?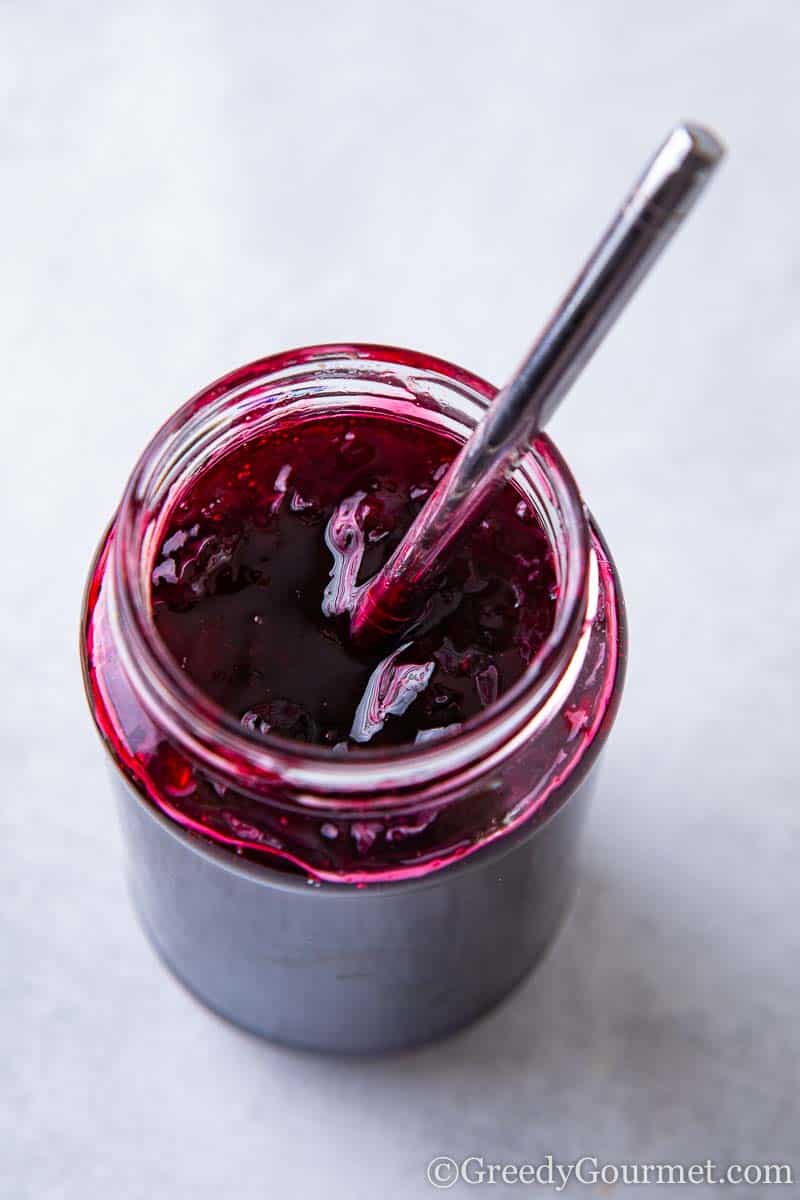 One method to remove the damson stones is to put them in a pan of water and simmer until they soften. This will make it a lot easier.
An alternative method is to freeze the damsons. The stones will come away a lot easier.
A lot of people just use a knife to cut down the length of the damson and then give it a twist. Then lever the stone out.
The quickest, safest and ultimately best way is to use a cherry pitter. Make sure your damsons are ripe and the stones should come away easily.
Do damsons contain pectin?
Damsons are very high in pectin. This means they are particularly great when it comes to producing jam, as it holds together very well.
Are damsons good for you?
Damsons have got a load of great health benefits. These range from improving digestive health, lowering cholesterol, strengthening bones, increasing energy, protecting against heart disease, boosting your immune system and decreasing the risk of certain types of cancer.
Other favourite fruity recipes
If you love the idea of creating fruity flavourful comfort food to take you through the winter, have a go at these recipes:
Damson chutney – you've tried the jam, now try the chutney. Take the humble, ordinary little damson and turn it into something extraordinary!
Plum chutney – few things beat a nice flavourful chutney. Takes no time to produce and goes with anything from cold meats to sumptuous cheeses
Amaretto cherries – homemade booze-infused bites of joy!
Dried fruit compote – this recipe's so easy and it'll transform just about any dessert
Seedless blackberry jam – another jammy delight that'll have you swooning with pleasure
Cranachan – a wee Scottish classic, if you've never tried cranachan you'll fall in love with this auld favourite
GIVEAWAY
This week one winner is to receive a Chilli No. 5 Kitchen Collection Gift Set.
This elegant gift set is the perfect introduction to Chilli No. 5's exquisite range of healthy hot sauces. The set includes Chilli No. 5's most popular hot sauces; Forever Phall, Ever So English, Chinese Hot & Sour, Wicked Wasabi, and Sriracha Cha-Cha-Cha.
Chilli No. 5 offers a collection of designer healthy chilli sauces for the bold, the brave, and the curious.
Made from the very finest ingredients, each luxury hot sauce features an exclusive blend of five chillies that offer superb depth of flavour and the perfect amount of heat. Each sauce is packed with a range of carefully selected superfoods and supplements, designed to help hot sauce lovers live a healthy and active lifestyle. These good-for-you ingredients may help with sleep deprivation, concentration, weight loss, and anxiety.
Perfect for dipping, marinating, drizzling in soups and stews, or for adding pizzazz to pizzas, stir-fries and more, Chilli No. 5 offers a seamless way to ensure tasty meals at home.
Make every day extraordinary with Chilli No. 5! Join the revolution!
a Rafflecopter giveaway
Entering is easy, just follow the instructions below.
Here you can find a tutorial on how to enter with Rafflecopter.
If your form is not showing, try refreshing the page.
Complete the form, otherwise your entries will not count.
Make sure the mandatory entries (e.g. leave a blog comment) are completed first.
Don't forget to come back daily for extra entries via Twitter.
If you're viewing this post by email, please come to the actual webpage to enter.
Competition Question: How would you enjoy damson jam?
Print
Damson Jam
---
Author:

Michelle Minnaar

Prep Time:

20 minutes

Cook Time:

20 minutes

Total Time:

40 minutes

Yield:

62

x 30ml (

2 tbsp

) servings

1

x

Diet:

Vegan
Description
Do you have a glut of damsons? This is the perfect damson recipe for you! Damson jam is quick and easy to make and makes the perfect gift for a foodie.
---
1

kg (2.2lbs) damsons

1.25

kg (6 cups) jam sugar

250

ml (1 cup) water
---
Instructions
First, stone the damsons with a cherry pitter.
Rinse them well under a tap and drain.
Place the damsons, jam sugar and water in a large saucepan or preserving pan.
Slowly heat the contents, while stirring, letting the sugar slowly dissolve in the water and fruit juices.
Bring to a rolling boil and maintain it for 15 minutes. During this period you'll need to keep stirring the sauce to prevent it sticking in places and subsequently burning.
Remove from the heat and test the jam. E.g. Take a small dollop of jam onto a cold saucer and cool.
Push your finger from one side into the jam. If the skin has formed wrinkles, the setting point has been reached. If it hasn't wrinkled, boil for another 2 minutes and test again. Repeat this process until the desired wrinkles form.
Pour the jam in sterilised jars and seal with a clean lid. This recipe yields 5 x 370ml (1lb) jam jars and makes excellent foodie gifts!
Category:

Jam

Method:

Boil

Cuisine:

British
Keywords: damson jam, damson recipe, how to make jam, damson plum recipe, damson jam making, autumn harvest recipe