Lancashire butter pie is a new discovery I've made. Like any British person, I do enjoy making good old pie, especially mini British beef and mushroom pies.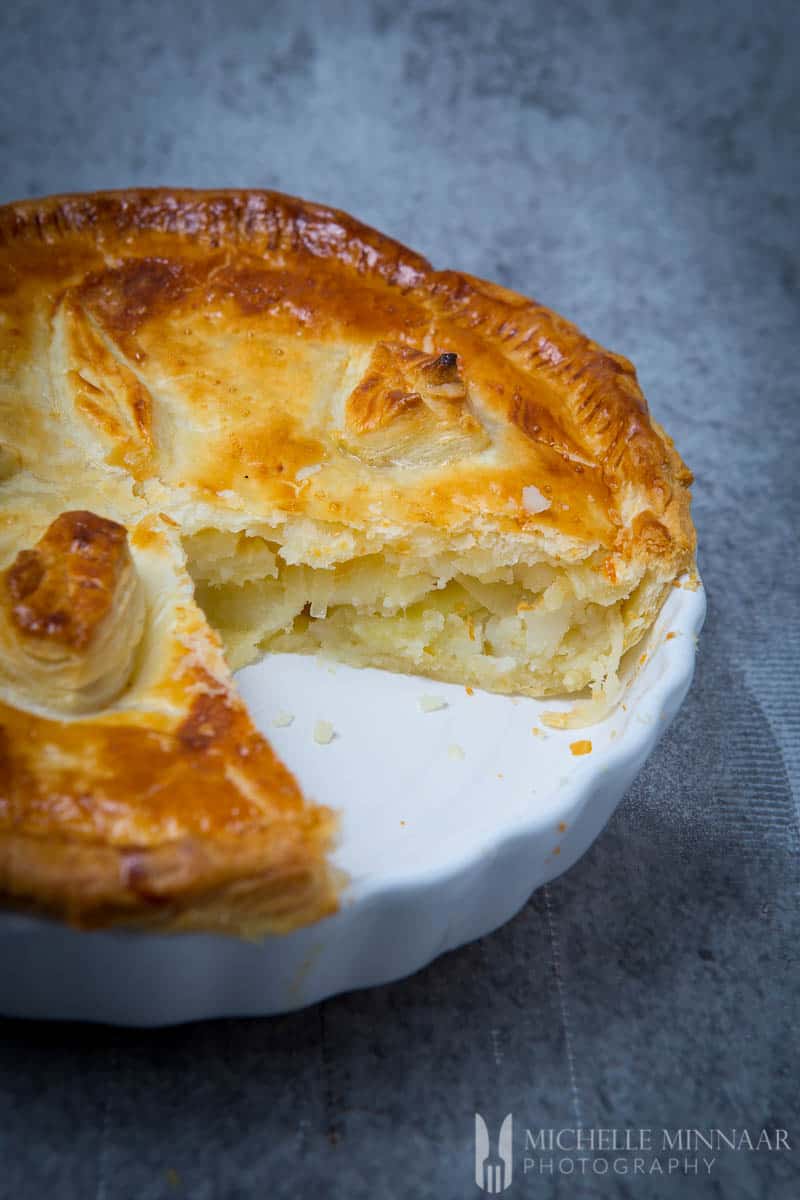 The general problem when it comes to preparing delicious British pies is making the pastry. Making the pastry is an art and requires a lot of patience and practise.
So much so, I recently came away defeated and can honestly say that making my own pastry is my Achilles' heel in the kitchen. Luckily, I did find my way with completing this Lancashire butter pie with some store-bought pastry. Phew!
In the end, I managed to create an excellent version of the Lancashire butter pie. Being another one of my delicious hearty meals for this cold weather, it is an excellent dinner if you've got a hungry family.
It's easy, cheap, and filling. Plus, it stores so well, it can keep for days in the fridge, if it lasts that long. Best served with a side salad or some roasted vegetables.
By the way, if you love potatoes, you simply must try boulangere potatoes.
lancashire butter pie with original cottages
While I was making the Lancashire butter pie I thought about where I'd spend my holidays this year. Do any of you have any special plans for Christmas or New Year's Eve?
I recently stumbled upon Original Cottages and I seem to have found some inspiration, wink wink. Suddenly, I imagined making pies in a wonderful cottage by a fireplace, with a window overlooking the country side.
Hidden from all the city stress and filled with special family moments, passing your holidays can't be more relaxing.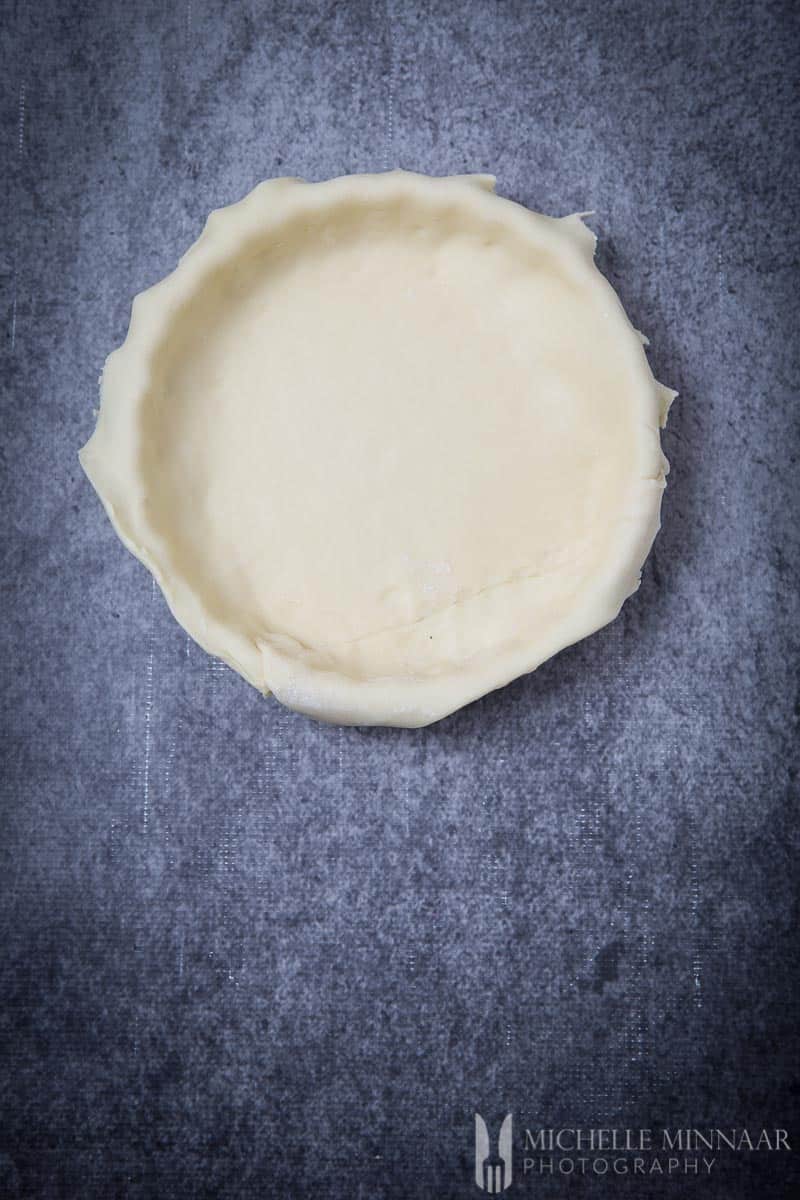 Wouldn't it be great to take the edge off in a cosy cottage? You too can find the perfect retreat. The best part is, that you can find a cottage that suits you perfectly in many parts of the UK.
You can discover the beautiful coastline with Coastal Holiday Cottages. Or, you can bring your entire family with you, even your pooch.
Original Cottages offers lots of dog-friendly cottages, which is great because your pet can enjoy the countryside as well. Lastly, just because you stay in a cottage doesn't mean you should be in total solitude.
You can find a lot of cottages near pubs for a great local experience. Or you can plan a romantic escape, or a memory-filled family adventure in UK's various beautiful regions.
about original cottages
The Original Cottage Company Ltd (TOCC) is family-owned company that started initially as Norfolk Country Cottages in 1992. They offer various types of cottages in most regions in the UK, so you can select your favourite part of the country.
Just check out all their UK Original Cottage destinations here. Surprise surprise, I have my eyes set on the destinations in Lancashire.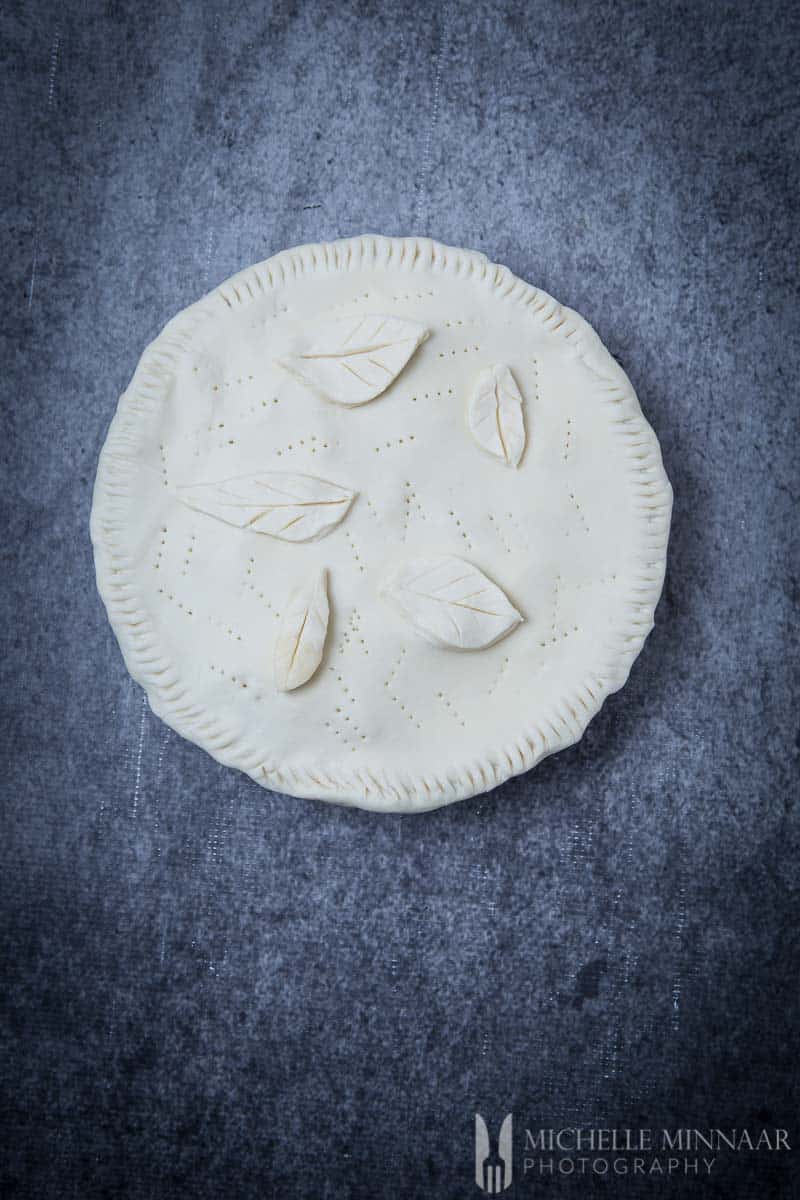 For my non-English readers, this region of the 'red roses' is located in north-western England. Have you ever heard of the Roses Tournament?
It's an old university competition between York (white roses) and Lancashire (red roses). This university competition is rumoured to be older than competitions between Harvard and Yale. Fancy that!
In any case, Lancashire is an absolutely gorgeous region and definitely a great place for a holiday stay with UK'S Original Cottages. For now I'll imagine being there while eating Lancashire butter pie.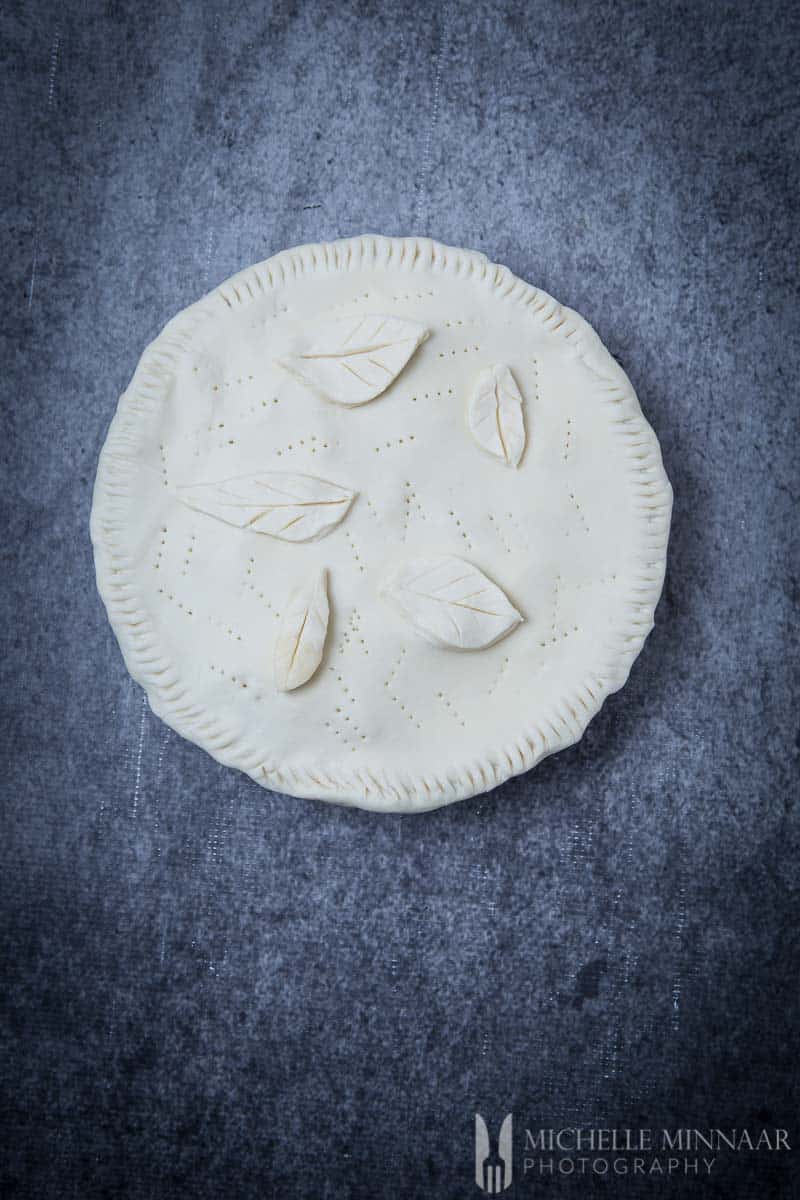 the pastry
Now, I've got a secret to confess. At first, I was extremely excited to make my own pastry from scratch for this Lancashire butter pie. However, Murphy'sLlaw came into play and, of course, I stuffed it up.
Making my own pastry didn't work, so I rushed into the store to buy short crust and puff pastry. Oops! I admit, I am not the best baker in England and my pastry skills need fine tuning.
If you do have the confidence to make your own pastry, then you should blind bake the short crust first. This is done so that the crust comes together and is less likely to be flabby at the end of the cooking process.
Again, if you don't feel like faffing with making short crust pie lining from scratch, just go for a store bought one. Next, I recommend putting the cooled down filling in next and then covering it with puff pastry.
Feel free to decorate the top of the puff pastry to your heart's desire. As you can see, I've made small leaves. Don't forget to brush the top layer of the puff pastry with egg wash for that beautiful golden colour on the Lancashire butter pie!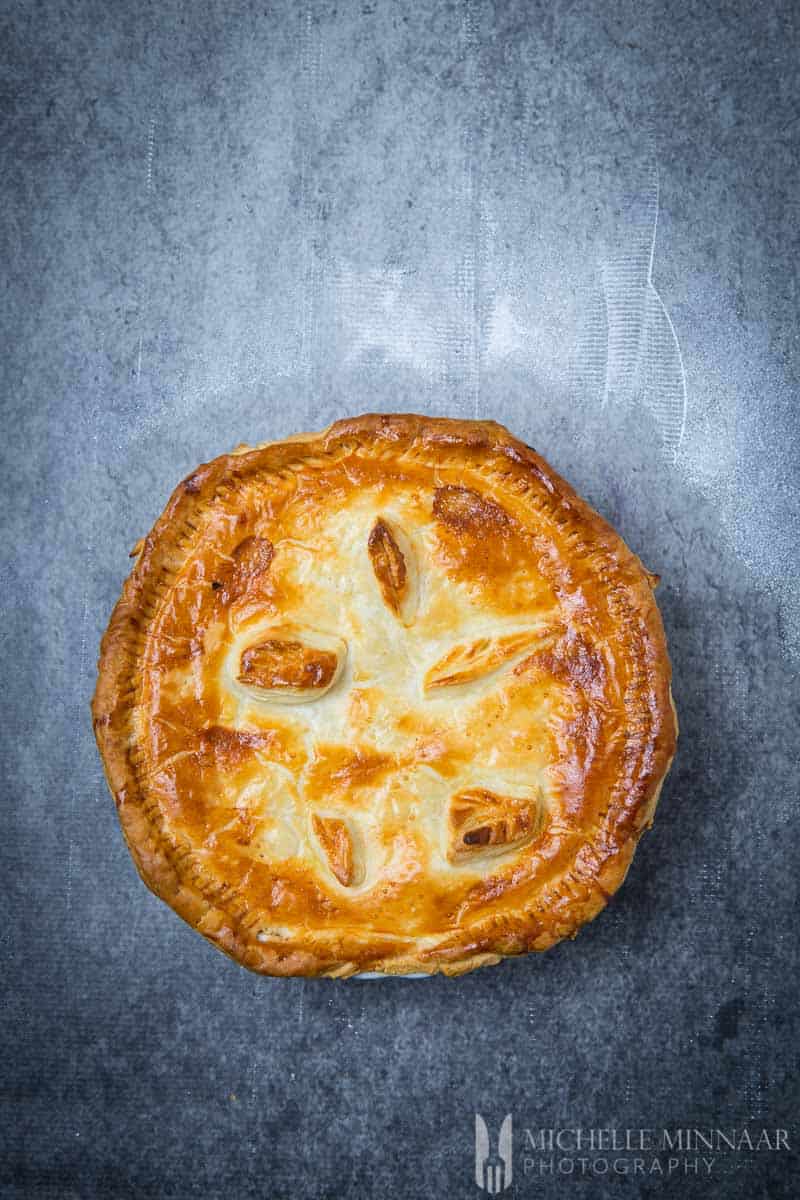 filling
This traditional pie calls for potato and onion filling. It's vegetarian friendly and omnivores can have some meat on the side. The pie can easily be spruced up though.
Personally, I would add bits of bacon or smoked ham for that nice umami flavour. Also, the f you've got a meat lover at home, they will enjoy a bit of meat inside.
The best part about any pie is that you can tweak the filling in any way you wish. Sometimes, I like to make a 'quiche lorraine' type of filling with eggs, cream, tomato and bacon.
Simple and delicious. Plus, it's a tad lighter than the potato and onion filling. Another great idea that I've seen from readers' comments in the Yorkshire Pudding Wrap recipe post is including beef stew.
Why not save some leftovers and put them into a pie? Clever and sustainable at the same time.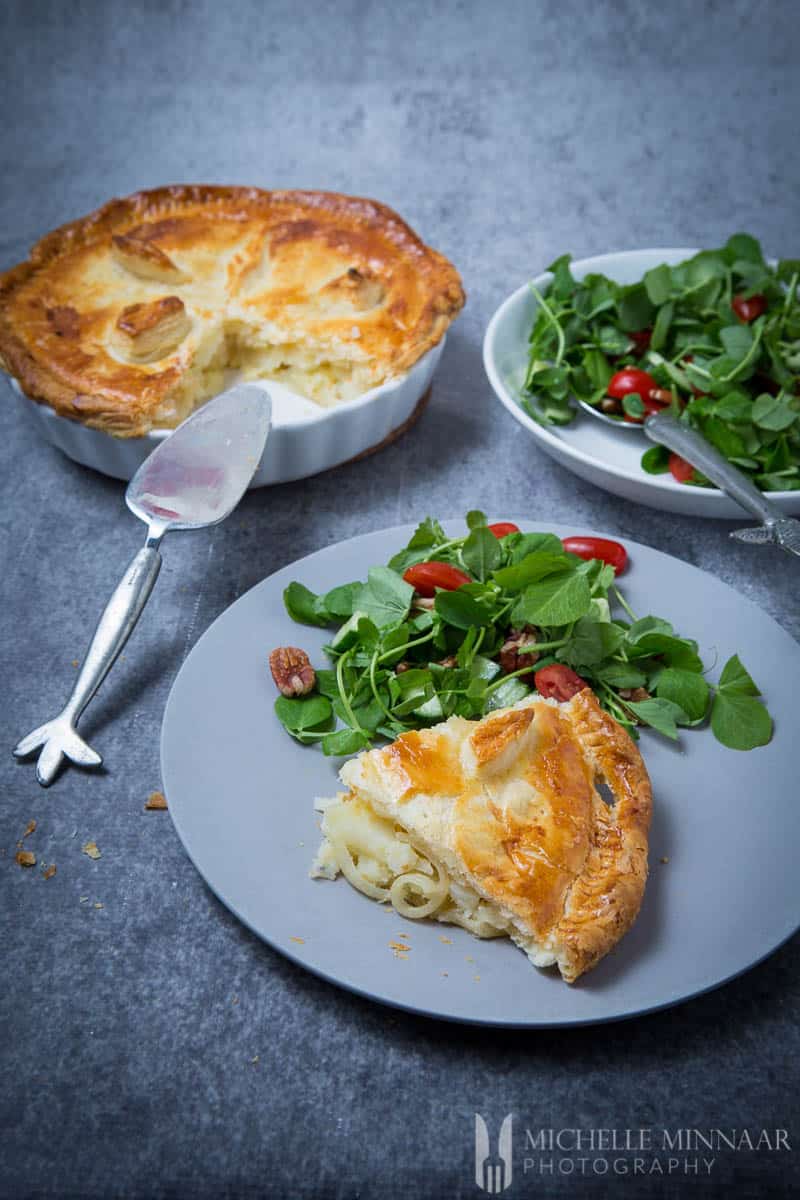 Sides
While your Lancashire butter pie is in the oven, you can use this time to prepare a light side dish. I recommend making something green like a side salad.
A simple green salad with some tomatoes, peppers and olive oil will. Although, I urge you to add a vinaigrette as the acidity won't make the pie as heavy.
However, if you have more space in your oven, why not roast a couple of vegetables and serve them on the side? I'd go for roasted beetroots or even coleslaw.
If you are looking for more traditional British pies, then try this sweet one. Try my lemon chess pie recipe.
More potato recipes
Print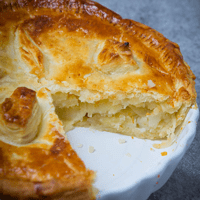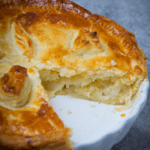 Lancashire Butter Pie
---
320

g

(11oz) shortcrust pastry sheet, ready rolled

320

g

(11oz) puff pastry sheet, ready rolled

5

large potatoes, peeled and thinly sliced

2

large onions, peeled and sliced

100

g

(3oz) butter

1

egg, whisked
---
Instructions
Remove the pastries from the fridge and let them rest at room temperature.
Parboil the potatoes in salted water for 5 minutes and drain.
Gently fry the onions in the butter until softened then add the potato and stir.
While the potato mixture is cooling down, preheat the oven to 200°C/400°F/gas mark 6.
Lightly oil a 30cm (12in) pie dish.
Line the pie dish with the shortcrust pastry and trim the edges. Line with baking parchment then pour in baking beans. Bake blind for 10 minutes. Remove from the oven and let it cool down a bit. Remove baking beans.
Adjust the oven temperature to 220°C/425°F/gas mark 7.
Fill the pie shell with the potato filling and evenly distribute the contents.
Top off with the puff pastry and crimp the edges. Poke the top with a fork or knife so that air can escape during the baking process. Decorate to your heart's content.
Brush egg on top then bake for 15 minutes or until the puff pastry is golden.
Remove from the oven and serve with salad.
Prep Time:

30 minutes

Cook Time:

60 minutes

Category:

Main Course

Cuisine:

English
Nutrition
Serving Size:

1 serving

Calories:

554

Sugar:

6.2 g

Sodium:

166 mg

Fat:

22.7 g

Saturated Fat:

6 g

Carbohydrates:

78.4 g

Fiber:

9.3 g

Protein:

10.7 g

Cholesterol:

28 mg
save the recipe to your pinterest board

P.S. This post has been created in partnership with Original Cottages.