There's nothing like pickling your own vegetables and pickled cucumber is no exception! This recipe is great for a quick and healthy snack and is so easy to make.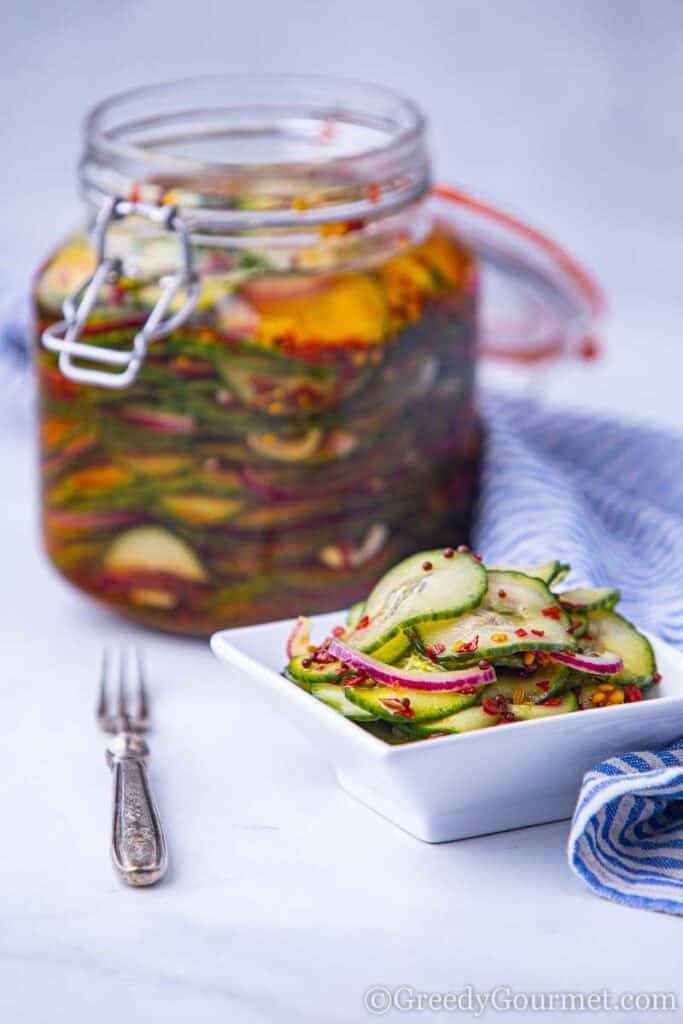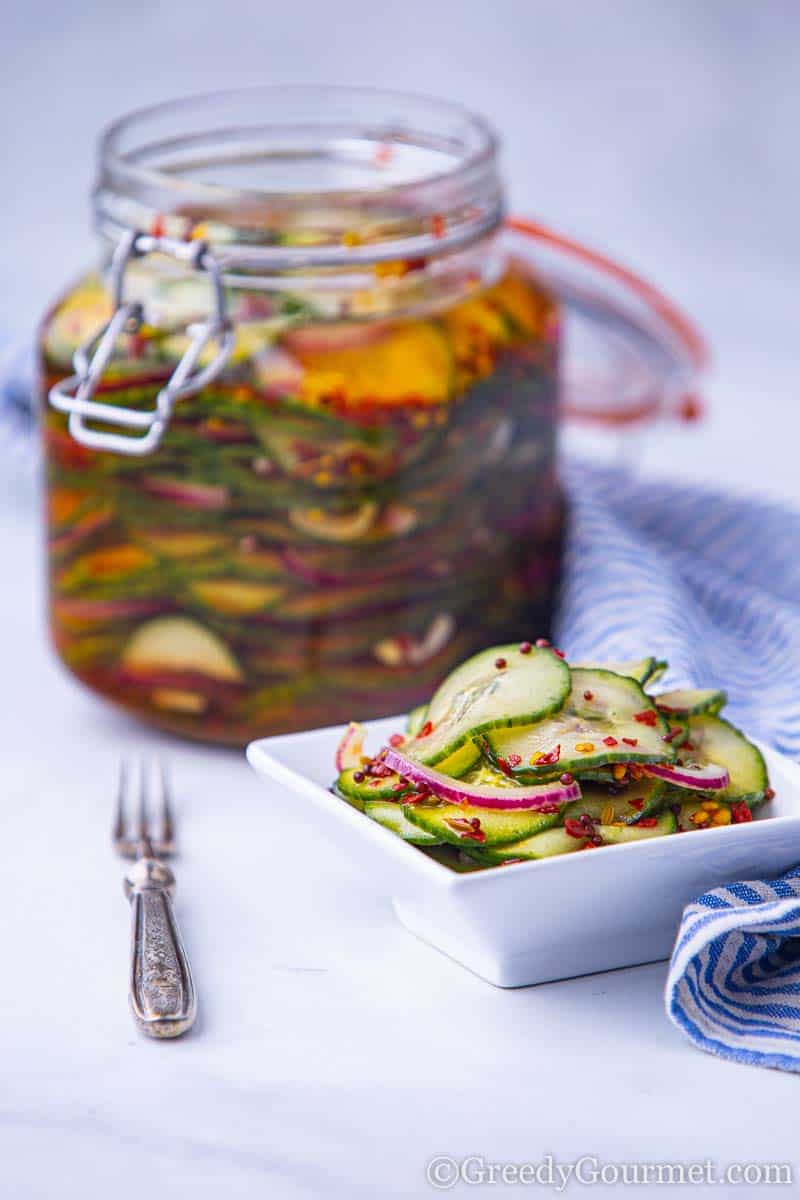 Take the time to make this quick pickled cucumber and you won't be disappointed. It'll open you up to a whole new world!
Products you need for this recipe
Before you jump staright into pickling, take a look at a few of the items you'll need for this recipe.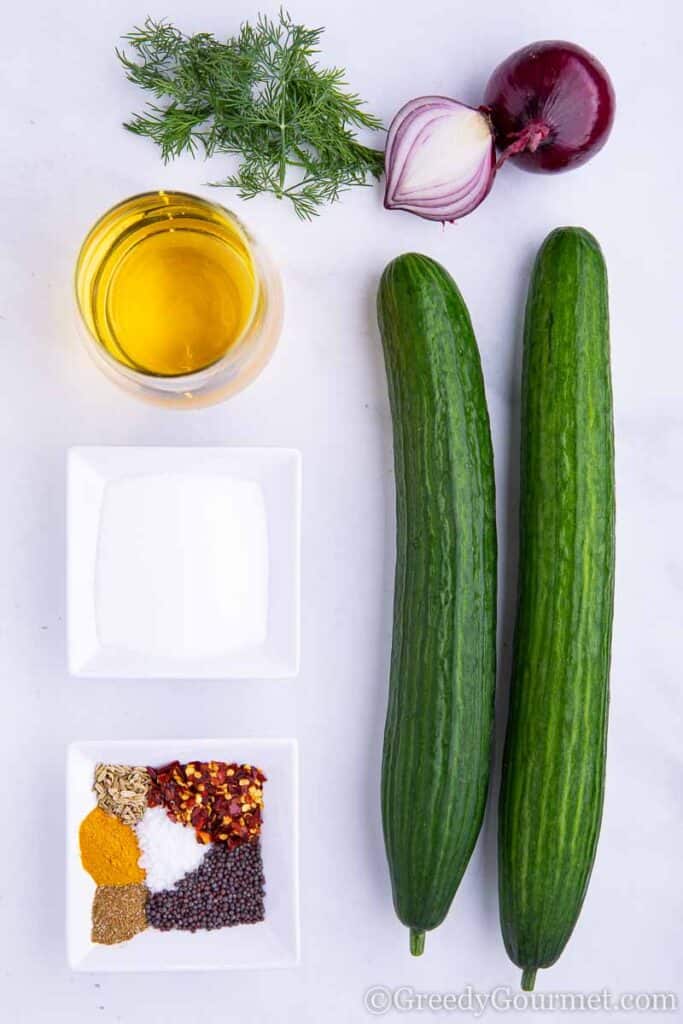 Pickled cucumber recipe
Cucumber pickle is a gloriously simple and oh so tasty recipe that involves soaking slices of cucumber in a salted, spiced and seasoned vinegar solution. Pickled vegetables take on a whole new level of deliciousness and go so well as a side dish to a variety of main meals.
You can also serve them up as a sumptuous starter or simply munch on them as a quick and healthy snack.
So, let's find out about the different elements of this recipe and how to make the perfect pickled cucumber.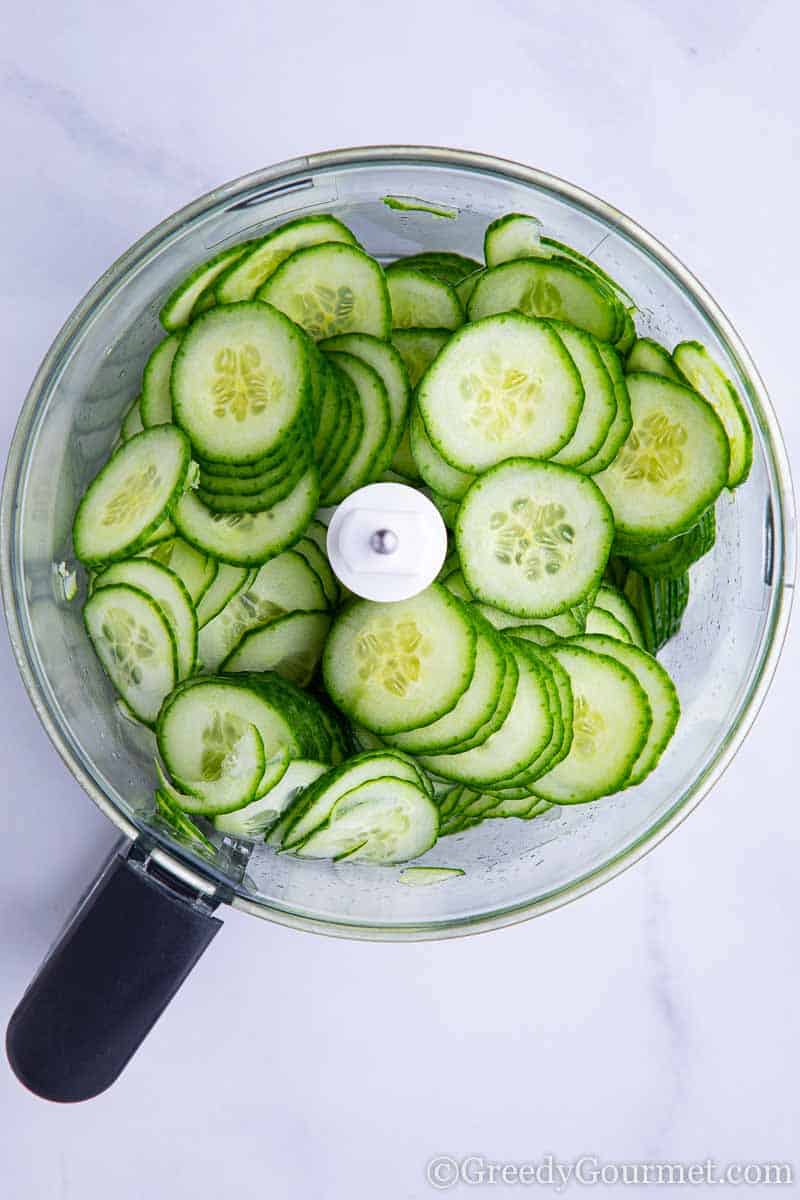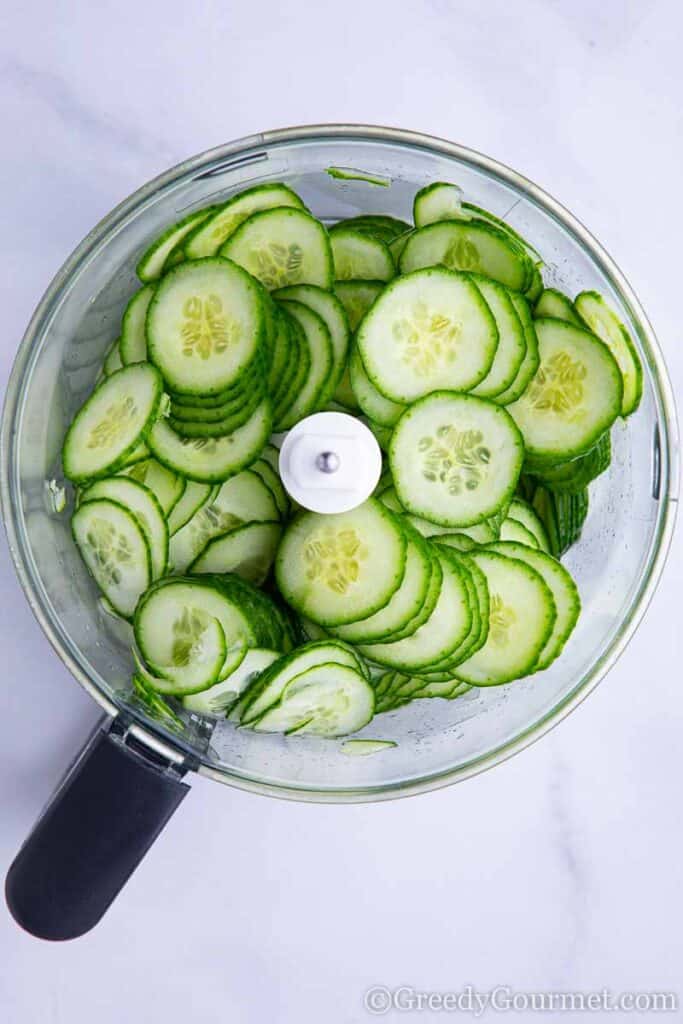 How to make cucumber pickle
First, make your slices of cucumber and onion with you food processor. This gizmo is what makes quick pickled cucumber extra quick pickled cucumbers!
Then leave the slices to soak in salted ice water for an hour, while you prepare your vinegar solution. This is going to help your cucumbers to be extra crunchy when pickled.
The vinegar solution that the cucumber is soaked in contains lots of different ingredients, each of which brings its own great flavor to the dish.
The vinegar you use to pickle your quick pickled cucumber is key. I've plumped for apple cider vinegar – I think the apple notes work really well with the cucumber and the spices.
You could also use white wine vinegar, although I think white wine vinegar lacks the fruity flavor that apple cider vinegar imparts.
Red onions are an important ingredient. They're not as sharp as white onions, but will bring a nice savory flavor and subtle sweetness to pickled vegetables.
Adding sugar to the vinegar solution reduces the sourness of the vinegar, while also toning down the heat of spices. Its main function though is to act as a preservative, keeping your pickled cucumbers in tip-top condition for longer.
Finally, we come to the all-important spices. You really can be a liberal as you like here, as there are so many combinations of flavors available. I'd suggest you start by following my quick pickled cucumber recipe.
After the first run you can experiment with your own spice combinations with other pickled vegetables later down the line.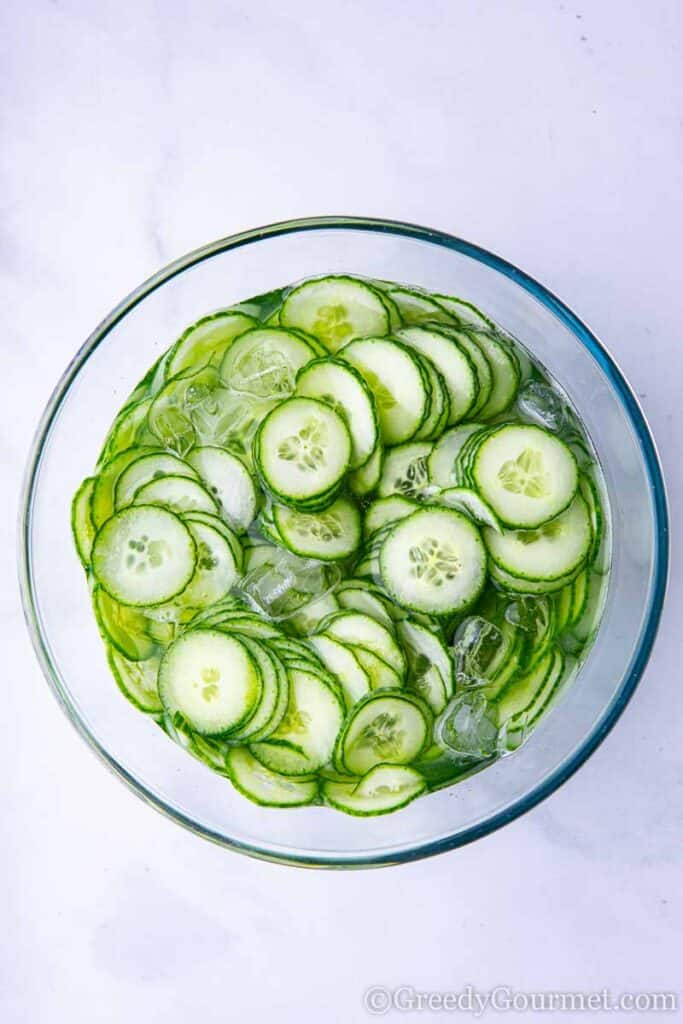 Yellow mustard seeds bring a mellow heat to your quick pickled cucumber. These are a lot less fiery than other types of mustard seeds, which makes them perfect for pickled cucumbers.
For me, turmeric is an essential spice. It delivers such an incredible earthy flavor – subtle yet very effective. When combined with the other spices in this recipe, it's magical. Also, if you don't know about the health benefits of turmeric it's time to get clued up!
A teaspoon of celery salt is a great way to add an extra depth of flavor. Celery salt has a really unique flavor – somewhat spicy and a little bit zesty. Perfect for your pickled cucumbers.
Finally, we're going to need a bit of heat. Dried red chilli flakes will do the job nicely, adding a smokey fruitiness to the quick pickled cucumber solution.
All these delicious ingredients are combined, placed in a saucepan and the vinegar solution is brought to the boil.
You'll then let your vinegar-based pickling sauce cool down. While it cools, pat your cucumber and onion slices dry with a paper towel then place them in sterilised jars.
Then, when your vinegar pickling sauce is ready, pour it into the jars and give the jars a shake to make sure everything is coated.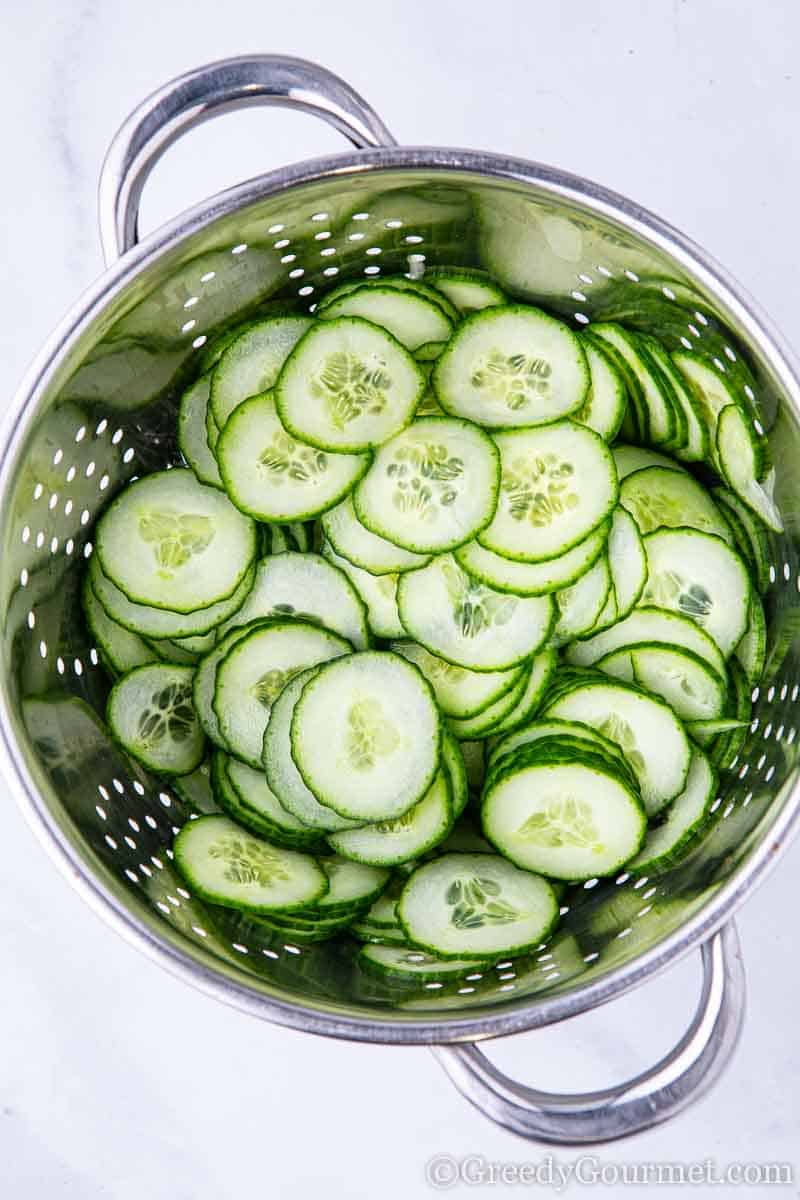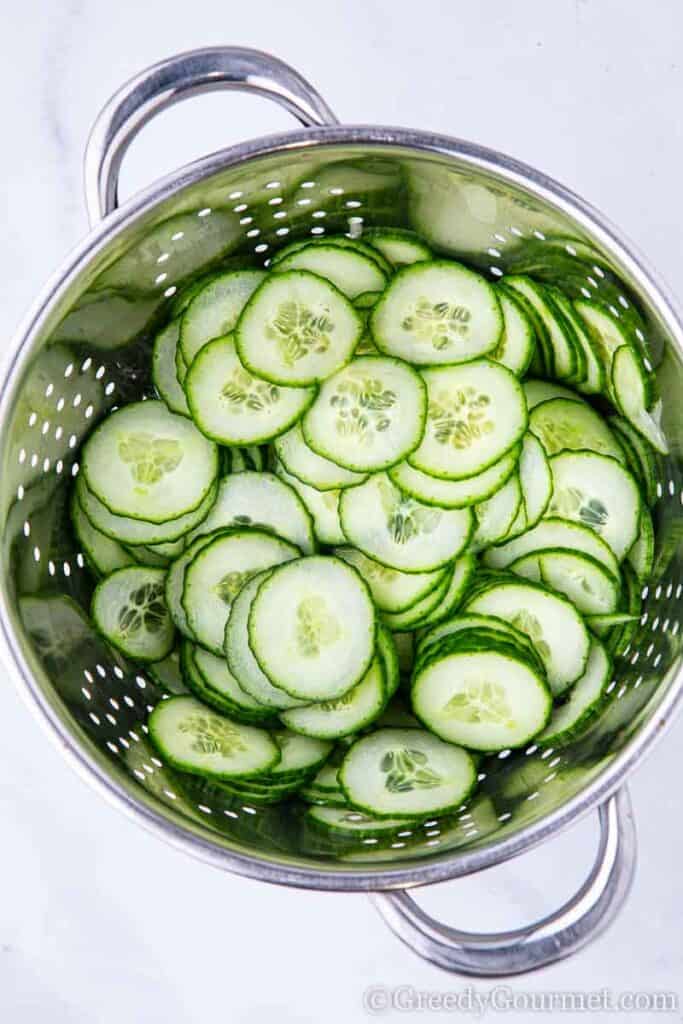 What is pickling?
This quick pickled cucumber recipe might get you thinking – "what is pickling anyway?!" Well, the process known as pickling has been around for a long long time.
Pickling was first introduced as a way to preserve food. In fact, the first quick pickled cucumber recipe dates back to around 4,000 years ago.
Yep, that's right. 4,000 years. That's not a typo.
Apparently, the native civilisations in the Tigris Valley, an ancient area near modern day Iraq, Turkey and Syria, first introduced pickled cucumbers in 2030BC. 
Over the centuries, pickling has been a great way of preserving food, especially yourself for sailors or travellers who needed a way of keeping food fresh for long periods of time. It is thought that the world pickle originated from the Dutch word pekel, which translates into English as brine.
The key component to the liquid for the pickles is vinegar. The acid in the vinegar kills any bacteria, helping to preserve the ingredients.
You can also use a salt water solution, or brine. The salt encourages fermentation, a process which produces 'good' bacteria, making 'bad' bacteria less likely to form. This stops food from rotting.
Pickling and bring doesn't just preserve food though. It also brings great flavour to food. 
If you're interested in brining, check out my post on how to brine chicken.
What are the health benefits of cucumber?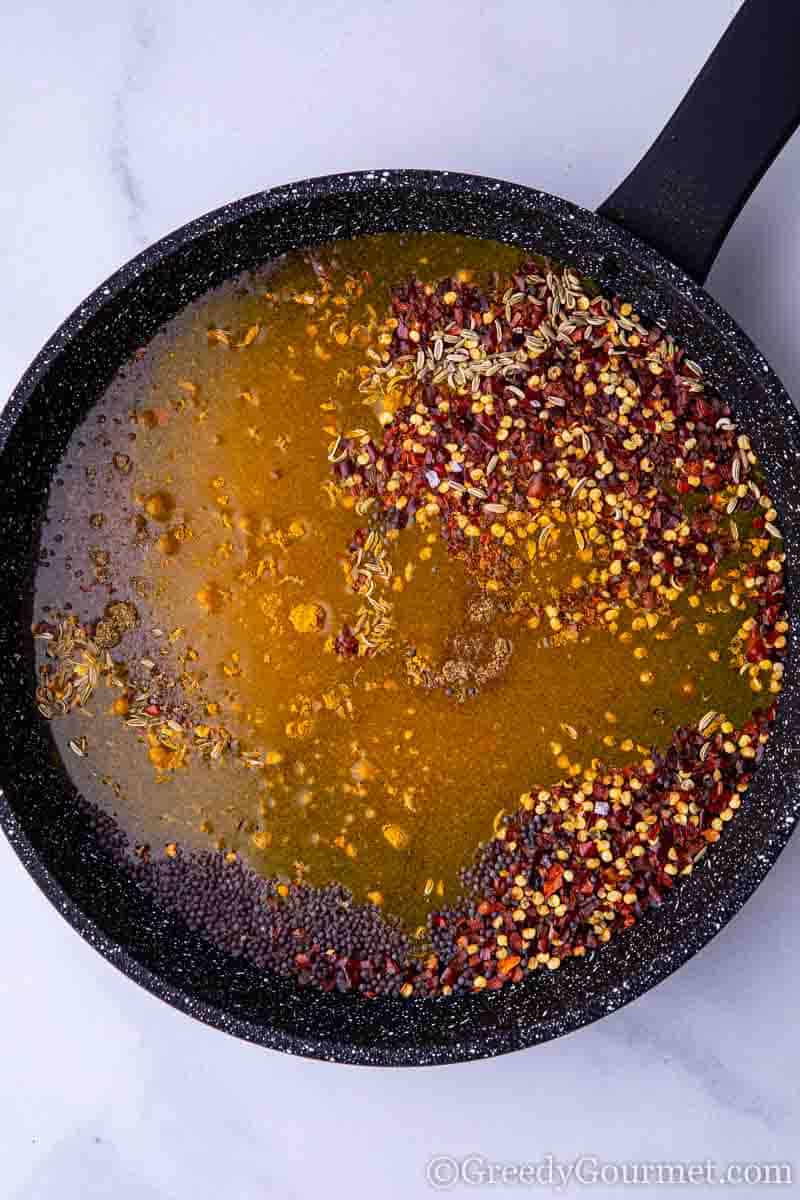 Okay, so I know we're talking about pickled vegetables here, but I'm going to let you in on a little secret.
Cucumber is a fruit.
Maybe you knew that little nugget of information; maybe you didn't. If you didn't, you've just learnt a new fact that will bore wow your friends.
One thing that you might not have known is that this delicious vegetable-like fruit is really good for you. Nope, it's not just full of slightly green water. It's actually packed full of nutrients.
For starters, just 300g of raw cucumber contains 62% of your RDI of vitamin K. It also contains high levels of potassium, manganese and vitamin C.
As well as nutrients, cucumbers contain antioxidants such as flavonoids and tannins. These antioxidants may prevent serious diseases.
Cucumbers can also reduce blood sugar levels, aid weight loss and help keep you hydrated.
Can you add extra spices to this pickled cucumber recipe?
Yes, you most definitely can. That's the great thing about this quick pickled cucumber recipe – its flexibility.
Pickles lend well to the flavor of spices. So, feel free to experiment with your own combination of interesting spices. Here are a few suggestions, for a little inspiration.
Whole coriander seeds will bring you a beautiful earthiness. The flavor of coriander works wonderfully well with cucumbers. As does cumin – another great spice that you could add to bring out some great flavor to the cucumbers. 
Add a few sprigs of fresh dill to the vinegar for a fresh, grassy aroma to this quick pickled cucumber recipe. This will make the pickled cucumbers especially delicious with fish dishes.
A teaspoon of ground ginger or a small piece of fresh ginger will also bring a delicious warmth and spice to the cucumber pickle.
You could also add a teaspoon of smoked paprika for a little smokey flavor.
How do I store pickled cucumber?
Pickled cucumber can keep for several months if you keep the jar sealed airtight. You should store your pickled cucumbers in a cool place in the kitchen, out of direct sunlight.
Once you open the pickled cucumbers, you need to store them in the fridge. They'll still keep for several months.
How can I tell if my quick pickled cucumber is off?
Pickled cucumbers will keep their quality for a long time if you store them in the fridge, even after opening your pickle jars.
Still, everything has a shelf life. If your vinegar pickle liquid has taken on a different colour, if you see any mould or if there is a strong odour coming from the jar, it's time to ditch the pickles.
Something to remember is that the longer the cucumber stays in the solution, the stronger its flavour will be as the fruit absorbs the spicing.
What do I serve with pickled cucumbers?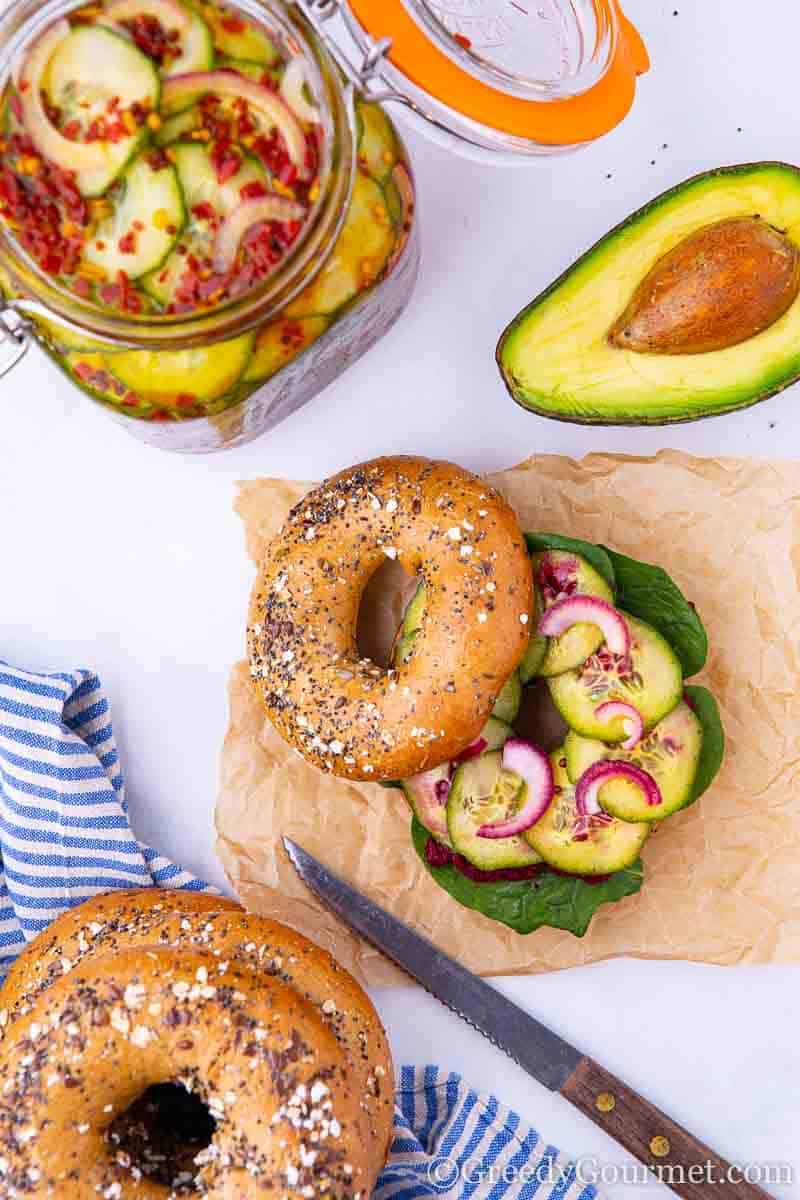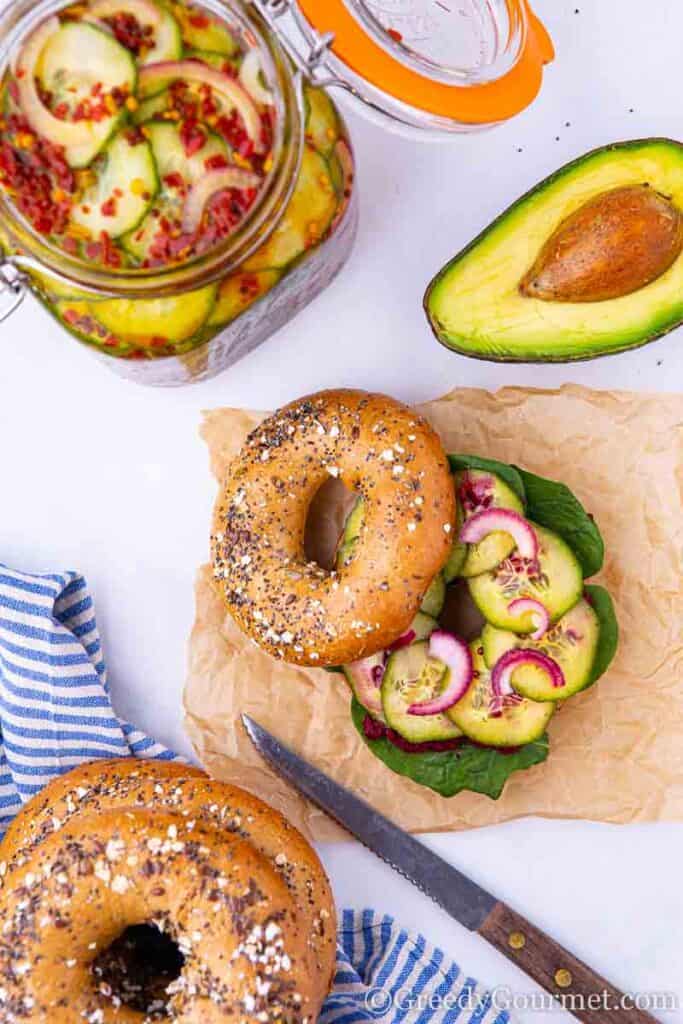 Delicious cucumber recipes
More pitch-perfect pickle recipes
If this recipe has tickled your pickle and got you in the mood for more mouth watering recipes, I've got a few great suggestions for you:
Pickled takuan – hugely popular in Japan, takuan is the slightly crunchy yellowy dish you normally find served in your sushi. It's made by pickling daikon and it's absolutely delicious!
Pickled cabbage and red onion slaw – a healthy side dish that makes a great alternative to coleslaw, pickled cabbage and red onion slaw is fresh and fragrant, healthy and vibrant and, most importantly of all, it tastes great
Courgette pickle – another fantastic pickled vegetable recipe, courgette pickle is a must-make recipe. It really takes courgettes to the edge of their potential, flavour-wise. Pair with a spicy starter or serve on the side of a big meaty main meal
Print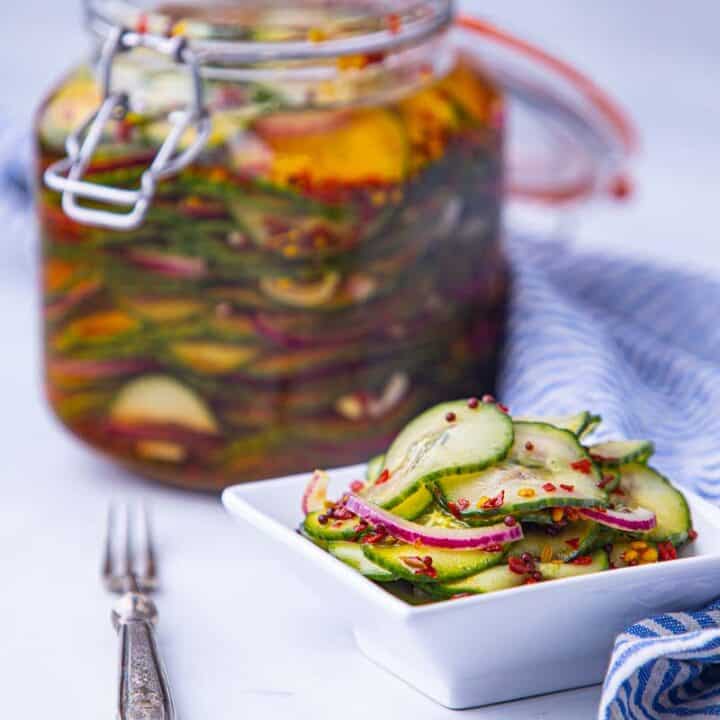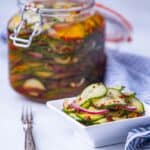 Pickled Cucumber
---
Author:

Michelle Minnaar

Total Time:

30 minutes

Yield:

20

servings

1

x

Diet:

Vegan
Description
This quick Pickled Cucumber recipe is super easy to prepare. It's best served in sandwiches, salads and as a condiment to main meals.
---
2

cucumbers, washed and finely sliced

2

red onions, peeled and sliced

500

ml

(2 cups) apple cider vinegar

28

g

(2 tbsp) sea salt

7

g

(1 tbsp) red chilli flakes

2

g

(1 tsp) fennel seeds

6

g

(2 tsp) yellow mustard seed

6

g

(1 tsp) celery salt

3

g

(1 tsp) turmeric

150

g

(3/4 cup) caster sugar
---
Instructions
Place the thinly cut cucumber slices in salted, ice water and let them soak for 1 hour.
Place the vinegar, salt, fennel, mustard, celery salt, turmeric and sugar in a saucepan and bring it to a boil.
Remove the pickling sauce from the heat and let it cool down.
Drain the cucumber and dot dry with a paper towel.
Place the cucumber and onions in a large, about 1ℓ (4 cups) sterilised jar, then pour in the pickling sauce.
Close the lid and give a shake to mix the ingredients.
Place in the fridge and wait for at least 1 hour before consuming. It will last for up to 1 week in the fridge.
Enjoy as a side dish to meals, as a topping for salad, or as a sandwich filling. Enjoy!
Notes
The amount of cucumbers required depends on the size used, so adjust the amount used until the container is filled. If you find that you have lots leftover, then check out my guide on freezing cucumber to ensure it doesn't go to waste.
Prep Time:

20 minutes

Cook Time:

10 minutes

Category:

Side Dish

Method:

Boil

Cuisine:

British
Keywords: pickled cucumber, quick pickled cucumber, sweet pickled cucumber recipe, easy pickled cucumber, how to make pickled cucumber, vegan cucumber recipe