When was the last time you enjoyed a good old prawn cocktail? This classic prawn recipe is one of the best finger foods ever. There are two things that ultimately will make or break a best prawn cocktail recipe – the quality of the prawns and the marie rose sauce.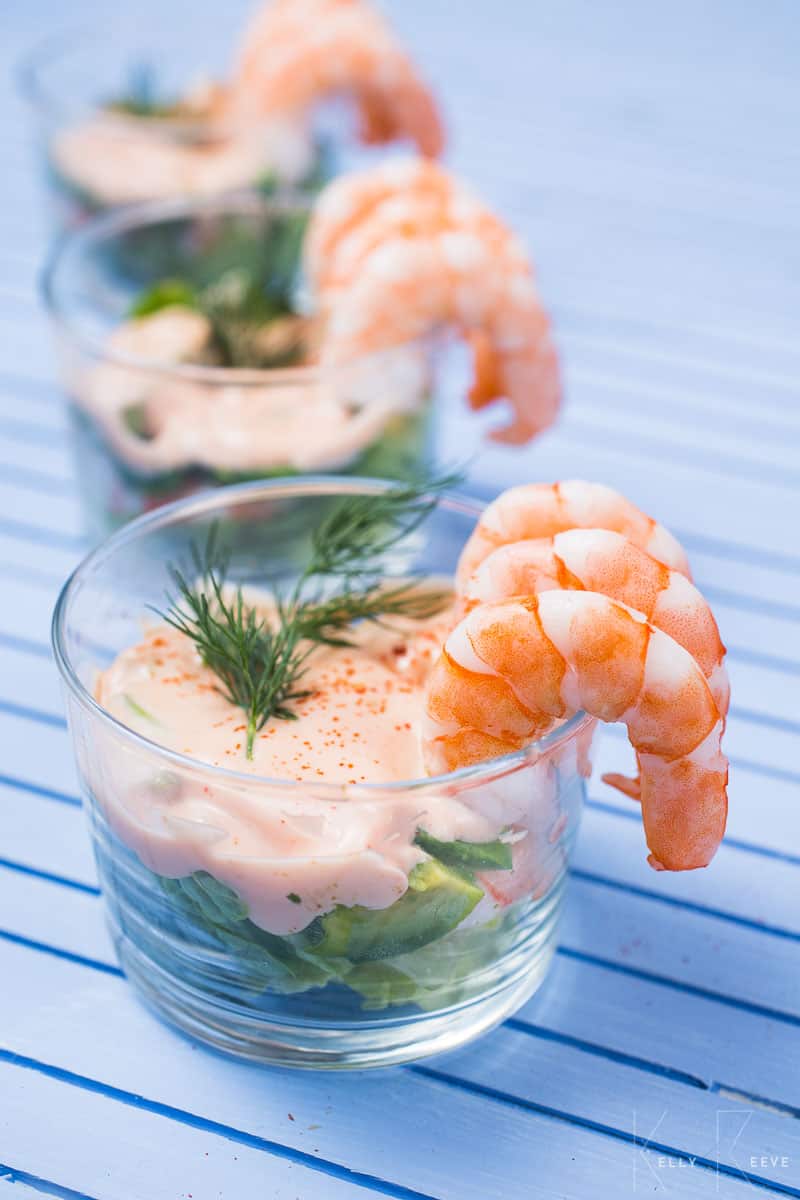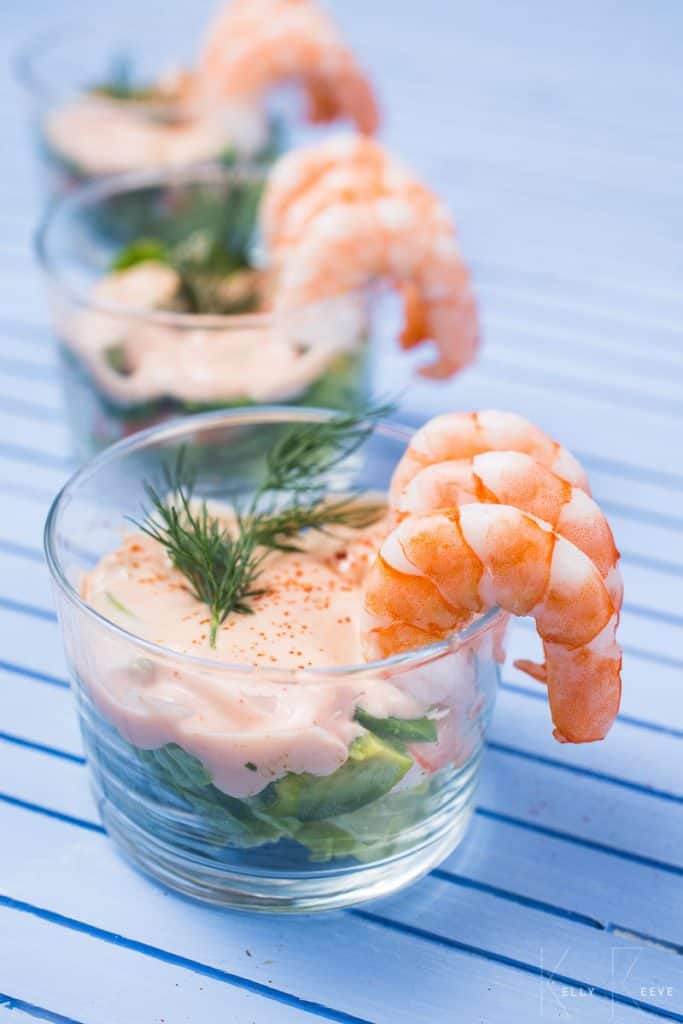 The most traditional way to serve a prawn cocktail is to serve it in a martini glass 1970's style with prawns hanging on the edge of the glass. It is also very common to add thick slices of avocado next to the prawns.
The overall preparation time is very low as prawns take a minimal time to cook. For this reason, making a prawn cocktail as a starter, or to be served in between courses, is such a pleasure.
It has a sense of luxury about it, while it is relatively inexpensive and really easy to prepare. Don't forget to cut some fresh baguette so you don't miss out on the sauce.
Classic prawn cocktail seafood recipe
The prawn cocktail is a 70's retro classic for dinner parties. There is a lot of speculation that a prawn cocktail recipe was invented in the 1970's, credited by the UK television chefs Berni Inns and Fanny Craddock.
However, the prawn cocktail was discovered by a Californian miner in the 19th century. Apparently, he would order oysters with the addition of vinegar, ketchup, horseradish and some other sauce.
A rather unusual combination of ingredients, but it was known back then as an oyster cocktail. Soon after, seafood cocktails started to appear all over restaurant menus on the California coastline.
Today, prawn cocktails are making a comeback. You might recognize the prawn cocktail as a shrimp cocktail on restaurant menus. In Commonwealth countries, it's very common to apply ketchup, mayonnaise and a hint of Tabasco.
I am sure that every chef has his or her own version. What would you put inside the sauce?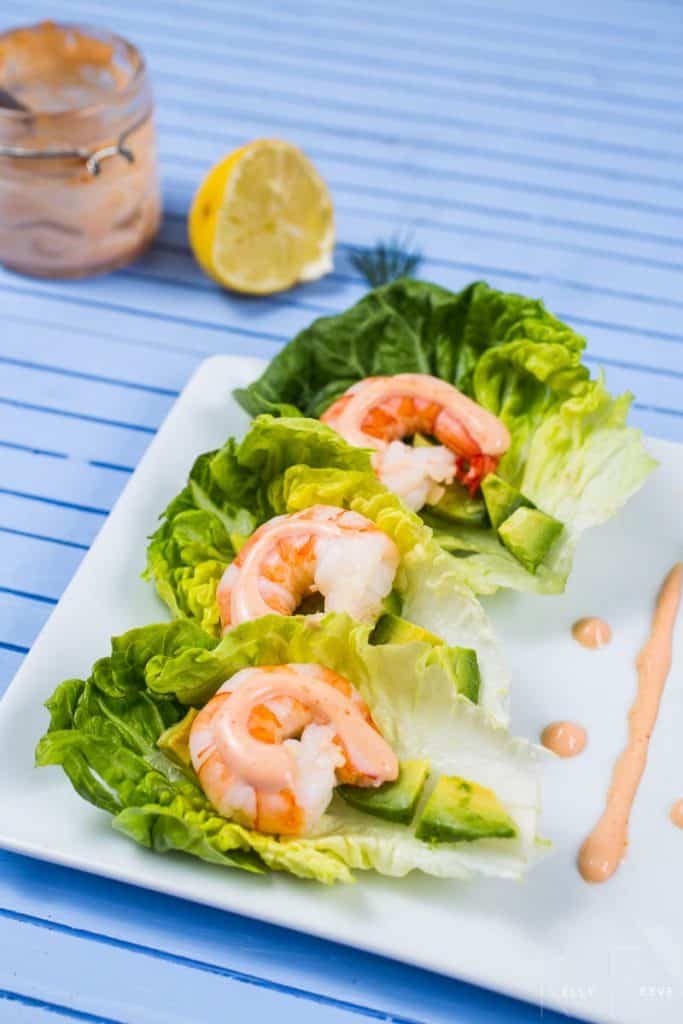 Which prawns to use for prawn cocktail recipe
I love cooking with prawns. Prawns themselves are rich in protein and low in fat, making this prawn cocktail quite nutritious. They are an excellent choice for those who wish to obtain healthier eating habits.
My favourite part is that they only take a few minutes to cook, just like scallops or smaller filets of fish. Prawns are available throughout the entire year. You can get them fresh, pre-cooked and raw.
In addition, you can use prawns in various types of recipes. You can make a delicious Indian prawn korma recipe, prawn dumplings Asian style, or pan-fried garlic butter prawns.
However, you can also use prawns for more simple recipes. For example, you can make sandwiches, seafood rolls or create a party platter with an amazing dipping sauce.
A prawn cocktail is one of the best choices to serve as finger food during friendly gatherings.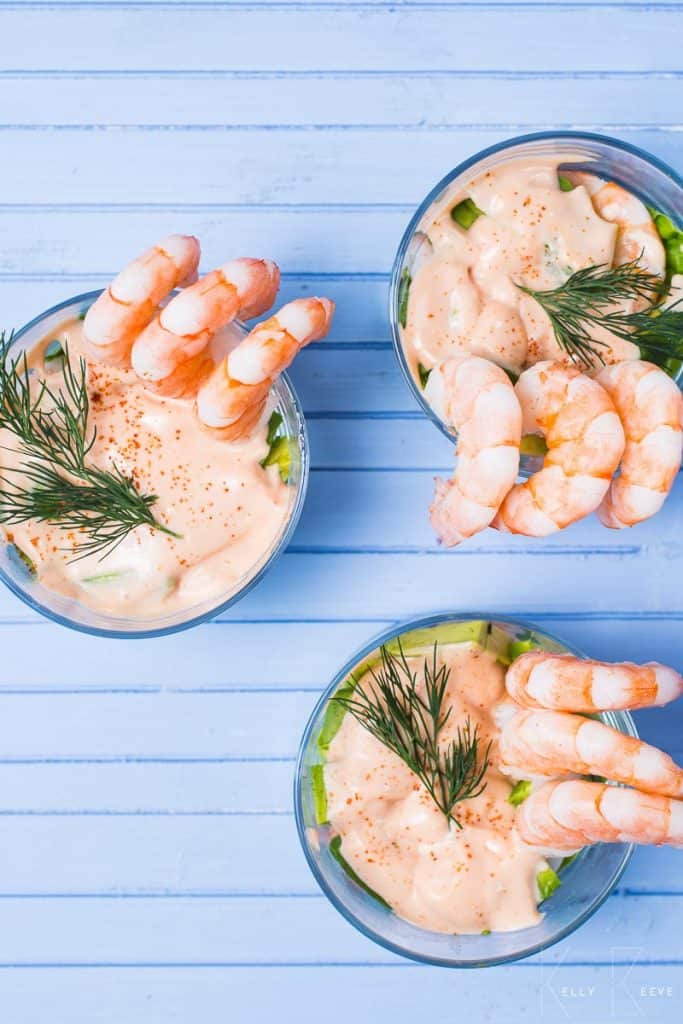 Best prawns for a shrimp cocktail
In general, there are four types of prawns which you can consider for your prawn cocktail recipe. First, the popular choice is to select tiger prawns.
Tiger prawns are very large, they have a firm flesh and are usually moist. You can recognize them by their blue or black stripes which turn red when you cook them.
In my opinion, these are the best choice for a prawn cocktail as you can show off their dramatic colour and they will hold well when you dip them into the sauce.
Next, you can also consider king prawns, which are even larger than tiger prawns. They also a firm flesh but are slightly richer in flavour. They are also a fantastic choice for the prawn cocktail or for a cold seafood salad.
Have you ever heard of banana prawns? This specific variety of prawns is very popular throughout Asia.
They have a sweeter flavour, so they are perfect for making prawn cakes or you can throw them into curries dishes like this one. Banana prawns are not suitable for the prawn cocktail due to the sweetness.
The last variety of prawns you are probably familiar with are school prawns. School prawns are very small, sweet and served cold.
You could toss these inside a cocktail sauce, but they won't give you that satisfaction of biting into that beautiful ingredient due to the small size.
How to cook prawns for prawn cocktail
Prawns are such a delicate ingredient. Naturally, since they are the hero of any prawn cocktail recipe, you'll need to cook them to perfection. Depending on the type of prawn you choose, you'll need to cook them according to their size.
Tiger prawns generally take between 2-3 minutes to cook. Since king prawns are larger, they'll need roughly 5 minutes. My advice is to put your finger on the prawn and see if the center is still very soft.
If it is soft, keep it on the heat until it firms up. Just be careful not to overcook the prawns for your prawn cocktail. Just like scallops, they can get rubbery.
Prawn cocktail recipe with an unexpected twist
Who said that you have to serve prawn cocktails in a jar or in that 1970's martini glass? Although it's nice to respect the originality and history of the prawn cocktail, that doesn't mean that you can't mix it up a little.
For a bit of extra crunch, serve this prawn cocktail in salad leaves. Take this tuna lettuce wrap recipe as inspiration.
If you have some prawns leftover from your prawn cocktail, as well as some leftover sauce, then make a prawn cocktail salad. This salad is also best served with slices or cubes of avocado.
Don't forget to sprinkle a bit of lime or lemon juice for some acidity. I also like to include a hint of chilli powder, but feel free to use tabasco as well. Enjoy!
By the way, if you love a smoked salmon starter, you truly need to check out this salmon terrine.
Print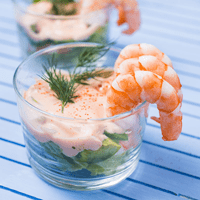 Prawn Cocktail with Avocado
---
Author:

Michelle Minnaar

Prep Time:

10 minutes

Total Time:

10 minutes

Yield:

4

1

x
Description
Prawn cocktail is the classic cold shellfish starter loved by all. Serve with avocados, toast or by itself. Garnish this 1970's dish with fresh dill.
---
Scale
Ingredients
90g

(

3oz

) mixed lettuce, washed

1

avocado, peeled and chopped

12

cooked king prawns

125

ml (½ cup) Marie Rose sauce
Paprika, for sprinkling
Dill, for garnishing
---
Instructions
Arrange the lettuce on respective plates, then top with avocado.
Place the prawns on the salad and add dollops of sauce on top.
Sprinkle with paprika and garnish with dill.
---
Notes
Use lettuce of your choice.
Add more prawns, avocado and lettuce to turn the salad a main course.
Use as much sauce as you like!
Category:

Starter

Cuisine:

British
Nutrition
Serving Size:

1 serving

Calories:

164

Sugar:

2 g

Sodium:

61 mg

Fat:

12.7 g

Saturated Fat:

2.6 g

Carbohydrates:

8.6 g

Fiber:

3.9 g

Protein:

6 g

Cholesterol:

2 mg
save the recipe to your pinterest board