Savoury mince is probably one of the nation's most favourite recipes. Mine uses the humble and underestimated lamb. You'll be surprised just how flavourful and amazing lamb savoury mince is once you have a little taste. A lot of people carry the misconception that lamb is too fatty or too gamey. Let me reassure you that this is never the case with any lamb cut - especially when it comes to lamb mince! Lamb savoury mince carries a subtle umami flavour, which is more pungent than that associated with beef mince. Just try savoury mince using lamb meat and see how far you can go. I can already think of three recipes that I want to try with lamb. I'll make sure to mention them here.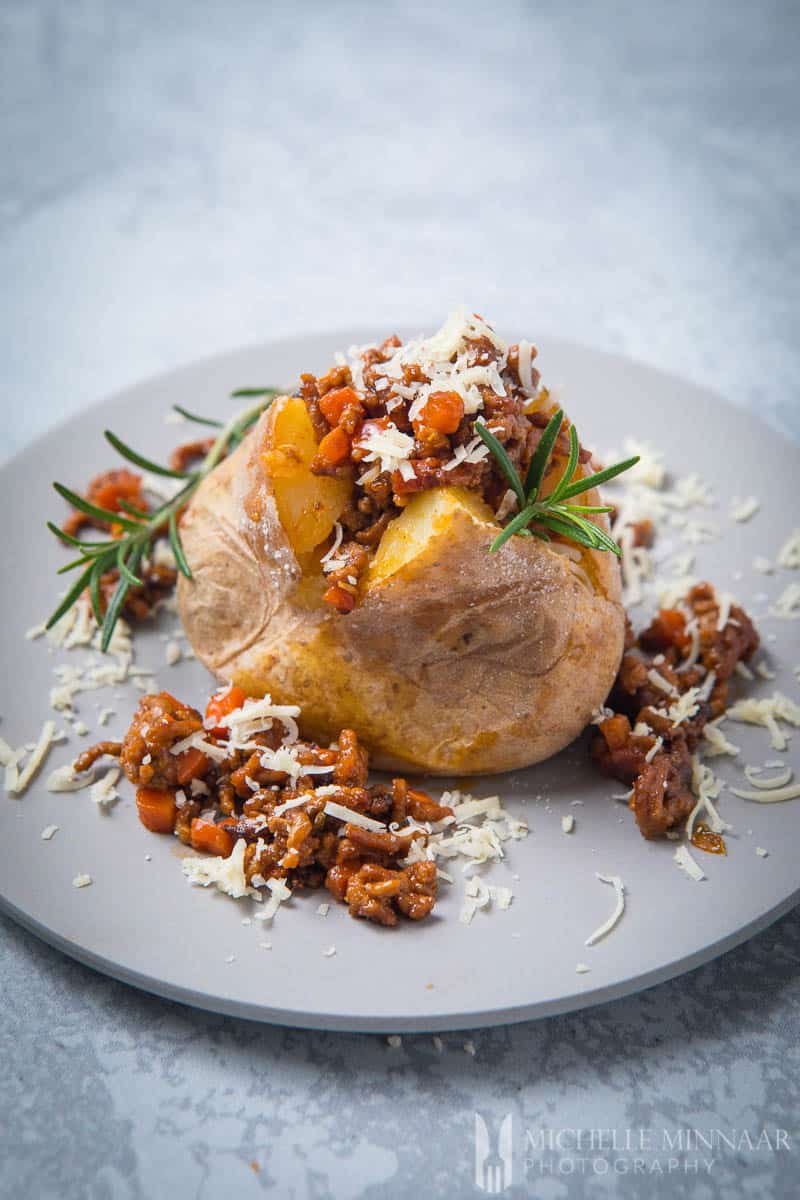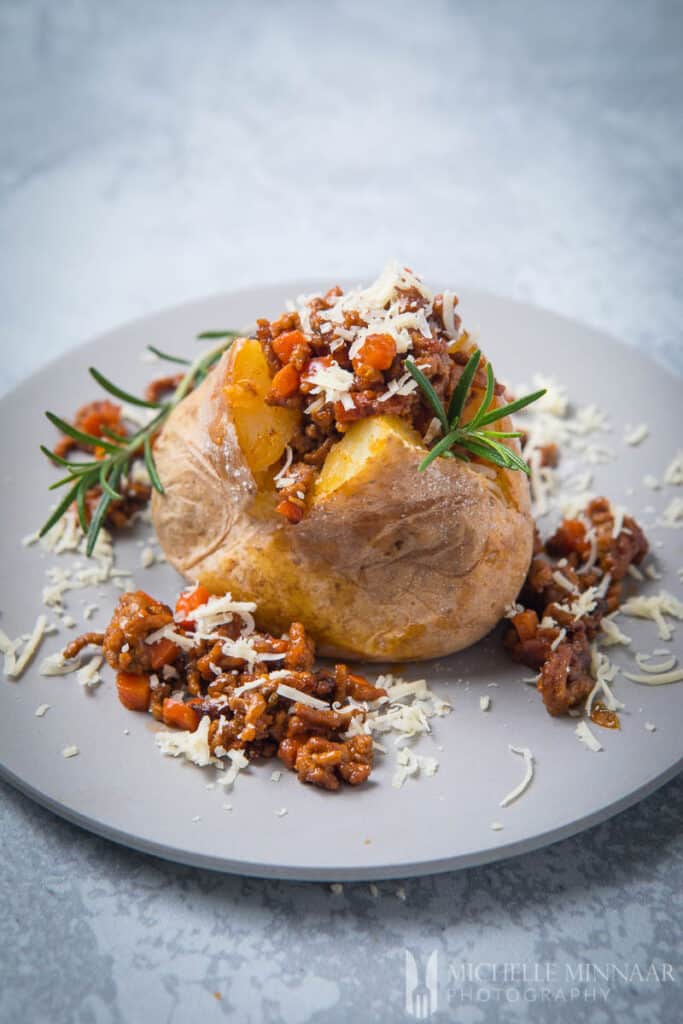 gourmet savoury mince recipe with lamb
Do you know what I love about lamb? I love that it can take any regular mince recipe to the next level. Most of the time, lamb is associated with being a very expensive type of meat. Yet again, we are proven wrong with this savoury mince recipe which calls for the humble lamb mince. Lamb mince, in general, is extremely inexpensive and underestimated. Also, it is widely available at your local butchers or supermarket. Just make sure that you purchase lamb mince instead of beef as they look rather alike. However, when it comes to delivering a bold flavour, it can certainly turn any savoury mince meal into a gourmet-style delight. In addition, it certainly delivers more flavour and nutrition than traditional beef mince.
tasty savoury lamb mince
Did you ever hear of the impeccable EU-funded campaign Lamb. Try It, Love It? This campaign is on a mission to prove that lamb is way more versatile than people think. It's not a one-roast wonder. You can prepare different cuts of lamb in a variety of ways. This savoury mince is evidence of that!
European lamb is very easy and fast to prepare. Especially with lamb produce like lamb mince which takes no time at all to cook. Recipes that include lamb mince are therefore perfect for everyday meals. In addition, lamb is an excellent source of proteins, vitamins and other essential minerals. It is good for your bones, muscles, and immunity support. Above all, it helps reduce tiredness and fatigue. It is very rich in niacin, vitamin B6 and B12, zinc, potassium, phosphorus and pantothenic acid. All of these nutrients help stimulate your health and wellbeing, so you should definitely consider using lamb more often. I know I do!
I've already taken the steps to prove that you can cook everyday inexpensive meals with different cuts of lamb. Check these out:
lamb savoury mince by Jamie Oliver
This savoury mince recipe is inspired by several savoury mince recipes from Jamie Oliver. However, Jamie seems to be using beef in his versions, whereas I've opted for the beautiful lamb mince! I can't wait to replicate more of his savoury mince recipes with lamb and see how they turn out.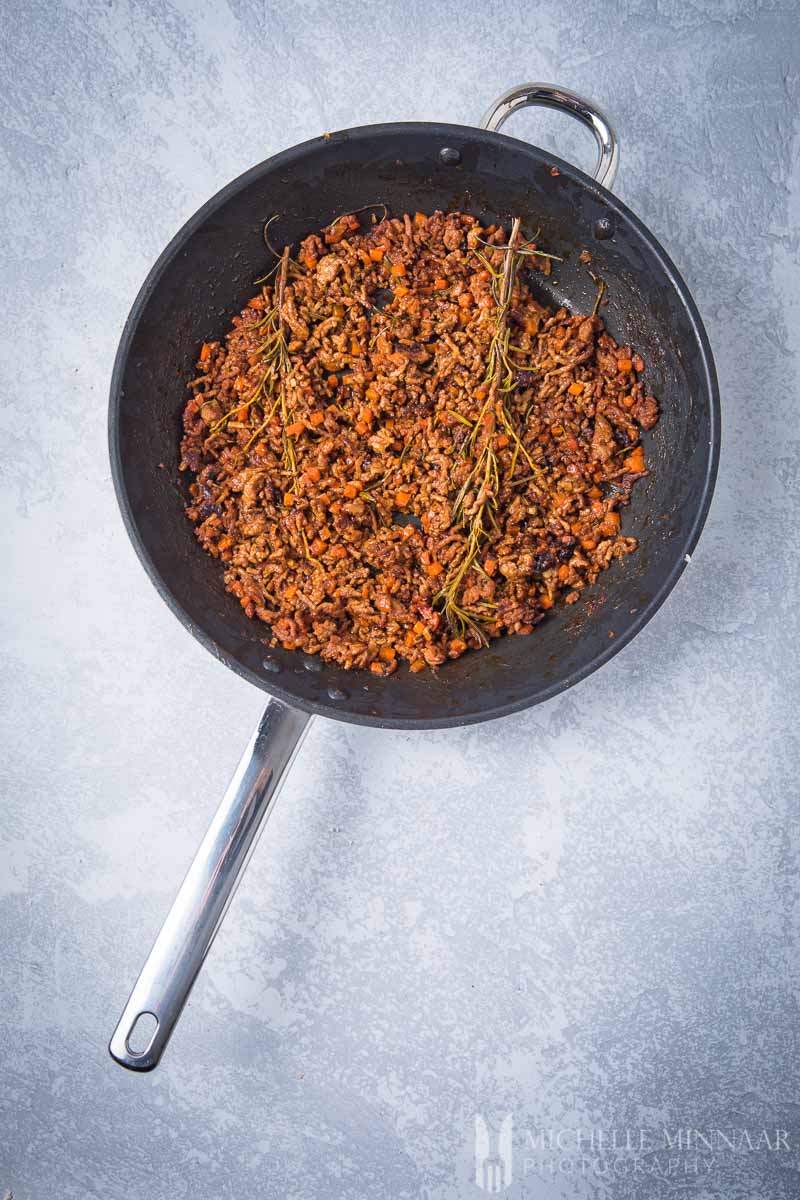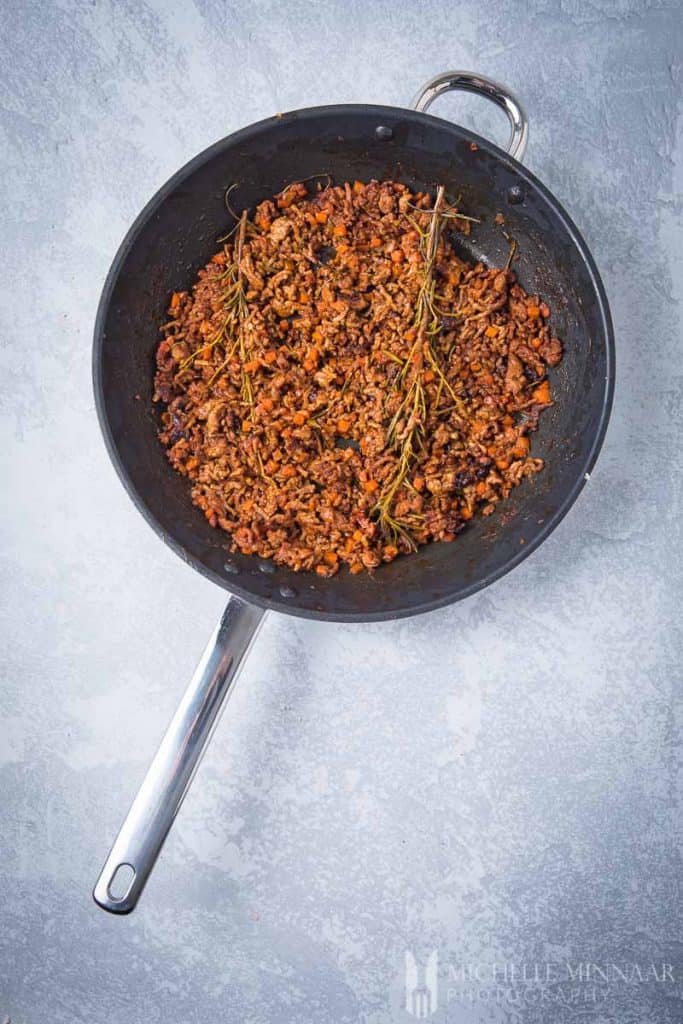 lamb savoury mince typical servings
baked jacket potatoes topped with savoury lamb mince and cheese
I've served this savoury mince recipe with baked potatoes. Let's just say that I love covering my potatoes with mince or with lots of cheese. So, you can actually refer to this recipe as baked jacket potatoes which are topped with savoury mince. However this time, I've made the savoury mince with a beautiful ingredient like lamb. Of course, the end result did not disappoint.
You'll need special types of potatoes to go with the savoury mince recipe. Remember, you are looking for that amazing fluffy texture once you cut open the potatoes. Hence, keep your eye out for floury potatoes which are perfect for baking. Consider these types of potatoes:
Maris Piper
King Edward
Desiree
Melody
Otherwise, you can also opt for the all-purpose potatoes like Yukon Gold. For extra flavours, you can also try making my famous rosemary roast potatoes.
Also, don't forget to add cheddar cheese on top for that oozing deliciousness. You can also substitute with parmesan or Monterey Jack cheese. However, Monterey Jack cheese and cheddar cheese are my top two recommendations. Check these seven best Monterey Jack cheese substitutes for extra information.
savoury mince with sweet potatoes
For a healthier alternative, consider substituting with sweet potatoes. Sweet potatoes are fantastic for diabetics due to their low glycaemic index. Plus, they barely have any sugar, even though they are called sweet potatoes. The savoury mince recipe also works well with luscious roasted sweet potato mash.
savoury mince with rice
As with any savoury mince or chilli recipe, it combines well with rice. As a last resort, you can boil or steam up a batch of rice and munch away! I recommend using traditional long grain rice, jasmine rice or basmati rice.
savoury mince on toast
Feeling like having a lazy breakfast or a lazy snack? Just toast some bread and top with this amazing savoury lamb mince.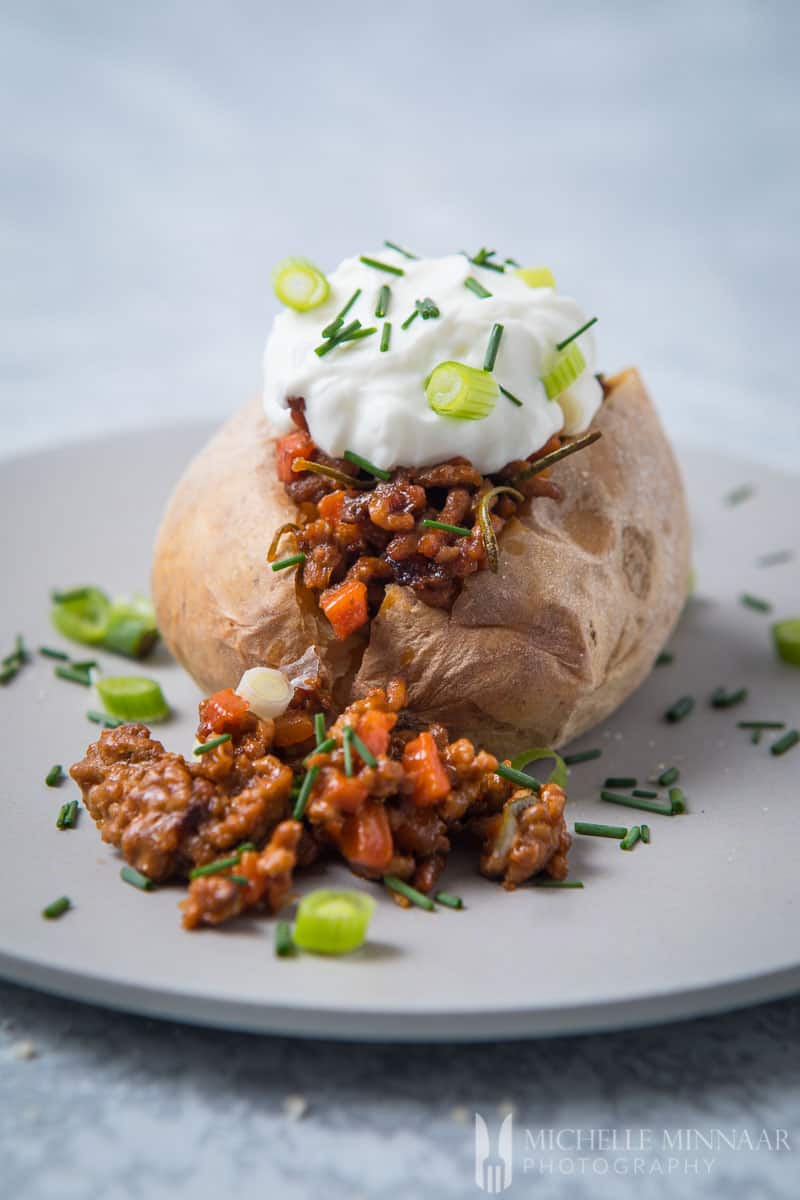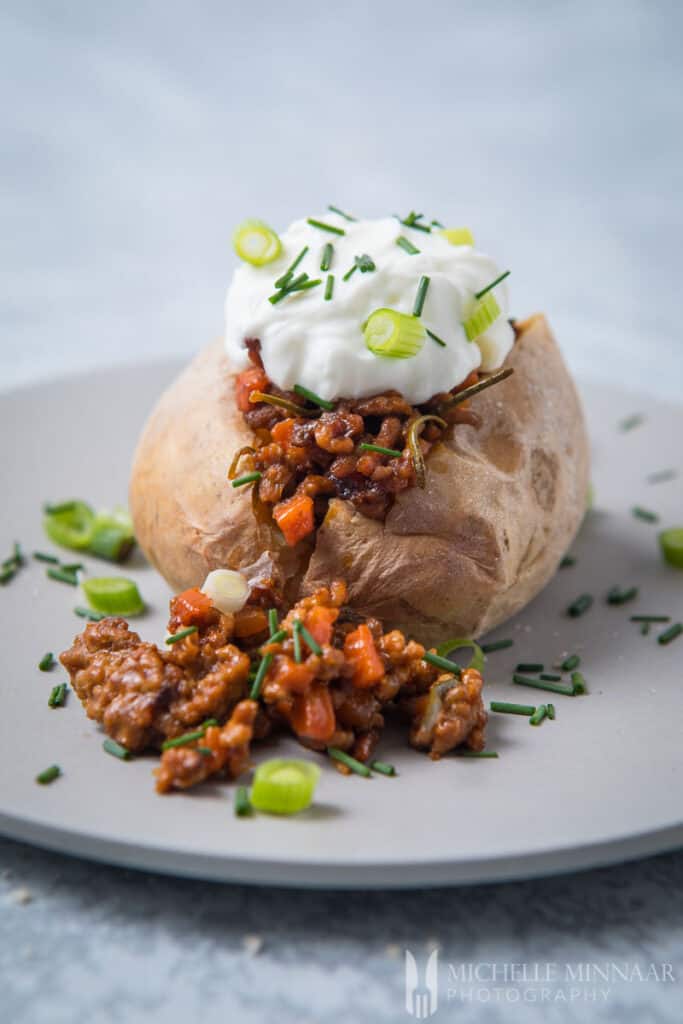 other lamb mince recipes
Lamb savoury mince is simply divine and so versatile across many cuisines. For example, I've recently used lamb mince in my keema rice. I am sure that you've most likely heard of Indian kheema or Indian keema. An Indian kheema recipe is a curry which combines lamb mince with amazing Indian spices. In fact, it's one of my favourite types of curries. However, together with the spices, lamb mince and rice, the keema rice was to die for. This is a recipe you can try if you've got leftover lamb mince.
Also, I've recently discovered that I have a strong liking for Middle-Eastern cuisine. I find that when you visit a market, you are confronted with amazing aromas of the produce as well as, perhaps, kebabs frying in a nearby stall. It's there that I've come across amazing lamb mince skewers which are then combined with hummus, pitta bread and parsley. What an excellent way to make use of lamb mince!
Ultimately, I've been dying to try making a version of spaghetti Bolognese with lamb mince. What do you think? Will the flavours work?
Print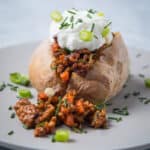 Savoury Mince
---
Description
This savoury mince recipe comprises lamb mince combined with stock and tomato puree. Fill a jacket potato with this mince and you have a gourmet meal!
---
30

ml

(2 tbsp) olive oil

1

onion, finely chopped

1

garlic clove, crushed

1

carrot, finely diced

450

g

(1 lb) minced lamb

30

ml

(2 tbsp) concentrated tomato puree

15

ml

(1 tbsp) Worcestershire sauce

300

ml

(1/2 pint) beef stock

10

ml

(2 tsp) corn flour, mixed with 10ml (2 tsp) cold water

4

baked jacket potatoes, to serve
grated cheddar, for sprinkling (optional)
---
Instructions
Heat oil in a pan. Fry onion, garlic and carrot for 6-8 minutes.
Stir in lamb, cook for 3-4 minutes until browned, then add tomato paste and Worcestershire sauce.
Stir in stock, cover, then simmer for 20 minutes or even longer for better results. Season.
Stir in corn flour into mince, cook for 1 minute.
Serve over potatoes and top with cheddar.
Notes
An alternative topping is plain yogurt or sour cream with chopped spring onions or chives.
Prep Time:

15 minutes

Cook Time:

30 minutes

Category:

Dinner

Method:

Pan Fry

Cuisine:

English
Nutrition
Serving Size:

1 serving

Calories:

359

Sugar:

4.1 g

Sodium:

415 mg

Fat:

16.1 g

Saturated Fat:

4.2 g

Carbohydrates:

16.7 g

Fiber:

2 g

Protein:

35 g

Cholesterol:

102 mg
Keywords: savoury mince, gourmet mince recipe, lamb mince
save the recipe to your pinterest board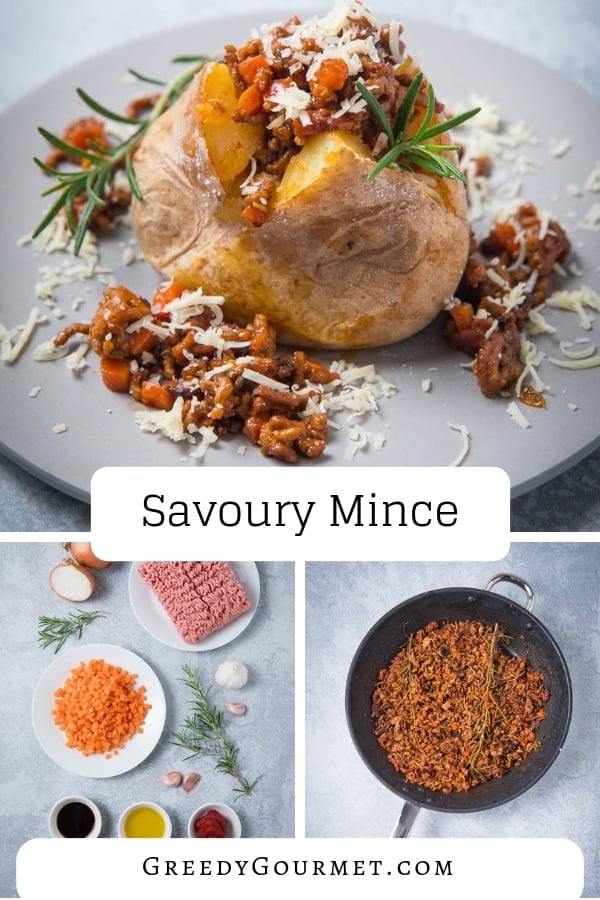 P.S. This is a sponsored post.