Cornish Pasty Week is here! This year it runs from 25th of February until 3rd of March. We have even days to enjoy this delicious snack but there's nothing stopping us from enjoying it all year round.
When was the last time you've had fresh home made Cornish pasties? Typically, I would buy these in the bakery or in a supermarket, but I've decided to brush up on my pastry skills. Even though, admittedly, I am not the best of bakers, I proudly made these lovely vegetarian Cornish pasties. As you know, I am a huge fan of vegetarian starters and snacks, such as vegetable samosas, Thai spring rolls and more. My post on the 46 vegetarian starter recipes speaks for itself.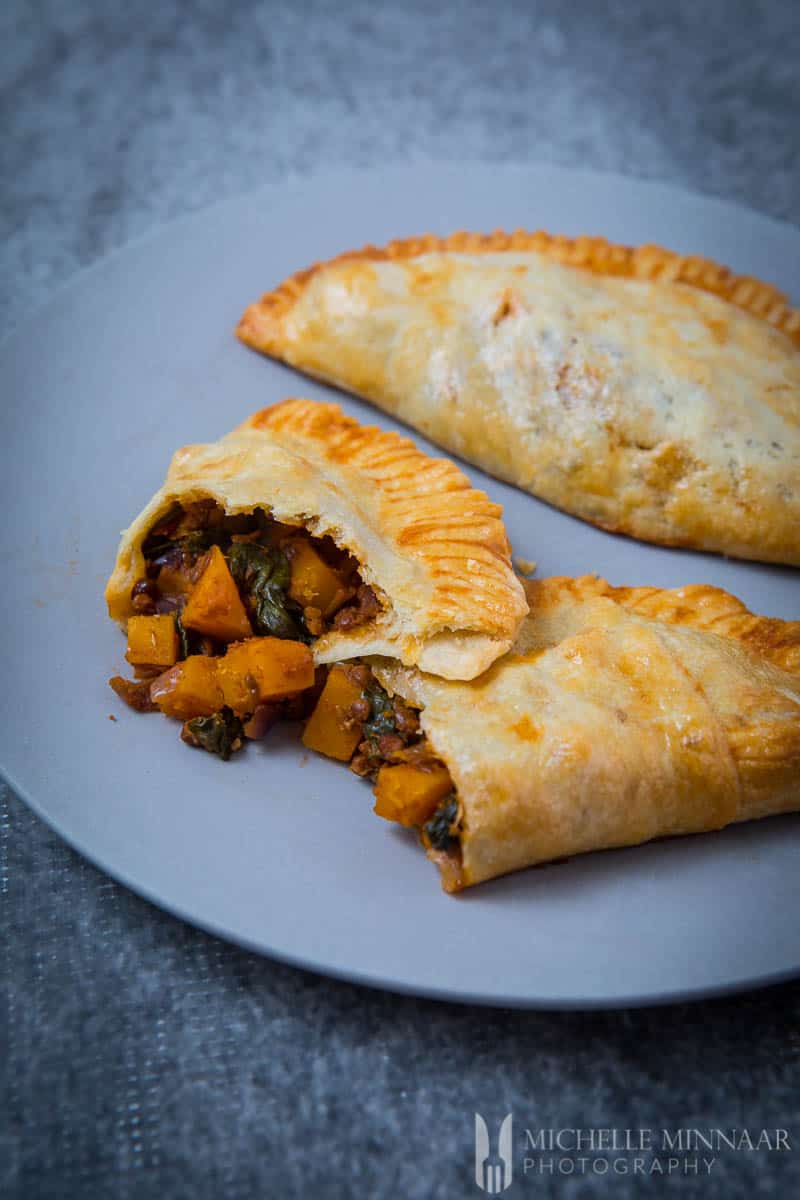 what are Cornish pasties?
Cornish pasties are a type of baked, English shortcrust pastry usually filled with meat and vegetables. Visually, it sort of resembles one half of a small short crust pie. Simply put, it looks like the letter 'D'. Typically, it is at its best right out of the oven but it is still enjoyable served at room temperature.
Where does the name come from? Well, there has been a close association with the Cornish pasties being from Cornwall. Even though no one really knows the exact origin of this dish, Cornwall residents insist on the fact that it has originated in their county. Locals refer to it as an "oggie".
The traditional Cornish pasty has a filling comprising beef, onions, potato and the swede. In modern times, many versions of the Cornish pasty have been developed, using various type of meat and vegetables – even vegetarian and vegan ones!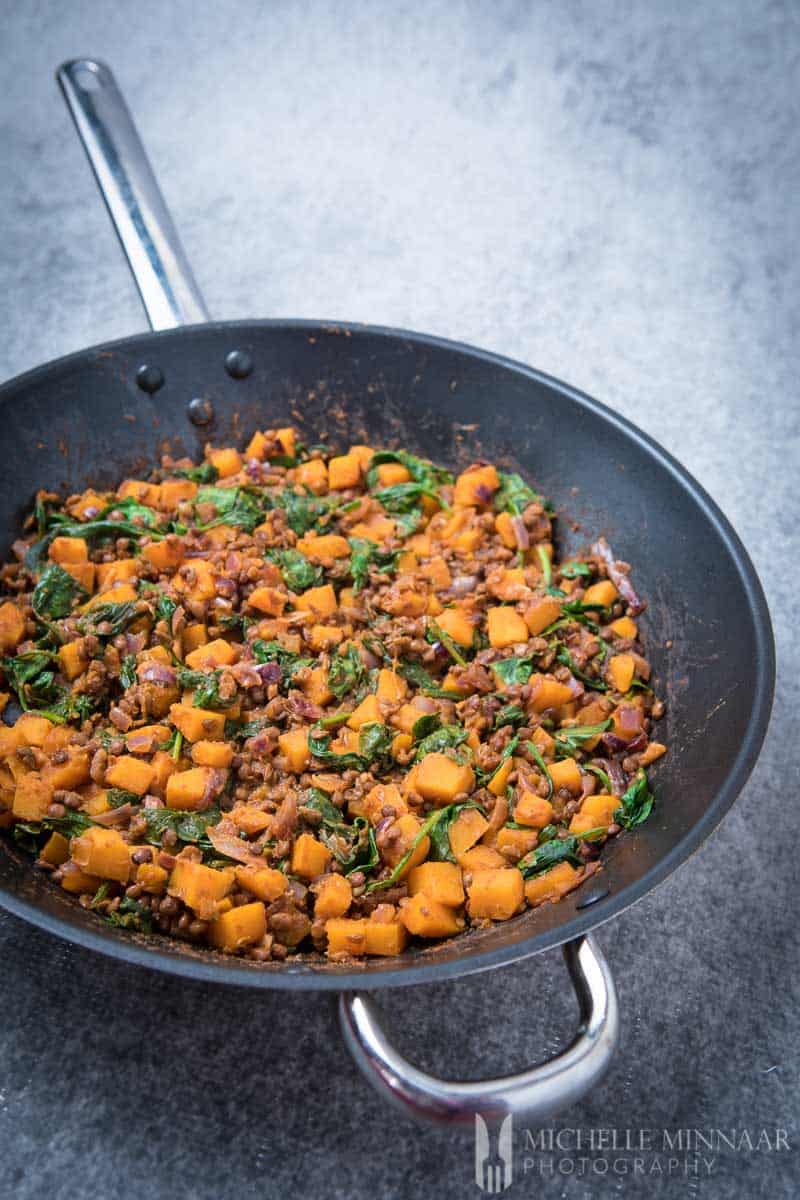 Cornish Pasty Week with Ginsters
Thanks to Ginsters, we don't have to travel all the way to Cornwall to enjoy a pasty. Ginsters' traditional Cornish Pasty is sold chilled in the supermarkets across the UK for all to enjoy at (RRP) £1.70. Amazingly, Ginsters sells 800,000 pasties a week!
The Ginsters Original Cornish Pasty has PGI status (Protected Geographic Indication), which means it is made in Cornwall and from a Cornish pasty recipe. Therefore, you will not only get a quality pasty but will also be guaranteed that it will be the real deal.
Most noteworthy, Ginsters carefully sources only quality British meat and vegetables, and complements these with a secret blend of spices. Using fresh and quality British produce is always the best option.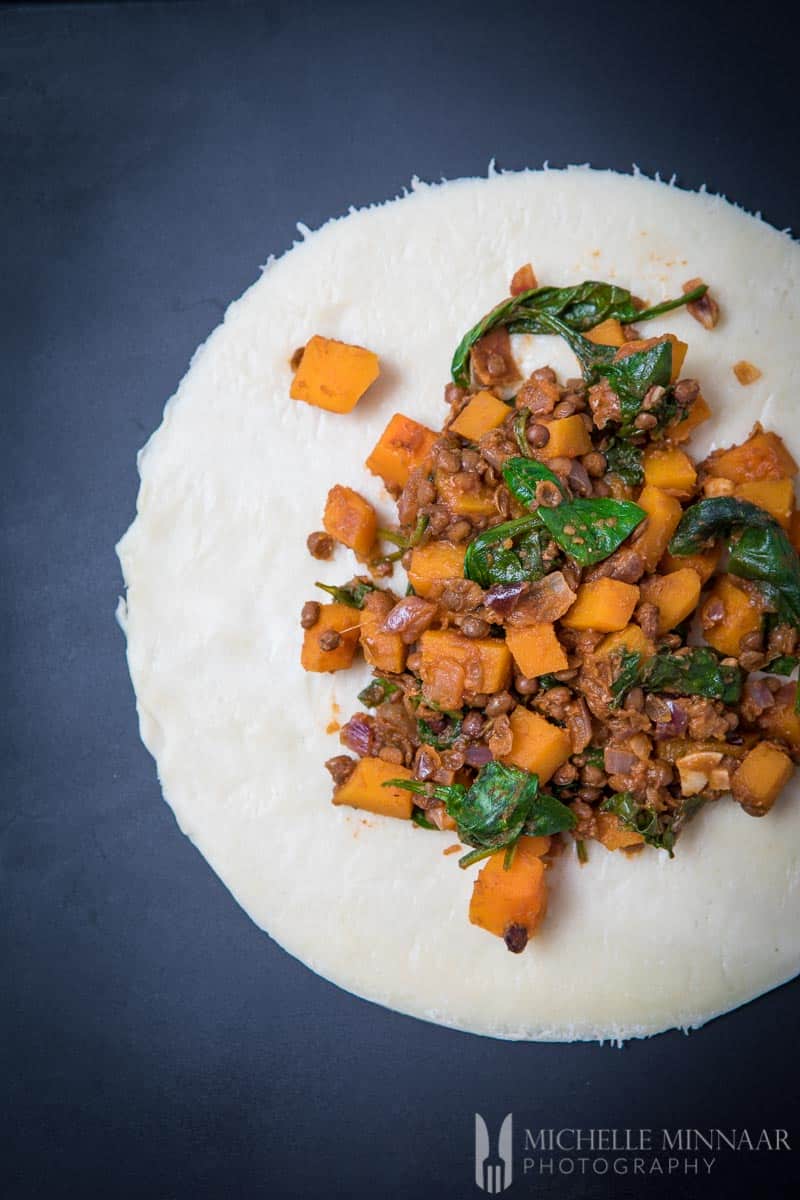 history of the Cornish pasty
The Cornish pasty dates back to the 13th century, deemed a staple amongst the English upper class. During those days, you'd expect rich fillings like venison, lamb, beef and various types of sea food.
A few centuries later, it became famous around the 19th century along with the Cornish tin mining industry. Back then, it was a typical snack you'd take down to the mines. Did you know that the distinctive D shape came about because the miners used the crust as a handle to prevent contaminating the food?
In 1969, Geoffrey Ginster with his two sons began making their own version of the Cornish pasties in Cornwall. Ever since, it has become the UK's favourite pasty. So much so, that the Cornish rugby team suspends a giant pasty above the bar if they are playing in an important game.
butternut & lentil filling
When it comes to vegetarian Cornish pasties, I think this might possibly be one of my favourite fillings of all time. I love how the subtle acidity of the white vinegar complements the  sweetness of the butternut.  I also added spinach for a bit of green and variety. However, you can add any leftover vegetable you've got at home. Potatoes work extremely well and so does broccoli. The choice is yours.
If you want to substitute the butternut, it's a good idea to use another root vegetable such as parsnip, carrot, sweet potatoes, or beetroot. When cooked, these root vegetables are generally mushy in terms of consistency, which is perfect for the pasty.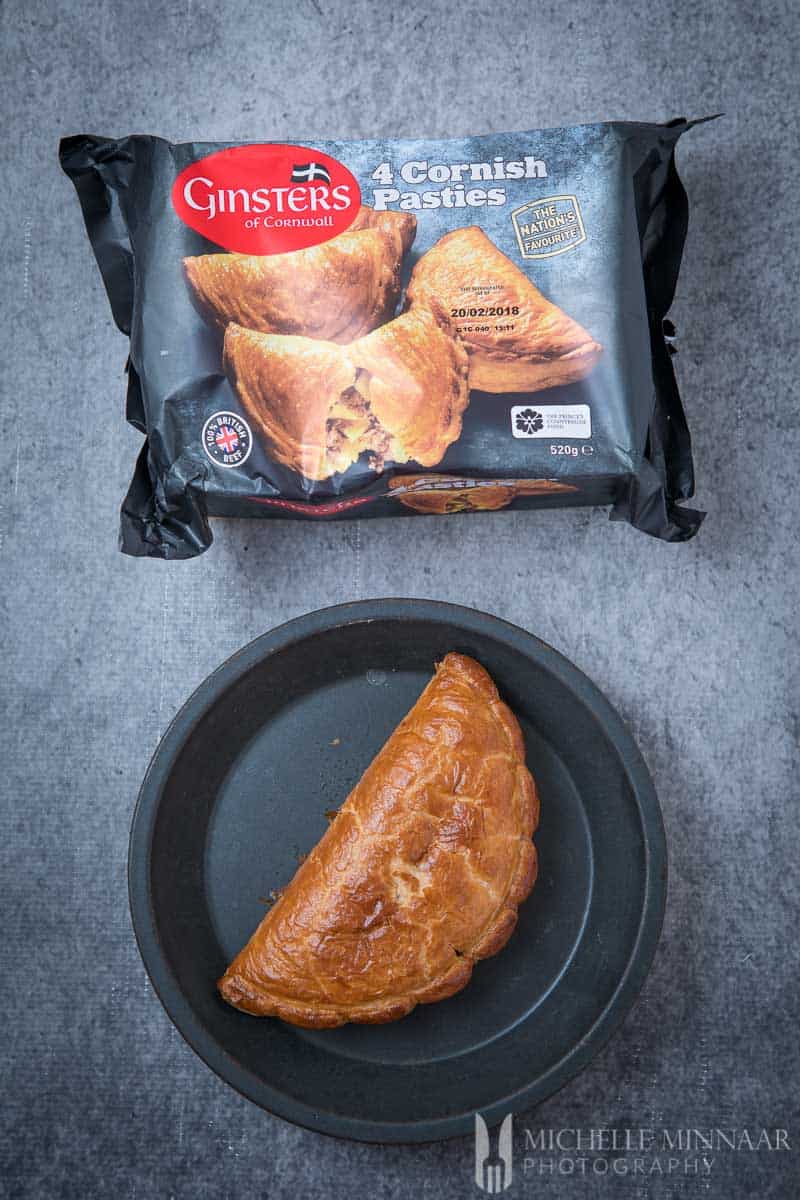 other variations
Ginsters also makes other pasties too – its Chicken & Bacon Pasty is a winner and there's a brand new Cornish Cheddar and Caramelised Onion Pasty.
If you want to enjoy some Ginsters, make the vegetarian in your life happy, so that you can enjoy pasties together. I love cooking with Indian spices. As soon as I added lentils to this recipe, my mind went directly to the tadka daal recipe. Simply drain a bit of the liquid from the tadka daal so that the pasty doesn't get too wet. Add normal or sweet potato along with coriander leaves. You'll create an Indian inspired pasty!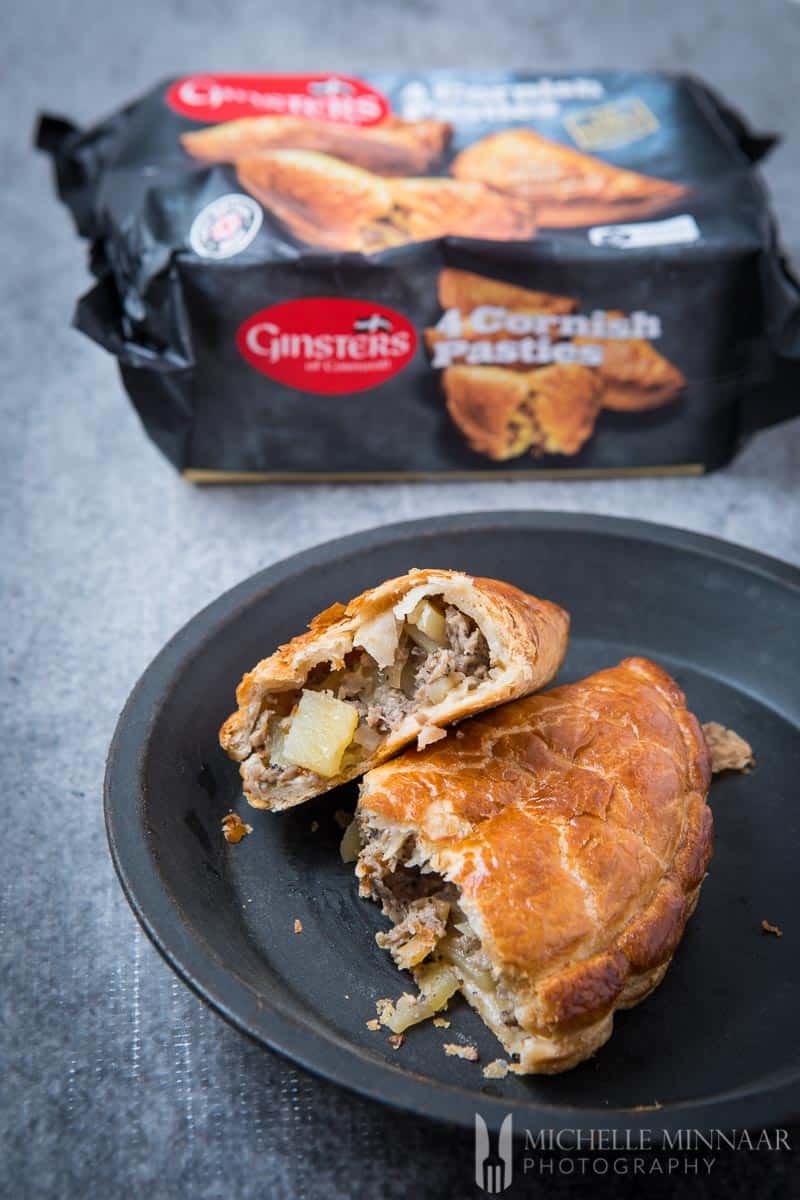 shortcrust or puff pastry?
For each pasty, you'll need about 150g (5oz) of pastry. Ginsters uses 80 layers of puff pastry, which gives its products their unique softness, making it easy to enjoy while you're on-the-go. Both shortcrust and puff pastry work for this recipe, so you can choose which one you prefer when making yours.
Again, I am not the best baker, but even the least experienced bakers can master this recipe. Simply roll out your pastry of choice evenly. Then comes the fun part. I've cut out circular shapes which I then fold after I add the filling. However, baking with pastry leaves a lot of room for the imagination. If you've got more fun shapes in terms of 'cookie cutters', feel free to experiment and see how they come about. Don't forget to brush the vegetarian Cornish pasties with a beaten egg for that lovely mouth-watering golden colour. You can make mini ones too!
What is your favourite Cornish pasty filling?
Print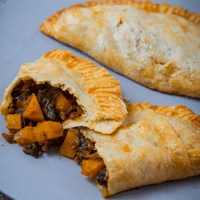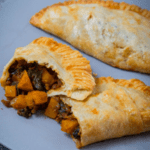 Vegetarian Cornish Pasties
---
Description
Making vegetarian Cornish pasties is a fun and easy task. Even a non-baker can prepare this recipe. Traditionally, Cornish pasties are made with a filling of beef, potatoes, onions and swede. These vegetarian Cornish pasties have a filling made with lentils, butternut, garlic, spinach, white wine vinegar and more.
---
1

onion, peeled and finely chopped

2

garlic cloves, peeled and finely chopped

30

ml (2 tbsp) vegetable oil

1

small butternut, peeled and cut into 1cm (

½

in) cubes

30

ml (2 tbsp) white wine vinegar

250

ml (1 cup) vegetable stock

30

ml (2 tbsp) tomato puree

15

ml (1 tbsp) brown sugar

100g

(

3 oz

) cooked lentils

100g

(

3 oz

) spinach, washed

1

egg, whisked

900g

(2lbs) shortcrust pastry
---
Instructions
Fry the onion and garlic gently with the oil, in a large saucepan, until softened.
Add the butternut, vinegar to the pan and increase the heat until the vinegar sizzles away.
Lower the heat, add the stock, tomato puree and sugar then give it a stir. Let the mixture gently bubble at a low heat until the butternut is cooked. Add a splash of water if needed if it gets too dry.
When the butternut is cooked, add the lentils and spinach and stir until the greens have wilted. Remove the pan from the heat and let it cool.
Preheat the oven 200°C/fan 180°C/gas 6.
Roll out the pastry on a floured surface. Using a saucer, cut out 6 shapes.
Divide the filling evenly between the rounds, leaving a margin around the edges.
Brush the pastry all the way round the edge with beaten egg, carefully draw up both sides so that they meet at the top, then pinch them together to seal. Lift onto a non-stick baking tray and brush with the remaining egg to glaze.
Bake the pasties in the oven for 15 minutes or until golden and crisp.
Notes
There may be filling leftover, which makes a great lunch served with rice.
For each pasty, 150g (5oz) of shortcrust is needed.
Prep Time:

20 minutes

Cook Time:

45 minutes

Category:

Main Course

Cuisine:

British
Nutrition
Serving Size:

1 serving

Calories:

525

Sugar:

2.8 g

Sodium:

35 mg

Fat:

35.2 g

Saturated Fat:

1.2 g

Carbohydrates:

46.5 g

Fiber:

2.1 g

Protein:

7.7 g

Cholesterol:

27 mg
save the recipe to your pinterest board
P.S. This is a sponsored post.