Wild garlic pesto is a delightful and vibrant pesto which can be used in a pasta dish or as a spread. Honestly, I prefer to just eat it by itself! A more creative way to cook with wild garlic pesto is to use it as a flavour enhancer when making a soup.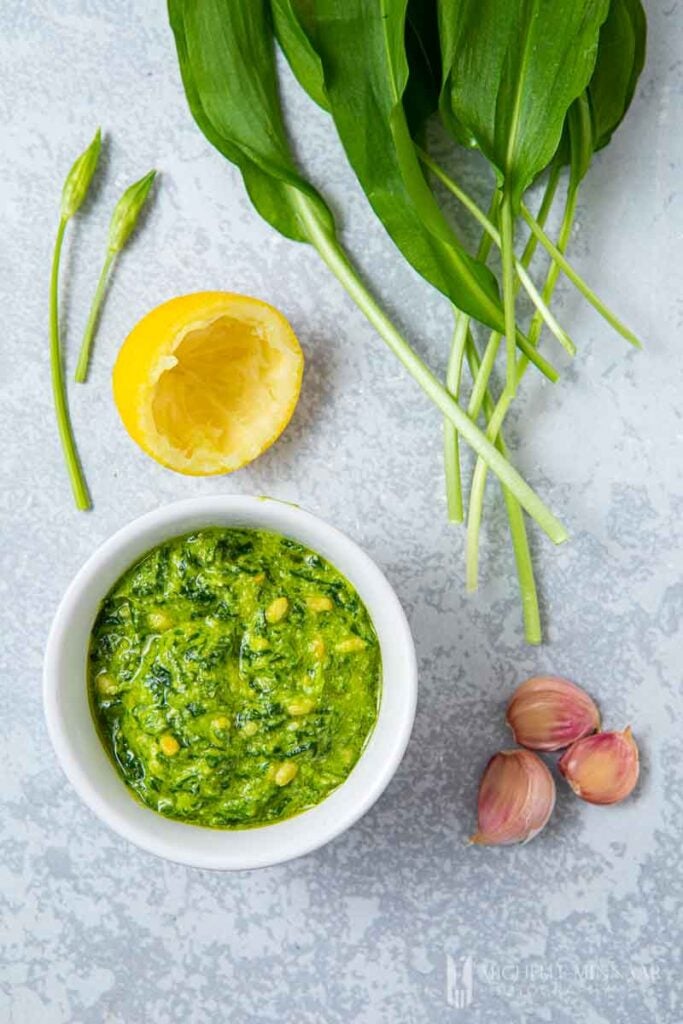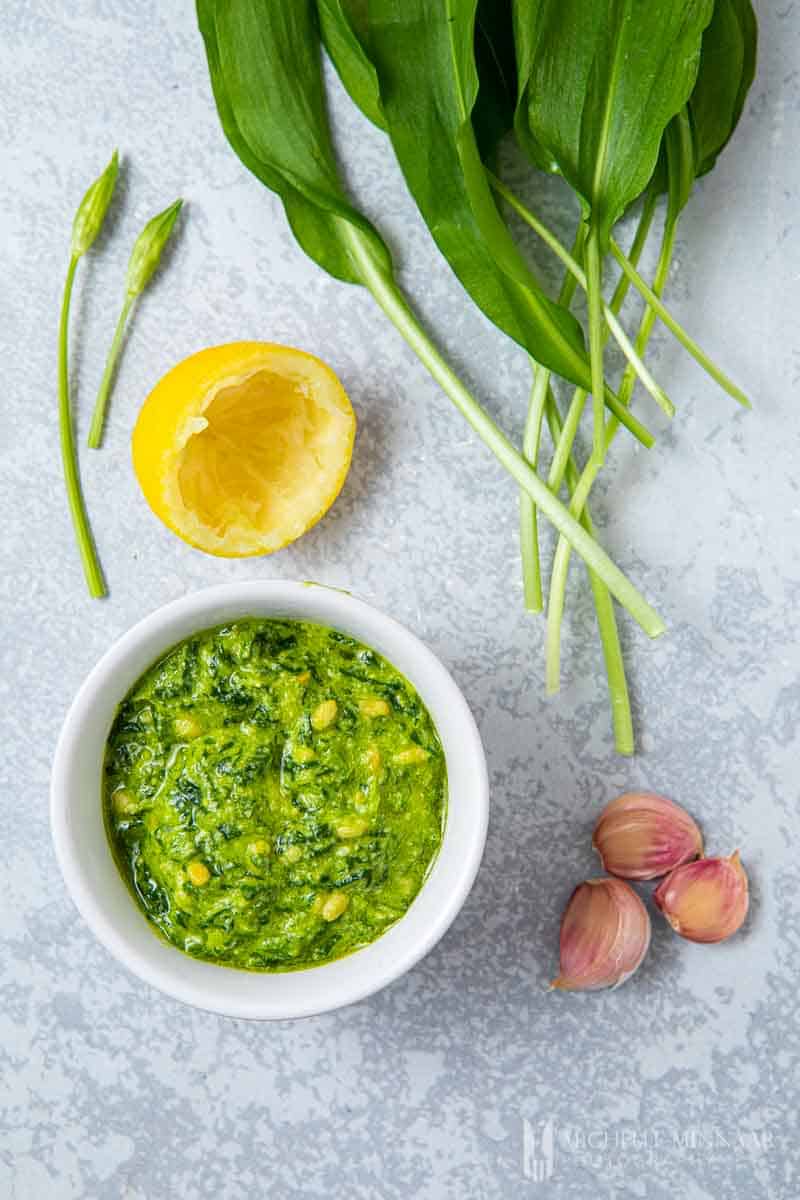 If you've ever made a wild garlic recipe, you know exactly just how special this ingredient is. This pesto recipe is really simple to make and will only take you a matter of minutes. Enjoy and let me know how it goes.
Products You Need For This Recipe
Here is a list of things you'll need in order to make a wild garlic pesto dish.
Which are the products you go for when you are making homemade pesto recipes from scratch? Let me know in the comments section below.
what is wild garlic?
Wild garlic is not like ordinary garlic that we are used to cooking with on a daily basis. No, this is a different variety. In fact, it is a perennial plant which grows wild. Many people actually spot wild garlic while they are on a hike in the forest. Wild garlic loves damp climates, and forests or swamps have the perfect growing conditions. It's commonly found growing wild in Britain and other parts of Europe.
Its botanical name is Allium ursinum. However, you might also know it by its common names such as: devil's garlic, bear's garlic, buckrams, gypsy's onion, ramsons or stinking Jenny.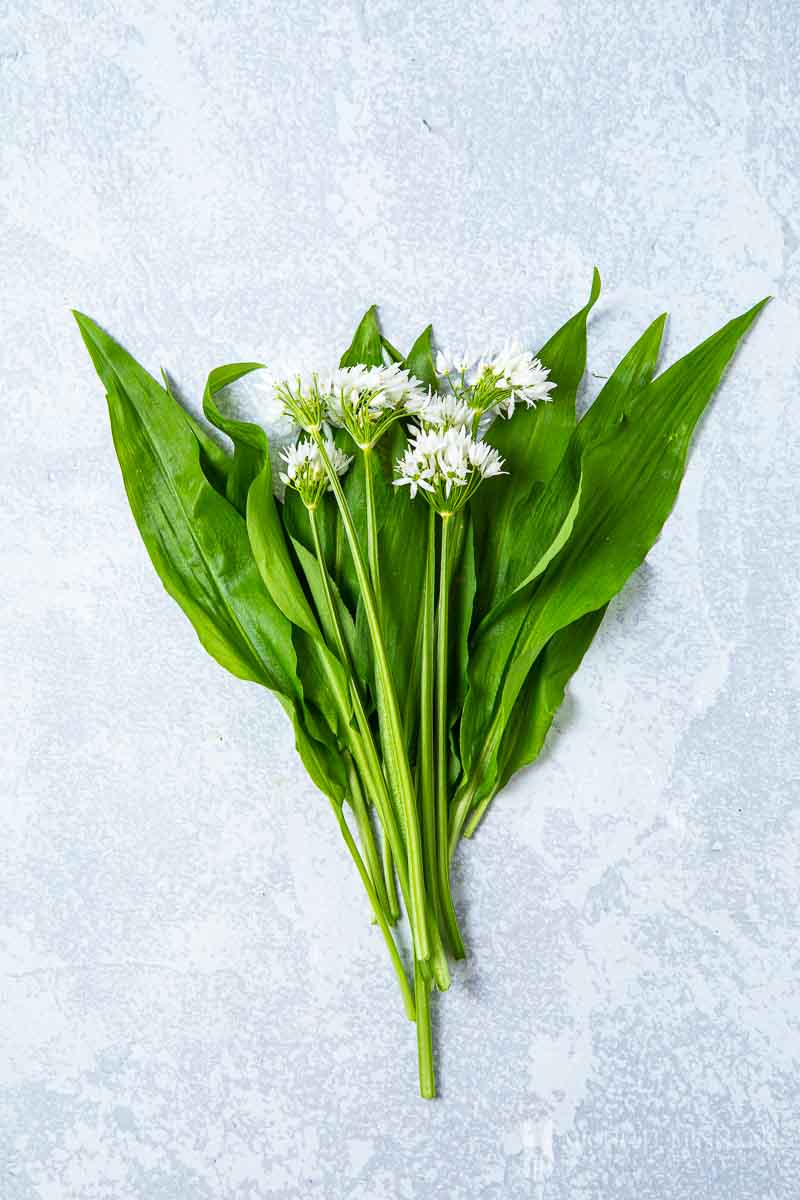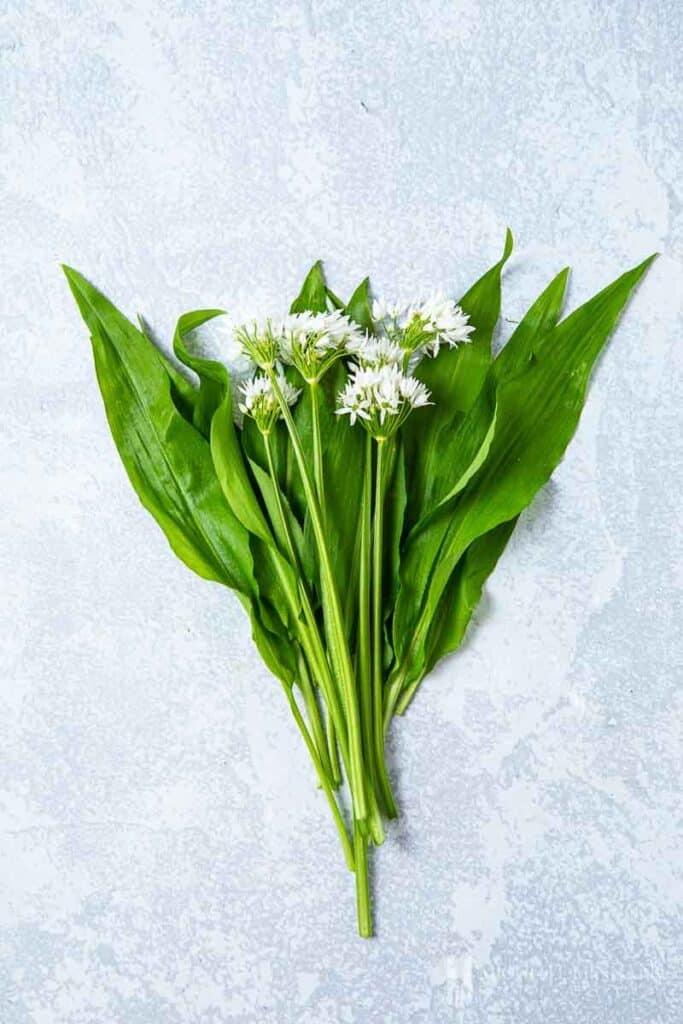 It is famous for its distinct flavour of garlic, although it is much more subtle.
Wild garlic has a bulb, leaves and flowers. The wild garlic leaves are long and green. All three parts are edible. Nevertheless, the most sought-after part of the plant are the wild garlic leaves. The wild garlic leaves are responsible for giving the garlic flavour and green colour to the pesto.
how to find wild garlic
Wild garlic can be found in damp parts of a forest from late spring till the summer. You can easily tell if you've got wild garlic in front of you. Just smell it up close.
Take the wild garlic leaves, squeeze them and pay attention to the smell. Does the smell resemble garlic? If the answer to this question is yes, then congratulations! You found wild garlic.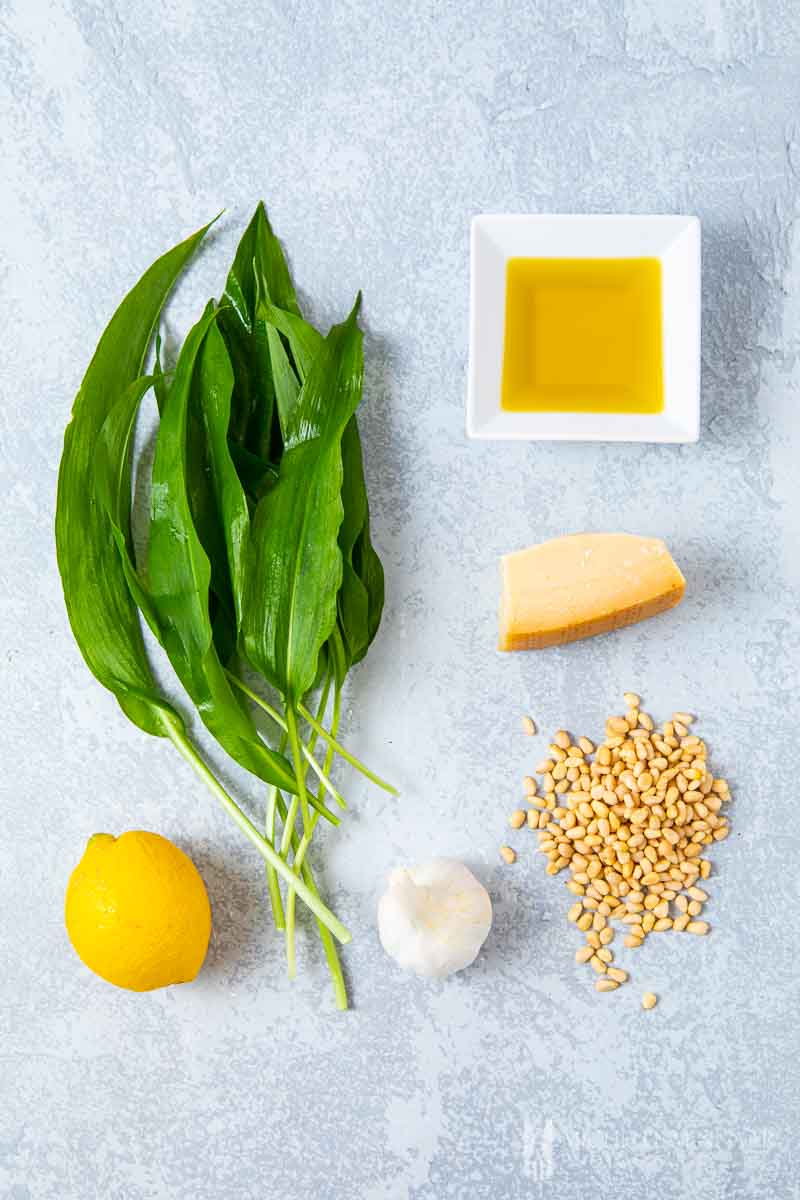 is wild garlic good for you?
It has tons of health benefits. For instance, it has anti-inflammatory properties and contains lots of anti-oxidants. It is excellent for digestion and is also known to be able to reduce blood pressure. In essence, it is a vasodilator, so people who have problems with blood pressure should eat wild garlic leaves more often!
how to cook with wild garlic
Wild garlic is great to cook with because it's an excellent addition to bland foods like cream cheese or vegetable soups. Treat this ingredient as you would chives.
First and foremost, you can chop it up and use it as a topping for a vegetable soup, such as butternut squash soup.
You can make wild garlic soup with the big stash of leaves.
Chop it up and enhance the flavour of a spread. The best one, when the leaves make the most impact, is with cream cheese. Add a hint of lemon juice and you've got a rocking spread.
Toss it in with roast potatoes or mashed potatoes. Serve it alongside a meaty main course.
Above all, you can make a fantastic wild garlic pesto.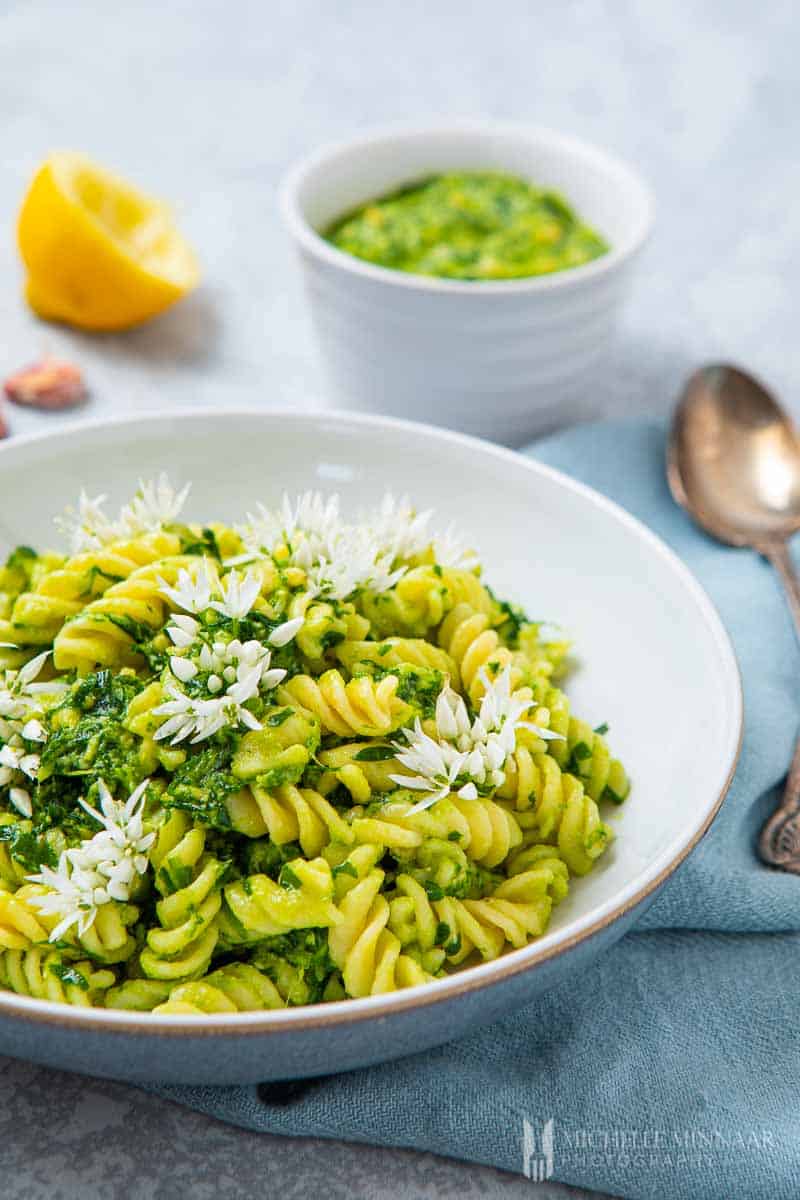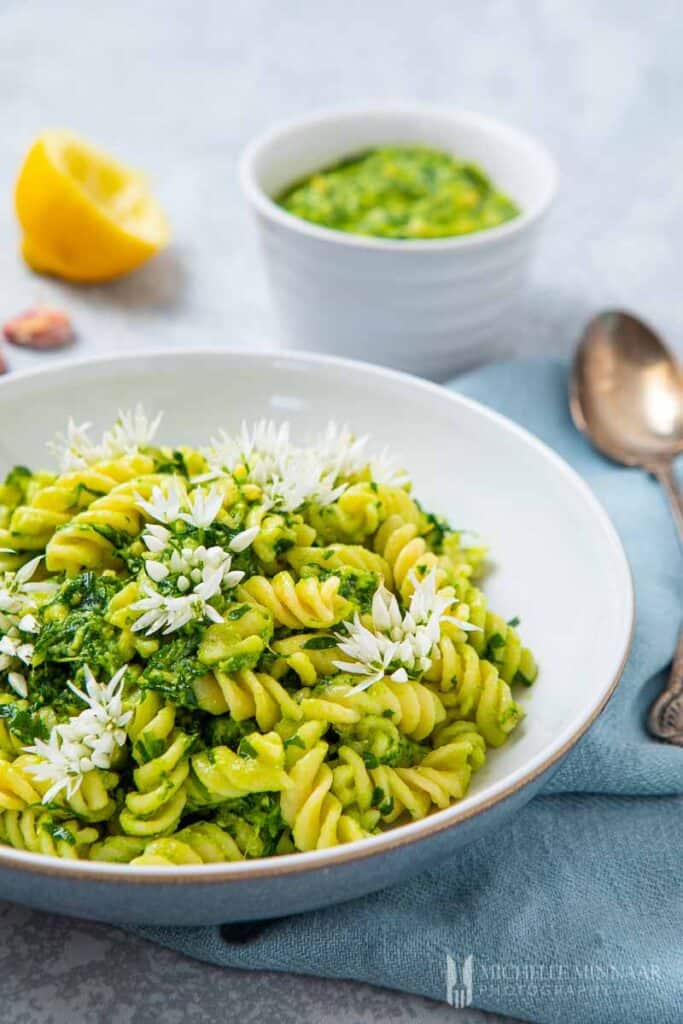 recipe for wild garlic pesto
A wild garlic pesto calls for a handful of ingredients. These ingredients include pine nuts, lemon juice, leaves, salt, olive oil and Parmesan cheese. Once you place all of the elements into the blender, you are just one push of a button away from creating a delicious recipe. Sometimes simple food is the best, as you can alter the ingredients to your liking and make many variations.
For instance, you can also make this recipe with cashews, peanuts or almonds. All three nuts work very well. Hence, by altering one element, you are left with a completely different type of pesto.
If you have consistency issues, then either add more nuts or add one more tablespoon of olive oil. Don't forget the salt. The salt is equally important, especially since the nuts are not salted. If you use salted peanuts instead, you don't need to add salt. Just go heavy on the leaves.
If you would like to make more homemade pesto recipes, then take a look below: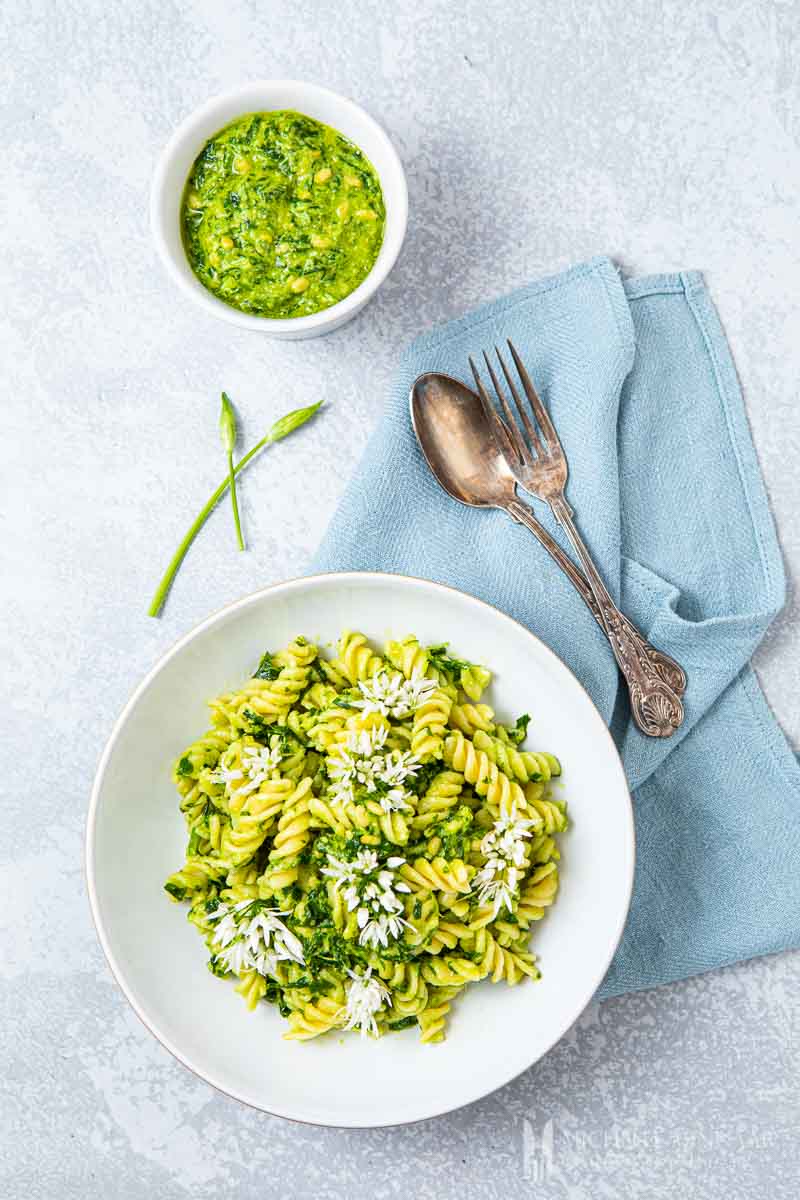 recipes for wild garlic
Wild garlic is massively popular in central Europe. Especially, when it's in season. Therefore, in late spring, it is common to see a lot of recipes with wild garlic on the menus of restaurants.
Here are a few creative ways you can use the pesto and make a memorable dish:
How would you use this incredible pesto? Would you make a pasta dish or do you have something else in mind? Let me know in the comments section below.
Print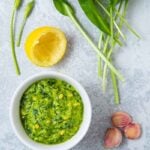 Wild Garlic Pesto
---
Author:

Michelle Minnaar

Total Time:

10 minutes

Yield:

20

servings - 1½ cups

1

x

Diet:

Gluten Free
Description
Wild Garlic Pesto adds tonnes of flavour and a vibrant colour to any recipe, especially pasta. Make the most of wild garlic when it's in season. An added bonus is that this exquisite herb is totally free for picking if you're willing to go for a walk in the countryside.
---
120g

(

4oz

) wild garlic leaves/ramsons, washed

60g

(

½ cup

) pine nuts

60g

(

½ cup

) parmesan cheese, grated

1

garlic clove, peeled

125

ml (½ cup) olive oil

½

lemon, juiced
---
Instructions
Place the wild garlic, pine nuts, parmesan and garlic in a food processor and blitz until a rough paste is formed. 
Leave the motor running at a slow speed and slowly pour in the oil.
Add the lemon juice and season to taste. 
Serve the wild garlic pesto mixed in with pasta or any way you prefer!
 
Notes
If you prefer your pesto to have a runnier consistency, all more oil while the processor is running until your desired consistency has been achieved.
Prep Time:

10 minutes

Cook Time:

0 minutes

Category:

Side Dish

Method:

Blend

Cuisine:

British
Keywords: wild garlic pesto, pesto recipe, wild garlic recipe, pesto for pasta