Although it might be confusing at first, the term air fried salmon comes from the cooking method of using an air fryer. The end result of cooking the salmon in this manner is a nice flaky and juicy piece of salmon fillet which you can jazz up with your favourite spices. I think it's the perfect time to enjoy a healthy salmon dinner, and this air fried salmon is no exception to that. Simply serve with some crisp green salad or roast a couple of your preferred vegetables. If you've had a hard day at work, don't forget to pair the air fried salmon with a fruity dry white wine.
air fried salmon
To give you a proper definition, an air fried salmon recipe consists of taking salmon filets and cooking them in the air fryer. Beware, this is a special type of pan and is very different to preparing salmon in a normal frying pan or hot smoking salmon as I did here. In this case, I seasoned the air fried salmon with salt, pepper and paprika. Or, you can apply different spice rubs for an Asian kick. Next, you'll have to let the machine do the work for you. A typical salmon fillet takes about seven to ten minutes to air fry, depending on the portion size.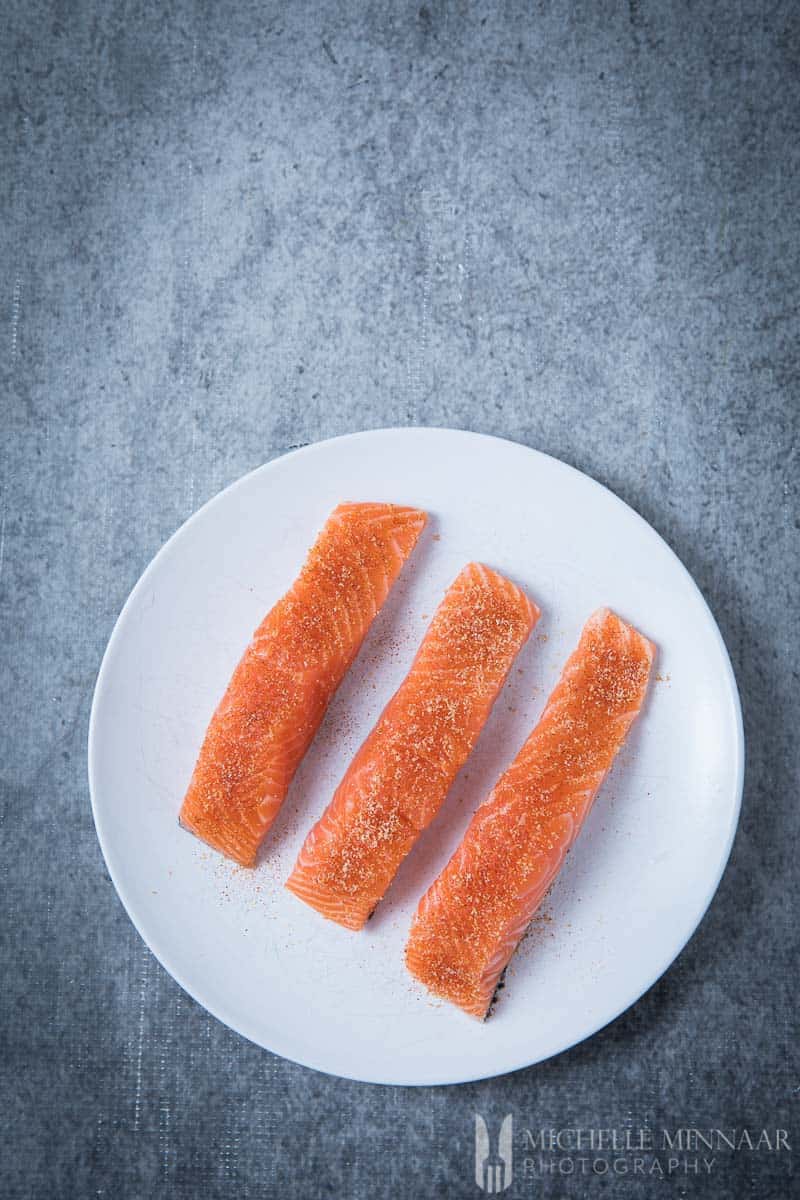 the air
First, for this recipe to work properly, you'll need a good air fryer. An air fryer is quite different from the traditional frying pan. Pan-fried salmon usually involves placing the salmon with skin facing down straight into the hot pan with olive oil. You then let the skin crisp up and turn the salmon to finish on the other side. On the other hand, the air fryer uses air to cook your salmon. In a way, you can say that this cooking method uses the law of physics and science to make your healthy dinner!
What happens is that the machine circulates hot air using the convection mechanism. In other words, the fan circulates really hot air around the salmon at high speeds and hence you induce the Maillard effect. The Maillard effect is a chemical reaction that involves amino acids (organic compounds) and reduces sugar. This effect was named after Louis-Camille Maillard, who was a French chemist and discovered it in the early 1900's.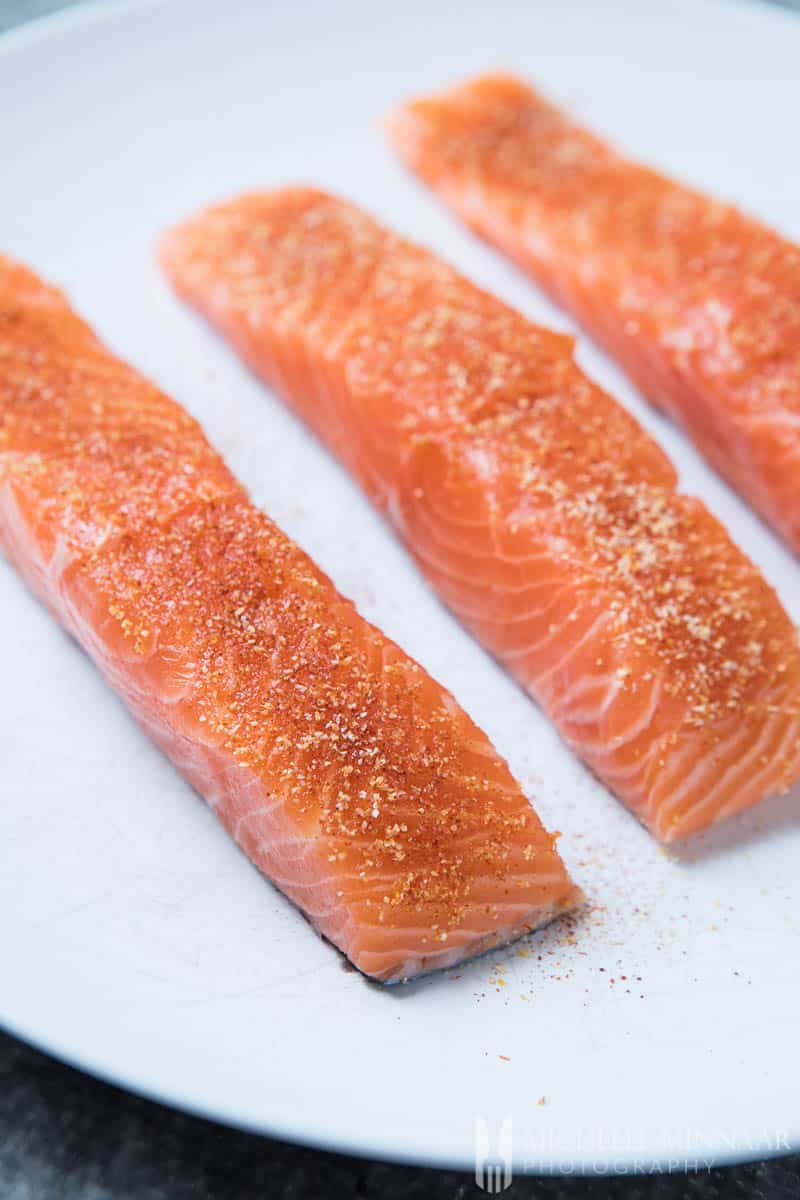 So what happens is that the sugar in the salmon reacts with its amino acids and forms complex molecules that make up the distinct aromas and flavours. Apparently, air fryers bring out more flavour than other cooking methods. Thus you would find air fried salmon being served in a high-end premium restaurants.
If you've got kids at home, it's a great way to educate them about the transfer of heat, convection and the Maillard effect. Who knows, this little lecture might make your kids want to become a scientist!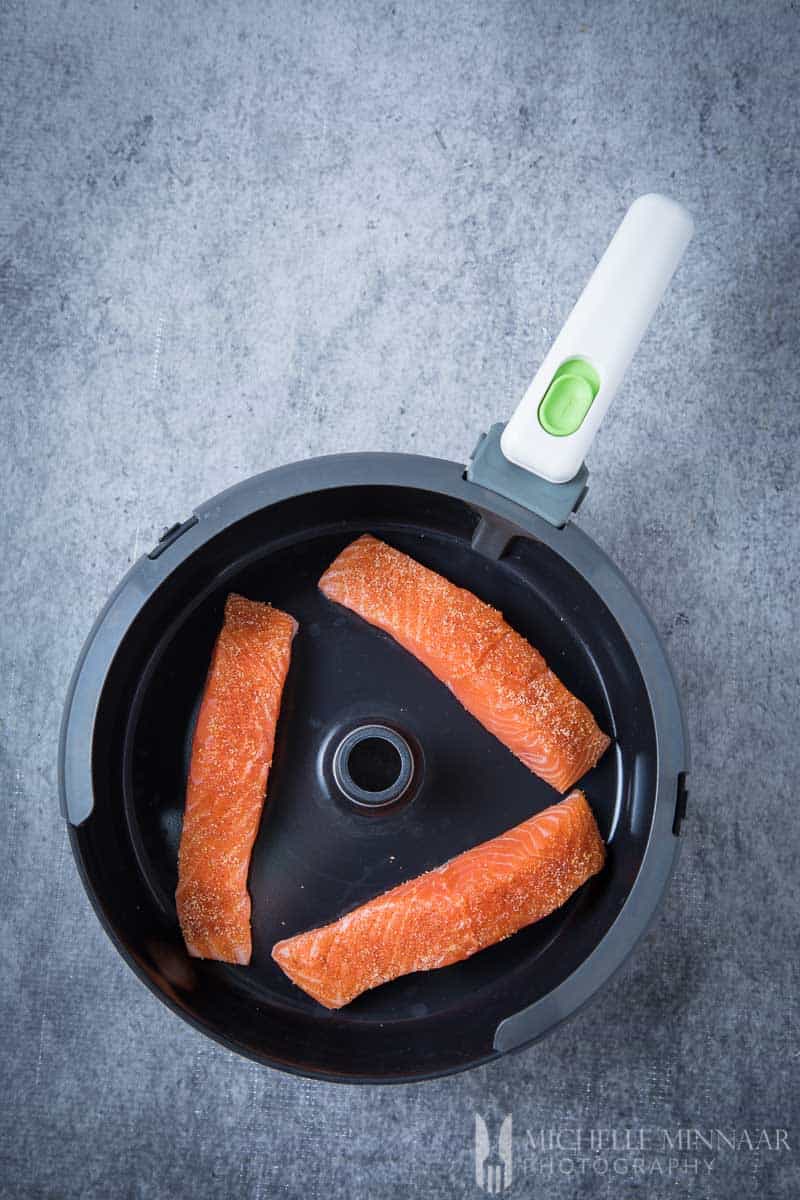 With an air fryer, you can also make other delicious recipes like these tasty air fryer meatballs, frozen chicken wings in air fryer or if you're looking for another fish recipe check out this air fryer frozen shrimp recipe.
the salmon filets
Not only is salmon healthy, but it's highly versatile to work with and goes well with a multitude of flavour pairings. To learn more about the types of salmon you can use for this recipe, click right here. In fact, there are a lot of different types of salmon that vary in textures and flesh, so make sure you read up on the type of fish that you like eating best.
You can also buy a whole salmon, although I must warn you that salmon in general is an enormous fish. Another great idea is to I think it's great if you buy fish and cook it whole like I did in my Thai whole baked seabass recipe here. However, if you opt for the whole fish route then you'll need a sharp knife and some fileting skills. Otherwise, you risk ruining the salmon filets.
If you are a newbie, I recommend just buying a couple of well-sized salmon fillets from the store. You won't have to take the skin off yourself or pin-bone them, which can be quite a challenge.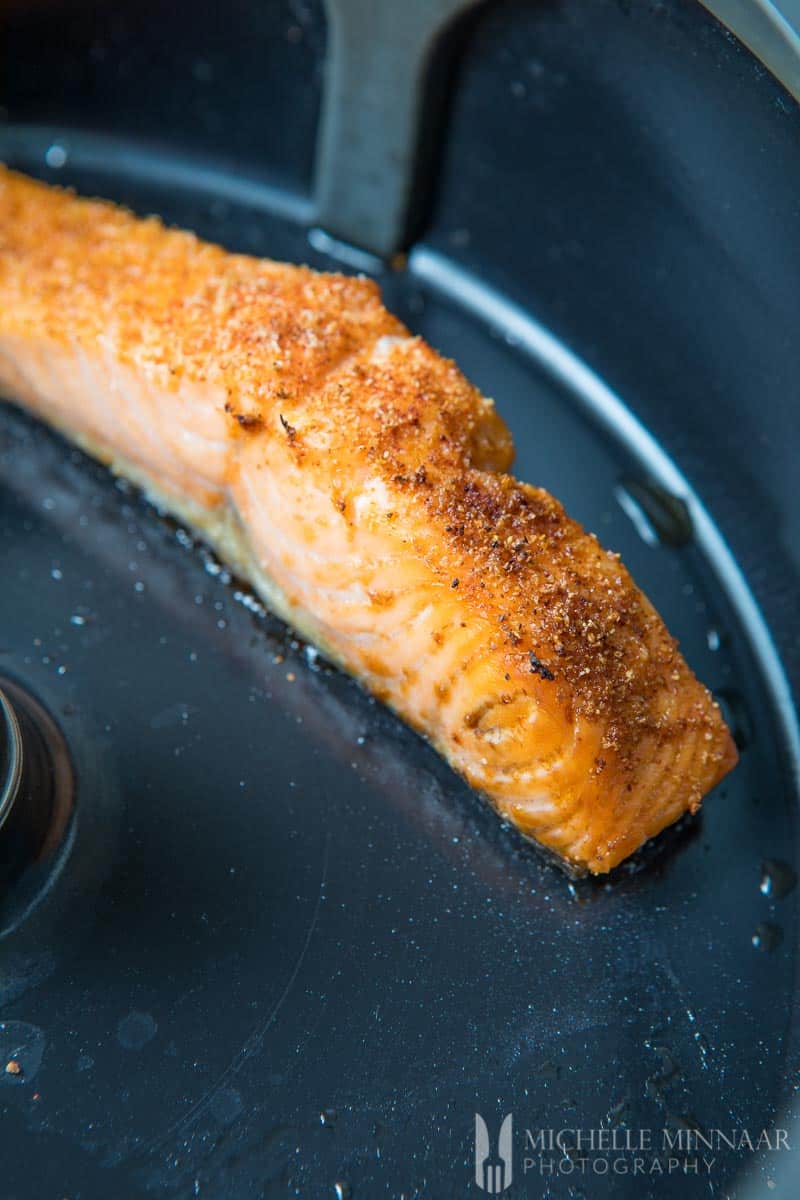 spices & seasoning
Since salmon is a fatty fish, it works well with spice rubs. A typical spice rub that you would use in an air fried salmon is salt, pepper, paprika and a bit of herbs like oregano or basil. However, you can even use more exotic spices to give the salmon even more flavour. For example, for a nice umami and salty rub, you should use this miso spice to recreate a delicious miso salmon recipe. Also, you can opt for jerk spice like this one. A lot of people are under the impression that jerk spices are only used for meat, such as chicken or beef. However, using it with seafood is not unusual at all! For example, you can opt for making jerk prawns like these or even jerk salmon.
So, which spice will you go for? Or will you opt for a more Western version that is simply salmon with onion and lemon? The choice is entirely yours!
salads
Once your air fried salmon is ready and turned that gorgeous pink colour, pair it with something green. Personally, I like to slice a cucumber into circular shapes and serve it as is for a healthy version. Also, a really healthy alternative is a salad of julienned carrots and avocado. You can read more on this type of salad in my baked seabass recipe here. Lastly, I also like pairing salmon with avocado. So, what better way that to prepare a cucumber salad with avocadoes? For more inspiration for a delicious cucumber and avocado salad, click right here.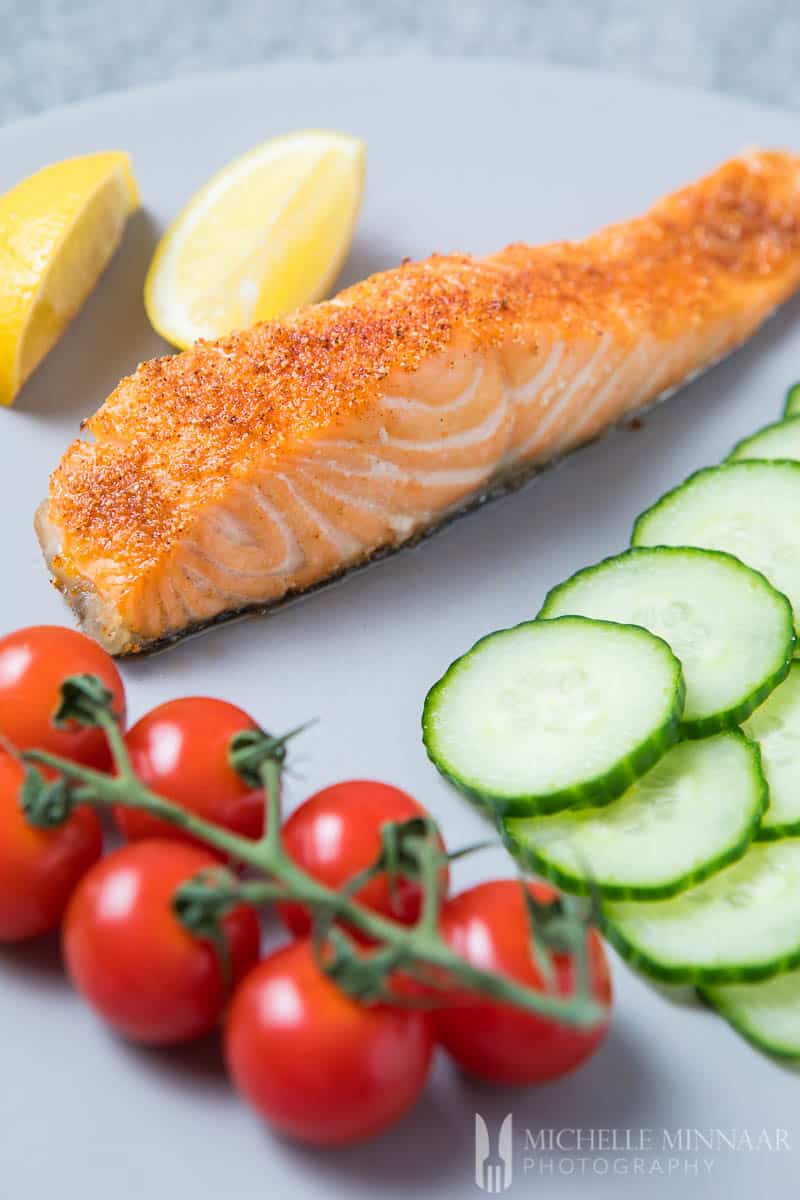 roasted vegetables
If you don't feel like pairing the air fried salmon with salad, then my recommendation would be to serve with a simple side of roasted green vegetables. This includes simple roasted asparagus, find it here. Or, for more fiber, go for these roasted green beans. A bit of butter and garlic will turn this into a heavenly combination.
As a finishing touch, sprinkle some lemon juice over the air fried salmon. Or, grate some lemon zest for some acidity!
What is your favourite salmon recipe?
Print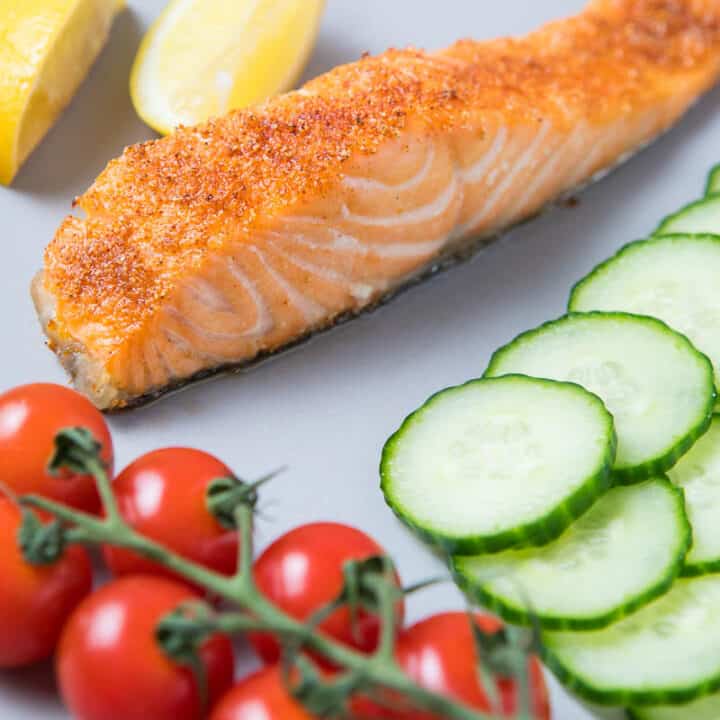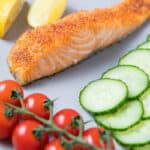 Air Fried Salmon
---
Description
Ever wondered how it's possible to cook an air fried salmon recipe with air? Yes, with the help of science it is possible! For this recipe you'll need an air fryer, couple of pieces of salmon filets, seasoning and spice rub of your choice, lemon, cucumber and tomatoes. This recipe pairs well with a dry fruity wine.
---
1.25

ml

(1/4 tsp) salt

1.25

ml

(1/4 tsp) garlic powder

2.5

ml

(1/2 tsp) paprika

4

salmon fillets
---
Instructions
Mix the salt, garlic and paprika together in a small bowl.
Rub the spice mixture evenly over the top of the salmon fillets.
Place the fish in the air fryer and cook for around 15 minutes or until cooked.
Serve immediately with salad or fresh green vegetables with new potatoes.
Notes
Feel free to play with different spice combinations.
Prep Time:

5 minutes

Cook Time:

15 minutes

Category:

Main

Cuisine:

French
Nutrition
Serving Size:

1 serving

Calories:

237

Sodium:

156 mg

Fat:

11 g

Saturated Fat:

1.6 g

Protein:

34.6 g

Cholesterol:

78 mg
save the recipe to your pinterest board