A rustic, old school French classic, boulangere potatoes are the perfect side dish for a sumptuous Sunday roast.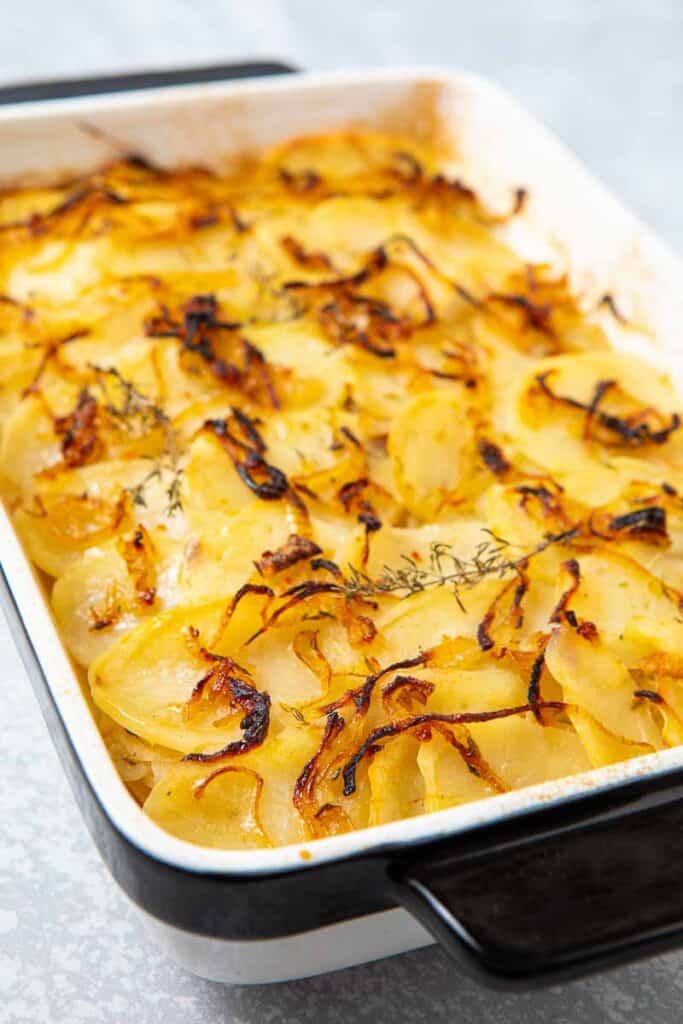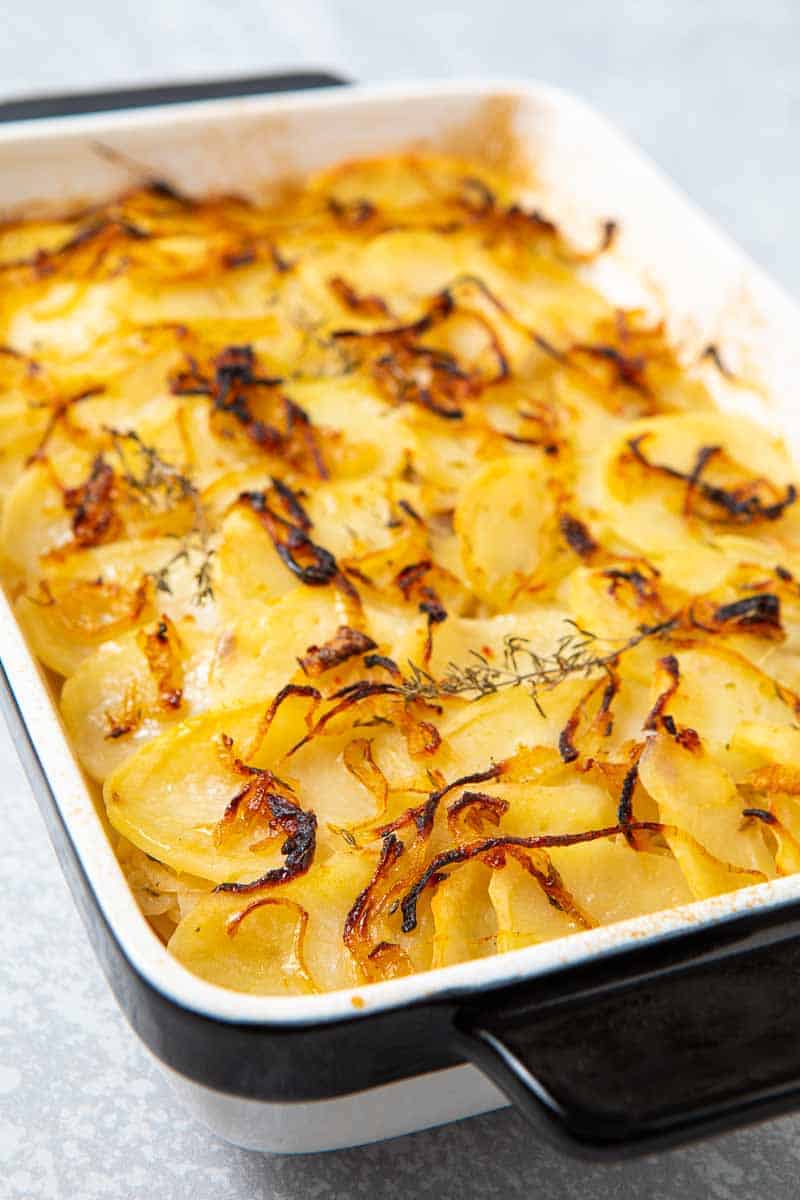 It's an easy recipe that involves very little prep time – the oven does all the work. So, stock up on spuds and get slicing – this is simple, rustic French cooking at its best.
Boulangere potatoes recipe
If you're looking for a rustic recipe to serve alongside the Sunday roast, this is the one. It's simple to prepare, uses very few easily sourced ingredients, and tastes fantastic.
Bake up this country classic and it'll become a firm family favourite in no time at all.
Products you'll need for this recipe
History of boulangere potatoes
Potatoes boulangères translates as 'potatoes from the baker'. This traditional French dish originated many centuries ago, when rural French households were too poor to have an oven.
The mothers of the household still wanted to bake a beautiful dish to present to the family for Sunday lunch. So, they would lovingly prepare each layer of the boulangère potatoes, adding ingredients specific to their own family recipe.
Then, on their way to church on Sundays, they would drop their prepared potatoes dish off at the 'boulangerie' – the bakery – ready to be baked.
On their way back from church, the ladies would pick up the freshly baked dish, ready to be served up for Sunday lunch.
So there you have it. Boulangère means baker – so baker's potatoes!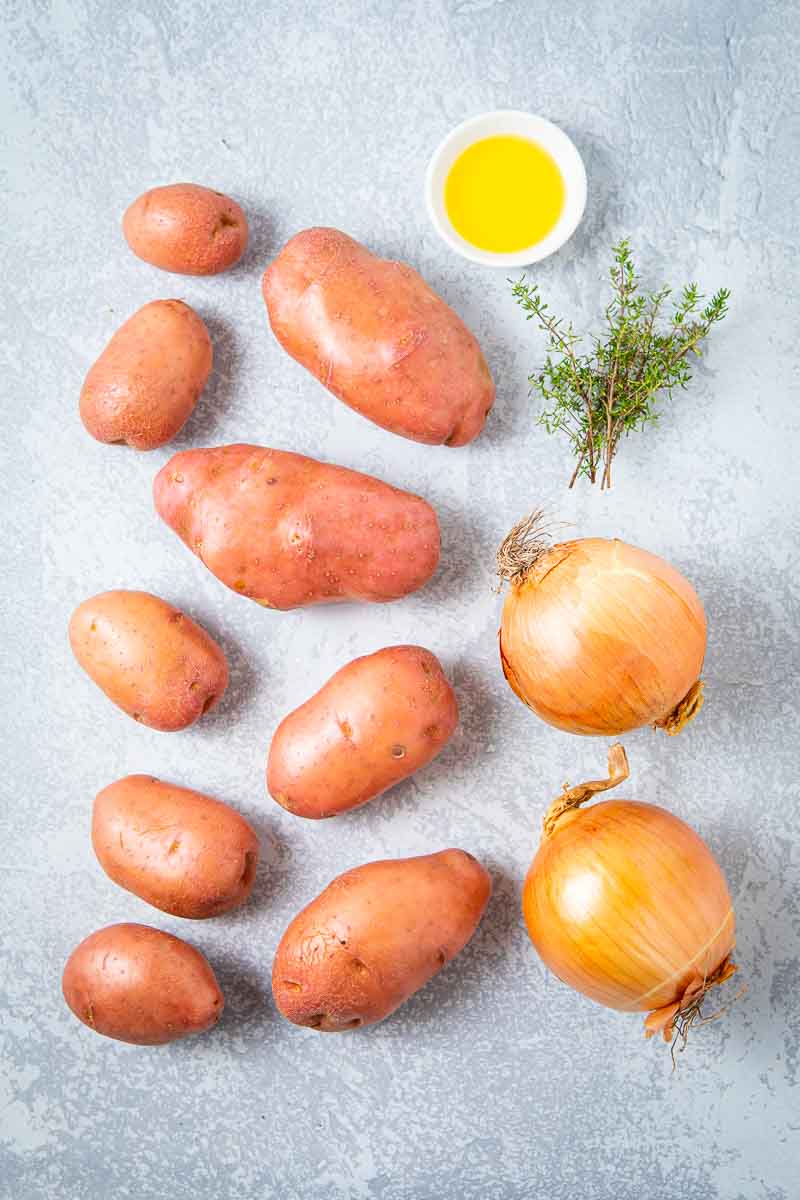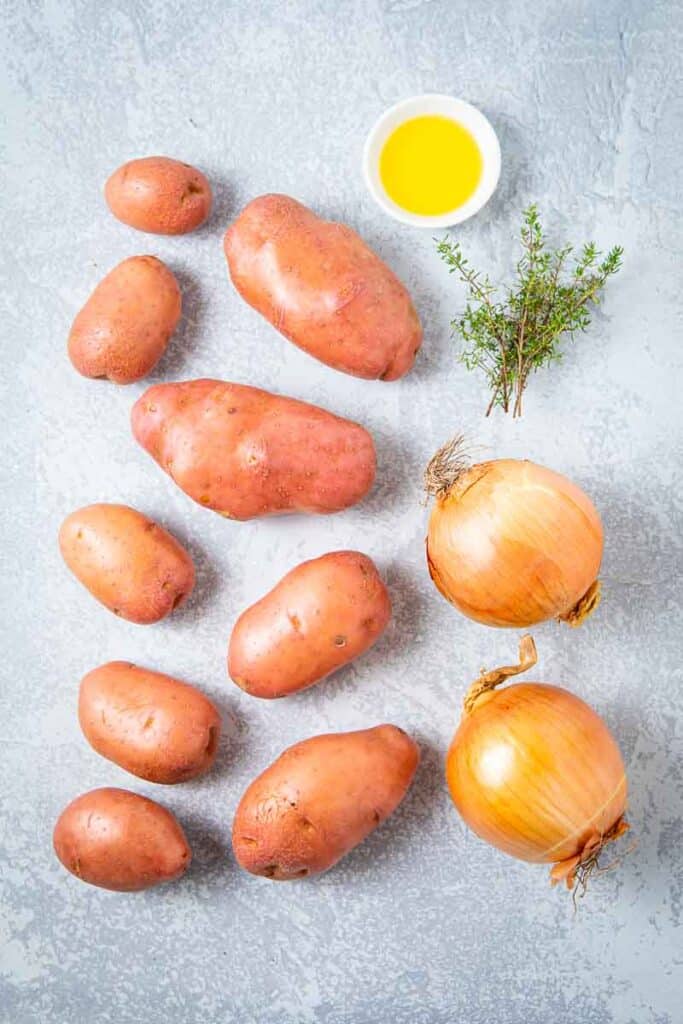 What are boulangere potatoes?
Boulangère potatoes is a baked potatoes dish. The potatoes are thinly sliced then layered in a baking dish, with various seasonings added in between each layer.
Stock is then added to the baking dish. Extra seasoning can be added to the top, usually grated cheese or cubes of butter, for a flavoursome golden brown finish.
When the potatoes come out of the oven, they should be golden and tender. Boulangère potatoes make a great side dish for any meat dish. They also work great as a meal on their own.
Can you make boulangere potatoes in advance and cook them the next day?
Much like the French mères from way back when, you can assemble boulangere potatoes in advance, before popping them in the oven the day you want to serve them.
Just keep them covered in the fridge up to two days before you cook them. You might notice the potatoes start to look a little grey. Don't worry, that's normal.
It's just a natural reaction that happens when the inside of potatoes are exposed to air, i.e. oxidises. When you bake the potatoes, the discolouration will disappear.
Can you reheat boulangere potatoes?
You most certainly can! The great thing about this baked potatoes dish is that it can be reheated and served up as a midweek meal.
Boulangere potatoes will keep for a few days in the fridge. Make sure you cover with foil to keep this dish fresh for longer.
How do you layer boulangere potatoes?
Start with a layer of potatoes on the base of the baking dish. Take a third of the fried onions and thyme mix and layer it evenly across the sliced potatoes. Next comes the all important seasoning.
Add a little bit of salt and pepper and a scatter of herbs. You could even add crushed garlic or, if you're feeling extra decadent, add a few rashers of streaky bacon. (This might turn into a tartiflette!)
Adding flavour to each layer is very important, otherwise you'll end up with a bland potatoes dish.
Once you've seasoned your first layer, add another layer of potatoes, more onions, season again and repeat the process one more time. Once you've layered all your potatoes, pour over the stock.
To really make this potatoes dish shine, add grated parmesan or another kind of rich cheese to the top of your final layer of sliced potatoes. You could also use a few cubes of evenly spread butter.
Once you've finished layering the potatoes, pop the baking dish in the oven!
To get the best boulangere potatoes dish, make sure the potatoes are sliced as thinly as possible. This will give you desirable crispy potatoes on top, and soft potatoes, full of flavour, on the bottom.
What stock should you use for boulangere potatoes?
The type of stock you use for your boulangere potatoes totally depends on what you're planning to serve it with. If you want to serve it on its own, the vegetable type will do fine. In this way the dish will retain its vegan status.
If you're planning on making this baked potatoes recipe as a glorious side dish for Sunday lunch, you could use a meaty stock. Use the flavour that corresponds to the meat you'll be serving.
Just imagine the taste of these incredible roast potatoes, flavoured with sweet onions, herbs and lamb stock, served on the side of an incredible slow roast shoulder of lamb recipe. Utterly divine!
What else can you add to boulangere potatoes?
If you want to make this fabulous French recipe even more fabulous, there are a few extras you can add to take the taste to another dimension.
If you're a garlic fiend, you've probably already wondered how you can work some garlic into this dish. A little bit of crushed garlic spread evenly between each layer would taste great. It probably wouldn't be a proper French dish without it!
As I mentioned, a sprinkle of parmesan would taste amazing. You can use cheddar or something else with a nice salty finish.
Layers of bacon would be great too. Very decadent! You could even add some mustard into the mix.
What potatoes are best for boulangere potatoes?
When making this roast potatoes recipe medium starch, all-purpose potatoes are best. They take on a rich golden colour when they bake and taste very rich in flavour.
Go for dutch cream potatoes, desiree potatoes or maris piper potatoes for this recipe.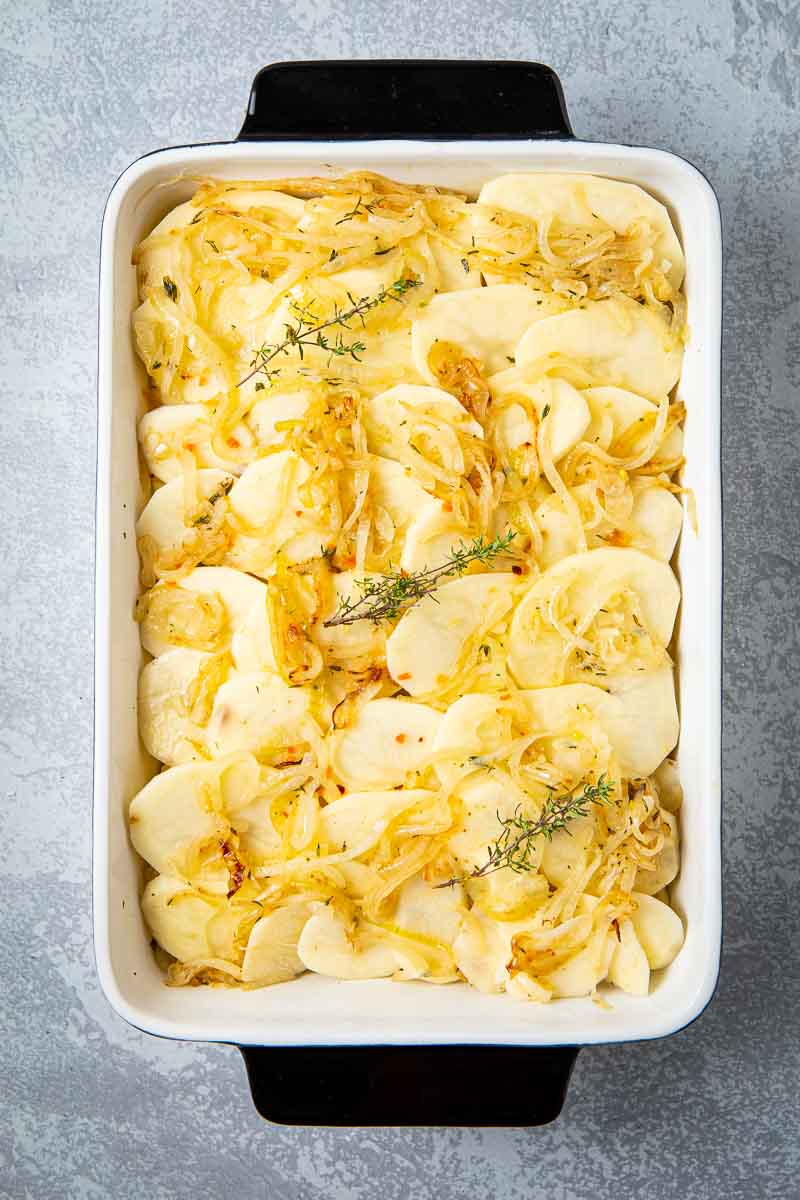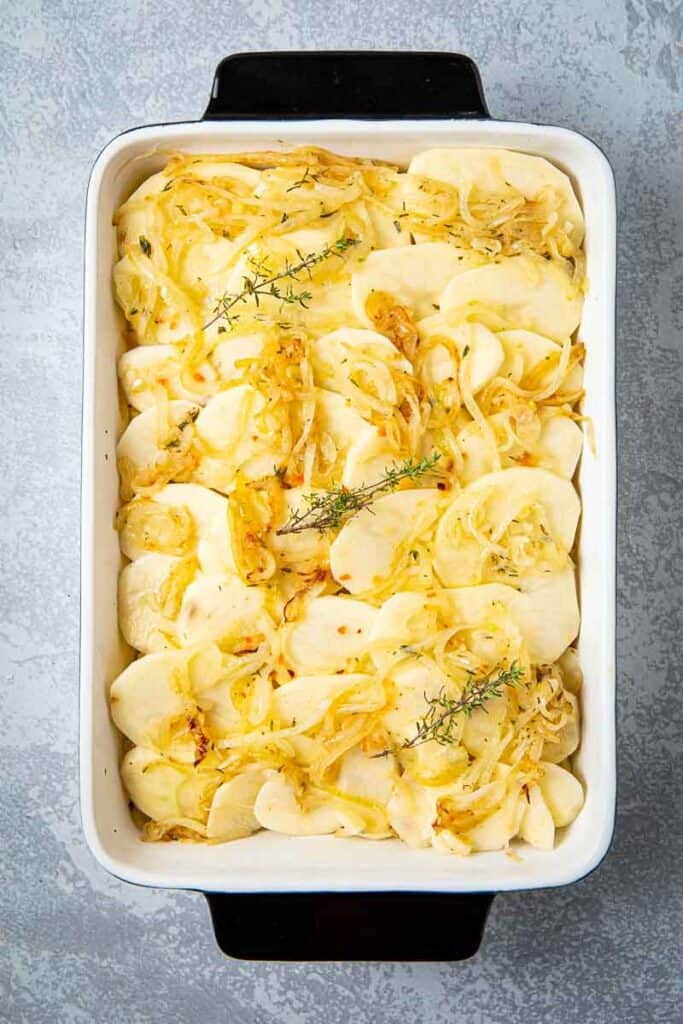 What should you serve boulangere potatoes with?
This dish makes a magnificent side dish for lots of different recipes. Let's take a look at some of the best.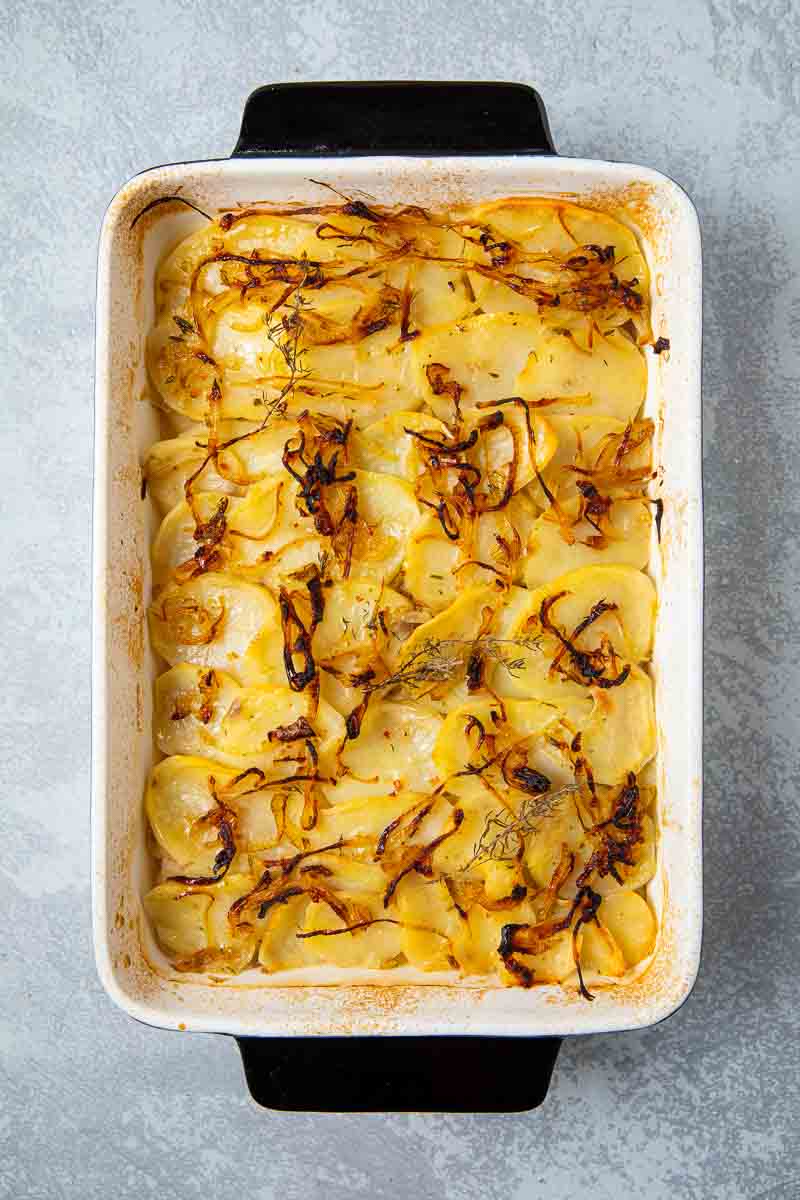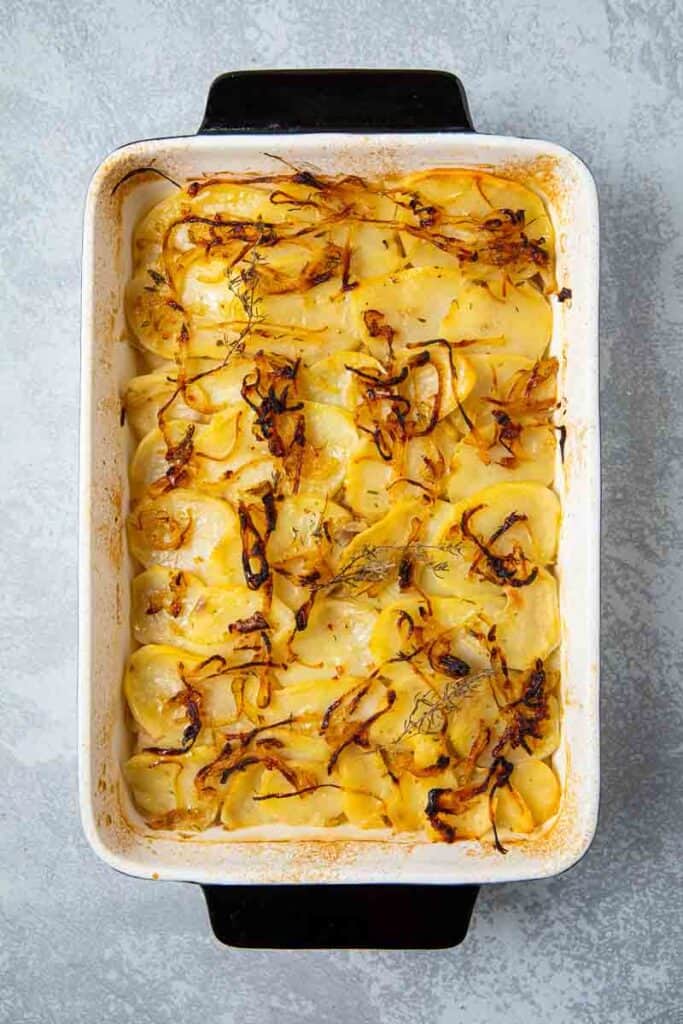 More delicious potato recipes
If this recipe has inspired you to want to cook more wonderful potato recipes, you should have a look at these.
Did you try boulangere potatoes? How did they turn out? Let me know in the comments below!
Print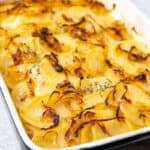 Boulangere Potatoes
---
Description
Boulangere Potatoes comprises layers of thinly sliced potatoes spruced up with sliced onion and herbs. French cuisine at its best!
---
30

ml (2 tbsp) olive oil

2

large onions, peeled and thinly sliced

3

thyme sprigs

1.5

kg (3lbs) floury potatoes, peeled and sliced thinly

400

ml (1½ cups) vegetable stock
---
Instructions
Preheat the oven to 200°C / fan 180°C / 392°F / gas mark 6.
Heat the oil in a large frying pan.
Gently fry the onions and thyme until softened and translucent, which takes around 5 minutes.
Remove from heat.
Place the first layer of potatoes in a large ovenproof baking dish.
Sprinkle over a third of the onions, then add another potato layer.
Repeat until all onions and potatoes have been used up.
Pour over the stock and bake for 50-60 minutes or until the potatoes are cooked and golden brown on top.
Serve immediately with the dish of your choice. Enjoy!
Notes
Examples of floury potatoes are Maris Piper and Desiree.
It takes quite a long time to slice the potatoes thinly by hand. The best tools for this kind of job are a food processor or mandoline.
Prep Time:

25 minutes

Cook Time:

1 hour

Category:

Side Dish

Method:

Bake

Cuisine:

French
Keywords: Boulangere potatoes, potato and onion bake, French potato recipe, potato side dish