If you seek warmth and comfort there are few recipes that can compete with camembert en croute! With the right camembert and puff pastry, you will get the end result that you will fall in love with. In essence, it is a rustic yet elegant meal that you can proudly serve as a starter or main course. When you first glance at this French dish, it sends you directly to the French countryside, doesn't it? My favourite part about the camembert en croute is when you cut into it and you pull that stringy cheese from its gooey center. Absolutely irresistible!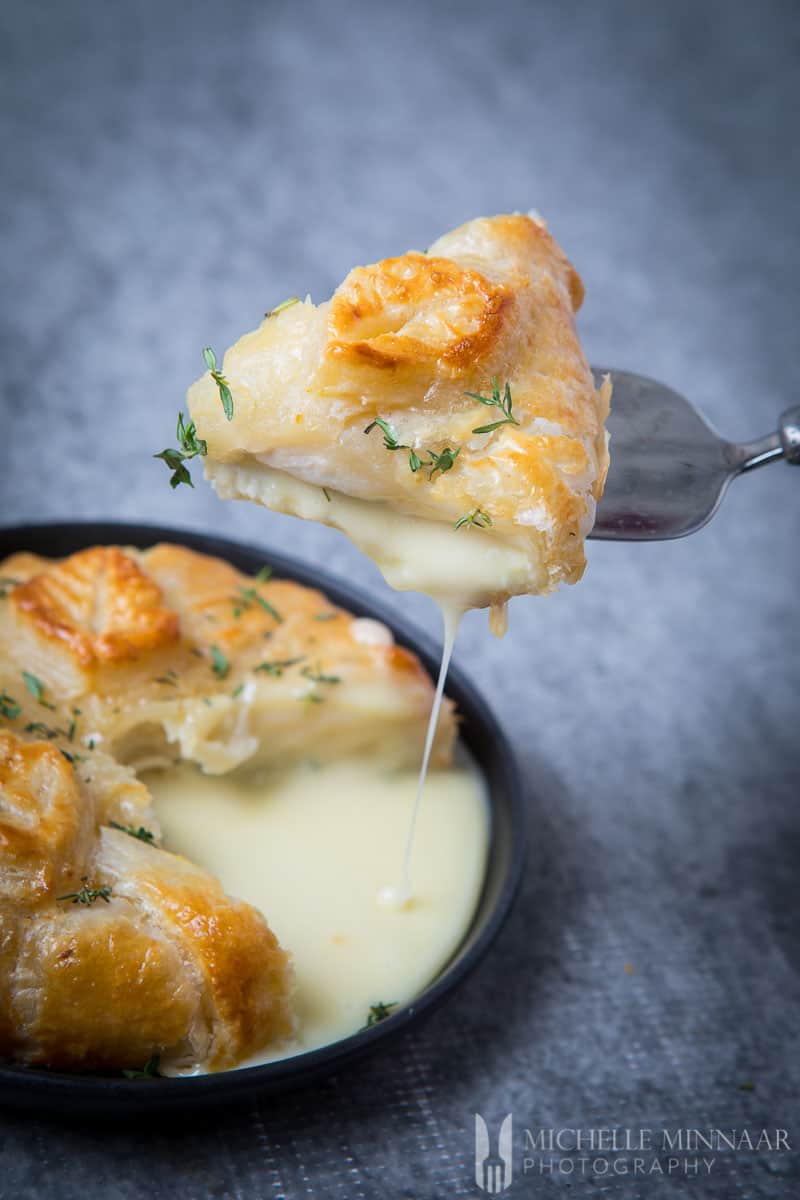 camembert en croute
Essentially, camembert en croute is camembert covered completely embraced by puff pastry which you then bake in the oven. You'll need to leave it in the oven until you see a golden crust. It is a very easy camembert recipe to master because you only need a few ingredients. These are camembert, puff pastry, herbs such as thyme, egg, watercress, cherry tomatoes and cranberry jelly. The vegetables are for making a side salad to go with the camembert en croute.
This recipe reminds me a lot of a similar rustic dish I've made using Brie, which was the brie tartiflette. Get the recipe here. Nonetheless, for the camembert en croute, remember to buy the entire wheel of camembert, like the one you'd get with Le Rustique.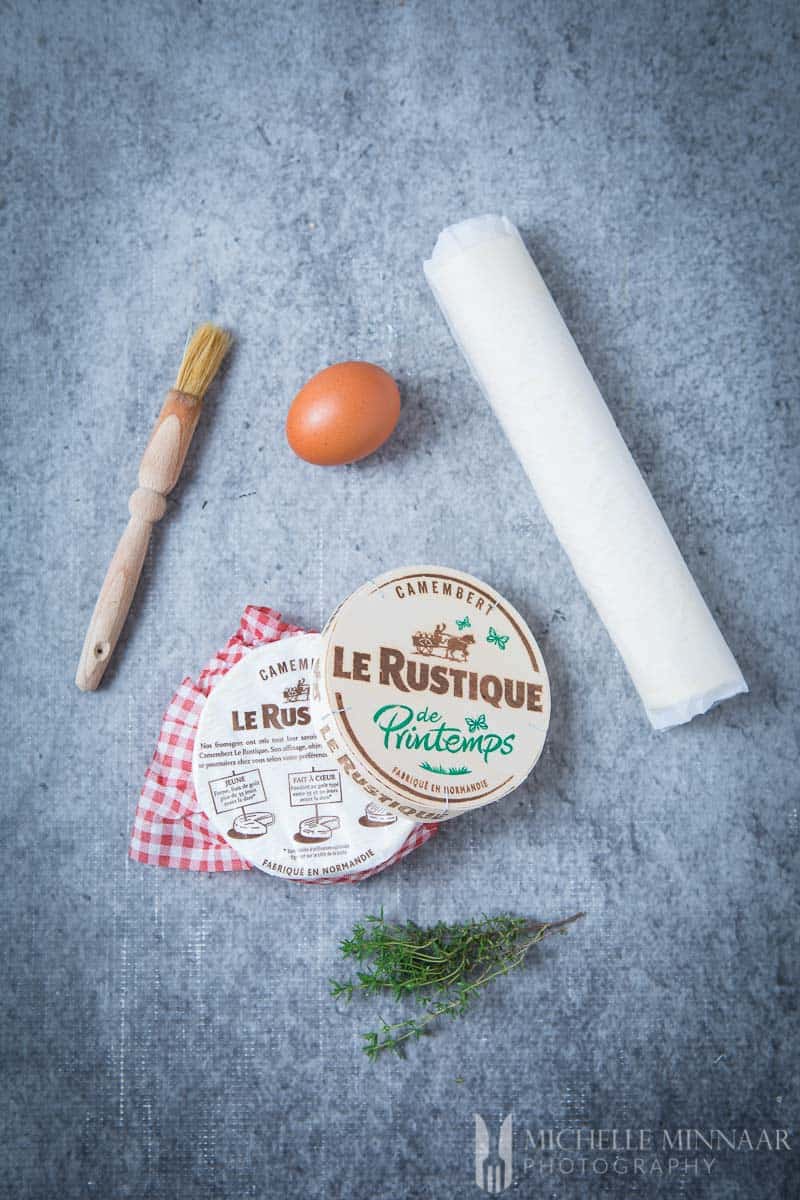 le rustique cheeses
Le Rustique is one of many successful brands of the Savencia Fromage and Dairy Company. You've probably seen Le Rustique cheeses in your supermarket. The first ever Le Rustique Camembert was made in Normandy, France in 1975. This region is very famous for its Camembert, so it is no surprise that Le Rustique makes its cheeses there using local milk. Currently, Le Rustique is the number one choice of premium Camembert in France and it is sold in over 50 countries. It is no surprise that I've used this Camembert for my camembert en croute recipe.
Le Rustique cheeses are in constant evolution as they mature with each stage offering different flavours and textures. Here is a list of different ages of camembert which might give you an idea which one you'd like as a camembert en croute.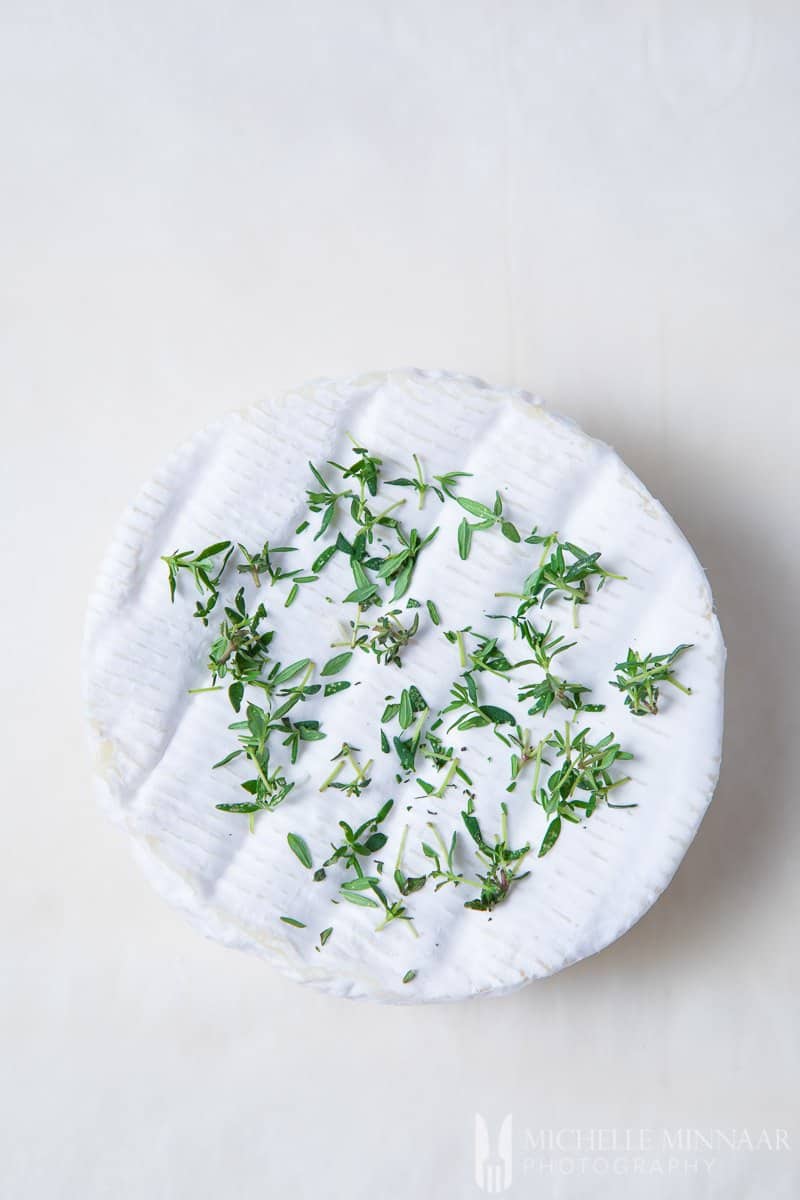 Young: 35 days or more before the Use By Date – Texture: firm; Flavour: light and fresh
Ripe: Between 20 and 35 days before the Use By Date – Texture: soft and melt-in-the-mouth; Flavour: distinctive
Mature: 20 days or less before the Use By Date – Texture: creamy and soft; Flavour: pronounced
If you don't fancy the distinct flavour of mature cheeses, then I highly recommend you start with a young camembert. We all know that the aroma of a mature camembert can be overwhelming at times. In fact, the French purchase special cheese containers to store the camembert. Do you have one at home? If you are a regular cheese eater, you'll need to procure one of these containers.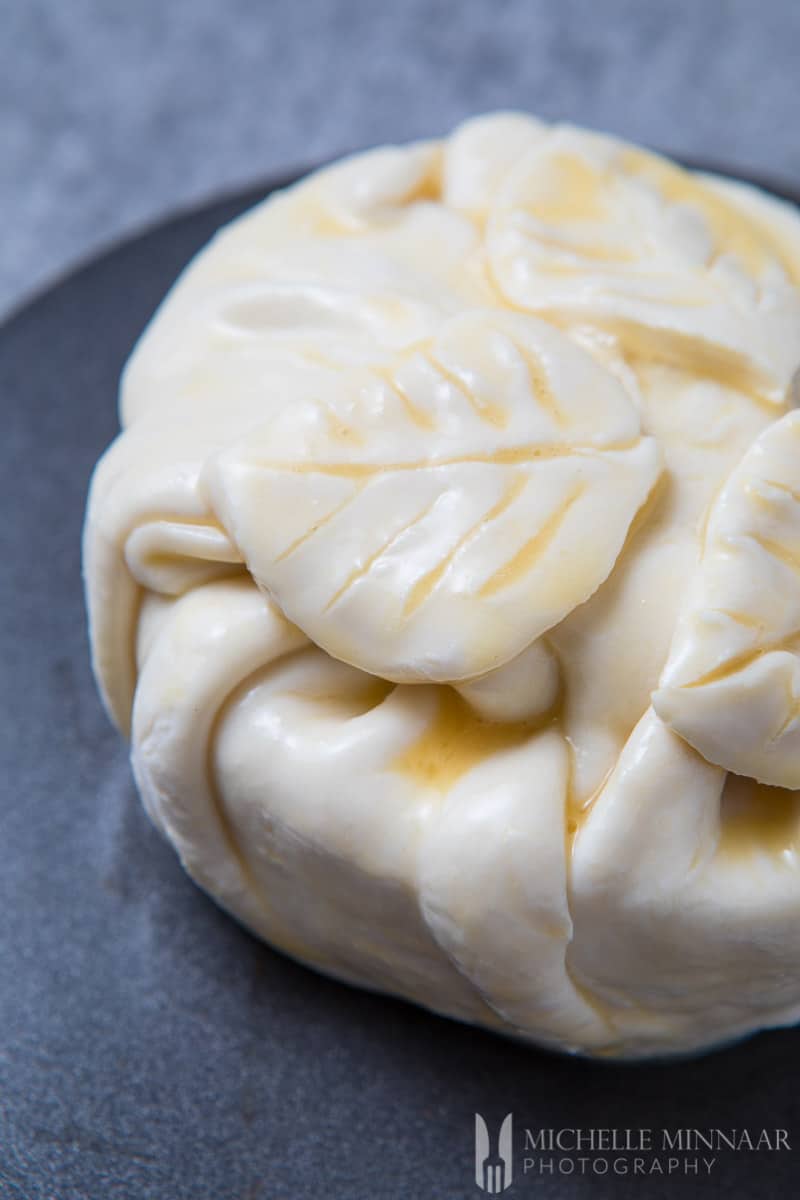 camembert substitutes
There are plenty of cheeses that you can also use if you don't come across a camembert. The best substitutes for camembert is a good brie. There are a couple of different types of bries which also fall into different strength categories. So, depending on your taste buds, get the strength that you enjoy eating!
Luckily, Le Rustique offers an excellent Brie with average strength. This is a great choice for those who don't know whether they prefer mild or very strong cheeses. So it's the ultimate compromise.
They produce it at the Benestroff dairy in Lorraine, France. The Brie matures and develops its typical, slightly oniony flavor with a creamy texture. Once you slice into it, it is mild and almost buttery. The Le Rustique Brie comes in several formats, whether it be a whole wheel of Brie or a slice. My advice is to stick to the wheel of Brie so that you can replicate this recipe with a baked Brie en croute.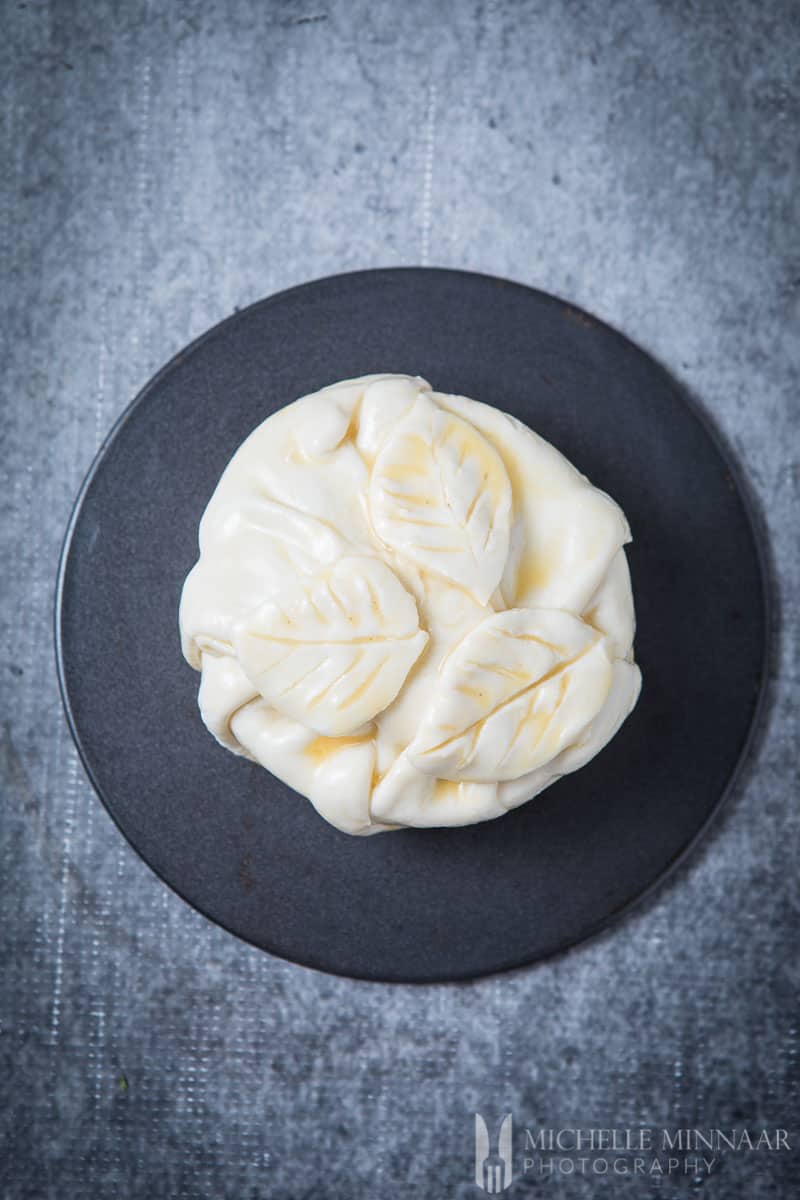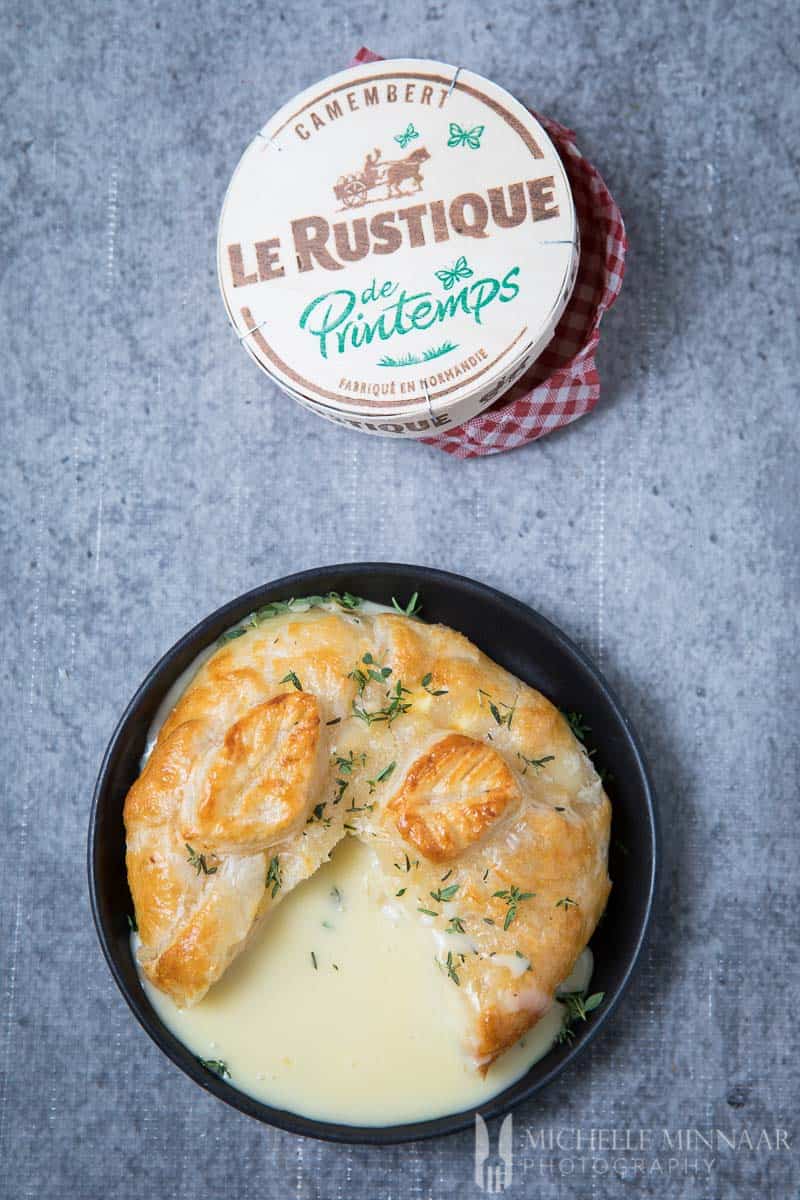 the pastry
You need to either make your own puff pastry or buy a pre-made version. To save time, I usually opt for the store bought version. So, first you need to place the camembert wheel in the center of the puff pastry then sprinkle the cheese top with thyme. This way, the thyme flavours infuse throughout the entire camembert en croute during the baking process. Next, fold the pastry up to cover the cheese and trim the excess pastry.
As always, I hate food waste so I love using the excess pastry to decorate the camembert en croute. In short, you can easily involve your children and involve them in the creative process of cooking. What a fantastic way to educate your children about cooking and get them excited about food! Once you finish decorating the puff pastry, remember to brush it with an egg. An activity which you can also pass on to your kids.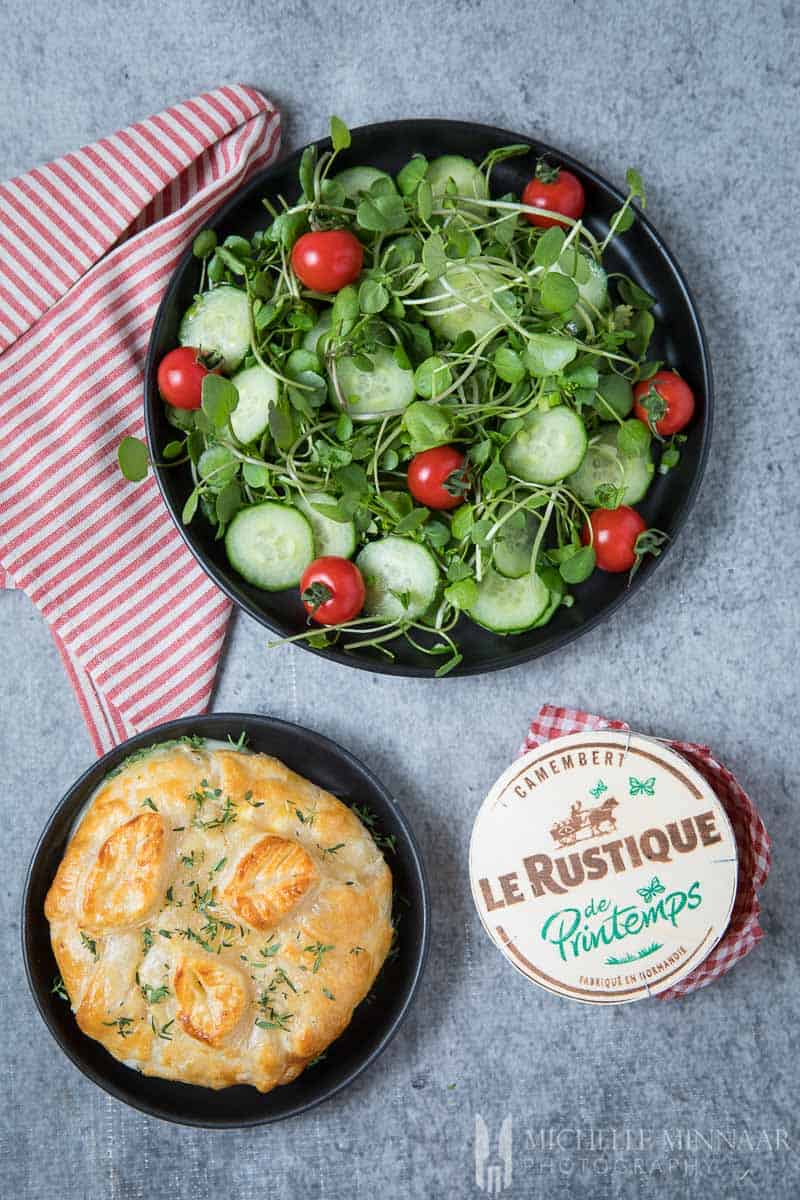 serving
Leave the camembert en croute in the oven for about 20 minutes until it's golden and crisp. Take it out and give it roughly five to ten minutes to cool down before you cut into it. While you wait, I recommend making a fresh simple watercress salad with the cherry tomatoes. You can inspire yourself with a delicious watercress salad I've made before. Find it here. Lastly, you will need cranberry jam or lingonberry jam for that sweetness to go with the camembert en croute.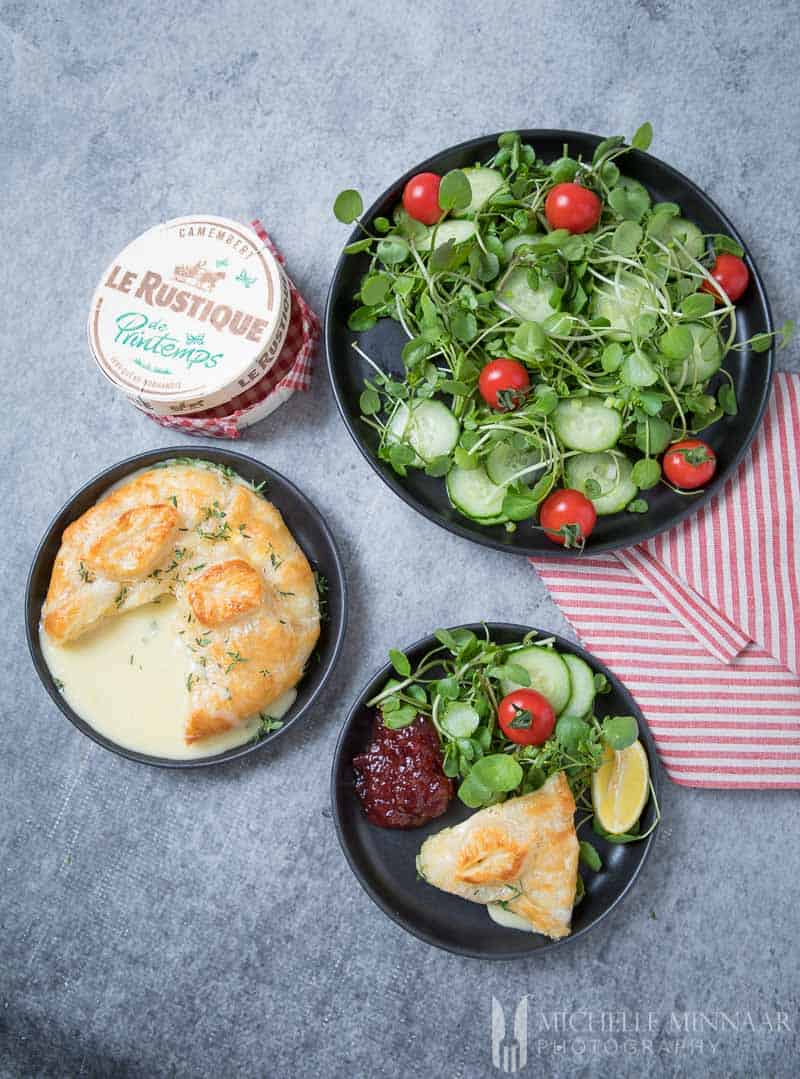 camembert recipe
If you've purchase too much camembert or you have leftover, you can always make camembert on toast. Otherwise, use the extra camembert for a rich camembert sauce like this one.
What is your favourite way to enjoy Camembert?
Print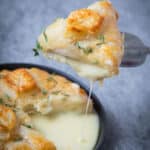 Camembert en Croute
---
Author:

Michelle Minnaar

Prep Time:

10 minutes

Cook Time:

20 minutes

Total Time:

30 minutes

Yield:

6

1

x
Description
Camembert en croute is a whole wheel of camembert wrapped in puff pastry and sprinkled with thyme. It is best enjoyed with a tangy and fresh side salad and a cranberry or lingonberry jam. Check out this post to find out more information on the different types of Camemberts and other cheeses you can use as substitutes.
---
Scale
Ingredients
320g

(¾ lb) puff pastry sheet

250g

(½ lb) whole camembert wheel

1

egg, whisked

180g

(6oz) watercress salad, washed

18

cherry tomatoes, washed

90

ml (6 tbsp) cranberry jelly
---
Instructions
Preheat the oven to 200

°C

/390

°F

/gas mark.

Roll out the puff pastry on a floured surface.

Place the camembert wheel in the center of the puff pastry then sprinkle the cheese top with thyme.

Fold the pastry up to cover the cheese. Trim the excess pastry, which can be used to decorate the pastry.

Brush the pastry with the egg.  

Place the cheese on a baking tray and put it in the oven.

Bake for 20 minutes or until the pastry is crisp and browned.

Wait for the cheese to cool down for about 5-10 minutes before cutting and serving with watercress salad.
---
Notes
In the unfortunate event that there is a spillage of oozing cheese, best use a baking tray with edges.
Category:

Main Course

Cuisine:

French
Nutrition
Serving Size:

1 serving

Calories:

521

Sugar:

10.6 g

Sodium:

558 mg

Fat:

33.2 g

Saturated Fat:

12.7 g

Carbohydrates:

39.6 g

Fiber:

5.5 g

Protein:

17.7 g

Cholesterol:

61 mg
save the recipe to your pinterest board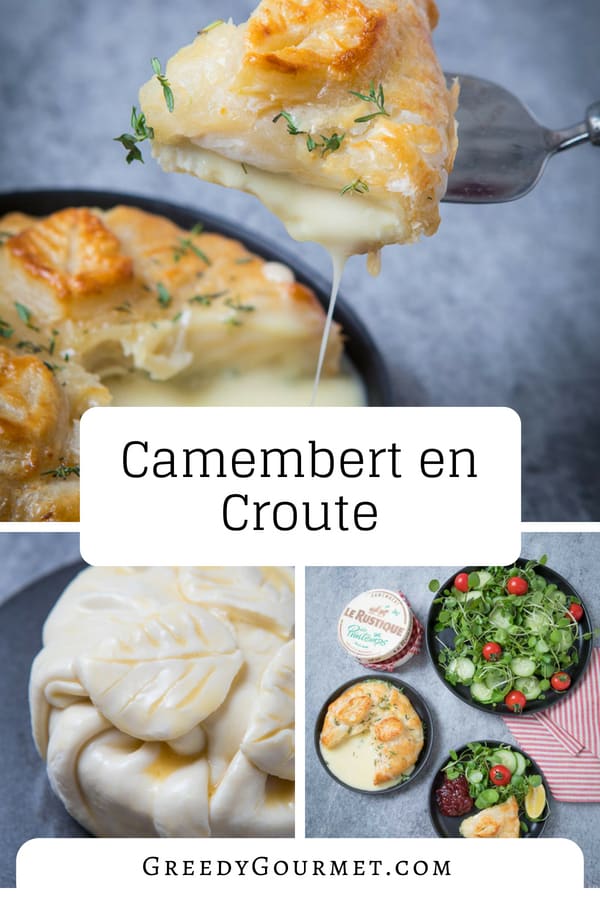 P.S. This is a sponsored post.