This quick and easy creamed leeks recipe is the perfect side dish for any roasted meat and a superb main meal choice for vegetarians.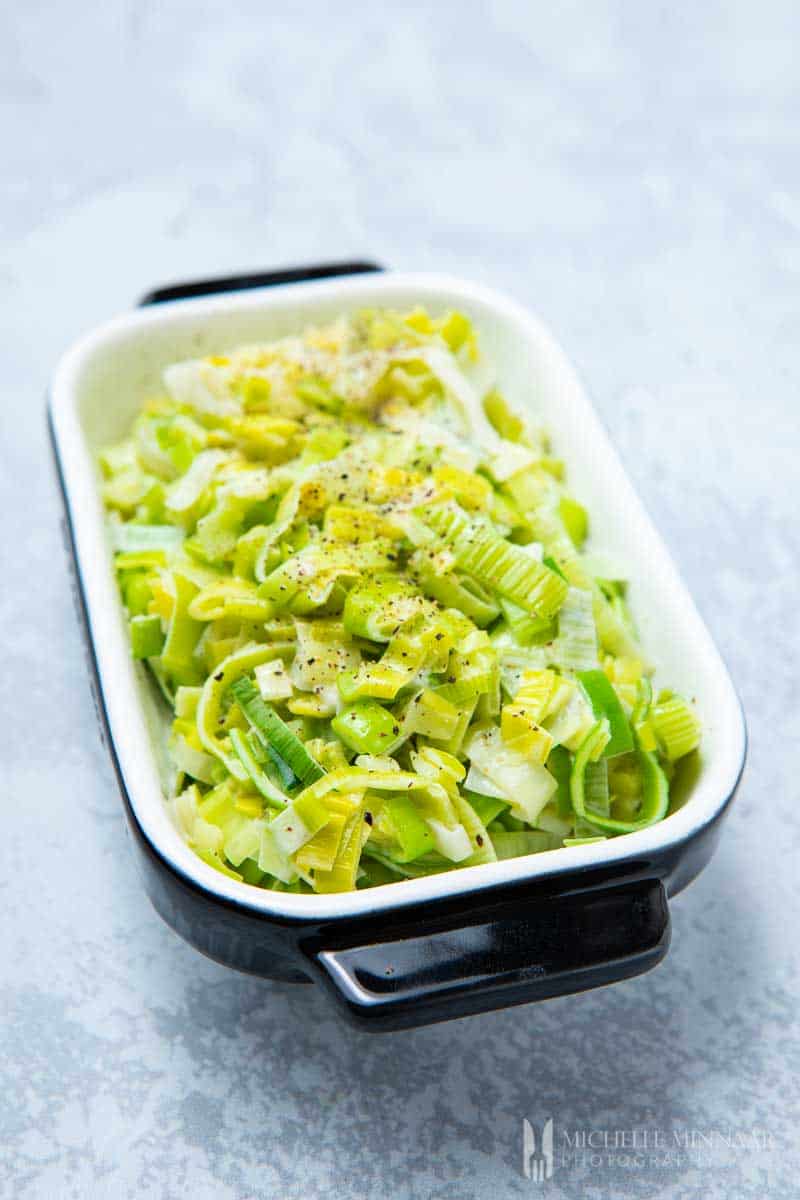 In addition, cooking with such a humble and healthy ingredient like leeks, you are bound to have an excellent result. There are many ways in which you can spin this tasty creamed leeks recipe.
You can experiment and make creamed leeks and peas, or creamed leeks and cheese and much more. The best part is, you can also substitute the cream with either a low-fat alternative or non-dairy vegan element.
Serve the creamed leeks hot, but you can also serve them cold as a side dish. Double up in portion size if you wish to enjoy them as a main course. Enjoy!
creamed leeks – easy recipe
Before you get into cooking these stellar creamed leeks, let me introduce leeks to you properly. I feel like this ingredient is often underrated.
So, besides letting the ingredient shine in the creamed leeks recipe, check out some detailed information on leeks. I have a feeling you might be surprised by some facts.
Leeks are known scientifically as Allium Ampeloprasum and belong to the garlic, onions, shallots, and scallion family.
They look like large scallions with a very small bulb and a long white stalk of layers that turn into green, tightly wrapped, flat leaves.
While the commercially grown leeks have a fragrant, yet sweet and subtle flavour, their wild counterparts have a stronger, more intense flavour. The flavour in leeks is concentrated in the lower leaf and bulb portion.
They are available throughout the year and are in season from autumn through to early spring, when they are at their best.
By the way, if you've got leftover leeks, use them in a tasty chicken and leek risotto for later! Or try this zucchini and leek soup.
healthy creamed leeks
Leeks contain many sulphur compounds. They also contain an impressive amount of polyphenols, including the flavonoid "kaempferol".
The sulphur found in leeks play an important role in supporting our body's antioxidant and detox systems and the formation of our connective tissue.
An excellent source of vitamin K, leeks are packed with manganese, vitamin B6, copper, iron, folate and vitamin C. Leeks are also a good source of vitamin A, in the form of carotenoids, dietary fibre, magnesium, vitamin E, calcium and omega-3 fatty acids.
The folate found in leeks is partly present in the bioactive form of 5-methyltetrahydrofolate (5-MTHF). The latter is the active form of vitamin B9 the human body can actually use, instead of a synthetic folate or folic acid.
If you've bought too many leeks, you can reuse them in these delicious leek recipes:
history and origins
Leeks have been cultivated since the time of the Ancient Egyptians. Dried specimens from ancient sites, as well as wall carvings and drawings, show that the leek was a part of the Egyptian diet from around the 2nd millennium BC.
The leek was the favourite vegetable of Emperor Nero, who consumed it most often in soup. Nero got through so many that he gained the nickname "Porophagus" (leek eater).
In fact, according to Pliny's "Historia Naturalis", Nero ate them prepared in oil, believing it would aid in maintaining the clarity of his voice.
The Phoenicians are said to have been the first to bring leeks to Britain when trading tin with the Welsh where it soon became part of the staple diet.
The British Isles elevated this simple garden-variety plant to a much higher status as the national symbol for Wales.
Welsh national symbol
In about AD 640, when the Saxons were fighting the Welsh, King Cadwallader told his Welsh soldiers to wear leeks as a badge to distinguish themselves from their blood-thirsty opponents.
To this day, the Welsh still wear a leek or a representation of one in their hats. When in war, leeks were thought to have aided in victory.
Wales' association with leeks was recorded by William Shakespeare, in his play Henry V.
"Your majesty says very true: if your majesties is remembered of it, the Welshmen did good service in a garden where leeks did grow, wearing leeks in their Monmouth caps; which, your majesty know, to this hour is an honourable badge of service; and I do believe your majesty takes no scorn to wear the leek up Saint Tavy's day."
The French called it the "Asparagus of the Poor" until one of France's own, Chef Louis Diat, at New York's Ritz-Carlton Hotel at the turn of the century, created the famous dish based on a traditional recipe used by his mother and named it after his hometown, Vichy. Vichyssoise, a cold soup made of leeks and potatoes, is now a world celebrated classic dish.
insect repellent
The juice of the plant is used as a moth repellent and the whole plant is said to repel insects and moles. Leeks are believed to be a diuretic and a blood building agent. Wild leeks have medicinal properties similar to that of wild onion.

how to prepare leeks for cooking
To prepare leeks for cooking, cut off the tough roots at the base and any tips of the leaves that are browned or look unhealthy. I prefer to cut them lengthways and separate the leaves, then wash them individually.
I don't enjoy the possibility of eating sand; leek leaves can trap a lot of the stuff. Slice the leeks to your desired thickness. Generally, they are sliced across the grain for use in recipes.
To enhance the flavour leeks are always sautéd in butter, even before adding them to soups and stews. Oil is added to the melting butter to stop the butter from burning.
variations of creamed leeks
There are so many variations you can make with this easy creamed leeks recipe! That's the beauty of cooking with such a versatile ingredient. Just check them out below!
creamed leeks and cheese
Leeks pair beautifully with any cheese you can think of. You can mix some blue cheese into this creamed leeks recipe, heating it just enough to melt the cheese into the cream.
Hard or soft blue cheeses work well with leeks especially Gorgonzola, Roquefort, Cambozola, Stilton and Dolce Latte.
Try using leeks in pies with potato and Roquefort cheese.
Crumble Feta or goat's cheese on top of the leeks when serving.
Fromage fort (strong cheese) is a similar concept to the English potted cheese.
This recipe uses bits of hard cheese, soft cheese, blue cheese, garlic and white wine. However, use a smaller proportion of blue cheese than the other cheeses, otherwise it will overwhelm the other flavours.
It may also be known as Trois Fromage, meaning three kinds of cheese. Also, you can never go wrong with your daily household cheeses, Cheddar and Gouda.
creamed leeks and peas
For a little bit of sweetness, you can sweeten up this creamed leeks recipe with peas. The best options include using fresh peas, but you can also use frozen.
creamed leeks and cabbage
For a more hearty or filling portion, you can also cut up some cabbage and toss it into the creamed leeks. You might have to add a bit more cream.
creamed leeks and spinach
This is possibly one of my favourite combinations. It's an excellent way to make these creamed leeks even healthier by adding some baby spinach. You can also use normal spinach. Leave some fresh for a topping as well.
creamed leeks and bacon
For those who like a bit of meat, I haven't forgotten about you. You can also slice up some bacon and toss it into the creamed leeks. Just inspire yourself with my broad beans recipe here.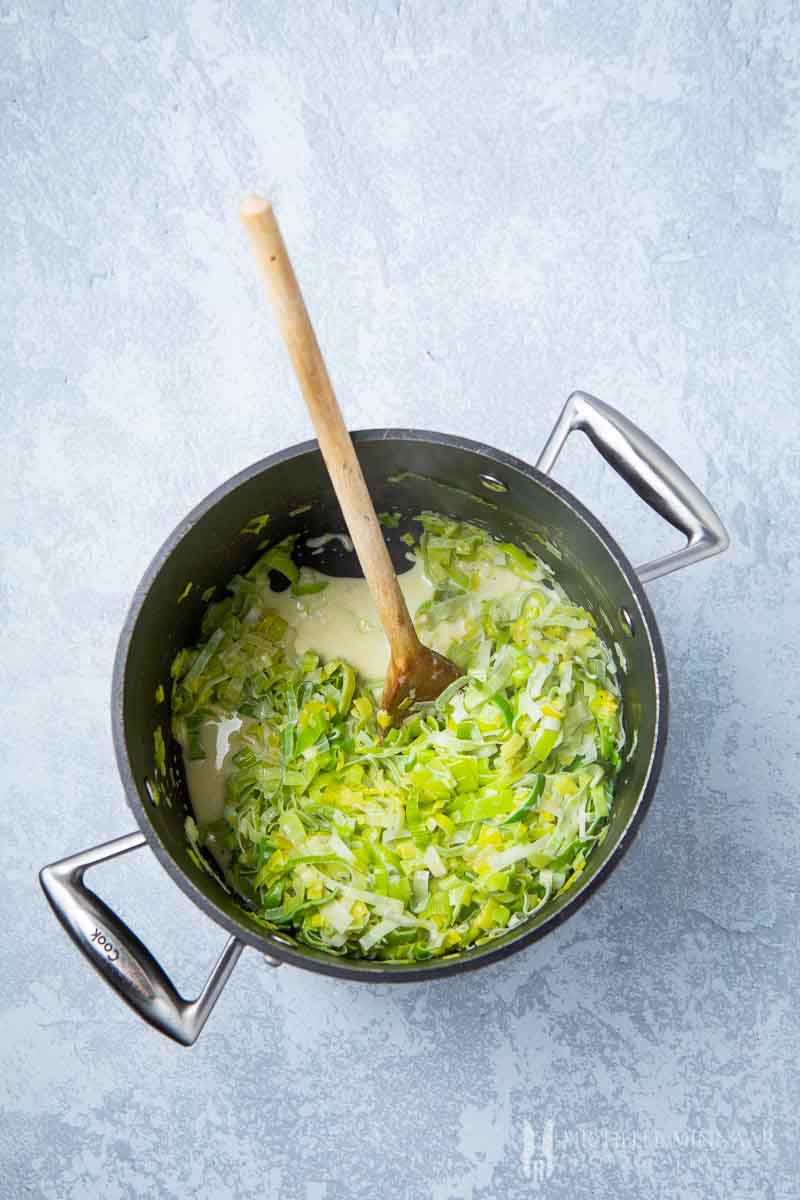 substituting the double cream
For various reasons, you may need to substitute the double cream in this creamed leek recipe.
The high-fat content of double cream makes it excellent for whipping and using in cooked dishes as it does not separate easily and tastes delicious.
The flavour and texture of the creamed leek may be slightly different than you would get using heavy cream.
A substitute must enhance the flavour of the dish and not clash with other ingredients so some experimentation may be required. None of these substitutes will whip like heavy cream.
You can also use cream in these creamy recipes:
Here are some cream alternatives you can use:
Single Cream
Milk & Butter
Skimmed Milk
Tofu & Soy Milk
Cottage Cheese & Milk
Chilled Evaporated Milk
Greek Yoghurt
Low-fat Cream Cheese
creamed leeks with white wine
For a bit of zing, you can add a little bit of white wine for slight acidity. Use dry white wine. Add to your preferred taste.
herbs and spices to pair with leeks
Leeks are relatives of onions and garlic, but they have a milder taste than either of them. Pair them with bay leaf, celery salt, dill, mustard, nutmeg, paprika, parsley, sage and thyme.
Looking for more side dish inspiration? Check out the recipes below:
Print
Creamed Leeks
---
Description
Creamed leeks are very simple to prepare. This leek recipe entails frying the leeks in butter and oil and finishing it off with cream. An amazingly creamy leek side dish that complements almost any type of meal!
---
2

leeks, washed

15

ml

(1 tbsp) butter

5

ml

(1 tsp) oil

100

ml

(3 oz) double cream
Salt and pepper, to taste
---
Instructions
Cut the whole leeks into 1cm (½ inch) slices.
Melt the butter in a frying pan and add the oil.
When the butter starts sizzling, add the leeks and continue cooking, stirring frequently, until the leeks have softened.
Add the cream and let it bubble for 1 minute.
Season to taste and serve immediately.
Prep Time:

10 minutes

Cook Time:

15 minutes

Category:

Side Dish

Method:

Pan Fry

Cuisine:

French
Keywords: creamed leeks, leek recipes, creamy leek side dish
save the recipe to your pinterest board