Hollandaise sauce is one of those dishes which you can add to any meal that will enhance a meal in many ways. For example, hollandaise sauce goes hand in hand with a luxury hotel-style breakfast. Any guesses which one I mean? You're right. It's my favourite breakfast ever – eggs benedict. This rich and creamy sauce sounds intimidating but is not so difficult to prepare. It does have a reputation to split really easily, especially if you're impatient, but this shouldn't discourage you from making it!
It took me a while before I became confident enough to attempt it. If you follow all the steps really slowly and whisk for your life you will be fine. Devouring freshly made hollandaise sauce makes a huge difference in terms of taste. Give it a whirl and dare to be pleasantly surprised. Honestly, I think it sounds and looks much harder than it is. Good luck!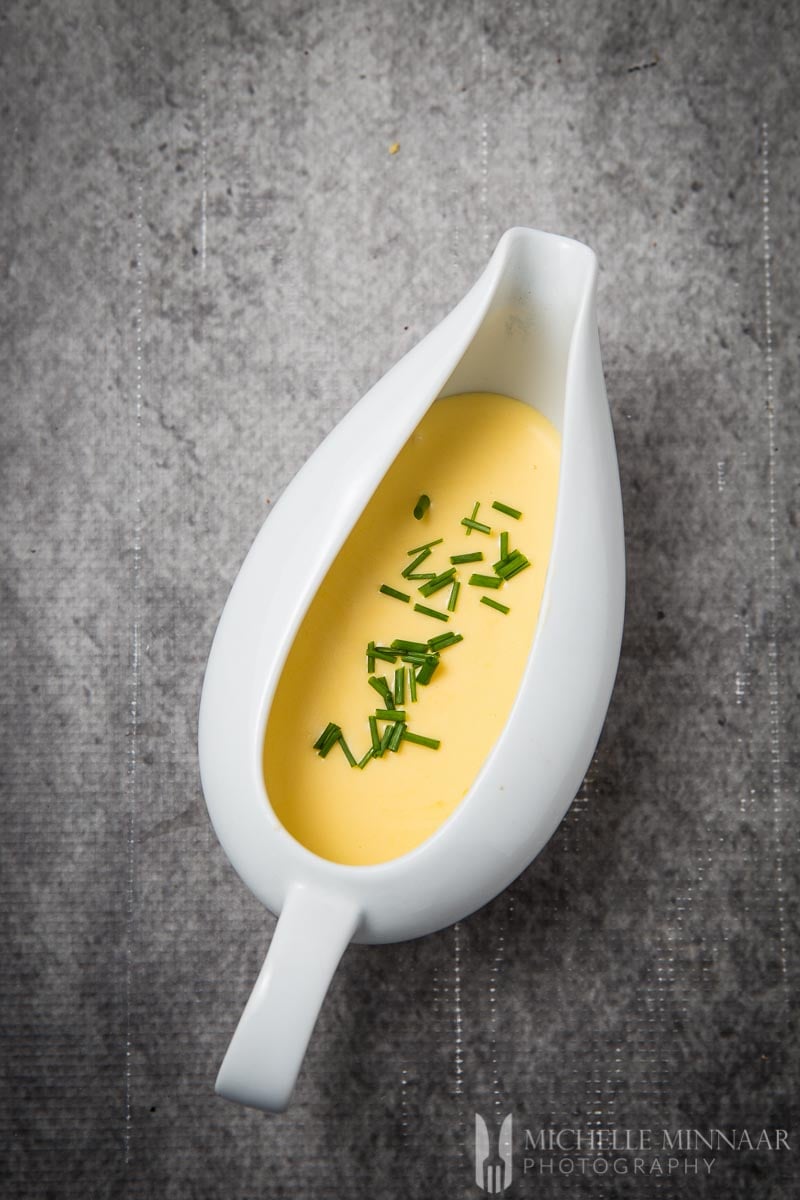 hollandaise sauce definition
What exactly is a hollandaise sauce? 'Hollandaise' is the French word for Dutch, so it's also generally known as a Dutch sauce. More precisely, hollandaise sauce is an emulsion of water, melted butter, egg yolk and lemon juice. It is also very common to substitute the lemon juice with white wine vinegar or even with just white wine to add more flavour and acidity.
Speaking of flavour, you use the usual salt and pepper to season the hollandaise sauce. For a more refined sauce, it's better to use white pepper and at a bit of cayenne pepper or paprika. With all these ingredients inside, you'll discover just how rich, silky and fragrant the hollandaise sauce can be. Why do you think it works with so many delicious recipes such as eggs benedict?
history
Since the hollandaise sauce is also known as Dutch sauce, you might think that it originated in the Netherlands. However, it appears that the French are receiving most of the credit for inventing hollandaise sauce. It all started at the beginning of the 17th century, back when early French Christians were sent away from France. These people fled to Holland at the time. While they were there, they seem to have experimented with sauce making and tried many combinations. So much so, that when they came back to France, they boasted about new techniques how to make a new delicious sauce.
Next, hollandaise sauce made its first appearance in the mid-17th century in the book called 'Cook Francois' or 'Le Cuisinier Francois' in French. It was found in a recipe which was titled 'asparagus with fragrant sauce'. This fragrant sauce of course turned out to be our favourite, hollandaise sauce. After that, there were many versions of the hollandaise sauce popular in France. These developed into other types of sauces such as the béarnaise sauce; a similar emulsion of butter and yolk, but also with tarragon.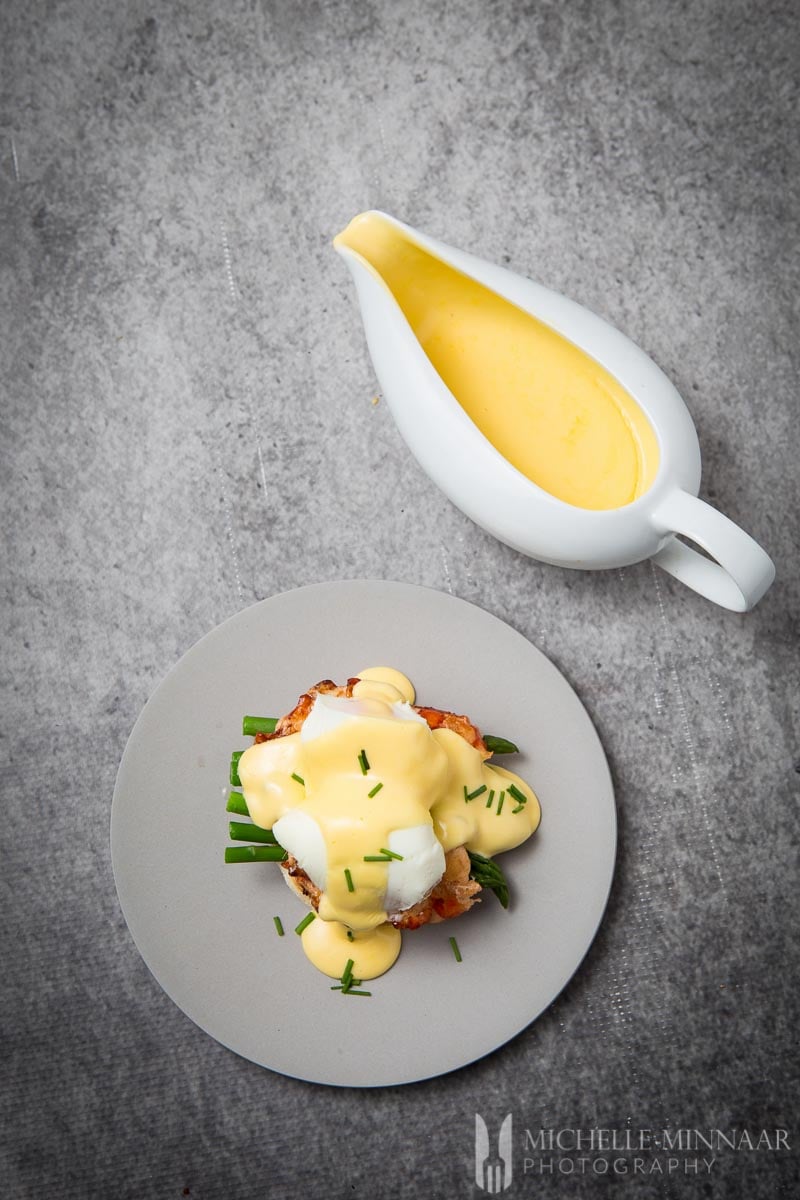 the process
My main recommendation is to follow the recipe closely. First, you need to make sure that you've got melted butter in a sauce pan. You can melt it via microwaving it until it is a runny liquid. Keep the butter warm. Next, you'll need to create a bain marie with the egg yolks, lemon juice and water. This means placing a bowl over a pan with simmering water. You should really make sure that the water is simmering, as this will emulsify the ingredients.
You'll be the regulator of the amount of heat the hollandaise sauce gets. Check whether the eggs start to get frothy and start to increase in volume. This is a good sign because it means the hollandaise sauce is thickening. If the eggs seem to be cooking too fast, place the bowl in a bigger bowl of cold water to cool the bottom, then continue with the process. The hollandaise sauce needs to be hot enough to eliminate any bacteria in the egg yolk. However, if it's too hot, it will curdle and turn into buttery scrambled eggs! So, keep a close eye on the sauce and regulate the temperature well. Also, always remember to keep whisking!
Once you finish, you should a lovely smooth sauce. Taste it with the tip of your finger and season accordingly. Needless to say, you need to serve it immediately as it is best warm.
broken sauce
First of all, if this happens don't panic! It happens to the best of chefs out there. Besides, there are plenty of things that can rectify the situation. A handy trick is to keep an ice cube close to you at all time. Some people say, that if the sauce starts breaking, a little ice cube can bring the sauce back together. I have also heard that also adding a couple of teaspoons of boiling water sometimes do the trick. Quite the contrast, don't you think? I think this depends on the quality of the butter and the circumstances.
Another winning strategy is putting another egg yolk in the mixture and whisking it in very slowly. Experiment and see what works for you. It's a good idea to have more eggs as backup. This way, if I completely screw up the sauce I'll have enough eggs to make a second one.
serving
The obvious combination here is eggs benedict. You can also serve hollandaise sauce with another luxury breakfast recipe, such as oeufs en cocotte. You can also enjoy hollandaise sauce with fish or even lobster and other seafood. Lobster benedict is a luxury to serve and just thinking about it makes me salivate. Another excellent combination with hollandaise sauce is asparagus, especially with white asparagus. Just sprinkle some chives on top and you've got a delicious and luxurious meal.
For other types of sauces that are similar, you can also try there below:
Print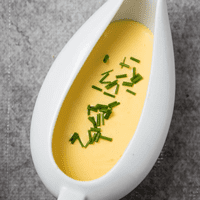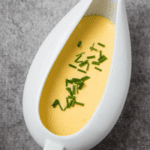 Hollandaise Sauce
---
Author:

Michelle Minnaar

Prep Time:

5 minutes

Cook Time:

5 minutes

Total Time:

10 minutes

Yield:

8

1

x
Description
Hollandaise sauce might seem intimidating but patience paired with a lot of whisking you can enjoy a luxurious breakfast such as egg benedict in no time.
---
200g

(

7 oz

) unsalted butter

3

egg yolks

15

ml (1 tbsp)  water

15

ml (1 tbsp)  fresh lemon juice

1.25

ml (¼ tsp) cayenne pepper
Salt and white pepper, to taste
---
Instructions
Melt the butter in a saucepan and skim any white solids from surface. Keep the butter warm.
Put the egg yolks, lemon juice and water in a metal or glass bowl that will fit over a small pan. Whisk for a few minutes then put the bowl over a pan of barely simmering water and whisk continuously until pale and thick, about 3-5 minutes.
To moderate the heat, frequently move the pan off the hob for a few seconds, and then back on.
As they cook, the eggs will become frothy and increase in volume, and then thicken.
Slowly whisk in the melted butter until it's all incorporated and you have a creamy hollandaise sauce.
Season with cayenne pepper and salt and serve immediately.
Notes
Lemon juice could be substituted by white wine vinegar.
If the eggs seem to be cooking too fast, place the bowl in a bigger bowl of cold water to cool the bottom, then continue with the process.
Category:

Sauce

Cuisine:

French
Nutrition
Serving Size:

1 serving

Calories:

200

Sodium:

148 mg

Fat:

22 g

Saturated Fat:

13.5 g

Protein:

1.3 g

Cholesterol:

132 mg
save the recipe to your pinterest board