Remember when I published a luxury style hotel breakfast with my oeufs en cocotte? Well, this lobster benedict takes the cake! If you serve this to some guests over breakfast or brunch, you will literally blow their minds away. It's not every day, that you get to eat a special ingredient like lobster. Even if you make the classic version of eggs benedict with a fresh hollandaise sauce, the lobster just triumphs above everything.
Lobster benedict is an excellent idea if you want to pleasantly surprise someone over a birthday, an anniversary or if you have excellent taste in food. It's not as hard to prepare is it might appear at first. Cooking time is roughly twenty minutes. In my opinion, the poaching of the eggs is probably the most difficult part of the recipe. I think it's even harder than making the hollandaise sauce to top it with. So, who will you serve this lobster benedict to? Perhaps for yourself as a breakfast in bed!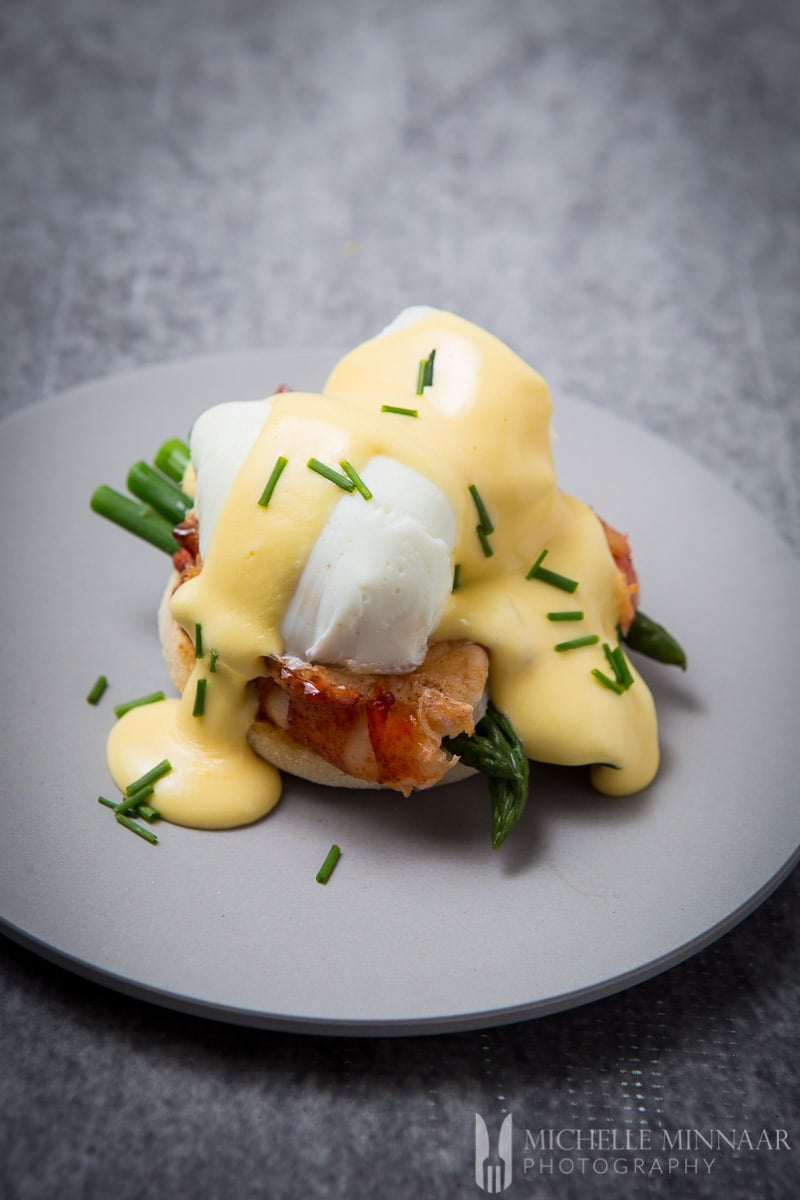 lobster benedict with Juliettes Interiors
I am sure any breakfast, even this lobster benedict, tastes better after an amazing night of sleep. Think about the last time you had a good night's sleep and you woke up feeling happy and full of energy. Unless you have a good mattress, it's been a while. Thank goodness that Juliette's Interiors made it possible for us to find high quality mattresses that will guarantee a good night's sleep .Juiliettes Interiors specialises in residential, high end, luxury interiors and property. Their services range from supplying a single item of furniture to property build and development. Operating since 2006, Juliette's Interiors has staff who are specialists in sourcing hard to find high-end luxury furniture and accessories. What better way than to enjoy your luxury style lobster benedict, than in your very own luxurious bed.
Speaking of beds and luxurious breakfasts, why don't you check out their selection of luxury beds? Makes you want to redecorate your whole house, doesn't it?
benefits of having a great mattress
Don't underestimate the power of a high-quality bed when it comes to sleep and your health. There are a couple of benefits to having an amazing bed with mattress. Some of which include:
less stress
no midnight wake ups
increased durability
less back pain and so on and so forth
You will actually look forward to getting into bed all day. So, if I had my way I would pick this bed frame, the modern taupe luxury upholstered bed. Looks extremely stylish, modern yet traditional somehow – a bed for royalty. The bed frame is elegant, simple and neutral and can match with numerous colours for bed sheets. Next, I'd get the hypnos regency supreme mattress. The mattress of course is much more important for a good night's sleep. It looks super comfortable and if I owned this mattress I think I'd never leave my bed again.
Why don't you have a look through their selection and see what you like? Their products are really high-end and won't easily find on the high street.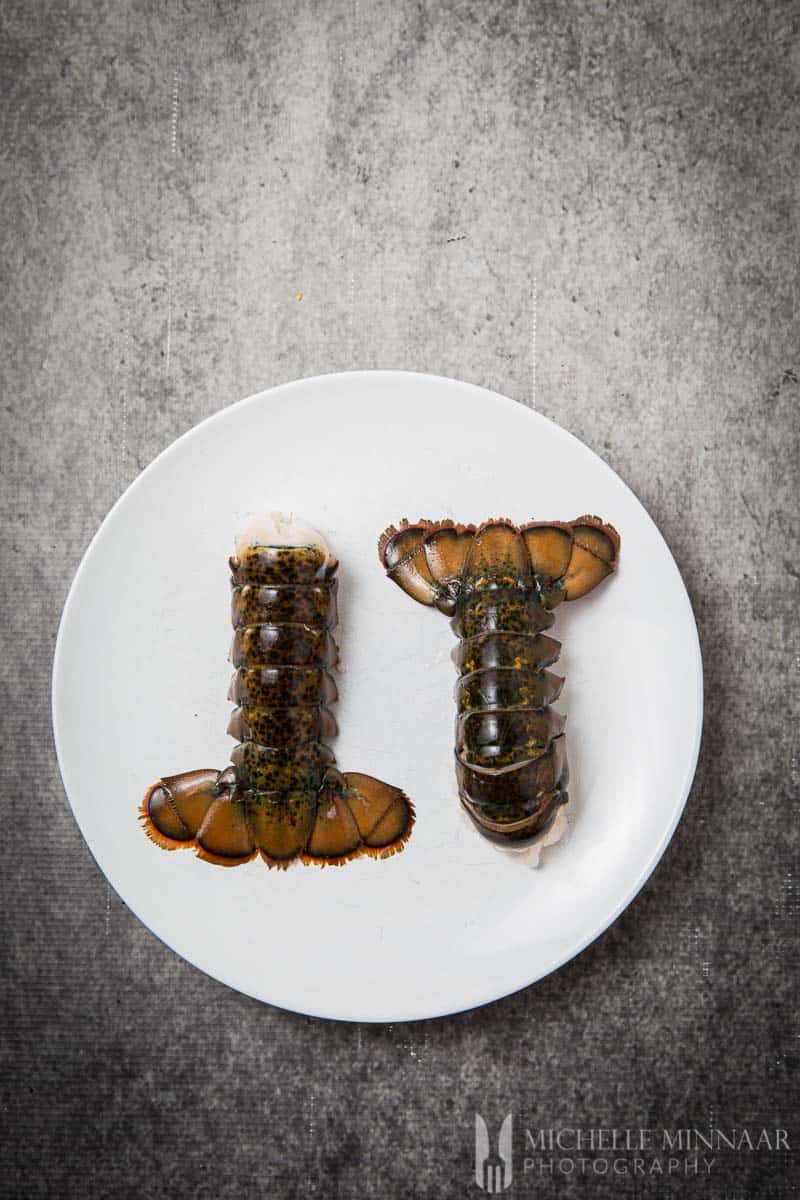 lobster tails
Lobster benedict will be a great addition to when you wake up in your luxurious bed. It's not one of the easiest ingredients to find out there, so you'll have to go to the fish market. Alas, but this time my fishmonger didn't have any in stock but in the back of my mind I remembered Iceland had lobster tails, which worked just as well.
There are two types of lobsters out there, warm and cold water lobsters. The basic visual difference is that the cold water ones have the traditional front claws while the warm water ones don't. In contrast, the warm water lobster has appendages, or what I like to tell my kids 'lobster antlers'.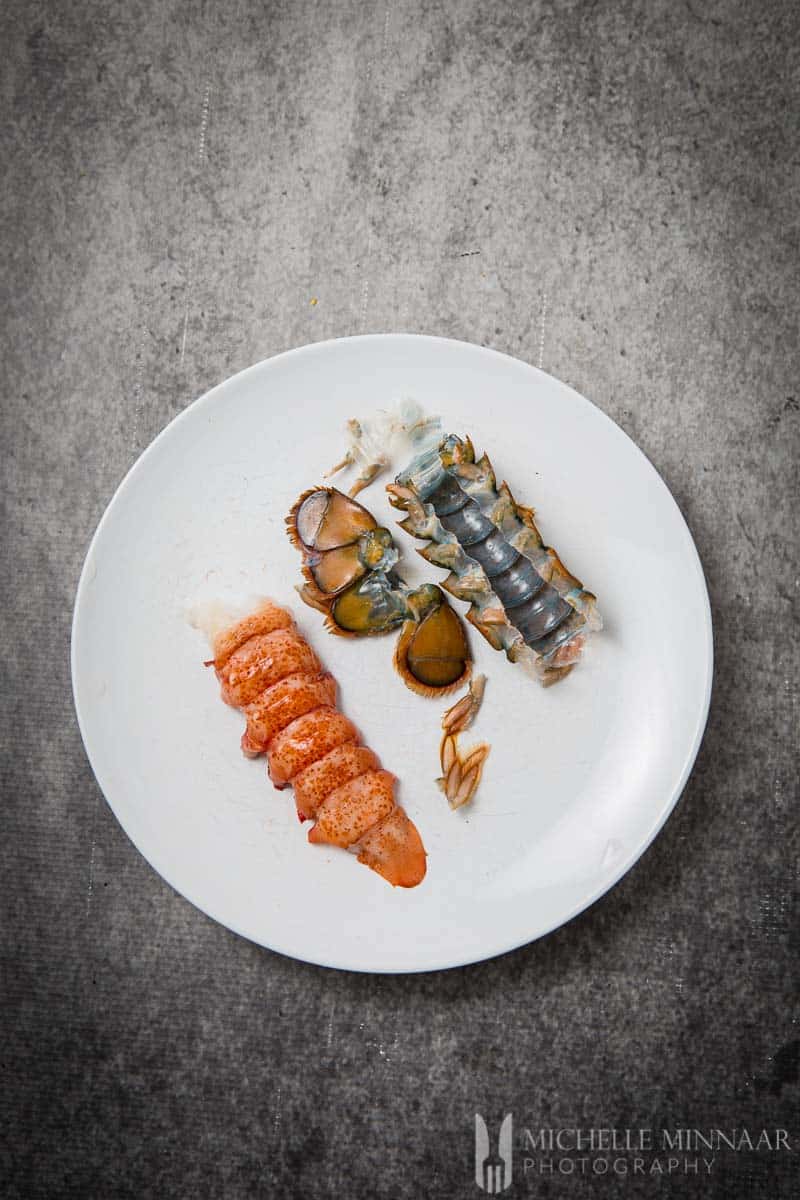 Lobster tails are usually come from warm water lobsters. So, they could be shipped from the Caribbean, Australia, South Africa or the Pacific. They are all unique but it's generally quite hard to determine the exact species unless you're an expert.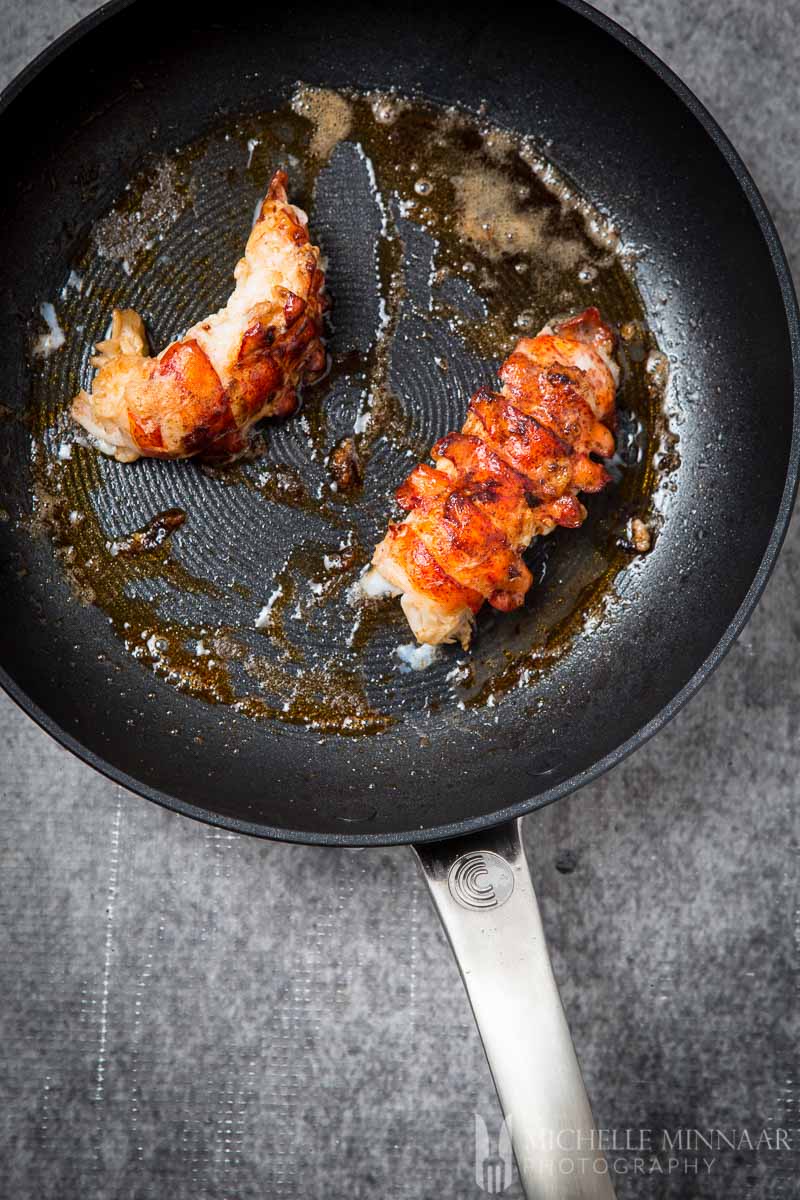 cleaning the lobster tails
First, you'll have to devein the tail. Unless, you bought a pre-cooked ready lobster tail, which might be the easiest solution if don't want too much hassle. Next, butterfly the tail and use a sharp knife to remove the vein. Brush the lobster meat with some oil or butter and cover the tail with foil. This little trick keeps the lobster tail from becoming tough and dry. This way, your lobster benedict will truly be enjoyable.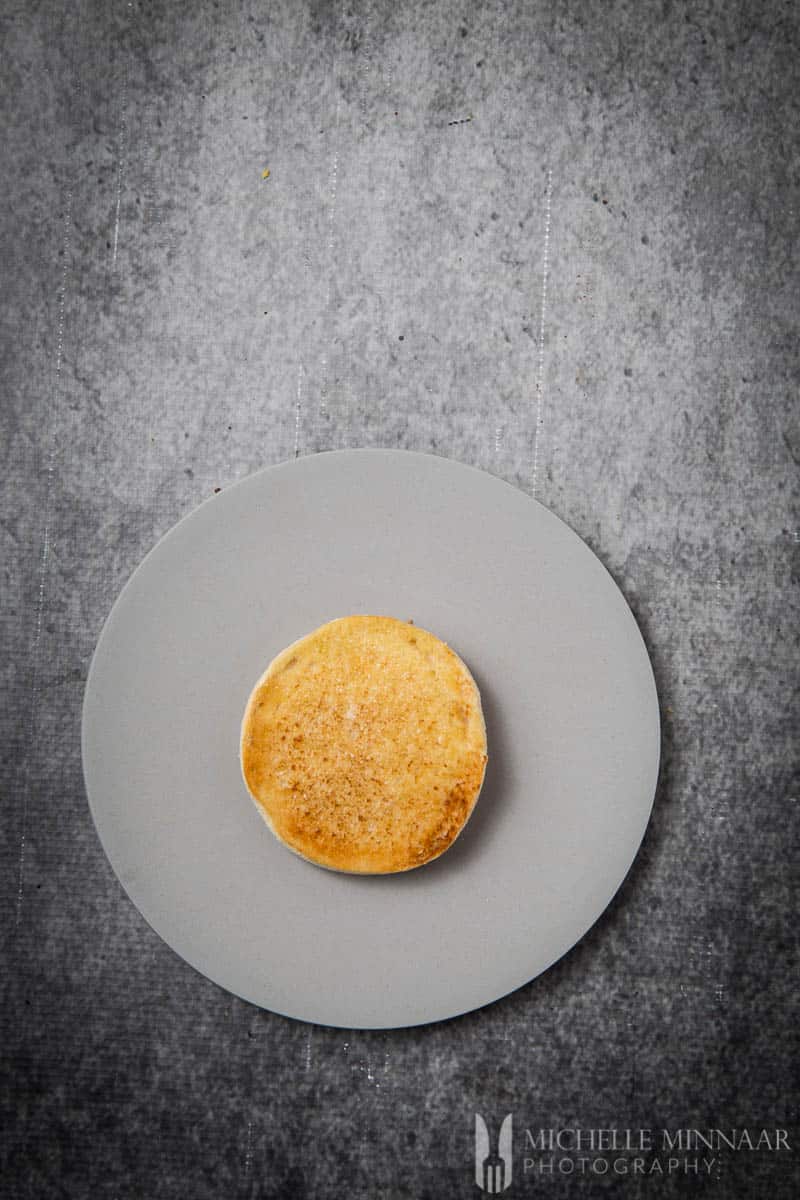 Also, remember not to throw out the shells. You can use the shells for some lovely lobster broth. When you caramelise lobster shells, you extract amazing flavours. Plus, it's a great way to be sustainable and ensure you have minimum waste in the kitchen. Besides, how often do you make a lobster broth or bisque?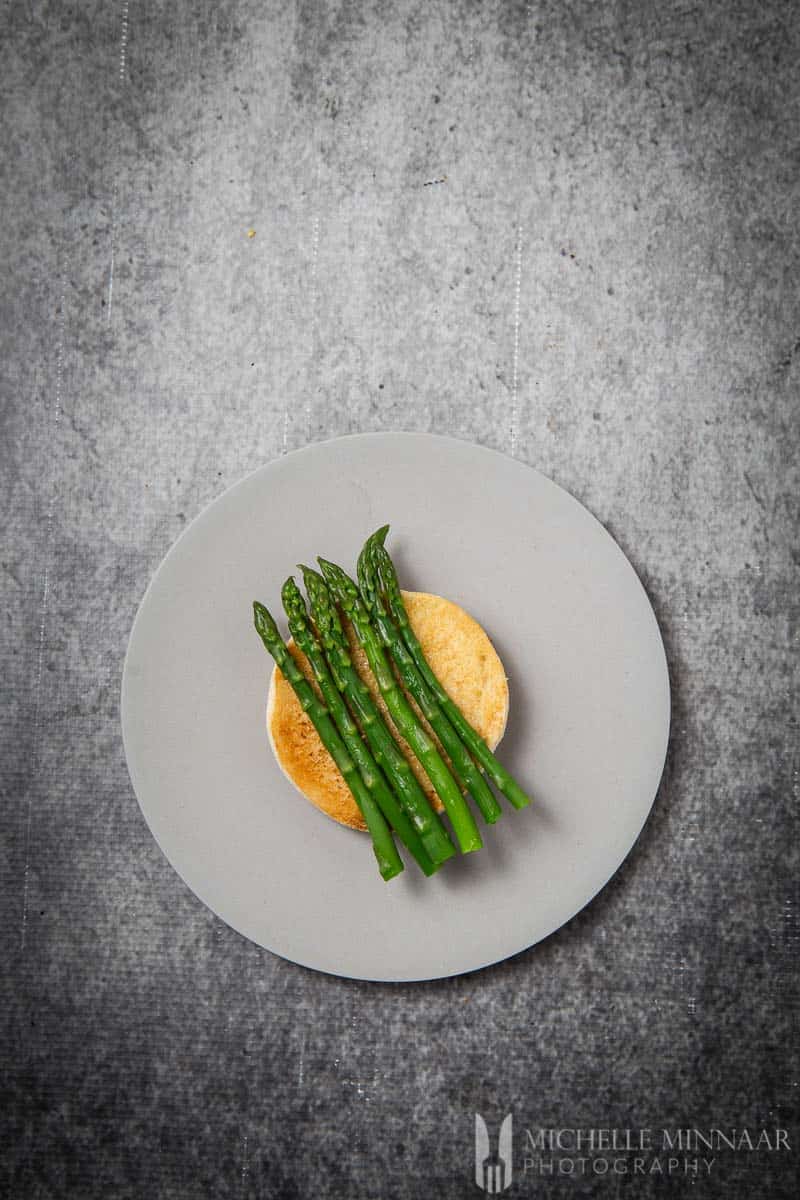 how to poach an egg
Ever wondered how to poach an egg for this lobster benedict? This is definitely not my forte, me eggs sometimes come out weird. I always thought that people needed some special device or spoon because my eggs benedict in restaurants always looks so perfect. However, if you end up with an unusual looking poached egg, not to worry. It's about the taste.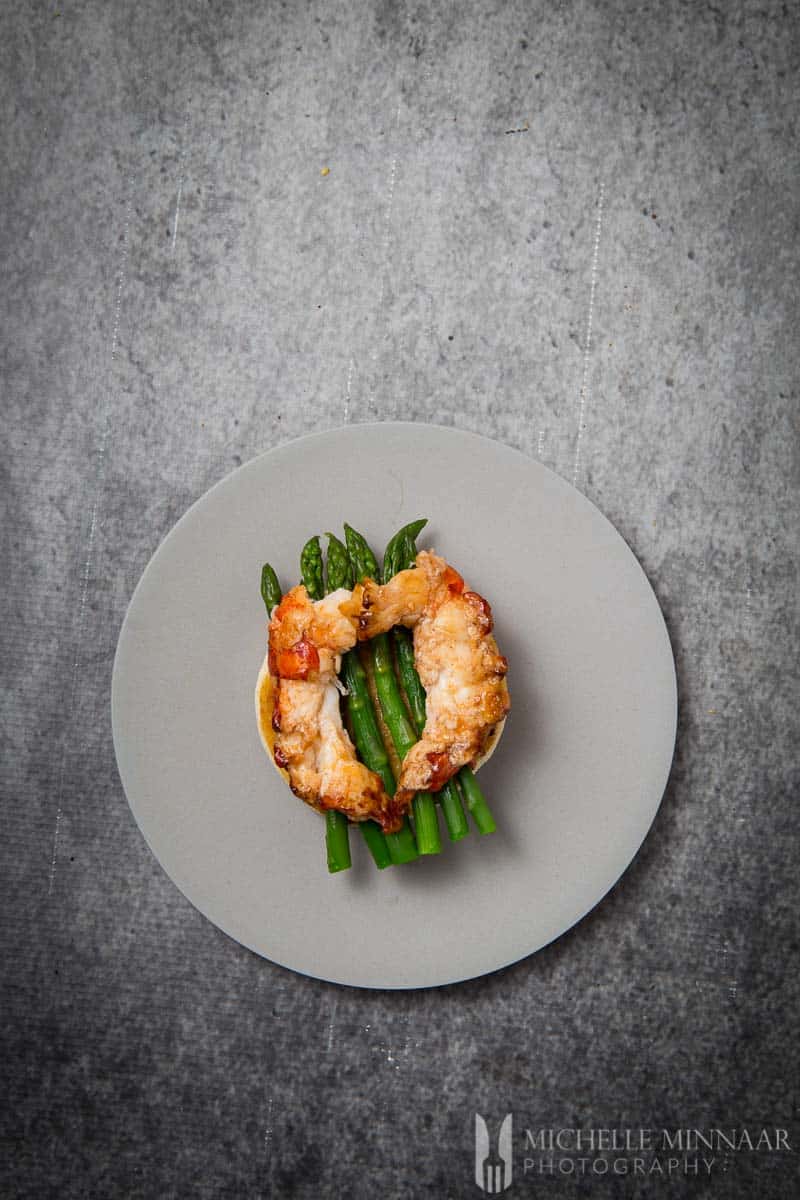 First, you should take a medium sized pan. Next, bring the water to boil. Add some apple vinegar or any vinegar you have at home. Apparently, this helps bring the egg together. Stir the water with a spoon until you have a funnel of some sort in the middle of the pan. Then drop the eggs into the middle and let it come together. You might need to try this a couple of times. The first time I tried to do this, I was very successful. Anyways, if you mess up the egg, you've got the lobster tail and hollandaise sauce to cover it up. That's why I love the benedict-style dishes.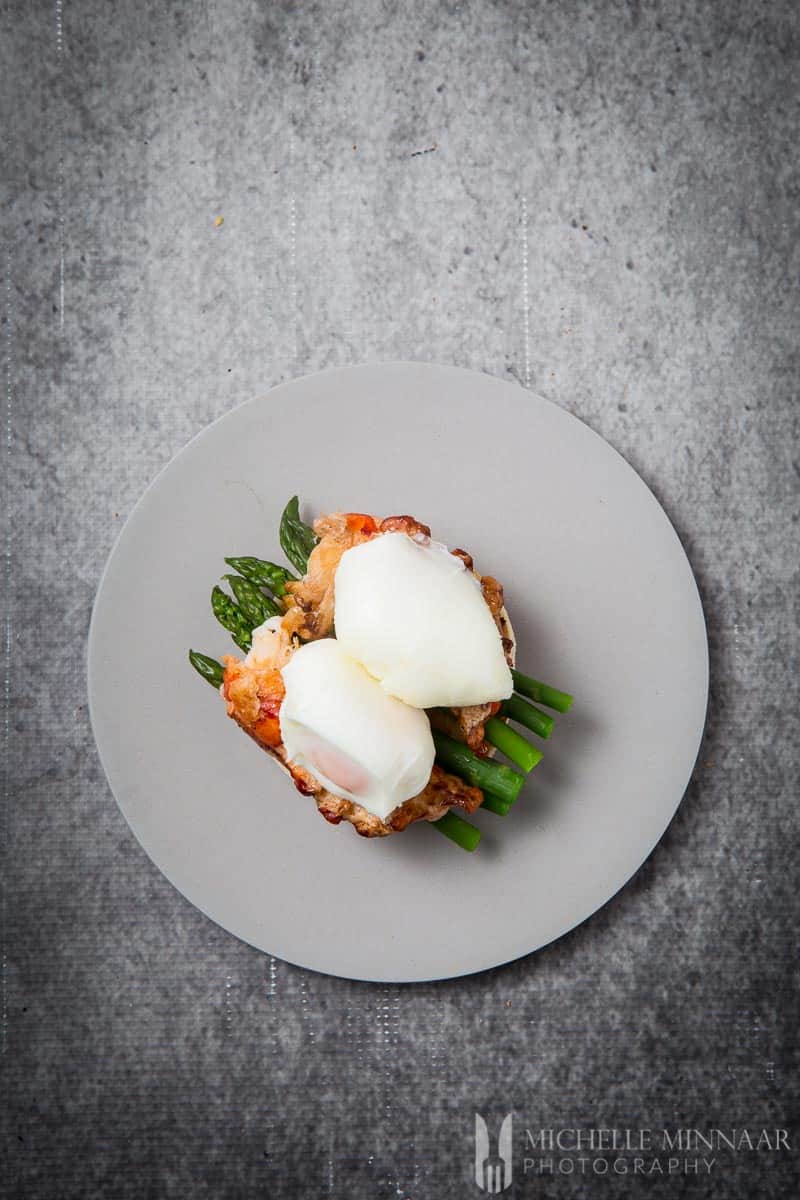 Serving
Don't forget about the muffins. I like to shove mine buttered in the oven for a bit of crunch. You can also use a gluten-free alternative. Lastly, don't forget to cover the eggs with hollandaise sauce and top it off with some chives.
Remember when I said hollandaise sauce works perfectly with asparagus. Well, no surprise why I included it in this lobster benedict. However, if possible, I highly recommend using the white asparagus. Its smoother and subtler than the green one. Plus, I think aesthetically it will only make the lobster benedict more elegant. Some caramelised onions would be an added bonus.
Now….where's the champagne?
If you love lobster, you should also try my amazing lobster bisque!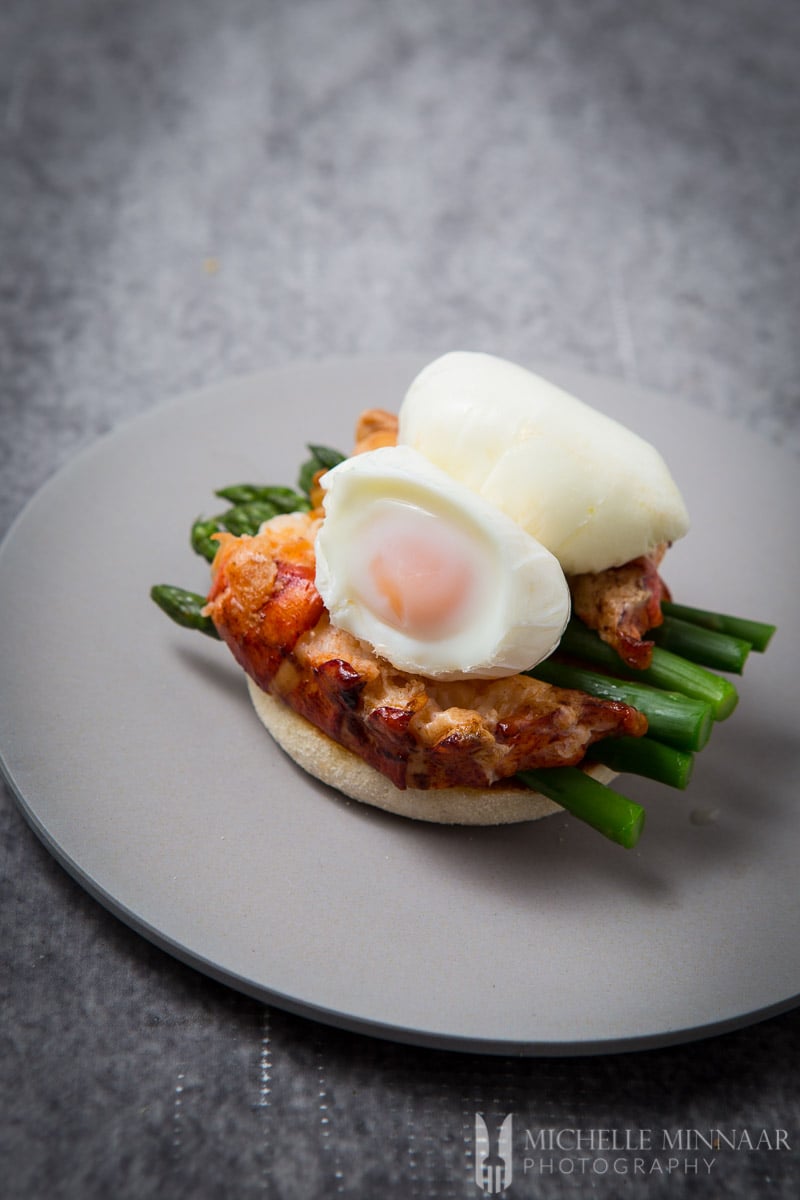 Print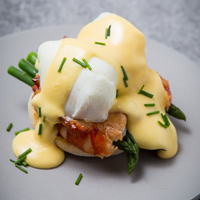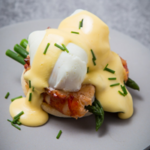 Lobster Benedict
---
Description
Lobster benedict is a meal fit for a king or a queen. Runny egg served with asparagus and hollandaise sauce. Don't forget to buy the lobster tails.
---
2

lobster tails, cooked and halved lengthwise

12

asparagus spears, cooked

2

English muffins, halved and toasted

4

poached eggs

100

ml (3fl oz) Hollandaise sauce

30

ml (2 tbsp) chives, chopped
Salt and pepper, to taste
---
Instructions
Place 2 muffin halves on each plate.
Divide the asparagus evenly between the two portions, on top of the muffins.
Place half a lobster tail on each muffin, then add an egg.
Pour the sauce over the little mountain and sprinkle chives on top. Season to taste and enjoy!
Notes
If you buy raw lobster, why it in a bit of butter. After removing the lobster from the pan, mop up the juices with bread or leftover muffins!
Prep Time:

10 minutes

Cook Time:

20 minutes

Category:

Breakfast

Cuisine:

French
Nutrition
Serving Size:

1 serving

Calories:

444

Sugar:

5.6 g

Sodium:

1173 mg

Fat:

12.6 g

Saturated Fat:

3.9 g

Carbohydrates:

33.9 g

Fiber:

5.2 g

Protein:

48.9 g

Cholesterol:

582 mg
save the recipe to your pinterest board

P.S. This is a sponsored post.