As quick and easy side dishes go, few things can compete with parmentier potatoes. A super-speedy version of the classic oven roasted potatoes, these little crispy cubes of joy are so simple to make and deliver on all fronts.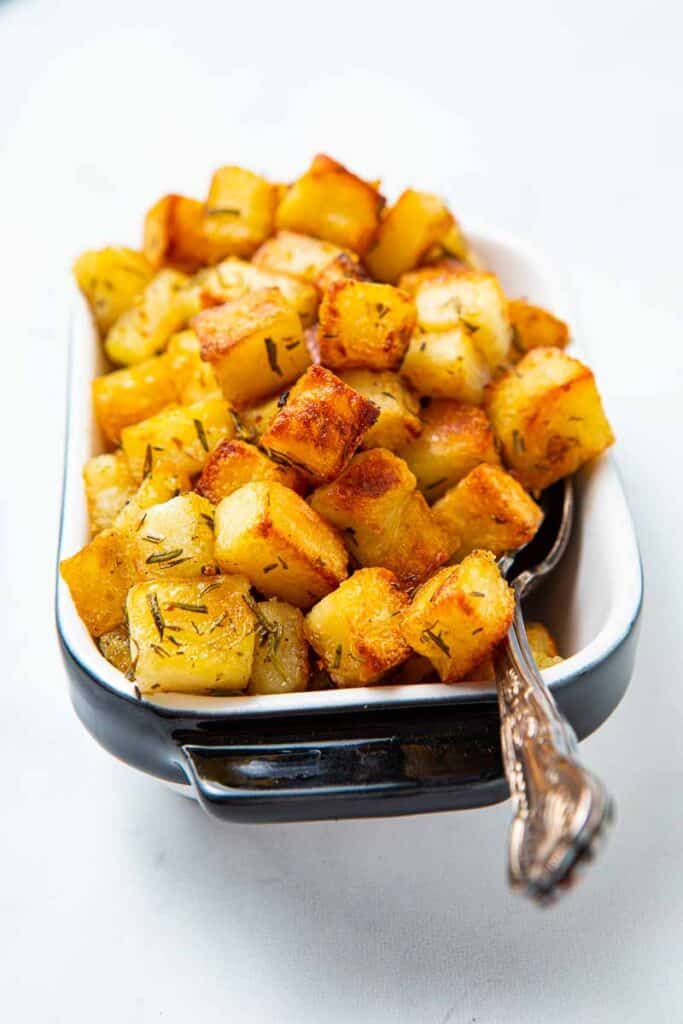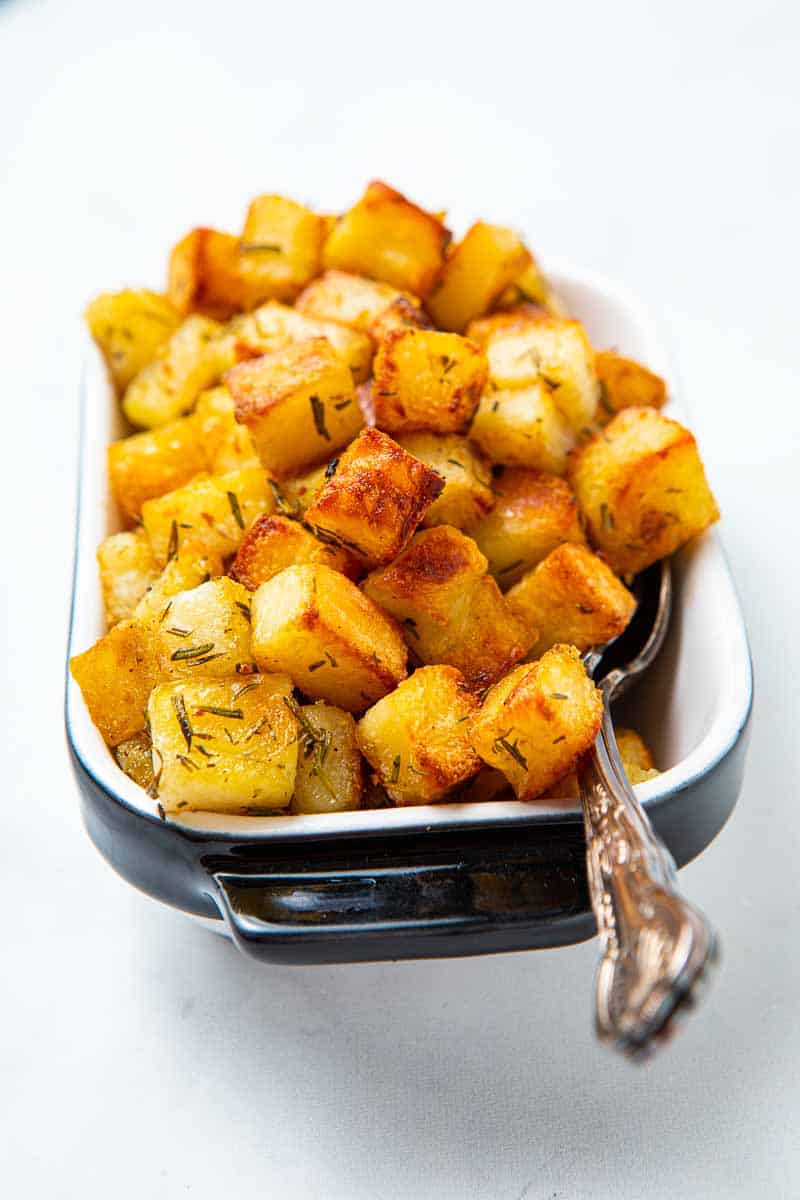 With barely any prep time - most of the work is done in the oven - this roasted cubed potatoes recipe makes the perfect side to a Sunday roast or a midweek meal.
Items you'll need for this recipe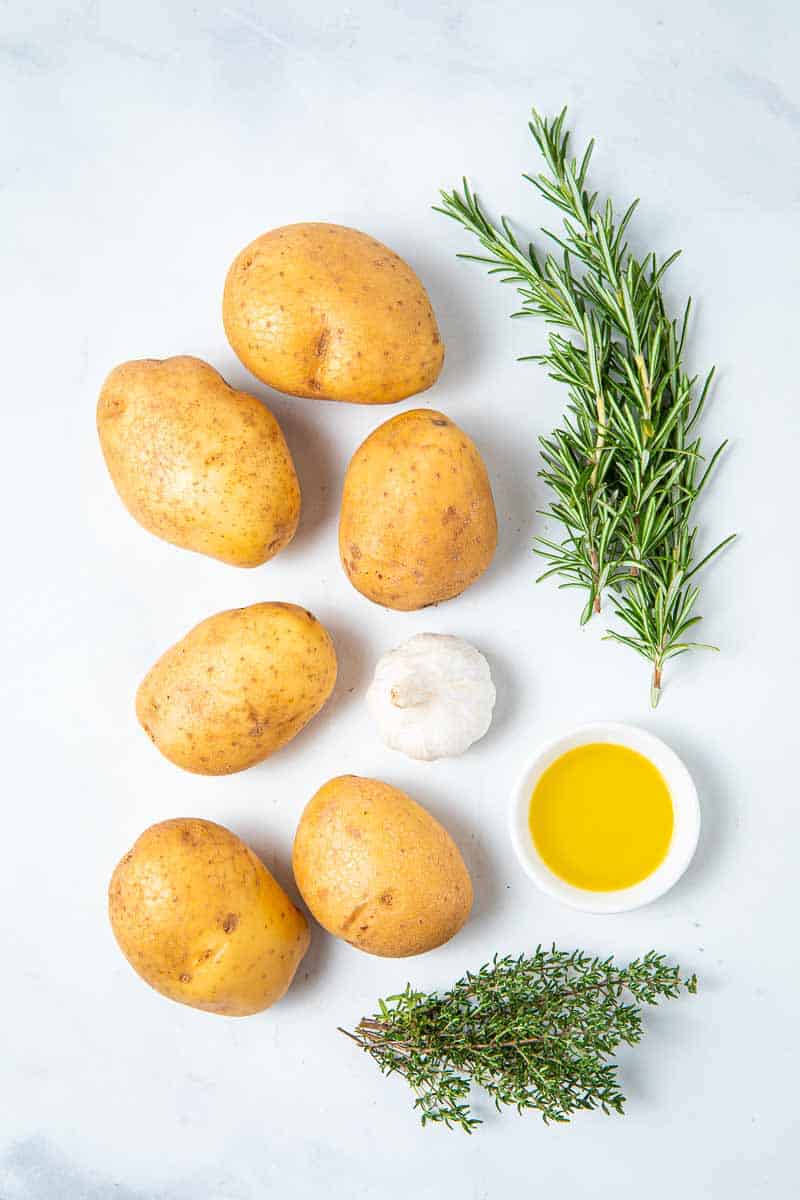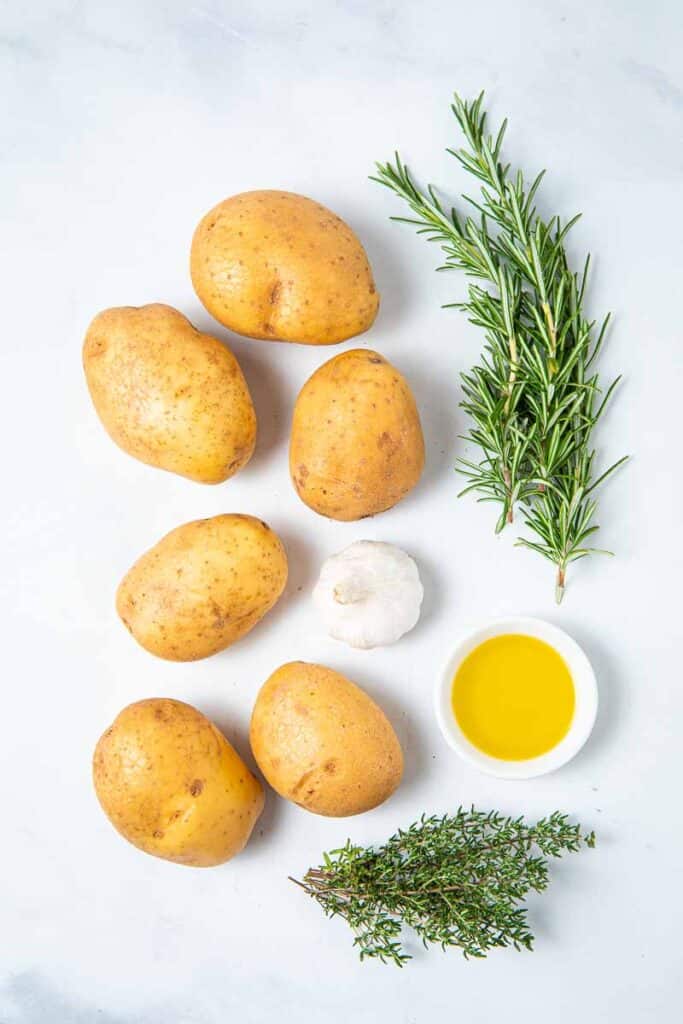 Parmentier potatoes recipe
This recipe for parmentier potatoes takes about 10 minutes to prepare. First, you'll heat the oil in the oven.
While the oil is getting nice and hot, you'll parboil the potatoes in salted water for 5-10 minutes. They should be slightly cooked, but with a good crunch to them.
You'll drain them and dry them, place the cubed potatoes on the baking tray and get every part of the potato covered in oil. This is important – you want good oil coverage to get nice crispy roast potatoes.
The parmentier potatoes recipe roasting process is two-stage – first, you'll roast for 20 minutes in the oven at 200°C, then you'll add the garlic and fresh herbs for an extra 15 minutes.
Take them out of the oven after 15 minutes, you'll end up with beautiful, crispy, golden brown parmentier potatoes.
Extra ingredients you'll need for this recipe
Vegetable oil – vegetable is the best oil to use when it comes to roasted potatoes. You could also use sunflower or olive oil.
Garlic granules – if you can't find fresh garlic cloves, use garlic granules instead.
Dried parsley, dried rosemary, dried thyme and Italian seasoning – instead of fresh herbs, you can use dried. If you're using dried herbs, put them in from the beginning – they won't lose their flavour in the same way that fresh herbs do.
History of parmentier potatoes
This delicious potato dish is named after Antoine Augustin Parmentier, a pharmacist who made potatoes popular in France. Before Parmentier, the French viewed potatoes as dull and cheap – not to be eaten by people as cultured as they were.
Parmentier changed all that. After a very long imprisonment during the Seven Years War, he survived on a diet almost completely made up of potatoes.
Years later, Parmentier would stage elaborate feasts made up of elegant potato dishes. He invited the most famous and influential people of the time, including Benjamin Franklin.
One of these dishes, a simple cubed potatoes dish, roasted with garlic, herbs and oil, became a firm favourite of the French and, soon, the world. It became known as 'parmentier potatoes.'
Before long, 'le spud' was a favourite ingredient in kitchens all over France.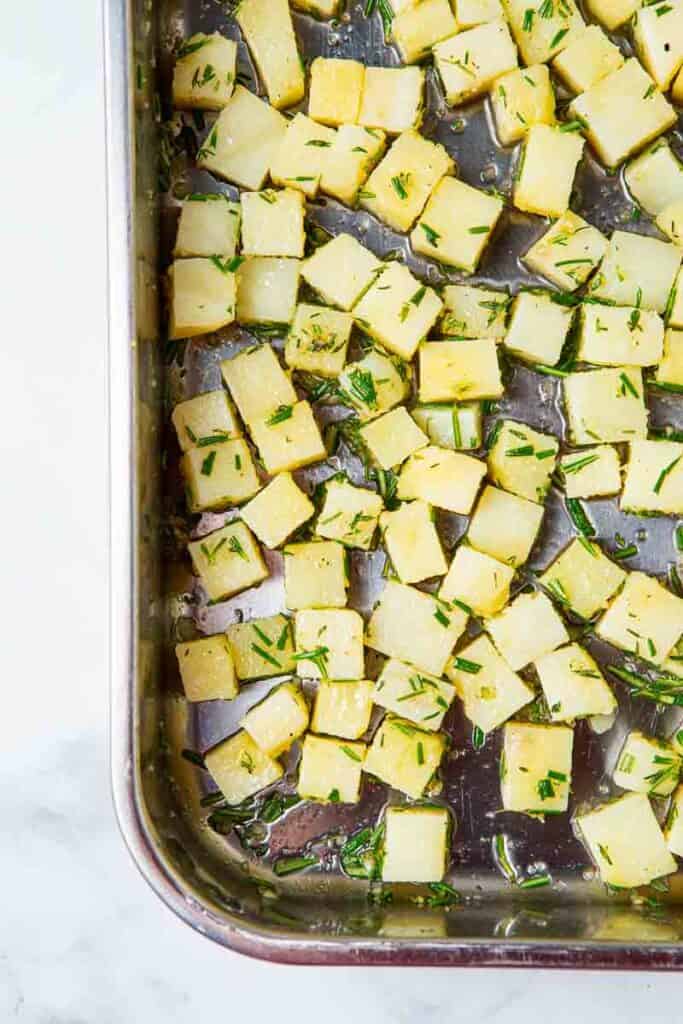 What are parmentier potatoes?
A simple yet delicious side dish, potatoes parmentier are cubed potatoes fried or roasted with garlic and herbs.
The perfect parmentier potato is crispy on the outside and soft on the inside, with a generous sprinkling of herbs and infused with a beautiful taste of garlic.
Just a few minutes prep time and 35 minutes in the oven (20 minutes 'crisping' time, then 15 with the herbs and garlic added) make parmentier potatoes nice and easy to make.
So, if you're after a simple side recipe that's light on work and big on taste, this parmentier potatoes recipe is the one for you.
Is it better to boil potatoes before roasting?
Boiling potatoes before roasting – or 'parboiling' is a great way to get that fluffy on the inside, crispy on the outside texture. There are a few other steps to take in order to get that perfect texture, but this is the first.
How long should I boil potatoes?
While parboiling potatoes is the first step on the way to getting perfect fluffy on the inside crispy on the outside parmentier potatoes, make sure you don't boil them for too long! You'll end up with mushy potatoes.
Parboil for no more than 5 minutes on a high heat (10 minutes on a simmer). That way, you'll have the perfect parmentier potatoes.
Are canned potatoes fully cooked?
Canned potatoes are par-cooked, meaning you can use them in this recipe. Just skip the first part and add them to the hot baking tray.
Fresh potatoes are still the better option but, if you can't get hold of any, canned or tinned potatoes will do.
Can you freeze potatoes parmentier?
Freezing and reheating parmentier potatoes isn't a great idea. They'll lose a lot of their flavour and especially their texture which, instead of being nice and crunchy, will turn a bit leathery.
How do you store parmentier potatoes?
If you do have leftovers, store them in the fridge for up to 3 days.
When it comes to reheating, put them in the oven at 200°C / fan 180°C / 400°F / gas mark 6 for around 15 minutes, until hot and crispy.
What do you serve parmentier potatoes with?
You can make parmentier potatoes as a side dish to lots of different meals. Here are few that will have you salivating all over the screen.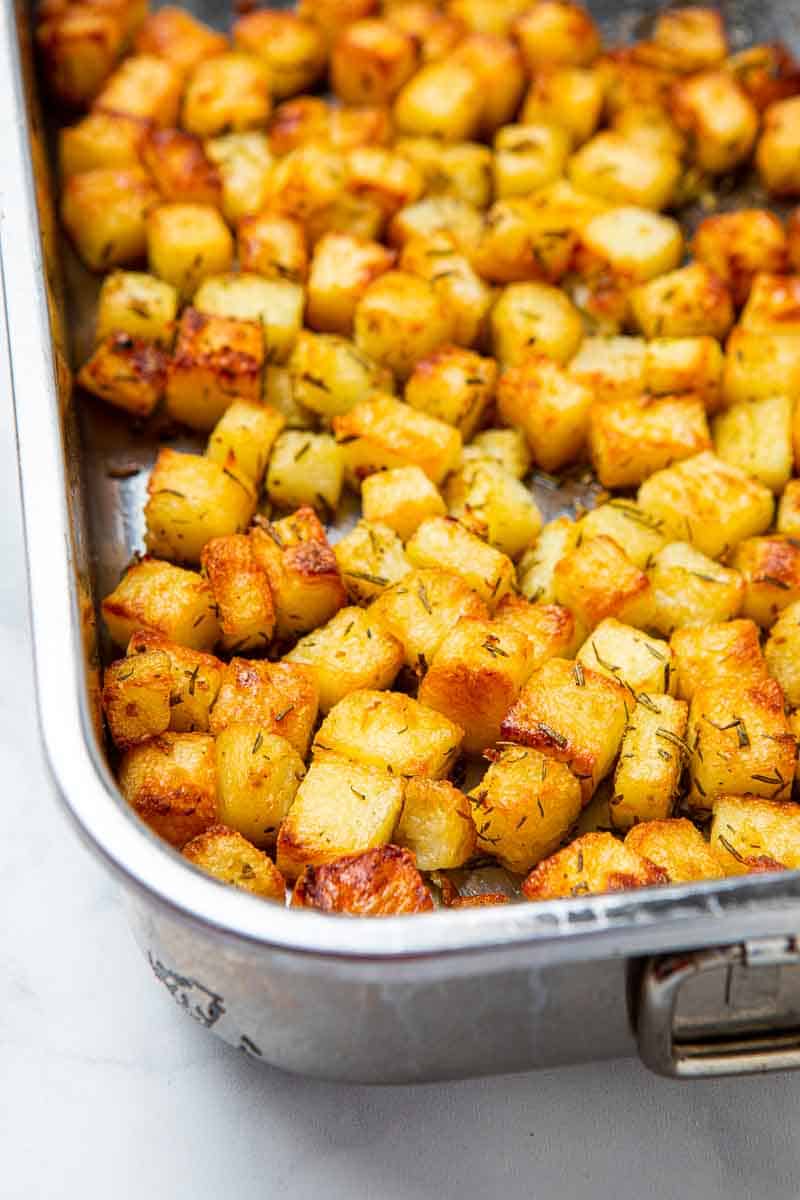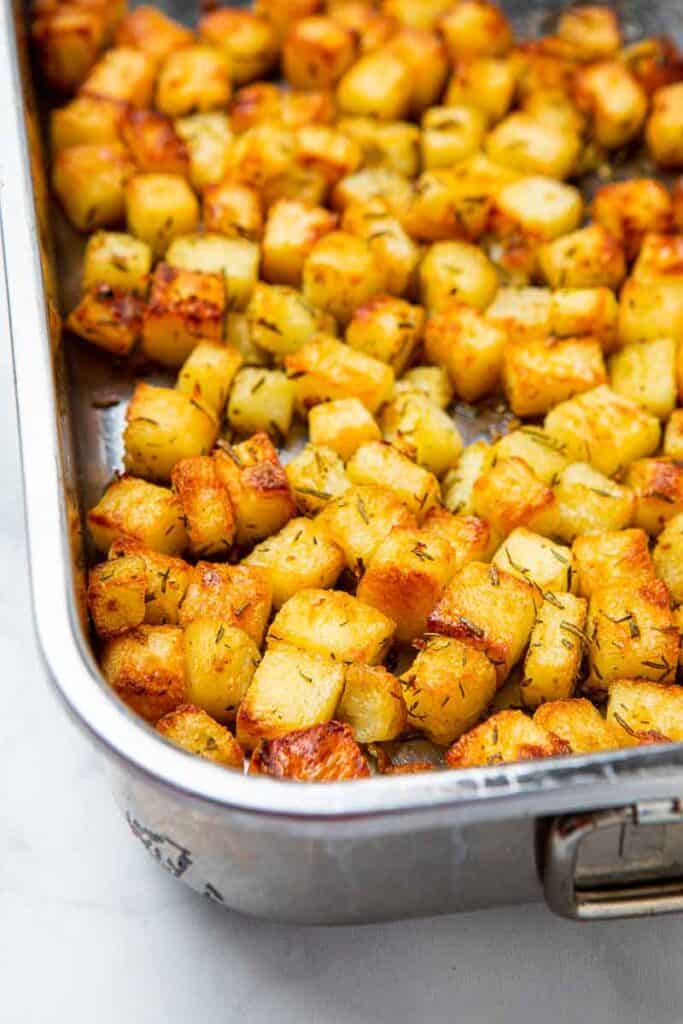 More great potato recipes
What's your favourite potato recipe? Let me know in the comments below!
Print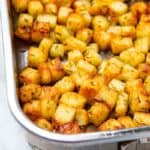 Parmentier Potatoes
---
Author:

Michelle Minnaar

Total Time:

55 minutes

Yield:

6

side dish servings

1

x

Diet:

Vegan
Description
Parmentier Potatoes are cubed pieces of potatoes that are roasted with garlic and herbs until golden and crunchy. Best served with other French recipes.
---
1

kg

(2lbs) potatoes, peeled and cut into 2.5cm (2in) cubes

45

ml

(3 tbsp) vegetable or sunflower oil

4

garlic cloves, peeled and crushed

15

ml

(1 tbsp) fresh thyme leaves, washed and finely chopped

15

ml

(1 tbsp) fresh rosemary, washed and finely chopped
salt and pepper, to taste
---
Instructions
Preheat the oven to 200°C / fan 180°C / 400°F / gas mark 6.
Place the oil in a large roasting tin and place in the oven.
Parboil the potatoes in a large pot of salted water over a high heat for 5 minutes. Do not overcook!
They should still have a slight crunch to them.
Drain them in a colander and let them completely dry.
Remove the roasting tin from the oven and carefully place the potato cubes in a single layer.
Turn them around a bit for all surfaces to get covered in oil.
Roast in the oven for 20 minutes, then stir in the garlic and fresh herbs.
Return to the oven for another 15 minutes or until the potatoes are golden and crispy.
Season to taste and serve immediately. Parmentier Potatoes work as a side dish for most western meals. Enjoy!
Notes
Feel free to experiment with different oils but keep in mind that it needs to have a high smoking point.
You are welcome to keep the skins on the potatoes.
If you can't get hold of fresh herbs, you can play with different combinations of the following herbs: 10ml (2 tsp) garlic granules, 5ml (1 tsp) dried parsley, 10ml (2 tsp) dried rosemary and 10ml (2 tsp) dried thyme. Italian seasoning also works!
Storage: These potatoes are not freezable but if you have any leftover, they will store for up to 3 days in the fridge. You can reheat them in the oven at 200°C / fan 180°C / 400°F / gas mark 6 for 15 minutes, until hot.
Prep Time:

15 minutes

Cook Time:

40 minutes

Category:

Side Dish

Method:

Roast

Cuisine:

French
Keywords: parmentier potatoes, French roast potatoes, herb roasted potatoes, herbed potato recipe, potato side dish recipe, roast cubed potatoes